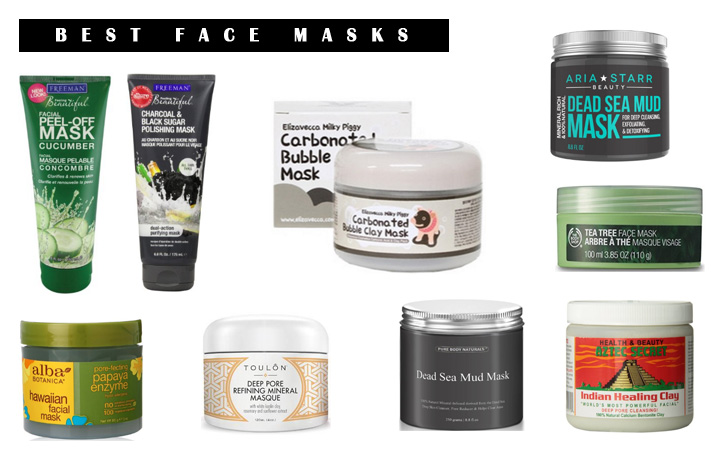 Best Face Masks – Hydrating and Clarifying Facial Masks
Face masks can be an extremely transformative addition to your regular skin care routine. Different types of face masks with varying ingredients can help tighten, brighten, exfoliate, plump and hydrate your skin and minimize your pores, as well as act as a catalyst for a wide variety of other complexion benefits.
There are countless face masks available on the current cosmetics market. However, it can be difficult to determine which face mask will work best in order to effectively improve your personal skin complexion and accomplish the benefits you want for your skin. Read the following face masks reviews to discover the top rated best face masks that contain high-quality ingredients and effective formulas to help transform your skin for the better.
10. Dermal Korea Collagen Essence Full Face Facial Mask Sheet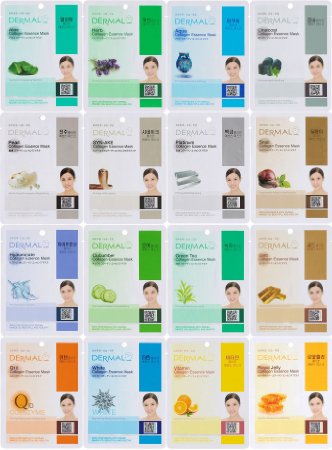 This set of facial mask sheets from Dermal Korea contains sixteen separately packaged face masks. This combination pack is the perfect choice for those who aren't sure exactly what ingredients their skin needs in order to look and feel better. The sixteen masks each include different active ingredients that lead to separate effects for your skin. The masks in this combo pack include herbs, green tea, aloe, pearl, gold, royal jelly, cucumber, charcoal, snail, and more.
Each mask comes in a sheet formula and can be smoothly applied to your face and peeled off after its active ingredients have absorbed into your skin. Despite their separate active ingredients, all sixteen masks in this combination pack include vitamin E and collagen in order to keep your skin looking fresh and healthy after use.
9. Freeman Cucumber Facial Peel-Off Mask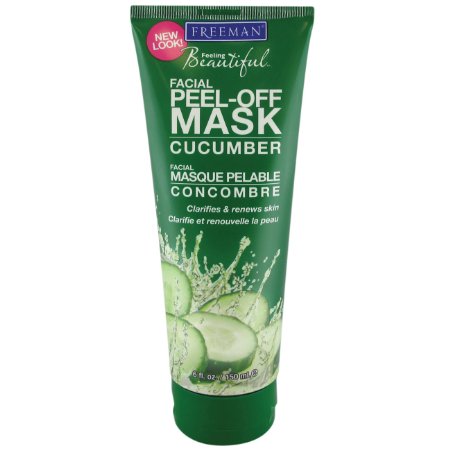 This face mask is an excellent peel-off mask that is a great drug store face mask. It smooths on easily like a gel to refresh your skin and then gradually dries on your face within ten or fifteen minutes into a clear film. The film can then be peeled off from your skin without causing any dryness or irritation. Because it is a high-quality peel-off mask, this face mask is an excellent face mask for blackheads; it gently removes the blackheads from your pores without drying out your skin.
The Freeman mask is infused with cucumber, melon, and ginseng extracts. This unique blend of botanical extracts refreshes and tightens your skin while soothing it and creating a silky-smooth finish that lasts long after the mask has been peeled away.
8. Freeman Facial Charcoal & Black Sugar Polish Mask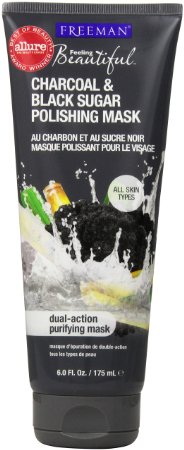 If your skin is feeling weighted down with toxins and debris caught in your pores, this face mask is a great choice for you. It is a dual-action face mask and exfoliator. When you swirl the product onto your skin, the black sugar polish gently scrubs the debris off of the surface of you skin while the charcoal mask delves deeper into your pores to dig out buried pollution.
The charcoal infused within this product makes this mask a perfect face mask for oily skin. The charcoal absorbs oil in the skin, while the black sugar exfoliates, smooths, and purifies the skin.
7. Alba Botanica Hawaiian Facial Mask Pore-fecting Papaya Enzyme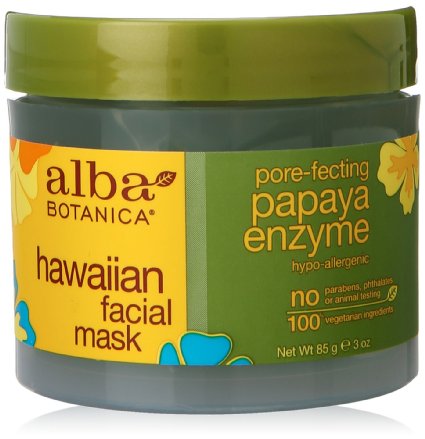 This face mask is infused with pineapple and papaya enzymes. These enzymes function to dissolve dullness in your complexion as well as eliminate impurities in your skin. When massaged into your face, the mask softens and smooths your skin and minimizes the appearance of visible pores.
Not only is this face mask effective, but it is also pure and natural. The mask is formed from one hundred percent vegetarian ingredients. It is also never tested on animals and is free from parabens, phthalates, and synthetic fragrances.
6. Aria Starr Beauty Dead Sea Mud Mask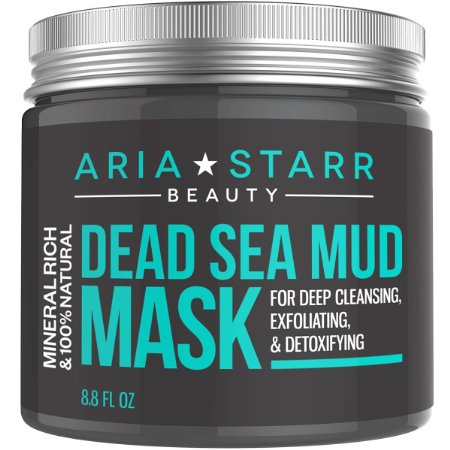 This face mask is an excellent mask that provides a wide variety of benefits to all skin types. It is a great face mask for oily skin because its formula absorbs any excess oils that are present within the skin. This mask is also a perfect face mask for acne and an excellent face mask for blackheads because it extracts toxins from the skin and deeply cleanses it. The Aria Starr face mask also minimizes the appearance of pores, softens skin, and removes any impurities and dead skin cells.
The Aria Starr mask is created from dead sea mud of the highest quality. It is infused with shea butter, aloe vera, jojoba oil, and multiple natural minerals in order to cleanse and refine your skin upon application.
5. Toulon Deep Pore Refining Mineral Masque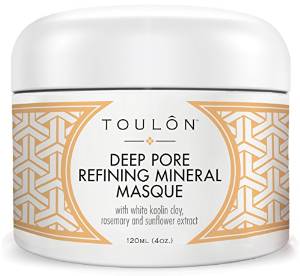 This face mask is infused with white kaolin clay, rosemary, and sunflower extract. It is extremely versatile and helps brighten and moisturize skin as well as clear pores and minimize their size no matter what your skin type is.
However, while the Toulon mask is excellent for all skin types, it is especially designed for aging skin. The hydrating, brightening, and moisturizing mask helps revitalize skin that has been damaged by the sun over time. It also lessens the appearance of age spots and smooths wrinkles and fine lines.
4. The Body Shop Tea Tree Face Mask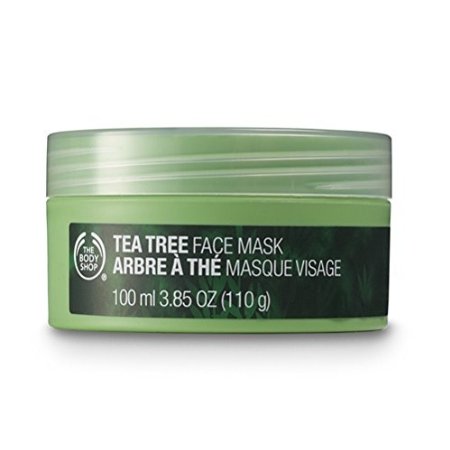 This face mask from The Body Shop calms and refreshes your skin with its infusion of cooling tea tree oil. It soothes your skin, preventing irritation and reducing redness.
The mask is a perfect face mask for acne and a great face mask for oily skin as well. The cooling tea tree oil absorbs existing oil and helps prevent future blemishes for those that are prone to acne breakouts.
3. Aztec Secret Indian Healing Clay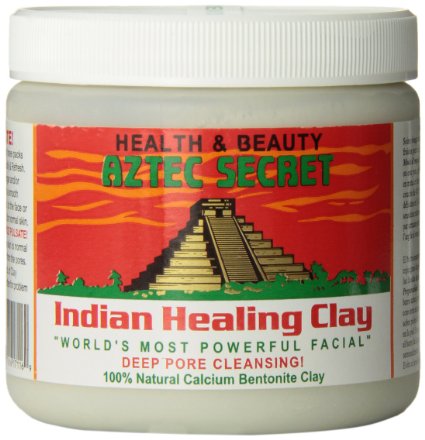 This face mask is a deeply pore cleansing mask. The natural calcium bentonite clay within the mask's formula delves deep into the skin to find buried pollution and impurities and clear them from the skin.
The mask is incredibly powerful at minimizing and clearing pores as well as refreshing and soothing the skin. It is also completely natural and contains absolutely no additives, synthetic fragrances, or animal products.
2. Elizavecca Milky Piggy Carbonated Bubble Clay Mask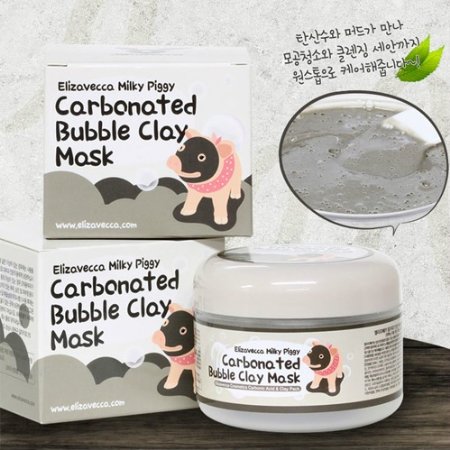 This unique clay mask includes special carbonated bubble clay that is able to gently clear and minimize pores from deep within your skin. It is an excellent mask for blackheads because the carbonated bubble clay clears pores and eliminates existing blackheads as well as prevents new ones from forming.
To use the mask, simply apply it to your skin and wait five minutes. After that short period of time, you should see bubbles begin to form on your skin. When the bubbles appear, mix some water into the product on your face and massage it into your skin in order to maximize the cleansing and clearing effects of the mask.
1. Pure Body Natural Dead Sea Mud Mask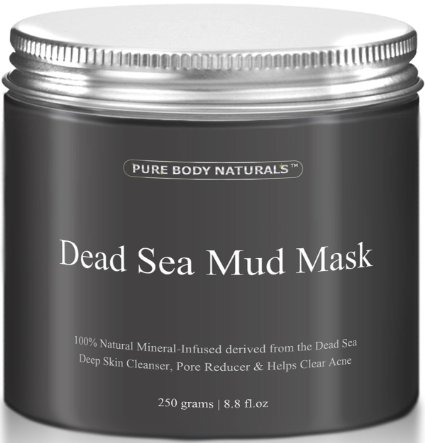 This mud mask from Pure Body Naturals is specifically designed as a perfect face mask for acne. The natural dead sea mud within the formula combats blemishes, blackheads, and angry breakouts by soothing and cleansing the skin from deep within.
The face mask is also a great choice for aging skin. It contains many all-natural vitamins and minerals that help brighten and tighten the skin to create a fresh, revitalized, and youthful glow.
If you're in the market for a face mask to improve your skin complexion, look no further than this list. All of the products on this list are some of the best face masks available and can quickly and easily brighten, tighten, and refresh your skin to make it look and feel better than ever before.