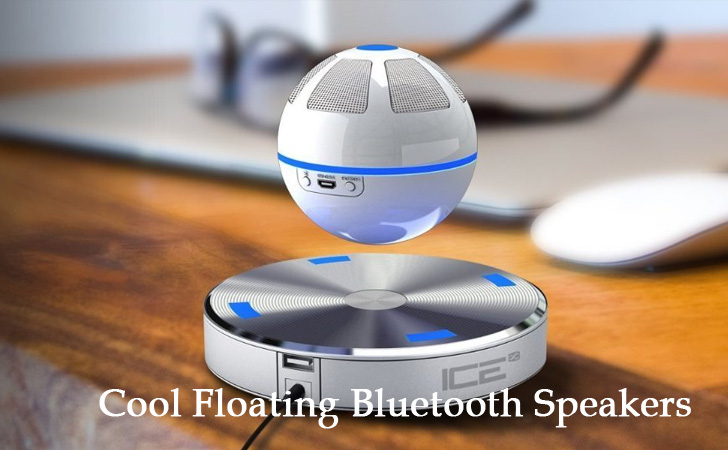 Music is an extremely important part of the human experience. It has the ability to completely change your mood and even your perspective on an entire situation. The right music can transform your sad, dismal feelings into happiness and optimism. Music has even been used as an effective treatment for mental illnesses like depression and anxiety. Many people consider their favorite songs to be life-changing. Based on the undeniable importance of music, most people use speakers on a regular basis to play their music.
The most common form of speakers in this modern technological world are Bluetooth speakers. These speakers connect wirelessly to your smartphone using Bluetooth connectivity and play the music you choose from your phone. Floating Bluetooth speakers are the newest modernized twist on standard Bluetooth speakers. These speakers use the same wireless Bluetooth connectivity, but they spin and levitate while they play your music.
Floating Bluetooth speakers some of the highest quality speakers on the market in terms of sound acoustics. Plus, they look incomparably cool in your home as they float while playing your favorite tunes. Read the following Floating Bluetooth Speaker reviews to buy your favorite one.
9. POAO Floating Bluetooth Speaker – floating speaker for pool
This levitating bluetooth speaker provides 3D surround with distortion-free timbre. Because it floats above a platform without touching it, the speaker is able to provide listeners with clean sound that is free of any vibrations. The speaker connects to your Apple or Android tablet or smartphone and allows you to receive phone calls as well as listen to music.
The floating Bluetooth speaker features a very long battery life. It is lightweight and portable so you can take it with you while on the go or leave it stationary in your home depending on your preferences. The speaker has an elegant wood grain design that fits in perfectly with most home decor. It also features an LED bulb that lights up the room when it is dark and adds beauty and function to the speakers in the daytime as well.
8. NEBULA – Floating Bluetooth Speaker – FLOATELY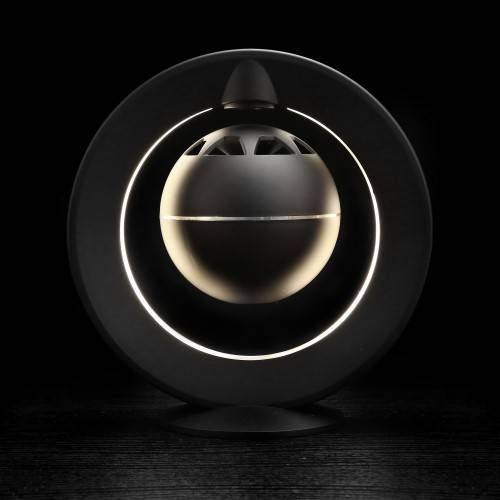 NEBULA – a Floating Bluetooth Speaker from Floately is a combination of powerful speaker and an eye-catching accessory, which levitates and lights up as the music plays. This amazing Floating Bluetooth speaker has an inbuilt sensitive microphone that allows you to make and receive calls with wireless ease. Nebula comes with specially engineered open-surround sound design, which makes it perfect for party lovers. A warm LED light shines on the orb when the music gets hit and speaker rotates 360 degrees to provide HD surround sound.
Furthermore, it is durable and portable which makes it the one that can be paired easily with all Bluetooth devices.
7. Findway Floating Bluetooth Speaker – floating waterproof bluetooth speaker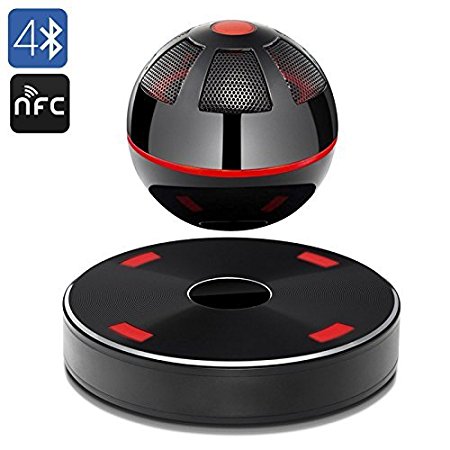 This floating Bluetooth speaker from Findway is compatible with iPhone 12 and above as well as Android and HTC smartphones. It is extremely easy to use. All you have to do is press the power key for five seconds to turn on the speaker and start playing your music.
The design of this floating speaker is simple and modern. It features a black base and the orb has a chrome ring with four centering lights. The speaker has a long battery life and can float and spin for up to ten hours at a time without needing to be recharged.
6. SainSonic Floating Bluetooth Speaker – floating bluetooth speaker for pool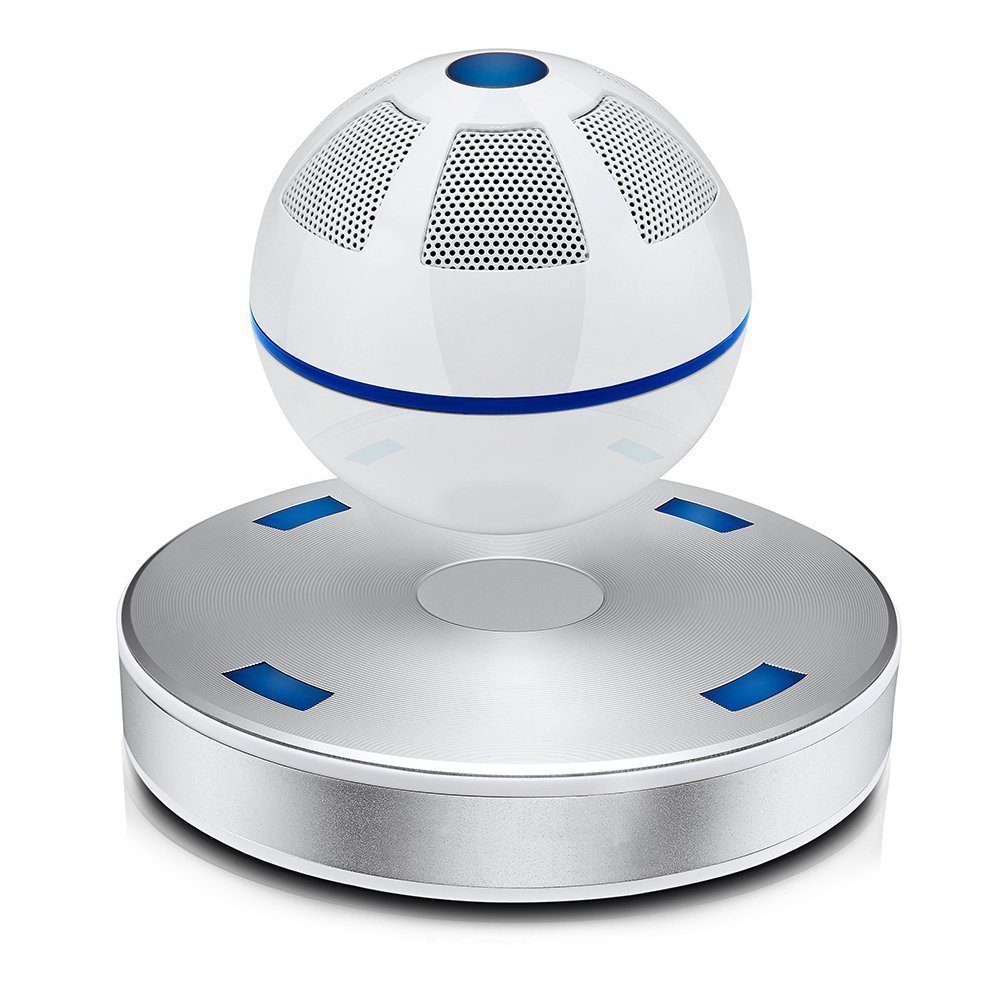 This floating bluetooth speaker floats in the air ten millimeters above its included magnetic base. As it floats, the speaker orb spins three hundred sixty degrees in order to provide smooth, clean, vibration-free surround sound at all times. You can connect this speaker to your smartphone or tablet using either NFC or Bluetooth connectivity.
The speaker is very versatile. It can be used as a floating speaker when paired with its magnetic base. However, it also functions as a portable speaker that you can carry around with you independently of its base. Plus, the magnetic base of the speaker also functions as a charging dock for your tablet or smartphone device.
5. Wassertstein Floating Bluetooth Speaker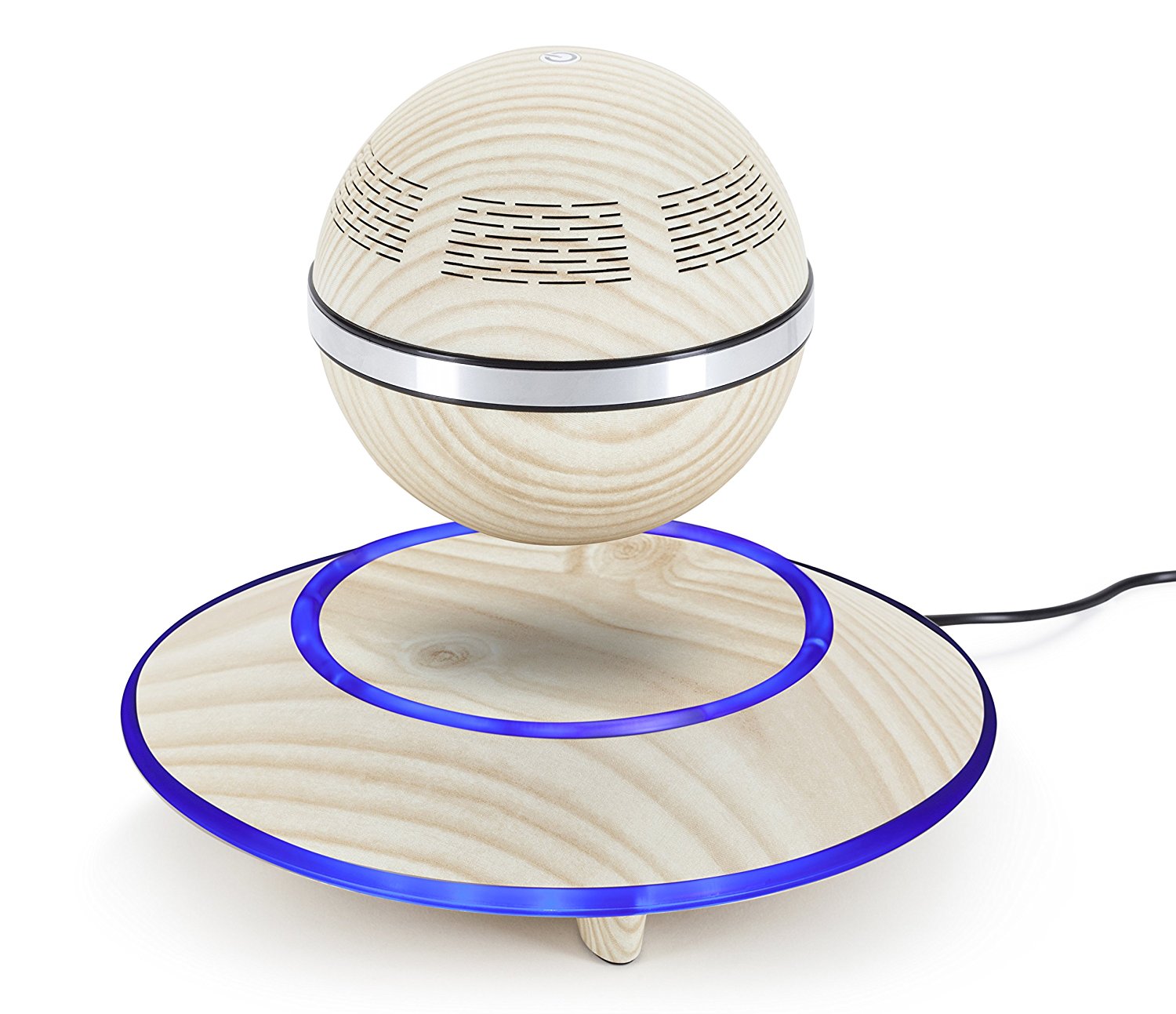 This floating Bluetooth speaker offers a very clean sound that is free of vibrations and distortion. It allows you to listen to music as well as receive hands-free phone calls through a Bluetooth connection with your smartphone or tablet device. The speaker comes with a charging station, cable, an electromagnetic base, and the speaker itself.
The speaker is available in three different styles. It comes in a matte black design, a baseball-oriented design, and a wood grain design. The black design has a modern and futuristic look while the baseball style is whimsical and the wood grain design looks elegant and sophisticated.
4. Hellosy Star Wars Floating Bluetooth Speaker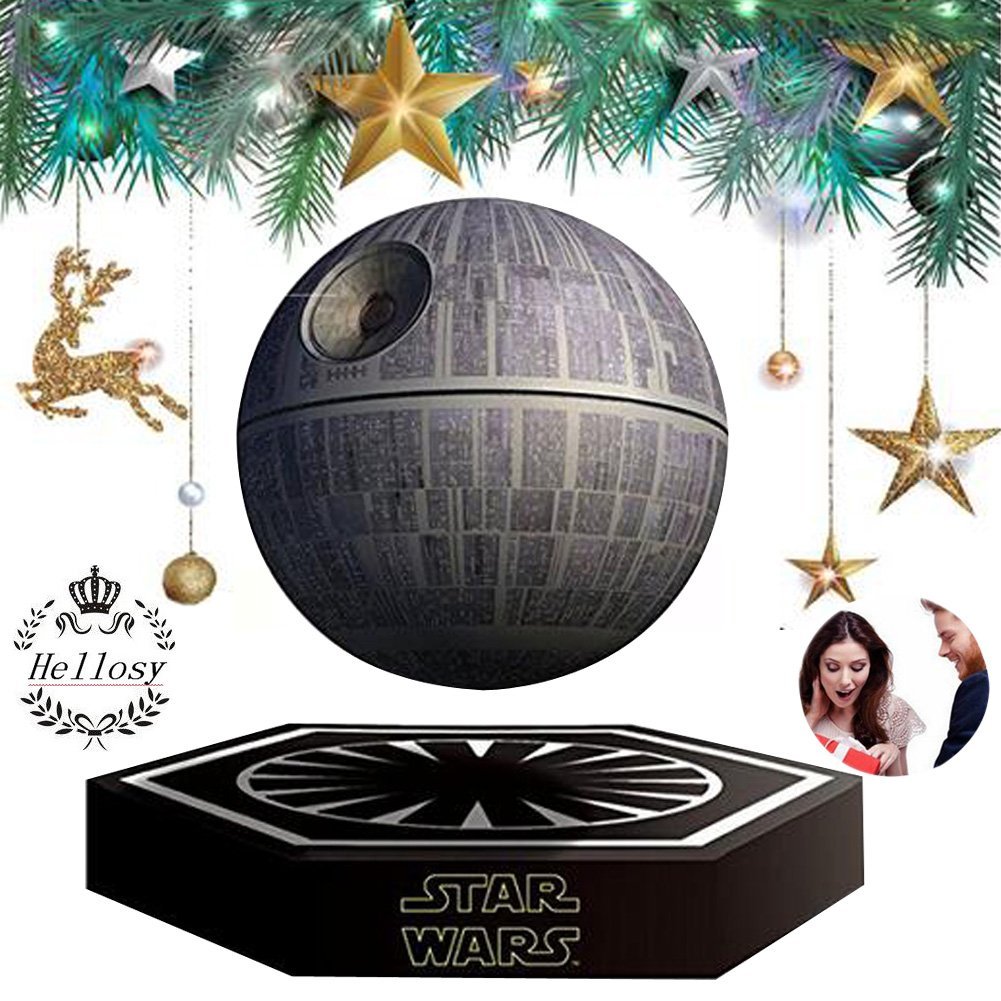 This floating Bluetooth speaker is a futuristic device in a futuristic, sci-fi design. It is designed to look just like a mini model of the Death Star from the renowned Star Wars series. The floating orb itself looks like the Death Star and its magnetic base is black and features the classic Star Wars logo. When it is dark, the orb glows in order to add to its futuristic appearance as well as help you see in the darkness.
This speaker pairs with your smartphone or tablet device using voice prompts that make the pairing process extremely easy. It has a ground clearance of ten millimeters that allows clean, vibration-free sound to come out of the speaker with no distortions no matter how loud the volume is.
3. 7 Arc Star Floating Bluetooth Speaker – floating waterproof speaker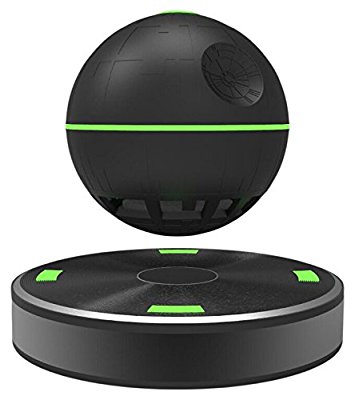 This floating Bluetooth speaker has vents in a three hundred sixty-degree alignment. This placement allows the speaker to emit top-quality surround sound that does not include any vibrations or distortions. The speaker runs for up to eight hours on a single charge. You can also use it independently of its magnetic base as a portable speaker. The base itself also acts as a smartphone or tablet charging dock.
The speaker features a matte black design with lime green accents that add to the futuristic charm of the device. When it is dark, the lime green illumination band on the orb glows to create an added modernized touch.
2. ICE Floating Bluetooth Speaker

With ten-millimeter ground clearance, this floating Bluetooth speaker produces top-quality sound without any hint of distortions or vibrations that are ever-present in the sound emission of standard Bluetooth speakers. The speakers pair with any Apple or Android smartphone to tablet device through NFC or Bluetooth connectivity.
This speaker has a very elegant external appearance. It features a bright white orb that stands out against any decor as it spins and floats above its magnetic base. The base itself is a chrome silver color that looks elegant, modern, and sophisticated.
1. Music Angel Floating Bluetooth Speaker – floating waterproof portable bluetooth speaker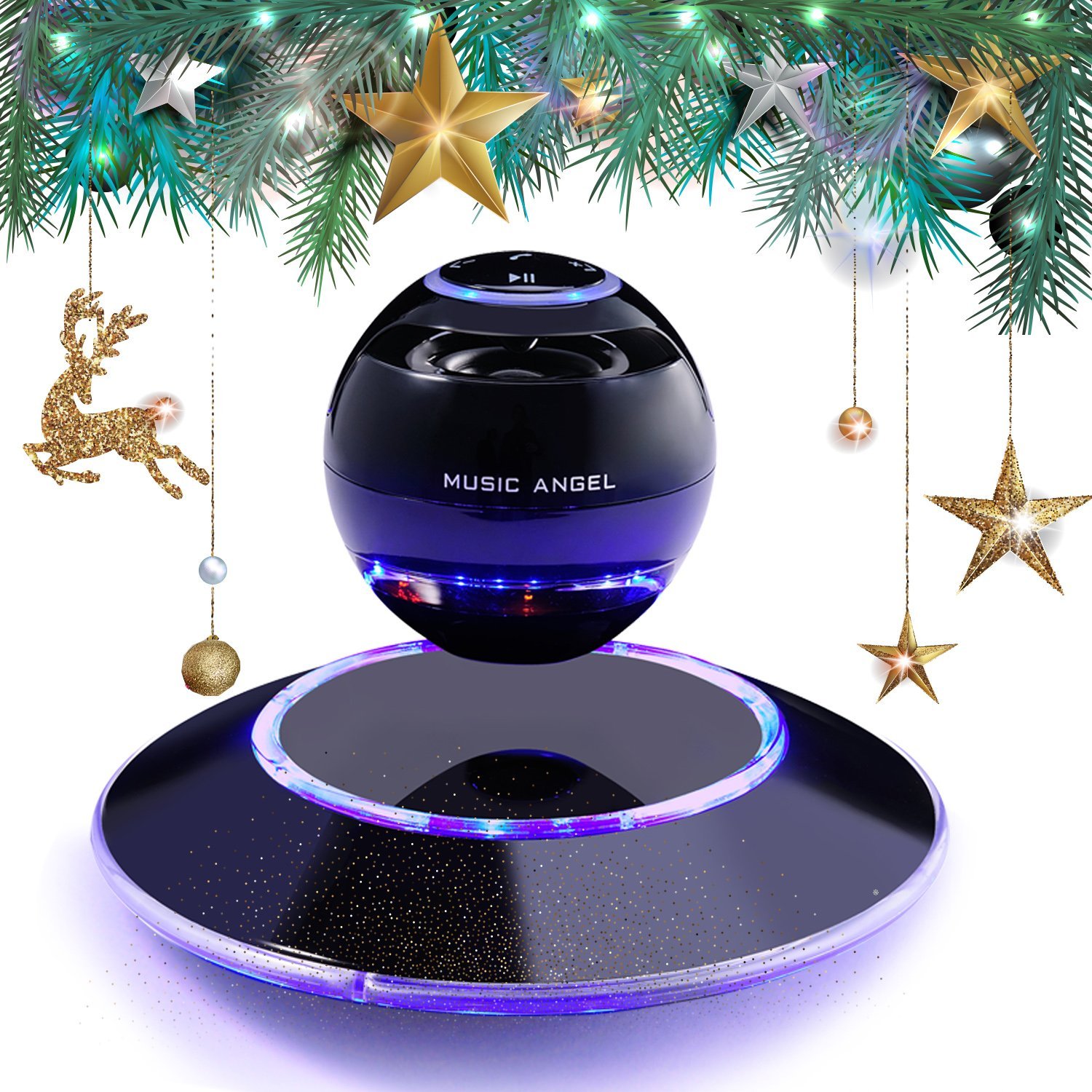 This levitating Bluetooth speaker is designed to look like a floating planet. The orb itself is black and it floats above a base with a night-sky design. The base features illumination bands in purple and blue that make the speaker look like a galaxy in space.
The speaker produces top-quality 3D surround sound with zero distortions and vibrations. It is compatible for Bluetooth pairing with almost any smart device. Plus, the speaker is able to play music through popular music apps like iTunes, Pandora, Music Hub, Spotify, Google Play, and more. The speaker is light and portable and has a long battery life that allows you to play music for up to eight hours at a time without recharging it.
Floating Bluetooth speakers are the music accessory of the future here in the present. Because the speakers levitate without making contact with anything else, they are able to produce extremely high-quality sound that is not marred with any distortions or vibrations. Buying a floating Bluetooth speaker can transform the way you listen to music. These speakers create an entire new auditory experience that is unlike anything you've ever experienced in the past. Your perception of music will never be the same.