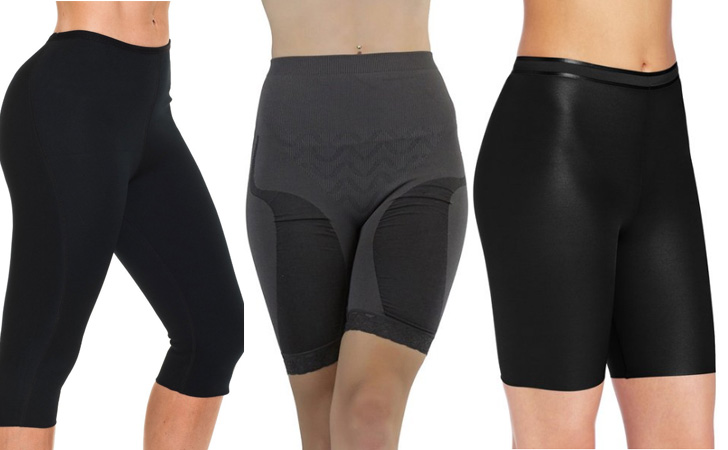 Are you having trouble slipping into your skinny jeans although you have mastered your workout routine? The truth is, not all exercise routines include the necessary movements that you need to work on your inner thighs. For this reason your inner thighs tend to be harder to target and slim. Despite the fact that, not all workout routines will target your thighs and make them as slim as you would like you can use thigh slimmers to help shape them.
Nonetheless, thigh slimmer are not as popular as a waist cincher but they work almost the same way. It cinches your thighs to give you the perfect shape that you want to have. Some of them can be worn at the gym while you work out to assist you in losing weight. And some can be worn a few hours a day to enable you to slim your thighs over time. Here are the best thigh slimmers that you should try.  Keep reading the following Thigh Slimmers reviews to learn more about the top rated best Thigh Slimmers on the market.
10.

Maidenform Flexees Women's Shapewear Lightweight Thigh Slimmer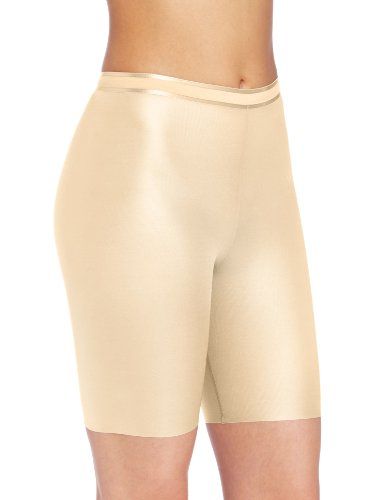 Ever wore a dress and wished everything looked smoother when it came to your thigh area? The key to having the appearance of slimmer thighs is using the proper undergarment. The undergarment that you wear can truly change the way in which things fit you. A good shapewear will mold with your body and feel comfortable.The best part about this thigh slimmer is that it is undetectable underneath your clothing. Unless you tell someone that you are wearing this thigh slimmer they will not be able to tell by looking at you. Another thing we love is how comfortable it is. When you are wearing something underneath your clothing you want to feel comfortable while looking your very best.
9.

TNT Body Wraps for Arms and Slimmer Thighs – Lose Arm Fat & Reduce Cellulite – 4 Piece Kit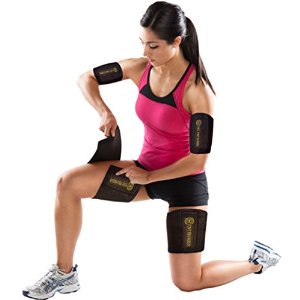 Working out your thighs can be a difficult task as they are among those body parts that may take longer to slim and tone. Another area in our bodies that have a tendency to take a longer time to tone is our arms. Now you can tone your arms and thighs by using these thigh slimmers that were specifically created to be worn while you work out.They create heat when they are worn which makes your body produce more sweat. As you work out and sweat in these problematic areas you will notice your thighs will appear slimmer. Over time you will start losing weight in those areas by continuously using this product. You also want to follow a diet and workout routine to enhance your results.
8.

Bali Women's Shapewear Lace 'N Smooth High-Waist Thigh Slimmer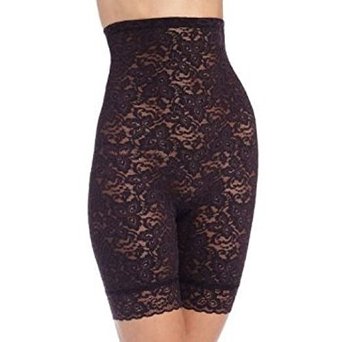 When you are looking for the best thigh slimmer you may want to look into a thigh slimmer like this one. It is a high waist thigh slimmer. What this means is it will smooth you out from your waist all the way down to above your knee. This thigh slimmer will give you thinner more slimmer looking thighs when worn under your clothing. The way this thigh slimmer was designed it will not rise up your thighs or roll down. Many times when you use a thigh slimmer or undergarment they have a tendency of moving out of place when you sit.  With this one you will not have to worry about this happening. It stays in place for the entire time.  
7.

Presadee Compression Slimming Thigh Leg Shaper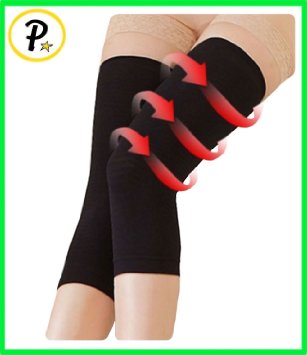 Compression leg shapers were created to give you an instant slimming effect on your thighs. It also can be worn for a couple of hours per day to give you slimmer looking thighs over time. With this thigh slimmer you will be able to work out and observe as your thighs will shrink in size with regular use. This is likewise a great option if you suffer from pain in your joints the compression that this thigh slimmer offers will help sooth your pain. It was made with breathable material to give you the comfort you need while wearing this underneath your clothing.
6.

ELASTIC MEDICAL GRADE CLASS Neoprene DELUXE Slimming Shorts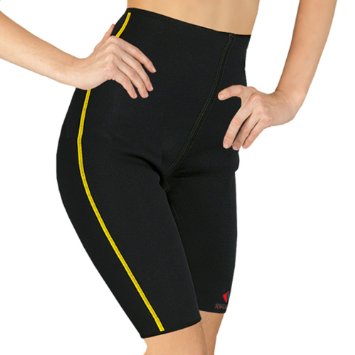 When you workout you may want to consider a compression short like these. Compression shorts create heat with your body. When you work out this is a pretty good option as it will make you sweat more in the areas that you need it most. By this being a high waisted compression slimming short you will get the benefits of a waist cincher and a thigh slimmer in one. It was intended to improve circulation, facilitates metabolism of the abdominal and hip area to help you shed unwanted water weight. If you suffer from bloating using something like this can really help you keep the appearance and feeling of bloating down.
5.

Zaggora Women's Hot Pants Fat Burn Weight Loss Neoprene Anti Cellulite Shorts, Black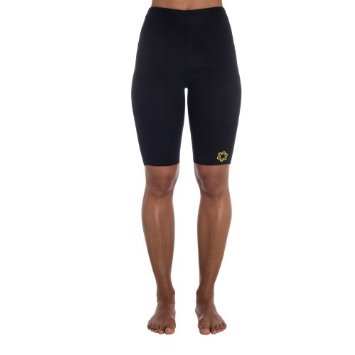 What woman isn't affected by cellulite? Everyone of us has suffered from cellulite at some point in our lives and the worst part is, there is no real way to get rid of it. There is only ways for you to diminish the appearance of it. If you wish to reduce the appearance of cellulite you may want to give these shorts a try. They are thigh slimmers that also help you with diminishing your cellulite.The compression in these shorts will bring heat to the surface of your skin and make you sweat while helping you have better circulation. The better circulation you have the less apparent your cellulite will be.
4.

Anti cellulite slimming capri pants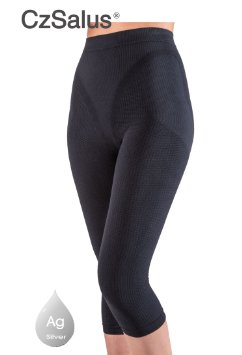 Finding a thigh slimmer that you can wear as work out clothing can take away from the hassle of layering clothes. However, it is not the easiest thing to do. These slimming capris can do the trick. They are anti cellulite slimming pants to help you instantly appear slimmer while helping you lose any unwanted weight. They are extremely comfortable so you will never feel uncomfortable and want to take them off. You can wear them to work out in or to give you an instant slimming effect.
3.

SAYFUT Womens Sport Slimming Pants Hot Thermo Neoprene Sweat Sauna Body Shapers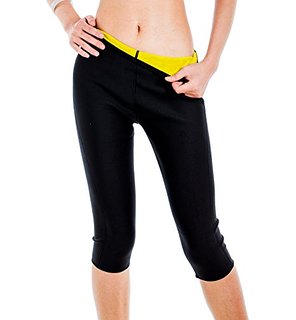 A built-in sauna to help you lose unwanted weight and detoxify your body? Yes I said it these thigh slimmers are your very own sauna shapers. They contain a layer of thermal heat to give you the heating compression that you want when you are looking forward to lose weight.Doing activities or working out while wearing these pants will allow you to slim your thighs and appear slimmer overall. Although, they contain a layer of thermal heat they are extremely lightweight when worn alone or under your clothing.
2.

NBB Women Seamless Hi-Waist Tummy Control Body Shaper Slimming Shapewear Slimmer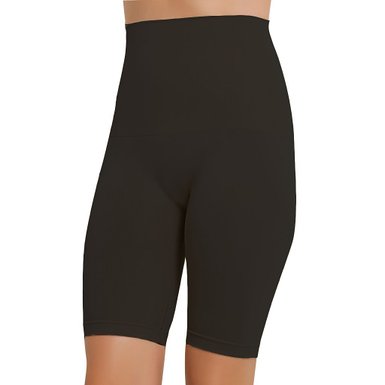 If you are looking for a shape wear that is flattering and slimming for you. You may want to consider this one. This thigh slimming shapewear was formed to give you the appearance of a slimmer body while being made with ultra lightweight material. The lightweight material allows this shapewear to feel like an extra layer of skin when you place it on. It will not ride up your legs or fold down. Once you put it on it will stay exactly where you need it, in order to give you the right amount of control.
1.

ToBeInStyle Women's Bamboo Slimming Shaper Short – Gray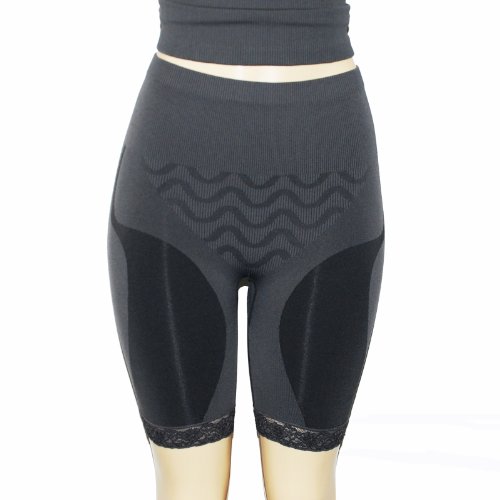 Slim your thighs while feeling comfortable at all times. This thigh slimmer does just that. It is comfortable and breathable. When finding the best thigh slimmers on the market it was critical for us to find a thigh slimmer that was not only going to get the job done but also be comfortable. This is the most comfortable thigh slimmer on the market. It remains in place while giving you the control you want. Over time you will start noticing your thighs will appear slimmer even after you have removed this product.
When you are searching for a thigh slimmer you want to consider what your goals are. Are you looking forward to lose weight while using the thigh slimmer? Or do you want to appear slimmer under your clothing? Considering these things will help you select the right one for you. Tell us your experience with thigh slimmer in the comments below.