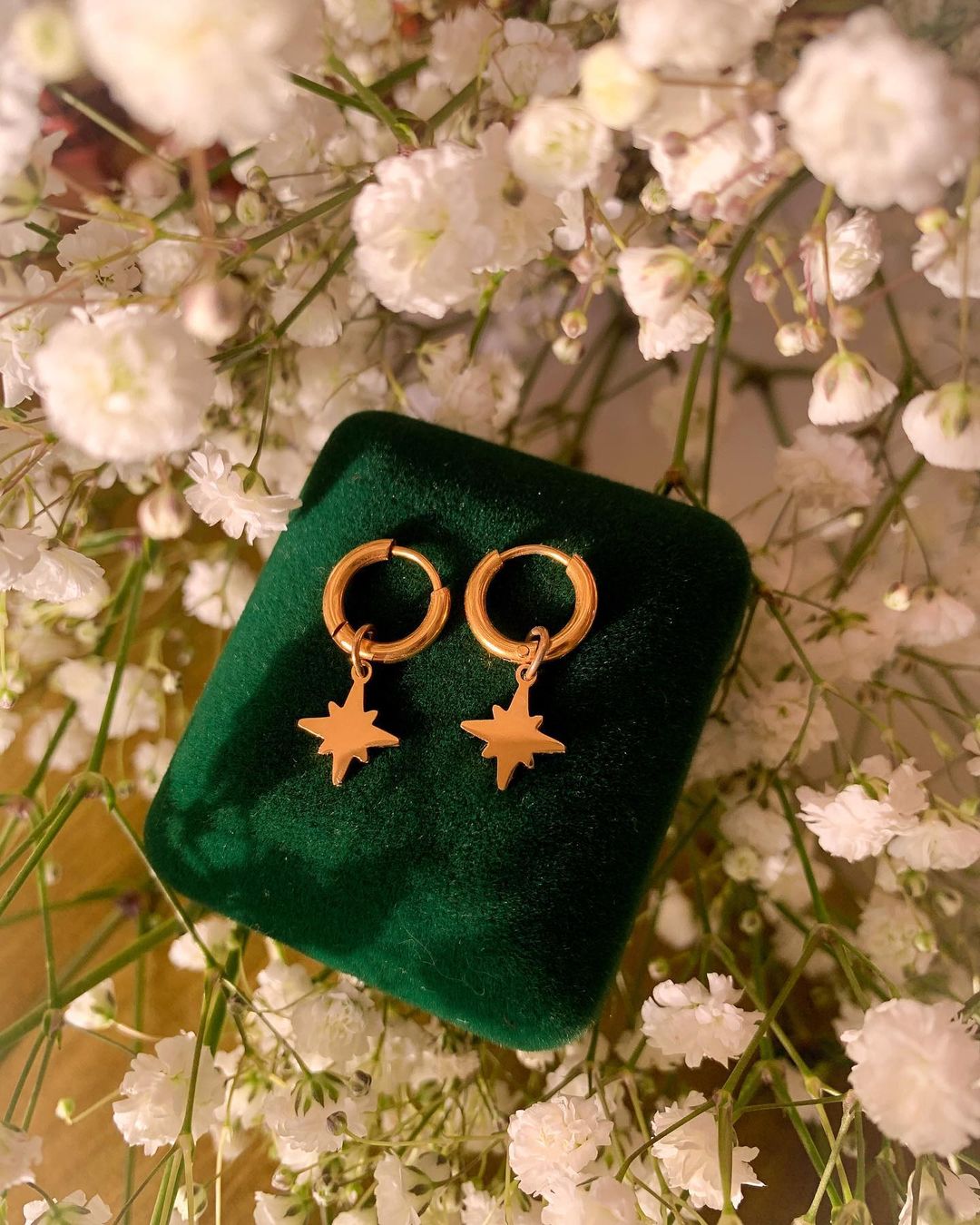 Rioting for attention, more and more is the deal with fashion, mise en scene in the post-pandemic era. 'Trinket' isn't fit to define these statement pieces in the accessory department of the likes of Loewe, Schiaparelli, and Versace.
From being the add-on to becoming the standalone garment, jewelry has become a significant part of the ensemble. The return of maximalism has created a need for amplified combinations within silhouettes, colors, and stitches, with many often terming gaudy as something desirable.
Stacking and Layering
While necklace layering may have been the 2013 Tumblr teenage dream for beach lovers, the era of online meetings has put the focus on our face, and not so much below it. Experimentations with earrings, piercings and attachments take the center stage, giving the term 'jewelry layering' a whole new meaning.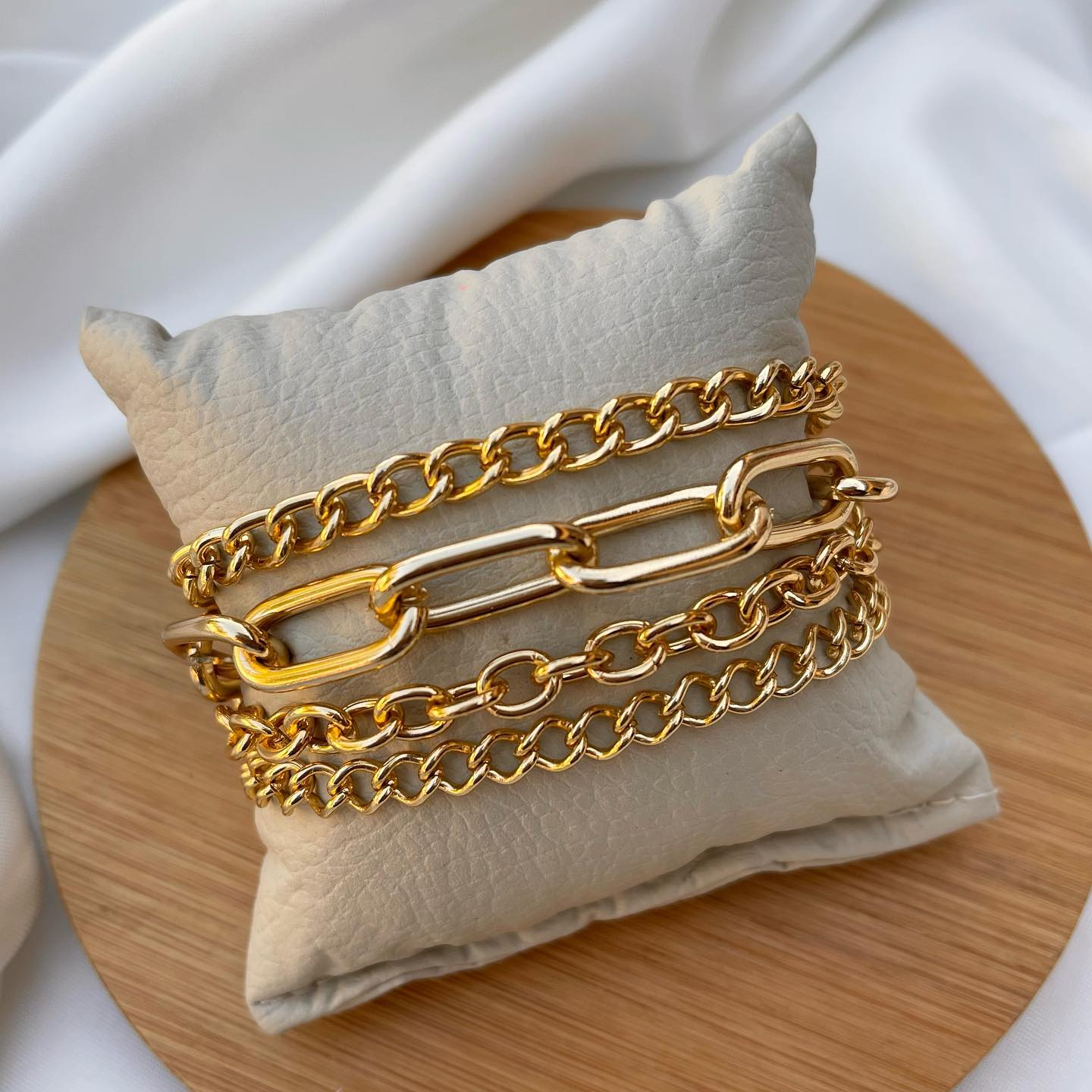 To mention an instance of this trend trickling down, within my social circle itself, many colleagues got their ears pierced, some adding permanent studs and rings on the upper lobe. While their immediate motive may not be to look 'fab' in an online work meeting, it is just an exciting affair to add a new trinket to your body. Somewhere, maybe they may not be aware of the affects fashion trends have on them, yet they slide in our lives more than we can estimate.
Style Tip: The trick is to keep the largest (or longest) earrings at the rearmost hole, working your way up as the earrings go smaller. If you have ear-cuffs, they usually go at the last, so you will fix it on the uppermost part of your ear.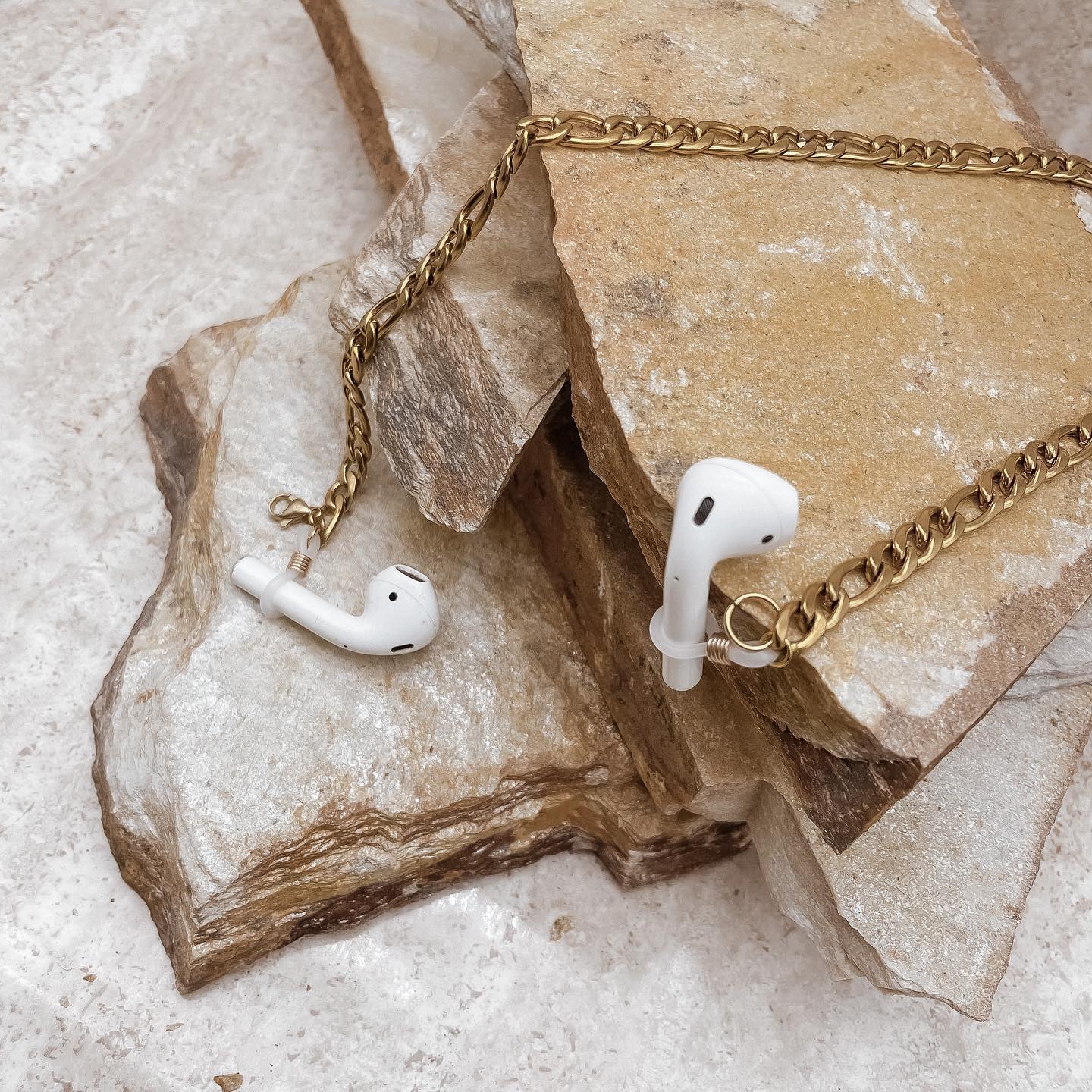 Alternatively, if you have a pair of Airpods or cordless earphones, try out investing in earphone jewelry! Not only do these look unique, but also add another depth to your layering. Additionally, some of these designs also aid in keeping earphones intact, avoiding it to fall if you're on a run.
Bold Gobstoppers
The ideology even extends to 'the bigger the better', with brands such as Schiaparelli, Dolce & Gabbana and Balenciaga coming up with gobstopper pearls and complete garments made out of gold. Tough chain-chokers and gemstones were an experimentation by Saint Laurent, juxtaposing the power suits at display with hip-hop culture.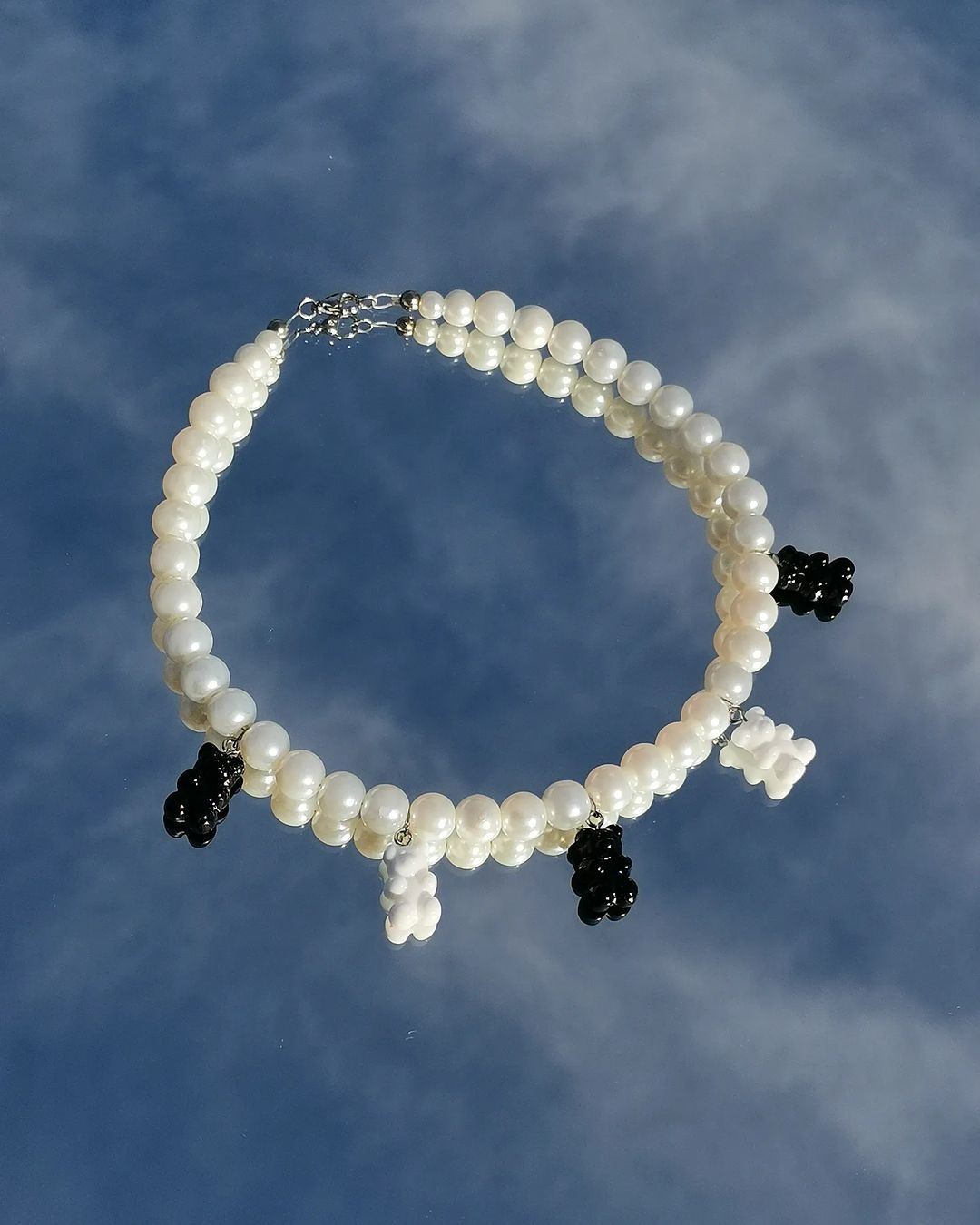 Essentially, gobstopper came up as a term referring to the 'jawbreaker' candies, which were hard enough to chew and big enough to "break your jaw". Pearls this big of a size became synonymous to being called a 'gobstopper'.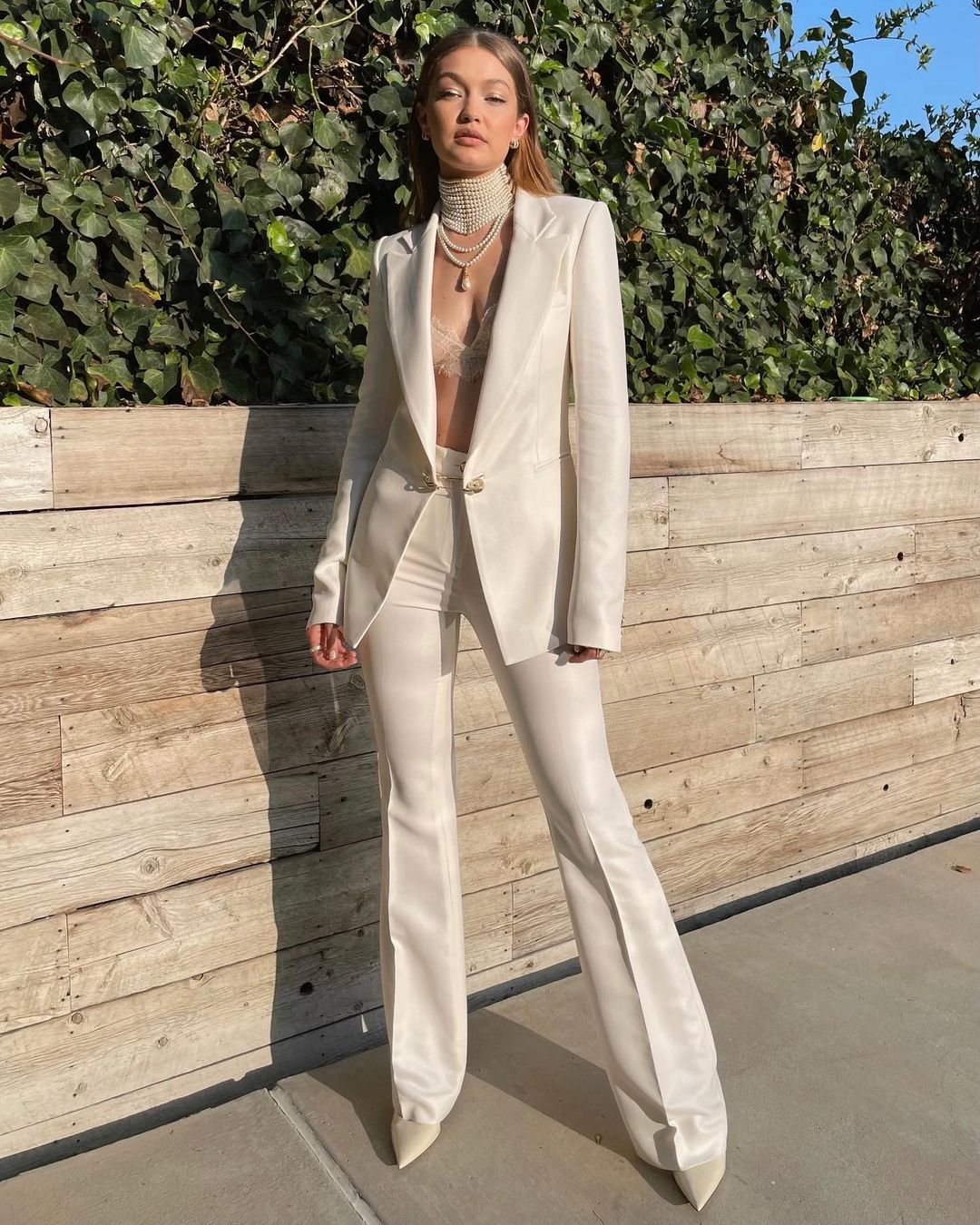 Style Tip: An all-white pearl necklace looks charming and cute (exactly how Gigi Hadid combined it with the sultry bralette and power suit). However, amp up the size of each dainty pearl, and that leaves nothing but itself to be a style statement, on all good terms. Pair it with an all-white or an all-black outfit. Isolate the necklace, and it'll grace you boldly.
Celestial Inspirations
Schiaparelli triumphs in the category of immersing their followers into a dreamlike state. Playing with abstract, astronomical motifs, the jewelry collections of Schiaparelli denote the shapes of the divine sun, moon and sparkling stars. Keeping up with the trends of today, they too have gone bolder and brighter, adding navy gemstones and faux fingernails to act as the new-age jewelry for everyone.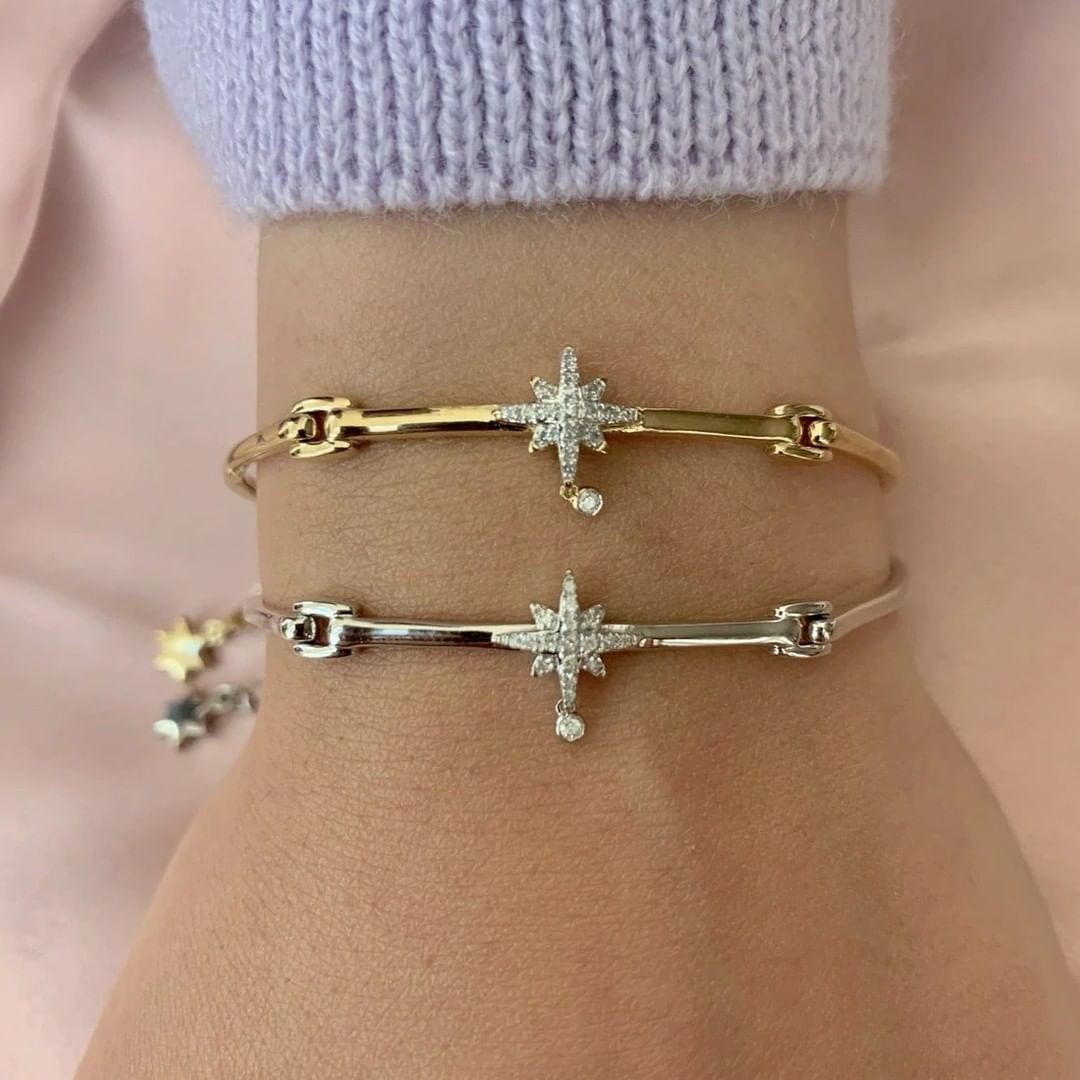 Style Tip: While one may not find a similar piece to the ones shown on the runways, a modern appeal can be created by taking a route of trial and error. Multiple pairings of star-studded earrings with a crescent moon necklace and astrological symbols can do the trick to create a cohesive astro-inspired jewelry set. This goes without saying, but keep the astrological symbol as your zodiac constellation to add to the mystery for others. Scorpio-lover, anyone?
Choked to the Neck
Chokers have never been this humongous. With Lanvin bringing a diamante heart shaped piece in purple and turquoise hues and Tom Ford keeping it classy with a sparkly band, the season is all up for experimenting with chokers.
Style Tip: Unlike dangly long necklaces, chokers stick to the shape of your neck, thus making it a pleasing match with almost any neckline. Collars can be buttoned all the way up, or kept open to reveal a bit of the décolletage. The rather slim ones in comparison work great for layering chokers (if you're into that kind of stuff).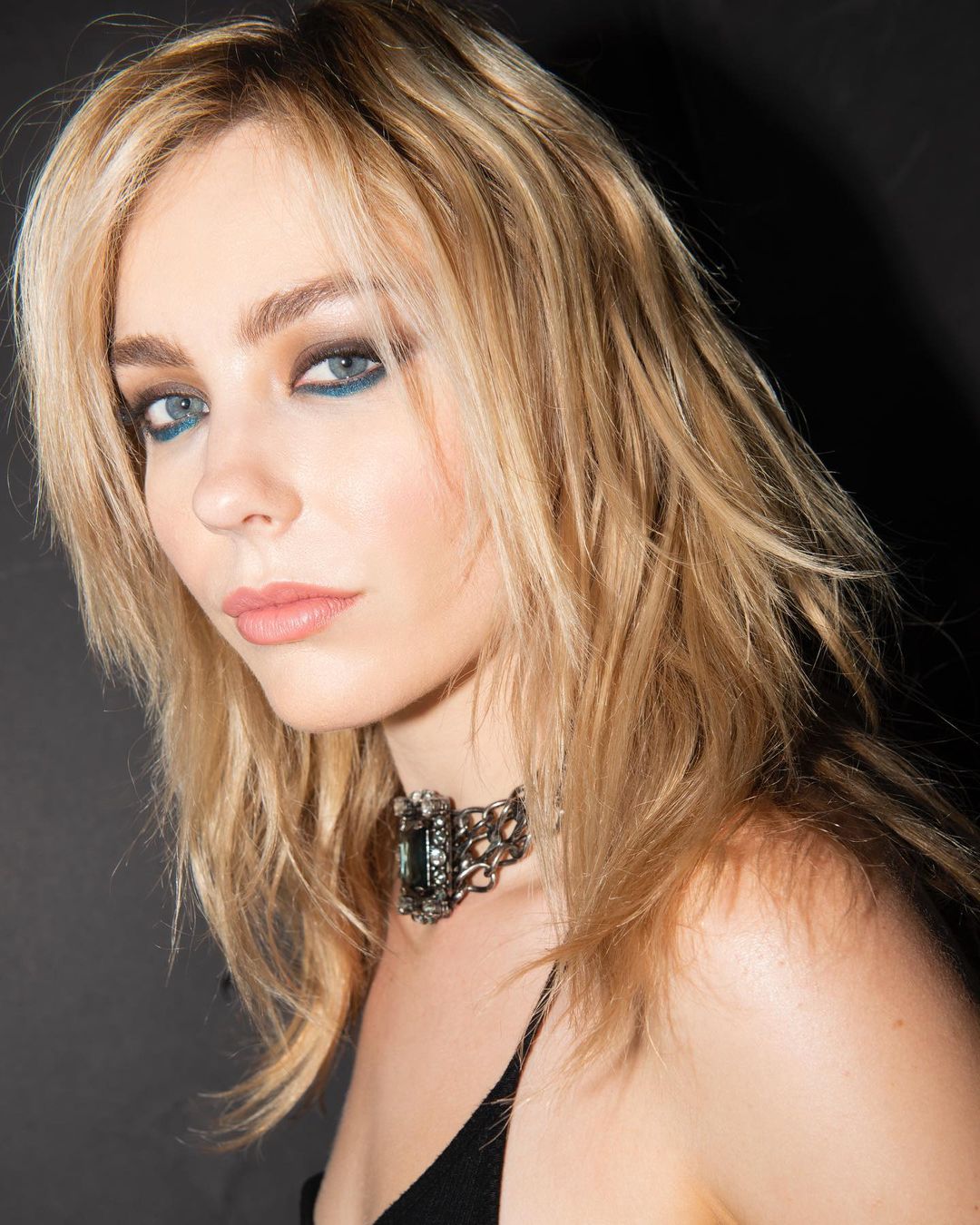 With the maximalist 80s are having a moment mise en scene, any and all color goes for these neck huggers! Bold, chunky gems or strappy glimmers, take your pick that will complement your outfit. However, be aware of the material of your jewelry, a leather choker may look fearless and valorous, it can cause harm to your delicate skin if you're prone to leather bites.
Bicep Bands
Armlets, or traditionally called as 'bajubandh', have long been an admirable component of the bridal trousseau in the South Asian regions. The popularity of armlets being worn by women can be credited to the dancers of royal India, specifically those practicing Bharatanatyam dance form, prior to which mostly men adorned the jewelry.
Being a unisex complementary jewellery, armlets have now become a staple as a fashion accessory in music and art festivals. A rope shape is the most common design of an armlet, with pearls, gems and beads embellished throughout. With the contemporary appeal, the armlet has been altered and experimented with time and again.
An ode to the past with the hopeful appeal for the future, the versatile accessory is reinvented by the design whizz of the zeitgeist. Fashionably termed as the 'bicep band', brands like Rodarte, Tory Burch and Fendi have revamped the traditional piece with a futuristic, minimal look. Being a statement standalone piece in the arm area, bicep bands are finally receiving the spotlight they deserve, albeit being modernized for the masses to cherish.
Style Tip: With a wide array in collections, designs and colors, it can get perplexing to select a bicep band for yourself. Our tip is to keep it event-appropriate; if you are the bride, invest in a dainty armlet that complements the rest of the jewelry in your ensemble. A gemstone with a specific color can be in all of your pieces, making the jewelry look uniformly cohesive with your clothing.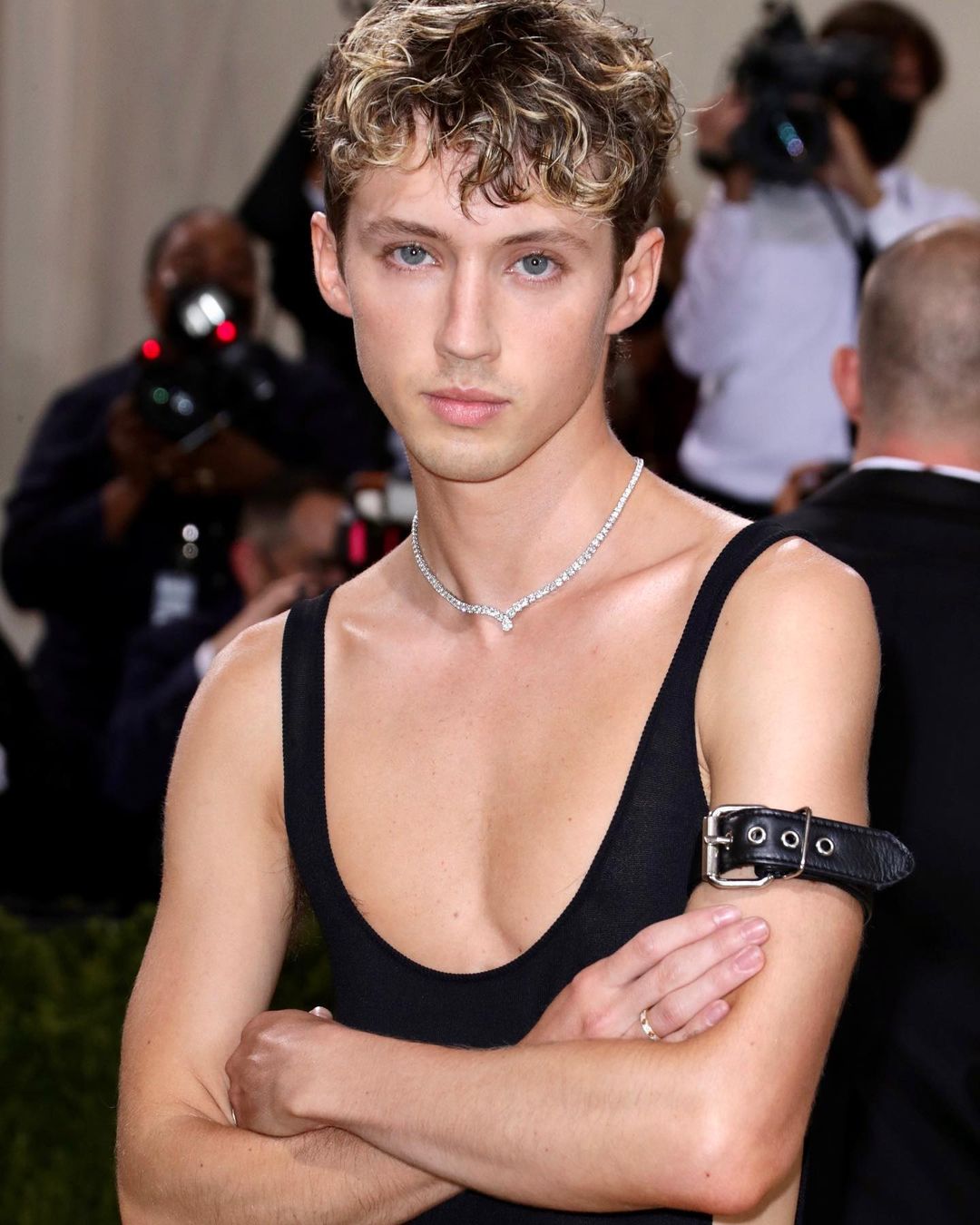 If you're visiting an art festival, you can even add your creativity to the bicep band by adding acrylic colors of your choice. If your outfit is meant to be colorful, contrast it with a leather bicep band with a buckle detail, similar to how Troye Sivan sported during the recent Met Gala.
Cuffed, Big Time!
While we are at bicep bands, let us not forget our delicate wrists. Huge is the word to go toward for this year's bangles and bracelets. If you are someone who cherishes collecting multiple jewelry pieces, go the layer route like Saint Laurent and Amush, who stacked numerous asymmetrical bangles on the runway wrists.
Want it minimal yet bold? Loewe and Balmain came up with singular cuffs that grabbed the attention to its details. Rochas especially kept it bee-hive inspired, with the cuff bulging out of the dress, creating a dynamic and the 'more is more' silhouette.
Anatomy Game
Witty and clever is the mantra with this style trend. It's ears on ears as earrings for Proenza Schouler (quite a mouthful, isn't it?). Speaking of mouths, Loewe outnumbered almost every other runway line with the showcase of lip-shaped tube top dress. Vogue calls it 'Beautifully Chaotic' and we cannot agree more.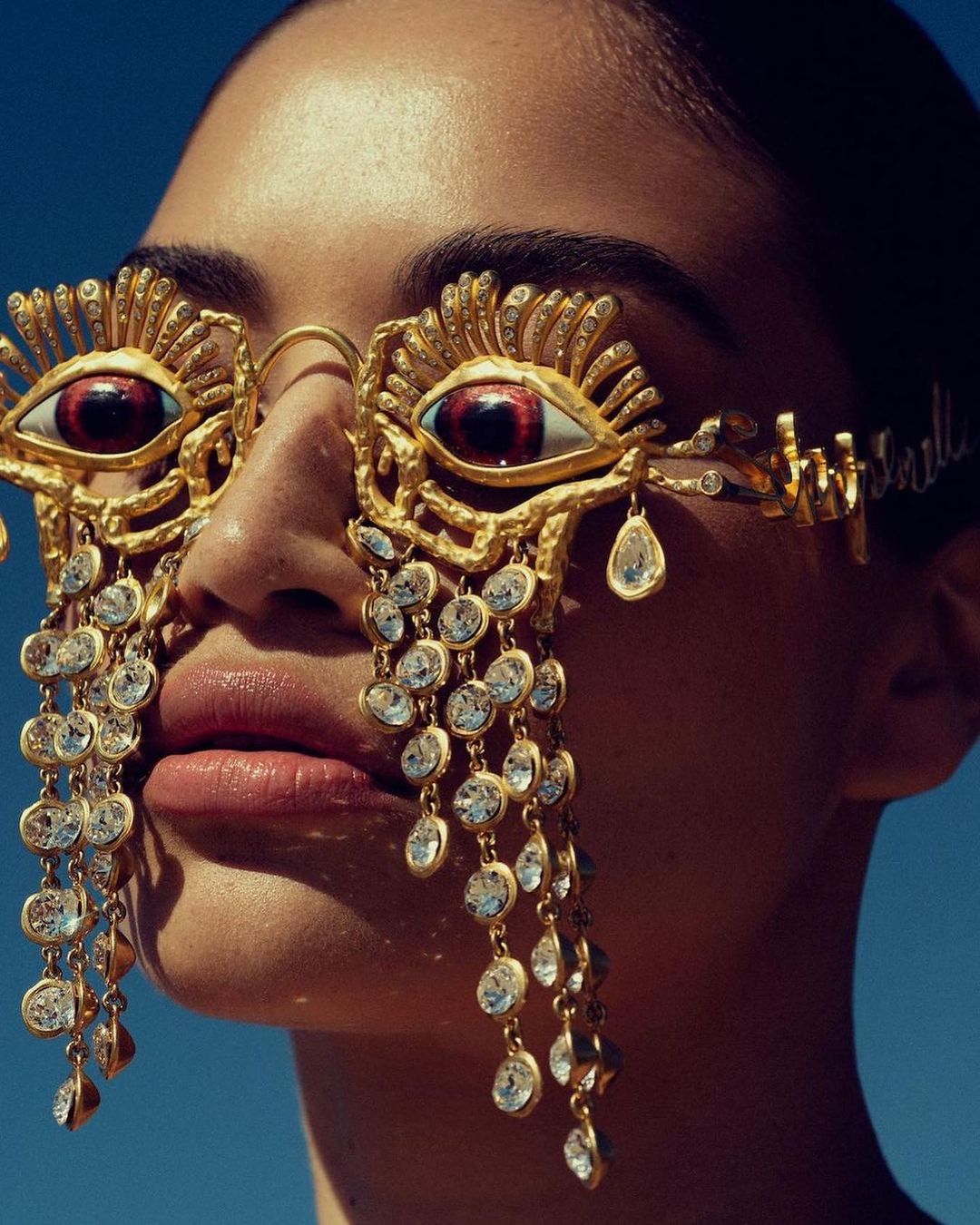 Taking those biology lessons, the jewelries (and even clothes) took the shape of the human body, with designers experimenting with its function, form and psychological attractiveness. Raf Simons came up with a complete silver-studded skeleton as an earring, with bones also used as armlets, necklaces and cuffs.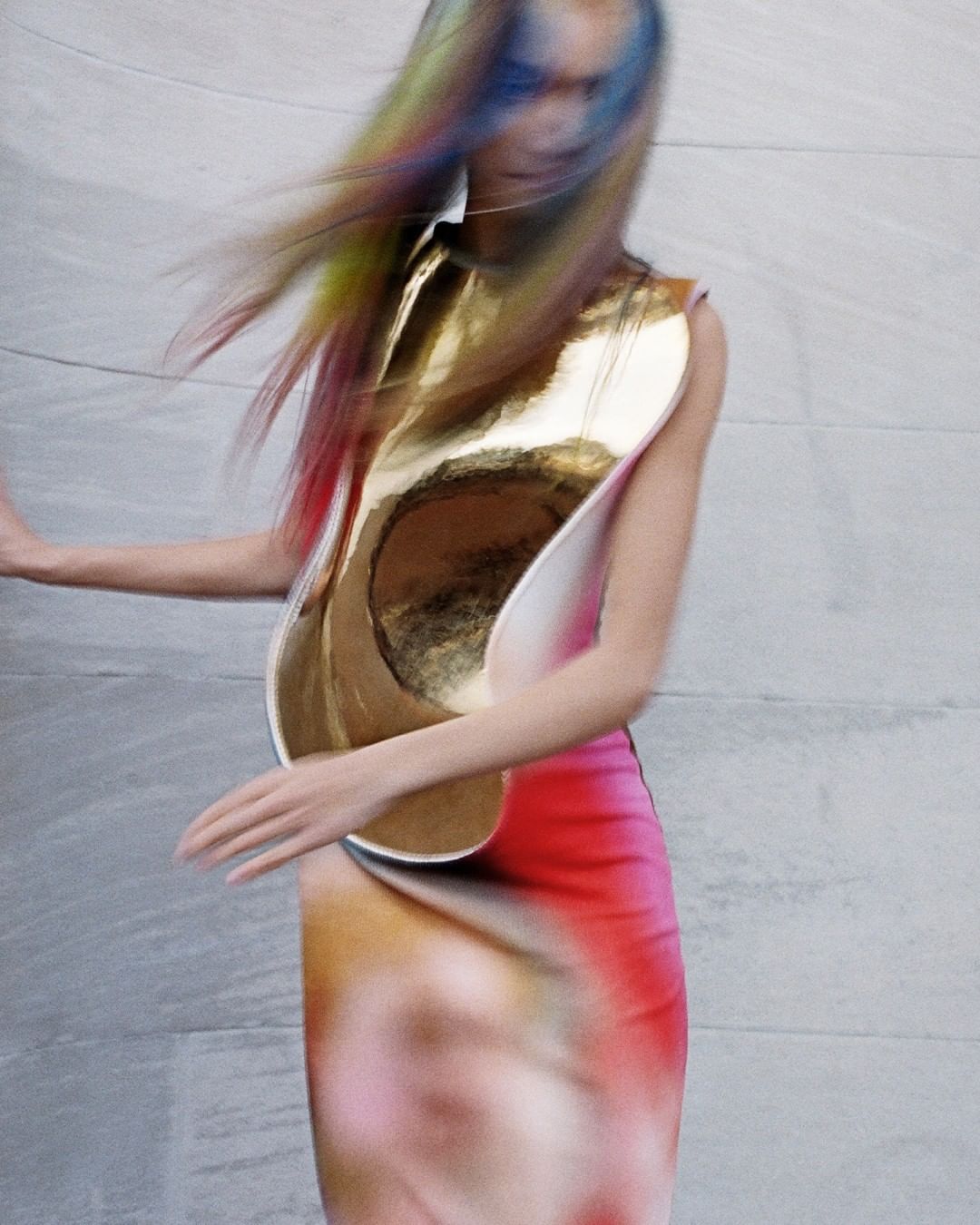 Style Tip: These anatomy lessons sure are edgy! It is best to keep these pieces in the limelight. Styling a hand-bone cuff? Keep your shirt crisp and plain. Fingers on fingers? Match it with a gold addition on your heels to complete the look.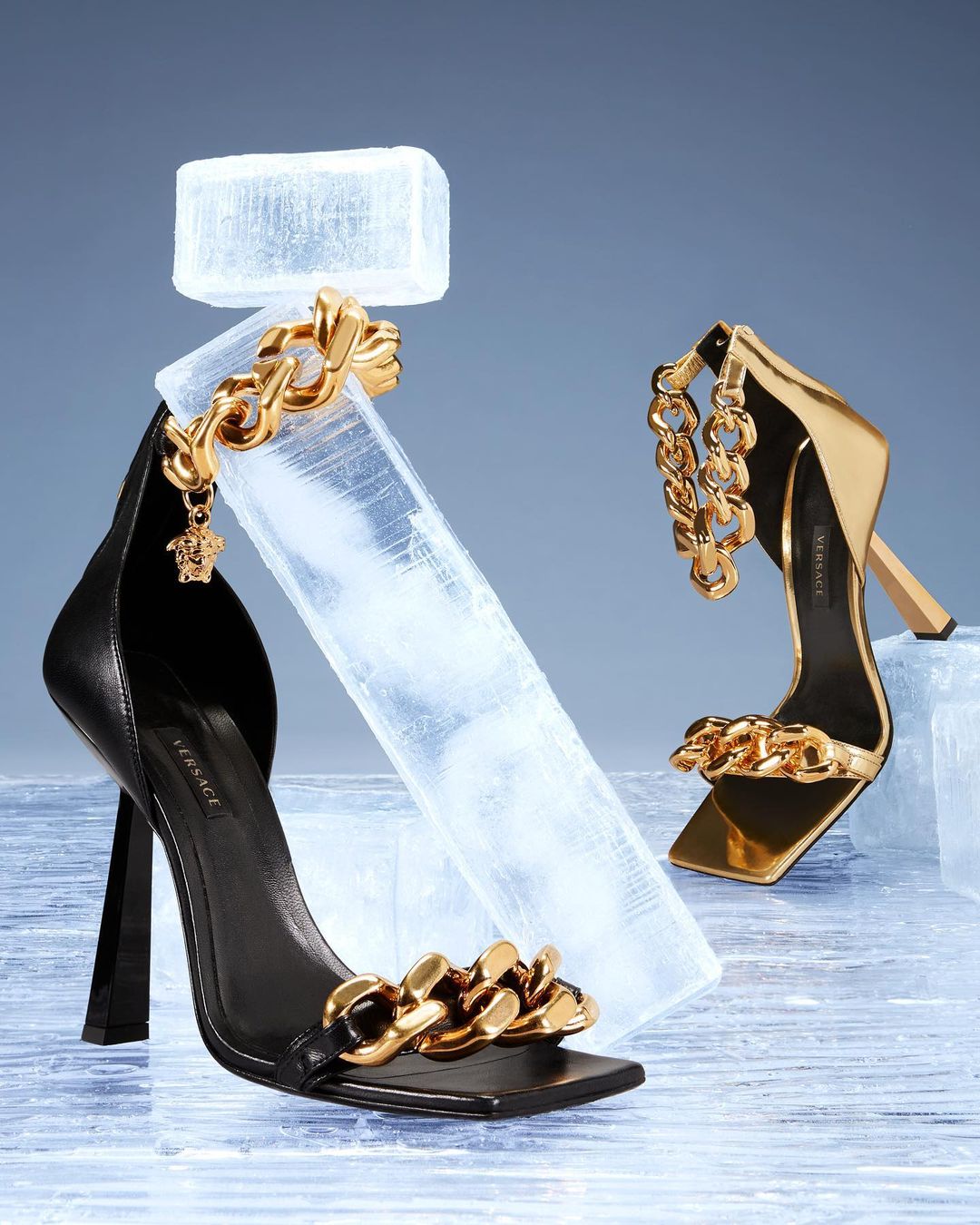 Fringe Flair
The sway of fringe clothing has been adopted by jewelry this year. With earrings, necklaces and even body chains having multiple stringy attachments following the model movements at the runway. Chanel and Couregges took the advantage of this trend to utilize in statement necklaces and s-shaped earrings.
We all remember those cowboy-inspired corduroy sling bags. However, these fringes are unlike any country aesthetic. Blingy, diamond studded ornaments were also seen on models giving off a disco vibe. Surely, these reinvented fringes are far from being a fling.
Style Tip: A thumb rule with fringed jewelry is that the more it is on the bare skin, the better. A fringed waist belt won't stand out that much over a camisole as much as it will on a bare waist, irrespective of if you navel-show or keep it high waisted.
Similarly, choose plunge or deep necklines if you are pairing a fringe necklace with it. Not only will it highlight your decolletage, but also provide enough space for the fringes to follow your movements.
Frequently Asked Questions
Is Rose Gold a color still in style for this year?
Well…yes and no. Many high fashion brands stuck to the essentials of gold and silver. However, rose gold as a unique color hasn't become obsolete since its establishment by Apple. In jewelry, rose gold will surely scale up in its likeability in the coming seasons, since the influx of gold and silver is bound to become saturated. Chrome shades are another well-anticipated jewelry color spectrum to watch out for.
What is a fad in jewelry for 2022?
By fad we hope you mean a fast-dying trend, 'cause those stringy plastic chokers won't last long. While the 90s chokers are creating a big fashion statement currently, only a specific of the past designs have managed to make a mark today. 
Another fad which can trickle down and vanish just as quickly is thin belts, especially the one often worn with a-line night dresses. Maximalism is a core movement this season, so it is best to invest in broad, minimal styles to pair with chunky jewelry.
Are shell designs still in trend in 2022?
Yes, but it is a slow revival. A staple in the VSCO girl's aesthetic, shell bracelets and necklaces have been brought back to life in a rather minimal approach, taking just one to two brightly coloured beads per bracelet.