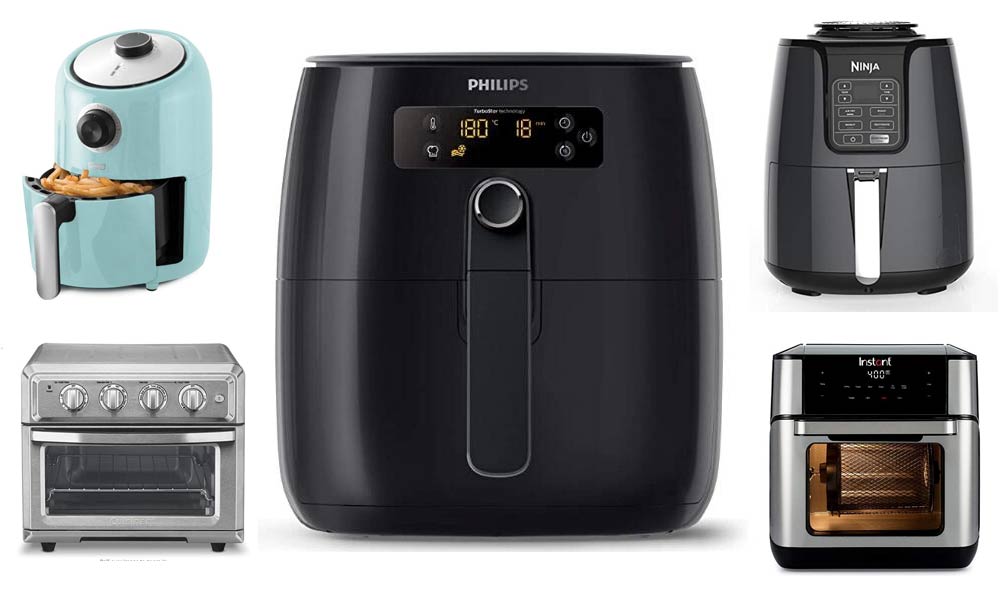 Air-fryers are still a bit of an unknown quantity to most of us. They began life as a convenient way to cook fries, chicken wings and other frozen, 'fast food' items. However, they are far more advanced than that and can be used to cook virtually any recipe from scratch. They work by efficiently circulating hot air around a cooking chamber that's smaller than a traditional oven. Therefore, you can use an air-fryer to replace an oven, and do away with ovens' cool spots and uneven cooking. You can bake bread, cakes, puddings, savory dishes, lamb chops, steaks and deliciously crisped up vegetables in an air-fryer.
The air-fryer doesn't need to be pre-heated, and it cooks meals a lot faster, so it's more economical as far as fuel use is concerned. The main differences are that any food that you want to be crispy must be placed in the air-fryer in one layer only. So you must be sure to buy the correct size for your needs, or you'll have to cook crispy foods in small batches. And air-fryer flavor is about the same as deep-fried food, rather than an oven baked taste. Health-wise, the air-fryer is an amazing innovation that cooks in the deep-fried flavor using only 2% of the oil needed in a deep-fat fryer. So it's definitely a wise choice for those of us who want to be healthier and wealthier!
The testing process
We tested 15 different air-fryers altogether in order to get a good grasp of what's on offer in today's market and be able to make an informed judgement for you to rely on. As well as checking which were best for cooking fast food, compared to oven replacement air-fryers, we considered size and ease of use/cleaning. This set of air-fryers caters for everyone from one-person diners through to party preparation sizes and they all cook crisply and evenly! Please read the 8 Things to Consider Before You Buy an Air Fryer.
Best Air Fryers You Can Buy This Year

1. Best Air Fryer for a family of four
Instant Pot Vortex Plus
2. Best Air-Fryer for One Person
Dash Compact Air-Fryer
3. Best Air-Fryer for 1 – 2 people
Cuisinart Compact Air-Fryer
4. Best Air-Fryer for Medium size/Ease of Use
COSORI Air Fryer
5. The Best Large Capacity Air Fryer
GoWise USA 7 quart Electric Air-fryer
6. Best Air-Fryer for fastest cooking
Ninja Air Fryer Max XL
7. Best Value Air Fryer
Chefman TurboFry 3.7 quart
8. Best for perfectly cooked food and no turning
Philips Avance Air-Fryer with TurboStar
Best Air Fryer for a family of four
Instant Pot Vortex Plus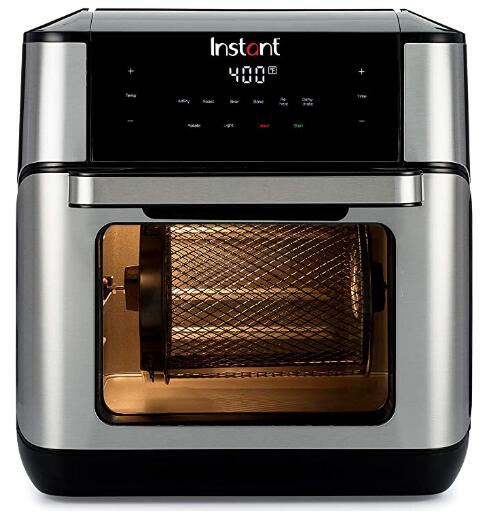 We would have been surprised if the Instant Pot company had let the air-fryer trend pass them by, as they have already been so successful in the electric pressure/multi- cooker market. This model has a large, square fryer basket with a 6 quart capacity, and square baskets give more cooking space than round ones. It's a good-looking air-fryer with a stainless steel casing and a control panel that is large, easy-read and user friendly.
The Vortex has 6 cooking settings from roast, bake, air-fry, broil, re-heat and a special dehydration setting. The dials make it easy to select the temperature you require and we recommend this model as a great investment for family-of-four cooking. You'll get your meals ready far more quickly and notice a welcome drop in your utility bill, as there's no pre-heating time required. And the Instant Pot brand is so well-known for efficiency and innovation, it's a brand you can trust when making your buying decisions.
Best Air-Fryer for One Person
Dash Compact Air-Fryer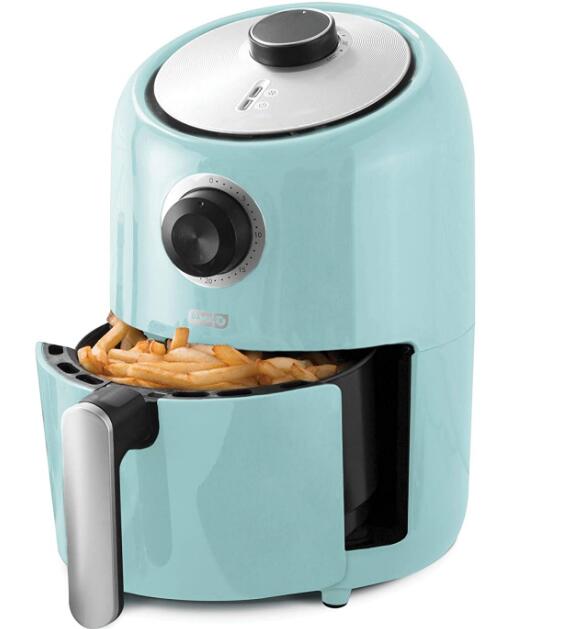 At last an efficient cooking device that's designed for one-person cooking and no wasted electricity pre-heating an oven and adding to your utility bills! The super, Dash Compact Air-Fryer takes up the smallest space on kitchen surfaces than any other air-fryer. So if you're living in a small apartment, that's a great bonus. It has a traditional kitchen timer, so you can't always set it to a precise number of minutes, but most users aren't cooking fragile soufflé dishes anyway! It cooks up to 400 degrees F, which is the same maximum temperature as most air-fryers. But it doesn't have the same amount of temperature options as larger air fryers. It's powerful with a 1000 watt heating element and the air-fryer technology doesn't produce long-lingering cooking smells, which is great if you live in a studio flat or dorm.
One of the important features we really appreciated is the automatic shut-off feature that prevents over-cooking. And the housing does not heat up at all, making it a very much safer cooking device to use for kids and elders. The clean-up is easy as the small, non-stick frying basket is suitable for use in a dishwasher. The Dash Compact Air-Fryer is also perfect for families who have to cook different items for different members of the family. It can cook small amounts of any food, from scratch or frozen fast food items within a few minutes of setting the timer. It bakes bread or cakes, grills and air-fries as well as cooking desserts and our favorite chicken wings and fries snack meals.
Best Air-Fryer for 1 – 2 people
Cuisinart Compact Air-Fryer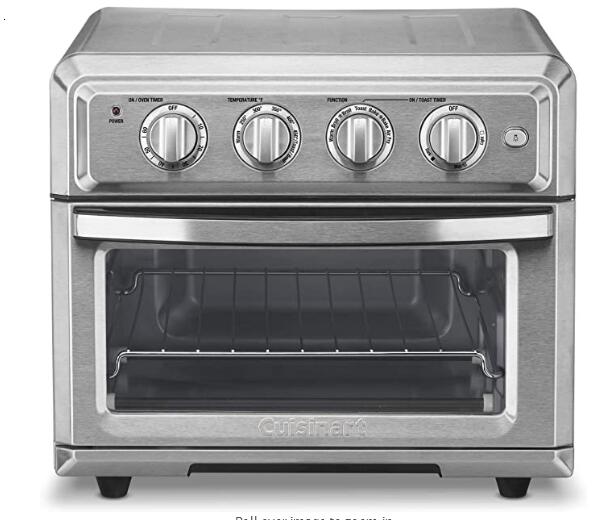 Cleverly called 'compact' by the manufacturers, this square-shaped cooking device does fit better onto kitchen surfaces or in cupboards. Its finish is stainless-steel, which harmonizes with most types of kitchen décor and reflects light in a dark kitchen. I'm not a huge fan of black cookers/washing machines as they can make a dark space even darker. And stainless steel is so easy to wipe down and stays fresh-looking for years.
This is a relatively simple machine to operate, and you just set the cooking time and temperature you require and place your food inside. So there's not even a 3 minute pre-heat period to wait for. There are no pre-set buttons for cooking popular items like fish, chicken, fries or whatever and you can't use it to keep food warm.
But on the other hand, it has a wider fry basket than many other models, which is crucial to getting even cooking and crisp results. We consider this to be a definite advantage as single-layers cooking is the key to the best cooking results with an air-fryer! The Cuisinart Compact creates home-cooked fries that have the same texture and taste as ones cooked in a deep-fryer – but with a fraction of the oil calories! You have to hand-wash the basket and drip pan of this model, which means you may have to give it a little scrub sometimes, if you've been cooking foods covered in batter. This economically-priced model air-fries perfectly and is suitable for everyday use and for making special meals from scratch for 1 – 3 people.
Best Air-Fryer for Medium size/Ease of Use
COSORI Air Fryer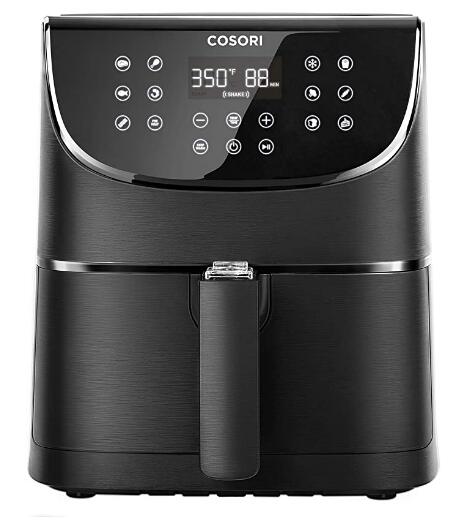 The Cosori Air Fryer 3.7 quart also has a square basket, but it has an even bigger cooking capacity than the Cuisinart Compact AirFryer. Square baskets always offer more space than round air-fryers. It's a more sophisticated machine than the Cuisinart Compact and makes cooking easier for experienced and inexperienced cooks. You can use the multitude of pre-set buttons to choose the correct temperature and cooking time, which is a really important feature for anyone unaccustomed to cooking at home. Not all air-fryers offer so much ease of use, so this is especially useful for younger and older users.
On the other hand, if you prefer to cook from scratch using your own temperatures and timings, you can switch the Cosori to 'Manual' and go your own way! This does make it more versatile if more than one person cooks in your household. It's excellent for ease-of-use and for extra-fast cooking. We recommend that you program it for slightly less cooking time than recommended in the instruction booklet, to avoid over-cooking. We also noticed that escaping steam caused condensation, but this didn't stop the food crisping up at all!
The Best Large Capacity Air Fryer
GoWise USA 7 quart Electric Air-fryer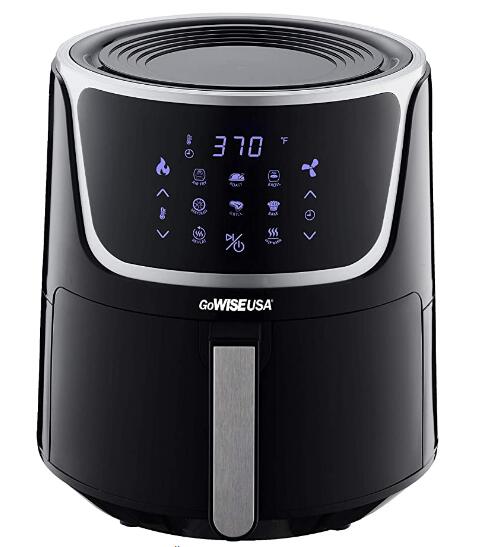 If you're a serious cook who has to produce meals for 6 – 8 people regularly, we definitely recommend the GoWISE USA Air-Fryer which can accommodate 7 quarts of food in each batch. Once again, we have to praise the fact that the designers have chosen a non-round fryer basket. This one is oblong and like the square baskets it allows users to cook larger quantities of food in the obligatory single-layer than circular baskets.
The outstanding feature of the GoWISE is that it works great as a dehydrator! So if you already dehydrate food or plan to do so in the future, this is definitely the best air-fryer for you. This model has three extra stacking racks, unlike any other air-fryer on offer. And this makes it easy to dehydrate up to four layers in each cooking process and to air-fry especially thinly-sliced vegetables for healthy crisps!
And there's more! This giant air fryer has 8 Cooking Functions, including air-fry, dehydrating, grilling, roasting, broiling, baking, keeping warm and reheating. The touchscreen control panel is large enough to be easy to read and it's extremely easy to set-up each function, temperature and time. It has a timer of up to 1 hour and a variable temperature setting from 180 degrees F to 400 degrees F.
You can cook large batches all in one go with this large air-fryer and it's suitable for larger kitchens where you have plenty of counter space. It's also easy to clean with the crisper tray and pan coated with safe, non-stick material.
Best Air-Fryer for fastest cooking
Ninja Air Fryer Max XL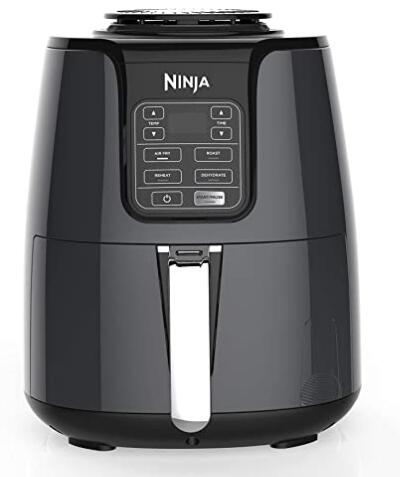 The Ninja Air Fryer Max XL 5.5 quart is our favorite for several unique reasons. It cooked all the foods we tested faster than any of the other high-quality air-fryers. And that's because it goes up to 450 degrees F, which is 50 degrees higher than its competitors. In addition, this model has a broiling rack included in the price, for faster cooking and delicious melted cheese cooking.
There is also a wider variety of cooking settings, such as 'Max crisp' and 'Air Broil', which use the 450 degree facility. And it can go as low as 105 degrees F for efficient dehydration.
And if you love to cook special/complicated dishes, the Ninja Max has a refined feature within the different settings programs. This allows you to choose the exact temperature you usually use for certain dishes and the other feature which delights expert cooks is the precise timer, which will measure the cooking time down to the actual second! Despite all of these fantastic refinements, the Ninja Max XL scored very highly for being easy to operate, with no long 'learning curve' frustrating you.
The instruction booklet is clear and concise, and the buttons are easy to read. It's non-stick owing to the ceramic interior and the well-fitting tray and the basket are easy to clean by hand or dishwasher. And best of all, it takes up the least space on your kitchen counter than other large air-fryers!
Best Value Air Fryer
Chefman TurboFry 3.7 quart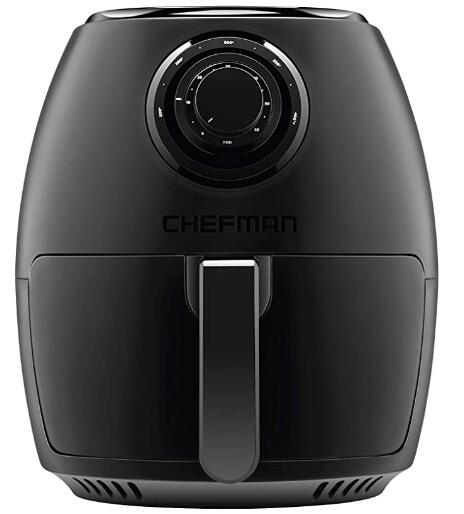 The Chefman TurboFry has a super-light air-fry basket, owing to the many vents which ensure perfect air circulation. So your food is always evenly-cooked and crispy. However, you must clean off any build-up of oil after each use, or you may get oil dripping down and getting baked onto the tray. The tray is easy to place in and take out of the machine and this also has lots of vents which you can keep clean by just brushing off any food debris after use.
This version of the Chefman TurboFry has a temperature range from 200 degrees F – 400 degrees F. And it's an economical model doesn't have fancy digital controls. But it's a simpler air-fryer for cooking everyday foods that don't require a super-precise temperature or timer. The 3.6 quart Chefman has a capacity of 15 cups and a timer that goes up to 60 minutes.
It also has the valuable feature of an automatic switch-off, which lots of us who forget to turn off the oven and have to eat, 'burnt offerings', know is a wonderful thing! Like all of the best air-fryers, you can cook anything from vegetables, meat, fish and frozen foods, pizzas and bake small bread loaves and cakes. The cooking quality is excellent and the 2-in-1 cooking chamber and basket design ensure you have plenty of cooking space, without taking up much space in your kitchen.
So it's a popular choice for small apartments, office lunch-rooms, college rooms and vacation traveling. In addition, the safe, non-stick basket is washable by hand with a soft sponge or you can pop it in the dishwasher. And it uses 1200 watts to quickly whip up your favorite dishes or the many delicious ideas offered in the official recipe book.
Best for perfectly cooked food and no turning
Philips Avance Air-Fryer with TurboStar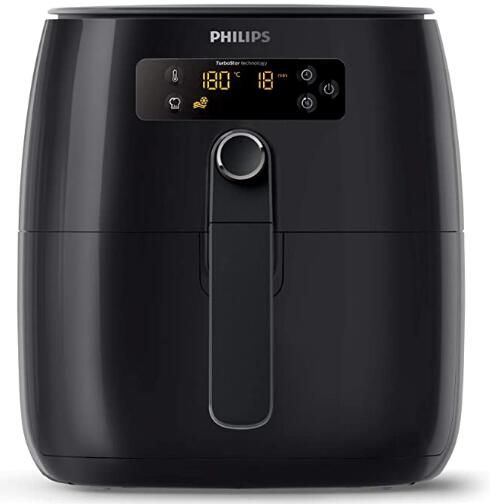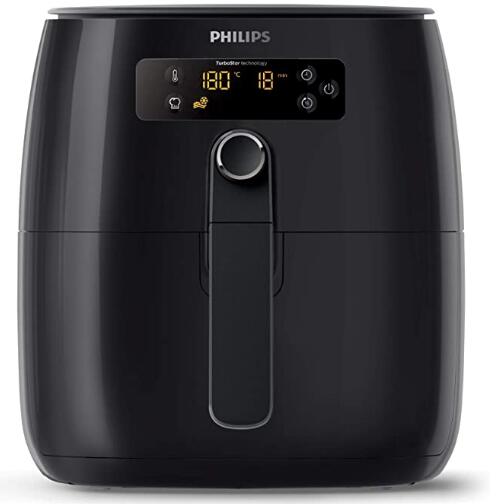 One of the most common mistakes made by new users of Air fryers is that the food isn't crispy enough, because they have overloaded the tray. Most air-fryers can only crisp food that's placed inside in a single layer, but the Philips Avance Air fryer with TurboStar technology has fixed that issue. It turns out perfectly cooked food every time, because of the powerful hot air turbo effect that ensures all food is evenly fried. This air-fryer never needs to be stopped, so the food can be stirred of flipped over, even when you've piled up the food inside. And this 'no turning' feature is a huge breakthrough in air-fryer technology.
Powerful heat from the heating element above crisps up and browns beautifully, hot air keeps everything cooking at the same temperature and excess fat drips down away from your meat. The Philips Avance can do everything an oven can, but quicker and using less electricity. You can grill, bake and roast so there's no limit to your family's healthy, tasty meals. And nobody has to spend hours cooking in a hot kitchen, as it cooks quickly and doesn't need heating up beforehand. It also comes with a removable, non-stick drawer and a food basket that are suitable for hand washing or dishwashing. There's an easy-use removable handle to help with cleaning and storing and there are more than 200 recipes in the Philips Air-fryer recipe app.
Conclusion
Whichever one of the 8 best air-fryers you decide is right for you, will change your whole way of cooking and the amount of calories you take in each day. Air fryers only use an amazing 2% of the oil we've been using in deep-fat fryers for so many years. And the whole air-fry technology is a welcome breakthrough to improve our health and weight, without needing to give up that delicious deep-fried flavor we all love! So, 'fast food?' – yes, please! As long as it's home-cooked to crispy perfection in one of best new air-fryers!