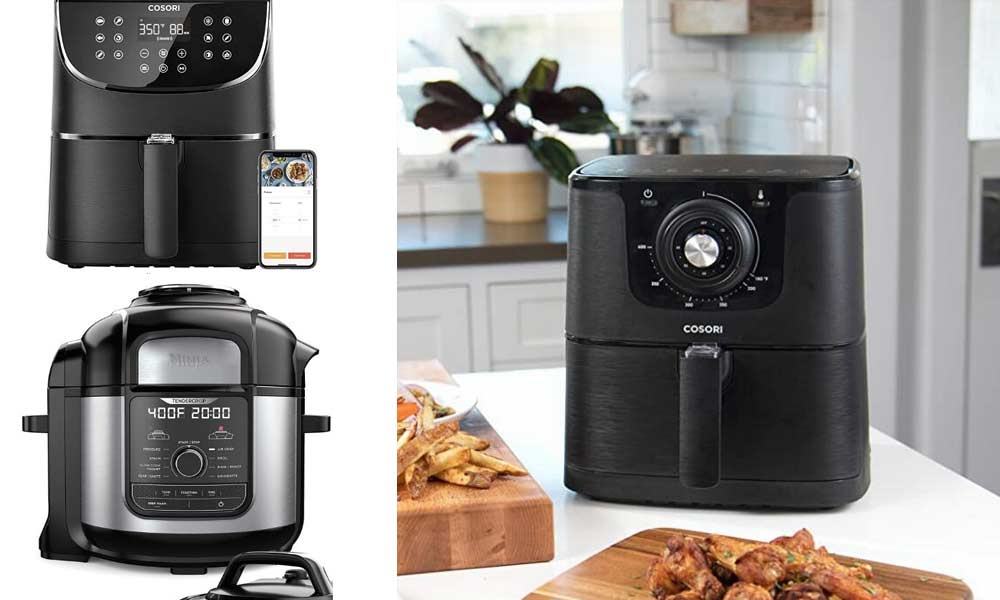 There are many excellent air-fryers on offer at present, and all have been designed to fit the exact requirements of a wide range of customers. Therefore, before selecting which is the best model for your needs, you should think about whom will be using the air-fryer. You may have a household in which family of all ages like to prepare snacks and meals, and this would suit an air-fryer with plenty of easy-to-use preset buttons. On the other hand, if your cooking style often involves new recipes, which need precise temperatures and timing, then an air-fryer with more emphasis on manual controls may be a better choice.
We have chosen two of the most popular, best-selling air-fryers to give you a detailed run-down of their pros and cons.
Ninja Air fryer vs. Cosori Air fryer
---
Cosori Air-fryers
Cosori Air fryer Pros
The Cosori air-fryers are designed to be simple to use. And that means they are safer for children and elders to use without the many risks that other cooking units have always posed. And it also means that whoever does the majority of the cooking in your home, will benefit from simple controls and a less stressful cooking experience all round.
The control panel on Cosori air-fryers varies slightly between models, but it does always offer more pre-set buttons than any other brand on the market. And included in these are all of our favorite foods, such as bacon, chicken, steak, frozen foods, vegetables and bread baking. For day-to-day cooking, anyone new to cooking or those who are too busy to spend hours reading recipe books, the Cosori Air-Fryer range is the perfect choice.
Cosori fryers can fry, broil, grill and bake perfectly and they are famous for always producing crispy food that has the deep-fried flavor we love. And you can cook scores of different recipes in Cosori air-fryers and expect delicious food every time. The basket and tray are square-shaped, which is the better than the fryers with a round design, as they provide more cooking space. And as one layer cooking is necessary, this is an important point when you are deciding which size of fryer is best for your needs. The square design also makes the crisping basket easier to slide in or out.
Cosori Air fryer Cons
On the other hand, the manual settings option is not the best. And many users find the temperature and timer buttons easy to mix-up, until they get used to the way they are set in the control panel. In addition, air-frying requires that you open the basket and give the food either a shake or a turn during the cooking process.
When remove the basket on the Cosori air-fryer, the timer pauses, which is a good thing, as you don't want to have to constantly reprogram the time and temperature. However, when you close the device to continue cooking, it always adds one minute to the cooking time. So you need to be aware of that and make any necessary time adjustments, in case it will affect the food you're preparing.
Cosori 3.7-quart Air-fryer for 2 – 3 people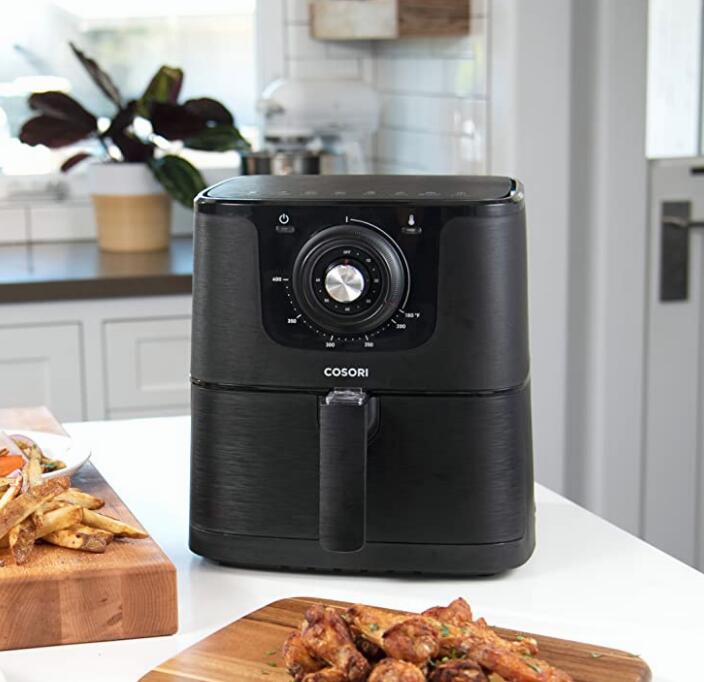 This affordable model is the perfect size to cater for two or three people. And it has a slim design to save space on your kitchen counter, with a square fry basket inside that gives more cooking space than round basket models. This model offers 11 handy pre-set buttons for chicken, steak, fish, vegetables, bread, fries and more. It's a compact design that produces excellent, super-healthy food every time!
Cosori Air-fryer: Cosori Stainless Steel 5.8Qt Air-fryer XL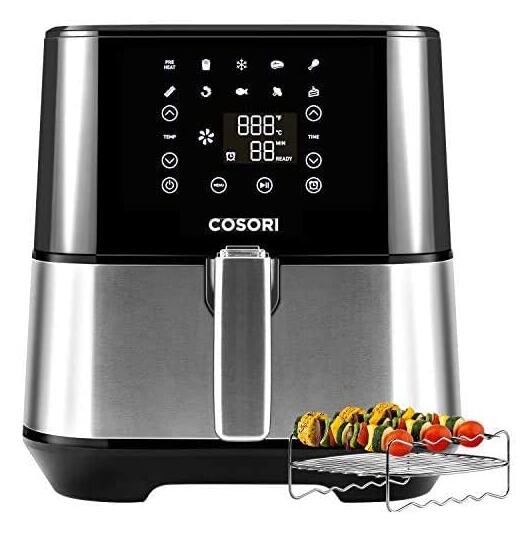 The Cosori XL offers a large basket with a capacity of 5.8 quarts and it's excellent value for families of 4 – 6. It looks attractive with the stainless steel sections and is sturdy and made to last. The 9 pre-set buttons make it easy to pop-in favorite meal options, with no fuss. And the manual controls are easy to use, too. The temperature goes from 170 F – 400 F. And you get a useful accessory, which is a dual-layer cooking rack with 5 skewers for delicious home-made kebabs. This model is easy to clean with removable parts that can be hand-washed or dish-washed. And you get crispy, tasty food without any unhealthy oil in it every time!
Cosori Air-fryer: Cosori Smart WiFi Air-fryer 5.8Qt
There's also this innovative Cosori Smart WiFi unit, which you can completely control from your smartphone. So wherever you are you can select a pre-set button or use the manual control, and monitor cooking from your phone. And you can even hook it up to Alexa and use voice commands to work it! This is the largest of the Cosori range and with its square tray and basket you get a generous 5.8 quart cooking space that can take up to a 6 lb. chicken or joint of meat. The control panel is very easy-to-use, like all Cosori air-fryers, and there are 11 pre-sets and a manual option.
---
Ninja Air-fryers Pros and Cons
Obviously both the Cosori and the Ninja brand air-fryers cook food quickly, evenly and with a wonderful, deep-fried flavor and crispy crunch texture. But there are important differences between the two brand's air-fryers.
Ninja Air fryer Pros
The Ninja Air-Fryer has an ultra-simple control panel and no pre-sets at all. So this is perhaps designed for more experienced cooks, who are comfortable using the air-fryers' recipe book. The recipe book that comes with the Ninja air-fryer range is very detailed, easy to follow and well thought out, so whatever you need to know will be covered. However, there are several cooking options including air-frying, roasting, re-heating and broiling. And, a special bonus for those who are keen on dehydrating food, the Ninja air-fryer is an excellent dehydration unit. So that gives it significant advantage over the Cosori air-fryers for some purchasers.
Ninja Air fryer Cons
The only real disadvantage to the Ninja is its lack of pre-set buttons. This probably restricts its appeal for less experienced cooks, who like the option of quick frozen food meals that you can pop-in, set and forget.
The Ninja Air-fryer range
Ninja Air-fryer: Ninja 4Qt Air-fryer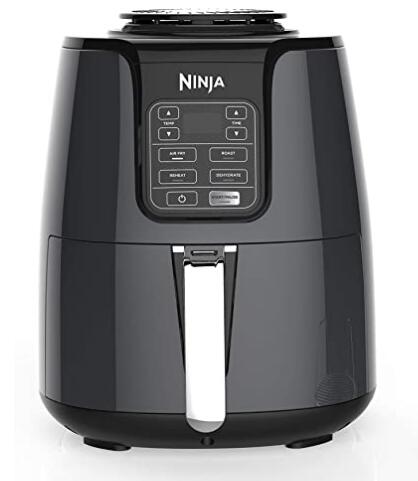 As it includes the dehydration option, the Ninja 4 quart Air-Fryer, can be set from as low as 100 F and up to the usual top temperature of 400F. You can place an appetizing quantity of fries weighing up to 2 lbs. for quick, crispy cooking. And the large, non-stick basket is ceramic-coated for absolute safety.
Ninja Air fryer – Ninja Foodi Pressure Cooker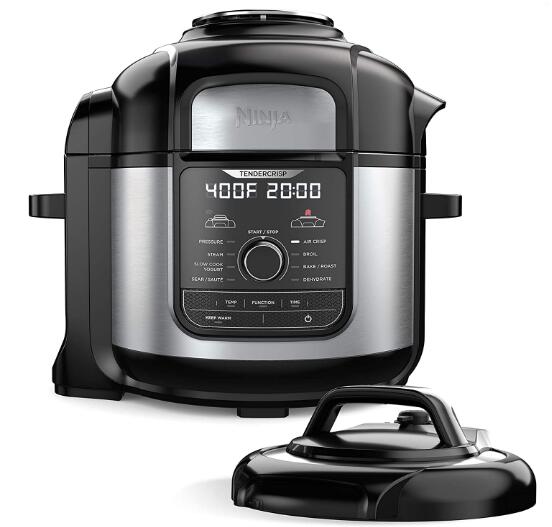 This clever hybrid unit is basically a pressure cooker, which includes a fabulous air-frying option. It's a multi-cooker which can genuinely replace up to 7 separate cooking units including: air-frying, baking, steaming, slow cooking, re-heating, keeping warm and pressure-cooking.
The 5 quart pot is spacious for cooking large amounts of food and you get a large, 3 quart crisp basket for really crunchilicious foods. In fact, the Ninja brand is famous for the crispiness of its crunchy food items!
Ninja Air-fryer: Ninja Max XL 5.5Qt Air-fryer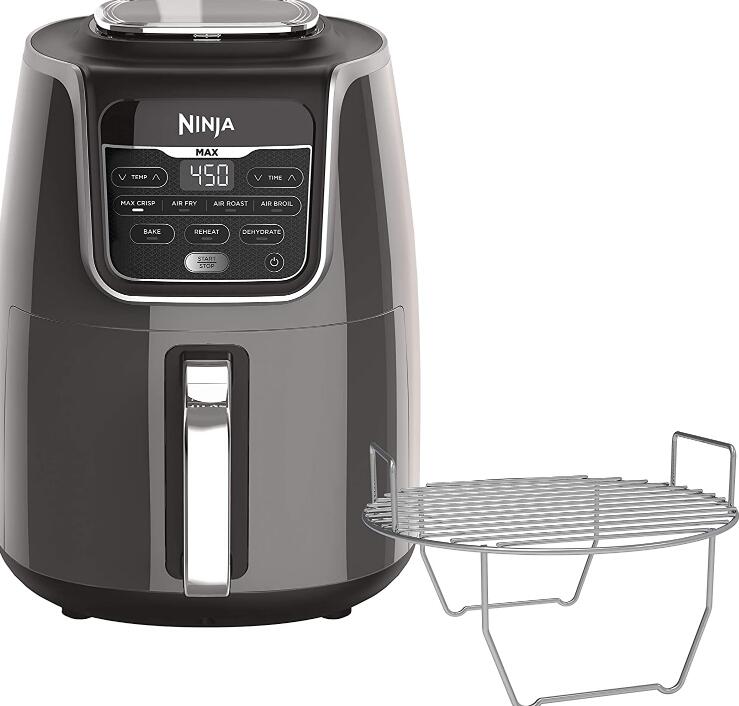 This is the Premium Ninja air-fryer, which has many extra features you can't find anywhere else. In particular, you can cook up to a temperature of 450 F, which exceeds the highest temperature of most air-fryers by 50 F. The fry-basket takes up to 3 lbs. of fries at a time. And there's a grilling option if you like your food super-crunchy with a well-browned finish. This will take care of a large family or cook food for parties and special occasions with dinner guests all year round!
---
Cosori Air Fryer vs Ninja Air Fryer, Which Would I Get?
For the simplicity of cooking day-to-day favorites and frozen or fresh foods you would usually deep-fry, the Cosori Air-Fryer is certainly the best option. Cooking with between 9 – 11 pre-sets owing to its quantity of pre-sets. It has an automatic switch-off function for extra safety. It's not so good as the Ninja as far as the manual control panels go, but that's not to say that's a problem. People soon get over their initial confusion and use it with ease.
On the other hand, the Ninja Air-Fryer offers 4 useful cooking options, air-fry, roast, re-heat and dehydrate, which gives it an advantage for keen food dehydrators. It has more emphasis on manually controlled cooking, where you use a recipe to tell you the optimal temperature and cooking time. But there are more than a 100 recipes in the Owner's Manual. And it's easier to pause when you remove food for shaking or turning, without having to adjust the timer. So I would say this has greater utility for more experienced cooks!
Whether you buy from the Cosori or Ninja air-fryer ranges, you can be sure of quality and durability if you take care of your innovative new kitchen wizard!