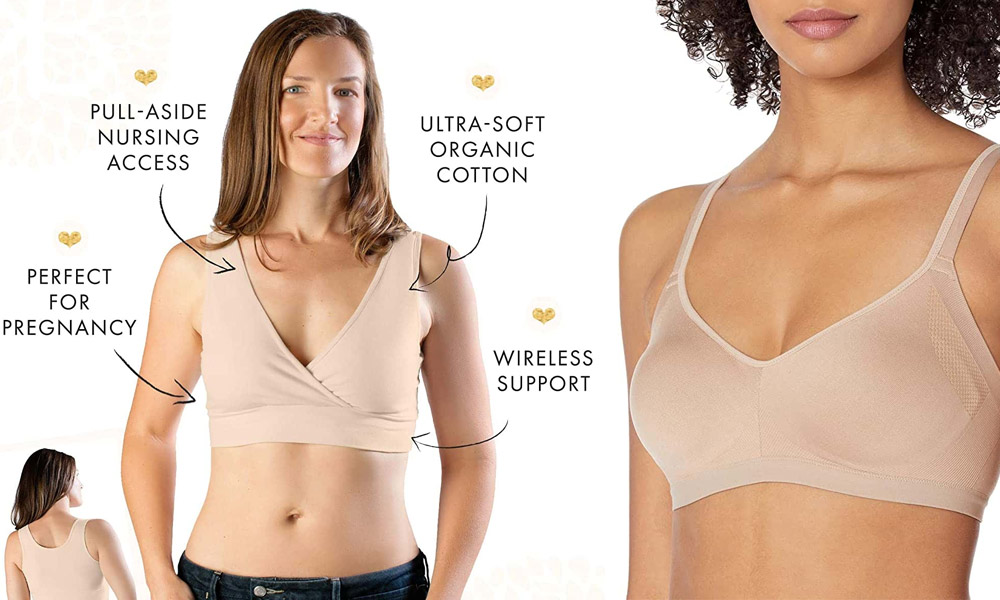 The main reason to wear one of the best sleep bras in bed is sheer comfort! And this applies to all women, not just pregnant and nursing mothers. Sleep bras and loungewear bras are more popular than ever before, now that lots of us are spending more time at home. And the greatest benefit of wearing a sleep bra is that it will improve the quality and quantity of your sleep! There are a lot of myths about whether teens or women should or should not wear a sleep bra, so let's see what the truth is before we continue:
Does wearing a sleep bra stop sagging?
Sagging happens because of gravity and aging and is mostly governed by your genes. So as long as you wear a supportive bra for sports activities, when the ligaments supporting your breasts could be stretched, you don't need to wear a sleep bra. And wearing a comfy sleep bra will not stop the normal development of teen breasts.
Do sleep bras help you sleep better?
But women who do wear a sleep bra regularly say they feel much more comfortable and sleep a lot better. And anything that improves your sleep quality is a real benefit in life! Although many women who wear sleep bras have larger than average cup sizes, there are plenty of women with small and medium chests who feel more comfortable and more feminine wearing a soft, sleep bra at night.
Where to buy the best sleep bras?
As the idea of a special, 'sleep bra', is fairly recent, you may struggle to identify which are the best brands and styles for women of different sizes. So HerStyleCode writes regular guides to bras, to make your life easier!
We use teams of ordinary women who test out a wide range of bras by wearing them for at least two days. And then they give us their honest feedback. This means that all of the poorly-made bras get rejected in the first round. And then we go on to create the best short list to guide you to a successful purchase! So read on:
1. Best Sleep Bra for Nursing & Maternity
Kindred Bravely – Extra-Soft Cotton Wireless Nursing Sleep Bra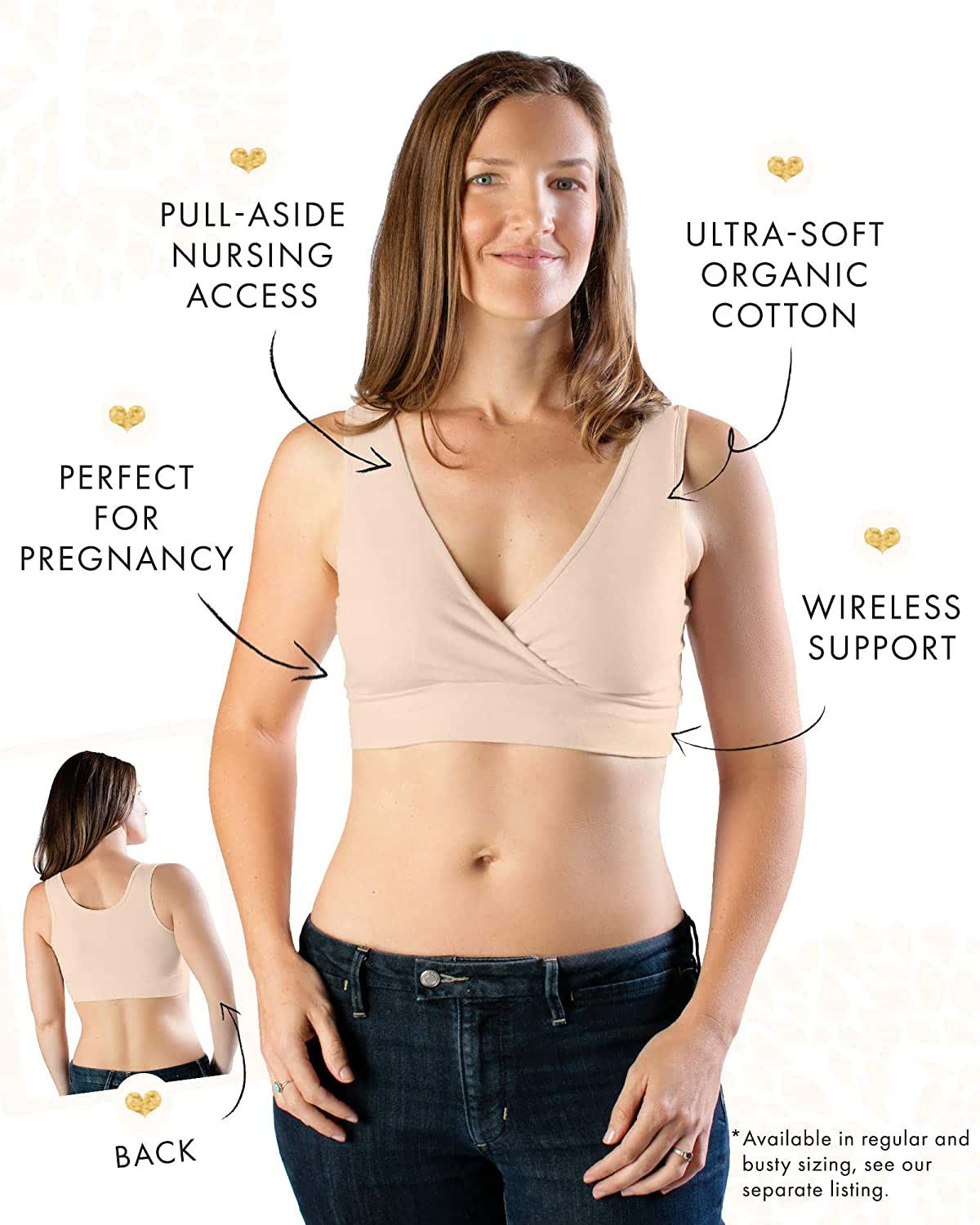 This is a very soft crop-top style sleep bra, made from 90% organic cotton with a little spandex stretchiness. You get a softly cradling fit for extreme comfort on you and the baby. The pull-on style is convenient and there are no clips or clasps to dig in. Can be worn as a lounge-wear, yoga, travel, post-surgery or sleep bra.
Our Testers said this was a super, full coverage bra that was excellent for nursing. The fabric is lovely and soft and you get an excellent fit. Testers who weren't pregnant or nursing also loved this bra as it's so comfy and stretchy, yet supportive enough to use as loungewear and local errands!
2. Best Seamless Low-Support Sleep Bra
Hanes – Women's 'Get Cozy' ComfortFlex-Fit Wire-free Bra
MHG196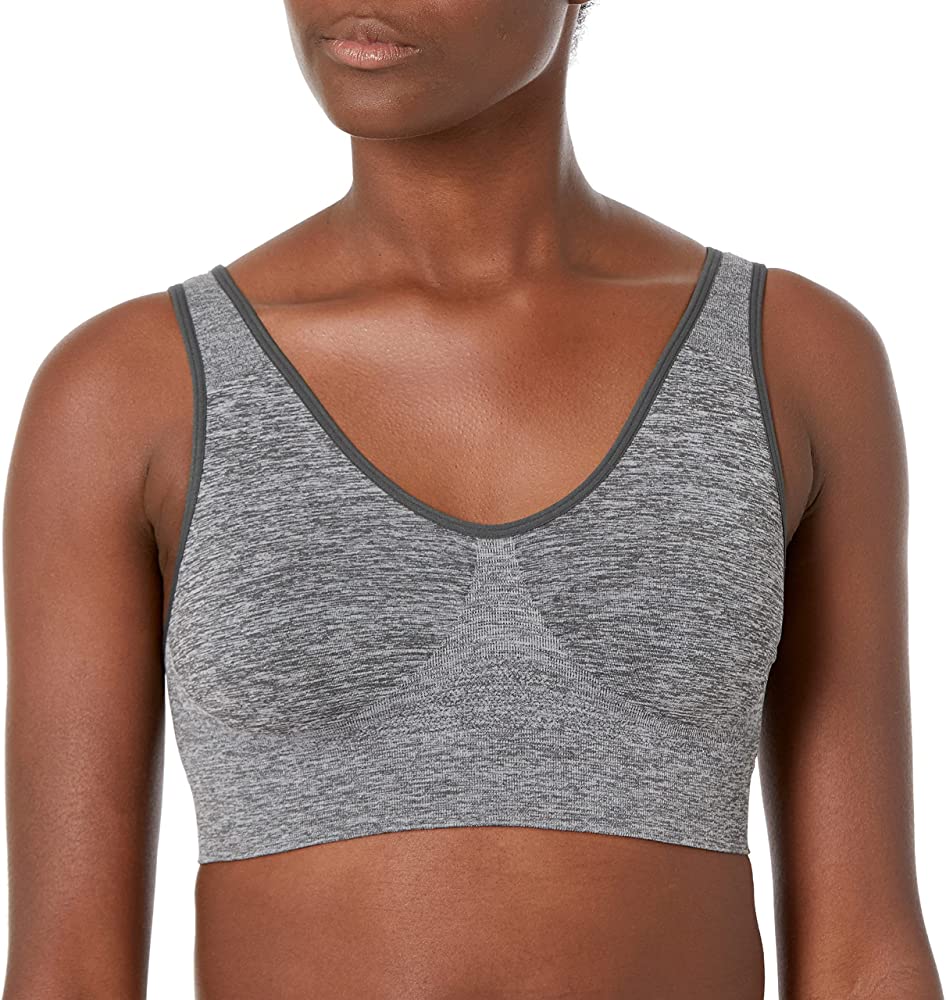 The benefit of an affordable, ComfortFlex-Fit bra is that the fabric has 4-way stretch. So it fits like a second skin that moves with you. And soft, seamless, full-cover cups give a smooth contour, for wearing as a lounging bra. The wide bottom band and broad straps avoid any pressure on your ribcage or shoulders.
Our Testers said this is an amazing bra for perfect fit and comfort. Our 32 DDD wore a Medium size and said it felt incredibly lightweight. The pull-over style, with no support or padding is great for home-wear and sleeping. And this bra is popular with fibromyalgia sufferers as it gives minimum control, and no pain!
3. Best Racerback Sleep Bra – Pack of 3
Fruit of the Loom – Women's Adjustable Racerback Sports-Bra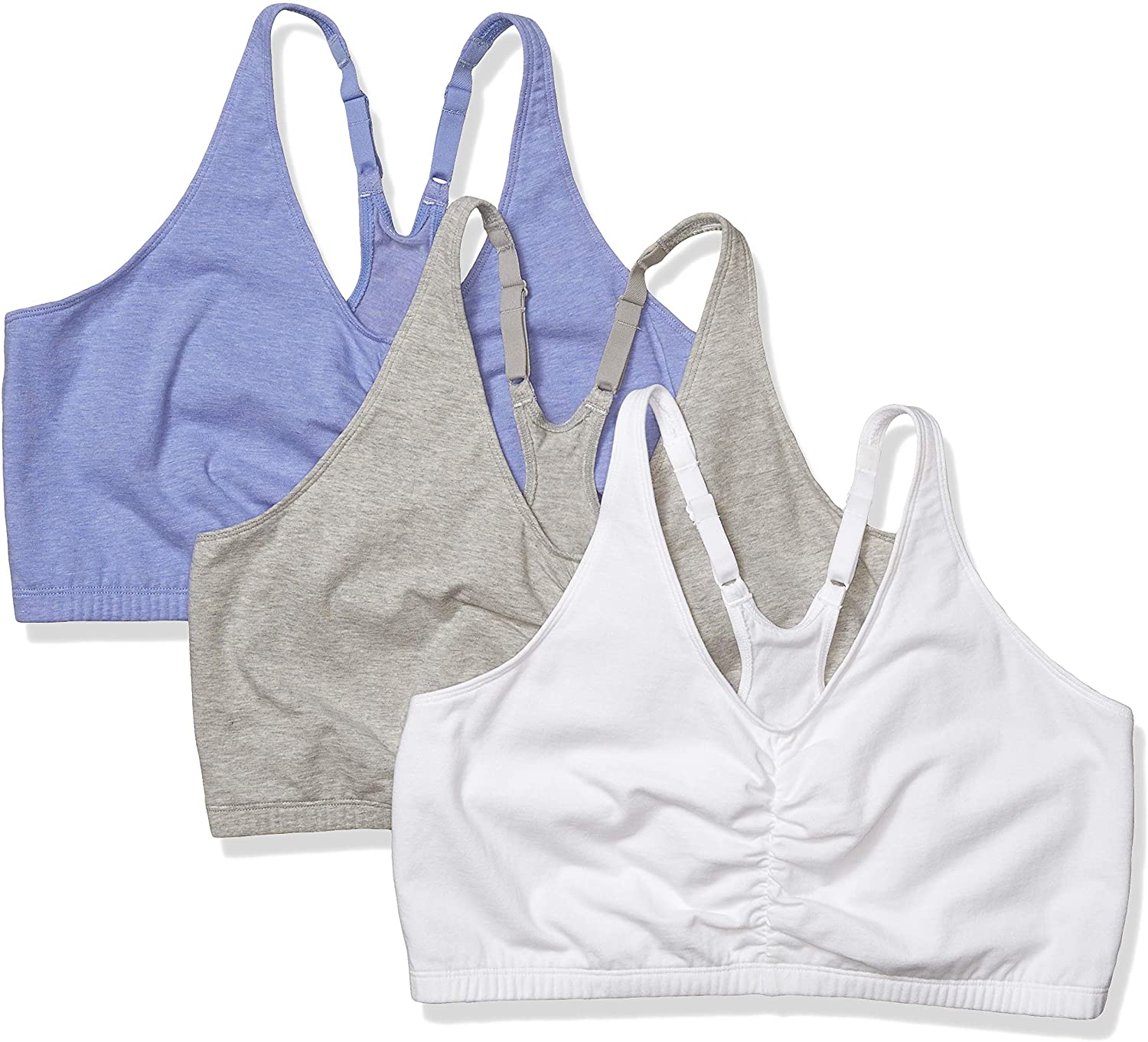 This is a full-coverage, crop-style bra top with a shirred front. It has little support or breast separation. Its adjustable straps help you get the best fit. And the 2-ply design leaves a smooth contour. It's a lightweight bra for yoga or sleep, with no fasteners to dig in.
Our Testers said this is an extremely comfy bra that doesn't squash your bust or make you look flat-chested. They were pleased with the adjustable straps, which are great for women with a short or long body. It was comfortable to wear all day and to sleep in and is another affordable option!
4. Best Sweat-Control Sleep Bra
Hanes – Women's X-Temp Hook-and-Eye Mesh Wire-free
Convertible Bra MHG506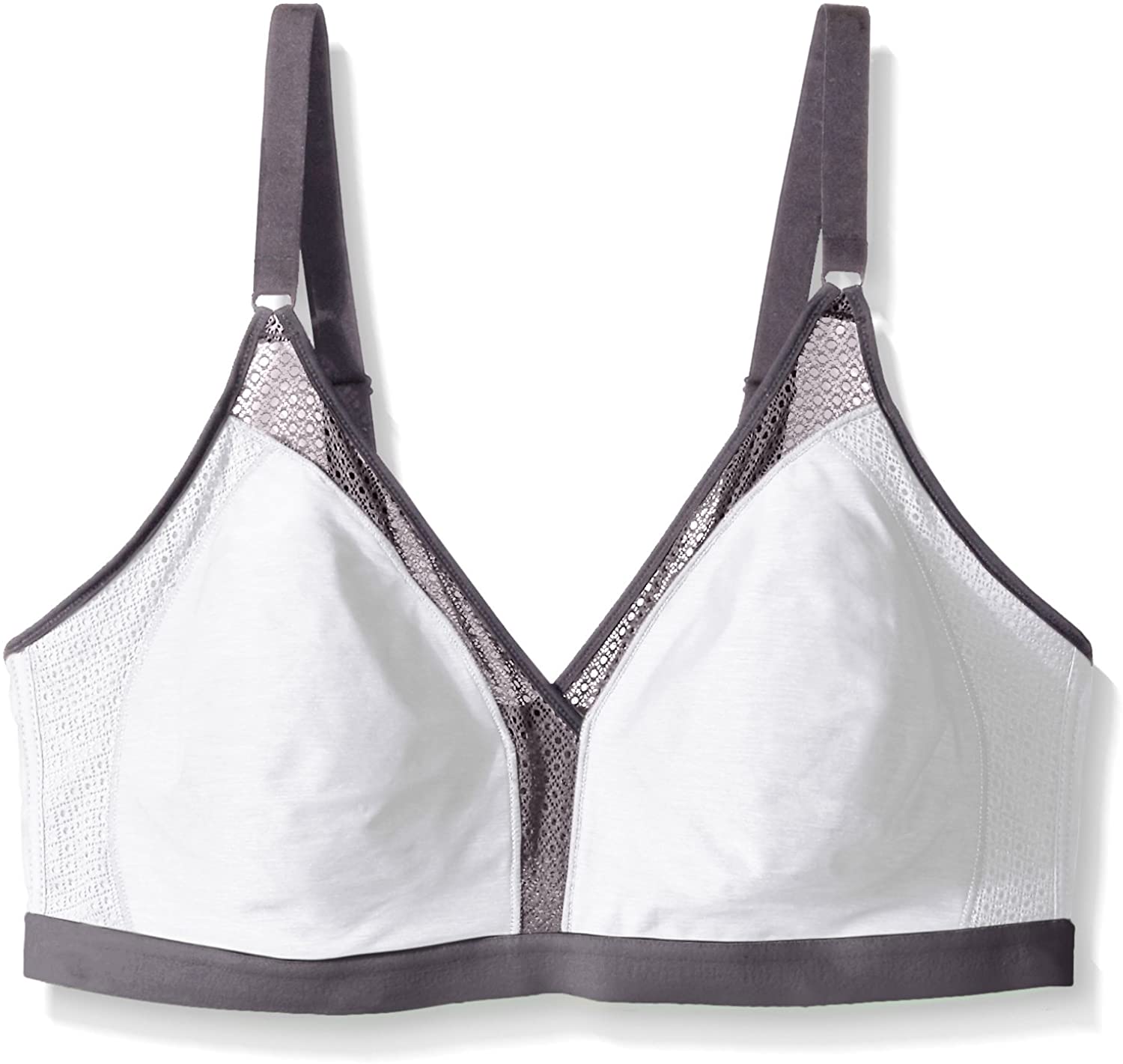 If you need a cooling bra to wear in hot weather, this is for you. It's designed to keep you cooler all day or all night. And it features a useful mesh panel between the breasts to let heat/moisture evaporate. The thin, 2-ply cups give shaping and light support. And there are convertible straps for racerback styling.
Our Testers highly recommended this bra for moisture control! They loved the mesh details that reduce the amount of sweat you get between the breasts. So this bra really helps reduce and avoid itchy, sweat rash. They said this is a super-comfy post-op, lounge and sleep bra, you can also wear to run errands!
5. Best Ergonomic Design Sleep Bras – Pack of 3
Prettywell – Sleep Bras for Women Seamless Padded Yoga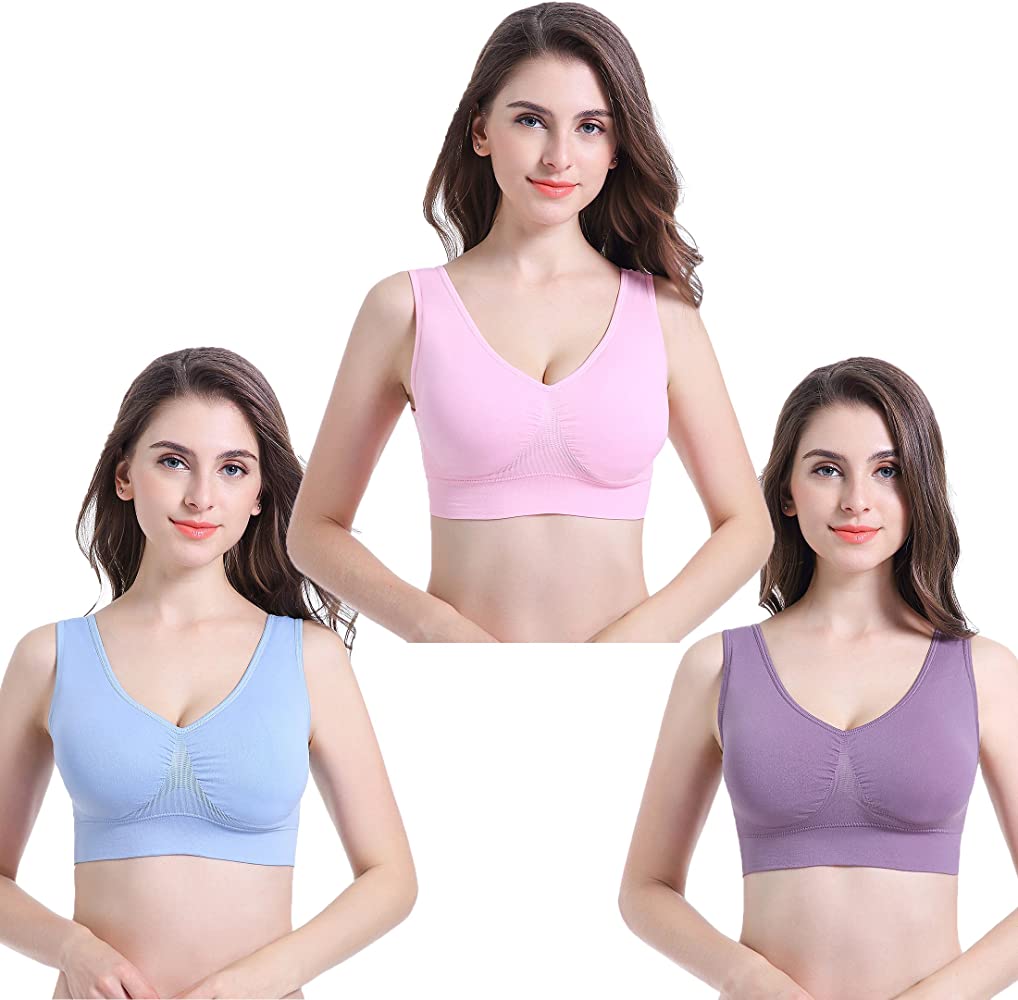 This is an ergonomic bra design from an Italian designer. And it has removable pads you can wear when you're lounging or doing yoga, and remove for sleep. Wide straps remove pressure from shoulders. And the seller recommends this bra for small, round breasts.
Our Testers said this is an excellent bra, especially for small-chests. But our 36 DD and DDD testers also rated this as one of the most comfy lounge/sleep bras they've ever tried. It gives shape and better support than other sleep bras, so you can wear it outside your home. And they all rated it as great value for money!
6. Best Supportive Mesh Sleep Bra
Comfort – Sports Bra for Women Seamless Breathable Sleep Bra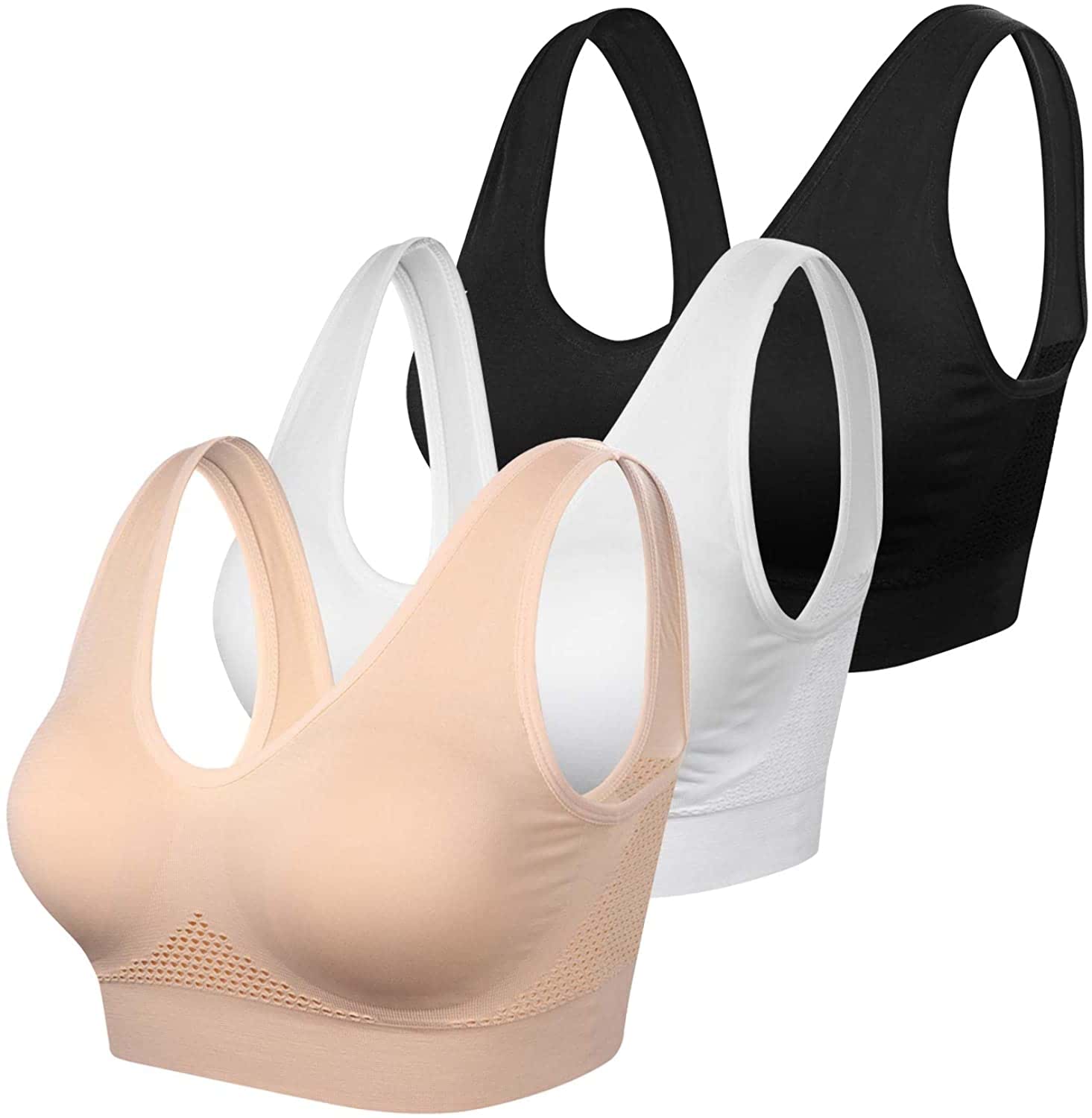 Although it is a pull-on bra, this design is recommended for giving stronger support than other sleep bras. It also has breathable, mesh panels in key hot-spots, so you get better air circulation and sweat evaporation. This helps you keep cool whenever you wear it. It's suitable for sleep wear, post-surgery, pregnancy and lounging.
Our Testers said this was definitely very soft and comfortable for sleeping. And you also get excellent support for daytime wear. The bra gives good uplift under clothes and there are removable pads for modest cover. The fit was amazing and some testers gave it 100%!
7. Best 'No Bulge' Sleep Bra
Warner – Women's 'Easy Does It' No-Bulge Wire-Free Bra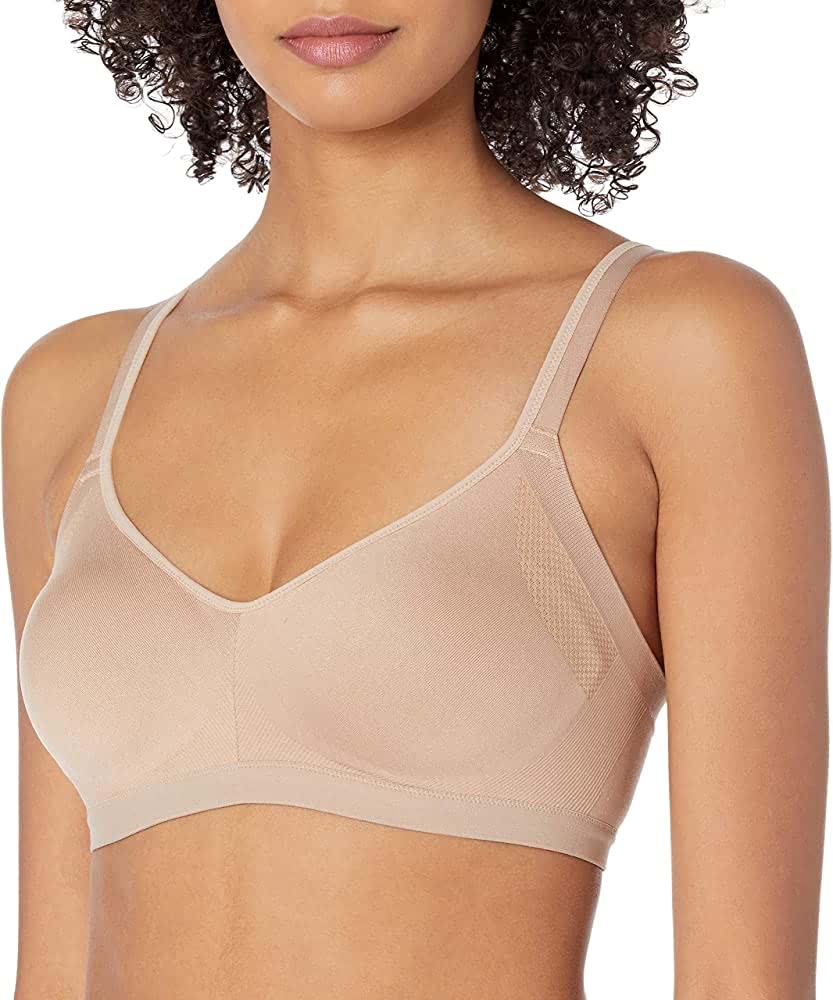 This is a supportive bra that doesn't flatten your breasts. However, it does flatten under-arm bulge with high side panels that are also soft and comfortable. So it's a good option for post-op wear, too. It has broad, adjustable straps, which also add comfort and remove strain for larger sizes. A hook-and-eye fastener gives extra support and fit.
Our Testers said they preferred the comfort of this wire-less bra to bras from True & Co and Thirdlove – two brands that claim to make the most comfy bras. They loved that it doesn't spoil the shape of your breasts, nor create side bulges. You can wear it for comfy sleeping and the quality is excellent!
8. Best Racerback Sleep Bra for Small Chests
Calvin Klein – Women's Modern Cotton Bralette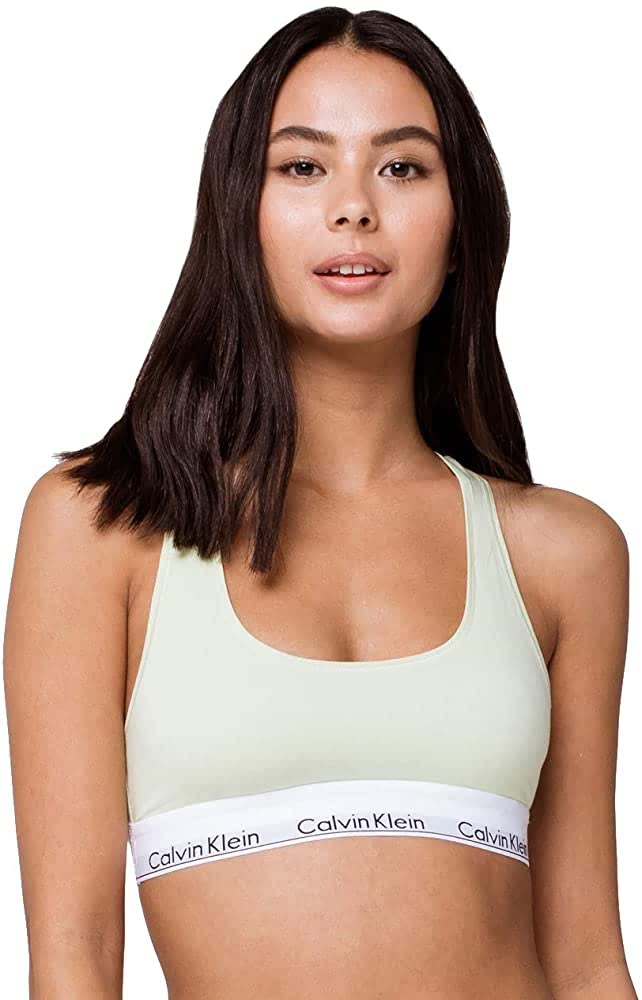 This is a trendy and stylish bralette you can wear with matching briefs to make light and attractive sleepwear. The cups are unlined and lightweight to be 'breathable' in bed. And the blend of cotton and modal helps keep your skin dry and sweat-free. The logo body-band keeps its shape well.
Our Testers said this is an incredibly comfy bralette that's an excellent bra for small chests. This style runs small and is cut for minimal coverage, so for more coverage you should choose one size up. Our testers say the fabric is extremely soft and light, and good quality!
So are you looking forward to having more restful sleep when you have a soft sleep bra to coddle you? It's amazing what a difference comfort makes to your ability to relax. And all of these sleep bras are perfect for wearing anytime at home for lounging!
What is most important to you in your bra buying choices these days? Do you go for uplift over comfort, or have you switched to comfort over shape for the time being? Let us know what you think – we love to hear your thoughts and opinions! Subscribe to get more bra tips on herstylecode.com