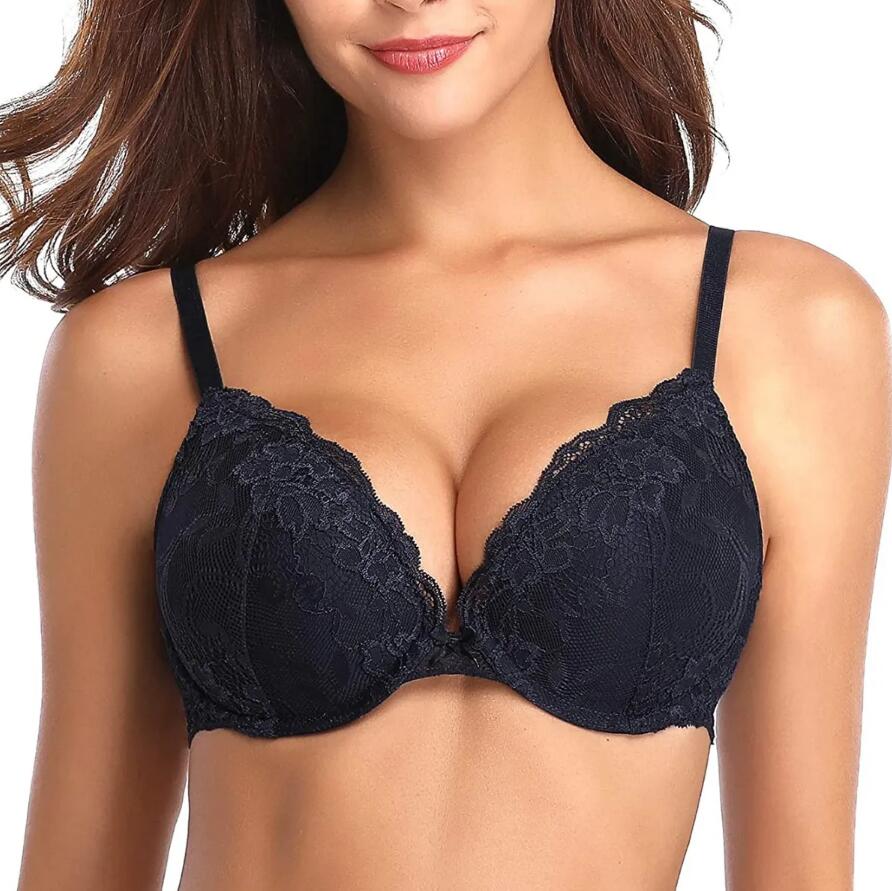 Varied Styles for Your Whole Wardrobe
The best bras to make boobs look bigger are all padded, but they are not all the same. Women come in lots of different shapes and sizes, and we all have our own personal styles. So we've chosen the 8 Best Bras to Make Boobs Look Bigger according to quality, fit, padding thickness, degree of push-up, and overall comfort and support.
But we've also selected a range of bras that cover all wardrobe requirements and allow you to look good every day and on special occasions! So read on and choose the best bras to make your boobs look bigger and boost your confidence in any outfit!
1. Best Overall Bust-Boosting Padded Bra
FallSweet – Women's Padded 'Add Two Cups' Bra
This is a very attractive padded, push up bra with clever lace-up feature between the cups. This allows you to tighten the laces to make the cups come closer which creates cleavage. Our team of A and B cup testers really raved about this bra, saying that it gives you a fantastic bust-line.
Some delighted testers said it was the first time they had ever had cleavage and that it definitely makes your boobs look bigger. The reviewers said there's plenty of padding and the bra looks great in striped and colored styles. It was also rated highly for comfort, support and quality!
2. Best Front-Closure Padded Push-Up Bra
Dobreva – Women's Floral Lace Front Closure Padded Push Up Underwire Bra
This lovely, lacy bra also has an attractive racer-back with lace trimming making it extra feminine. And the front clasp is perfect for convenience and anyone who has restricted movement. It is underwired and according to our team, the push-up pads give great uplift and extra volume.
The padding is ¼" thick at the top and becomes thicker as it goes down the cup. So it thickens to ½" and then ¾" at the bottom of the cups. Our 36 AA tester said this is the best push-up bra she has ever worn. And that it fit her well and is comfortable to wear every day.
3. Best Lightly-Padded Wire-Free Bra
Iris & Lilly – Women's Wireless Padded Bra
This is a modern-look, minimalist bra that has light padding, and no underwire. It's made from stretchy, lightweight microfiber fabric that our testers said felt nice and smooth on their skin. Our tester sized 34B said she loved wearing this bra as it's very comfortable and gives her small bust the support she needs, without an underwire.
Our 36B tester loved that it's comfortable, and fits her body shape well, so the straps didn't keep sliding off her shoulders as they do with other bras. The testers liked that the padding is sewn-in and said it was supportive and enhances the bust-line, without having too much padding.
4. Best Value Padded Bra Pack
Warner's Women's Easy Does It Underarm Smoothing with Seamless Stretch Wireless Lightly Lined Comfort Bra
This is a medium-support Yoga and Low-Impact Sports' bralette. It has 4-way stretch fabric that stretches well to reduce friction when you're exercising. Our testers liked the seamless padded style that means you can wear it under any clothing as a comfortable padded bra. The fashionable spaghetti straps also allowed our testers to wear this as a comfortable summer-top.
The pads give sufficient support for small sizes and this versatile design was also used as a sleep bra as the fabric is so soft and there's no clip fastener at the back. This bra was also highly rated for moisture-wicking away from the skin. And it was popular with women and girls for the way it enhances the bust-line in a natural way.
5. Best Padded Bra & Matching Knickers Set
Bluewhalebaby – Sexy Push-Up Embroidery Bra Set – Lace Bra & Matching Knickers
This is a good quality, lacey bra that our testers were all very enthusiastic about. And although it's actually a matching set of bra and knickers, the affordable price means the set is still cheaper than many bras. Our testers loved that this bra looks sexy and seductive, and created cleavage from sewn-in padding.
And they said it was definitely a date-night bra, but with a very good, supportive fit – and comfortable enough for those who work 12-hour shifts! And it was rated as well-worth the price. The only downside is that frequent machine washing may cause pilling of lace, so hand-washing is recommended.
6. Best Multi-Way Padded Plunge Bra
Nature – Women's Essentials Deep U Multi-Way Push Up/Plunge Bra
For very low-cut tops and gowns, this Deep U push-up plunge bra is a great choice, which our testers said was great at pushing their breasts together. You know it's going to do a good job when you see it has a high percentage of 16% Spandex in the fabric blend. Our 34B testers were impressed by the great cleavage and bust-line boost this new style of plunge bra creates.
Everyone loved that this is also a good value, versatile, multi-way bra you can wear with different necks and backless clothing. It's comfortable and some testers said that they were able to wear low tops for the first time ever, because of the excellent design. A real confidence boosting bra!
7. Best Strapless/Backless Push-Up Bra
Niidor – Strapless Sticky Invisible Push-Up Silicone Adhesive Bra
The Niidor self-adhesive bra is the best-selling version of this innovative way to cover your breasts. It's a completely strapless and backless item, which is made from skin-friendly silicone adhesive material. The design is very popular for the way in which you can attach the adhesive cups separately to each breast and then use the front clip to bring your breasts together to make deep cleavage.
Our testers with small cup sizes all agreed this is perfect for wearing with low-cut, strapless or backless fashion clothes. They say it really works to keep your bust uplifted, and the adhesive keeps it in place, without irritating the skin. It's strong enough for a night out dancing. And you can just rinse it out in warm water and re-use it many times.
8. Best Triangle Padded Bra
Wonderbra – Triangle Padded Wonderbra
This is another plunge neckline style to choose if you like the modern triangle-style. It's also quite different from other bras, as it has pretty, lacy shoulder straps that are broader than usual. The cups have graduated padding and low-cut cups for an enhanced cleavage.
Our testers praised the four different ways this bra uses to give great bust uplift – padding, under-wires, a close fitting body-band and non-stretch straps. They also liked the quality of the fabric, which is soft against the skin, and the very pretty overall look of the bra. And all said the cup support was excellent.
So whether you like or hate underwires, do sports or just want a bust-boosting bra for every occasion, you're sure to find what you need from this up-to-date guide to the 8 Best Bras to make boobs look bigger.
What's your favorite bra style? Which bras have helped you get some cleavage and look better in your clothes? We love to hear your thoughts and comments on HerStyleCode articles, along with suggestions for future topics! So don't be shy – share your thoughts and be part of the discussion! 🙂