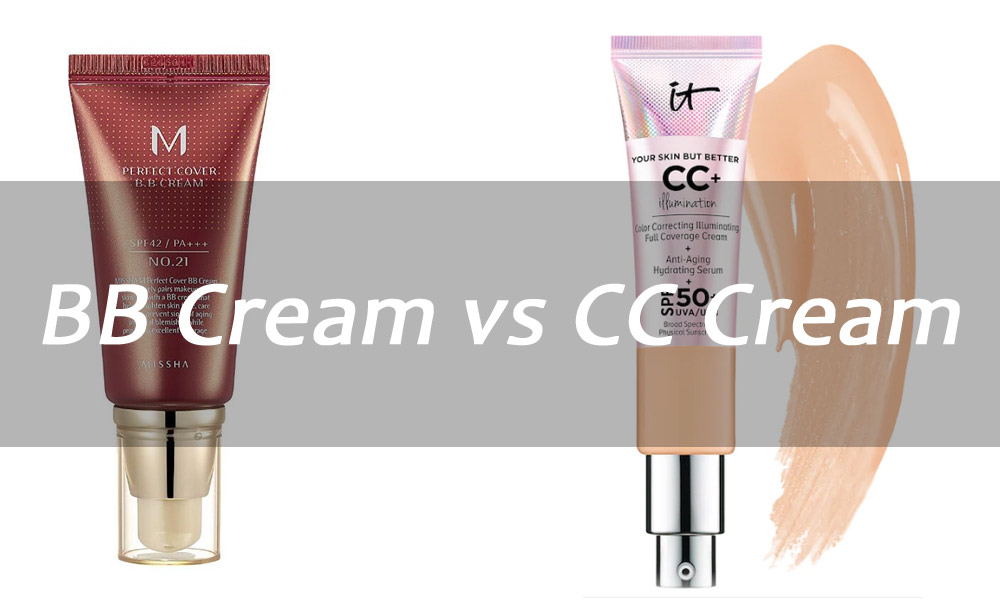 Just a couple of decades back, deciding on your base makeup was simple. The choice was only between powder or liquid foundation. But today, with new innovations and skincare technologies evolving in the beauty industry, there are many options for the first step of your makeup routine.
Two of the most groundbreaking base makeup options that have emerged and grown in popularity in recent years are BB and CC creams. Some people know them as Korean makeup that made waves along with the K-beauty trend, but not many are familiar with what they're really for.
So what really is the difference between these two, if there is any at all? Is one better than the other? Let's take a deep dive into these two cult-fave creams and figure out which one is best for your specific skin type.
The fall of foundation and the rise of skin-friendly makeup
Gone are the days of caking on thick, heavy, super-pigmented foundation on your skin. It used to be the no-brainer option for starting your makeup routine and evening out your skin tone. But everybody knew the issues with foundation—they were super heavy on the skin and left your pores clogged and congested.
While matte and full-coverage foundations used to be the talk of the town years ago, makeup and beauty lovers today strive to achieve a healthier, dewier complexion when doing their everyday makeup.
That's why many ladies have switched out their fave foundations for lighter, more skin-friendly options. In recent years, we've seen the rise of tinted moisturizers and colored sunscreens. Two of the most popular foundation alternatives makeup enthusiasts rave about are BB and CC creams.
What are these cult-favorite creams all about?
BB and CC creams are base makeup options—a healthier, more breathable version of foundation. What's awesome about them is that they contain skincare ingredients, allowing you adequate coverage while nourishing your skin.
These creams are usually infused with botanicals like hydrating oils, peptides, and even SPF, making it a one-and-done face cream. They simplify your routine by serving as a primer, foundation, moisturizer, and sunscreen all at once. It's a great option for those who want to cut down on their makeup products.
People who swear by BB and CC creams also love it for its more natural finish. You'll hardly ever get those cakey chunks of makeup stuck on the nooks and crannies of your complexion, like you would with foundation.
But then comes the question on everyone's minds—what is the difference between the two anyway? Are they interchangeable, or will one suit me better than the other?
What is BB cream?
The most popular of the two is arguable BB cream, also known as "beauty balm" cream. While many people credit the beauty innovator that is Korea for inventing BB cream, it's actually been around for decades in Europe, where dermatologists recommended it to patients with sensitive skin.
BB cream provides the same coverage foundation does, but without the weight and congested feeling. It's known to be infused with hydrating ingredients to make your skin look plump and bouncy, as well as SPF and antioxidants to protect your complexion from sun damage.
Today, BB creams are considered holy grails by many beauty lovers who want dewy, glassy, healthy skin, from glamorous K-pop stars to your average girl-next-door college student in America. They blur imperfections while nourishing your skin with ingredients it will gladly drink up.
If you're a BB cream first-timer, you might want to try out the Missha M Perfect Cover BB Cream. It's a popular Korean BB cream that does everything a good foundation should, and then some.
This BB cream evens out your skin tone by concealing blemishes, giving your skin a more flawless finish. It has buildable coverage, which is excellent if you want to pack on your makeup without feeling the stickiness and heaviness that usually comes with foundation.
It's infused with hydrating ingredients to add dewiness to your skin, such as hyaluronic acid, ceramides, and marine extracts. There's also a blend of soothing botanicals, including rosemary and chamomile extracts, to calm sensitive skin. It also keeps UV damage at bay since it boasts a high level of sun protection at SPF 42 PA+++.
What is CC cream?
While BB cream stands out when it comes to hydrating and plumping up the skin, CC creams were created to give you a smoother and more even skin tone—after all, CC stands for "color-correcting" cream.
These creams help address skin issues that lead to an uneven skin tone, such as excessive redness from allergies, hyperpigmentation from previous breakouts, or dark under-eyes after a long night at work. CC creams are typically formulated with light-diffusing ingredients to brighten your skin and make it look more even and uniform.
Another unique attribute of CC cream is its light, whipped consistency—a far cry from the rich, moisturizing formulas of BB cream. CC cream feels softer, fluffier, and more satin-like on the skin, whereas BB cream feels more like an emollient, hydrating serum.
One CC cream that helps brighten up your skin tone and add a healthy glimmer to your complexion is the IT Cosmetics Your Skin But Better CC+ Illumination Cream. It's a full-coverage cream that leaves your skin looking glowy and radiant as it corrects your uneven tone and color.
It's infused with skin-strengthening ingredients like niacinamide, peptides, and collagen—all of which also have anti-aging properties to minimize the appearance of lines and wrinkles. The SPF 50+ also protects your delicate skin from UVA and UVB rays that can make discoloration even worse.
Which one is better for your skin type?
BB and CC creams are quite similar but at the same time a bit vague in their differences, so choosing which one to purchase can be confusing.
So if you're wondering which base makeup is better for your skin, the simple answer is that it depends. Everyone's skin is different, and your complexion will have unique issues to address.
For example, if you have dry skin that tends to get flaky after a long day of wearing foundation, you might want to go for BB cream, which is usually more hydrating and is chock-full of moisturizing ingredients. By using BB cream, you won't have to deal with that feeling of cracked, cakey skin anymore.
On the flip side, if you have oily and acne-prone skin, CC cream might be your new best friend. Its whipped, fluffy texture is usually matte, which helps keep sebum production at bay. Plus, since it aims to brighten the skin and leave it looking more even, it's perfect for covering up stubborn blemishes and breakouts.
Ingredients to look for in your BB or CC cream
What makes BB and CC creams tick is the wide range of skin-loving ingredients they're usually packed with. There are many nourishing extracts and botanicals infused in most BB and CC creams, but you always have to keep your eyes peeled for the ones that will address your main skincare concern.
For dehydrated skin, make sure you opt for a BB cream rich in hydrating and moisturizing ingredients, like panthenol, glycerin, and hyaluronic acid. You might want to go for one infused with rich oils too, like argan oil or shea butter.
If you're trying to repair a damaged and stressed-out skin barrier, go for a BB or CC cream with strengthening ingredients. These include collagen, vitamin E, and peptides.
Other challenging skin conditions have their own niche ingredients as well, like licorice root extracts and vitamin C for brightening up dark spots or charcoal and salicylic acid to mattify overly greasy skin.
Before choosing a BB or CC cream, make sure you properly assess your skin to be sure what skin issues you need to address. I mean, you don't want to be stuck with an extremely rich and emollient BB cream if you have oily skin to begin with, right? Stick with what your skin likes and what can help you target your main skin concerns.
Conclusion
And there you have it—the 411 on BB and CC creams. Now that you know the difference, it should be a walk in the park to choose which one will be better for your skin.
So next time you see a new, trendy foundation on the shelves of your local Sephora, think twice about buying it and slathering on the heavy formula on your delicate skin. BB and CC creams are always better options if you want to care for your skin without sacrificing coverage. Subscribe to get more beauty tips on herstylecode.com!