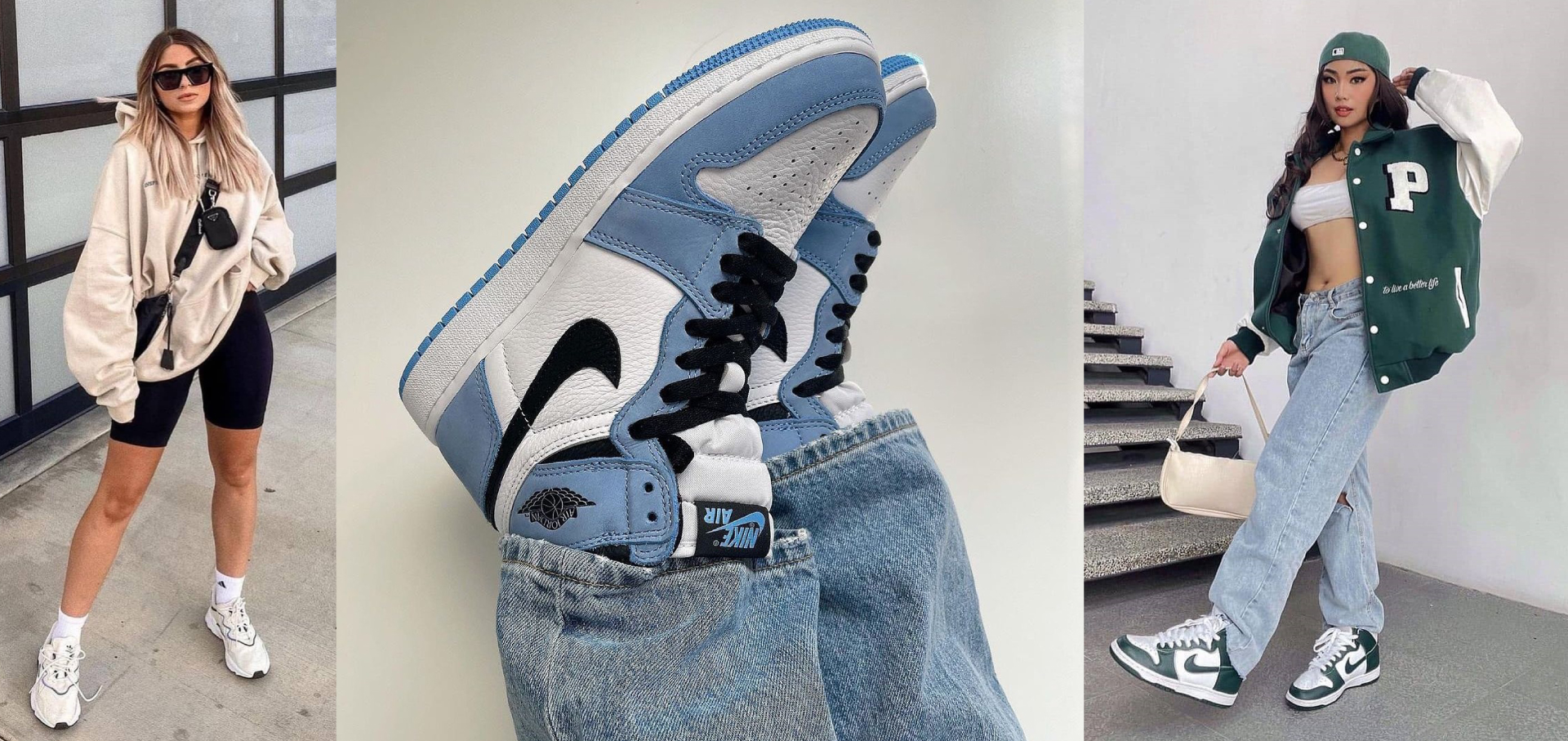 You don't need to be a try-hard to flex that heat.
Who is a Hypebae?
The feminine counterpart of a Hypebeast is often termed as a hypebae, however, the terms are quite interchangeable depending on how you prefer to be addressed as. Hypebeast in itself is a unisex term referring to an individual who often sports 'hype' or popular clothing brands in their regular outfits.
Hypebae is an extension of the original term referring specifically to a female who flexes (showcases) luxury brands and endorses the same. Bae refers to 'Before Anyone Else', another unisex term used to refer to ones significant other or a close one.
With almost a cult-like following, Hypebeast now is exclusively used for luxury streetwear brands, and not for brands like Dior, Jacquemus or Valentino, which cater to a largely female audience. Hypebeast targets all genders.
Purses and sneakers are the most sought after pieces which tend to be on the high price points in a female hypebeast outfit. However, it is possible to hype up your outfit game with a few styling tricks, without making a hole in your wallet.
Brands to include in a Hypebae Closet
Hypebeast culture revolves around supporting yourself to a few popular brands with your whole heart. Although dressing up as a hypebeast doesn't mean you explicitly need to buy from these labels, these sure are a good start to finding out what kind of a 'hypebae' you would like to be.
Brands like Supreme, Off-White, A Bathing Ape and Nike are sure shot hypebae material. They have established themselves as a benchmark in streetwear, thus if you like the bold colours and styles, the first tier of hypebae brands is what you should browse through.
Thrasher, CDG and Chrome Hearts are mostly known by the ones who have been in the streetwear culture for quite some time, yet the flashy fire graphic and heart-eyes are recognizable by the general crowd, making it the second niche tier in the brands associated with a hypebeast.
Essentials of a Hypebae Outfit
Items which are popular (quote 'heat') tend to fall into different categories, thus creating different sub-aesthetics for a typical hypebae, such as athleisure, techwear and an all-girly ensemble. To create your own curated wardrobe of hypebeast clothing, it is best to stick to one to two style aesthetics, yet can include the following essentials:
Overcoats
Varsity Jackets
First appearing amongst Harvard Leagues, Varsity Jackets today have become a common silhouette piece for streetwear.
If you identify as an aspiring Sportybae, then varsity jackets in a few vivid colours are a must-have in your collection. Reds and navy blue are common hues seen amongst streetwear jackets, with olive greens and yellows coming right after it.
Leather blazers
Not a necessity for each hypebae, but definitely worth a mention. Black leather adds the edgy factor to a neutral feminine attire.
The juxtaposition of an oversized (try vegan) leather with a girly pastel dress and heels not only provides you the comfort in winter, but also adds emphasis to the feminine aspects themselves. 
Insta-baddies can style such blazers impeccably, adding to the luxury quotient even without a brand embossed in the front. A clutched hairstyle with glasses and a mini dress provides an effortless look for your night-out, and you won't be stealing your boyfriend's jacket in the chilly night anymore. Win-win!
Zip-ups
A Techbae can benefit from anything which has zips. The aesthetic calls for the ultimate utilitarian sci-fi scene. Zipper jackets with pockets go a long way, be it layering or a statement piece.
Button-down and puffer jackets also work well if they accompany baggy jeans and a contrasting tote bag (think an all black outfit with a white bag).
Shirts
Graphic T-shirts
This is the one item of clothing in a hypebeast outfit that you do not need to spend too much on. Vintage and graphic tees work perfectly with other layered pieces in a hypebae outfit, which are often jackets and coats.
Tees are a way to add your own touch to the hypebae aesthetic, and thrift stores are a great place to find unique t-shirts at a bargain.
If you are more of an edgy person, go for dull colours, ranging from greys to black. Vintage and Art aesthetics often have earthy tones within their whole outfit, if that is your calling, the tees are graphical and sometimes even hand-painted!
Flannels & Button-Downs
Flannels deserve their own space because of the layering advantage they give with their silhouettes.
Any collared shirt with a button-down can be an added layer in your winter hype outfit, especially under a jacket. If you are the experimental type, go with gingham or checkered patterns of cardigans to subtly flex that heat.
Pants
Track Pants
Track Pants are a huge asset to the hypebae aesthetic. They are comfy, pair well with crop tops and oversized sweatshirts alike, and come in a variety of different fabric material.
Invest in a few great pairs of track pants, fabrics ranging from woolen to denim and even cotton. Some even come with one of a kind prints and mottos. Nike and Adidas often have slogans written on the side, which tends to be a great loungewear accessory for the sportybae.
Jeans
Baggy jeans ripped on the knees go well with almost any kind of tops. To make the outfit instagram-worthy, it is often accompanied by a baguette and strappy heels or sneakers.
The fitting of the jeans doesn't have much impact, the looser the fit, the better. This gives you an opportunity to visit the thrift store again, before looking to the branded online stores. If you do not have thrift shops nearby, you can always dig up one of your old worn jeans (or your parents!) and try them out, they might just fit in with the aesthetic you're going for.
Sneakers
Sometimes the star of the outfit is in your accessory. That's right, a good pair of sneakers completes the hypebae picture. If you wish to use some of your hard-earned cash in an asset to add up your heat quotient, this should be it!
If you are just starting out with the range of sneakers, browsing through Nike Jordans and Yeezys can give you a great idea of the world of sneakers in the hypebeast culture. Converse and Vans also work great if you are a bit shy from wearing something chunky as footwear.
If you are aiming for a more baddie approach, then Jacquemus' iconic heels and similar are something to look out for. Stringy heels with laces are a great sultry addition to your outfit, along with full makeup of course.
Frequently Asked Questions
Other than sneakers, what accessories does a hypebae wear?
For hair, you can always pick up pearl clips. Earrings often have the classic hoops, also seen in different shapes. Baguettes and shoulder purses are also great add-ons to color blocking the whole outfit.
How should I do my hair to match with my heat style?
Since a hypebae gives focus to clothing and makeup, it becomes kind of necessary to have something going on with your hair as well. For the ones with short hair which can't be tied, try doing highlights of your color choice.
The ones who have curly hair can use it to their advantage by styling it in box braids. If you can't, one can always keep it straight with a middle part, or add two small plaits in the front.
Is it necessary to stick to one hypebae style?
Absolutely NOT! Being a hypebae is more about what you wish to conquer through the day. The confidence and attitude of a hypebae is far more significant than the hefty amount of brands she chooses to wear.
You can always invest in multiple pieces of different styles and see what works for you, so if something like mixing athleisure and techwear is your calling, then rock it like you own it!
Subscribe to get more fashion tips on herstylecode.com (HSC)!