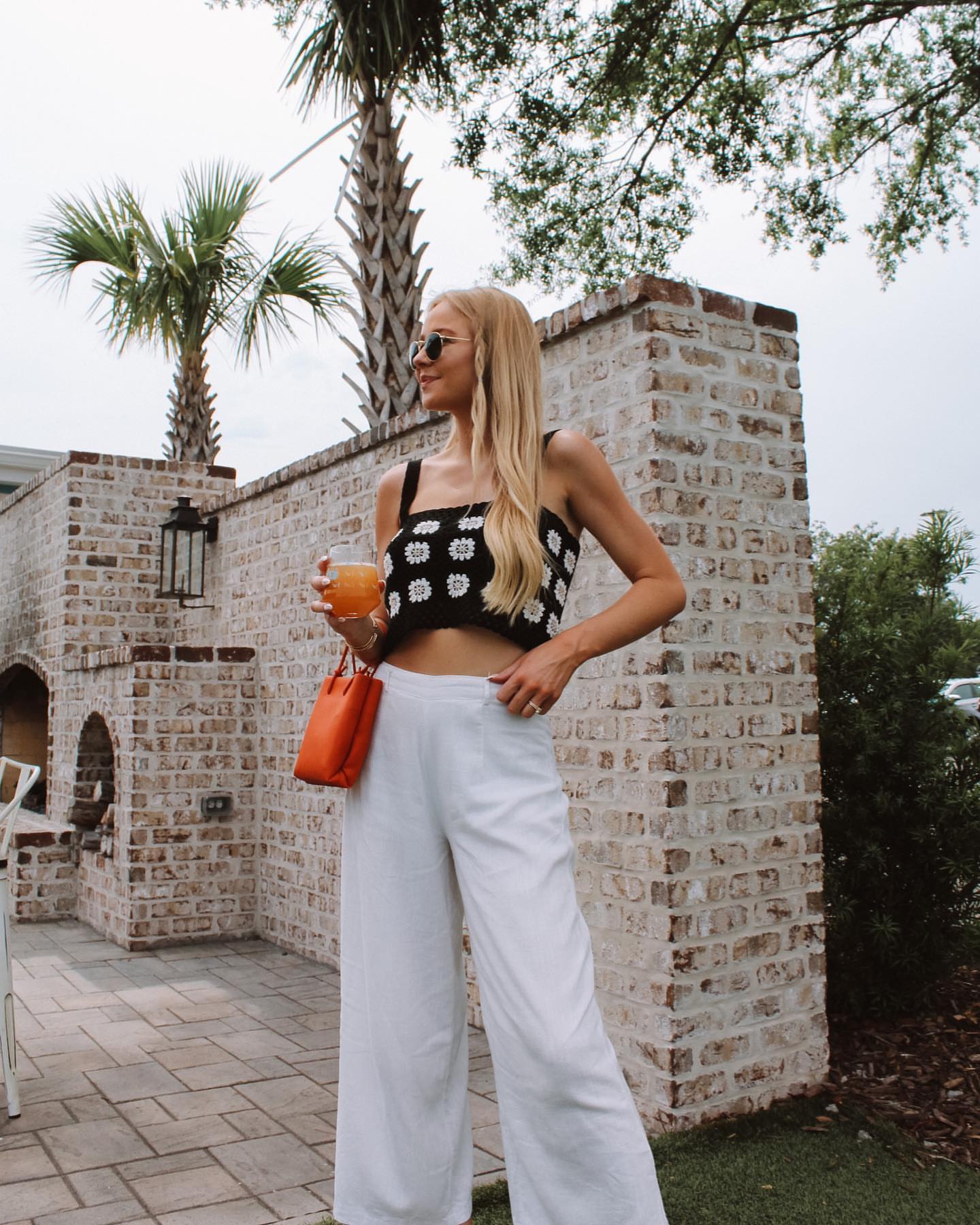 Who doesn't enjoy pulling on a pair of cool, loose, cotton beach pants after a shower on a hot summer's day?
Wide-leg pants create cooling mini-breezes that are just heavenly when you're on vacation and enjoying a walk along the beach.
And this year's styles and colors are designed to be part of casual or polished outfits that will keep you comfortable and fashionable as you enjoy some much-needed beach time! Beach pants, with their relaxed fit and lightweight material, are the perfect choice for those days when you want to look stylish without sacrificing comfort.
What to wear with Beach Pants
1. Beach Pants and Bikini Tops
Perhaps the most classic way to style beach pants is to pair them with a bikini top. This is a great outfit for a day at the beach when you're planning to go for a swim but also want to be able to walk around without feeling too exposed. Try pairing printed beach pants with a solid-colored bikini top for a balanced look.
2. Beach Pants and Crop Tops
If you're heading to a beach-side restaurant or bar, or simply want a bit more coverage than a bikini top provides, a crop top is an excellent option. A fitted crop top will contrast nicely with the loose, flowy beach pants, creating a balanced silhouette.
3. Beach Pants and Oversized Shirts
For a super casual, relaxed look, pair your beach pants with an oversized shirt. A loose linen shirt would work particularly well, complementing the beachy vibes of the pants. You can wear the shirt buttoned up or open over a bikini top or bralette.
4. Beach Pants and Tunics
Another great way to style beach pants is with a tunic. A lightweight tunic can provide a bit more coverage and sophistication, making this a great outfit for a beach-to-town transition. Choose a tunic in a color that complements your beach pants, and pair with sandals and a tote bag.
5. Accessorize Wisely
Lastly, don't forget the power of accessories. A straw hat, beach bag, sunglasses, and flip-flops or sandals can all enhance your beach pants outfit.
So read on to learn how to style beach pants to suit your figure and favorite colors!
Beach Pants outfit ideas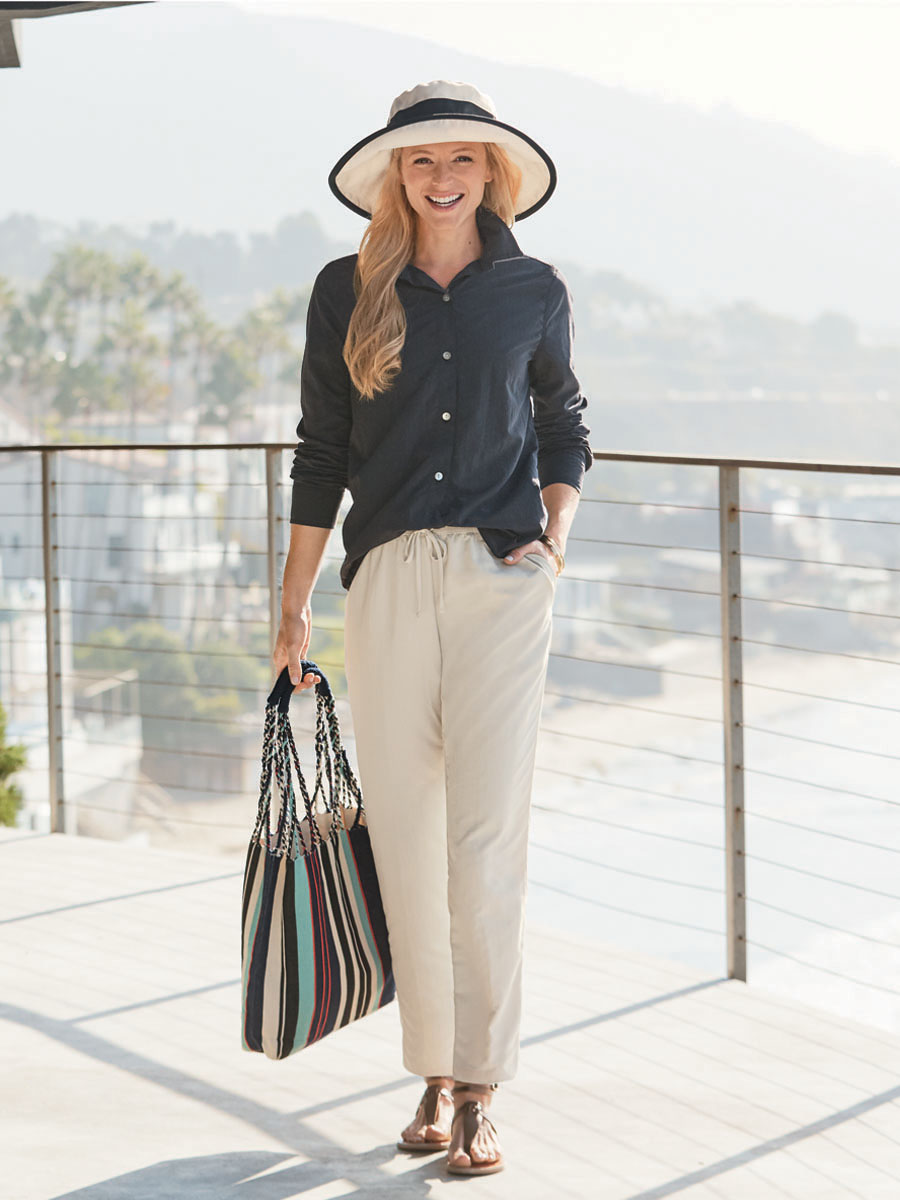 Try inverting the dark bottoms/light top style this summer with a pair of straight-cut, beach pants in trendy stone, matched with a cool blue shirt!
Team with a cream and blue sun-hat and striped beach bag to create a polished outfit you can wear on vacation and at home through the summer weather.
And to get the look right, you need to plan your shopping and only buy items that you know will be part of a particular outfit!
2. Cream Knitted Flared Pants with Bikini Top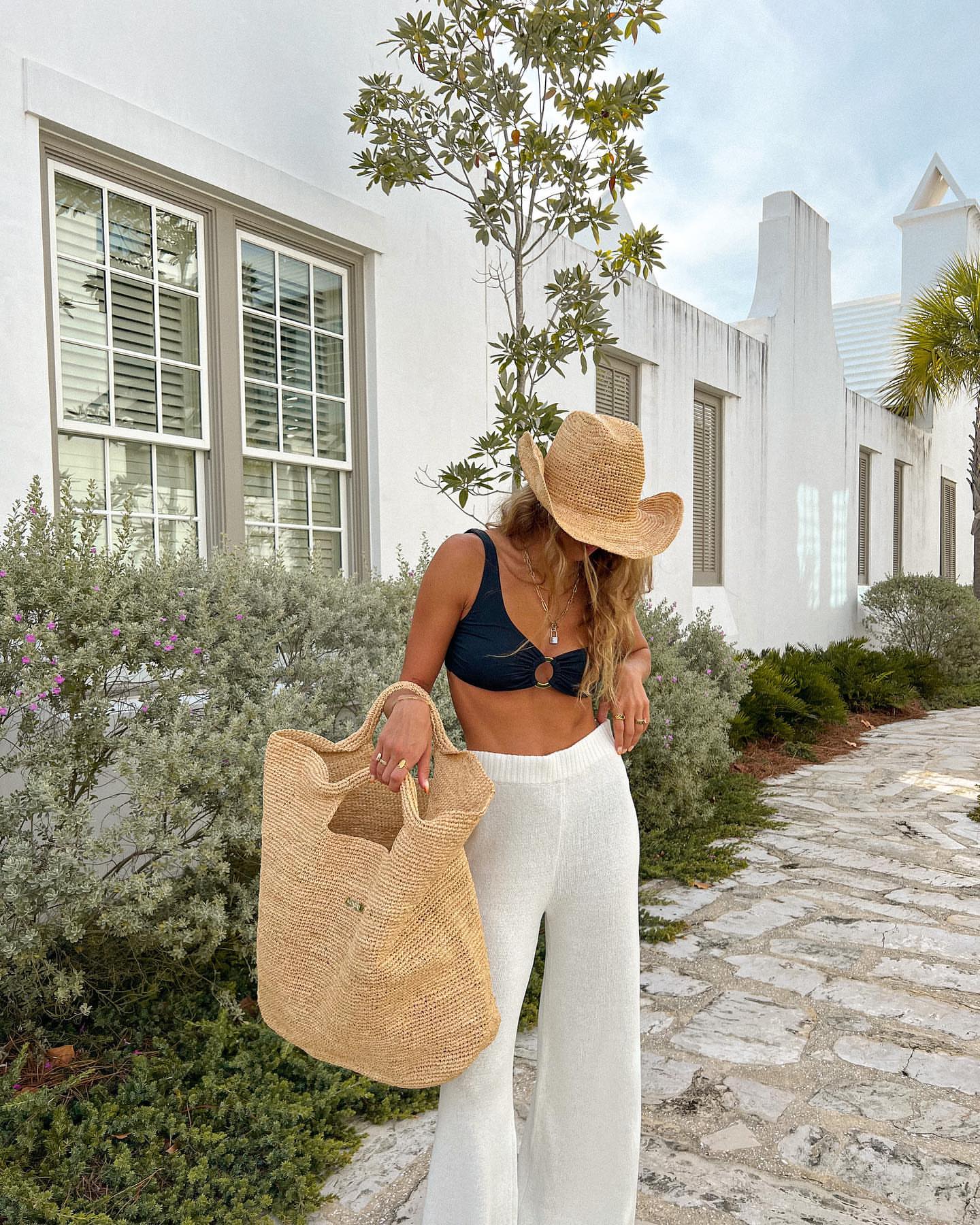 Wool is a natural fabric, like cotton, which allows sweat to pass through the fibers and disappear into the air!
So knitted, flared beach pants are a great idea to keep your body at a comfy temperature in hot weather.
Stretchy beach pants are so easy to slip over your bikini before you walk or drive to the beach and they won't crease up when you take them off for a cooling dip in the sea.
Complete your outfit with a trendy natural fiber sunhat and beach bag!
3. Pink Wide-Legged Pants with Paper-Bag Waist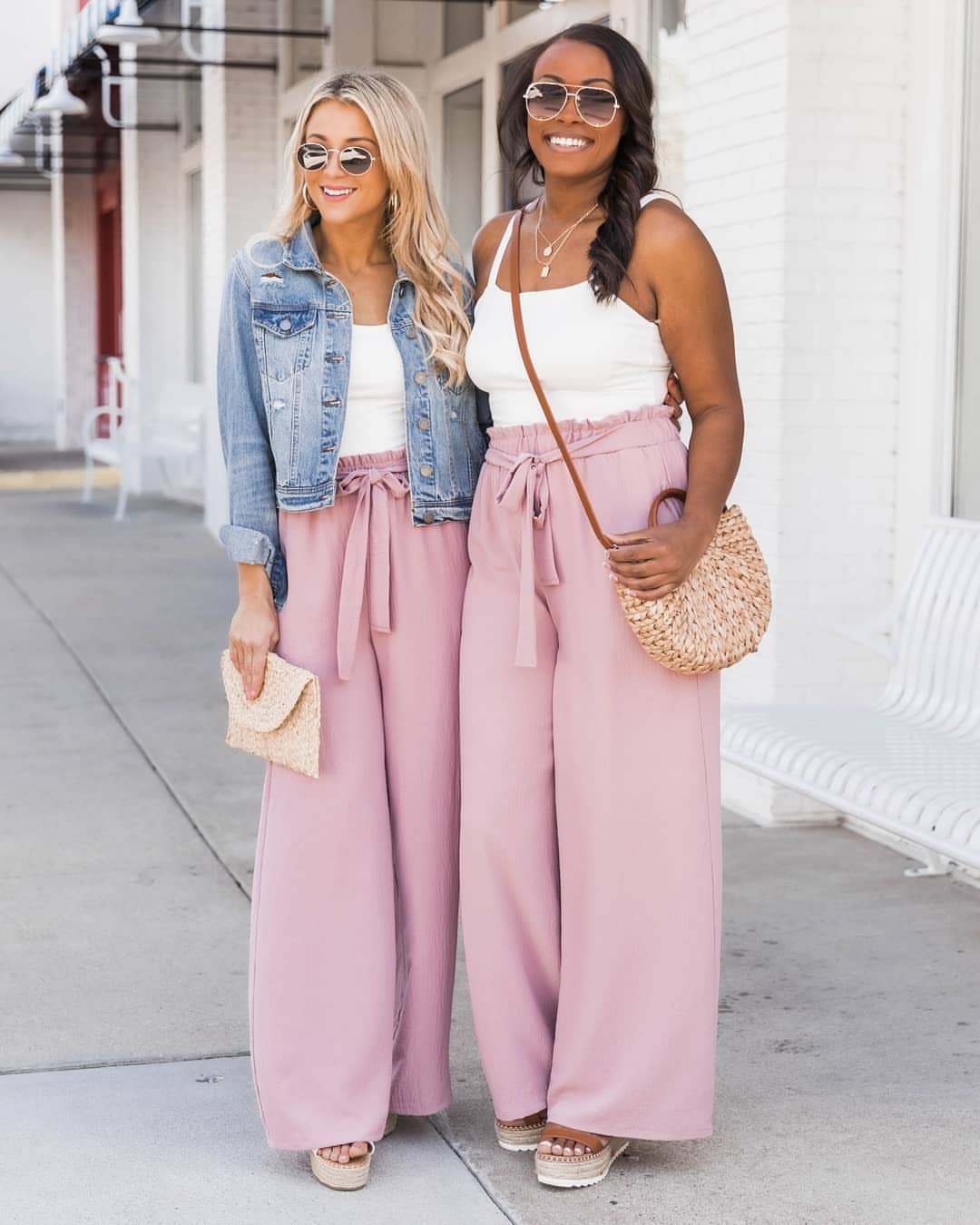 Pink is one of this summer's fashion colors and looks super-cute matched with white tee-shirt and a light-wash, denim jacket.
Paper-bag waists are a great way to emphasize your curves, if you have defined hips below a small waist.
Wider-legs are fantastic for creating cooling draughts of air around your legs and are very comfortable to wear at the beach.
Wear your wide-leg beach pants with platform or wedged, natural-fiber sandals for extra leg-length and style.
4. Dusty-Pink Crinkled Beach Pants with Tank Top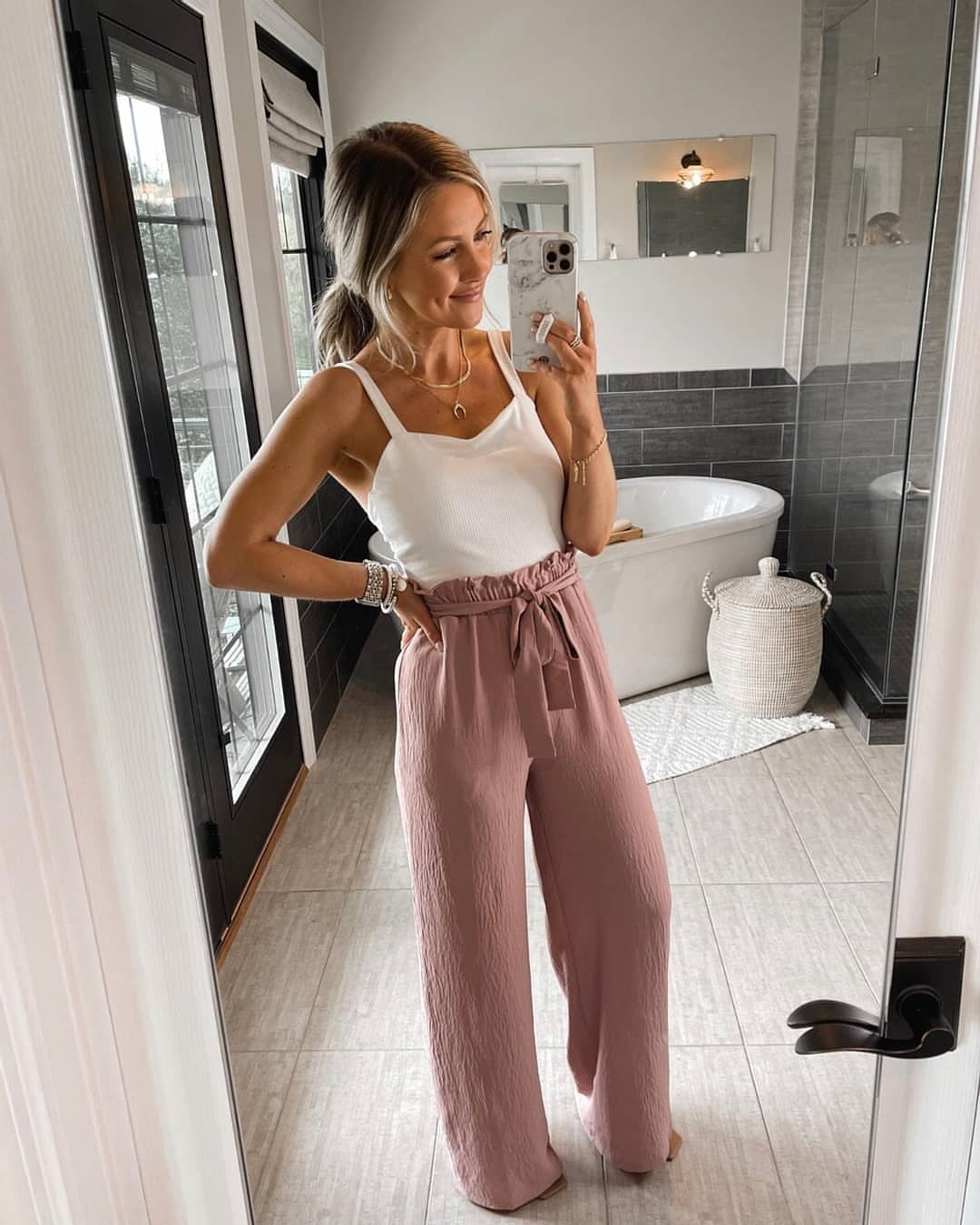 I'm so happy that crinkled-cotton fabric is making a come-back into fashion clothes, as it always looks 'cool', feels cool, fits well and never needs ironing!
These beach pants have a paper-bag waist and the fabric is the trendiest shade of pink for this year – dusty pink.
This fabric is actually a synthetic type of crinkle-textile, but it's good quality and looks fantastic with a simple white tee-shirt with straps and a sweetheart neck!
5. Loose Pink Beach Pants with Asymmetric White T-Top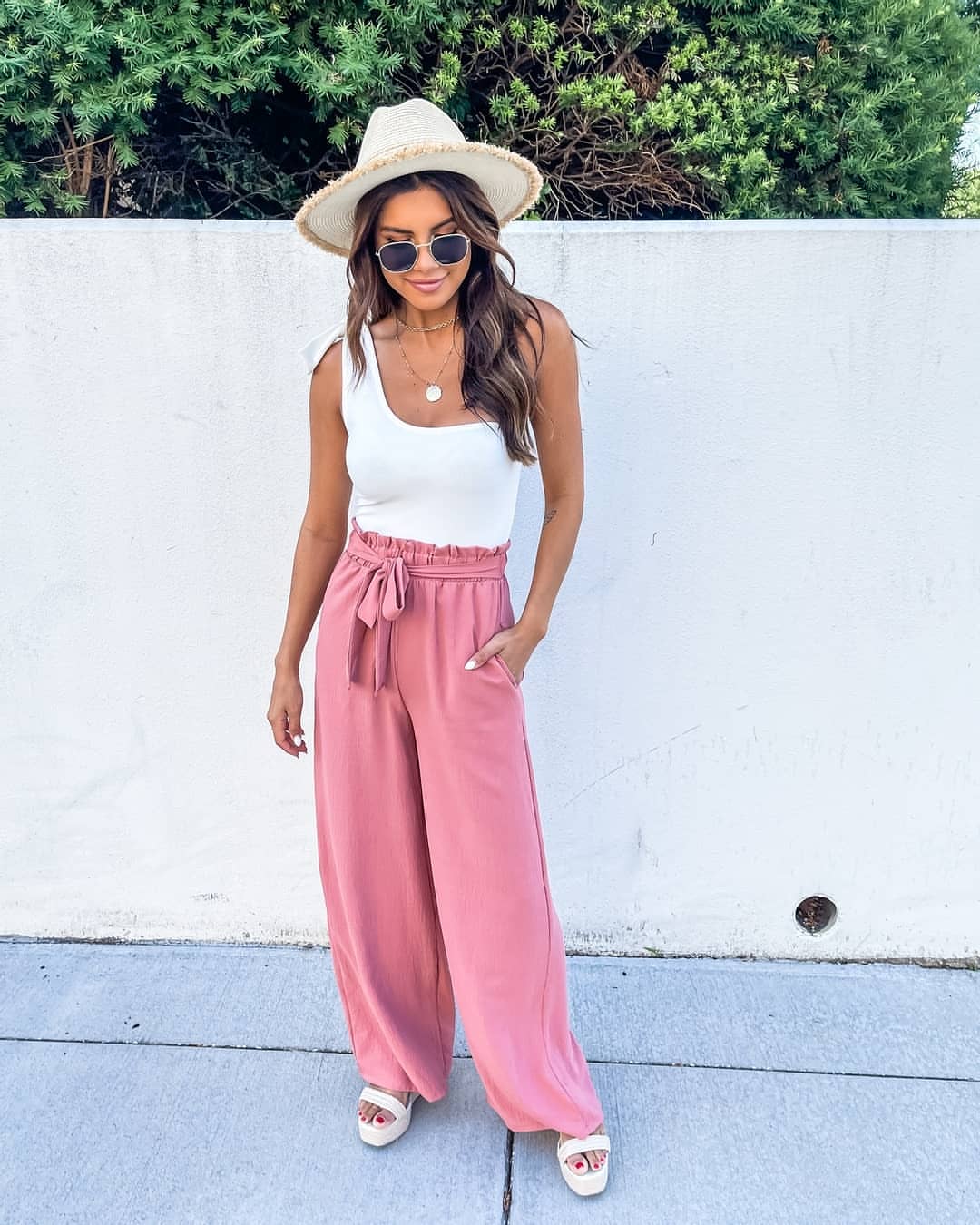 Bubblegum-pink is also on offer this year in lovely draped beach pants with a gathered waist and a tie-belt to help define your waistline.
The one-shoulder, white tee-shirt adds a chic vibe to a casual look, topped off with a fashionably fringed sunhat.
Wear your wide-leg pants with platform sandals to get extra leg-length that balances-out the width, and you can find more cute summer outfit ideas here.
6. Cropped White Beach Pants with Bikini Top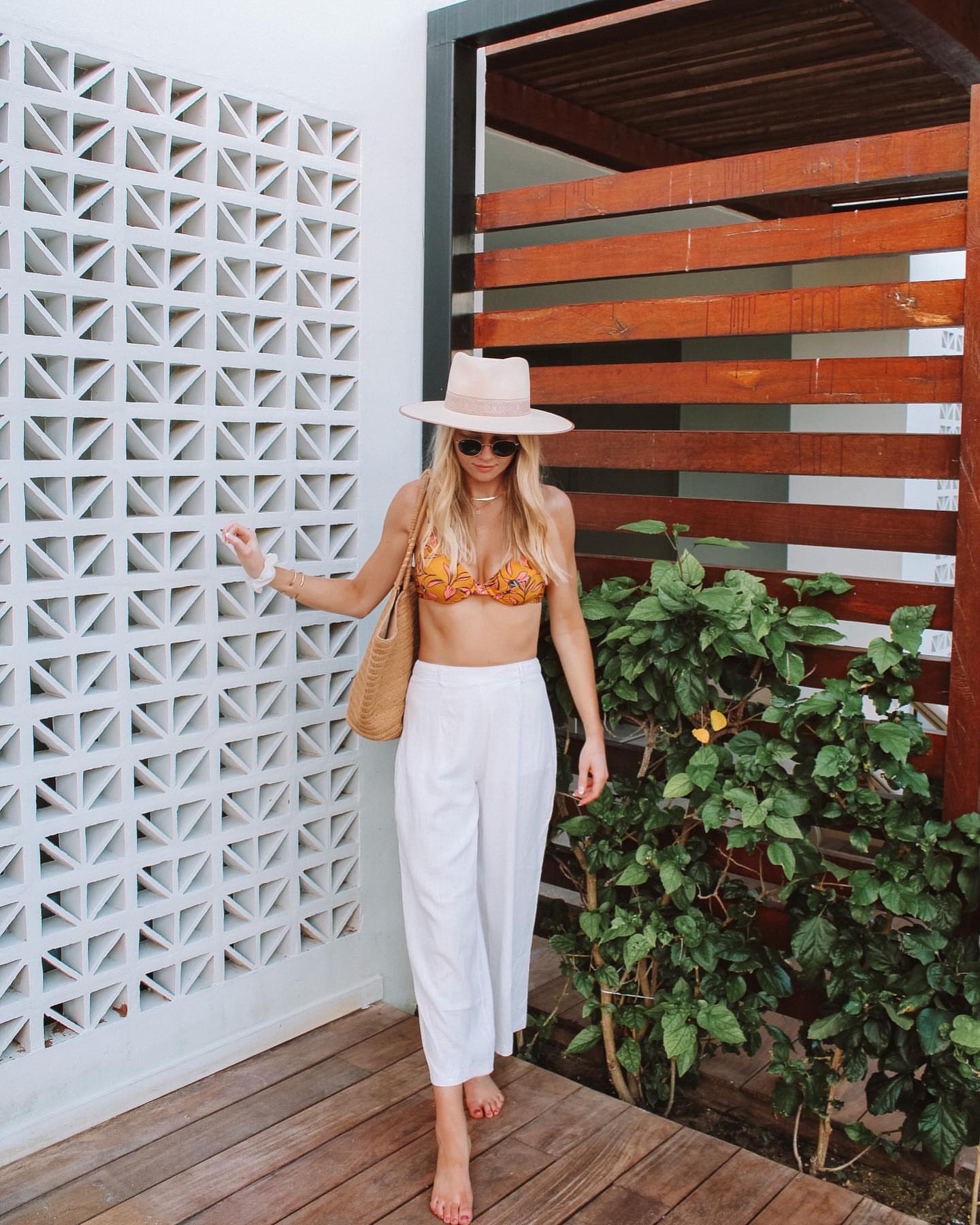 Cropped white beach pants save you from being swamped by long leg-lengths and create a jaunty look.
You can wear flat or wedge sandals with this trendy pants length and a cream fedora adds a chic touch, along with a classy, natural-fiber beach bag.
You'll look great in your vacation photos in this trendy, yellow bikini and pants outfit!
7. Wide-Leg White Beach Pants & Crochet Top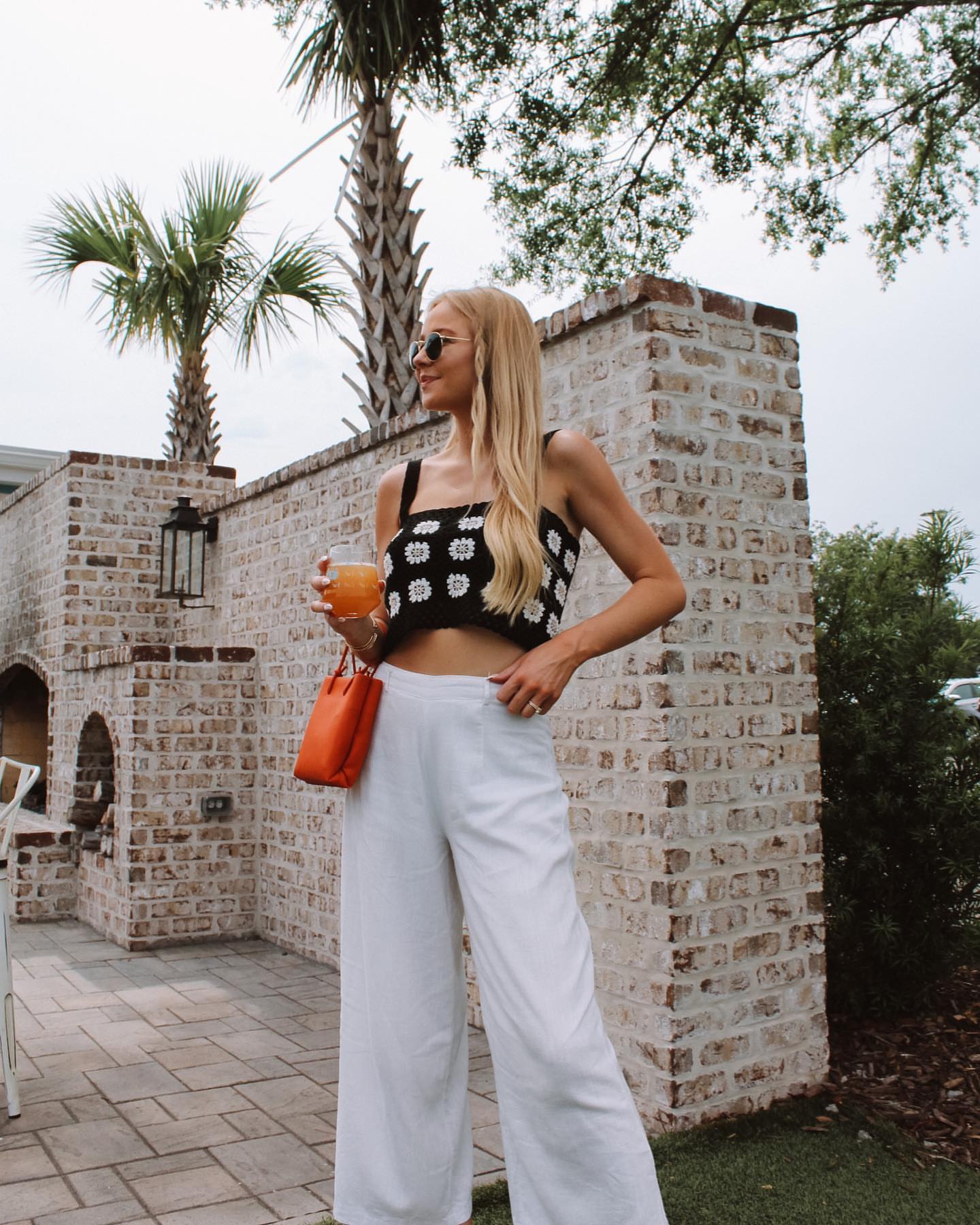 Cropped crochet tops are the perfect match with your beach pants, as a small top is a good way to balance out the wide bottoms.
And the choice of a black and white modern crochet pattern with white pants looks trendy and attractive.
Add a lovely splash of color with a fashionable orange handbag and do your sight-seeing in comfort and style!
8. Black & Mauve Beach Pants with Cropped Top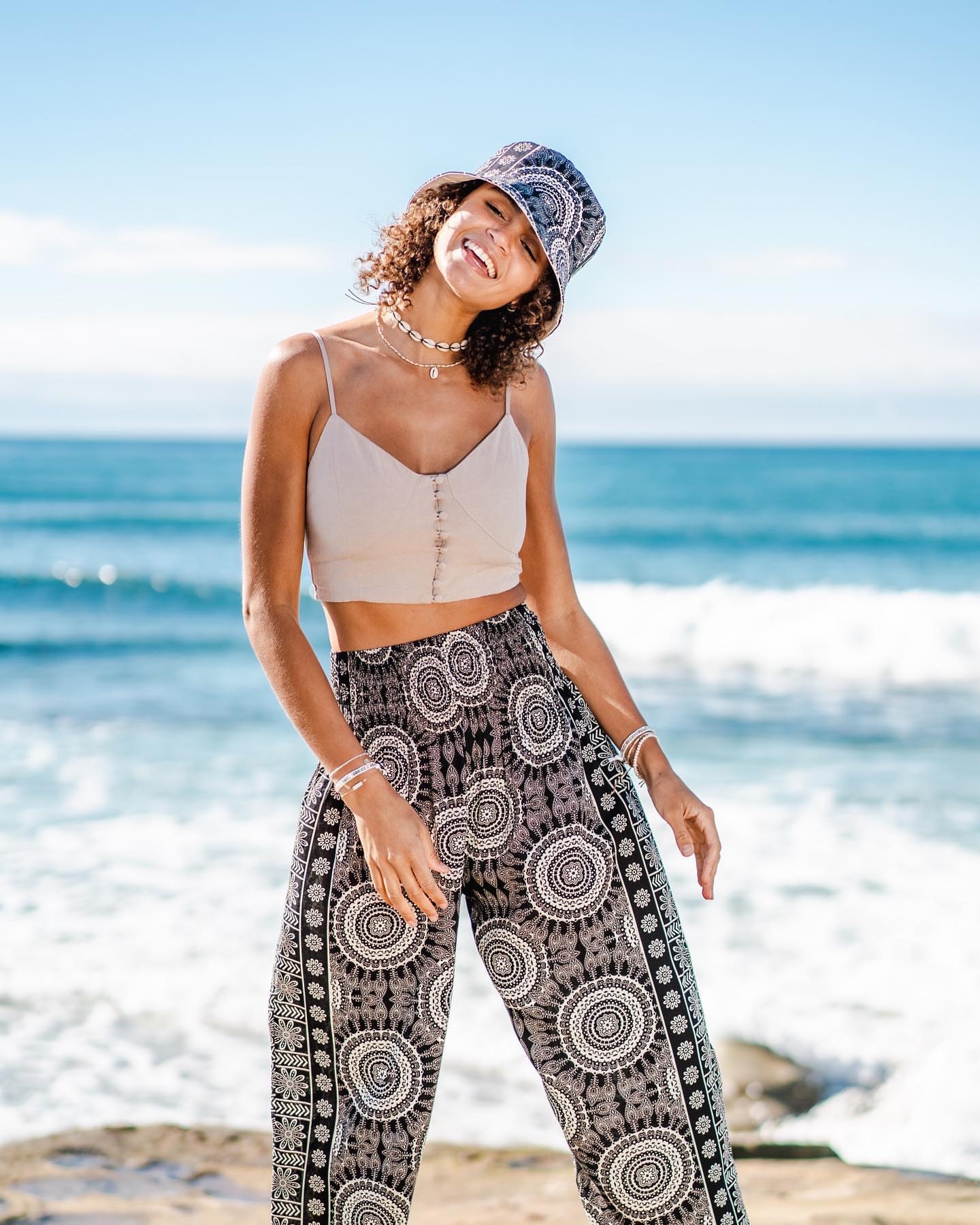 If you feel conscious about the width of your thighs, wear an abstract pattern like the one above which breaks-up width and has vertical lines drawing the eye down.
This tends to make your legs appear longer and leaner, and the shirred, deep waistband also helps your waist appear slimmer.
Wear with a matching or similar patterned hat for a top to toe look and a cropped nude-beige top for perfect balance.
9. Rainbow Striped Beach Pants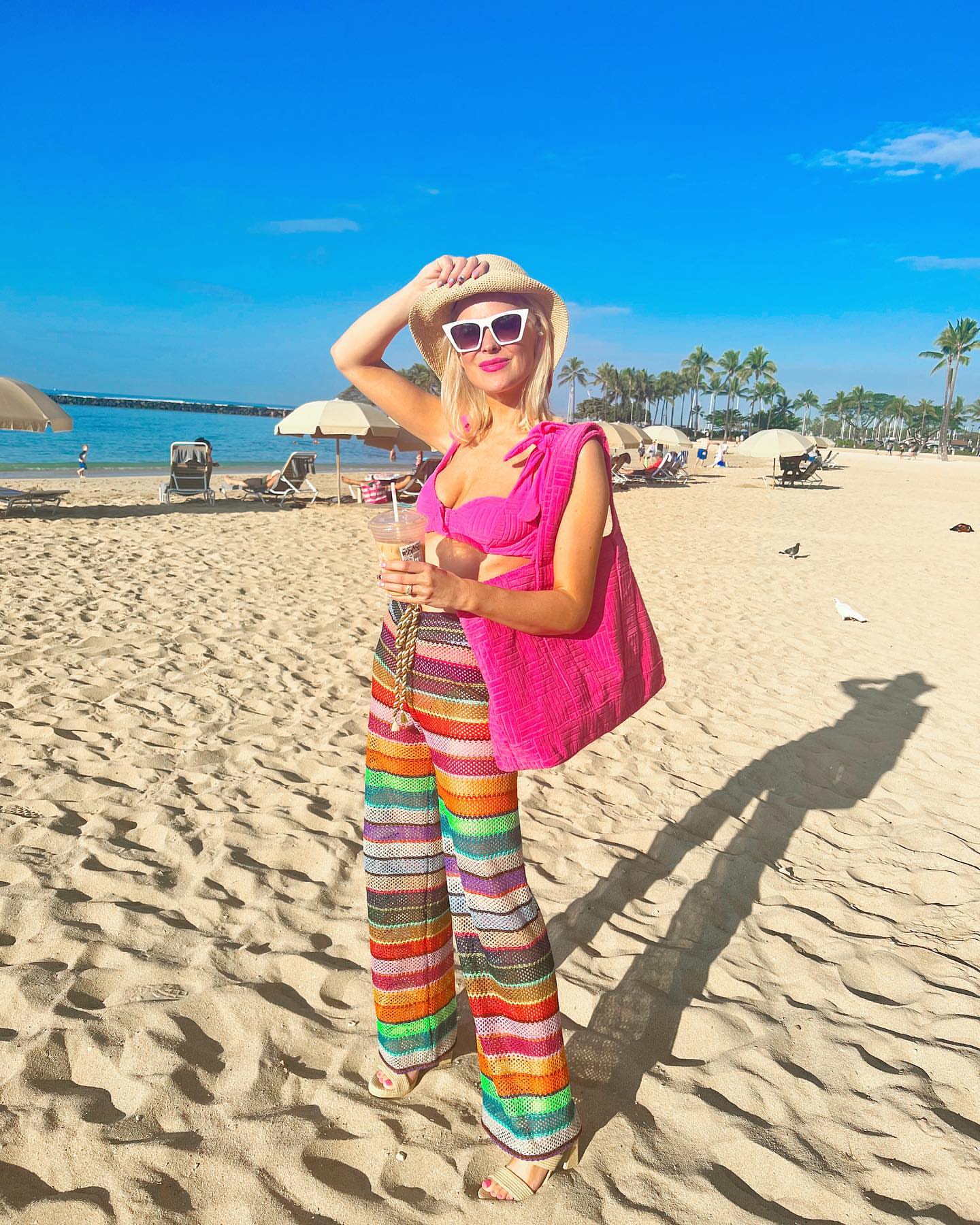 These rainbow striped beach pants have a look of the 70's about them and a fabulous, open-weave fabric designed to keep you cool in the heat.
I love how this outfit is full of different textures, from the hot pink bikini top to the geometric patterns on the matching pink velour beach bag.
The beige, rope tie-belt is an attractive detail that matches neutral sandals and sunhat to balance the vivid colors!
10. Chic Self-Patterned Cream Pants with Denim Crop Top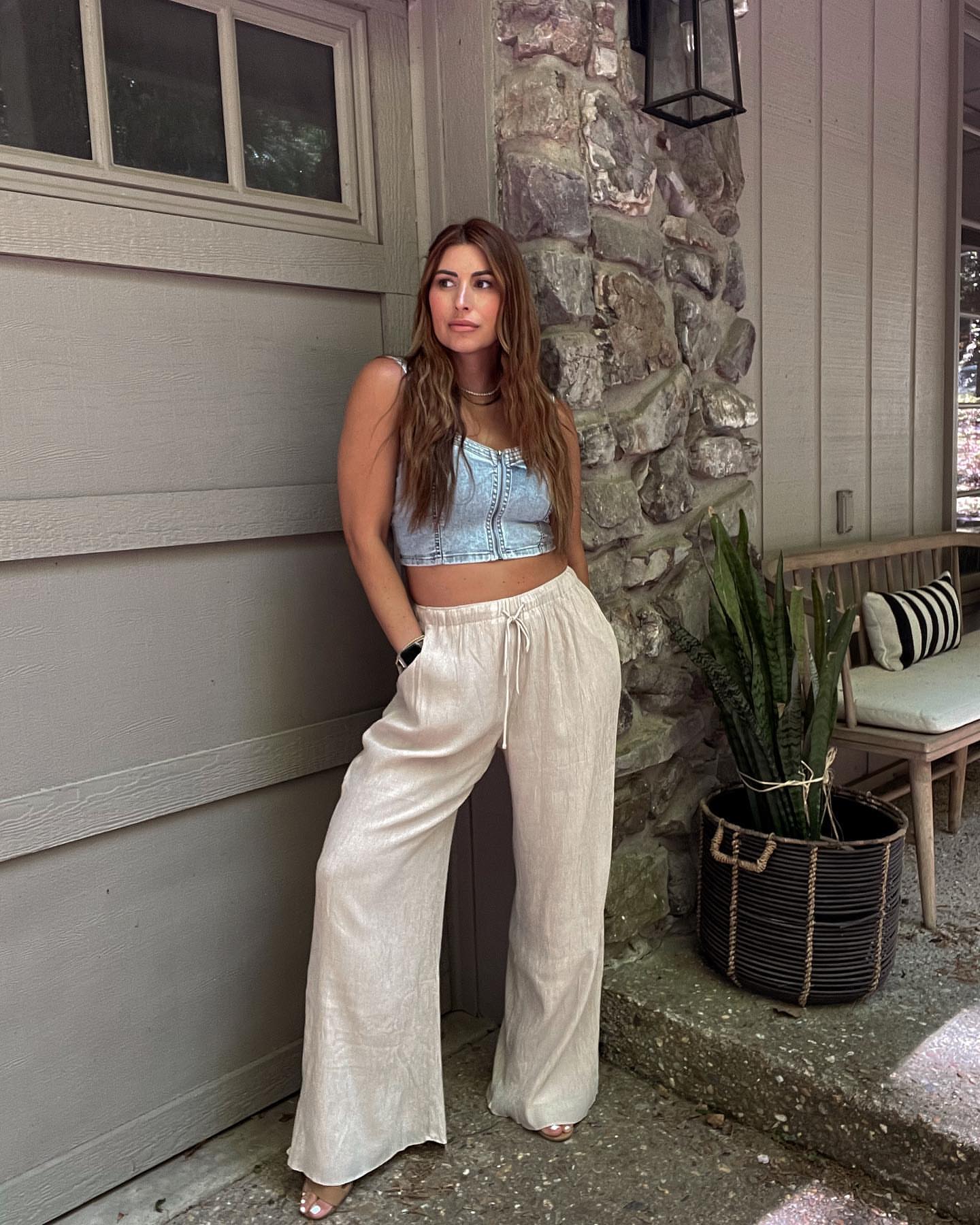 This is a chic look that will take you to the beach and on to a night-club with the super-trendy denim bra top.
The silky fabric of the wide beach pants is self-patterned for an expensive, luxury look, but the pants have a casual, elasticated waist with a draw-string tie.
If you invest in high-quality, versatile garments, you'll find you can pack fewer clothes and get great value for money!
11. White Cotton Beach Pants with Beige Crop Top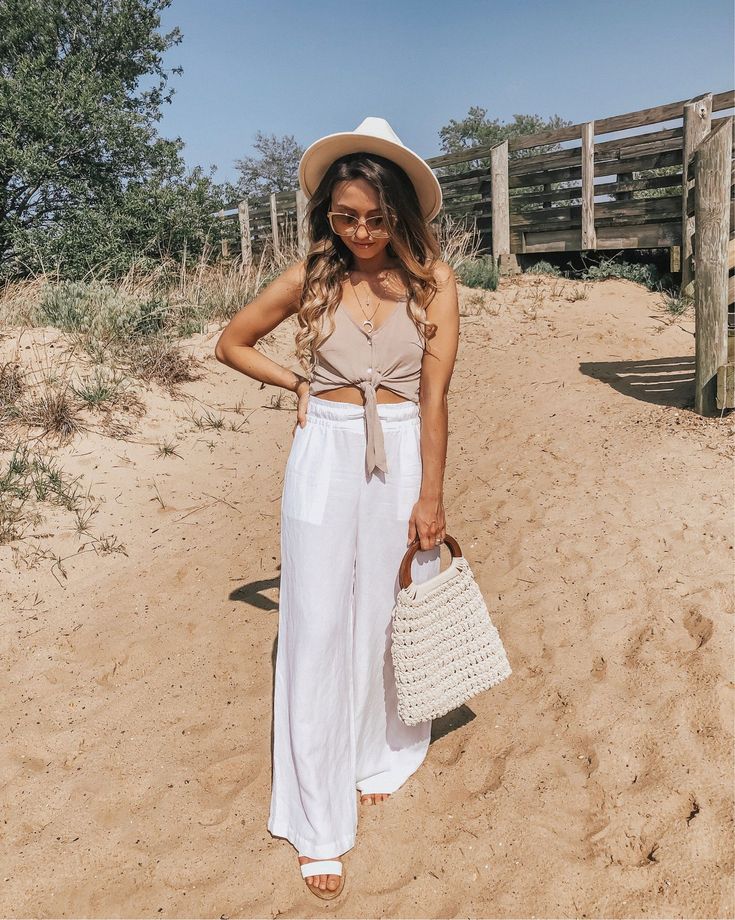 Wear these wider-legged beach pants with a soft-beige, front-tied top that has an appealing V-neck and shows a little midriff.
You can dress this outfit up wonderfully with a 'cool' Fedora hat and a wood-handled, crocheted handbag.
White banded sandals look great, but remember that sand can get really hot!
12. Classic Stone Beach Pants with Black Tee-shirt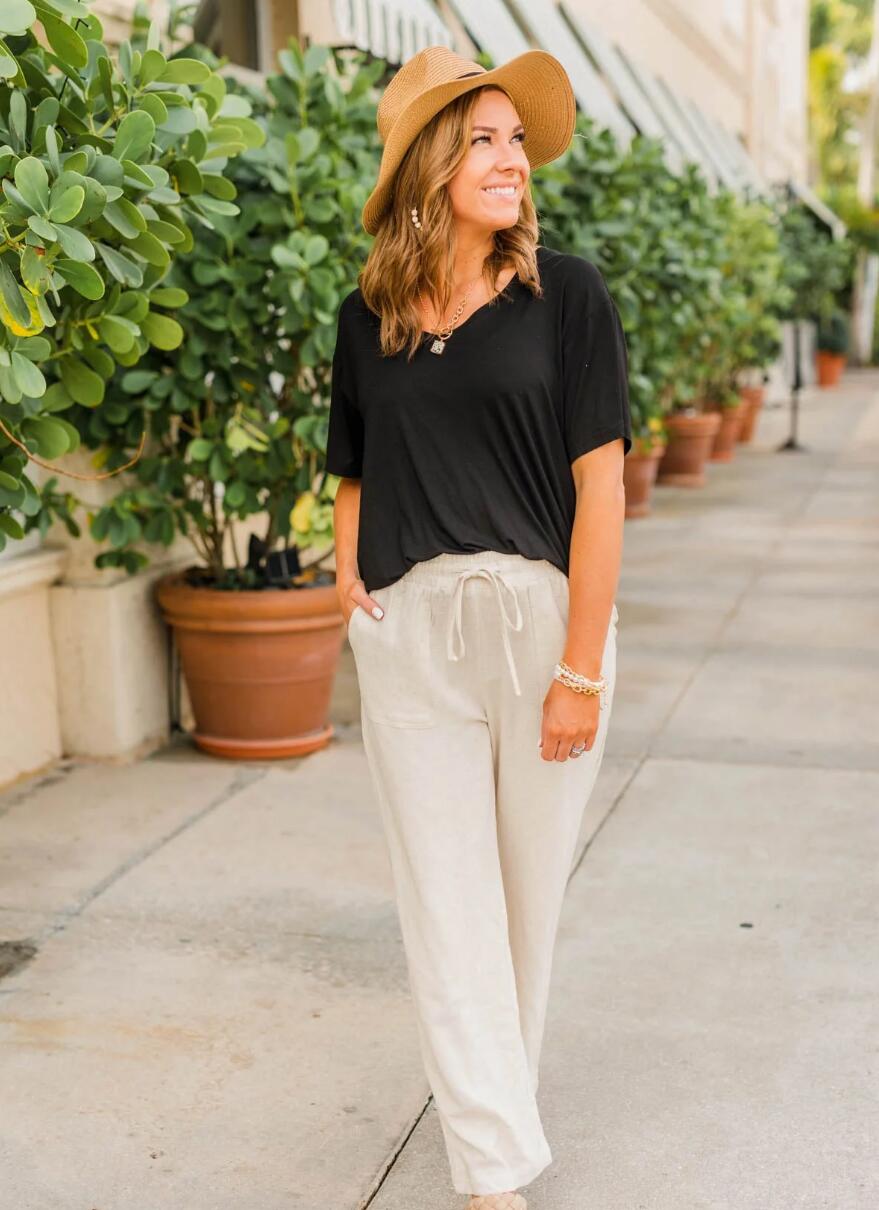 Here's another color switch with a dark color on top and a lighter color for the beach pants.
It's a good way to minimize a heavy bust and maximize narrow hips, to get a better balance to your figure.
The t-shirt fabric hangs well and looks great tucked into the casual, draw-string waist and pulled out slightly to drape nicely at the front!
With pretty earrings, a necklace and a bracelet, this outfit looks chic and suitable for evening drinks and supper in a restaurant!
13. Cute Aqua Crochet Top with White Beach Pants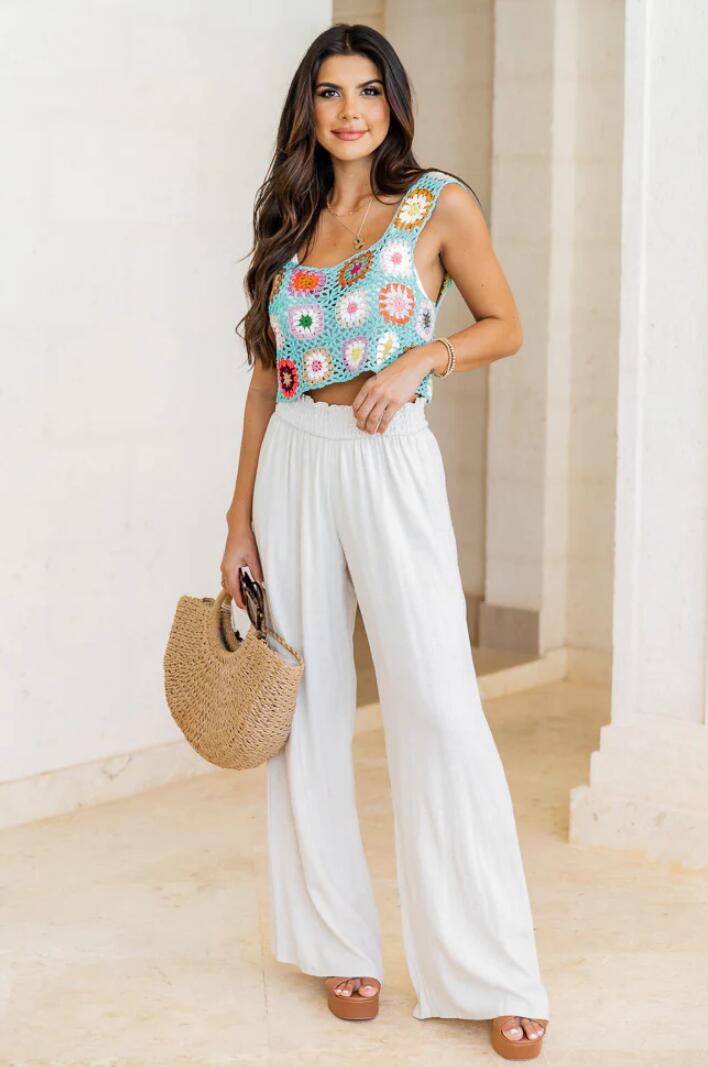 Trendy aqua is a fabulous color for summer and one of this year's trendiest shades.
And on this floral, crocheted top it makes a really fresh and eye-catching look.
Thick straps are great for covering your bra straps and keeping you comfortable and the gorgeously curved, woven bag is a very chic accessory
The high-waist is made from deep, waist-defining shirred elastic, so the short top doesn't expose too much midriff, in this fashionable and classy summer outfit!
14. Waist-Defining Shirred Elastic Beach Pants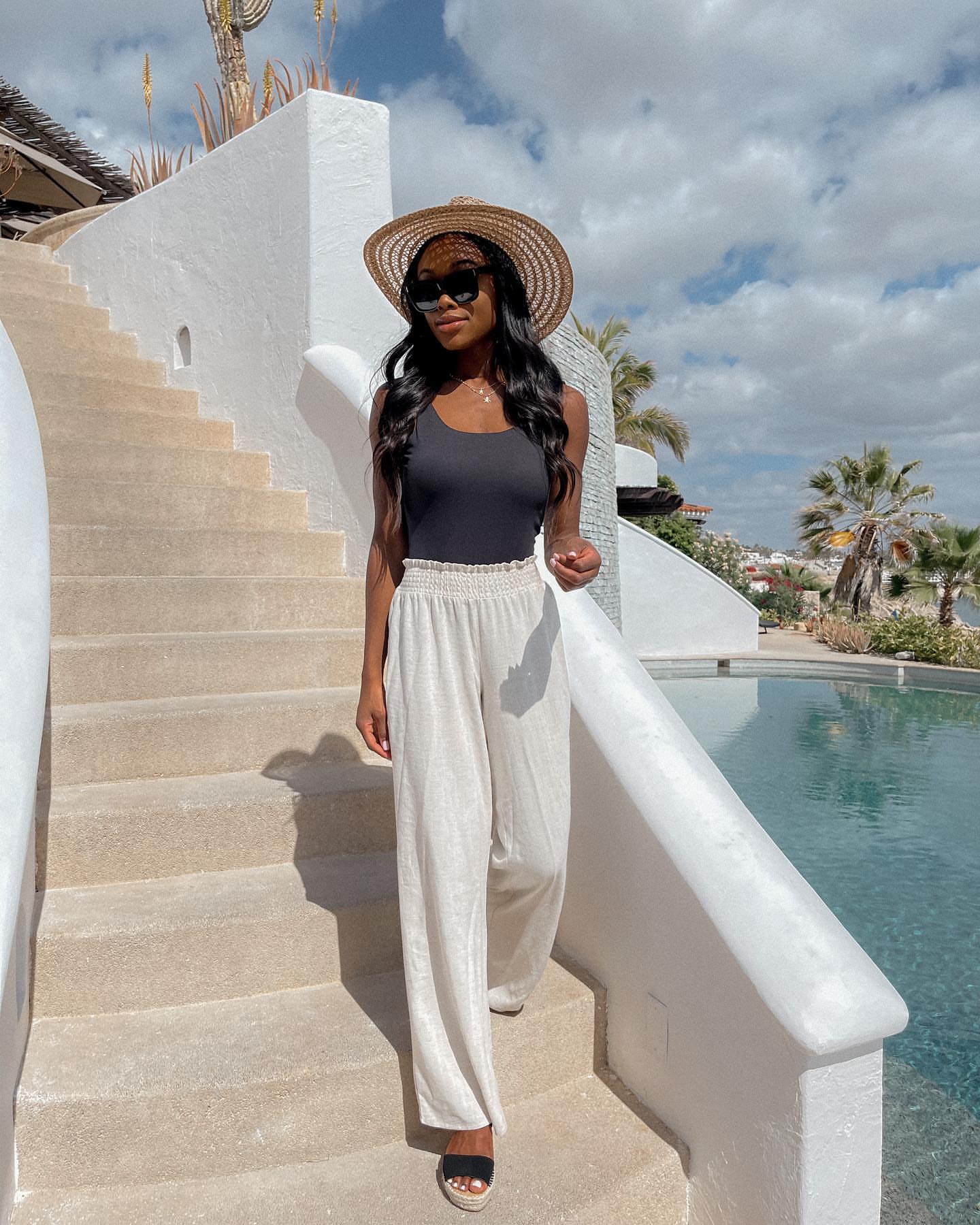 Stone colored, silky fabric with a muted self-pattern helps create classic beach pant outfits that will stay fashionable for years.
Wear with a woven sunhat to match rope-soled, platform sandals to consolidate the top-to-toe look, in addition to the matching brown tank-top and sandal-band.
This is a simple, but attractive summer outfit you can wear at the beach or in the evening for drinks and conversation!
15. Transparent Textured Beach Pants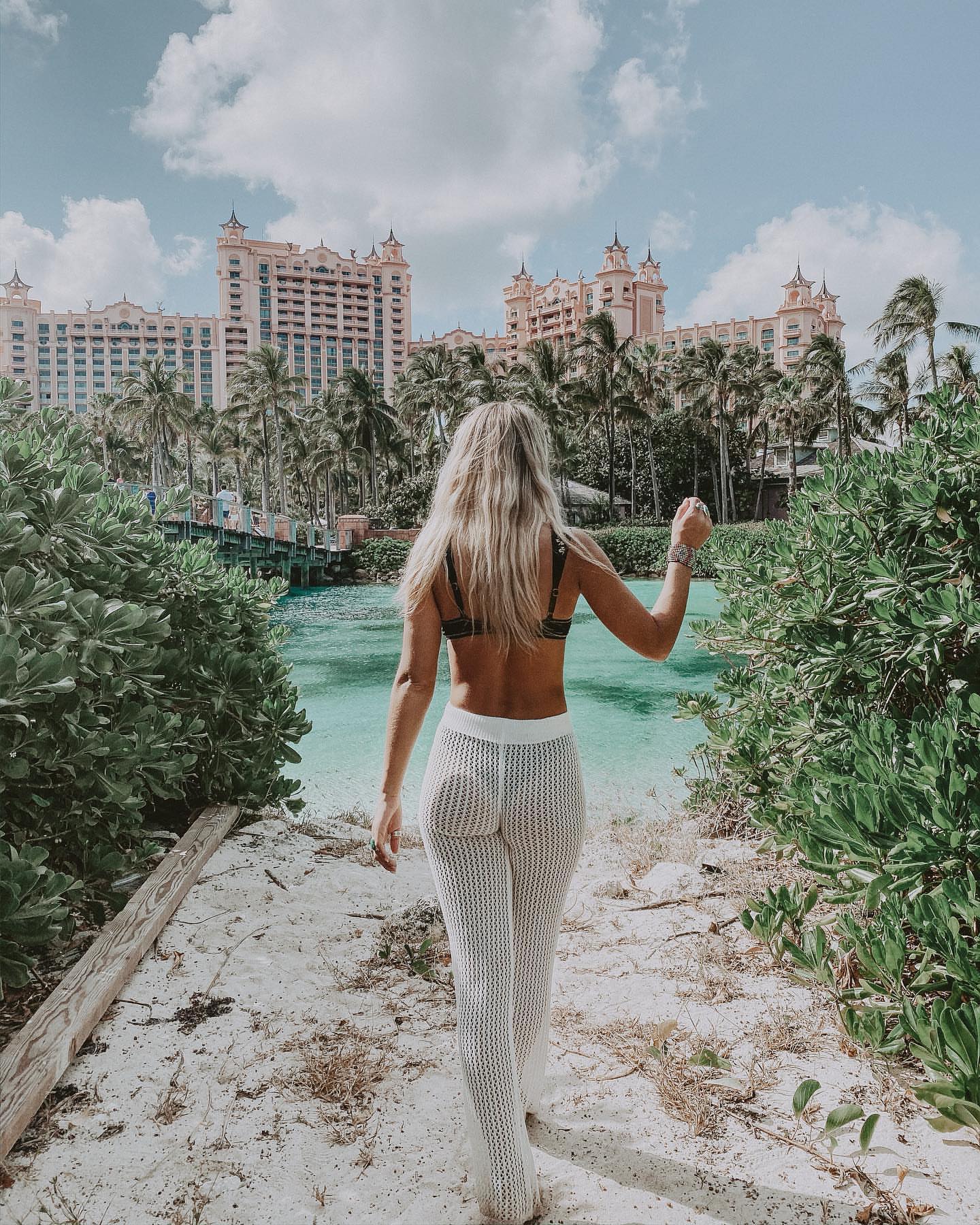 If you're proud of your shape and want to show it off, these transparent, woven beach pants are perfect for you.
The legs are slim-cut, rather than wide-legged, and look great over a bikini.
This style has a broad, waistline for comfort and you can wear it over minimal-cover bikini bottoms for maximum exposure!
16. Chic Beige, Black & White Patterned Beach Pants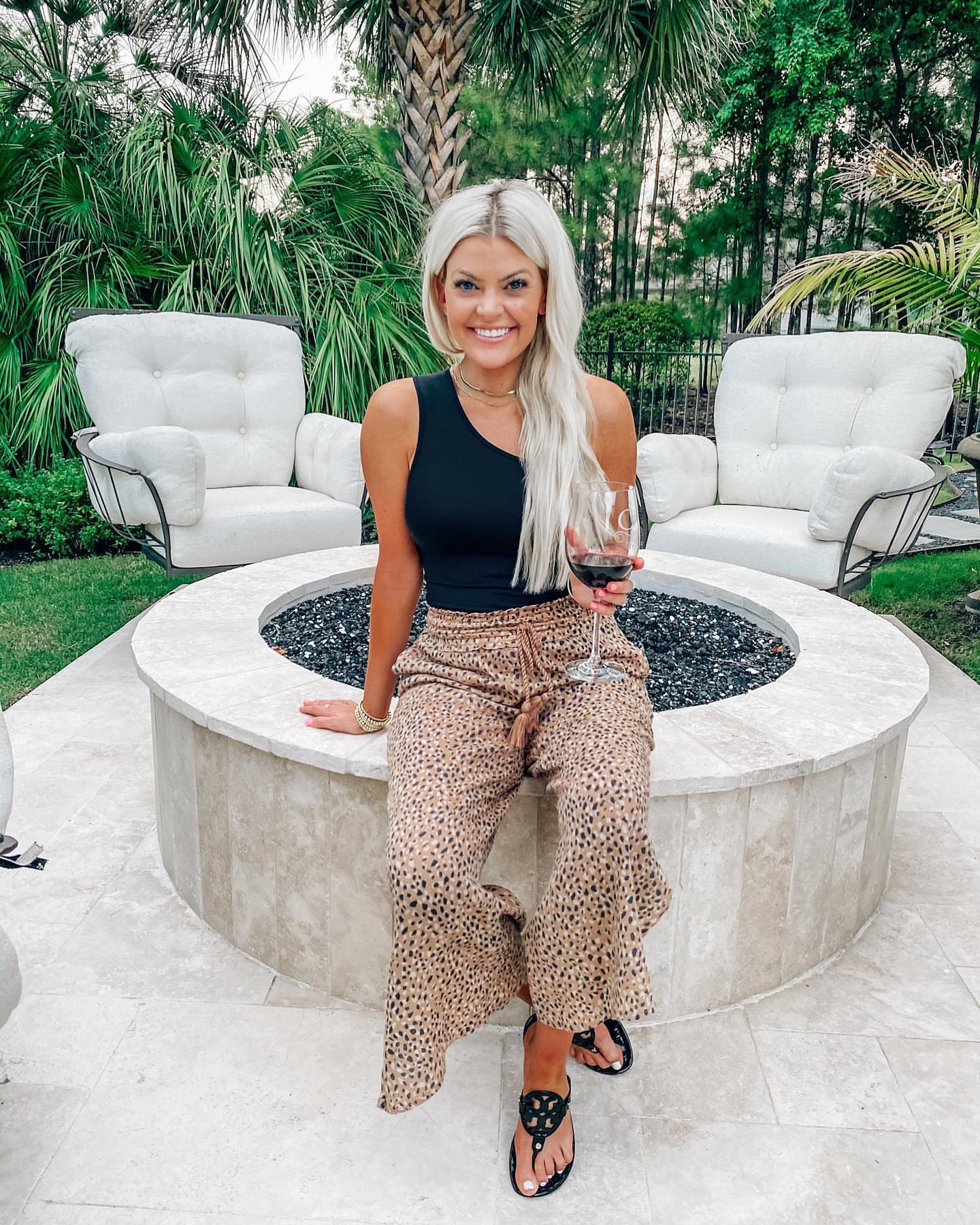 And for a lovely, sophisticated look you can wear for many different occasions during summer, let this outfit inspire your shopping choices!
The black, one-shoulder top has a nice, thick shoulder-strap to prevent any inconvenient slipping down of the neckline, and the shape is very attractive.
The mix of beige, white and black in the beach pants is very visually appealing and creates a super-chic vibe, along with classic, brown leather, flat sandals!
Wear with a short necklace and bangle bracelets for evening parties in vacation villas!
______________________________________________________
Beach pants are a more sophisticated look than the oversized T-shirts or the not-always-flattering shorts of previous years.
And they give more leg cover when you need to restrict the amount of sunlight your body receives each day.
In addition, beach pants can be worn for just about any vacation activity without you needing to return 'home' and change for supermarket shopping or visiting a restaurant post-beach.
Wear with a short top or a tucked-in T-shirt to get the correct body-balance for wearing wide-legs and enjoy this trendy and comfortable way to dress in hot weather!