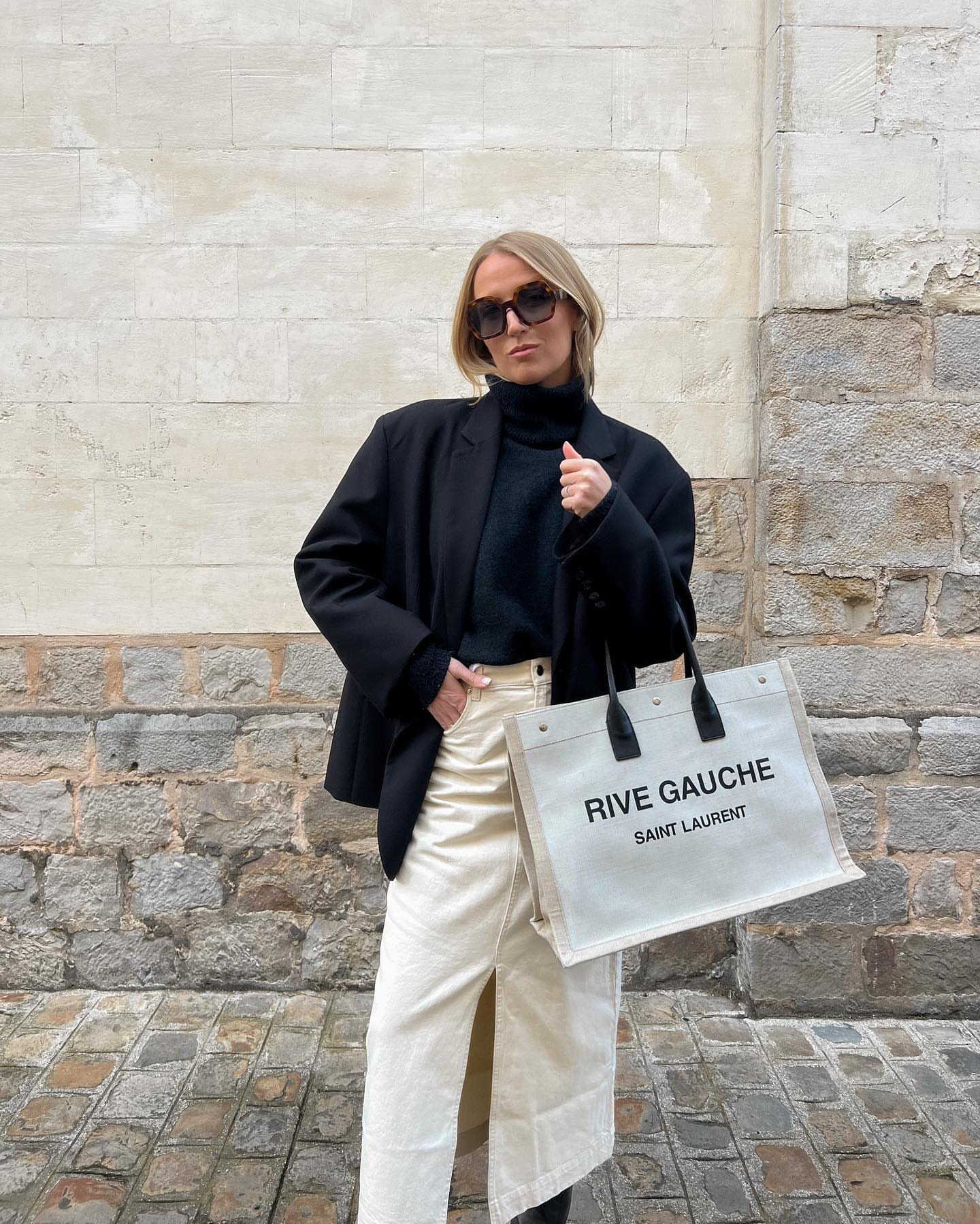 Dressing like a fashion expert doesn't have anything to do with spending a lot of money on clothes, it's an art you can learn right here without spending a penny! Being well-dressed means combining shapes, colors, proportions and accessories to make the wearer look fabulous in every outfit they wear! Some people have a natural talent for this, and use that ability in the fashion industry or working for wealthy celebs. But where does that leave the rest of us? Don't we deserve to look our best, too?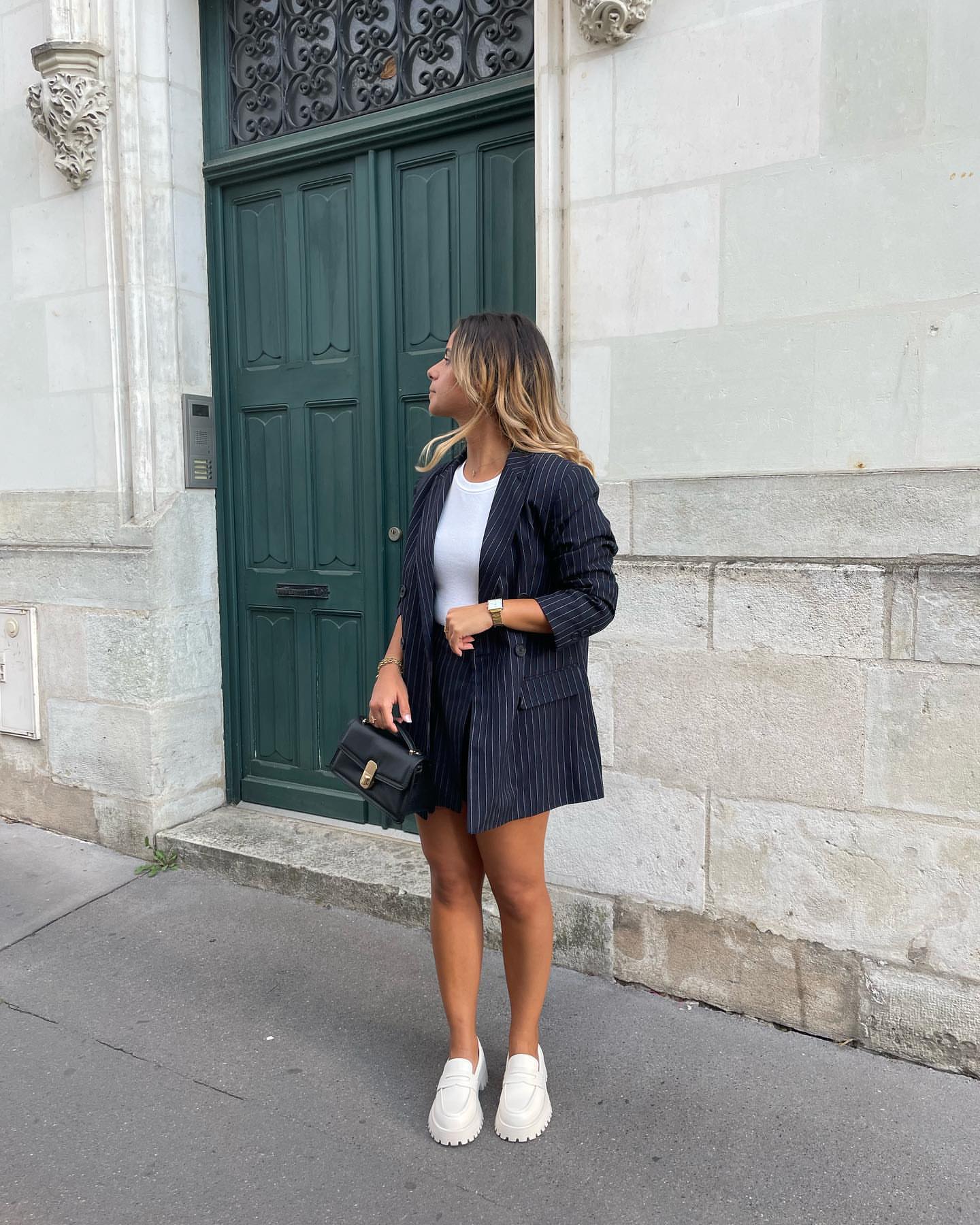 How are we supposed to know how to elevate our outfits to give them that chic, polished and trendy look? Some women study their favorite fashion icons and eventually learn some helpful styling tricks. But unless you are the same height, weight, shape and natural coloring as your idol, you may find that merely copying their style doesn't flatter you at all!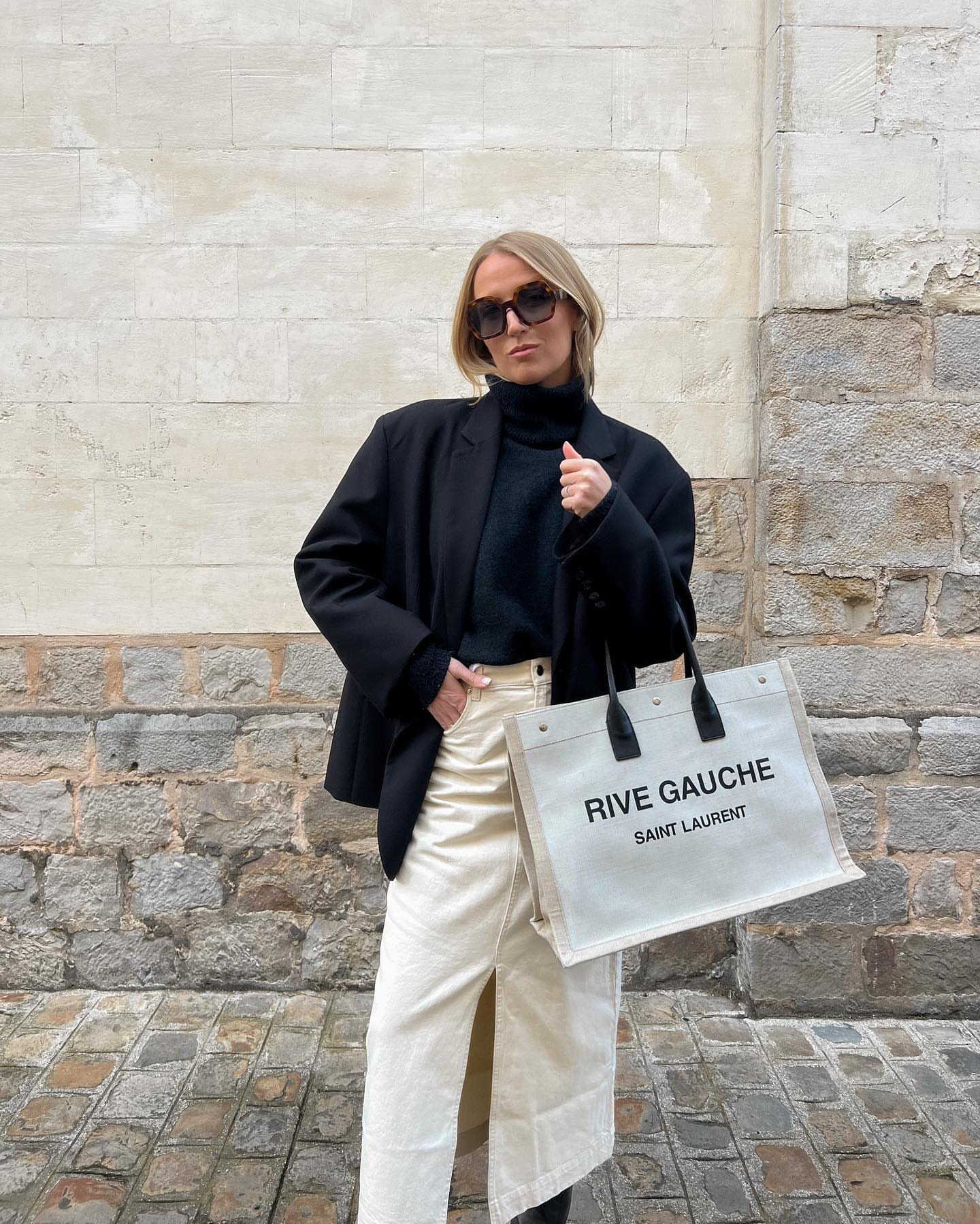 Some women never find the best styles for their individual shape, size and personality and just give up trying. And that's a terrible shame!
How to create trendy outfits like a fashion expert
Here are some tips for creating trendy outfits for young ladies:
Embrace minimalism: Opt for clean lines and simple designs that showcase the quality of the materials and craftsmanship. Look for pieces that have a timeless appeal and can be easily mixed and matched with other items in your wardrobe. Choose neutral colors, such as black, white, gray, or beige, as the base for your outfits, and build upon these foundations with other classic pieces. Minimalism is all about making a statement through simplicity and elegance, so focus on the details, such as the cut or the fabric, to make your outfit stand out.
Incorporate statement pieces: Add a pop of color or an interesting pattern to your outfit with a statement piece like a bold necklace, unique shoes, or a patterned scarf. This can instantly elevate a simple outfit and make it more modern and stylish. When choosing statement pieces, consider the overall theme or color palette of your outfit to ensure that the item complements your look rather than clashing with it. Remember that less is more, so focus on one or two statement pieces to avoid overwhelming your outfit.
Layer strategically: Modern styling often involves layering pieces in creative ways. Try pairing a long, lightweight duster or cardigan over a fitted dress, or experiment with layering a turtleneck under a blazer for a chic, sophisticated look. When layering, consider the thickness and texture of each piece to ensure that your outfit remains comfortable and visually balanced. Layering can also be a practical way to transition your wardrobe between seasons, allowing you to stay stylish while adapting to changing temperatures.
Mix textures and fabrics: Combine different materials, such as leather and lace or denim and silk, to add depth and interest to your outfits. This can help create a more modern, dynamic look that stands out. When mixing textures, pay attention to the overall balance of your outfit to ensure that no single element overpowers the others. Mixing fabrics can also create visual contrast, which can help to emphasize your favorite features and draw attention to the most flattering parts of your body.
Play with proportions: Experiment with oversized or asymmetrical silhouettes to create a more contemporary, fashion-forward appearance. For example, pair an oversized sweater with skinny jeans or a fitted top with wide-leg pants. Playing with proportions can help you find new ways to wear your existing wardrobe items and create unique, eye-catching looks. When experimenting with proportions, keep in mind the importance of balance and ensure that your outfit remains flattering and well-structured.
Accessorize thoughtfully: Choose modern, sleek accessories to complete your outfit, such as minimalist jewelry, structured bags, or sleek shoes. These can help tie your look together and give it a polished, cohesive feel. When selecting accessories, consider the style, color, and materials of your outfit to ensure that your choices complement and enhance your overall look. Additionally, think about the functionality of your accessories and select items that not only look great but also serve a practical purpose, such as a versatile handbag or a stylish yet comfortable pair of shoes.
Stay on top of trends: Keep an eye on current fashion trends and incorporate elements that resonate with your personal style. This can help you stay up-to-date and maintain a fresh, modern look. Subscribe to fashion magazines, follow style influencers on social media, or attend local fashion events to stay informed about the latest trends. However, remember that not every trend will suit your personal style or body type, so pick and choose the ones that work best for you and incorporate them into your wardrobe in a way that feels authentic and true to your personal aesthetic.
We all deserve to know how to style ourselves so we can look our best, stand out from the crowd and feel confident! Each season's most popular outfits include fashion styling tricks that add a special twist and identify them as belonging to that particular fashion moment.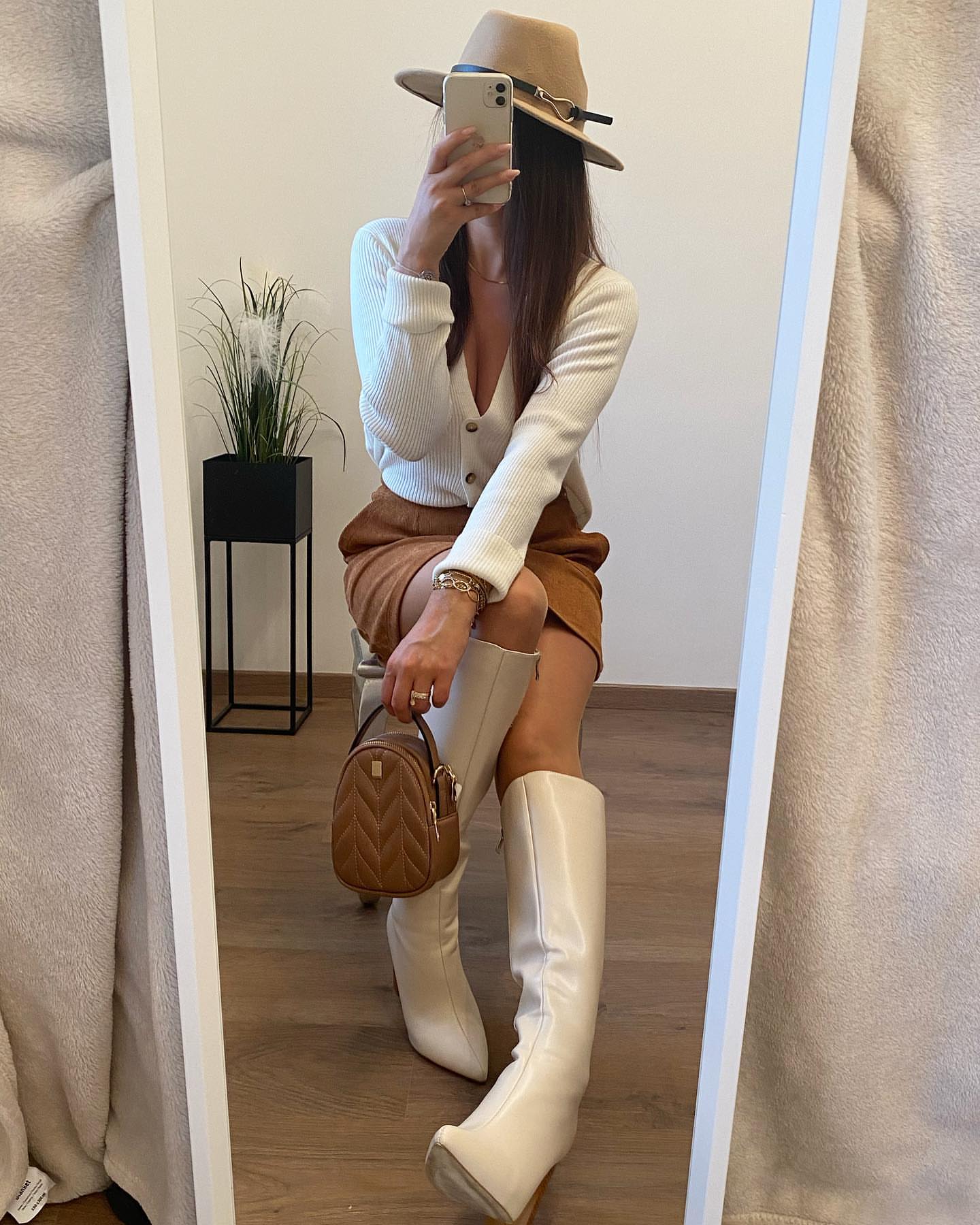 These outfit ideas are a combination of rule-breaking tweaks and fresh ideas that add flattering, quirky and trendy details to our outfits. So take a look at these modern styling ideas that make you look like a modern fashion expert and see how easy it is to switch-up the clothes you already have and choose new items for this year!
1. Oversized trouser suit with green & man's tie styled as a scarf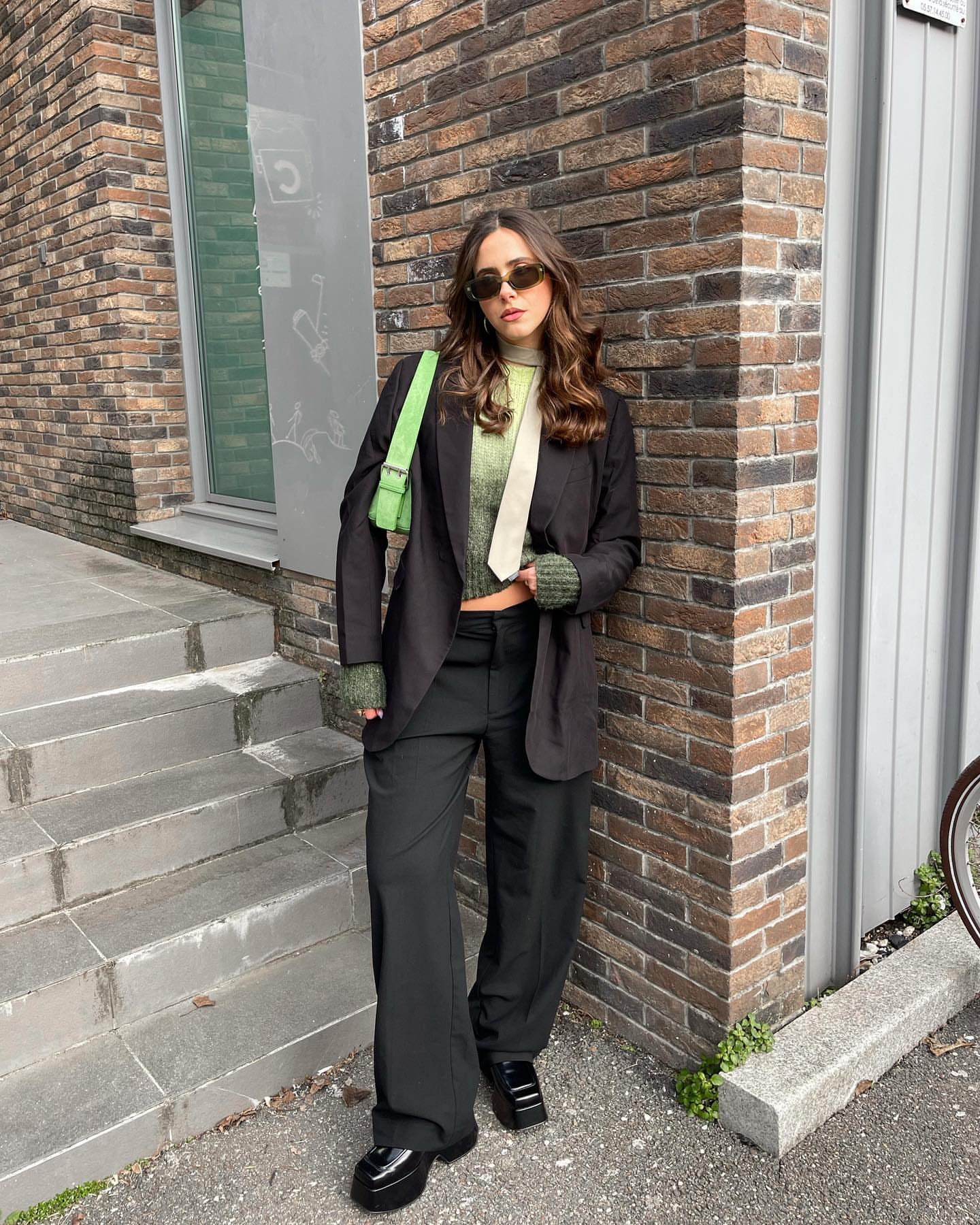 What we have here is a quirky and modern take on the masculine, black trouser suit.
First of all, I notice that the jacket and trousers are not the exact same shade of black – but that doesn't matter at all.
Fashion experts are varying the look by wearing differing tones of the same color, including white, or black and other colors.
The ombré sweater is an attractive new look that connects with the neutral black as it darkens almost to grey.
The leaf-green shoulder-bag adds a fresh looking vibe and harmonizes with the sweater.
And instead of a feminine neck-scarf, this model is wearing a fun look from the neck-tie draped around her neck.
It's a fun and quirky reference to the fact that it's falling further out of fashion every year – and we need to find a new use for it!
Style tip: Overlong trousers need a pair of platform shoes to give your legs longer length and balance the extra width they give the silhouette.
2. Tone on tone turquoise & mixed textures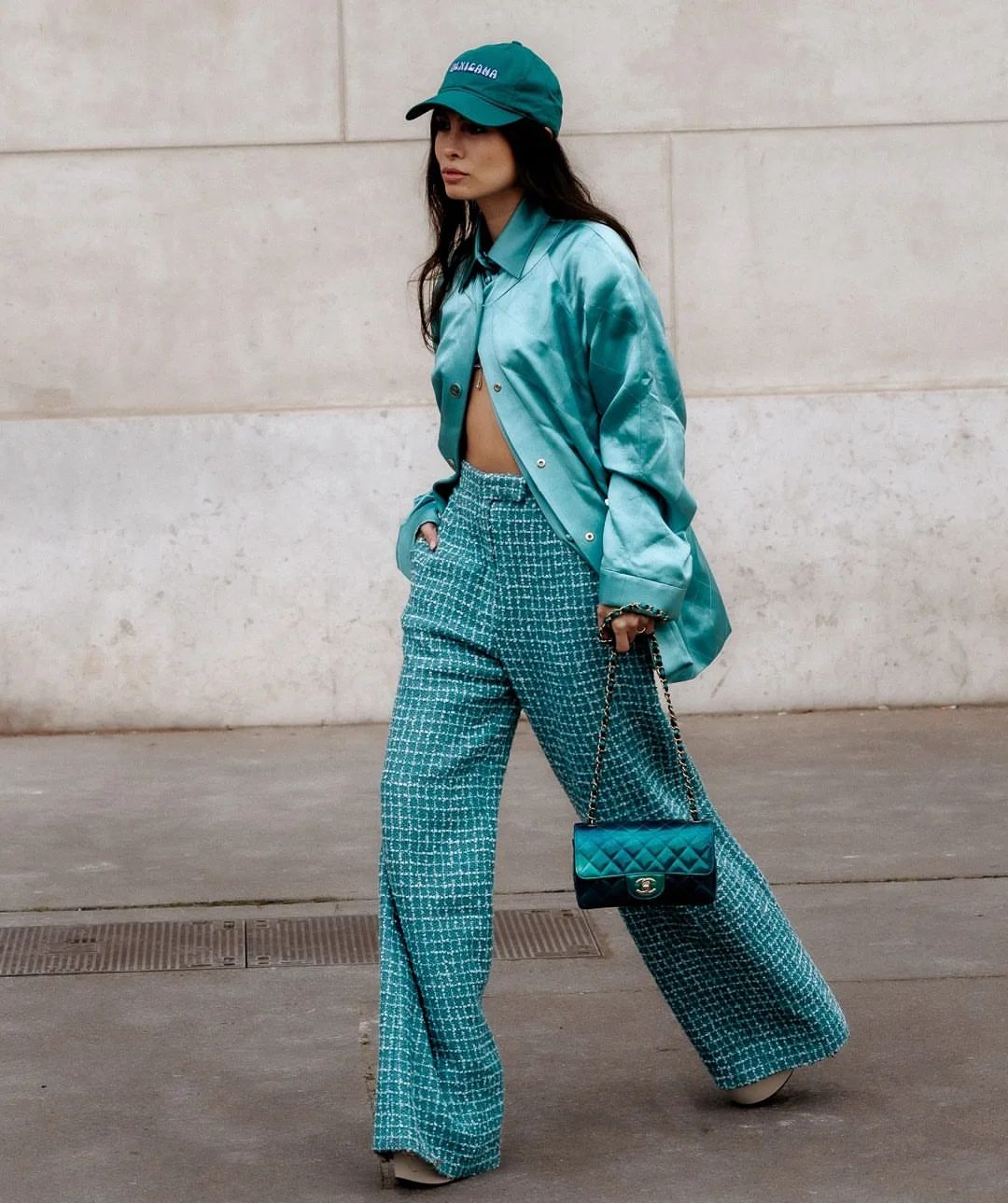 This outfit may be one glorious turquoise color, but the varied tones and different textures all add up to a sumptuous glam outfit!
From the matte-textured cap, there's smooth, shiny satin, then nubbly tweed check and a quilted shoulder-bag, with a trendy chain-strap.
Cutout clothing is a huge trend this year, but if you don't have a cutout top to match these gorgeous trousers, just wear your blouse unbuttoned from below the bust and create a triangular shape as above!
Natural beige platforms add extra height you need for overlong, wide-leg trousers.
Style tip: Mixing color tones in fabric textures you would never have thought of before – like evening fabrics with tweed – is a strong trend for this year.
So look through your wardrobe to see what clothes you can wear more often in new ways!
3. Black jacket & white striped top with olive-green casual trousers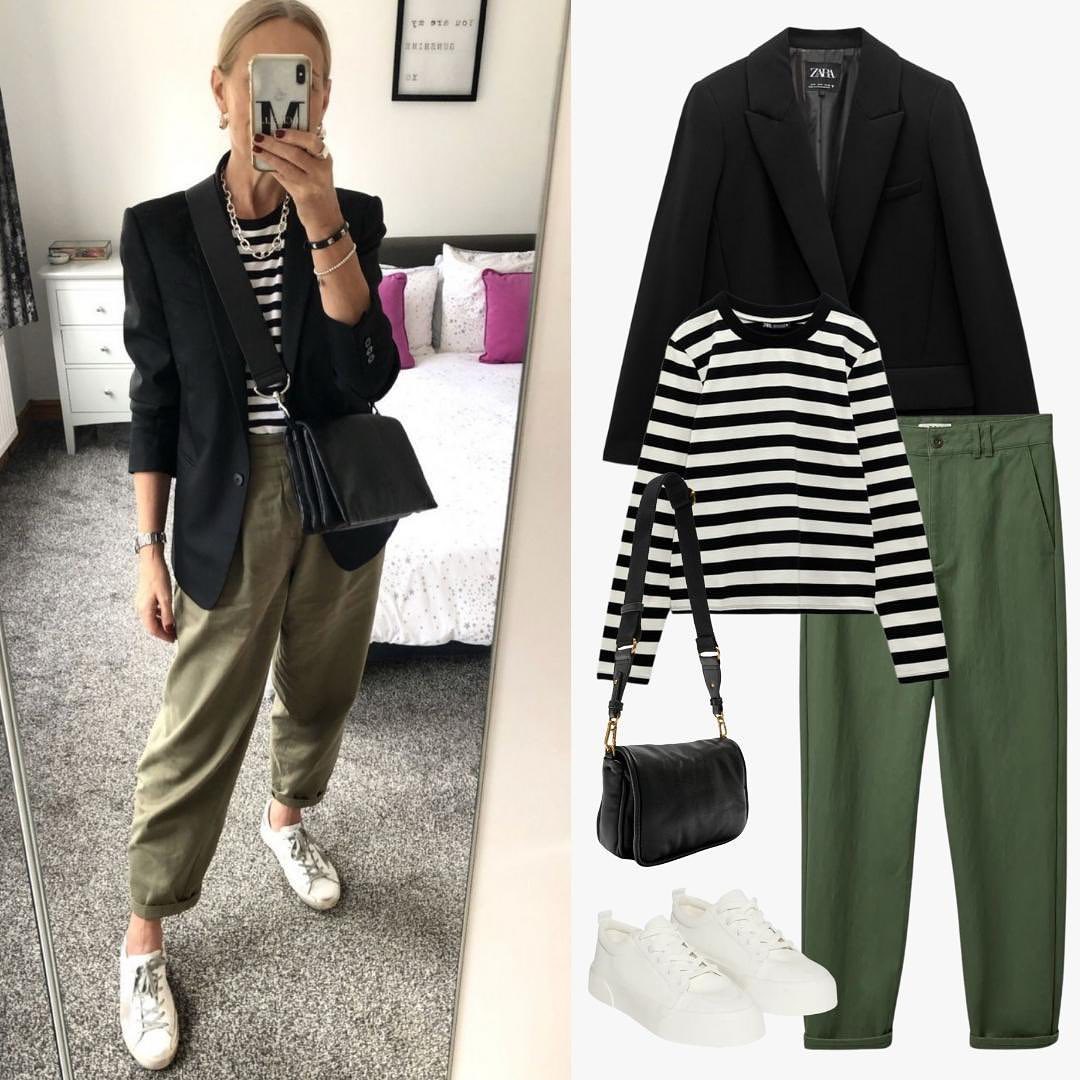 Take four wardrobe staples, like a black and white striped top, an oversized black blazer, white tennis/sports' shoes and a black shoulder-bag and see how you can style them in a new, trendy way!
In this example, the smart look of the jacket and top have been cleverly subverted by wearing them with ultra-casual, camouflage-green, wide-leg pants and tennis pumps.
And creating fresh styles through experimentation is the essence of setting new trends.
You may have worn that classic outfit with black trousers/jeans and smart shoes lots of times before, but I can guarantee you will get lots more fashion points when you turn up in this new combo!
Style tip: Rolled-up hems are the latest look for casual trousers this season, so copy that for another fashion expert vibe!
4. Buy Chain Store Trends & Add Glamor with Designer Name Accessories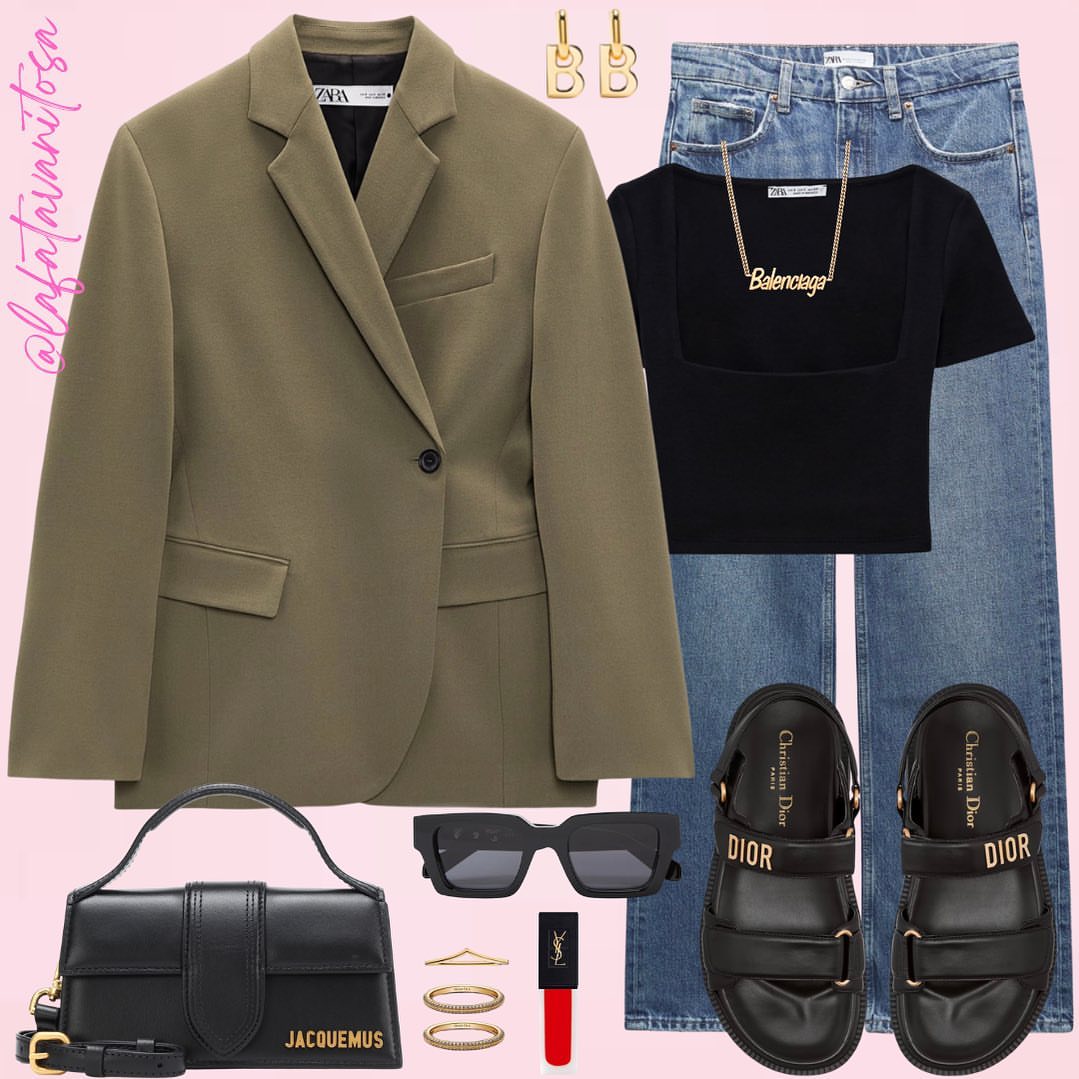 Wealthy people and fashion experts never wear clothing with the designers name showing!
So if you buy your clothes from a high street chain-store, you'll get the same anonymous fashion expert look as the wealthiest people.
On the other hand, if you love copying the celebs who're given free designer clothes to wear and advertise for lots of money, you can add outrageous show-off pieces like the Balenciaga necklace and BB earrings!
This outfit is really poking fun at the practice of larding your outfits with famous names and has a hotch-potch of Dior, YSL, Balenciaga, and Jacquemus.
This neutral blazer stands out because it has an asymmetrical front, with one side covering the pocket of the other side.
It's a very daring design that plays with the idea of a badly put-together jacket!
And it's a sure sign that there's a new trend towards clothing that looks so wrong – it's right!
So keep an eye out for de-constructed garments like this, if you want to stay contemporary.
Style tip: This outfit of jacket and gorgeous, square-neck top from Zara is a great look for this year that any fashion expert would enjoy wearing.
Style comes from clothing color, design and fit – never from the maker's name tacked onto the exterior.
5. Oversized White Trouser Suit with Tiny Baby-Blue Handbag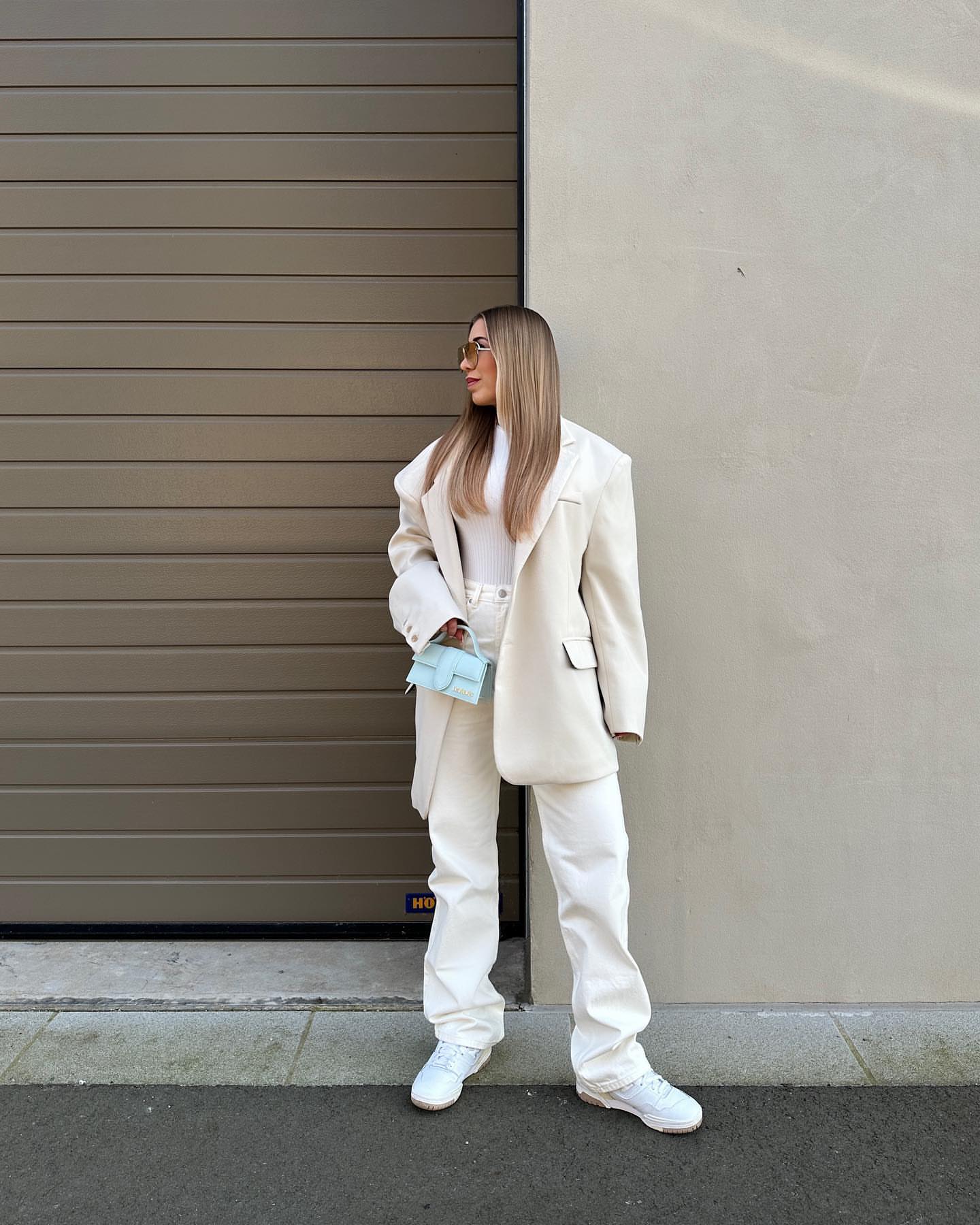 An oversized jacket of this size really looks best on tall women who can take the extra volume without being 'drowned' in fabric.
But if you are above average height, it can produce a statement outfit with lots of panache!
The wide-leg white jeans are overlong, so flat sports' shoes are a good match because they suit the wider proportions.
Wide trousers need a close-fitting top, like this trendy skinny-rib, white sweater tucked in to the high waist.
And as a fun contrast to all of the oversizing, the model is carrying an extra-small blue handbag!
Style tip: Wide trousers should always fit well around the hips before they become wider in the leg.
And always wear a belt with jeans/trousers that have loops to get fully 'finished' look!
6. Over-the-knee Boots & Red Mini-dress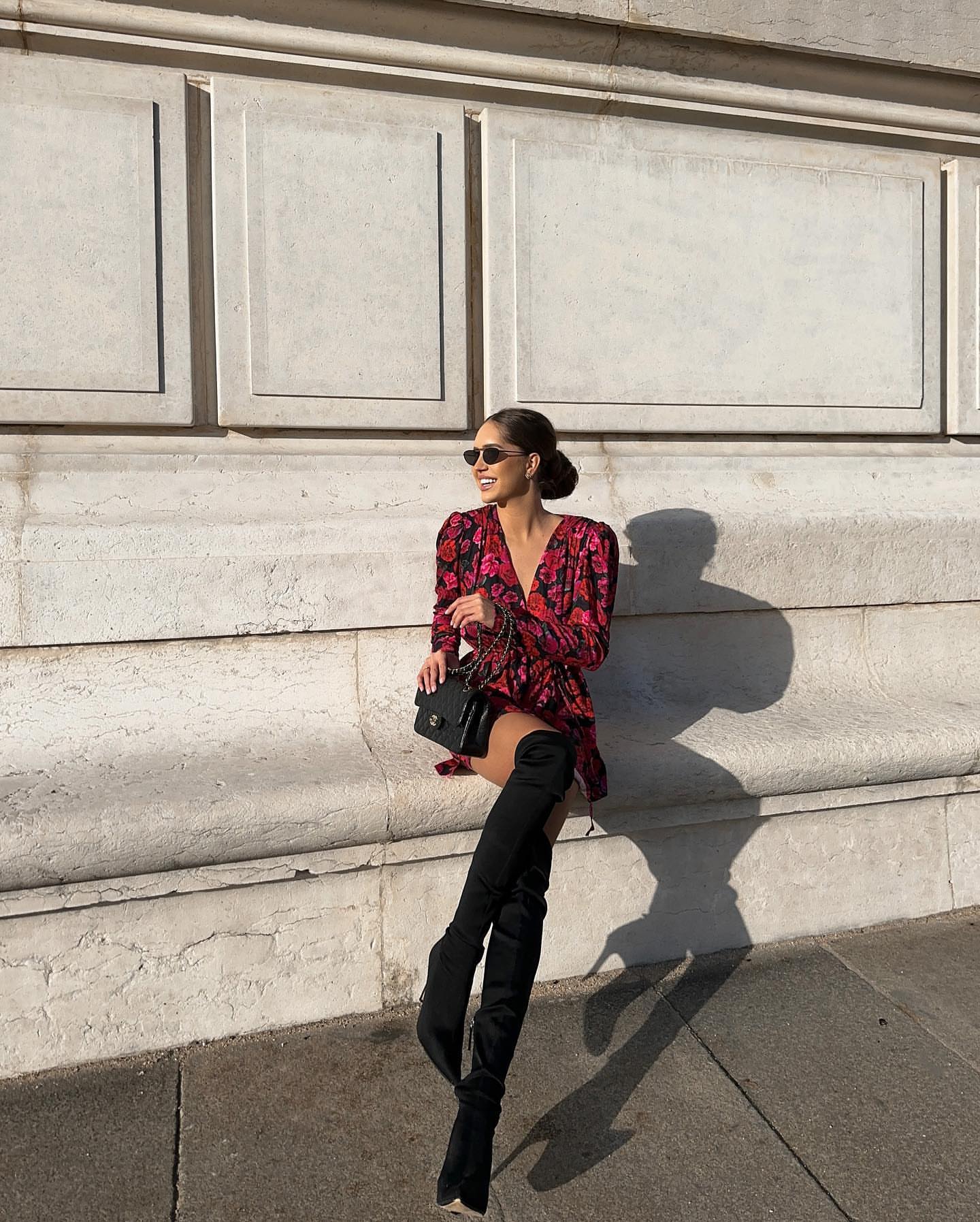 Go all out for glamor with this mini-dress and kinky boots outfit that channels the early 1970's, but with a contemporary fashion vibe.
Wearing over-the-knee black boots in a soft fabric reduces the amount of bare leg on view and makes the look more sophisticated.
The V-neck is flattering, and as it doesn't show cleavage, it looks fine with the short length skirt.
This dress has a well-defined waistline, and that's always going to make your figure look shapelier.
And the gathered sleeve at the shoulder highlights the shoulder-line and elevates this lovely, floral dress to fashion expert level.
Style tip: The key to getting a sophisticated look with a mini-dress is not to show legs and cleavage and arms.
These long, close-fitting, soft boots cover, but don't hide, the shape of good legs and leave a tantalising patch of thigh on view.
And combined with structured shoulders and long sleeves, you can be seductive and classy! And this style is perfect for Kibbe's soft dramatic body type.
7. Grey hooded jacket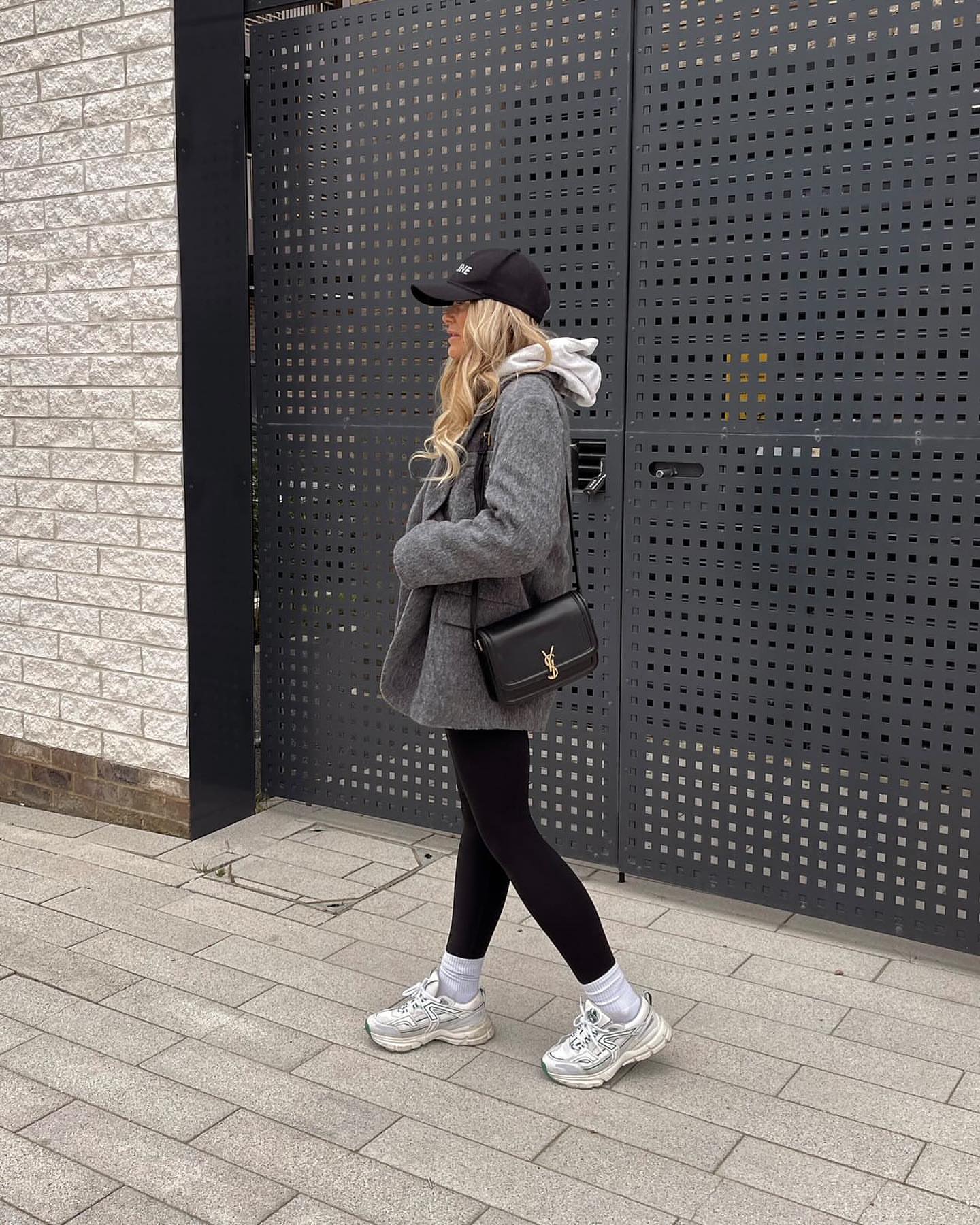 Add a contrasting touch of glam to a practical streetwear outfit with a designer handbag.
This fashionable ensemble brings together several of this year's favorite neutral shades of muted grey, white and black.
And to add interest there is a range of different fabric textures, from the matte cap, to the subtly mottled grey felt of the jacket, soft tights and ribbed socks, complemented by a flash of grey on the shoes.
And wearing a smart, designer handbag with the logo on display will definitely give your casual outfit a more polished vibe!
Style tip: Elevate your streetwear by investing in one good quality casual jacket you can wear for various occasions, instead of buying several cheaper jackets!
8. Ankle-length Stone Trench-Coat with Light-Wash Jeans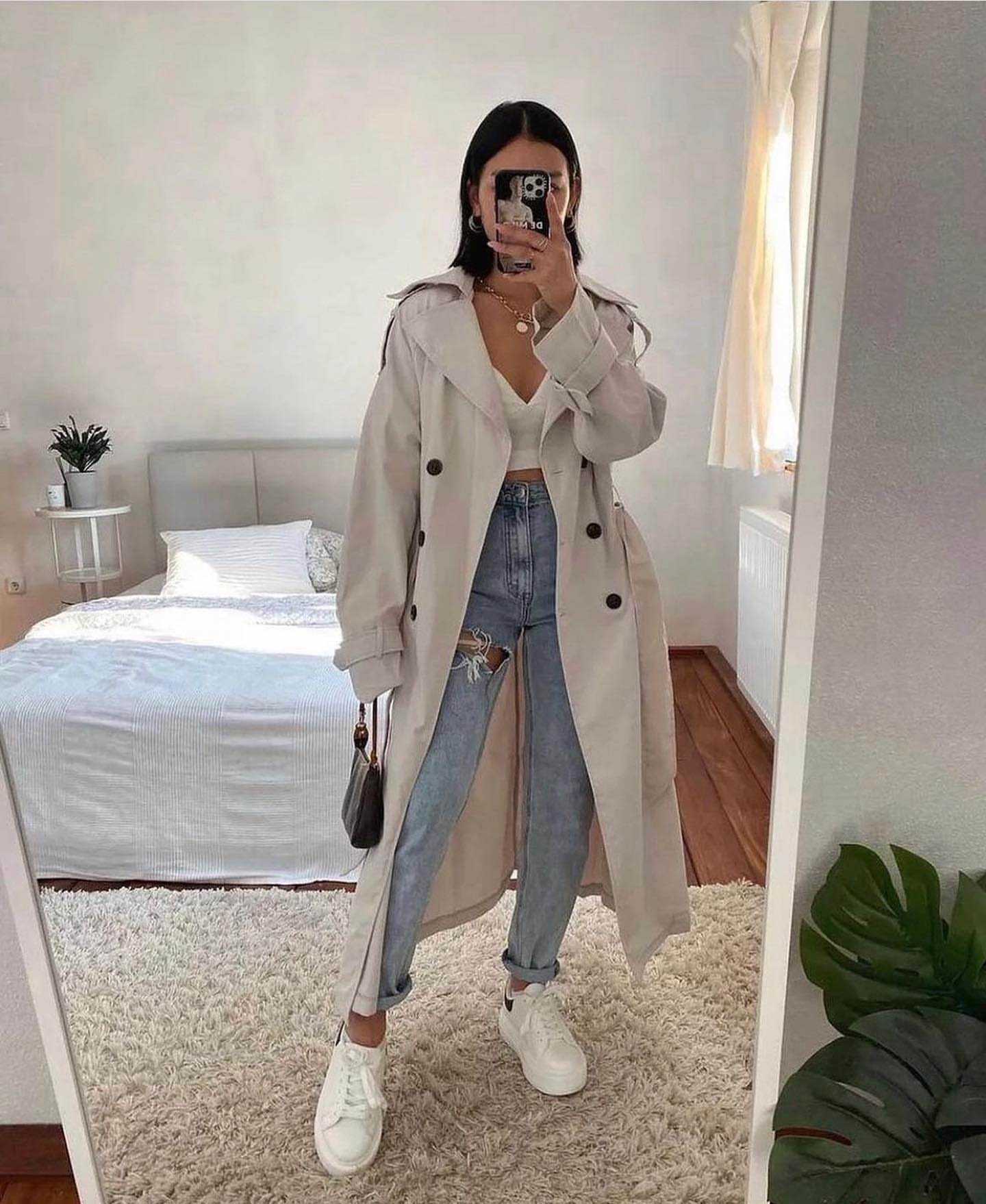 This full-length trench-coat will lengthen your vertical line and looks great with subtle platform trainers giving you extra height.
And the casual V-necked crop-top, plus only slightly ripped, light-wash jeans is the perfect look for a showery summertime.
To get the latest trendy styling on your jeans, roll-up the hems to show a little ankle and finish off with a bright white trainer.
So this outfit includes this year's trend of mixing white and off-white shades.
And the V-necked, cropped top is smarter than a run-of-the-mill cropped T-shirt, adding sophistication and extra style to a simple look!
Style tip: Petite handbags flatter petite women because they match your size and proportions.
9. Soft Cream Sweater & Figured Fabric Culottes with Mid-Calf Boots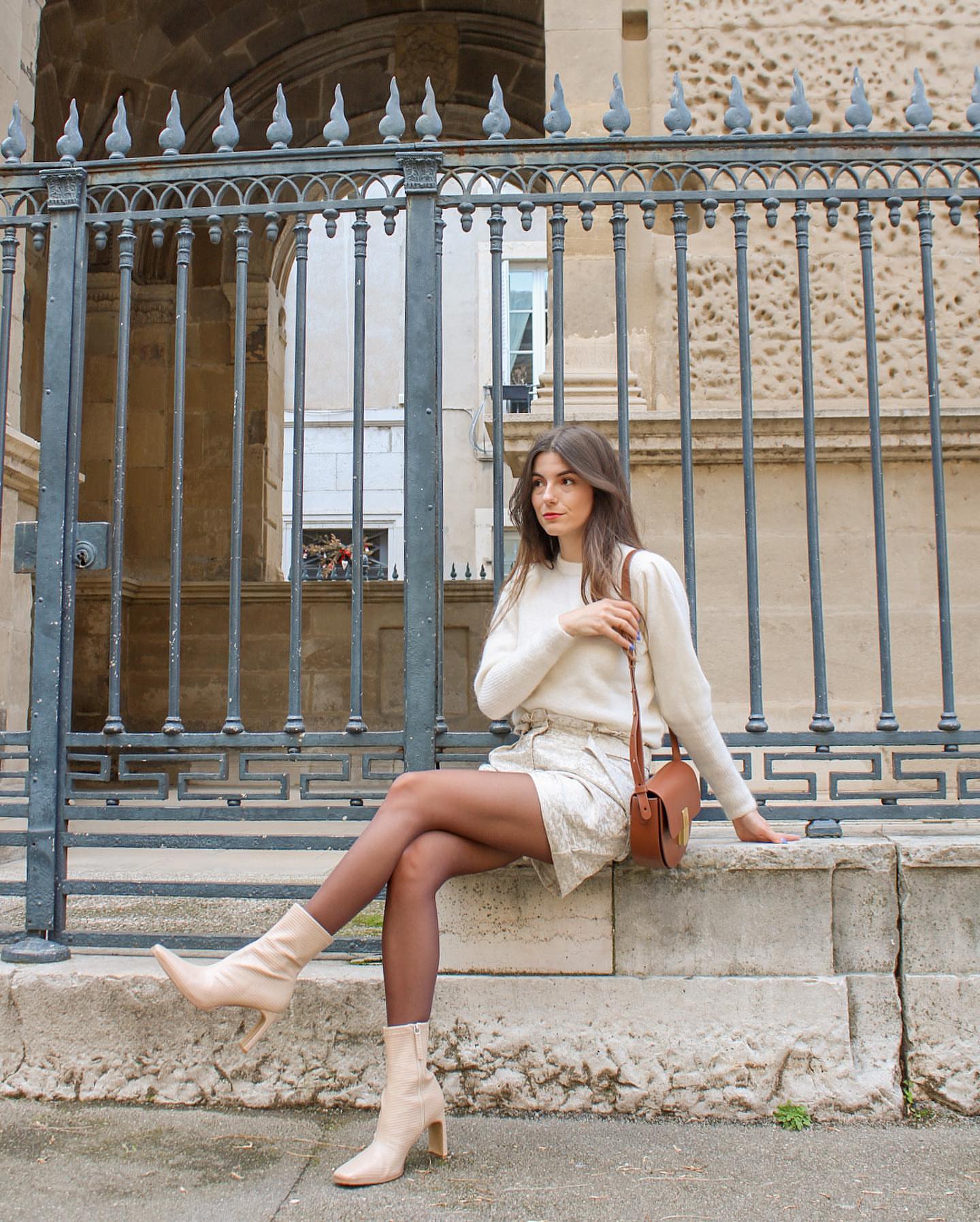 There's a fabulous new boot style on offer this year, and you can be sure the world's fashion experts are wearing it with lots of different garments!
This expertly put-together ensemble mixes different white/cream tones in a trendy way and adds a tan accent color in the rounded shoulder-bag.
Look at how the soft texture of a fine-gauge sweater, is contrasted by the elevated figured satin of the gorgeous shorts, and the smooth 'leather' of those exciting new boots!
Look out for sweaters with a difference, like shoulder pleats or gathers, and lovely, long cuffs that create slightly puffy top sections.
The new boot has a chiselled toe, beautifully shaped ankles and a wide, thin heel that's a completely new look.
Style tip: It's always the details that add trendy style to your outfits, so look for simple styles with new ideas incorporated into the design to get the fashion-expert vibe!
For example, the culottes' unusual fabric, the edgy sweater sleeves, the boots' heel-shape and wearing fine-gauge black tights with a cream outfit.
10. Dove-grey Oversized Bomber Jacket with Straight-Cut 'Leather' Trousers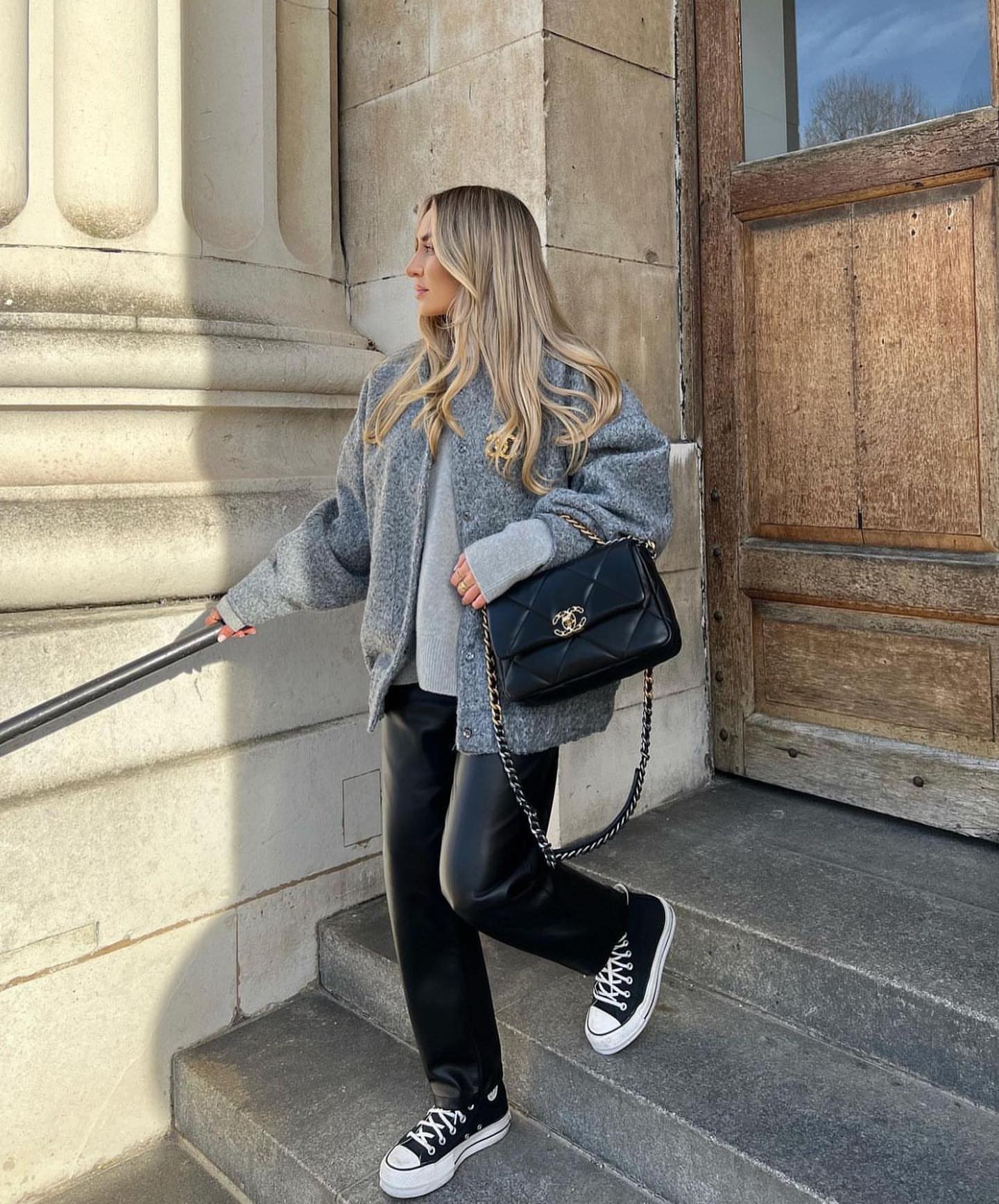 Bomber jackets are incredibly trendy again this year, and come in many different styles to suit all fashion tribes!
And fashion-favorite grey shades are skin-flattering and trendy to all women who have a cool or neutral skin undertone.
This outfit is balanced because although the top is oversized and adds a lot of volume above the waist, the trousers are not too wide.
Straight-cut trousers will be one of the best-selling wide-leg styles this year, as they suit all women and are the perfect middle-ground between skinny and extra-wide pants.
I like how the chain strap to the shoulder-bag is silver-toned and quite chunky to balance with the big proportions of the jacket.
Style tip: If you only buy one new bag this year, make it a quilted style with a chain strap and it will add fashion-expert style to all of your outfits!

11. Grey Double-Denim & Double Belt Detail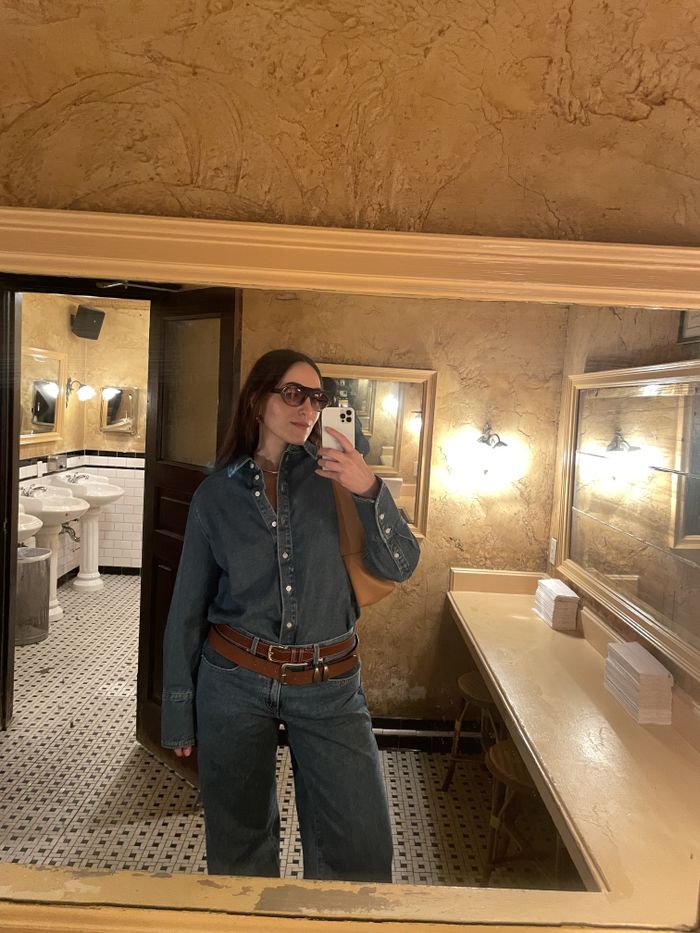 And following on from the hot new trend for neutrals, we have a new denim color!
This deep grey, with a hint of indigo-blue, looks fabulous when matched with other trendy shades like camel, tan and mustard yellow.
It also matches with a wide range of colors you may already have in your closet, so it's a suitable buy for your capsule closet and as a trendy update piece!
But what do you think about the way the stylist has added two tan-colored belts to this simple ensemble?
I've ever seen two belts worn like this before and it's another clever fashion-expert tweak you can easily copy at home!
Let ideas like this inspire you to experiment with your clothes and have fun with fashion!
Style tip: If you see a fashion photo and wonder what other colors would match with it, look at the background the fashion photographer has chosen and you'll find your answer right there!
12. The Layered Look Returns with Baggy Cargo Pants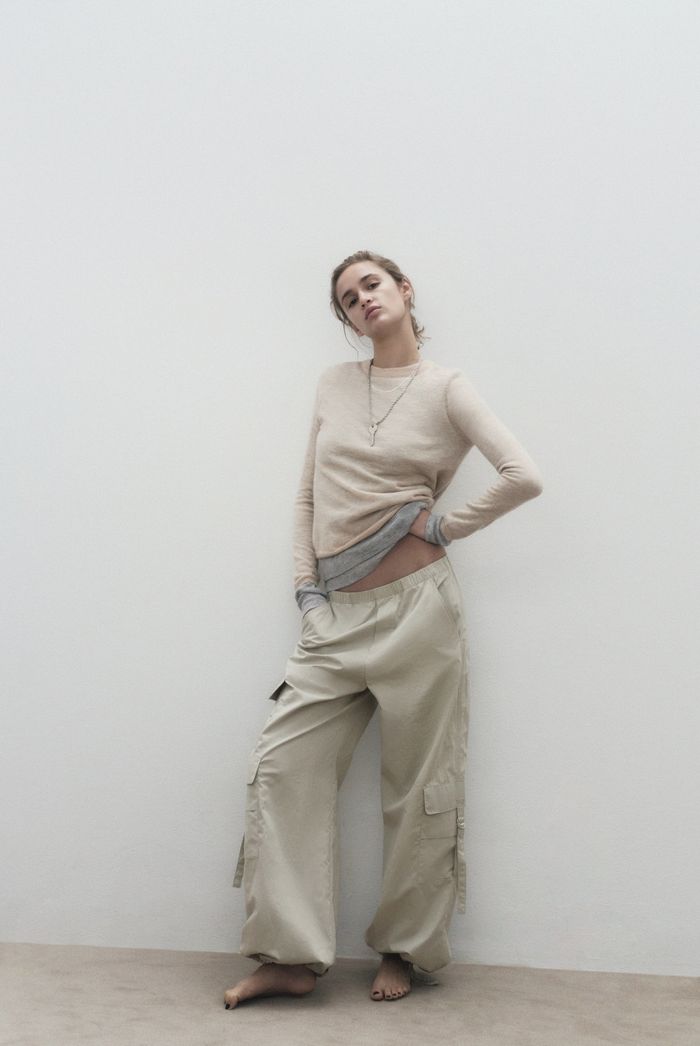 Fashion is dabbling in the early 2000's again, with this layered look with a few new twists.
Grey, beige and cream are a new color combination, but they look so calm and casual together, I don't know why fashion ignored them for so long!
Perhaps we've been influenced by the trend for yoga, meditation and mindfulness to adopt these soft, neutral colors that mix and match effortlessly and do create a soft and gentle vibe.
Cargo pants are back but this pair has borrowed some of the traits normally seen on 'harem' pants, just to keep the look edgy and fresh!
This is a super-trendy, leisure ensemble that's totally different from the same-old leggings, and sweat-suit look, allowing you to be comfortable and fabulously fashionable!
Style tip: Remember to wear a simple, close-fitting top with wide-leg trousers or you risk being overwhelmed by fabric.
13. Leather Bomber Jacket with 60's Sling-backs & Cable-Knit Tights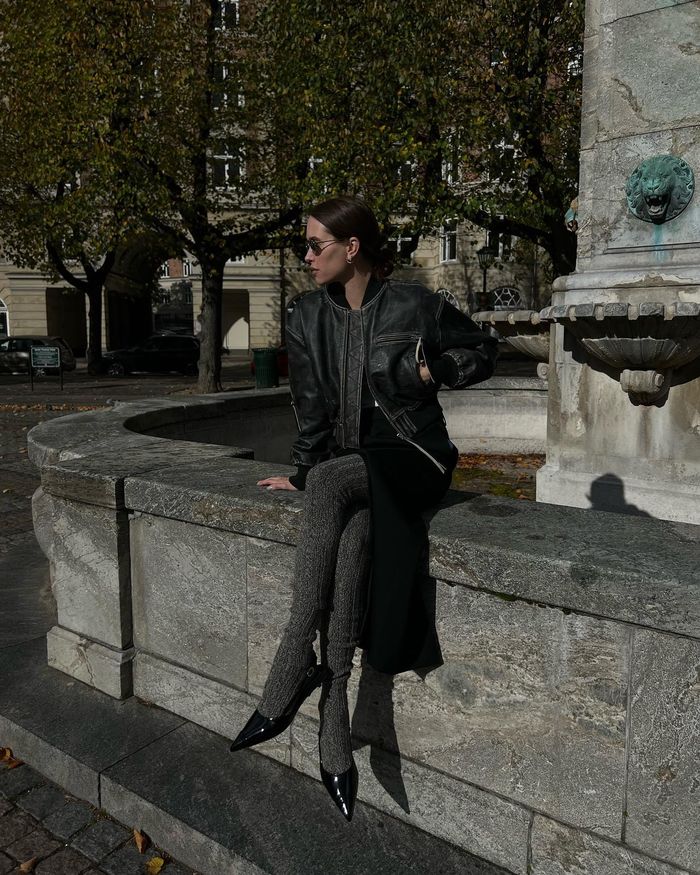 This gorgeous bomber jacket is just one of the fabulous new bomber styles that have flown off the fashion runways to our local boutiques!
I love the matte finish that makes this lovely jacket look supercool and casual, whilst also being ultra-chic!
It's worn with a simple black maxi-skirt, with a trendy high slit that parts to reveal textured, cable-knit grey tights.
That's another trick of the fashion-expert, moving away from clicheéd looks and introducing an unexpected feature to keep things fresh and forward-moving!
And the sharp-pointed low-heel slingback shoes are one of my absolute favorite retro looks from the 1960's, when fashion was constantly inventing totally new designs we still adore today.
Style tip: Experiment with different types of tights to add another dimension of color/texture to a simple monochrome outfit. This style is not for all, read the Kibbe body types to choose proper outfits.
14. Classic Black Polo Neck Under White Blouse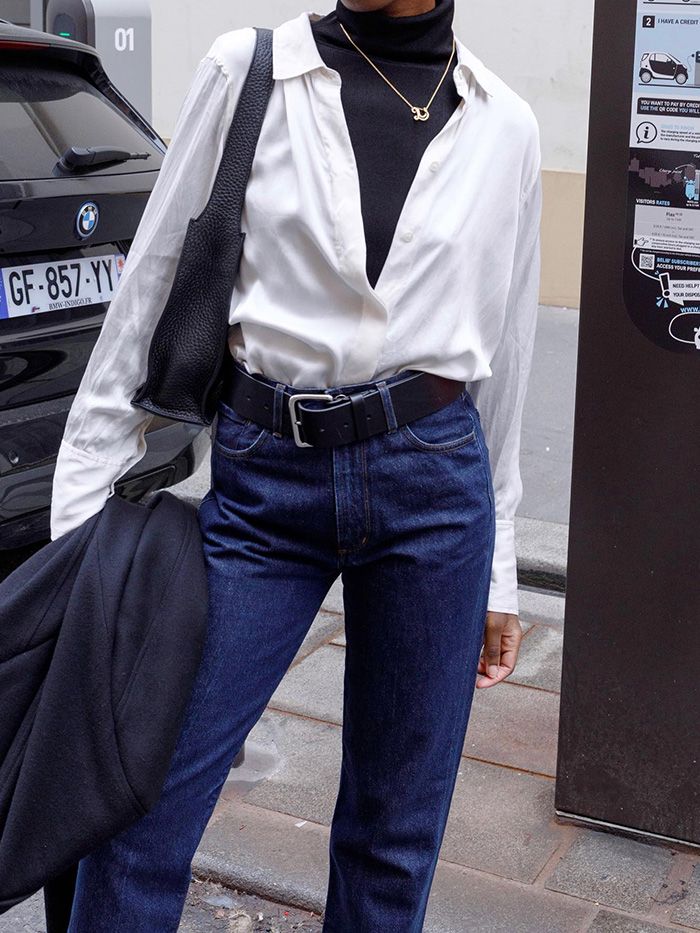 Polo-neck tops are another smart, practical and versatile garment that's back in fashion this year!
Of course, they have the necessary contemporary twist, which is that the high-neck is an integral part of the design and not a long, neck section you need to roll-over.
And this gives it a modern, streamlined vibe that links it to modern Matrix techwear, as well as being a classic look for your capsule wardrobe.
The use of color is different, too, because most of us are used to wearing a white T-shirt/blouse/top under a black cardigan/jacket/shirt.
So this is another modern, fashion-expert switch you can copy to update your current wardrobe.
The white shirt has slightly dropped shoulder seams, with a dainty touch of decoration and long cuffs, showing it's own original style.
And worn open in this way creates a flattering V-neck that lengthens your vertical line.
Style tip: The beautifully textured shoulder-bag adds lots of extra interest to a simple look and matches well with the sturdy black leather belt, which always adds polish to your jeans' ensembles.
15. Split-Seam Black Trousers with Casual Blue Shirt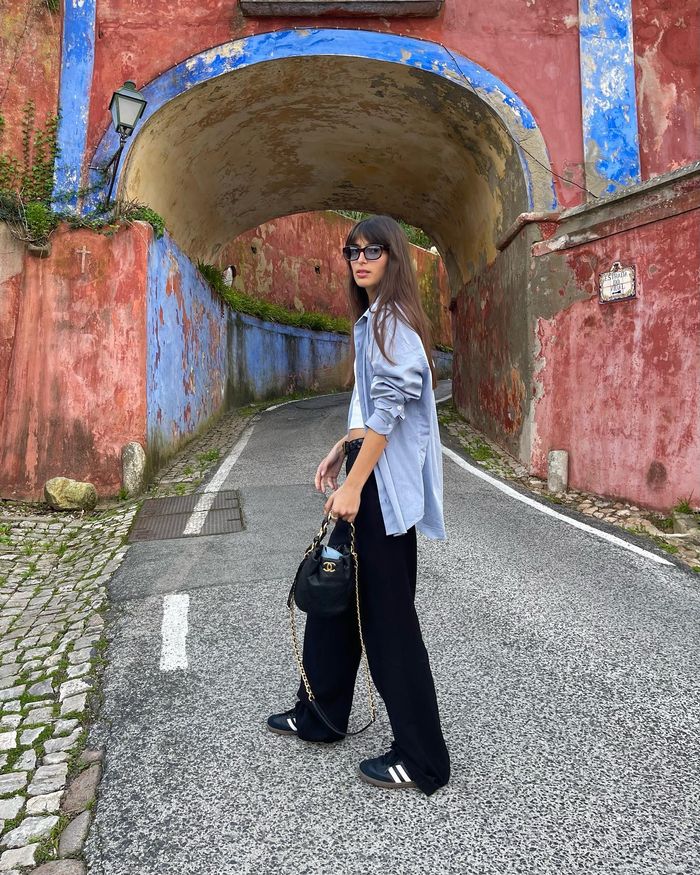 I love the classic look you get when wearing a pale-blue shirt as a 'jacket' over a clean, white top, don't you?
So here's how to style your classic outfit with a touch of modern fashion-expert know-how.
Try to find a woven belt, or wrap the extra length of the belt around the buckle to make a flat, knot-shape, to add interesting texture.
Push-up your sleeves to look casual and/or turn-up your collar to get a retro 50's vibe.
Wear wide-leg, split seam trousers that are over-long and open up to display black athletic shoes with a stylish strip.
Style tip: Always take the shape of your bag into consideration when putting together your outfits, for example, a rounded shape looks better with a casual style and adds more cohesion to the overall vibe.
16. Extra-Wide Oxford Bags Pin-Stripe Trousers with Disco Top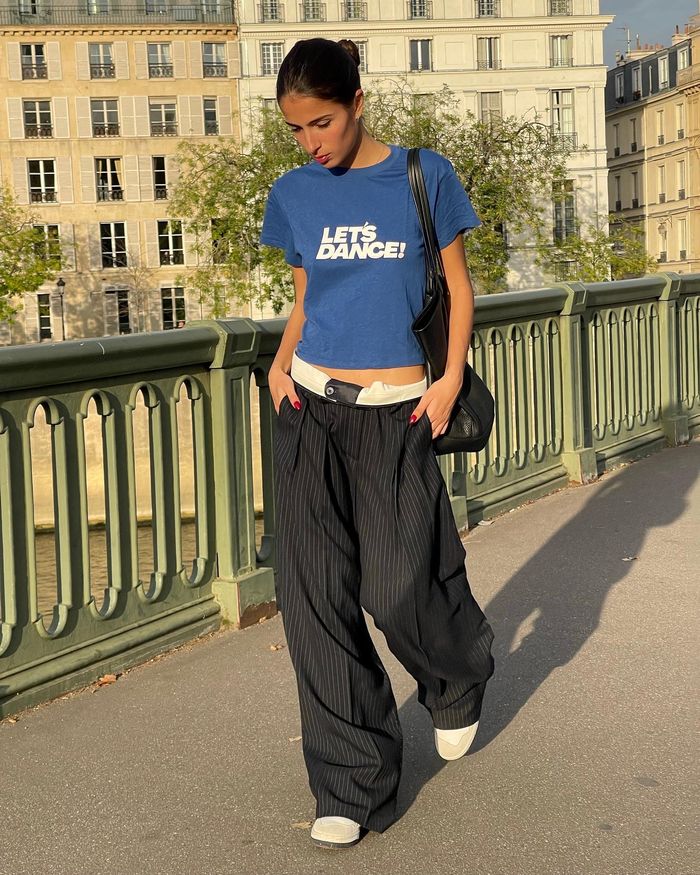 As part of the strong trend towards sustainable fashion, the latest wide-legged trousers can often be bought very cheaply from charity shops.
These are Oxford Bags, an extreme style for men that lasted from the 1920's to the 1950's, which had a high-waist, and in pin-striped fabric was traditional business wear for men.
There is a front crease down the front line, which signals that this outfit is a trend-setting look for this year.
The quirky contrast used to make this a fashion expert outfit, is matching business-style with a 1970's disco-style blue T-shirt with a 'dance' graphic.
You couldn't find any two garments that are more wide apart in terms of fashion style, but that's the trick that creates a hot look for this year!
Style tip: The stylist has turned the waistband over to show the cream lining fabric, making the waist low and showing some skin.
This brings a pair of (possibly) second-hand Oxford Bags right up to date with the cropped top/cutout trend!
17. The Importance of Belts on Long Straight Clothing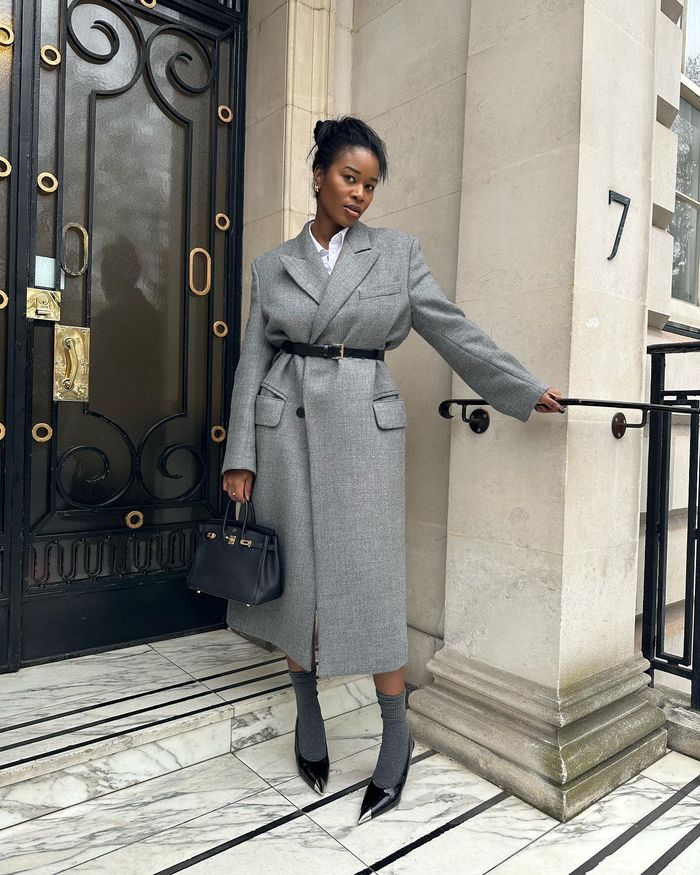 This is a fabulous coat inspired by a masculine suit jacket extended down to the mid-calf, which is such a smart look.
And it can be worn open, buttoned-up in cooler weather or primped up to modern fashion-expert level with a narrow, black belt!
Which do you think would be the most flattering?
Well, anything that adds the look of a waistline to a long straight garment is a winner and so my vote goes with the belted styling.
And to continue the clever styling, you could add a pair of fine-gauge socks, which will be warm and soft for your feet.
And cutting-edge fashionwise when combined with fabulous sharp-toed, sling-backs with low heels!
Finished off with a small, retro hand-bag with short handles and this is a look that will always make a classy, trendy impression wherever you go!
Style tip: Cool neutral colors are huge this year and you can vary them by adding a bright accent color or just sticking with the clean, neutral vibe!
18. Figure-flattering square-necked maxi-dress with broad belt & golden buckle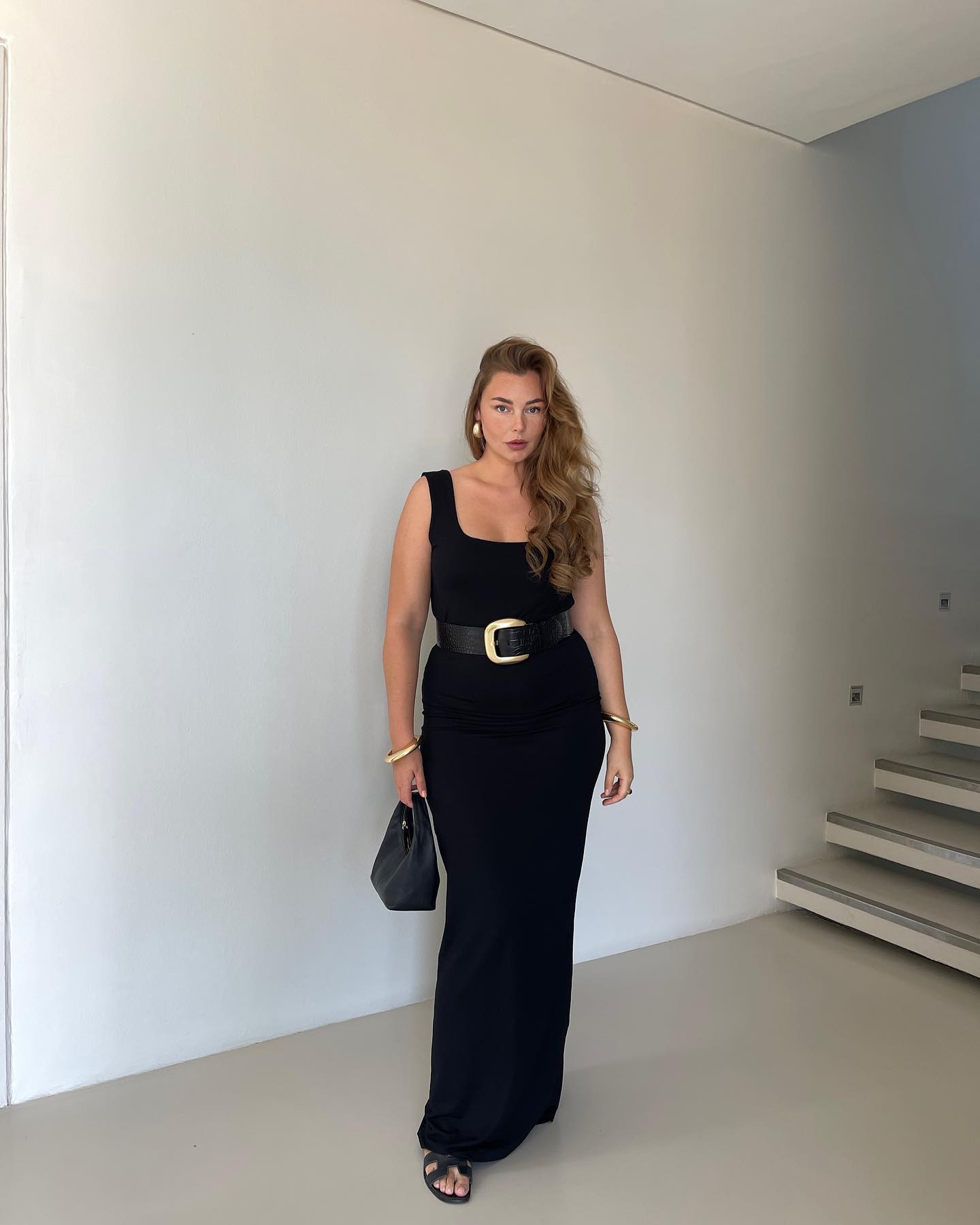 For years fashion was designed to hide plus-size body shapes under yards of loose fabrics.
But if you want to look like a modern fashion expert, you just need to highlight your good points and show-off a nicely curved figure.
And one great way to do this is to wear a 'column dress' with a belt so you create a nicely defined waistline between your bust and hips.
This outfit shows how a long, slim silhouette draws the body outline in by the knees and creates excellent proportions that flatter the shapely figure.
The attractive square-neck was very popular in the 50's/60's and always gives clothing a super-chic look!
It's a style that allows the garment to have broad straps that cover bra-straps perfectly, especially if you have a heavy bust that needs strong support.
Style tip: Move away from the idea that curves are to be 'hidden' – curves are what makes women attractive!
Look for well-proportioned, or longer styles you can wear with a belt, or tailored styles that are designed to highlight your shape in a flattering way!
This year is full of positive adjustments to how designers and the fashion industry in general view fashion!
For example, sustainable fashion is racing to the forefront as we realize that everyone needs to consider the health of our planet.
So modern fashion experts are incorporating more natural fabrics into their wardrobes and moving away from synthetic fabrics, which use too many natural resources to produce.
Even the switch to a palette of neutral, but very attractive, colors owes something to the fact that the natural neutral fabric-dyes cause the least eco-damage.
But one of the strongest trends is to let women look like women and not runway models!
Inclusive fashion is making sure that the latest trends are available to all sizes, so everyone can wear designs that show-off your feminine shape.
So I hope you've been inspired by this gallery of modern fashion-expert looks and some explanation of what makes them special.
You can use these 18 styling secrets at home with your own garments, because fashion should be all about fun and experimentation.
And when you learn how to break the old rules and create pleasing new 'looks', it will inspire you to create lots of your own new styling ideas!
And that's how you create your own style and become a real fashion expert!
Your Comments
Tell us what you think in the space below – your feedback is important to us:
Has this article helped reduce your fashion stress?
Have you started putting together stylish outfits you enjoy wearing?
Has it made your shopping trips more targeted?
Have you gained self-confidence?
Thanks for sharing your thoughts with the international HerStyleCode community!