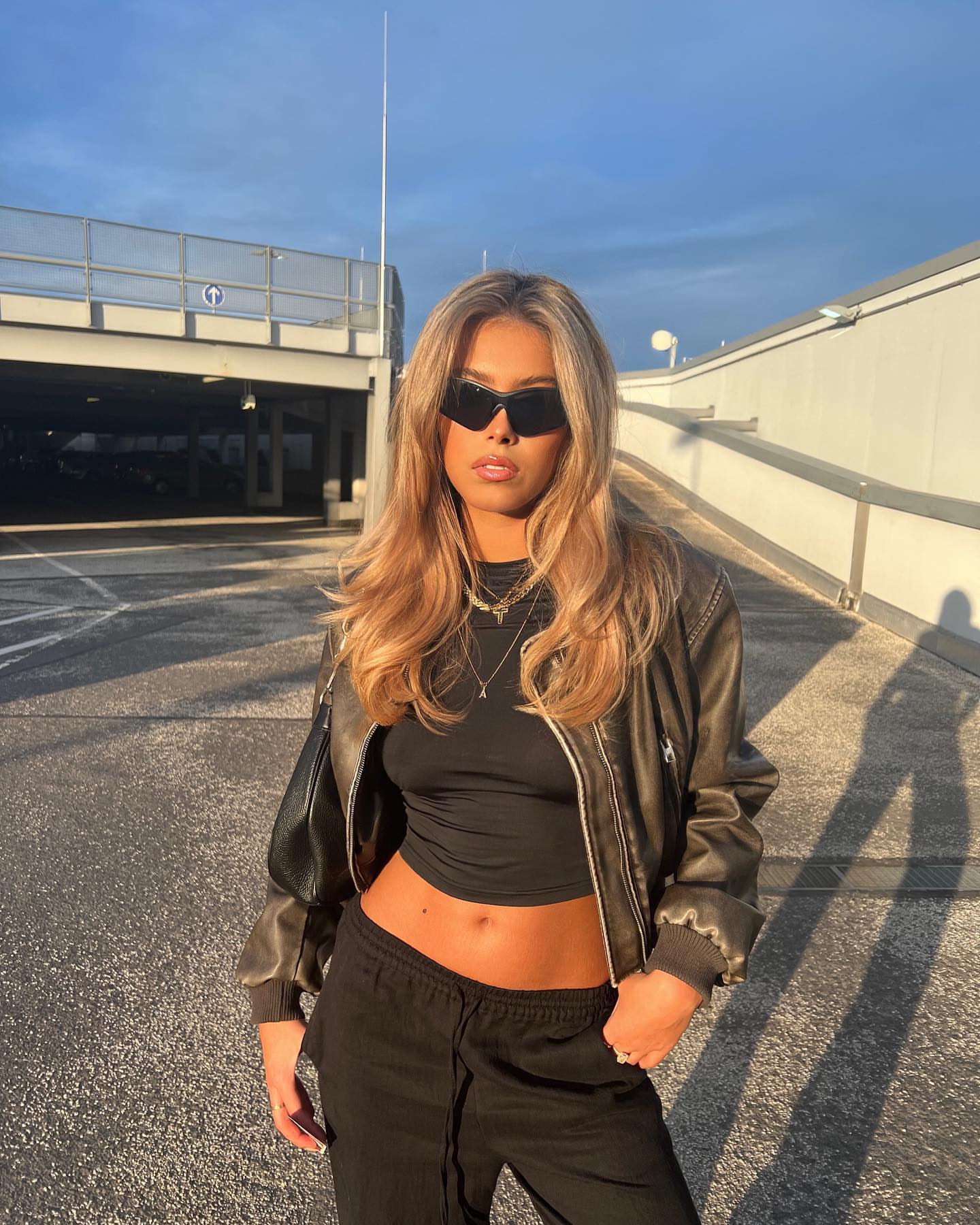 Comfortable, casual and chic – the bomber jacket may have taken a back-seat for a few years, but it's in fashion again with lots of new style twists for us to enjoy! (Read more about the history of the bomber jacket.)
Many top designers offered fabulous bomber jackets in this year's runway collections. And, of course, they have a new, modern twist to give us the contemporary look we all search for!
The biggest change from the traditional bombers is there are fewer silky textured jackets. And that's because we are in a far more minimalist fashion phase right now, with lots of sophisticated, neutral colors based around light brown shades.
Those who are already wearing the new bomber jackets are wearing them with understated outfits, which are simple, but extremely chic!
Wider leg trousers – as jeans and as smarter trousers – look great with the new bomber jackets; so it's easy to style this new trend – once you know what your figure looks best in.
Because if you're just switching over to the two new fashions, it can be difficult to know exactly how to style them for your shape and size.
And you need to decide which of the latest fashion colors favor your natural coloring and how to combine them for this year's 'look' – which is very different from our blazer and skinny jeans stand-by!
Moreover, lots of us have loved wearing the more recent teddy jackets, which showed all the signs of evolving into a real fashion favorite we would keep in our closets for years.
And there are plenty of nods to the teddy jacket appearing in new spring collections already in my local stores.
But the bomber jacket just has a little more sophistication that helps it be extremely versatile for casual, commuting and nights' out.
It's been a fashion item since the 1940's, when it was designed for air-force crew who needed a practical, but smart, working garment when flying.
And it comes and goes in fashion, whilst always being recognized as a timeless staple we have never fallen out of love with.
It was actually Versace and Prada who re-imagined this classic during their shows last autumn.
And that led to lots of people to pluck-out their older bomber jackets from the back of the wardrobe and wear them again.
But if you want to project a truly contemporary image, you need to see how to style one of the latest bomber jackets to suit your look, shape and color palette – as shown below!
Each of these trendy outfits demonstrates a different way to wear the new look in an ensemble that fits with your personal fashion aims.
So before you set out on a shopping quest for this year's stylish bomber jackets, take a moment to consider which of the following expertly-styled outfits will be the best look for you this year!
1. Trendy Short Bomber Jacket in Taupe with Beige Trousers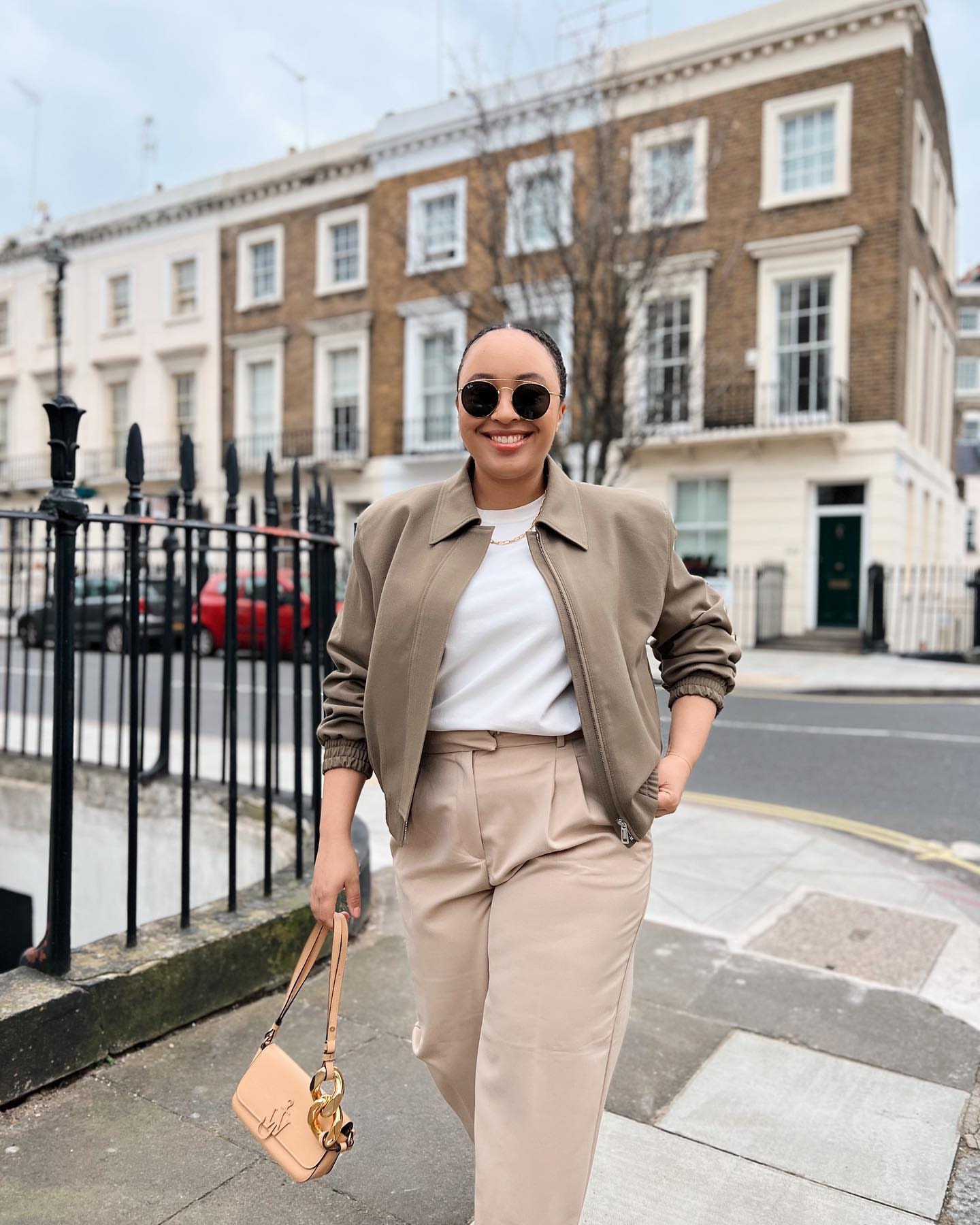 This shorter version of the bomber jacket has been used to create a very well-proportioned outfit.
Instead of wearing an oversized version, this model is dressed in a bomber jacket style that won't add extra width to her hips and thighs.
And this is a bomber jacket outfit that has lots more chic than usual, as the structured shoulder line adds a semi-formal look that will always make your ensemble appear smart, rather than dressed down.
Worn with stylish beige trousers, with waist pleats that flatter the abdomen, and a cute, little camel bag, this is a simple outfit that's perfectly styled!
This neatly fitting shorter jacket is perfect for anyone below average height, who would be drowned in fabric from an oversized bomber jacket.
Style tip: Wearing three shades of fashion favorite, light brown, along with neutral white, creates texture and interest – without looking mismatched.
2. Shades of Green & Quilted Bomber Jacket with Furry Collar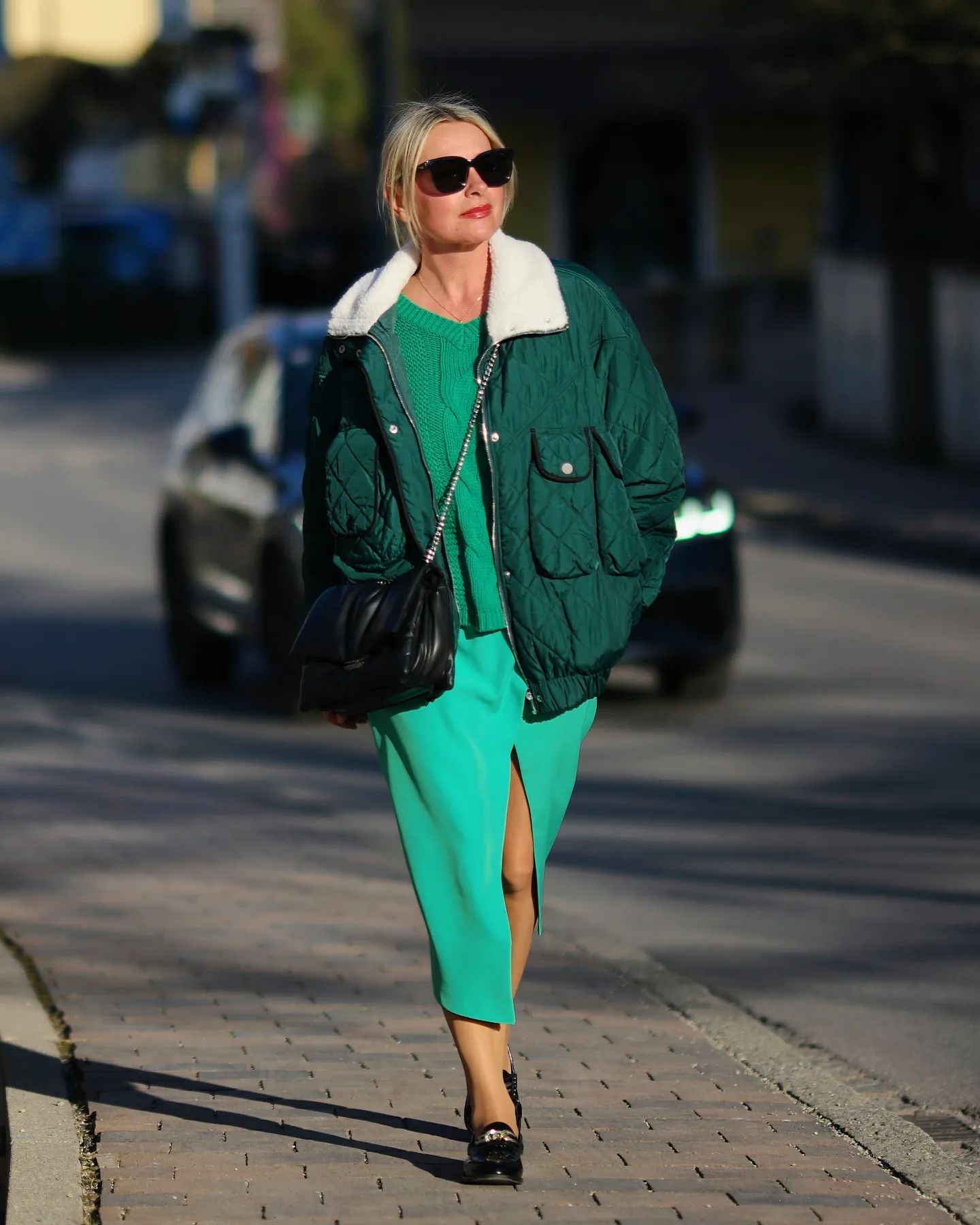 Keep warm in colder temperatures, without sacrificing your fashion style, in a gorgeous green quilted bomber.
When a cold wind blows, you can zip it up in seconds and enjoy the lovely, furry collar around your neck.
And when the temperature's warmer, wear it open over complementary green top and midi-skirt with a trendy front slit.
This jacket is loose and unstructured making it perfect to throw on over any outfit, and the spacious pockets mean it's also great for wearing on your daily run.
Style tip: When mixing several layers of the same color, make sure they are all in the same general category of warm or cool shades.
For example, these green tones all contain a varying amount of blue, which makes them harmonize well. But a moss- or leaf-green shade, with yellow tones, would not fit in at all.
3. Smart Blush-pink Bomber with White Sweater & Snazzy Black Patterned Trousers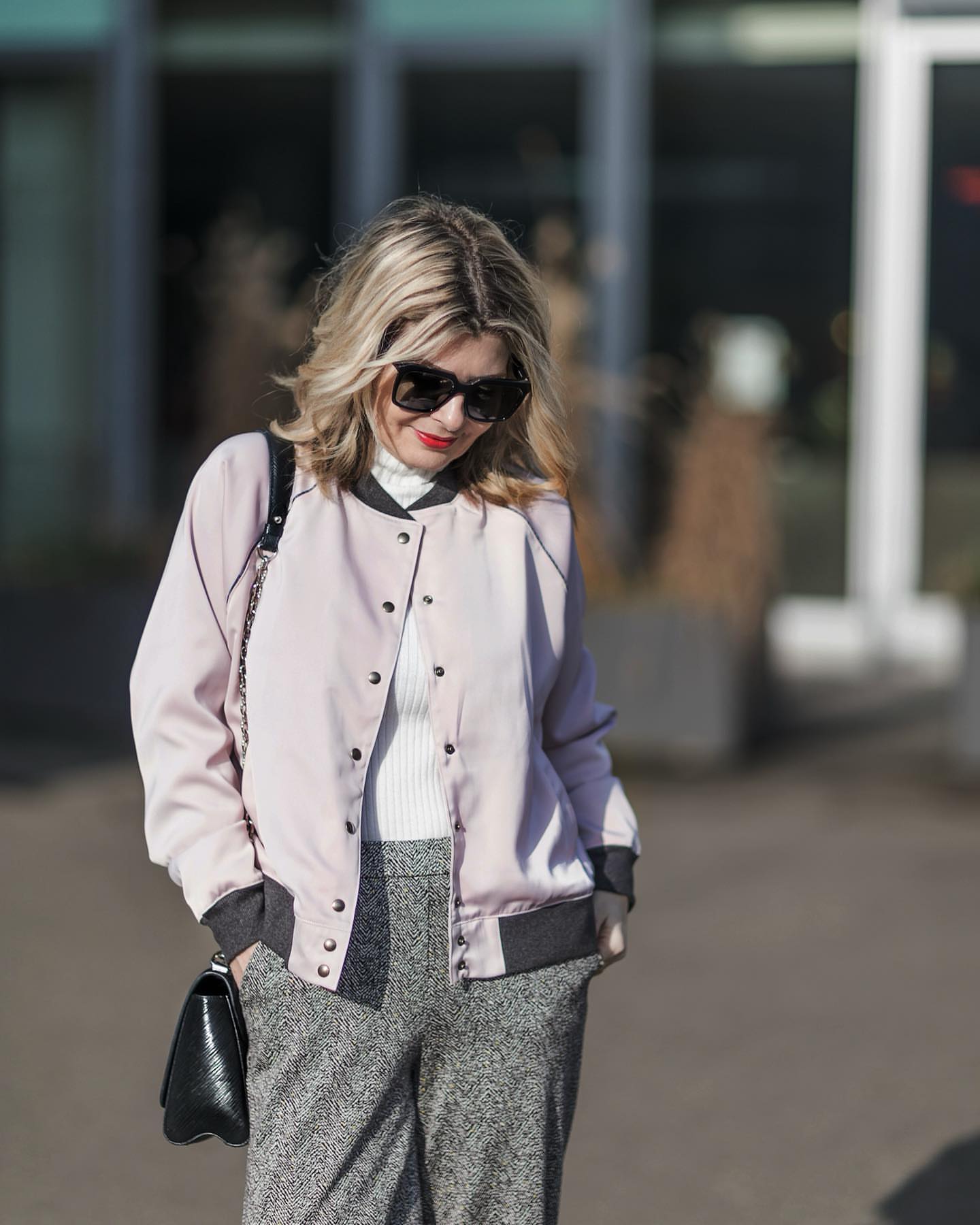 This blush-pink jacket definitely adds a nice feminine touch to the overall look, without being too pink and 'girly'.
It's a beautifully designed garment with gray complementary collar and cuffs, plus an attractive shoulder detail of a line of gray piping!
And the cute press-stud fasteners create added decoration down the front.
Worn with a small geometrical pattern on the black and white trousers, you get the illusion that the bottoms are also gray.
And pink with gray has been a delightful fashion combo for many years, giving this highly chic outfit a touch of retro charm!
This is another great style for petite and average height women.
Style tip: If your trousers have hip pockets, make sure your jacket ends either just above or just below the pocket line, to ensure you a flattering line and easy access.
4. Trendy Waist-length Bomber Jacket in Faded Taupe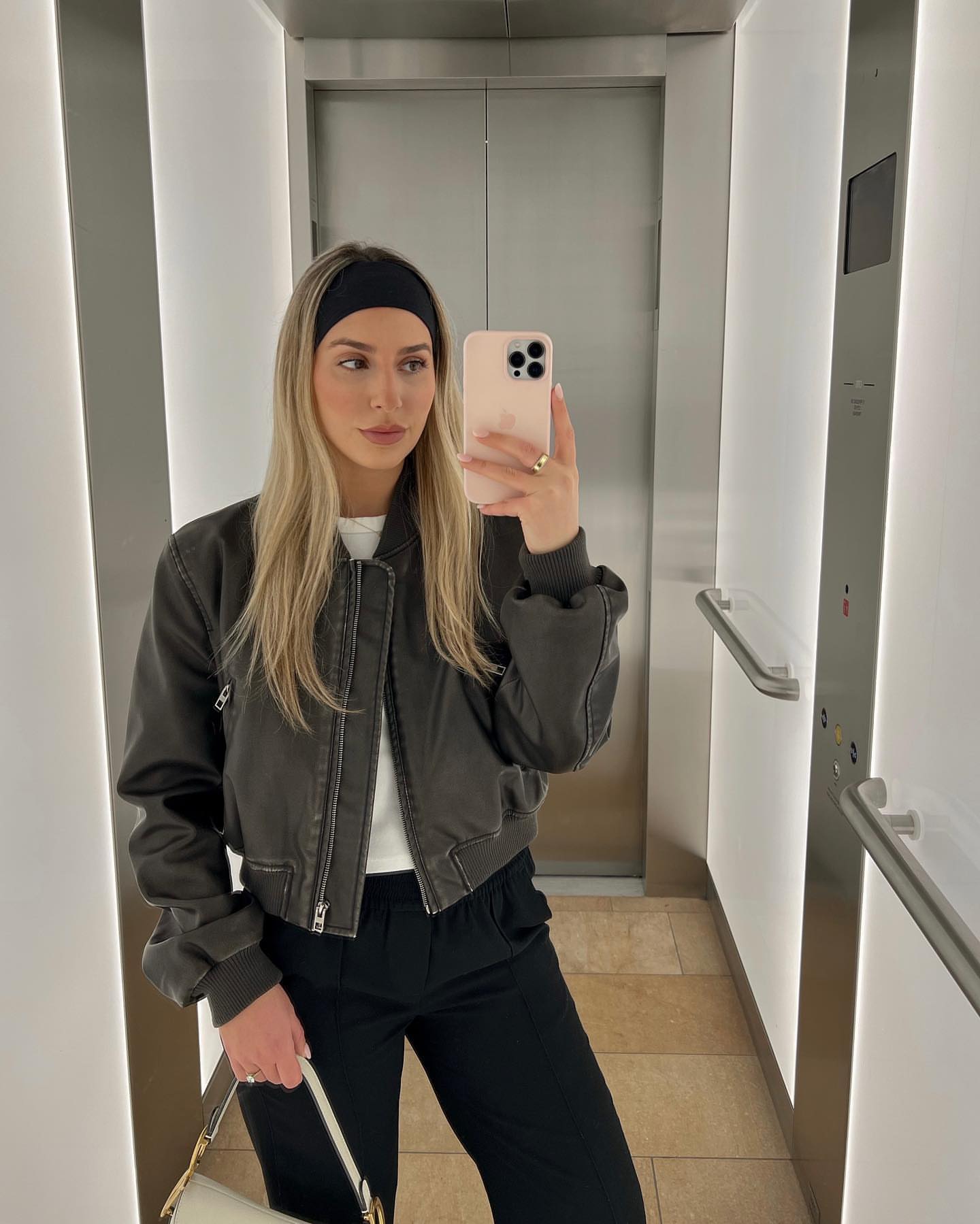 This is a cropped jacket style which just covers the waistband and looks great with wider-leg trousers.
And the key to this style is to wear close-fitting/cropped clothing on top, to balance out the wider volume in the latest jeans and pants designs.
The model is wearing a waist-length white T-shirt, that allows us to see the cute gathered waistband detail, but is long enough to cover her midriff.
All three of these items are a neutral color, white and its opposite, black, pulled together with a soft and casual taupe-gray jacket with a slightly 'faded' finish on the seams.
Nice short jacket for petite figures.
Style tip: Accessorized with a black hairband and a white shoulder bag adds an extra modern spin to a smart-casual look!
5. High-Fashion Urban Style with Black Bomber Jacket Suit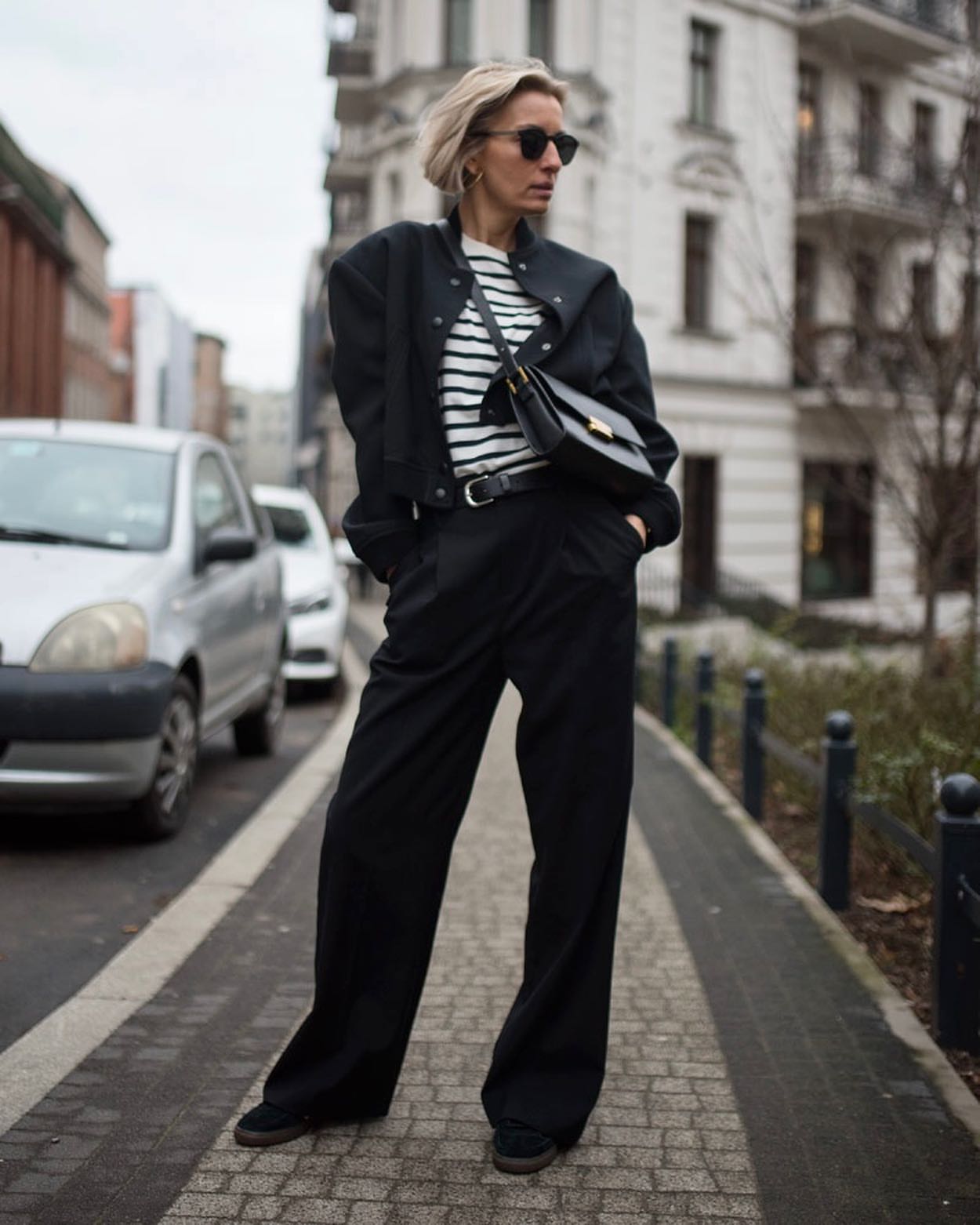 And here's one of the latest wide-leg trouser suits with a short bomber jacket.
It's suitable for showing your fashion creds in an urban setting, which could well include business meetings.
The padded shoulders create an exaggerated shoulder line and the black and white striped T-shirt underneath add lots of chic style.
And the matching black accessories of bag, belt and shoes show this is a serious gal who knows what she wants!
Style tip: There is nothing smarter than a striped B/W T-shirt when you're styling a black skirt or trousers for maximum fashion style!
6. Traditional Black Faux Leather Bomber Jacket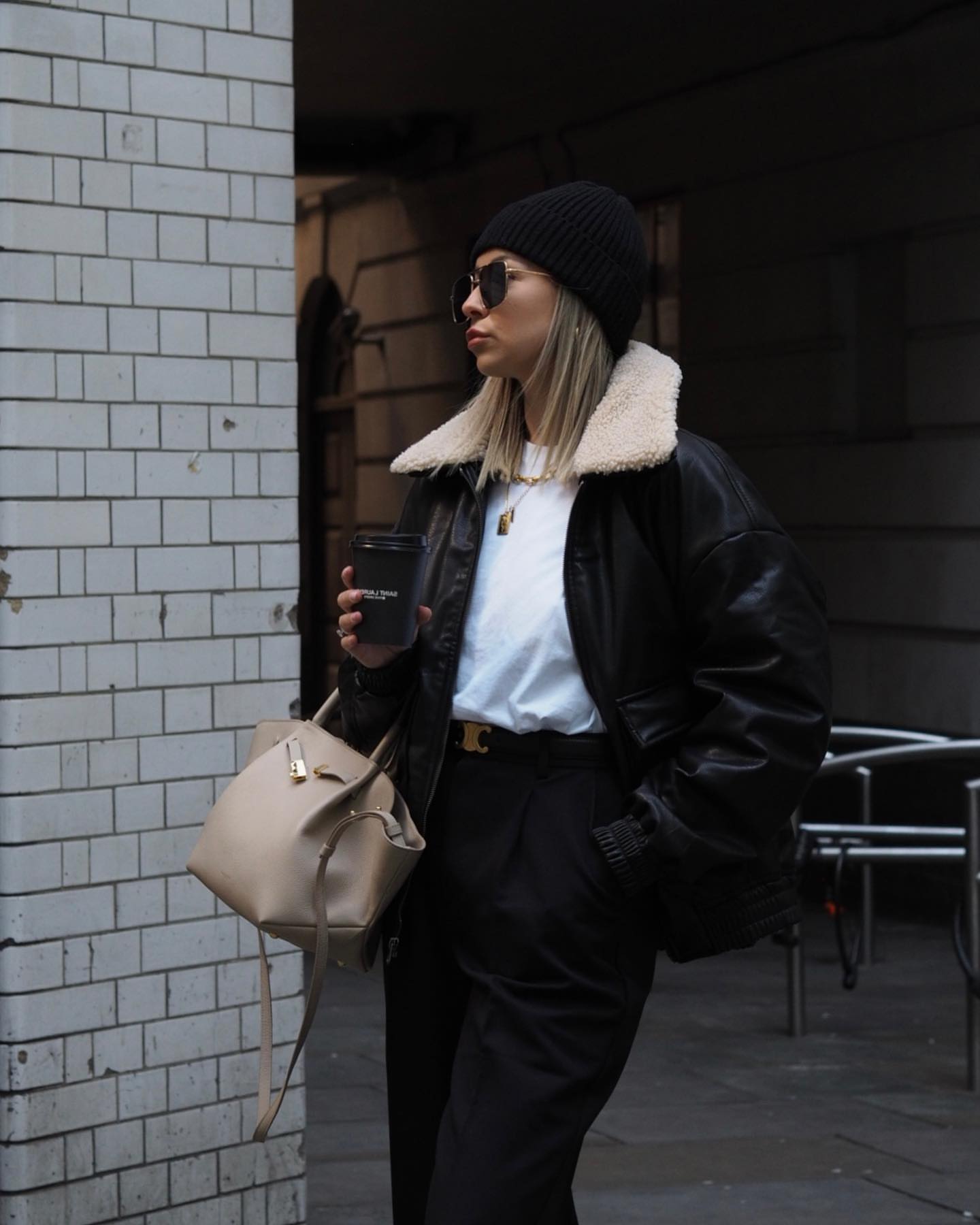 A black faux-leather bomber with a fur collar and close-fitting cuffs is always going to keep you warm and elegant.
And the matching accessories of a black beanie hat and black belt are complemented by the beige bag matching the shade of the fur collar.
To style some color into this dark outfit, add gold details such as the frames of your glasses, a simple gold necklace, hoop earrings, a pretty gold buckle on your belt and gold details on your bag.
Style tip: Stock up on loose white T-shirts you can wear tucked in and lightly pulled out into a 'blouson' effect under your bomber and wide-leg outfits.  They are so versatile!
7. Elegant Black Bomber with Leopard Print Lining Over Cream Midi-skirt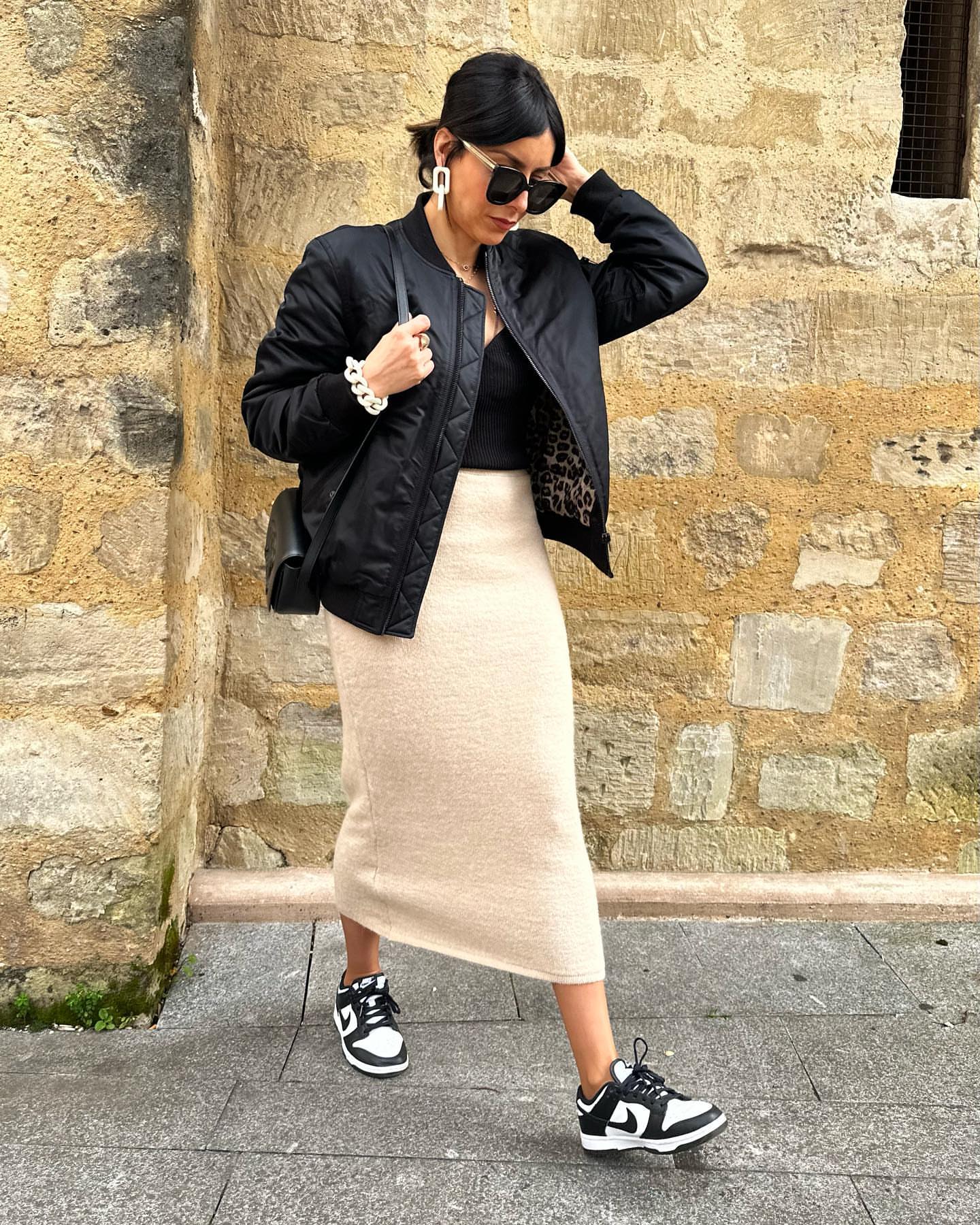 I love the way this outfit combines subtlety and glamor in a very successful balance.
This black, zip-up jacket wins loads of brownie points for its gorgeous use of leopard-print lining!
Leopard is a fabulously attractive pattern, but not everyone is comfortable wearing a whole garment made from this fabric.
However, a scarf, belt, bag detail or shoes can add a ton of classic sophistication to a brown, beige, camel or black outfit.
And in this case, the rest of the outfit has been perfectly styled to complement the eye-catching printed lining.
The low-necked, black top and soft, straight, beige midi-skirt echo the animal print colors beautifully.
And the over-sized golden earrings and bracelet, featuring chain links, hint at subdued glamor!
Style tip: If you have wide hips you want to minimize, always carry a small bag which won't add volume to your hipline and avoid big, lumpy bags which aren't flattering at all.
8. Soft Warm Cream Oversized Jacket with Blue Wide-Leg Jeans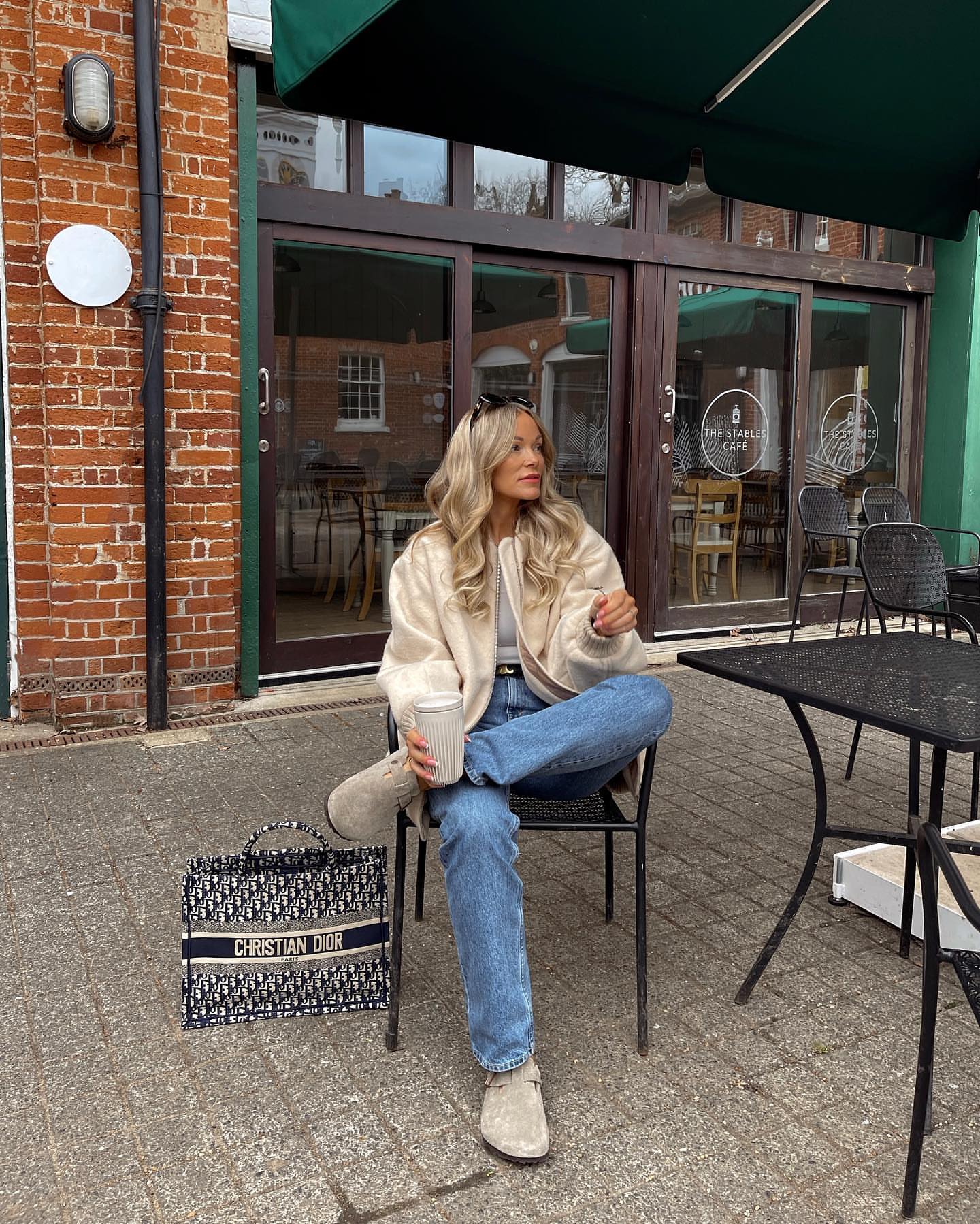 The soft, beige-blonde hairstyle of this model has been reflected and intensified by the soft, beige, casual style of the jacket she's wearing.
And that's an excellent example of how to style successful outfits!
Pick out one of your favorite body features and highlight it with your choice of garments.
In this case softness is one theme, with the fabric of the jacket and the stone suede footwear, blending with a wavy hairstyle to create an attractive and feminine image.
And the oversized jacket with medium-wash, straight jeans and comfy shoes, set against a shopping bag, suggests this outfit is great for urban wear, casual coffee and a relaxed, trendy look.
Style tip: Always ensure your top-half garment suits your skin undertones and hair color. And think about the soft or hard texture of your fashion clothes and the personal image they create.
9. Highly Stylish Fresh Green Bomber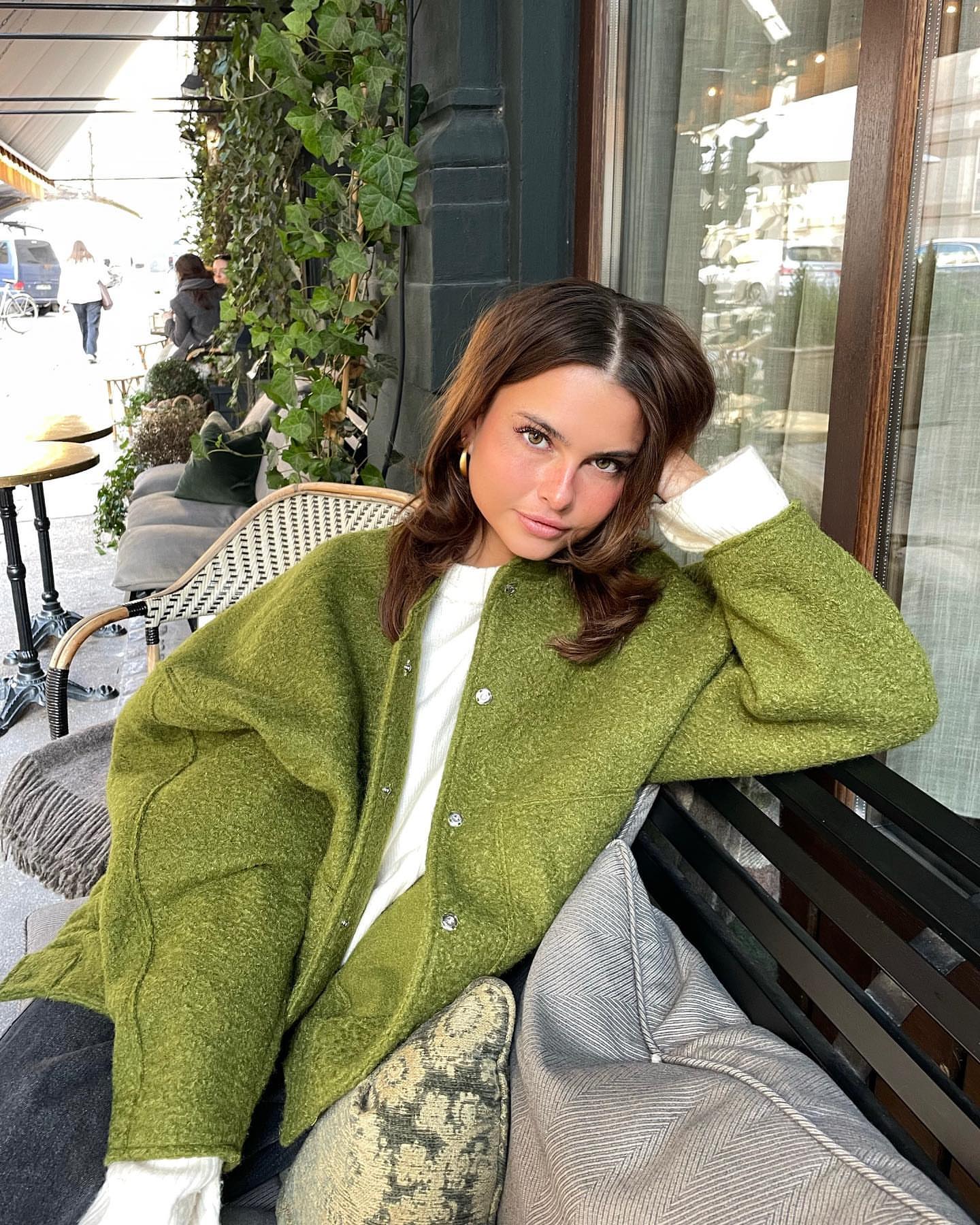 Here's a great example of using the green of your jacket to bring out the hazel color in your eyes.
And this is a yellow-green shade like moss, which is so different from the blue-greens we saw above.
The texture of the jacket is also very much like moss, creating a fresh, soft look that matches well with leaf-green and dark-green, shown on the cushions and elsewhere in this image.
The look is young and trendy, owing to the exaggerated size of the bomber, which fits easily over a white knitted sweater.
And faded black jeans complete a blend of bright color, matched with two neutrals – white and soft-black – for balance.
Style tip: This oversized outfit looks best on someone with a tall frame, but the color matching and soft texture tips can be applied to anyone's outfit styling!
10. 'Fur' lined Black Leather Bomber Jacket & Maxi-Skirt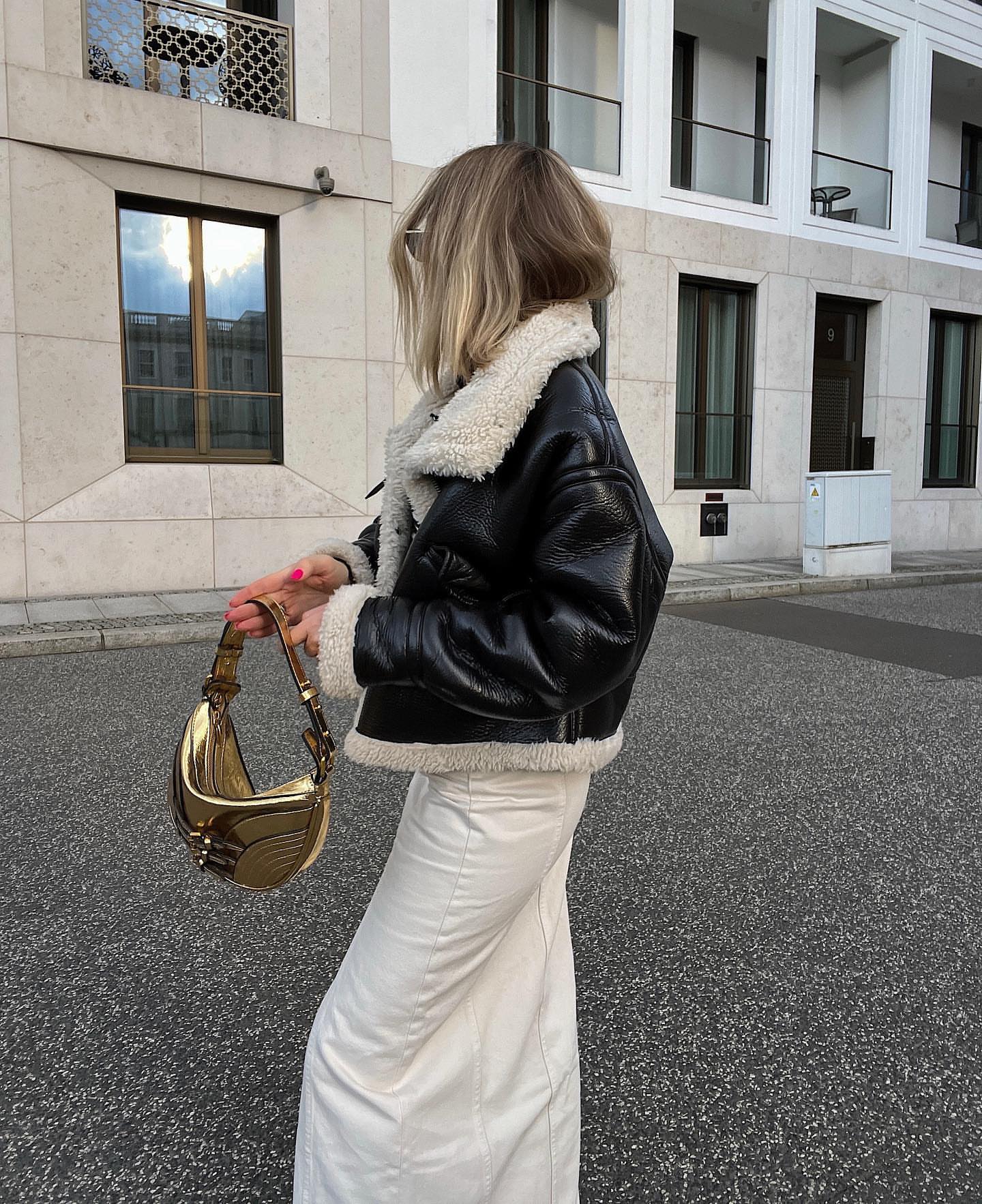 Here's a warm and cosy look that's also highly fashionable.
It's one of the many variants on the black and white outfit, that's always popular!
In this contemporary look, the shiny finish of the soft, 'leather' bomber is echoed and given more color, in the glam gold shoulder bag and eye-catching red nail polish.
And the lovely off-white denim maxi skirt creates an attractively slim silhouette.
Unless you're quite tall, this long-skirt outfit looks best with heels.
Style tip: This outfit demonstrates the one-third to two-thirds ratio as an alternative to the less flattering half-and-half top and bottom style.
So, the black jacket covers one-third of the body and the lower two-thirds, in a long, slim skirt, makes your legs look longer!
11. Short Sophisticated Bomber Jacket & Wide Jeans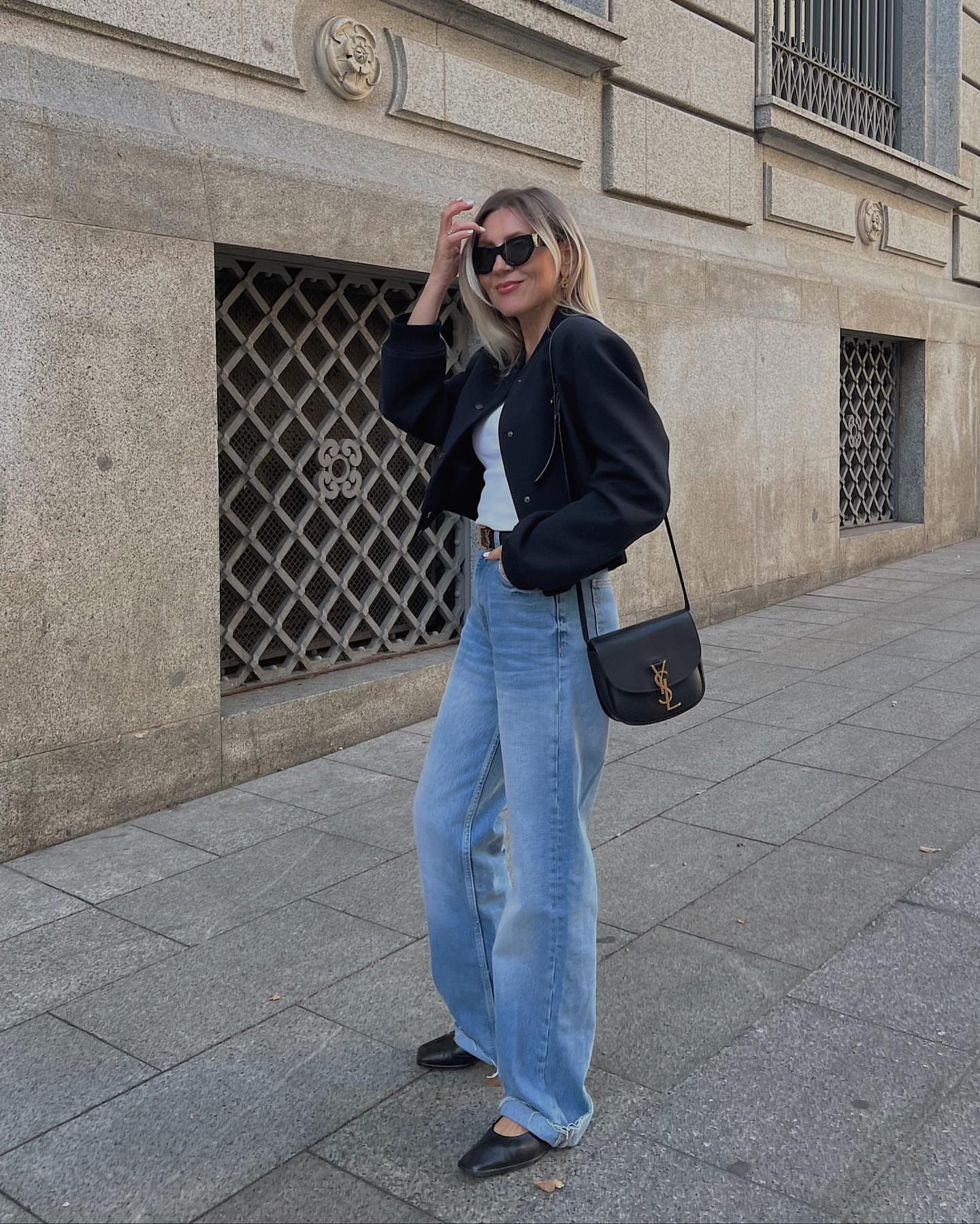 This cute outfit contains lots of tips on how to wear wide-leg jeans this year.
The top section should be wearing a close-fitting garment that doesn't extend lower than the waistband, like this cropped T-shirt.
And your jacket should also be short enough to finish at the waist, so your top is one-third covered, and this balances out the extra volume in the wide jeans, her YSL bag is so cute.
Wearing wide jeans over-long and with ragged, rolled-up cuffs also helps to give you a long, vertical line to offset the width.
Style tip: Flat shoes are the safest footwear when you wear over-long wide-legs, as heels tend to get caught in the hem when you descend stairs.
12. Soft & Fleecy Oversized Cream Bomber Jacket & Black Mini-skirt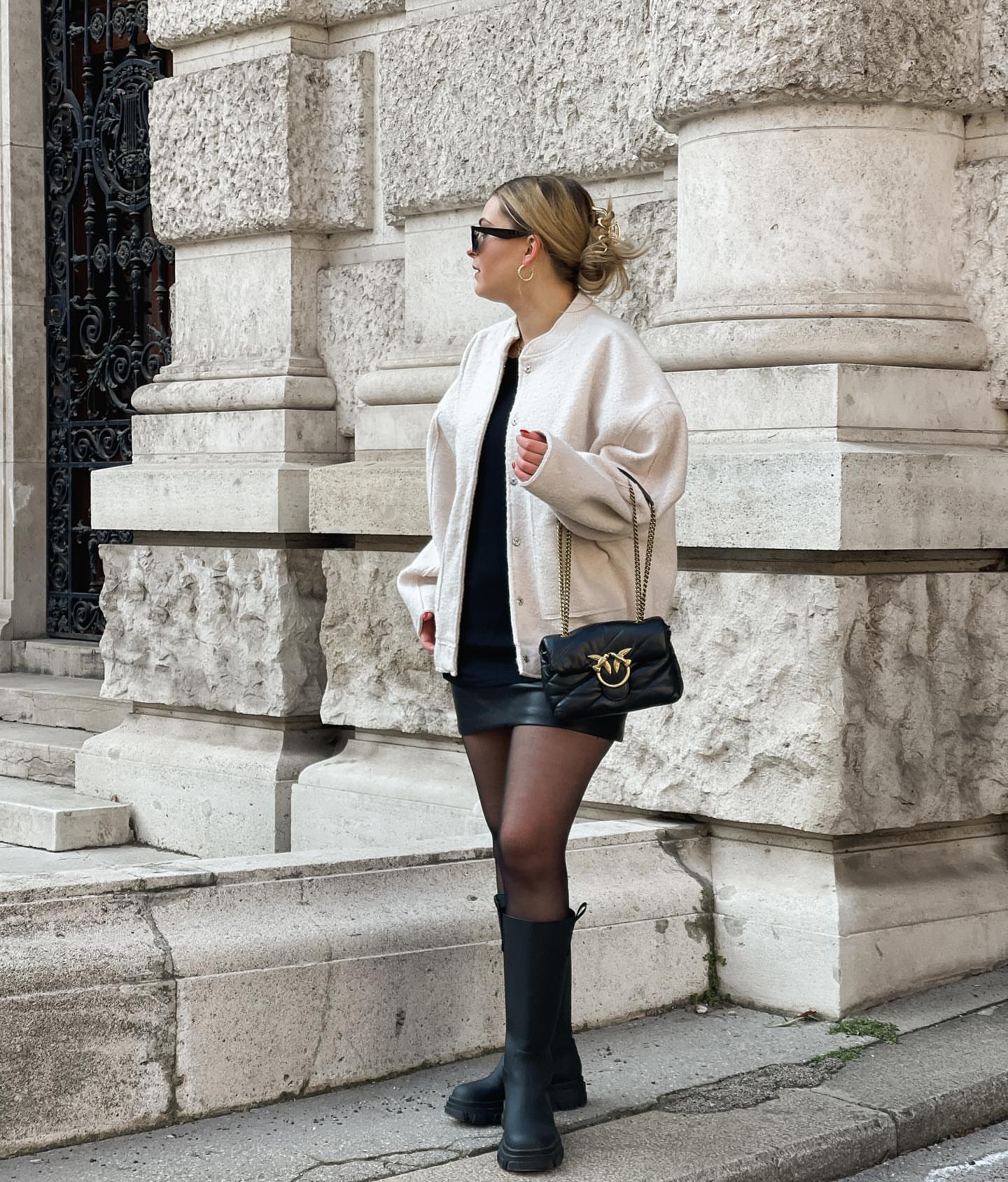 This smart black and stone outfit plays with ideas of soft femininity, mixed with a sexy, black, 'leather' mini-skirt – and contrasts them with a pair of heavy boots.
The soft textured off-white jacket has a press-stud fastened front, that makes it more chic than a zip fastener.
And worn over a short, black 'leather' skirt, top and tights, it brightens the dark look and covers up wide hips nicely.
In addition, an oversized bomber jacket in this length balances a short, tight skirt and along with heavy boots shows your trendy, contemporary style!
Style tip: This is a great way to show off a good pair of legs, whilst covering up areas you don't want to highlight.
13. Jaunty Satin Bomber Jacket with Patch Pockets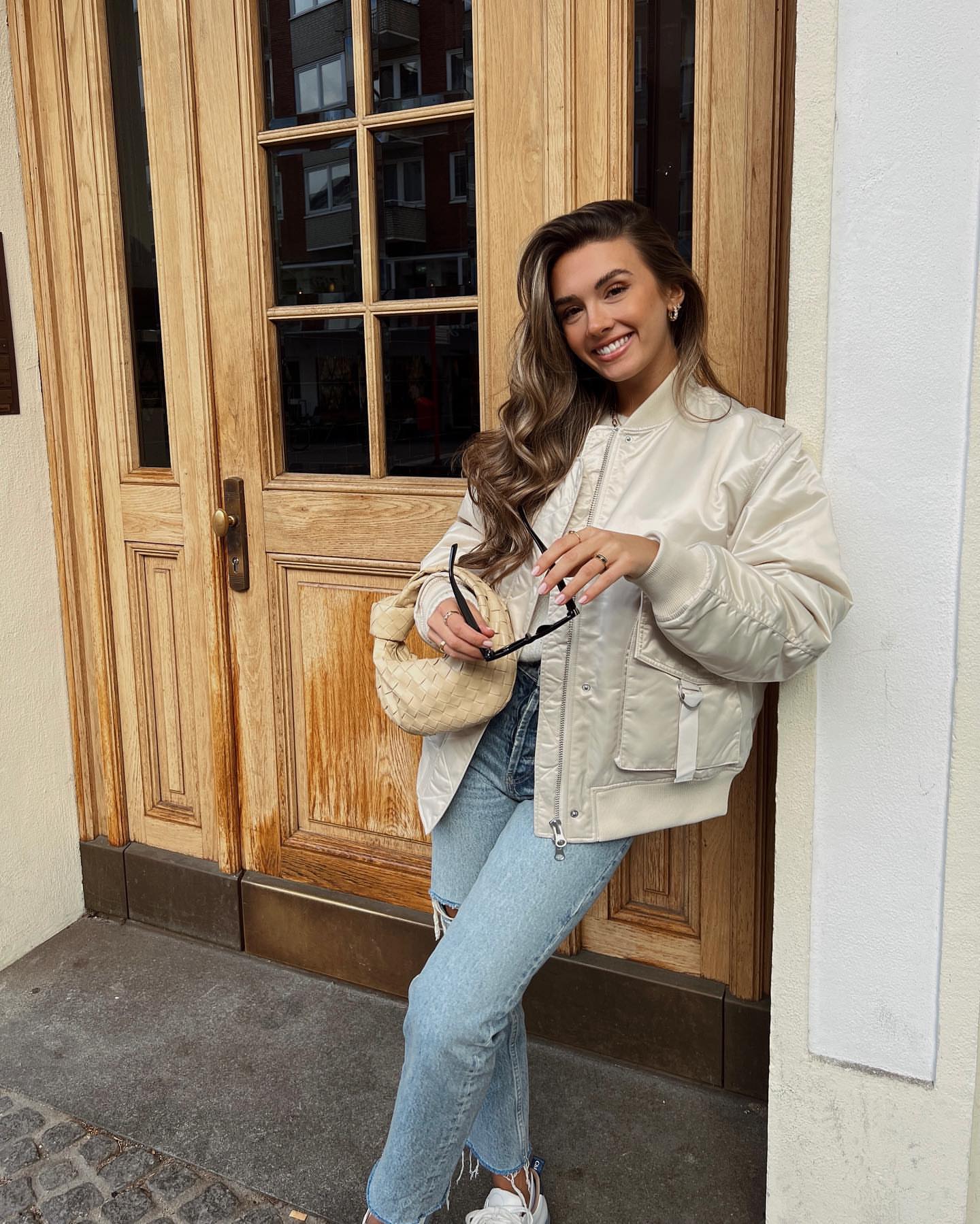 This jacket and jeans ensemble is all about different textures combining to create a relaxed, but fashionable look.
The stone-colored satin fabric looks chic and large patch pockets with a tape and D-ring decoration are reminiscent of cargo pants, which are also back in fashion this year.
And the fabulous woven texture of the 'leather', cream handbag link up with the smart satin vibe.
Worn with slim-cut light-wash jeans with casual rips and a ragged hem, and bright white sneakers completes a look that's smart-casual.
Style tip: Soft, rounded shapes for a handbag looks great with softly waved hair and an unstructured jacket, contributing to the overall feminine style!
14. Soft Leather Black Bomber Jacket with Zip Detail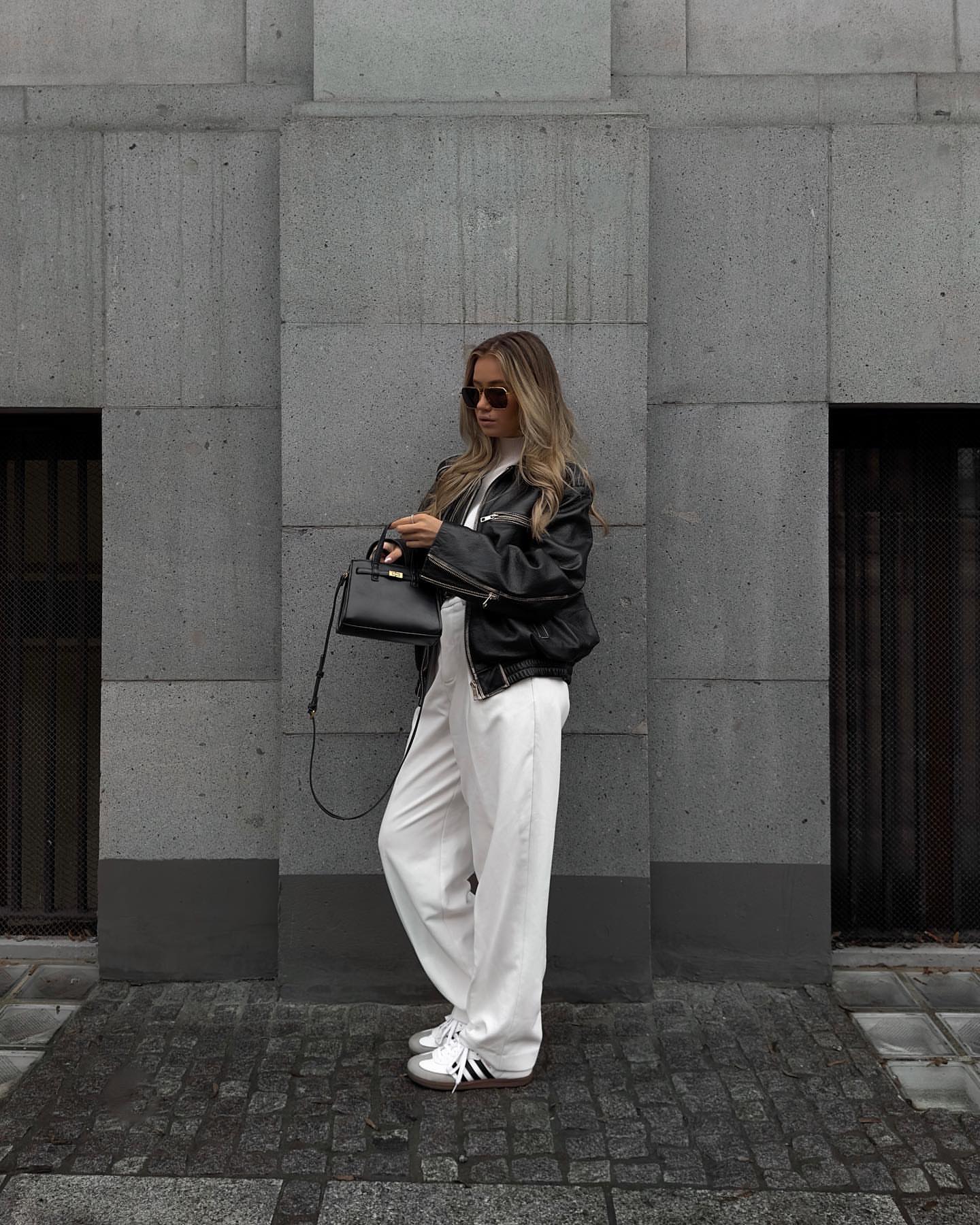 Moving back towards the traditional bomber jacket, this designer has added an attractive note of authenticity with breast-pocket and arm-zips in the original style.
And for practicality and style, you can't beat this unstructured design you can wear as a trendy oversized top that fits over everything – from a T-shirt to chunky knitwear.
High necked white sweaters are a super-fashionable look right now, which looks great with the bomber's round neckline.
And a pair of white trainers with black stripes will always add attractive detail to a black and white ensemble!
Style tip: White, wide-legged trousers will inevitably add extra volume to your bottom half, so make sure you choose a pair that have a slimming, high-waist and fit closely around the hips.
15. Blue Jacket, Orange Hat & Very Wide Leg Trousers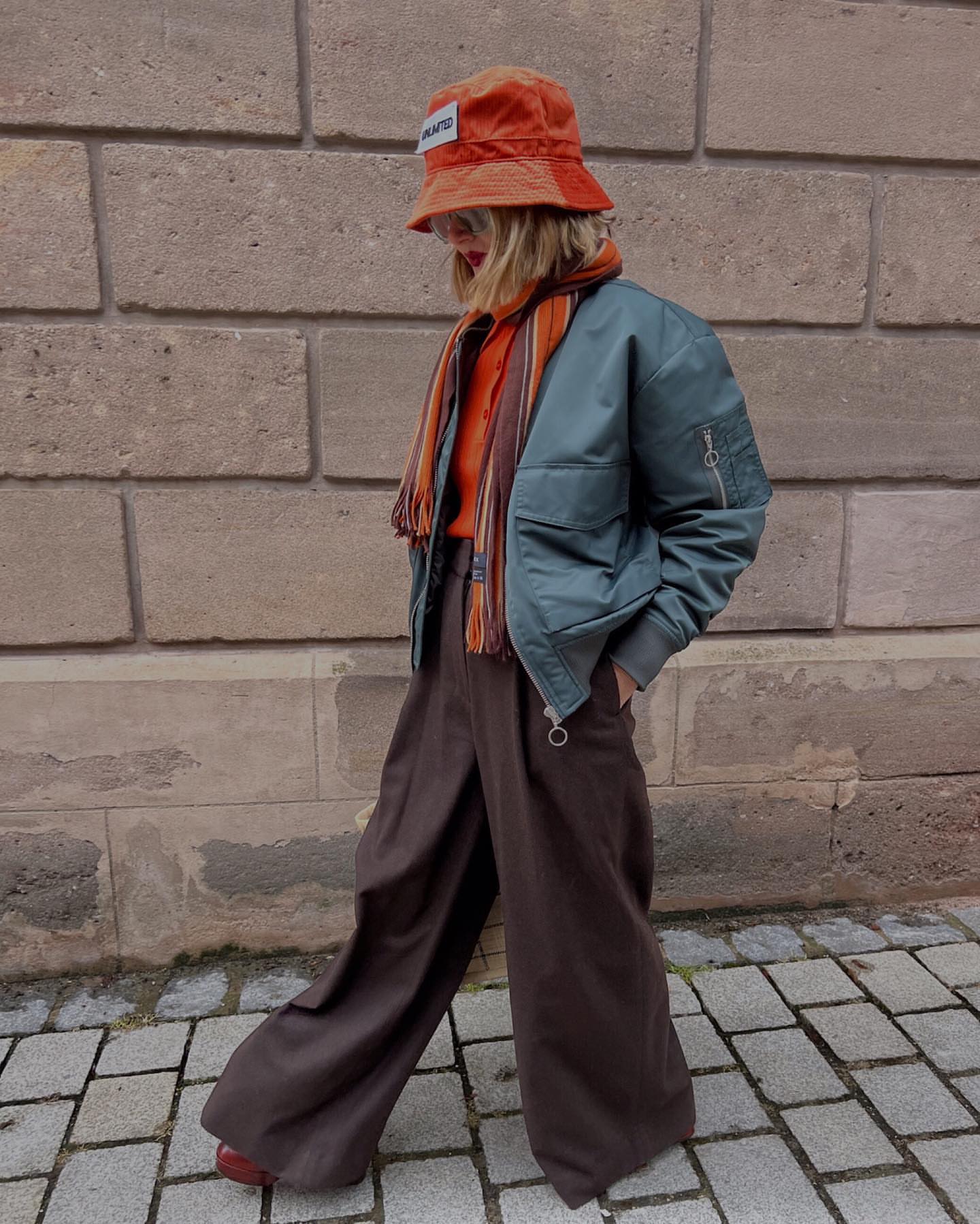 This designer has taken inspiration from the vintage 'Oxford Bags' worn by alumni at the University of Oxford in the U.K. from the 1920's to the 1950's.
It's a comfortable trouser style, but it needs careful styling to get the best look for individual shapes and sizes.
The leg-length is extra-long to help balance out the width, and unless you are fortunate to have very long legs, it's a good idea to wear them with chunky, platform shoes to increase your vertical line.
This dull blue shade is highly fashionable this year and looks new and interesting when matched with its complementary color, burnt-orange.
Style tip: Add a striped university scarf to emphasize the link with Oxford Bags and a bucket hat to add a contemporary twist!
16. Sexy Short Gray Jacket with Low-Waist Sweat Pants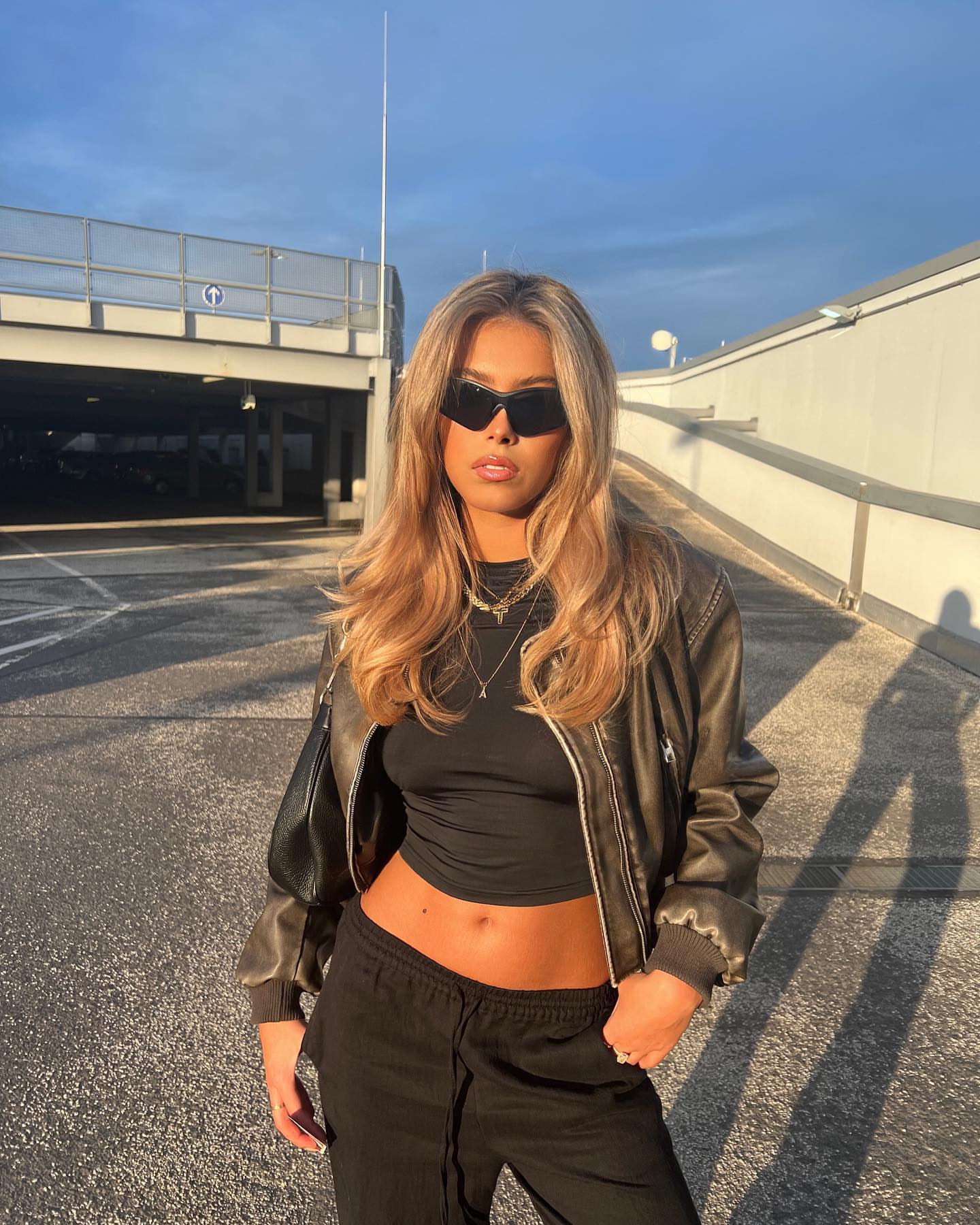 Show off a smooth midriff in this black and brown ensemble, which look fabulous with the model's warm blonde hair-color.
It's a casual-glam look that displays plenty of skin, but in a relaxed outfit you can wear on so many leisure occasions.
Notice how the three gold chain necklaces emphasize the golden-blonde hair and balance out the dark colors brilliantly.
Style tip: Notice how much extra personality you get from a bomber that has faded seams and a semi-shiny texture!
17. Quirky Orange-lined Beige Jacket & Knitted Ribbed Trousers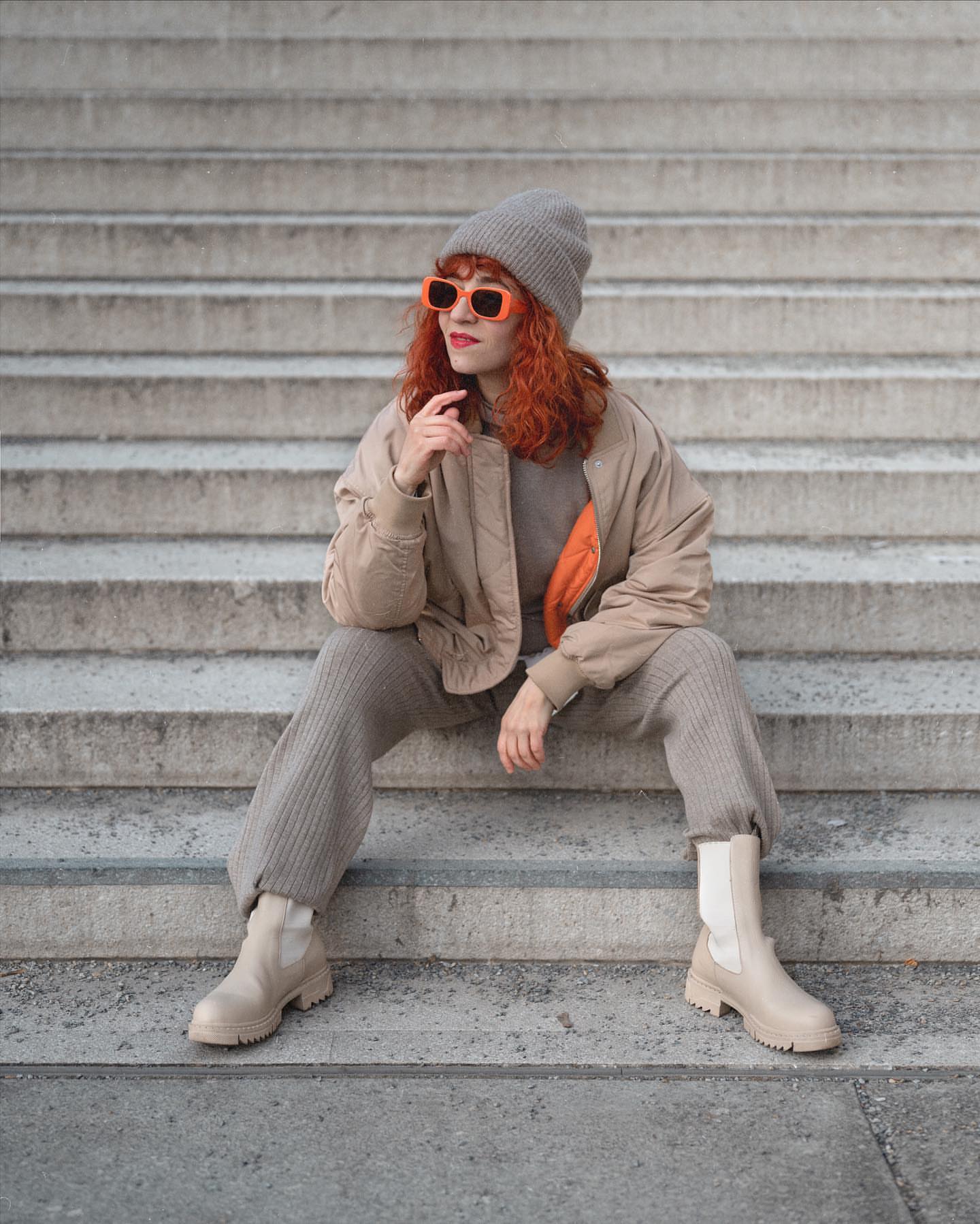 Made up of complementary shades of gray, orange and beige this bomber outfit mixes up colors, textures and styles in a totally unique way.
The knitwear is all carefully color matched in light-taupe, with ribbed trouser, and beanie hat, texture contrasting with the smooth-knit sweater.
Cool colors are a great way to balance out a bright hair-color, but orange glasses and the orange lining ensure the model's stunning copper-colored hair is highlighted!
The warm-beige jacket makes a fabulous background shade to copper hair colors.
And heavy, mid-length boots borrowed from industrial safety wear add the final light brown tone to a carefully calibrated, layer on layer and tone on tone effect!
Style tip: Adding heavy, beige boots to any soft, feminine look gives it lots of extra fashion edge!
18. Zip-up Taupe Bomber Jacket with High-Neck Sweater & Mini-skirt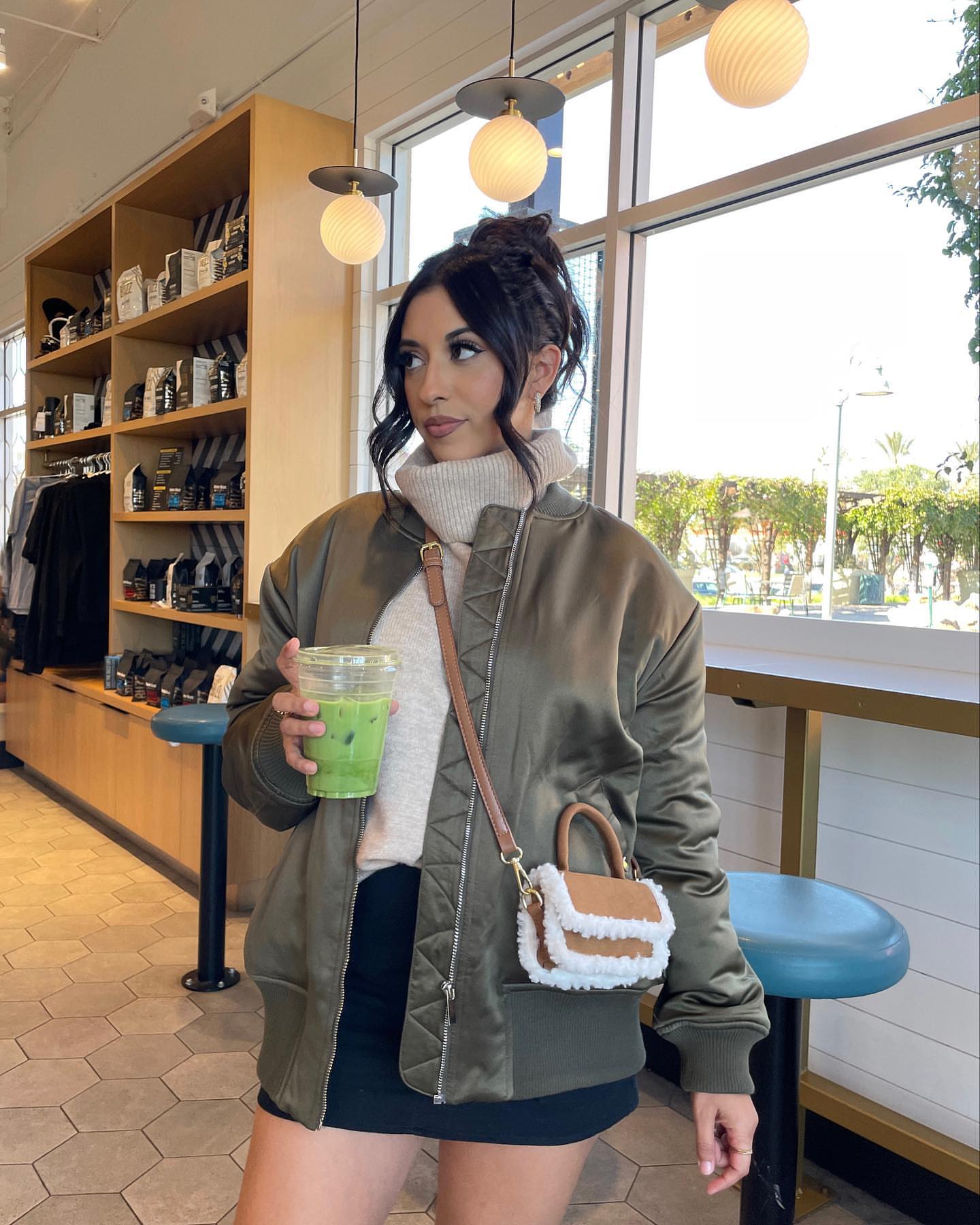 A tight mini-skirt needs to be carefully balanced by a loose-fit, soft textured top to create a contemporary look.
And the oatmeal, high-necked sweater that's half-tucked into the skirt's waistline looks nicely draped.
Fine-knit, high-neck sweaters are trendy this year, instead of the chunky knits you may have worn during the colder months.
And the idea is to stay warm, but also appear well-dressed and chic, without completely hiding your figure.
Style tip: The tiny, tan faux-lambskin, cross-body bag adds fun and a cute finish to this flirty, young look!
19. Soft Graphite-Gray Jacket with Popper Fastening & Straight-Cut Jeans
Dark shades of gray, relieved by a touch of beige and white in the sneakers, come together to create a warm, winter ensemble.
And gray plus beige are one of the hot new combinations I've only discovered during the last 3 years!
They are both neutral colors you can wear in other outfits, and they create a contemporary effect purely because gray and beige haven't been seen in traditional fashion styling before!
This jacket is made from thick felt-like fabric that will keep you safe from a cold wind, and the layer underneath is a retro, shaggy-knit sweater from the 70's style book.
Style tip: Choosing one size up from your normal size ensures you get a lightly oversized look that will be comfortable to wear over a thick sweater, but not too big that it 'drowns' a small frame.
20. Felt Fabric Oversized Bombers in Shades of Gray
Anyone can wear gray successfully, as long as you match it to your natural coloring.
For instance, in the first image there's a definite hint of cool blue in the light gray jacket, which is great for women with cool or neutral undertones to their skin.
In the second image, you can see the medium gray has a slightly warmer shade, which is well-suited to women with a warm or neutral natural coloring.
And the third image is somewhere between the first two, with a lightly marbled effect that's quite neutral and is wearable by anyone with neutral skin undertone.
Black trousers are available in lots of modern styles, like straight-cut vinyl, wide-legged, with a front crease and extra-long.
Smart or casual footwear in black and white is the perfect color to add polish to this new look!
Style tip: Add a touch of individuality with a brooch that brings out the color of your eyes, is a reflection of your style aims or just brightens up the overall finish!
21. Heavy Black Boots with Black Sweater & Gray Felt Bomber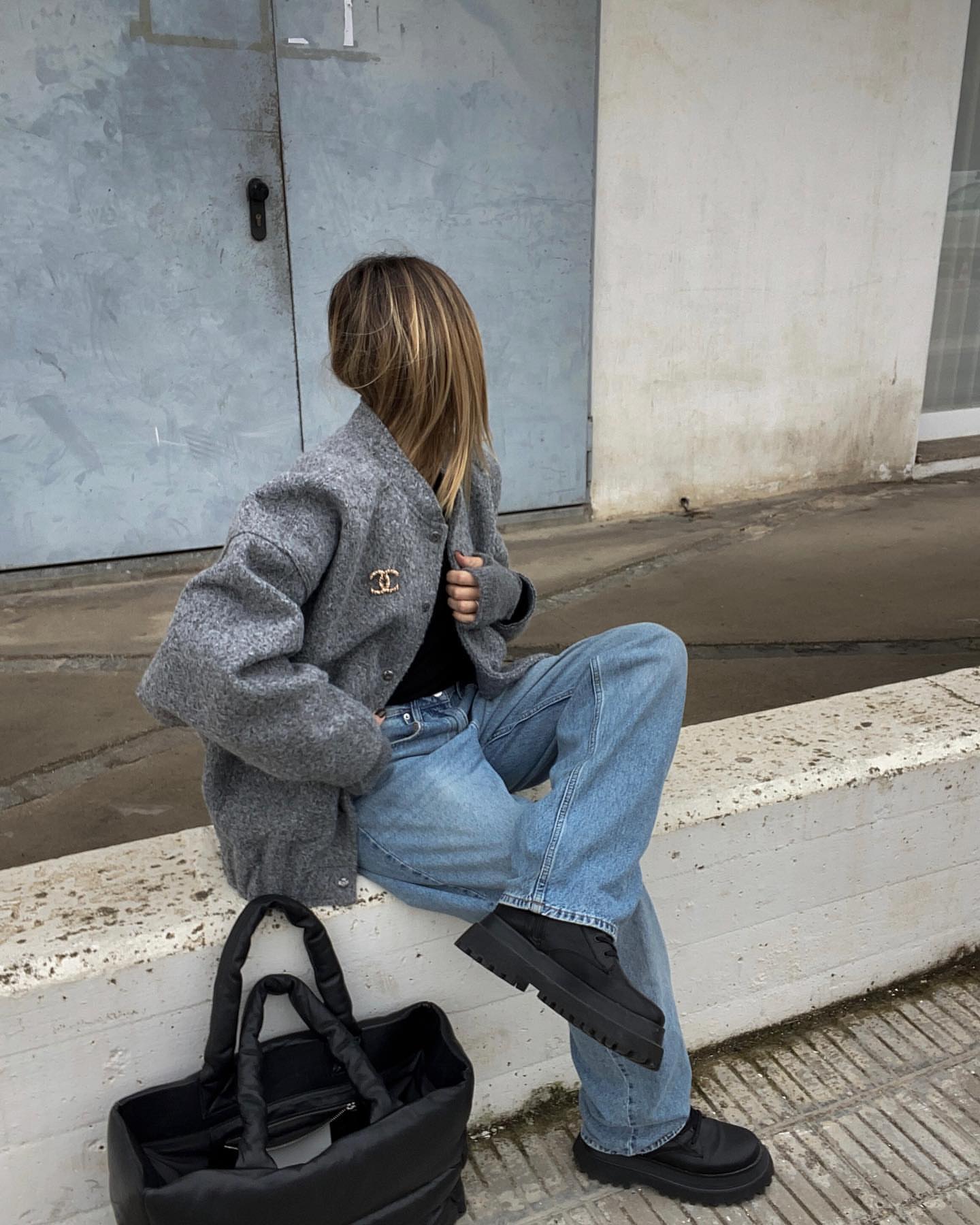 A black, fine-knit sweater, matched with chunky boots and a black shopping bag add style points to this lovely match of gray with light-wash jeans.
The cute golden brooch draws attention to the golden reflections in the model's hair.
And this outfit embodies the fashion for spring, that aims to give us clothes that are warm and comfortable, without sacrificing our precious style!
Remember that although one of the main fashion strands for bomber jackets is the oversized look – it isn't suitable for all shapes and sizes.
If you are petite, then keep your jacket to a proportion that will not drown your figure and make you appear shorter.
But you'll find there are plenty of size and style choices available for the bomber jacket, showing that all women can find a flattering version to wear with their new slim-cut, straight-cut or flared/wide leg trousers!
Your Comments
Being fashionable isn't about having a wardrobe full of every latest trend and it's important that you consider your own height and body shape before you choose a new jacket.
Can anyone wear the oversized bomber jacket trend?
In theory, yes, but you need to get your body proportions right for it to look good.
a) For example, anyone who is tall can carry off a highly oversized jacket, because it doesn't make them look shorter and wider.
b) But if you are around average height and don't want to appear wider, then you should stick to a bomber that is your normal size, but reaches down to the mid-hip.
The length helps balance out the extra volume and covers wider hips.
The loose fitting style will give you the casual look, without adding too much volume.
c) And of course, if you are short then extra-wide trousers and oversized jackets aren't going to flatter your body at all.
So petite women should wear shorter bomber jackets, that cover the top, one-third of their body and use the bottom two-thirds to lengthen their vertical line.
You can do this with slim-cut, straight-cut or cropped flared jeans/trousers and short, slim skirts with heels that highlight your legs and make them appear longer.
Take the time to discover what your body shape is by reading my HerStyleCode articles on Kibbe Body Shape and Seasonal Color Palette, because the quickest route to looking your best is to get to know yourself and what suits you.
Planning your wardrobe is the key to success and I hope this article has helped you see exactly how to assess the different styles, colors and accessories of each fashion trend.
And that's the only way to build up a wardrobe of flattering clothes that combine easily and you'll love wearing!
Tell us what you think – your feedback is important to us:
Has this article helped reduce your clothes shopping stress?
Will you start planning your shopping around your knowledge of your personal shape?
Have you started putting together more stylish outfits you enjoy wearing?
Has it made your shopping trips more targeted and helped control impulse buying?
Have you gained self-confidence?
Thanks for sharing your thoughts with the international HerStyleCode community!
HerStyleCode is a popular fashion and beauty magazine for forward-thinking women of all ages in the US, UK, Australia, Canada & New Zealand – and, of course, lots of other fabulous English-speaking countries!