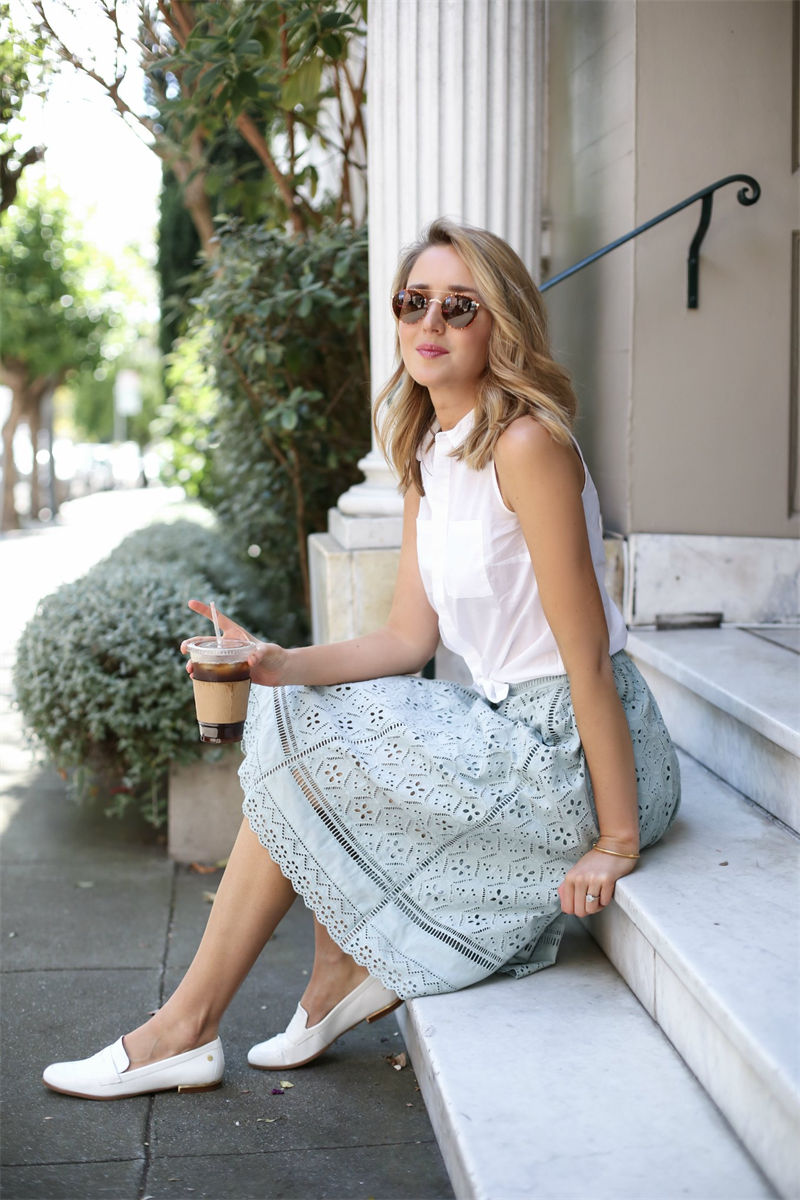 Now that the sun is coming out of hiding, you are getting excited to enjoy, arguably, the most anticipated season of the year and show some skin because having chic outfits is what you need to lift your spirits. You may wonder how to spice up your wardrobe and make your summer outfits look cute while channeling all that energy. We have just the answer to all your wardrobe questions because we have compiled the best summer outfits ranging from bralette tops and cropped jackets to cover-ups and flowy dresses.
Your summer ensemble must ensure you feel fresh and light in the warm and balmy weather. This compilation has everything you need to level up your summer wardrobe game.
1. The Crop top Or Crop Jacket
The crop top has become an all-time favorite hot piece. The perfect fashion clothing for the summer, it accentuates your toned belly while enhancing your figure. Crop tops are flattering; they draw attention to the slim waist and slim figure. Crop jackets are also fast becoming popular. This reason isn't farfetched; the cropped jacket takes your fashion game to a new level. A cropped jacket, whether wool, denim, or leather, is an excellent addition to every girl's summer wardrobe. What sells the crop top this season is that you can always look trendy when you pair it with comfy cargo pants, boyfriend jeans, and jogger pants.
2. Mid-length Business Casual Gowns
Work clothes do not have to be boring this summer. You can add bright-colored business casual gowns to your wardrobe to match the brightness of the season. You could choose any length of your choice, but simple mid-length dresses help create an overall sophisticated look.
3. Leather Shorts And Boots
As we all know, you can always go right with leather. Leather shorts and boots complemented with a cotton or chiffon material blouse perfectly depict badass meets girl-next-door. A cotton blouse ensures you stay comfortable in the sun, and the shorts perfectly balance heat and comfort.
Make sure to get clothing in colors that complement your skin tone. For example, brown leather shorts look fabulous on a black queen, and black leather looks fantastic on all skin tones.
4. Midriff cut-out jumpsuit
The midriff cut-out jumpsuit is a perfect blend of class and sass. You come out looking stylish and comfortable in the hot weather. The midriff opening is such a cute and fun detail on any outfit and a hot trend of this year. There are different length options to choose from. Depending on your style and comfort, you may go with a midi length or go all out with a playsuit.
5.  The Summer Dress
When you think of a summer dress, what comes to mind are casual dresses made of lightweight fabrics like chiffon and cotton and are loose-fitting. Summer or sundresses are usually sleeveless dresses with wide necklines and thin shoulder straps and may be backless. These dresses help you embrace the sun and leave you in touch with your feminine side. What makes summer dresses the go-to fashion for summer is that they are so much fun to wear. With a wide range of simple and colorful summer dresses to choose from, you can be sure to make a fashion statement this summer.
Simply pairing a sundress with strappy heels can produce an excellent dinner look, while sneakers, sandals, or slippers with a mini sundress can give a beautiful casual look.
6. Denim Shorts And Camisoles
Conventional denim shorts and camisoles are popular summer year in and out for a reason. This ensemble keeps you looking summer chic while feeling comfortable, athletic, and in your element. It is also a great way to avoid armpit stains because you have no sleeves. A camisole is perfect for that extra-hot summer. This outfit shows the toned legs and glowing skin you've worked on all year.
There is a wide range of colors to shop your denim shorts in apart from the conventional blue. Pink denim shorts paired with a white camisole will make you stand out from the crowd. Who says you only have to wear blue denim? And you can find more high-waist shorts outfit ideas here.
7. Matching Silk Shirts and Trousers
Make a grand entrance at the beach with a silk shirt and matching trousers. Pants for summer are a big trend. This look is eccentric and makes you stand out from the regular beachgoers. Silk shirts and trousers paired with a matching bandana are game changers.
8. The Bralette Top
The bralette top is a versatile fashion accessory that can be worn as beach wear and, when styled with cargo pants or denim shorts, becomes a stylish casual outfit. Bralette tops are super comfy and easy to style. At first glance, a bralette may look like regular underwear but good styling and accessorizing transforms it into an indispensable summer clothing piece.
Bralette tops come in different designs and range from leather and lace to cotton and crochet. Be sure to pick a bralette top that suits your style this summer.
9. Biker Shorts
Biker shorts have become a Gen Z favorite and are perfect for the summer. They are a lot chicer than your regular leggings. They can be paired with a crop top or a simple T-shirt to achieve a trendy summer look. Another reason why biker shorts are so popular is that all body types can wear them, and they are so comfortable to wear.
10. Denim jacket + biker shorts
The girl's long hair is cascading down her back as she walks confidently in her stylish summer attire. She's sporting a trendy look with biker shorts that hug her curves and a matching crop top that accentuates her toned midriff. The cherry on top is the short denim jacket that she has thrown over her shoulders, giving her outfit a touch of edginess.
Despite the hot weather, the girl looks comfortable and cool in her ensemble, which allows her to move freely and enjoy her day. Her hairstyle, combined with the effortless yet fashionable outfit, makes her stand out in the crowd. Whether she's running errands, meeting friends, or enjoying a day out in the city, she's turning heads with her impeccable style.
11. Stylish romper + High heels
The girl is wearing a stylish romper that features a comfortable and flattering short length. The romper fits her body perfectly and accentuates her figure, while the shorts give her outfit a playful and summery vibe. The design is both casual and chic, making it perfect for a variety of occasions.
The romper's pattern or color adds to its overall charm, making it a statement piece that's perfect for warm weather. The girl might have accessorized her outfit with a pair of sunglasses, sandals, or a stylish handbag, completing her look with a touch of flair.
Whether she's heading to a brunch with friends or a day out in the city, the girl looks effortlessly chic in her romper shorts. Her carefree attitude and confidence shine through in her outfit, making her the center of attention wherever she goes.
12. Yellow tops + black pants
This cute teenage girl's outfit is a perfect blend of cute and sophisticated, with just the right amount of edge. She's wearing a pair of stylish sunglasses that add a playful touch to her look. Her top is a cute yellow sleeveless crop top that shows off her summer tan, and the black pants give her outfit a sleek and elegant touch. Completing her ensemble are a pair of sharp black pointed-toe shoes that add a touch of sophistication to her outfit.
The girl looks confident and chic as she walks with a spring in her step. Her outfit is perfect for a day out in the city, whether she's meeting friends for lunch or running errands. Her yellow top adds a pop of color to her outfit, making it eye-catching and fresh.
The combination of the cute sunglasses, yellow top, black pants, and pointed-toe shoes creates a cohesive and stylish look that's perfect for summer. The girl's outfit is both comfortable and fashionable, allowing her to move with ease and confidence throughout her day.
Of course, we weren't going to end the summer looks without including sun shades.
Sunshades and sunglasses are the same. Sunshade is an informal term used to refer to sunglasses. In essence, they both refer to protective eyewear made and worn to prevent bright sunlight and high-energy visible light from causing eye injury and irritation.
Sun shades protect the eyes from harsh sun rays and can also be beautiful fashion accessories.
Most summer outfits come together beautifully when sunshades are worn. Sun shades range from classic designer ones to the big black frame and polarized sun shades. Most people go for the conventional black sun shades, but you can rev up your entire look with other fun colors of sun shades. When shopping for sun shades this summer, be sure to look out for stylish ones and give your eyes much-needed protection from harsh rays.