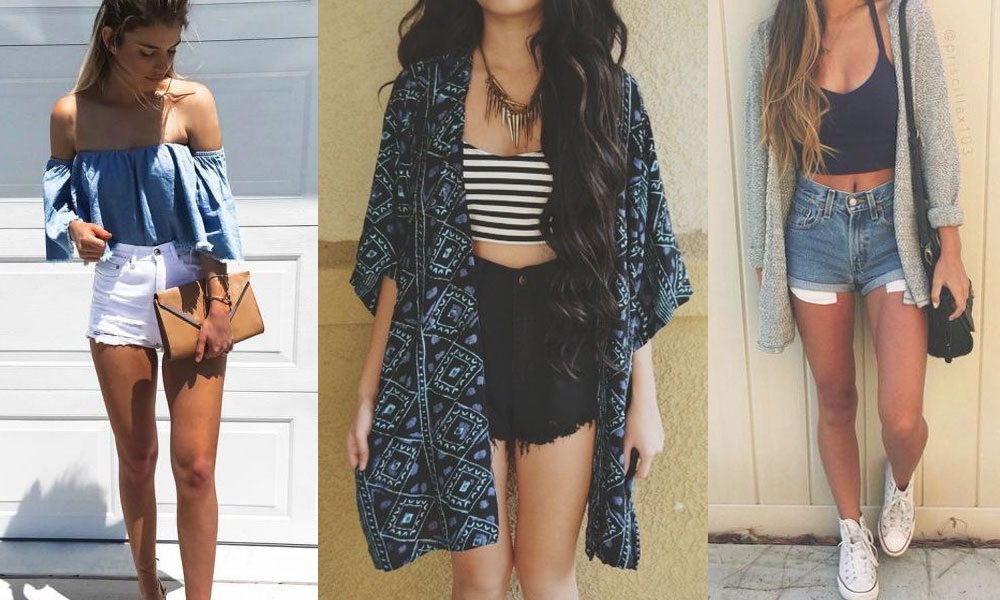 High-waisted everything is a sweeping trend that has made a major comeback in the world of fashion over the past few years. In the heat of the 1980s, high-waisted denim was all the rage. However, these once-beloved high-waisted pieces became synonymous with 'lame' and 'outdated' once the rebellious low-rise jeans phase of the 1990s and early 2000s came into full swing. But everything comes full circle when it comes to fashion, and high-rise denim recently rose back to reclaim its place at the top of the trend charts. This time around, the high-waisted trend is not limited to jeans. High-waisted skirts, shorts, and even bikini bottoms are commonplace apparel for the mannequins in storefront windows.
If you're up to date with today's trends and buy into the modern cult adoration surrounding the high-waisted style, you likely own at least one pair of shorts that reach your belly button. You might find that it can be surprisingly difficult to figure out something interesting and stylish to actually wear with your trendy high-waisted shorts. Don't let yourself miss out on this big-time comeback trend; read on to learn how to rock high-waisted shorts in ways you've never dreamed of before.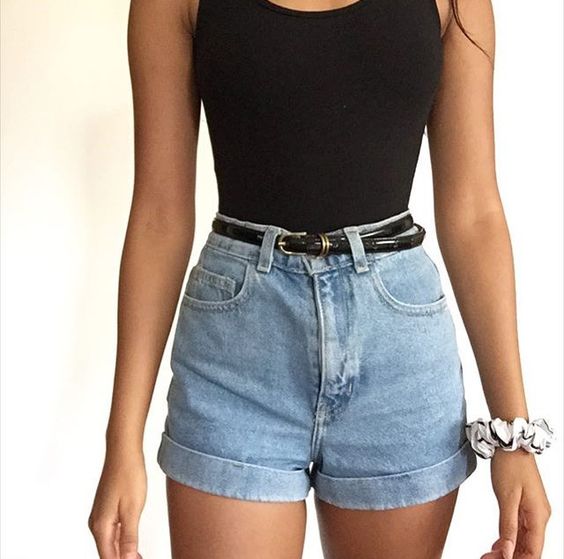 1. Flaunt a Bralette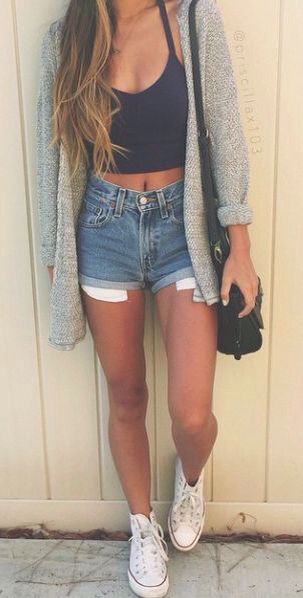 High-waisted shorts are one of the only clothing pieces you can pair with a bralette by itself and pull off your look as cute and stylish. Use your high-waisted shorts as an opportunity to rock your favorite lacy, strappy barrette without showing off an extreme amount of skin.
If you feel uncomfortable wearing a barrette on top all by itself, don't worry. Try layering a sheer mesh crop top over the barrette. Its design will still be visible, but you'll feel a bit more covered up.
2. Rock a Crop Top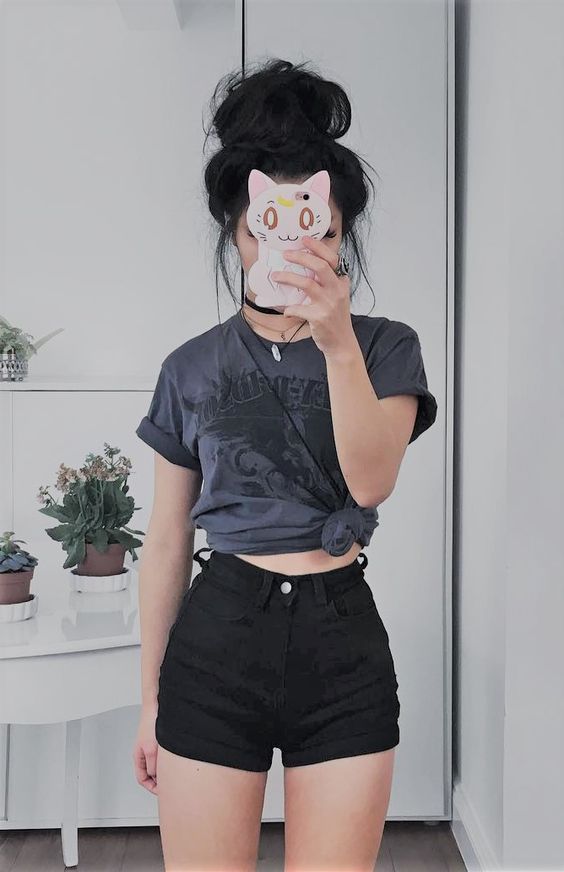 Crop tops are by far the most popular choice when it comes to what to wear on top with your high-waisted shorts. High-waisted shorts and crop tops are a common pairing for a reason. A short top with high-rise shorts creates a balanced look and helps you appear slimmer.
You have plenty of choices when it comes to crop tops to pair with your high-waisted jeans. If you want to emphasize your shape and slimness, try a fitted crop top in a solid color that's short enough to show a bit of skin above the waistband of your shorts. For a fun and feminine look, choose a looser crop top with a pattern or detailing.
3. Pick Patterns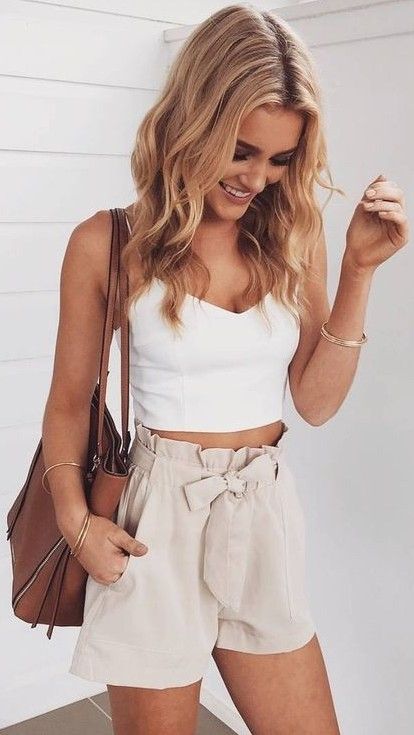 High-waisted shorts don't have to be plain old blue. In fact, they don't even have to be classic denim shorts at all. Because high-waisted shorts have become so incredibly popular, they are readily available in a wide variety of colors, patterns, and materials.
Don't be afraid to experiment with different types of high-waisted shorts. Pair shorts that sport an American flag image or a wild geometric pattern with a tight black crop top. Rock a pair of high-waisted gypsy shorts with a loose, off-the-shoulder boho top. The possibilities are endless and you'll miss out on a world of fashionable fun if you limit yourself to the same pair of blue denim high-rise shorts that are sitting in all of your friends' closets.
4. Complete the Look With Your Shoes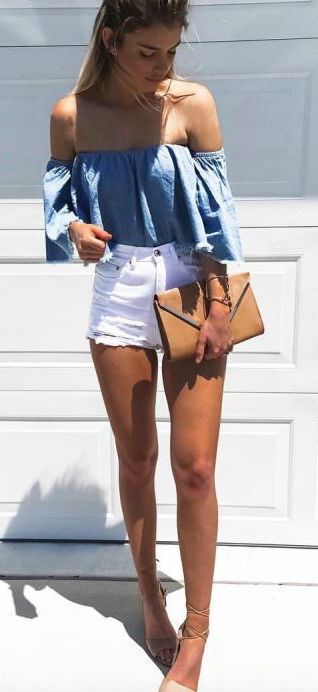 Don't think that you have to limit yourself to sandals when you wear high-waisted shorts. You can wear virtually any type of shoes you want with these shorts without breaking any fashion rules (which are meant to be broken, anyway).
Leather ankle booties give an instant city-chic vibe to high-waisted shorts. Pair this combo with a distressed graphic tee for an extra rugged finish. It might seem unnatural or intimidating to wear heels with denim shorts, but you can definitely rock them with your high-waisties. Heels with high-waisted shorts elevate you to instant model status by instantly lengthening and slimming your legs. If you're not comfortable rocking full-on stilettos, try chunky heels instead and wear them with a polished button-up or a classic and casual loose-fitting white tee.
5. Try Tights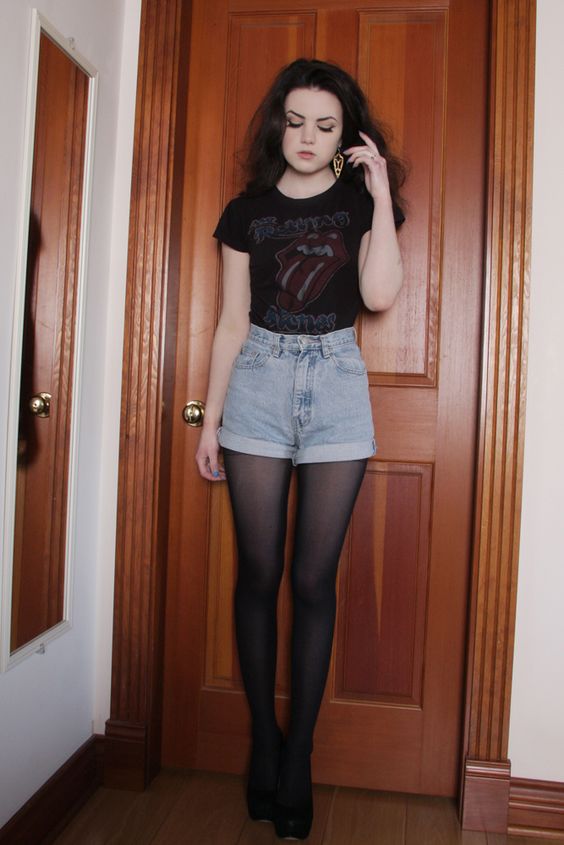 Contrary to popular belief, tights under shorts is not a style resigned to uber-emo teens. In fact, tights with high-waisted shorts is actually a fairly popular and trendy combination.
Pair black tights with distressed black denim shorts. This pairing includes plenty of texture and allows you to rock an all-black look that doesn't make you appear shapeless. Rock your tights and shorts with combat boots or ankle booties. On top, try a fitted black crop top to finish off an all-black look. If you want to add a bit of variation to your look instead, try a shirt with a consistent pattern like black-and-white stripes.
6. Throw On a Cover-Up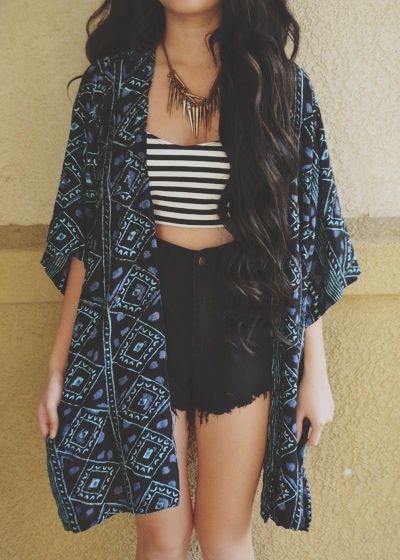 A cover-up can work magic with your high-waisted shorts. It can instantly dress up your outfit, add balance to your look, and help you appear more put-together.
There are multiple types of cover-ups that work well with high-waisted shorts. If you're going for a bohemian vibe with your look, try a loose-fitting floral kimono and pair it with light shorts and strappy sandals. To achieve a more professional finish, slip on a fitted blazer. Tuck a button-up into your shorts and add tights and chunky heels to complete the look.
7. Add a Flannel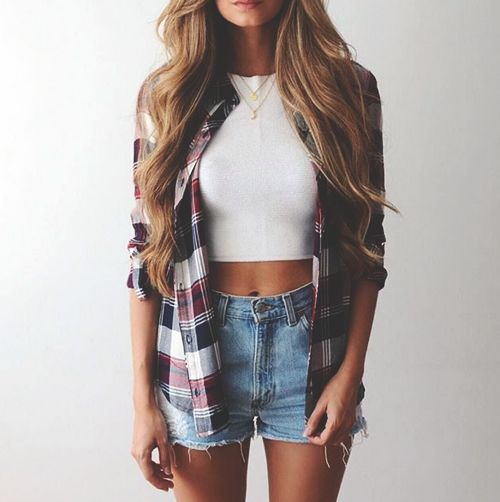 Flannels are timeless pieces just like high-waisted shorts. You can wear a flannel with your high-waisties in many different ways.
Wear a flannel with the front tucked into your shorts to pull off a casual, laid-back look. Pass yourself off as city-chic with heeled booties, a distressed tee, and a flannel tied around your shorts like an accessory. You can even wear an unbuttoned and oversized flannel as a cover-up that adds instant intrigue to your look.
You're hardly the only woman to own a pair of high-waisted shorts, but that certainly doesn't mean you have to look boring or basic when you wear yours. Don't be afraid to spice up these trendy shorts with tops and accessories that fit your own fashion sense. Take ownership of the high-waisted style and personalize it to fit the unique style that shows the world who you really are.