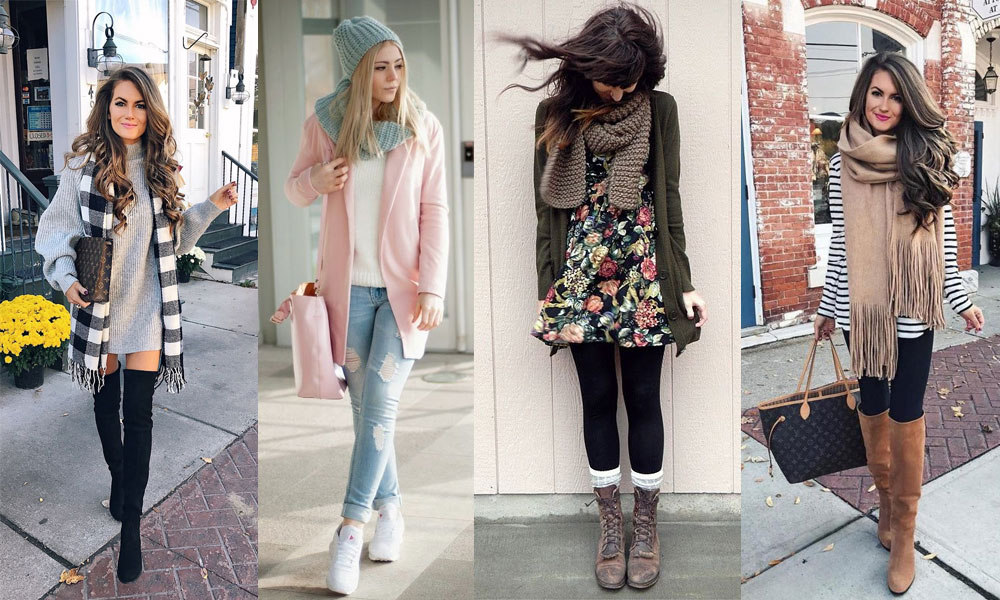 As fall turns into winter and the weather continues to get colder, you have to keep piling on more and more thick layers of clothing to keep yourself warm every time you step outside. If you normally have a very feminine fashion sense, it can be hard to maintain that style when you're forced to bundle up in bulky coats with mittens. It's a challenge to feel like you're exuding femininity in a hooded puffer jacket.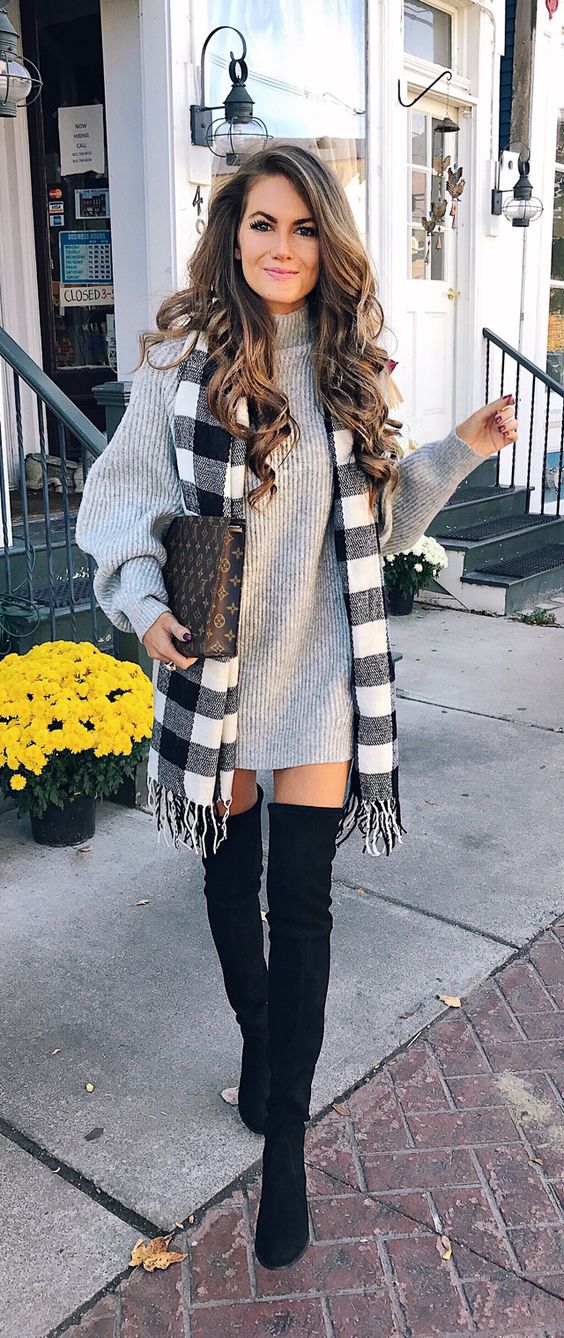 via
However, saying goodbye to your lace-trimmed miniskirt doesn't mean you have to sacrifice your girly style until spring rolls around again after the long winter months. There are a surprising amount of winter clothing options for women with the flirty, delicate finish that defines feminine style.
1. Dig Out Your Summer Sundress

Bright sundresses are basically the definition of feminine style. After you spend spring and summer wearing a different sundress from your expansive collection almost every day of the week, it can be disappointing to stock all these pretty dresses in the back of your closet for six months.
It might seem counterintuitive, but you can actually wear your favorite sundress and stay warm in cold weather at the same time. Pair a sundress with thick fleece leggings, knee-high boots, and an oversized denim jacket or a thick knit cardigan to create an outfit that's simultaneously warm, flirty, and feminine. If desired, add a coordinating scarf to balance out your look. Make sure that the sundress you choose is fitted so your shape doesn't get lost in a bulky scarf and cardigan sea. If you don't have a form-fitting sundress, use a belt to cinch a looser dress around your waist for the same effect.
2. Look for Lace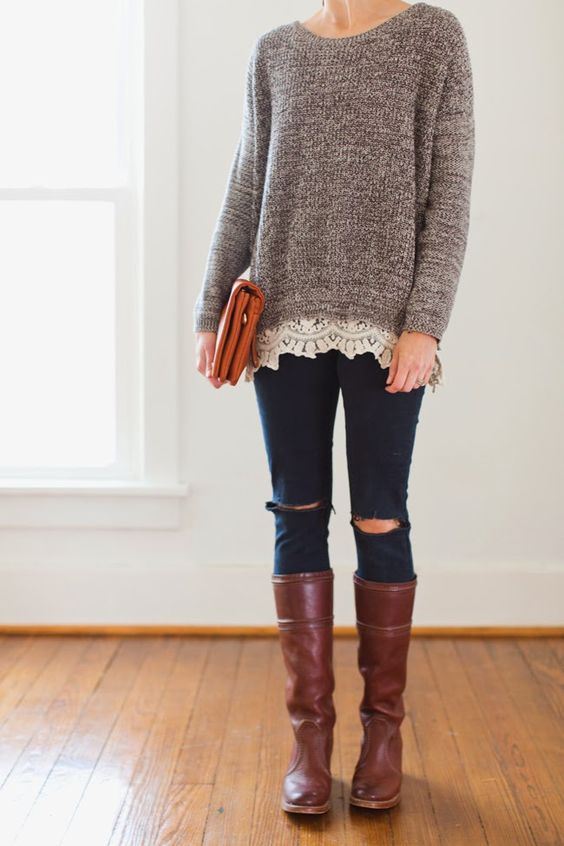 Lace is a hallmark of feminine style. It's eye-catching, delicate, and girly all the way. Unfortunately, it can be difficult to find lace in cold-weather clothing. Despite how pretty, thin lace material isn't very practical for winter wear since it plays no role in keeping you warm.
There are clothing pieces designed for cold weather that include lace. You just have to search a little harder for these pieces in the winter than you do in the spring or summertime. Keep your eye out for thick knit sweaters with lace trim and boot socks with ruffly edging. If all else fails, you can incorporate one of the lace pieces you already have into a cold-weather outfit; tuck your lace-trimmed camisole into high-waisted jeans and throw on boots and a thick cardigan on top to stay warm.
3. Color Coordinate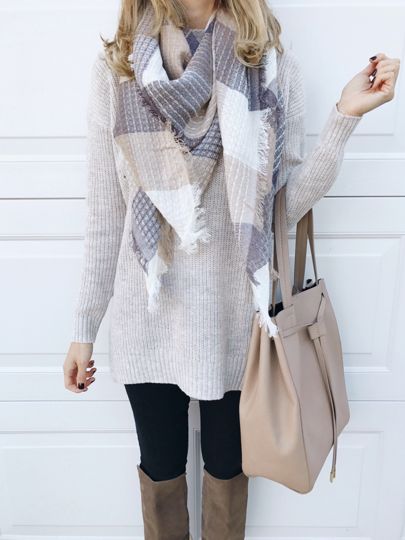 There are few things that make you look more put-together than well done color coordination. Color coordinating your cold-weather outfits in the right way can help you create a neat and playful look that instantly appears flirty and feminine. Don't try to wear just one color; a monochromatic outfit that includes thick winter pieces will make you look shapeless. Instead, keep most of your look neutral and add in splashes of one light or bright color in different places. Try pairing gray or black jeans and a neutral sweater with a beanie and a knit cardigan in the same shade of lavender.
Don't forget about your jewelry. Coordinating the style of your jewelry has the same effect on your look as color coordination. Choose a few matching metal (think silver or rose gold) jewelry pieces to incorporate into your outfit. Keep your jewelry subtle and delicate enough that it adds femininity to your look, but make sure it stands out against your clothing to create a contrast between your dainty accessories and your thick, functional cold-weather outfit.
4. Flaunt Fur

Fur is very elegant and classy. It is popular in winter wear because it's one of the warmest materials in existence. However, fur also happens to be very feminine and adds a chic and graceful finish to any look.
If you don't have the money to purchase a full fur coat, you have other options. Try fur-lined boots or a jacket that has fur lining just around the collar. Also, there is no need for you to wear authentic fur if you don't feel comfortable doing so. Faux fur provides you with the same warmth and has the same feminizing effect on your look.
5. Add a Sheer Layer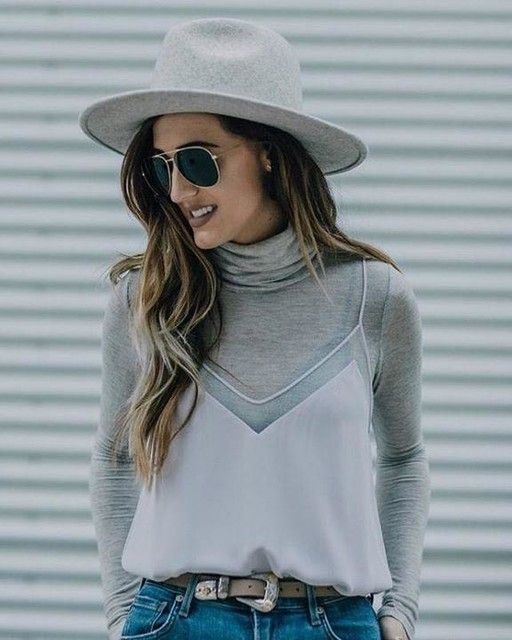 Sheer fabrics are popular within feminine style for their delicate, intricate appearance. Since they're so thin, though, it can be difficult to incorporate sheer pieces into a cold-weather outfit that's supposed to keep you warm.
If you want to keep wearing sheer pieces throughout fall and winter, you just have to get a bit more creative. Try adding a sheer layer over your warm outfit. You can find sheer skirts, shirts, and shawls that you can use as a delicate overlay for your winter looks.
6. Keep Collars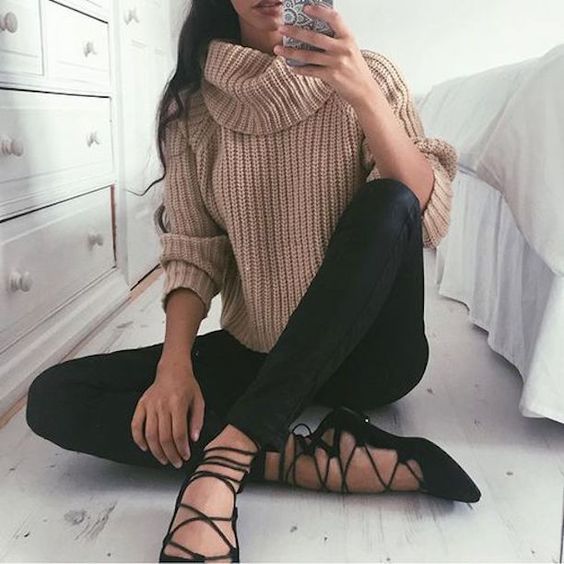 Collars ensure an instant stylish and sophisticated finish to any look. Incorporating collars into your cold-weather outfits adds a touch of elegance and grace to whatever you're wearing.
There are multiples ways to include collars in your fall and winter outfits. Try layering a thick scoop-neck sweater over a collared button-down shirt so that the shirt collar remains visible. Or, look for sweaters with structured collars like turtlenecks or cowl-neck styles.
7. Play With Pastels

Pastel colors give off a very light and delicate vibe that matches up perfectly with feminine style. It doesn't really matter what piece of clothing you wear; if it's pastel, your look will have an instant feminine finish.
Darker clothes are all the rage during fall and winter. As the weather gets colder and the days get shorter and darker, clothing options seem to get darker as well. Despite this trend of darkness, you can still find pastel pieces designed for cold weather wear. Keep your eye out for pastel sweaters, coats, and accessories like scarves and gloves. Even pairing light jeans instead of dark ones with a sweater and boots lightens up your look like pastel pieces do.
If rocking feminine style makes you feel confident, you should be able to do it year-round. Don't settle during the colder months of the year; just slightly switch up your standard wardrobe to create looks that are equally feminine and warm.