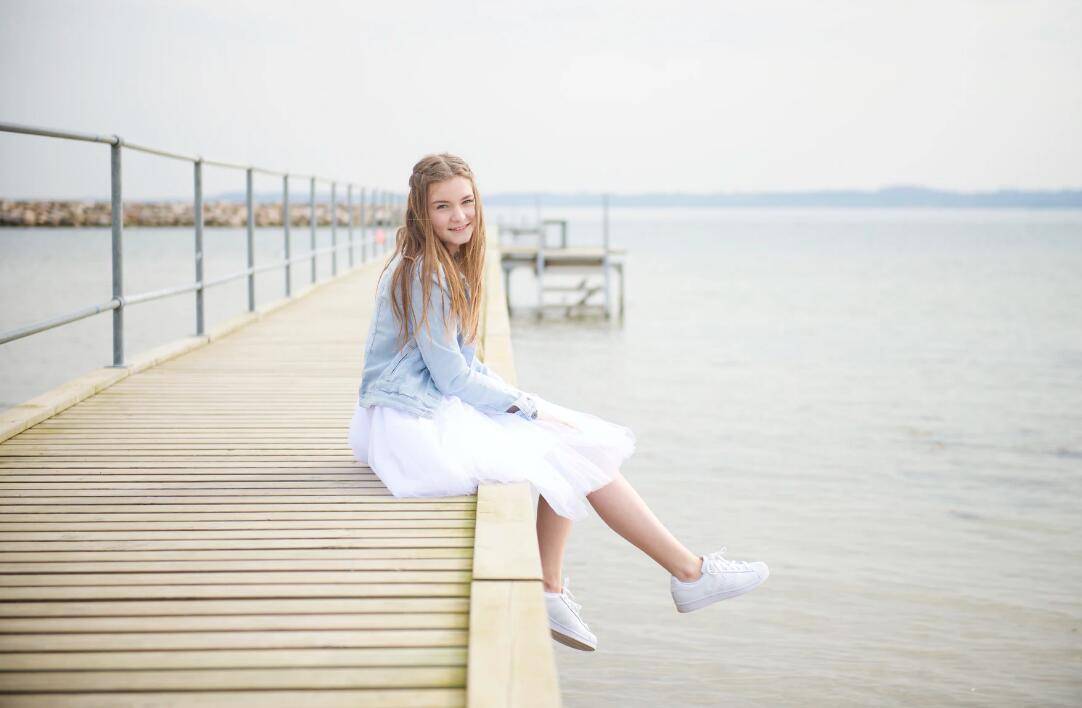 It's the most romantic time of year, which means that there may be a young girl in your life gearing up for a Valentine's Day party. In that case, an unforgettable dress is in order. It's not hard to find a frock that pays homage to the tender-hearted holiday. Several options will ensure she's keeping up with the classic V-Day trends. Talk it out with her to see what she wants to wear to her upcoming event.
Fabulously Festive in Red
Red is a signature color for Valentine's Day, so it stands to reason that it's the perfect hue for all sorts of little girl clothes. While a solid red dress may look a bit grown up, it's well-suited for older girls and tweens. Look for a dress that features chiffon or silk – or both! The chiffon, especially, will soften the color. Something with a red tulle skirt is an option, as well. Tulle is too tempting to resist, and you can rest assured that nearly any girl wearing it will spend the entire party whirling and twirling to show off her festive frock.
Pretty in Pink, Of Course
A pink dress is perfect for a party! Pink, too, is a signature shade for Valentine's Day. It also happens to look lovely on girls of all ages. Is there anything prettier than a lovely young lady in a pink dress? Pastel pink is the go-to, and you can find myriad pieces with full skirts and frilly details. For older girls, darker shades of pink are flattering and more mature. Consider a dusty rose color or something that veers toward mauve. Ballerina pink is a sweet pick, as well. Step outside of the traditional party dress box and score your girl a ballerina frock with a long, flowing skirt reminiscent of a romantic ballet tutu.
All the Hearts
On Valentine's Day, hearts are on-point. It just so happens that dresses with a heart-motif are heart-stoppingly precious. A white dress with red hearts is too cute for words, but there are other options, as well. A play dress with adorable embroidery might be better suited for a younger girl, especially if she likes to play at the parties she attends. There's also the option of dressing her in heart-printed tights or shoes.
A Dress Made for Twirling
Lots of girls love to run and jump and play when they're at holiday parties with their pals. For Valentine's Day soirees of that nature, a more casual dress is the right fit. A little girl can still dress up, but why not pick out a dress that makes it easy to play? Something with a full skirt that will fan out as she twirls is exactly what you want. That means that she can also select a fun pair of tights or shorts to wear with her dress. Remember to snag a pair of comfortable shoes, too!
Winter White
White is such a lovely winter color. It must be said that it can be a bold choice for a children's party, but it's often worth the risk of a stray smear of icing or splatter of juice. Long sleeve white dresses are innocent and sweet, while short sleeve or sleeveless frocks are fun and light. Both have the potential to be ideal for Valentine's Day, particularly when they're appropriately accessorized. Heart-shaped barrettes or headbands add a pop of color and V-Day charm. A pair of heart-patterned socks can do the same.
Once kids hit a certain age, they're eager to have more "grown-up" parties and holiday celebrations. When it comes to Valentine's Day, it's not uncommon for tweens to attend a holiday dance or get-together. In that case, your girl might prefer an equally grown-up dress – something a bit more mature. Navy blue is the color. Whether it's a demure, simple dress, or a frock with a tulle skirt, she'll make a statement as soon as she arrives at her party. Better still, both pink and silver complement navy, so she can have fun with accessories.
Layers on Layers on Layers
If you know a girl who loves to pirouette and spin, then a full-skirted dress is a must. A flouncy skirt is ideal for a party dress, especially a lighthearted fete like a Valentine's Day bash. Look for dresses that feature chiffon, crinoline, and tulle. The beauty of dresses like these is that she can recycle them for other parties, play dress-up in them, pose for pictures, and even enter pageants if she's interested in doing so.
All that Glitters
Does your girl sparkle? Some girls like to make a splash at parties, regardless of their age. There's nothing wrong with bringing a little glitz and glam to a Valentine's Day event. Keep your eyes peeled for a frock with crystals and rhinestones or glitter and sequins. Anything metallic will do the trick, too. Gold, in particular, is a killer color for the holiday, and it looks even prettier with flashes of pink or touches of red.
Low-Key but Lovely
Some Valentine's Day parties are casual and low-key. That's another point where she might want to wear a dress that's a bit more laid-back. You won't have a problem finding a Valentine's Day dress with a more relaxed vibe. Shop for something that will allow her to play and be as active as she wants. Then it really won't matter if she drops food or spills her drink. Just make sure it's on-theme. That might mean a dress that depicts her favorite cartoon couple having a sweet V-Day moment, a heart-sprinkled frock, or something in a Valentine's kind of color.
Valentine's Day parties are dreamy and sweet, especially when you're young. If you know a girl who's looking forward to her upcoming event, spend a little extra time to find the perfect dress. As a pro tip, get a dress that she can wear past the holiday, too. It could become a dress-up dress or her go-to party dress for a little while. Just make sure it's memorable.