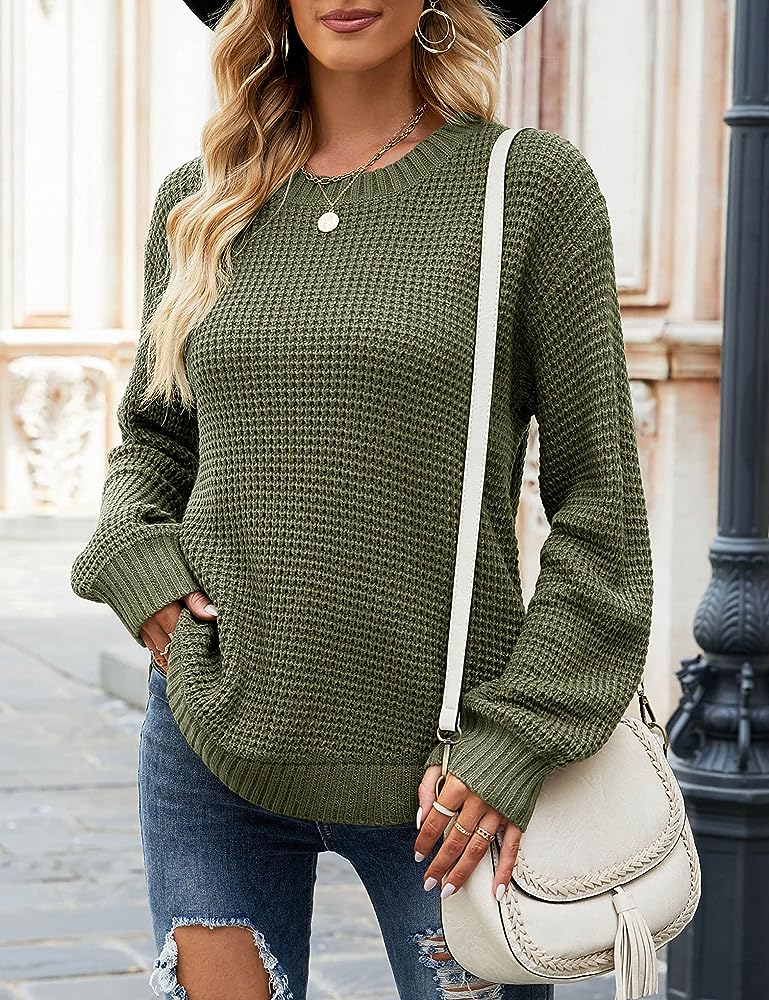 Summer is great for showing off your body shape, but fall? Fall is the time to show your style and how clever you are at putting together outfits that are warm, but also flattering!
This gallery of gorgeous sweaters shows all the latest trends, including deconstructed, floral print, textured, striped, baggy, vintage, cropped and fine-knit jumpers. And I've also included lots of advice on how to use your new and old wardrobe staples to create the latest outfit styles!
Baggy sweaters without a jacket are super for long autumn walks in cooler weather. But wearing several thin layers is the key to looking trendy and appealing in autumn, when the temperature may be going down, but it's not yet time to hide your femininity beneath heavy sweaters and puffy jackets.
So why not take a break and bring yourself up-to-date on how to choose from the Fall fashions and create an attractive new look for this season?
1. Plum textured turtle-neck sweater & mismatched accessories
I love the rich deep pink color of this cute, bobble sweater which looks chic with narrow, black pants. Worn with a black shoulder bag and boots, this will take you all through the winter as office and smart leisure wear. Dress up with matching earrings, pendant and bracelet and dress down with artfully contrasted graphic bag and snake-skin loafers!
2. Cropped cable knit cardigan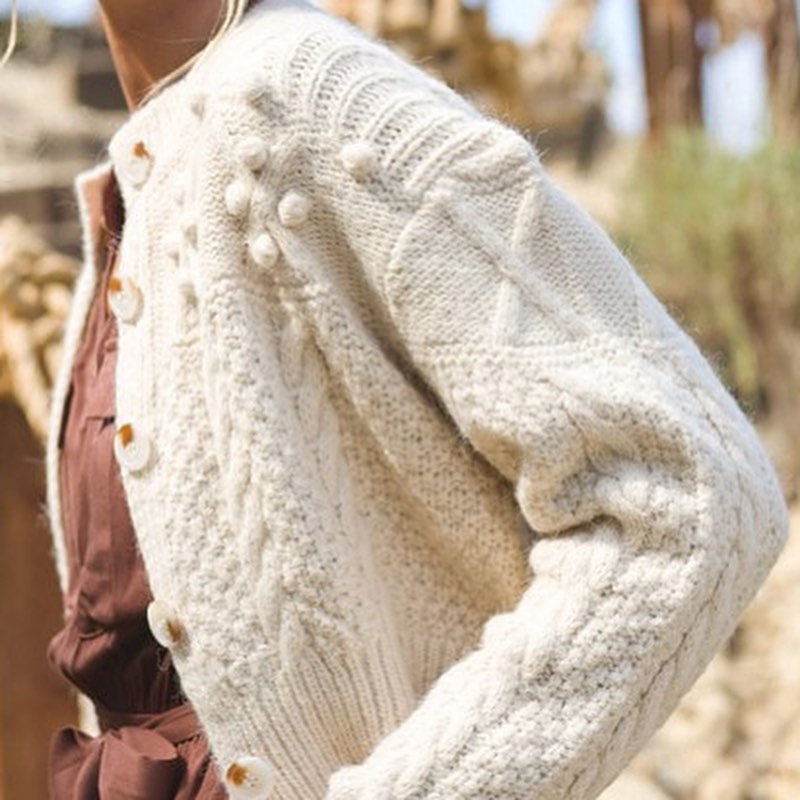 Bobbles and pom-pom sweater textures are a popular trend this fall. And this is a fashionable update on the classic Arran sweaters from Ireland and Scotland. Stone colored wool matches with everything, and this cropped cardi will be perfect with a short, tartan skirt and combat boots or indigo, wide-leg jeans. It's shorter length means it will also look great over a dress, without hiding your shape or the cut of the dress.
3. Sexy & stylish collared ribbed sweater in soft honey shade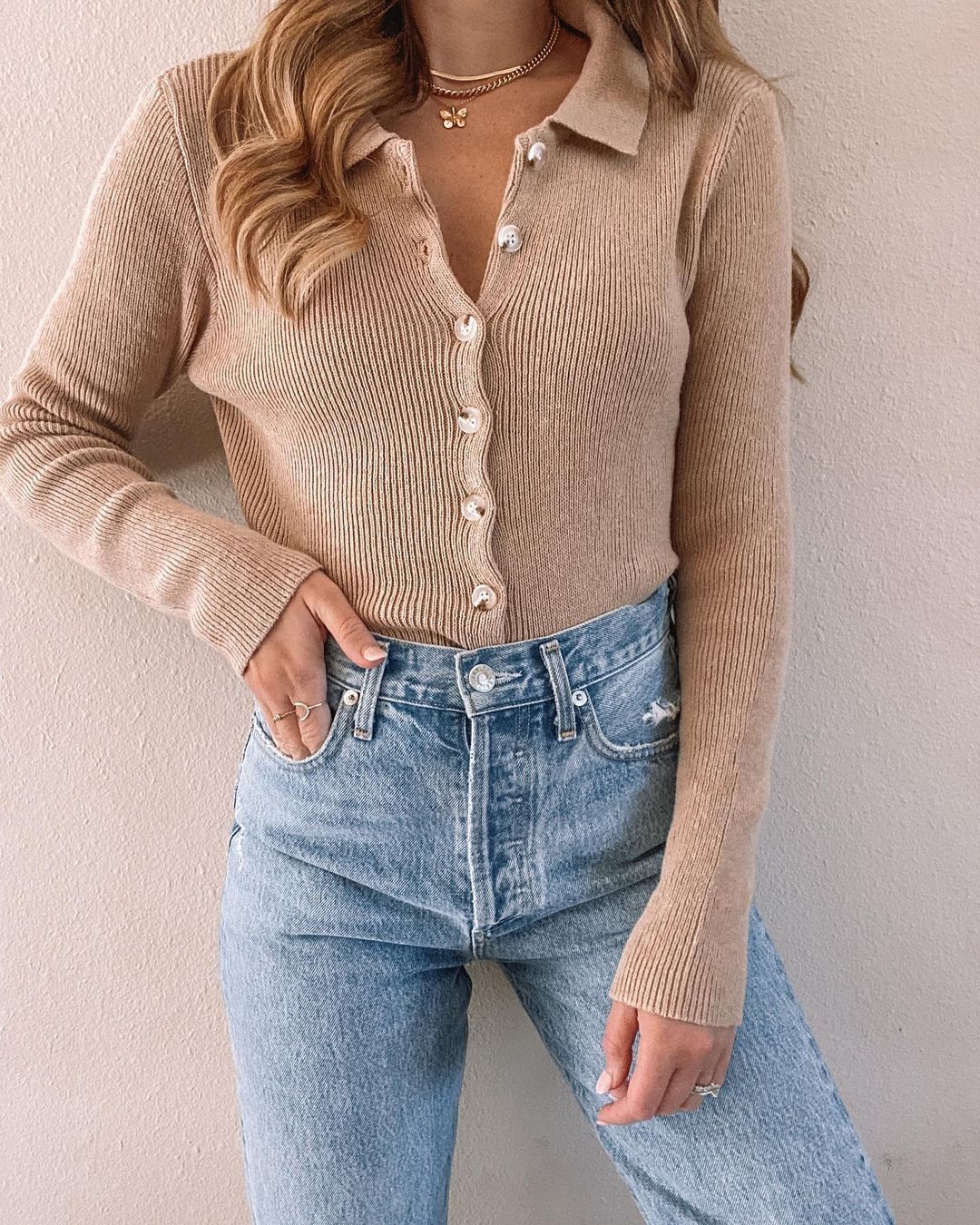 You can be warm and cosy and sexy with a softly ribbed sweater like this lovely honey colored item! The open collar allows you to create an attractive V-neck and dress it up with some pretty jewellery. Wear with light-wash, wide-leg jeans, to get a very appealing color match. And tucked in to high-waist jeans or a tartan skirt, and worn with ankle boots adds lots of personal style.
4. Stunning ribbed white sweater with V-neck plus indigo jeans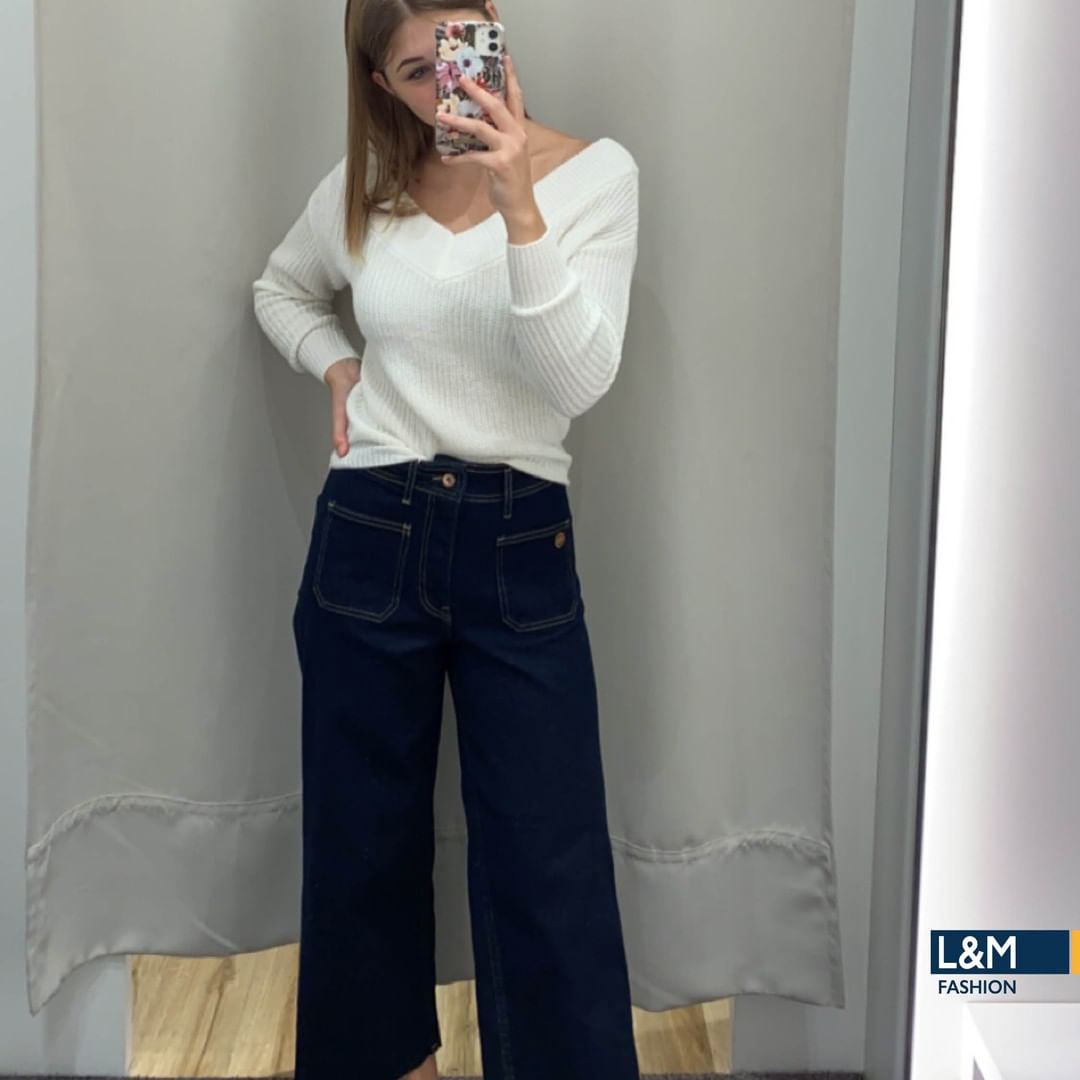 Here's a very classy, ribbed V-necked white sweater that looks fabulous tucked-in lightly to wide-leg, indigo blue jeans. Indigo and white look really clean and the flat, square, pocket detail on these jeans adds a ton of extra flair to a simple, yet stunning, sweater outfit. This outfit shows how to wear wide-legs correctly, and that is without a lot of extra fancy pattern and jewellery added!
5.Vintage 70′ Boho sweater outfit in burnt-orange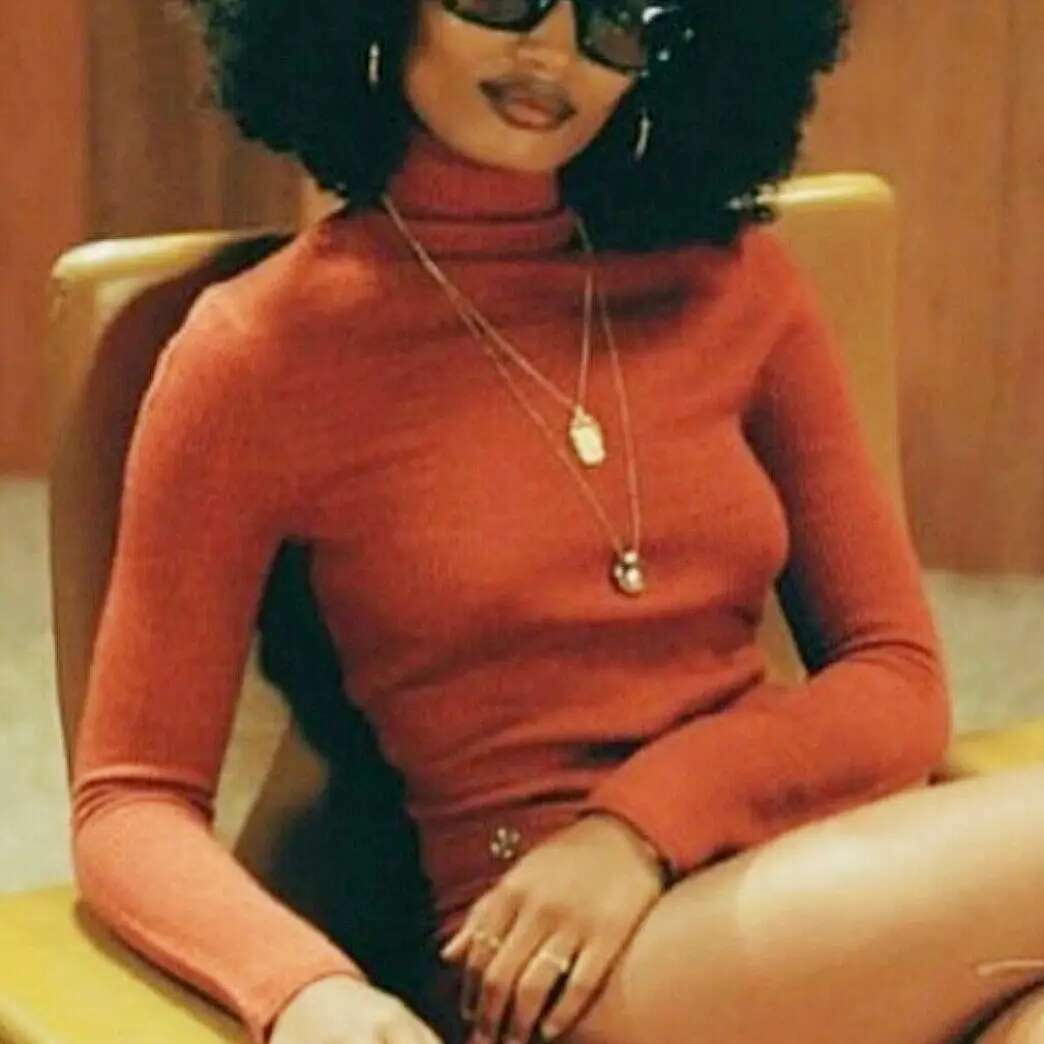 This is a sophisticated look that makes the most of a small chest, by the way! It's inspired by 70's style and gives a touch of Boho chic, with burnt orange matched beautifully with close-fitting camel pants. They were called, 'ski-pants' in the 70's, before leggings and skinny jeans hit the scene. The soft, polo-neck is very cosy and pretty pendant necklaces dress up this trendy, flattering look you can wear for evenings out.
6. Camel textured sweater with black jeans with waist darts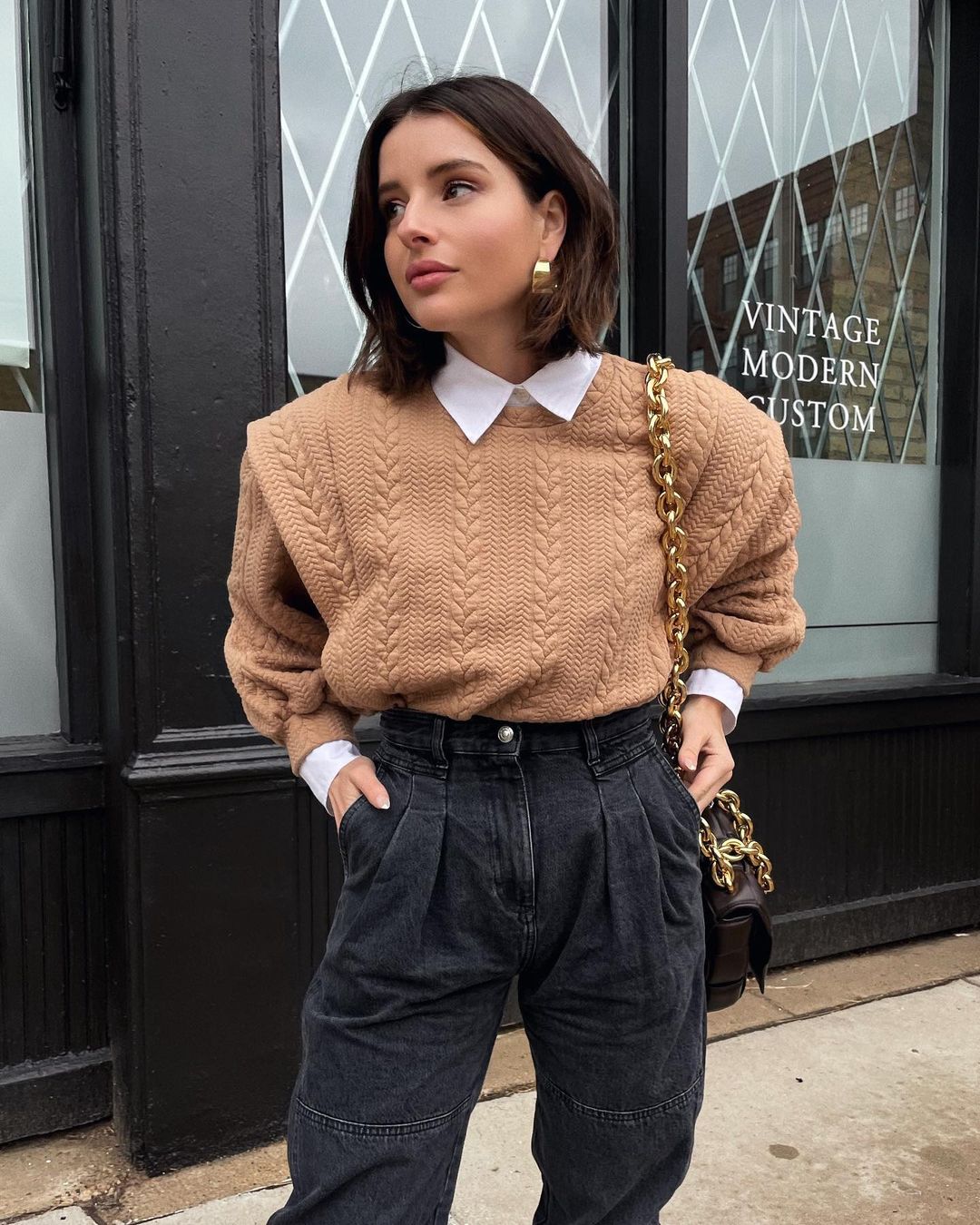 This is a fantastic tan textured sweater that's perfect to wear with black-denim, high-waist baggy jeans. The cable pattern and dropped shoulder features make it truly original. And the waist-darts and extra seams on the black jeans are full of personality! Wear over a white or cream shirt and show the collar and cuffs. And ring the changes with a forest-green or plum shirt that also look great with tan. Accessorize with a giant-chain shoulder bag in brown and ankle boots.
7. Fine-knit loose-fit polo sweater with horizontal stripe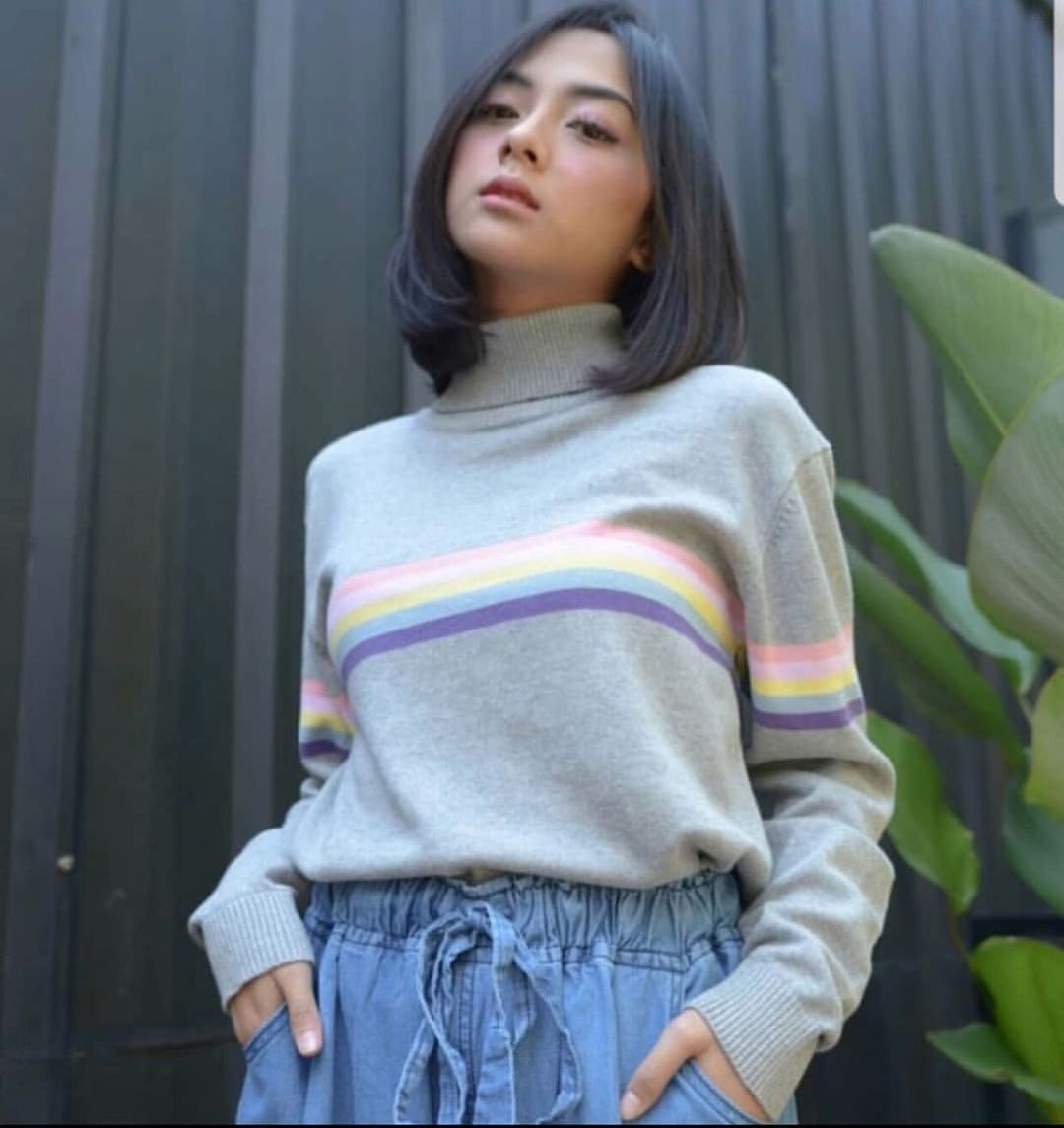 Perfect for work, school and leisure wear, this cool blue sweater from Stradivarius has horizontal rainbow stripes across the front that continue onto the sleeves in a new pattern. It's a great sweater to wear with paper-bag waist jeans for a nicely balanced shape that emphasizes a neat waist. And tucked into a matching pleated skirt, it will create a preppy look you can finish off with ankle boots or penny loafers/brogues.  
Here's a clever cut-out style that will keep you warm whilst still allowing you to show a little, sexy cleavage. It's a neutral greige color that will match with a plaid mini-skirt or look super with light-wash, wide-leg jeans and a trendy button fly. This outfit looks great when completed with a fedora hat, short boots and maybe a brightly colored bag for a flash of color!
9. Milk-chocolate brown textured sweater with cream cropped jeans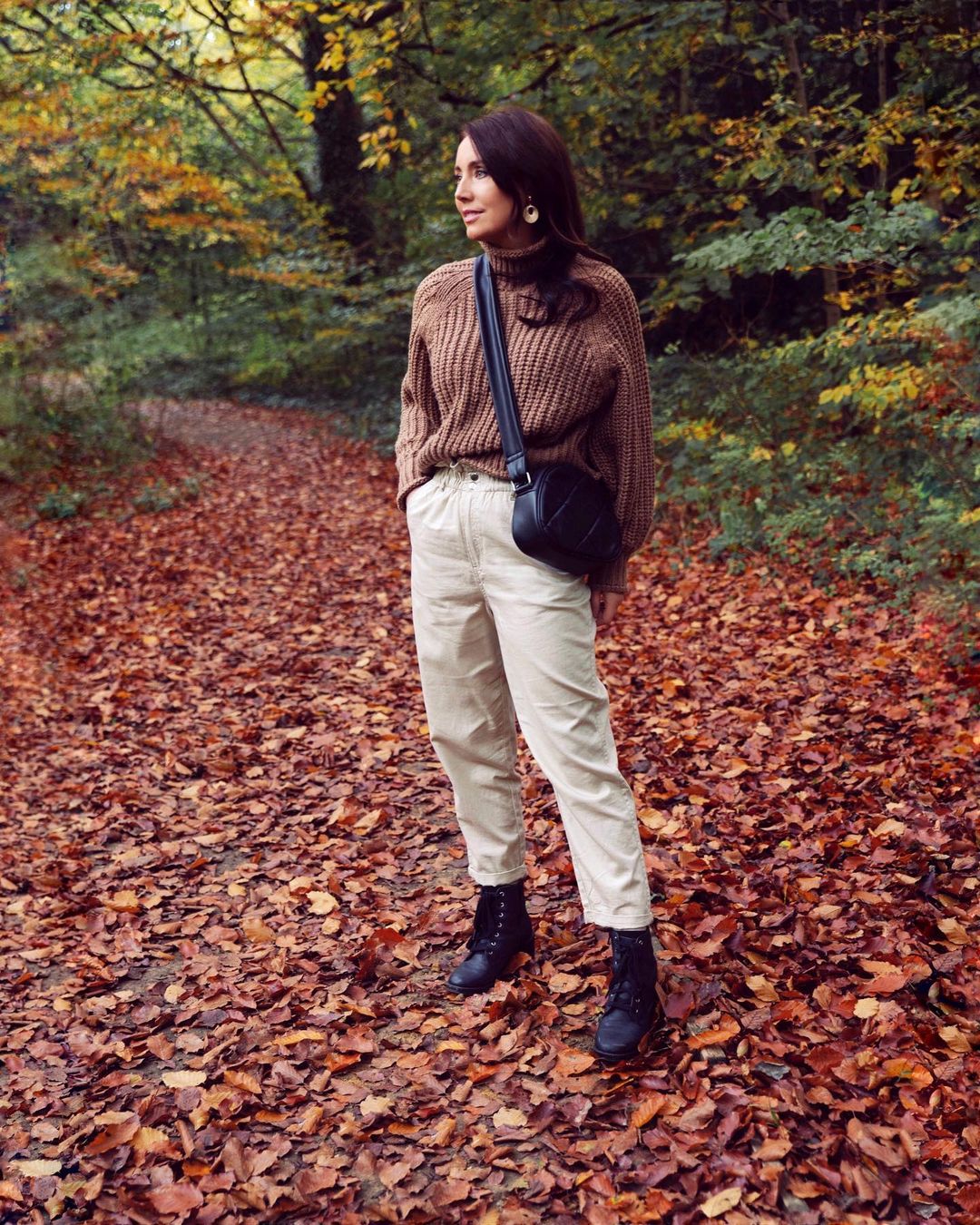 If you're not ready for wearing a jacket whenever you go outside, wear a thick, textured baggy jumper. This look is perfect for long walks in the countryside and is as practical as it is elegant and fashionable! The soft milk-chocolate color looks fabulous with cream, cropped narrow leg jeans. And tucked in loosely to gathered waist creates a nice shapely silhouette, without you being swamped in wool. Just add combat boots and get out into Nature!
10. Vintage 90's waffle-textured cream sweater over shirt
This easy to wear, cream H & M Vintage 90's sweater fits in perfectly with the cropped sweater trend for fall. Wear it over a white or cream blouse, with the collar showing. It's part of the Dark Academia style and looks great when matched with a plaid or checked skirt, or over a dress to make it look like a skirt and sweater outfit.
12. Cute cream 'bobble' sweater with fedora and matching boots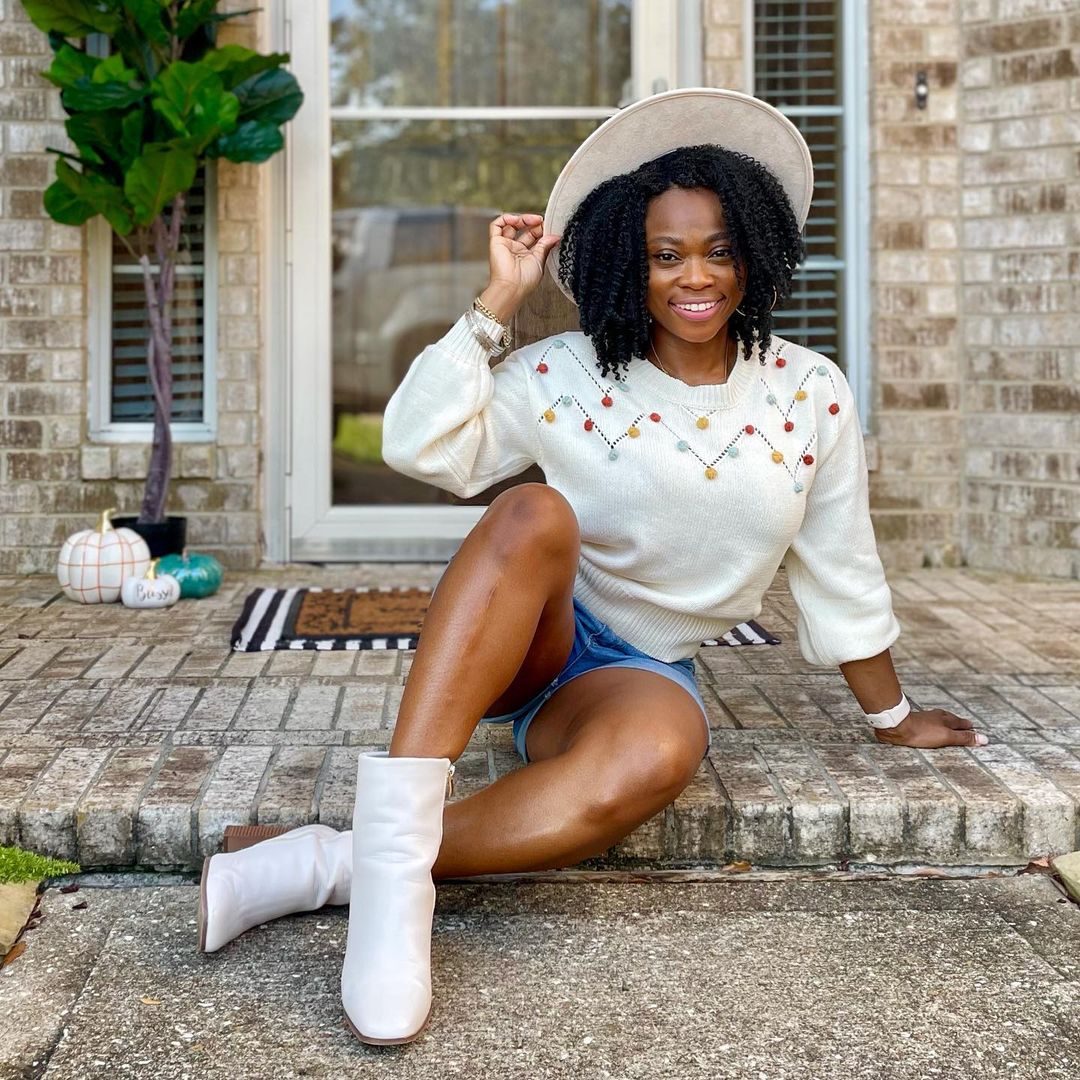 With a cream fedora hat, this flattering light sweater from boutiqueivory is a great choice for autumn wear in places where it's still warm in early and mid fall. Wear with shorts and sexy white short boots. And as the weather gets colder, you can substitute wide-leg jeans for summery shorts and add a plain colored scarf worn around the neck.
13. Ivory cropped sweater with red & black stripes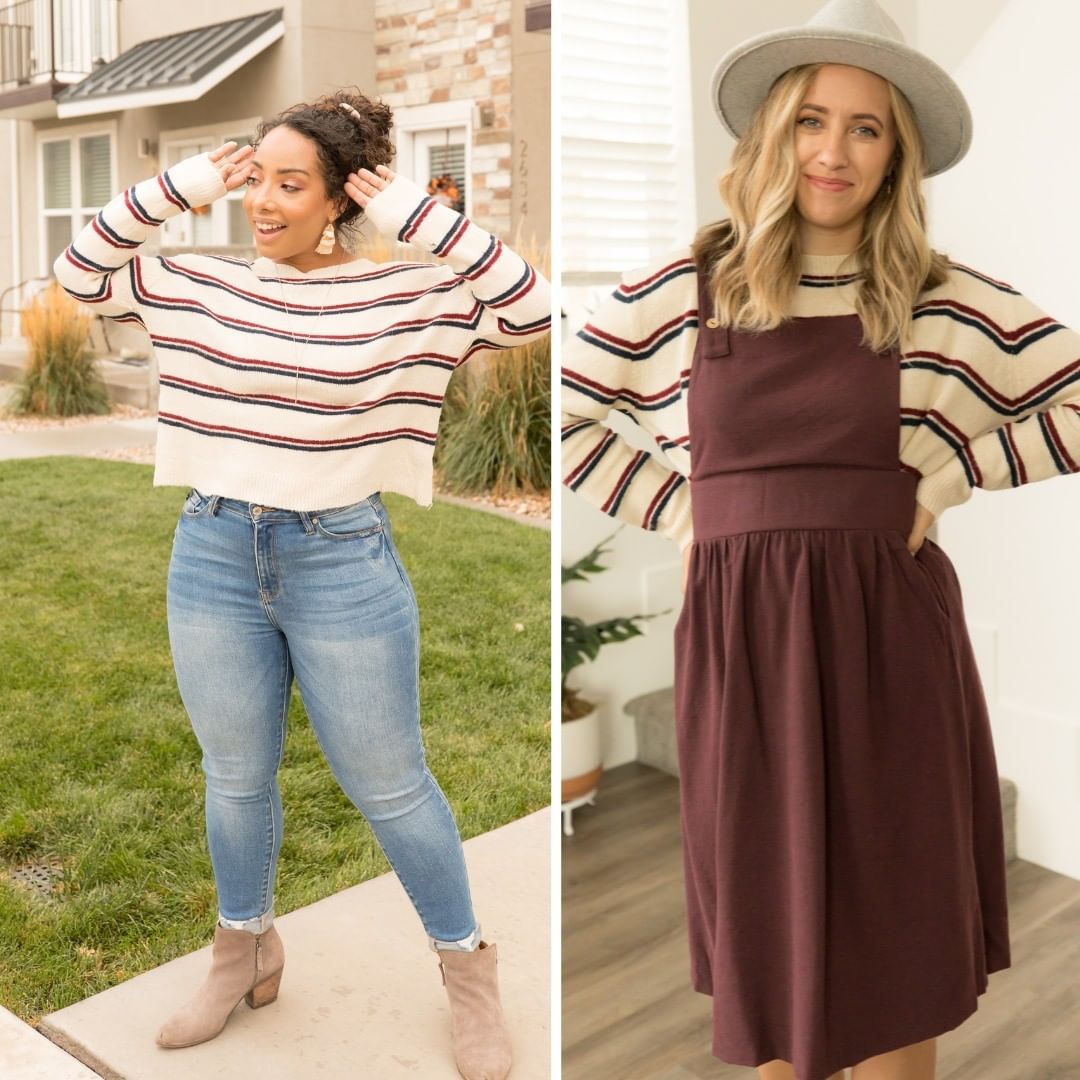 This ivory sweater with deep red and black horizontal stripe keeps you warm without looking dark in fall. There'll be plenty of time to wear black and dark colors in winter! The cropped shape is highly fashionable and looks equally good with jeans, or slipped under a plum pinafore dress. Wear with beige ankle boots for super fall style.
14. Heavy-knit gray baggy sweater with baggy PVC pants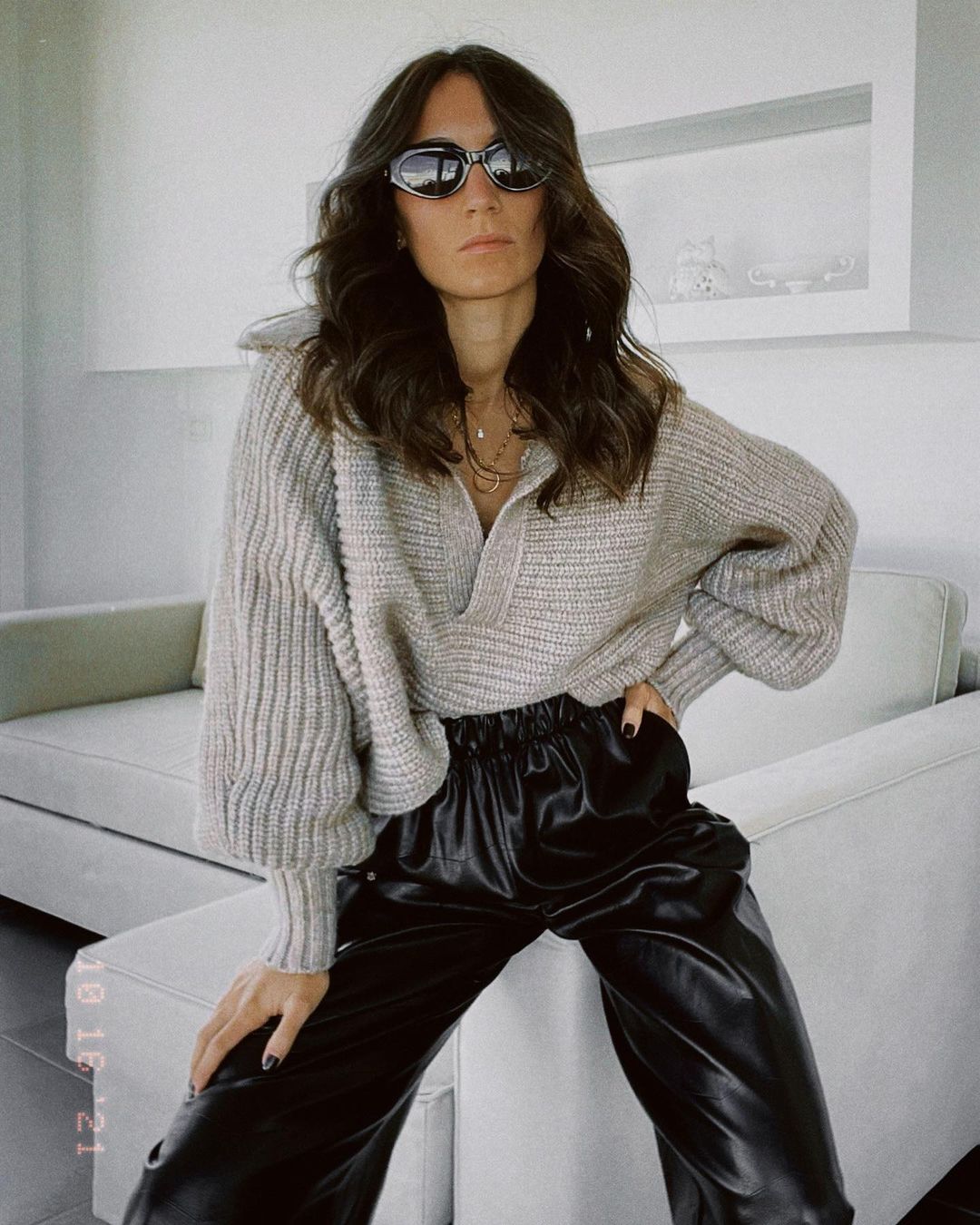 Here's a very popular, over-size heavy-knit sweater from Zara with V-necked placket detail at front. The baggy sleeves are bat-wing style and you get an attractive V-neck effect at the front. Worn here with lots of attitude and some very trendy, baggy leather pants with a gathered waist it's a fabulous outfit for fall fashion wear!
15. Short oatmeal sweater with diamond texture & ribbed neck
And here's another lovely sweater you can wear with fabulous leather trousers or plaid/checked skirts to make a great going-out outfit for fall. The neutral color and diamond texture detail complete a very chic look with trendy leather pants and heavy boots. And, buying neutral sweaters now, means you'll be able to wear them with the latest brown, plum, purple and cream checked 'shackets' that are the next high-fashion layer for us to put on as winter approaches!
15. Fall colors sweater with ragged cropped jeans and white sneakers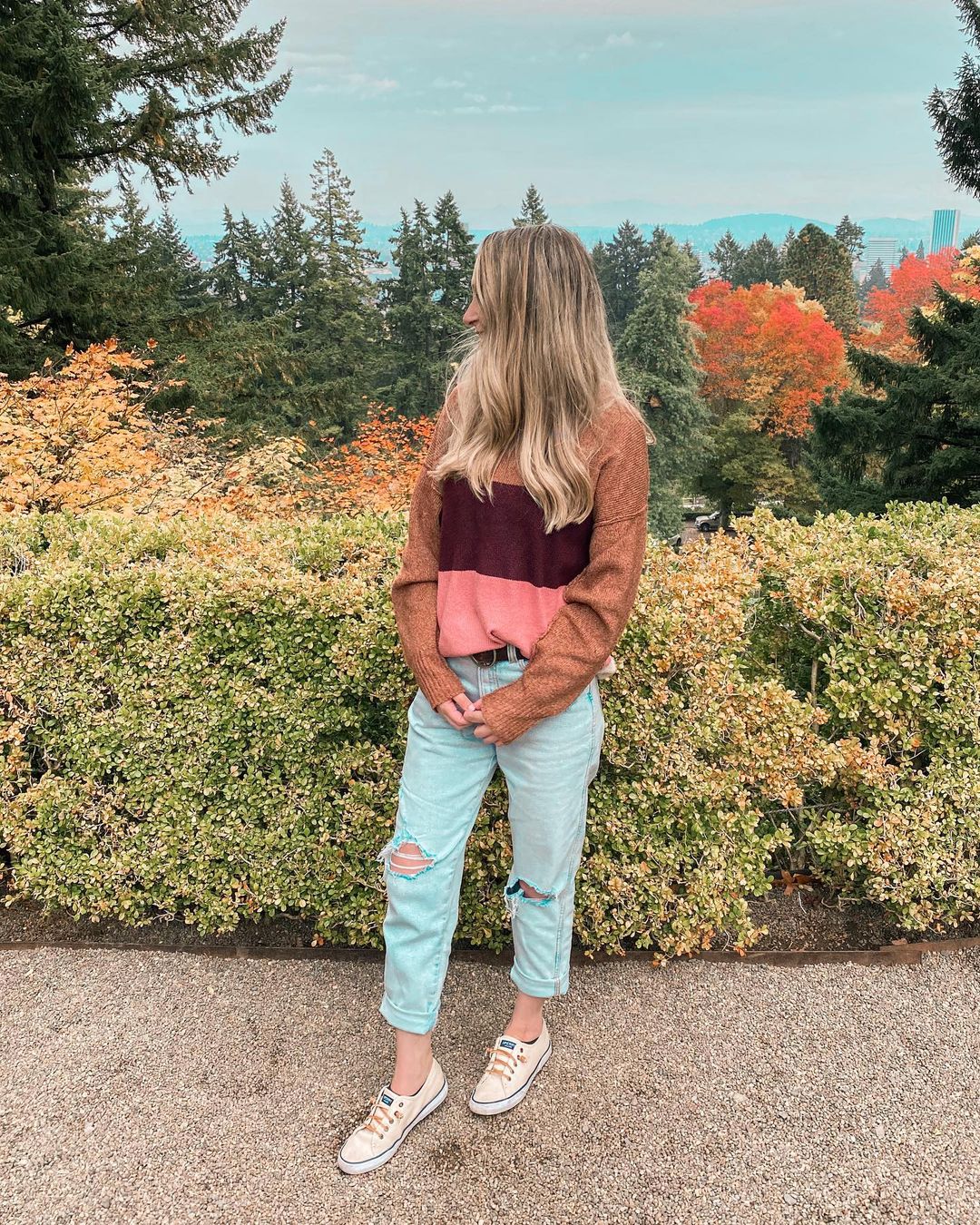 This must be one of the most well-co-ordinated early fall outfits I've seen this year. It combines the summery vibe of aqua cropped jeans with the beautiful colors of autumnal Nature! The color blocks on the sweater are warm and comforting, and will still look great throughout the winter. And to keep it looking this good for months to come, you can add different stylish belts, brogues/ankle boots and darker trousers!
15. Super-trendy deconstructed sweater with rose print & cutouts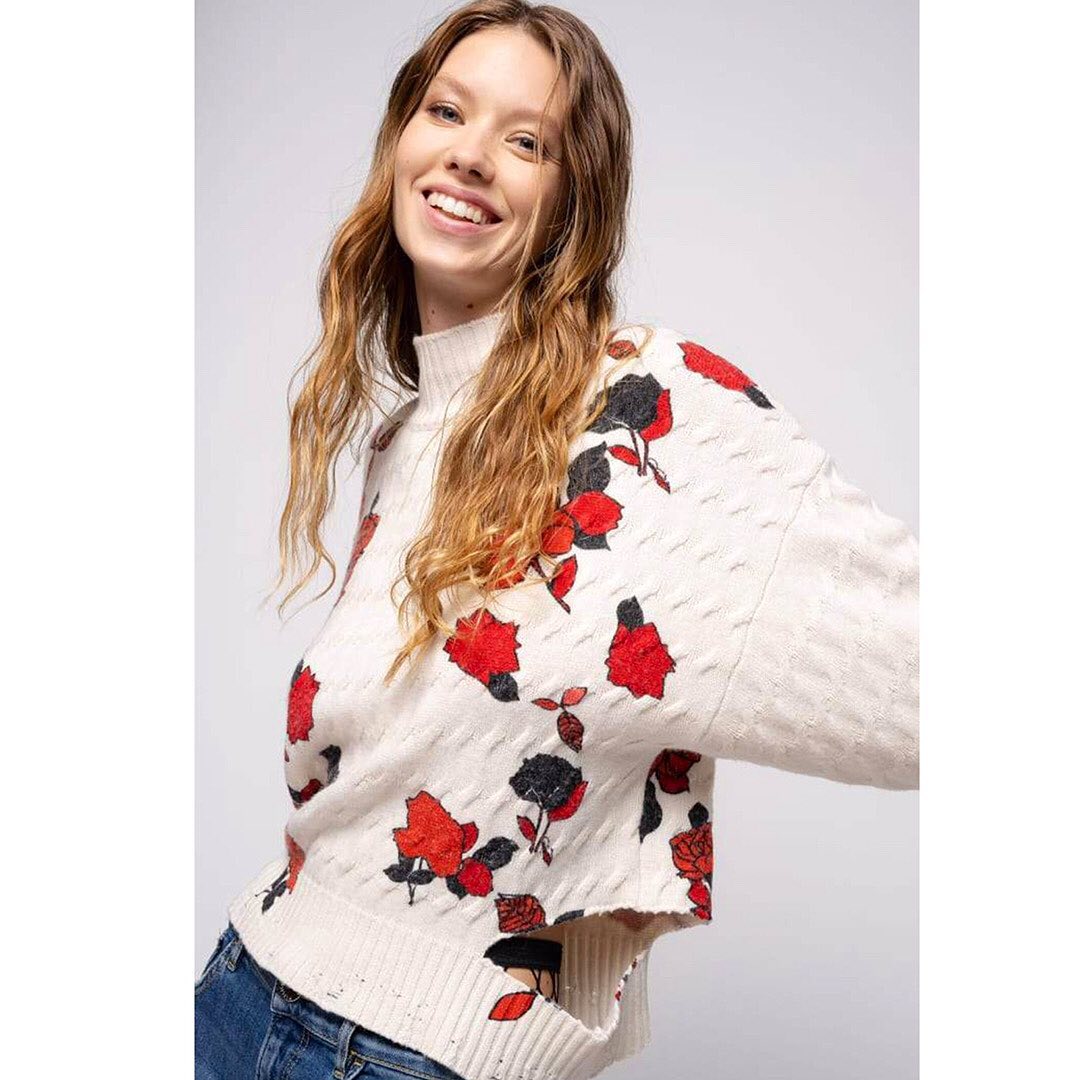 I know lots of you are going to love this new idea of deconstructed sweaters that's going to be huge this fall-winter season. And to get you acquainted with the new look, here's an ivory-white, turtle-neck sweater with printed red roses! And to add to the edgy excitement this brings to your wardrobe, it's also a 'cut-out' style. One side is open as if ripped and there's some distressing on the bottom rib. Note the wide-mesh, fish-net tights showing around the waist. These look great under ripped jeans and keep your legs nice and warm, too!
So I hope you've found plenty of new ideas for your fall wardrobe from these warm and highly stylish new sweater trends and outfit ideas. And as we have so many readers from the northern and southern hemispheres, I hope you've all found something here that suits whatever weather you're experiencing right now! 🙂
Sweater styling FAQ's for fall
1. Are sweaters just for wearing with jeans and dress trousers?
No. They can be worn with all of your plaid and check mini-skirts with brogues, heavy combat boots and ankle boots. For office and leisure wear, a fine-knit sweater will look great with a midi-length pencil skirt and create a very nice silhouette.
And this looks great with low-heeled court shoes/loafers for a smarter look. In addition, it's now fashionable to wear your summer dresses with a sweater on top, so you get plenty of wear out of all your summer wardrobe.
2. What's my best sweater buy for a co-ordinated fall-winter wardrobe?
This is a great question for all of us who have ever found themselves with a lot of lovely new clothes,which we then can't match to what we already have in our wardrobe!
Shackets are a huge, new trend for this year. And as a combo garment inspired by the checked shirt and jacket, it's set to be the trendy woman's choice to wear open, over a sweater.
Then plan your sweater-buying to include neutral sweaters that will look perfect under an open shacket. Or choose your favorite winter colors from the selection of earth shades – plus purple, plum, forest-green, indigo-blue, deep red etc.
And then buy your sweaters and shackets at the same time, in a few, planned trips to the shops. That way, you'll be able to create lots of varied outfits that go together well and give you your best value for money! Instead of a having lot of lovely 'orphans' that clash – from impulse buys. LOL!