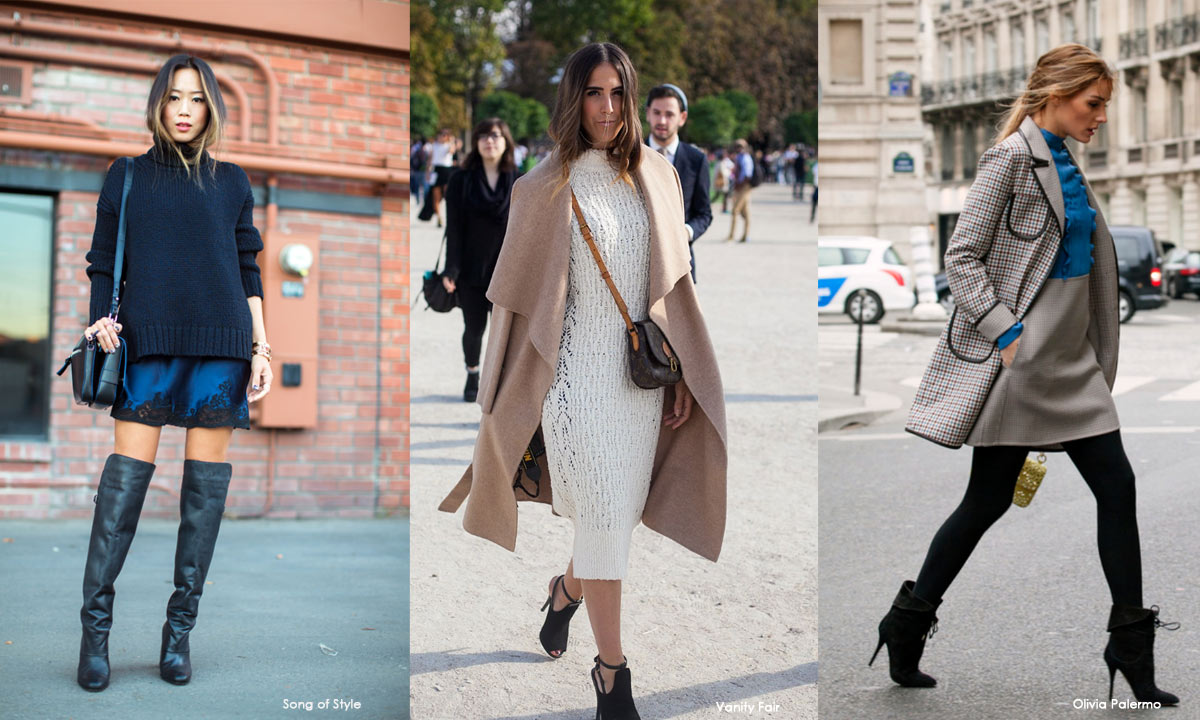 When winter arrives and the weather outside gets colder and darker, your outfit choices become much more limited. While your clothing selection is wide open in the milder months of spring, summer, and fall, the frigid winter air significantly reduces your options. Many women are especially disappointed to say goodbye to their favorite summer dresses that have been wardrobe staples for them all year long.
It seems downright wasteful to only wear a fraction of the clothes in your closet for an entire season. Instead of shoving your warm-weather dresses to the back of your closet until April, just change the way you style them. There are many different ways to create winter-worthy looks with your dresses that are stylish and keep you warm at the same time.
1. Over Tights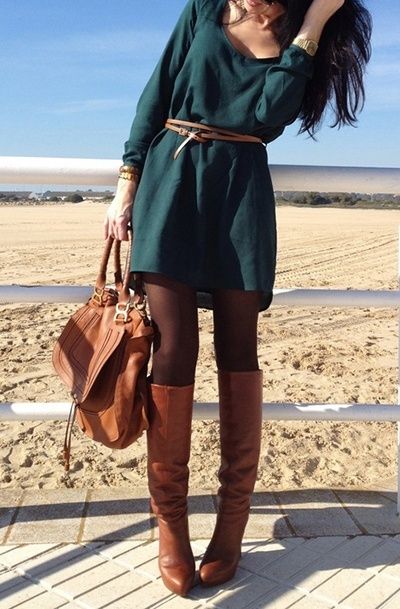 Wearing your dress over tights is one of the best way to include a summer dress in a winter outfit. Tights are textured and add subtle interest and dimension to your look to create a more put-together finish.
The possibilities are endless when it comes to tights. All you really need is a pair of plain black tights. Layer classic black tights underneath a solid or patterned dress and complete the look with boots or booties. If you want to get a little more creative, experiment with tights in different textures and patterns. Wear lace-embellished tights under your dress to give your look a delicate and feminine finish. Pair colored or patterned tights with a neutral dress to add an eye-catching focal point to your look. When it's especially cold outside, try wearing fleece-lined tights to add some extra warmth and coziness.
2. With Warm Outerwear

Pair dresses with classic winter outerwear to create an unexpected trend-conscious look that defies established seasonal style rules. You can wear your favorite summer dresses with almost any types of outerwear, including pea coats, trench coats, leather jackets, knit cardigans, and more.
Layer a classic trench coat over a fitted midi sweater dress and add heels for a trendy professional look. Pair a warm pea coat with a short, loose summer dress and balance out the bulkiness of the coat with tights and block-heeled boots. Create a feminine, city chic look by wearing a cropped leather jacket over a summer dress and open-toed stiletto booties. Stay warm with a long knit cardigan over a form-fitted dress. Maintain the cute and cozy vibe of this look with knee-high boots and visible boot socks.
3. Under a Sweater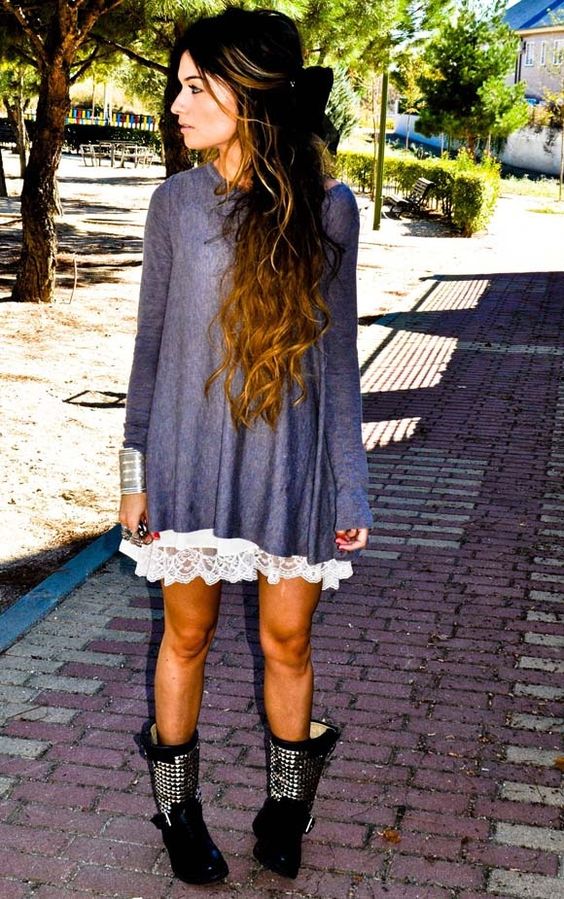 Just like dresses are a summer must-have for their style and comfort, sweaters are the quintessential cute and cozy winter wardrobe staple. If you're a fashion lover, you likely have an extensive collection of both sweaters and dresses stocked in your closet. Instead of saving these pieces for separate seasons, you can wear them together in one winter-friendly look.
Layer a sweater over a dress to create a look that is simultaneously stylish, warm, and cozy. Pair a cropped sweater with a midi or maxi dress and heeled booties. Wear a looser, drapey sweater over a shorter summer dress with tights and lace-up boots. Make sure to keep your look balanced by maintaining a contrast between your sweater and dress. Don't layer a sweater with a thick knit over a loose, textured dress to avoid a bulky look. Either your sweater or your dress should be made from a thinner material to ensure that your outfit looks smooth and not lumpy.
4. With Accessories

Pair your summer dresses with cold-weather accessories to instantly winterize them and make them comfortable and appropriate for cold weather.
Layer a solid thick knit scarf over a patterned dress and plain black tights for a stylish, balanced look that protects you against cold winter winds. Underneath a short dress, wear boots over high boot socks with lace or button adornments to add a subtle delicate, feminine finish to your look. Accentuate your shape under a loose dress and outerwear combo by cinching a wide belt around your waist.
5. Above Boots

Boots are the classic shoe choice for winter looks that include dresses. You have plenty of optionswithin the boot family for shoes to pair with your outfit.
Create a streamlined look with a fitted dress layered over black tights paired with matching black booties or lace-up boots. Wear heeled booties or booties to add flattering elevation to your outfit. Go bold with daring thigh-high boots underneath a short dress to create a cold-weather look with a city chic vibe.
6. Under Denim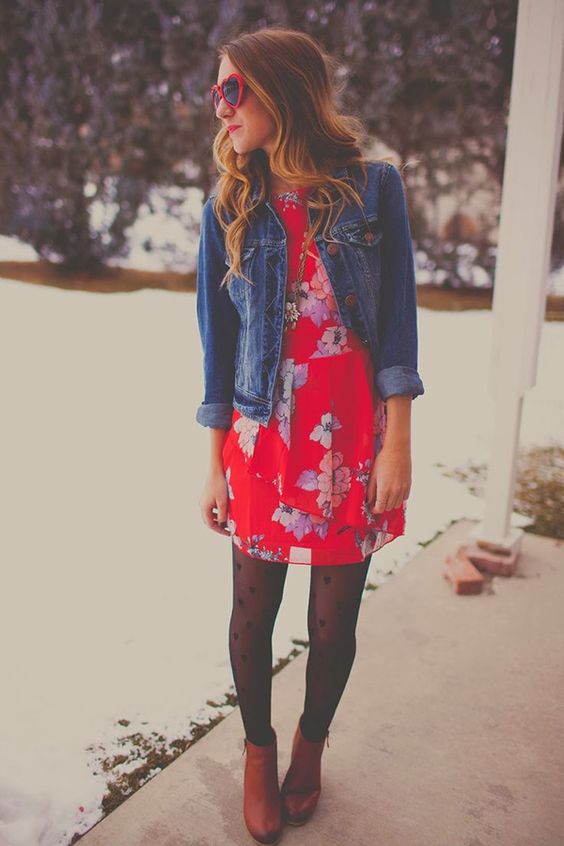 Denim jackets have a season-neutral finish that makes them the perfect complement to summer dresses in the wintertime. They'll keep you warm in cool weather but they won't ever look out of place over a sundress because they don't have the same wintry vibe that coats and cardigans do.
Pair a short, loose dress with an oversized trucker denim jacket for a casual, carefree finish. Wear a cropped denim jacket over a fitted dress to create a more streamlined look. If you have a dress with a bold or busy pattern, layer it underneath a denim jacket to offset and balance its pattern and prevent an overcrowded finish.
7. Over a Turtleneck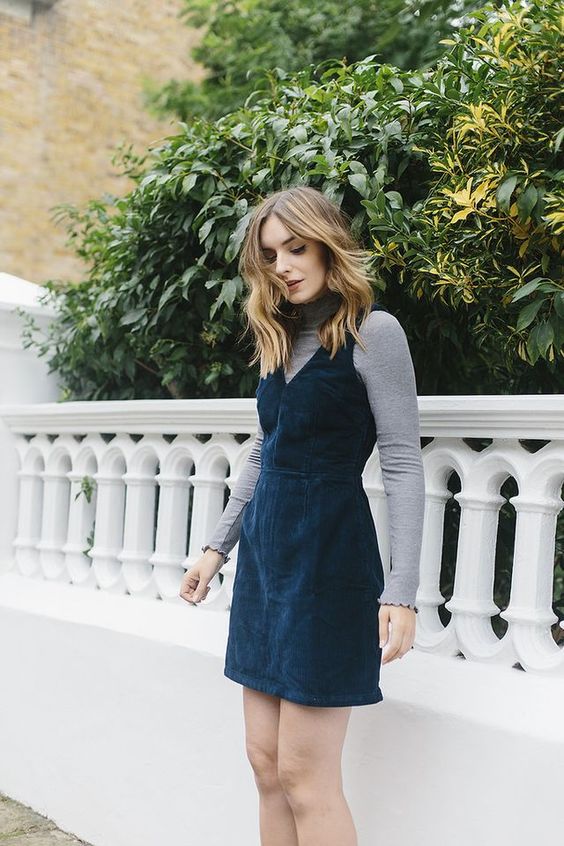 Layering is key when it comes to wearing a dress in the winter. Wearing a dress designed for warm weather under or over a warmer piece of clothing instantly transforms a summer staple into an integral part of your winter wardrobe. It can be tricky to try to layer a dress over another piece to create a look that is warm and looks stylish and streamlined at the same time.
Try layering a sleeveless summer dress over a turtleneck for a trendy and whimsical look that still protects against cold weather. Avoid turtlenecks that are made from thicker knit material; these can look bulky under a dress. Opt for turtlenecks of thinner material instead for a smoother finish. For a variation of this look, wear your dress over a long-sleeved top with a looser cowl neck style. This choice works well with dresses that have a lower neckline. Pair your layered combo with tights and booties to keep the look balanced.
Stop leaving your dresses behind when winter hits. As long as you style them right, dresses are pieces you can wear no matter what time of year it is without sacrificing style or comfort.