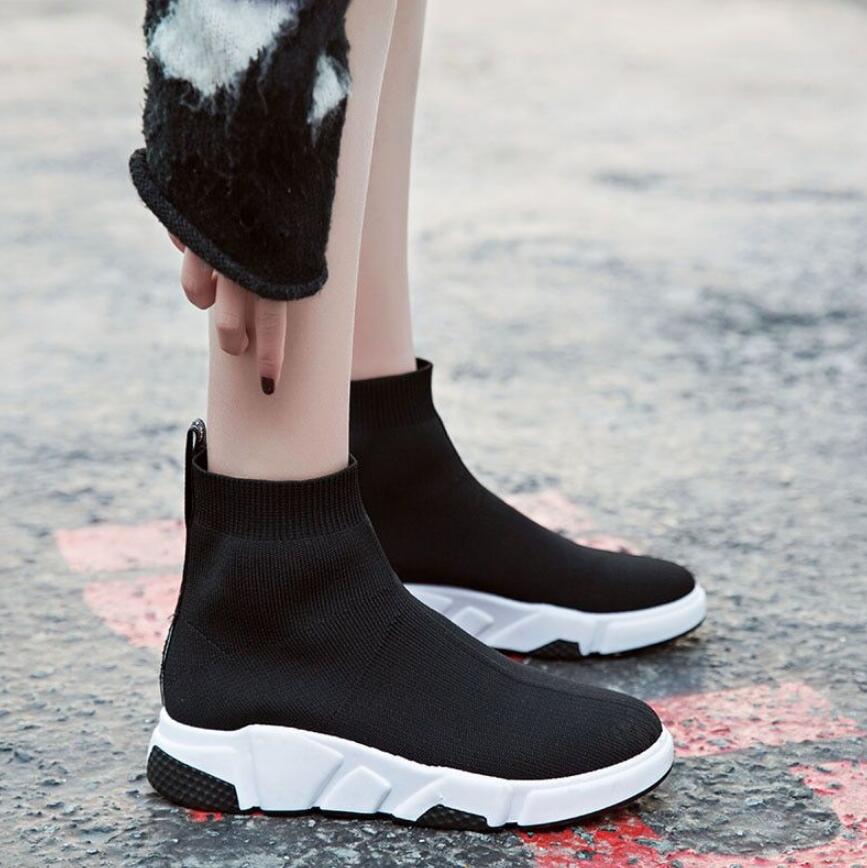 I'd love to know who actually invented contemporary sock sneakers! They're innovative, comfy, extremely cool and the most imaginative new footwear we've seen for years!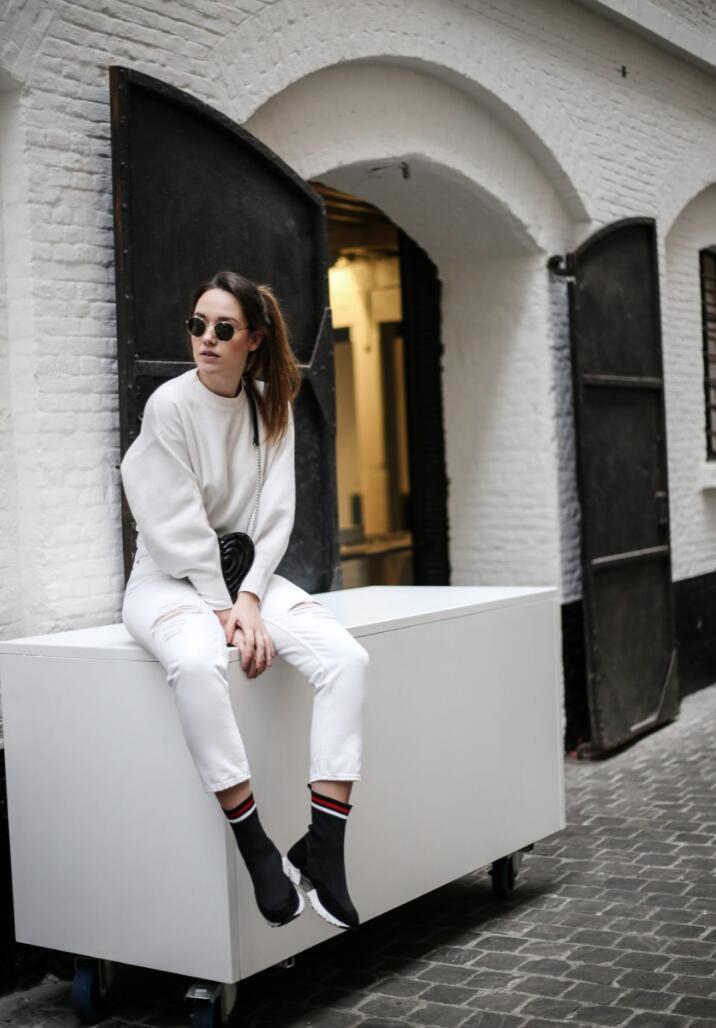 So you'll love checking-out this amazing mix of designer sock sneakers from Nike, Adidas and Balenciaga – as well as plenty of affordable sock-sneakers from equally trendy brands!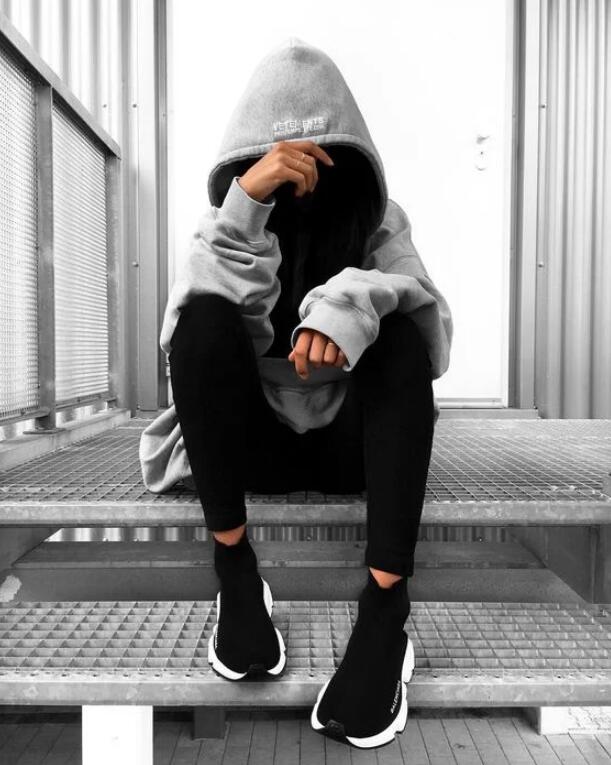 What are sock sneakers?
If you haven't seen the folks around you wearing sock sneakers yet, they're a fabulous hybrid of knitted socks and sneakers.
High-fashion sock-sneakers are made from stretchy, knitted fabric that wicks away sweat, so your feet stay at a comfortable temperature in all weathers.
And unlike the sock-slippers you may have worn at home in winter, sock-sneakers have durable soles for normal street-wear.
When did sock-sneakers start?
Sock-sneakers burst onto the mainstream fashion scene in 2016, when Balenciaga sprang them onto an adoring clientele.
And they caught on fast with young people who can't get enough of weird, but practical, fashion-forward styles!
In addition, one of the major benefits of choosing sock-sneakers, apart from looking super-cool, is that they are totally vegan footwear.
All of these sock-sneakers are made from sustainable materials, like Primeknit and Flyknit, which are cruelty-free and totally eco-friendly.
Who's wearing sock-sneakers this year?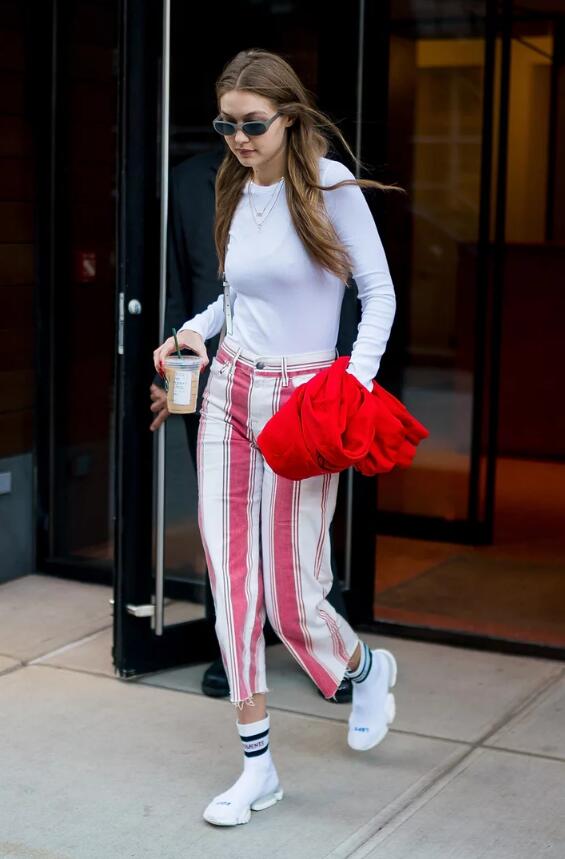 They're adorning the feet of celebs, designers and fashion buyers in front-row audiences at the London, Paris and New York fashion shows!
And sock-sneakers are all over Instagram thanks to trendy media influencers, because the look varies to suit everyone's favorite fashion aesthetic.
So sock-sneakers can be chic, sophisticated, Gothic, grungy, cottage-core, e-girl, techwear, vintage,Y2K with a contemporary twist or whatever you like!
Best sock-sneakers right now?
The number of brands producing their version of the sock-sneaker is incredibly wide right now, so to save your valuable time I've selected the Top 26 Sock-sneakers tipped to be best-sellers this year!
Prices and overall look vary, but the quality, comfort and fashion relevance is all there for each and every pair! So dive in now and choose your fabulously trend-setting, new shoes.
Trendiest Sock-Sneakers for all Budgets!
1. Balenciaga Speed 2.0 Sock-style Sneakers
Recommended for: Give any casual look a high-fashion lift and enjoy a super-fresh twist
SHOP FROM FARFETCH
If you're already a veteran sneaker-wearer, this is the fashion experts pick of the, 'perfect upgrade'.
It follows on from Balenciaga's incredible, worldwide sales of the Balenciaga Speed Lace-up, sock-sneaker and is going to be huge this year.
The Speed 2.0 sock-sneaker is made of the same Technical 3-D knit and sock-style construction as Balenciaga's original sock-sneakers.
However, this version has an articulated, molded sole that offers enhanced flexibility on top of its original strength!
2. Balmain B-Bold High-top Sneakers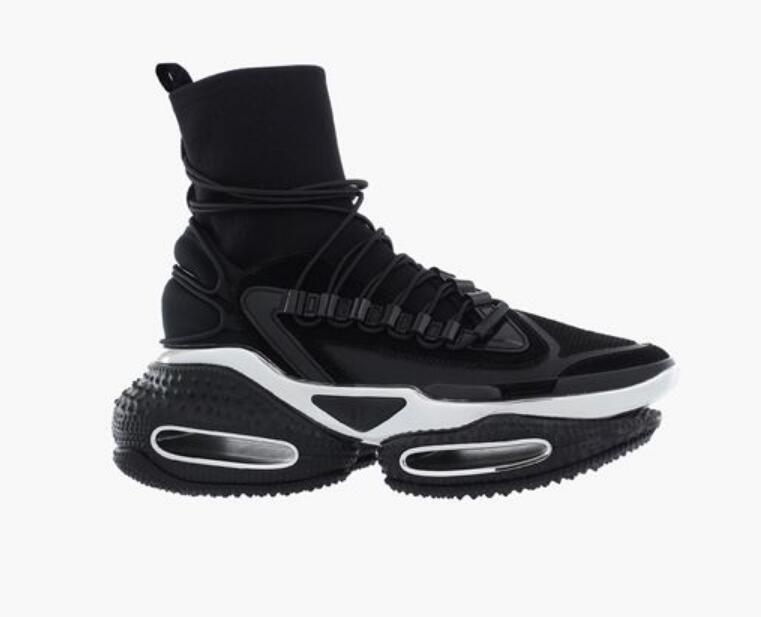 Recommended for: A fun look in glorious teal-blue covered in glitter for grabbing everyone's attention
SHOP FROM FARFETCH
This high-end, high-top sock-sneaker style has wonderfully comfy air-cushions to cradle and support your feet as you move around.
The B-Bold's chunky sole is flexible and bouncy, so you can enjoy comfort, strength and trendy fashion styling for any event.
And if teal isn't the right color for you, you can also get this gorgeous fashion footwear in practical, smart black!
3. Balenciaga Speed Pull-On Sneakers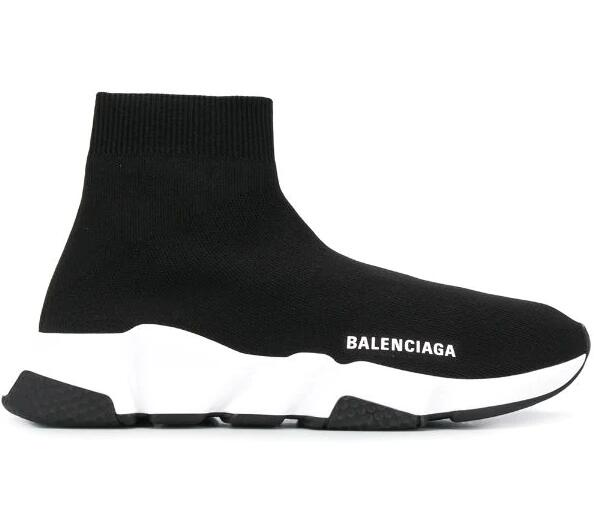 Recommended for: Everything – it's the most copied version of the original sock-sneaker around the whole world
SHOP FROM FARFETCH
These are the gorgeous, first sock-sneakers that broke into the fashion world and introduced a fresh form of footwear to avid fashion fans.
So Speed Pull-On Sneakers are an excellent investment, featuring the label's iconic shape with the addition of a thicker ankle-cuff.
This gives extra comfort and ankle-support, along with lovely, soft memory-foam material that encapsulates your feet.
As the name suggests, these are easy-wear, pull-on sneakers with an attractive almond-toe, ribbed cuffs, a prestigious logo and a practical, thick, rubber sole.
If you love an extrovert look, buy the neon-pink version to wear with your Y2K or Korean fashion clothing!
4. Zara Sock-Style High Top Sneakers (Black)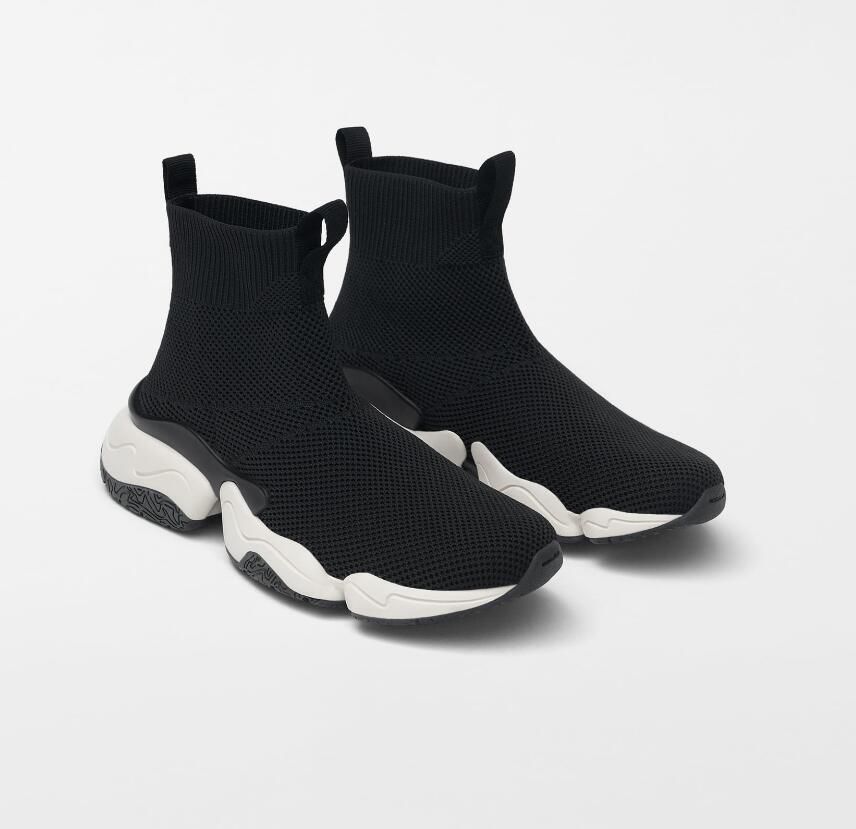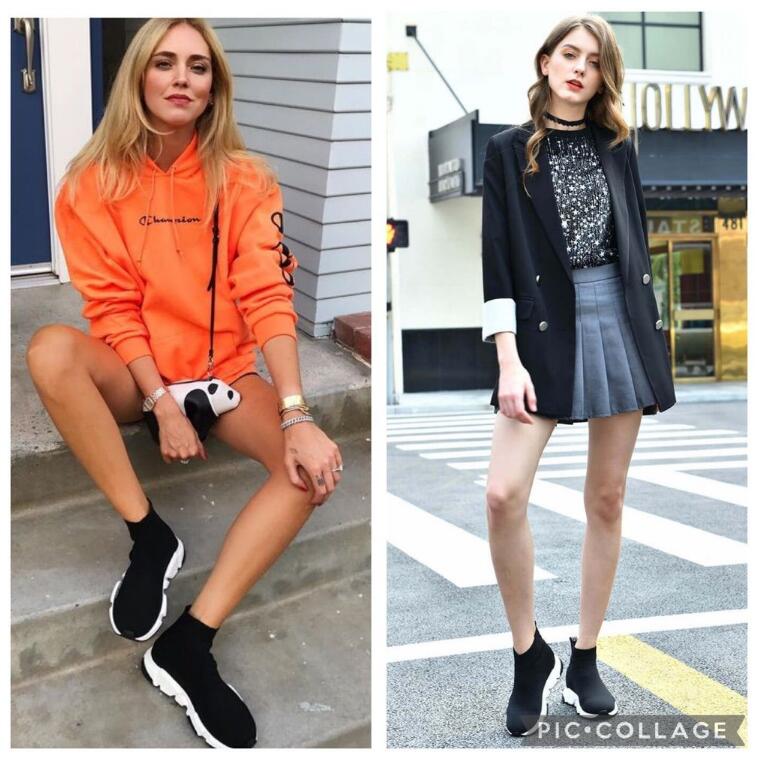 Recommended for: Affordable price and contrasting colors, which will match various outfits and styles
SHOP FROM ZARA
These are highly fashionable, lightweight sneakers that have a mix of brown, black and white in them. And the funky square pattern on the back looks fab with Y2K fashion clothing.
The stretchy upper is made from shimmering fabric and the cushioned sole is very comfortable in wear.
These sneakers are breathable, so excess sweat is wicked away to keep your feet at the correct temperature.
5. Kurt Geiger London – Lettie Knit Sock Sneakers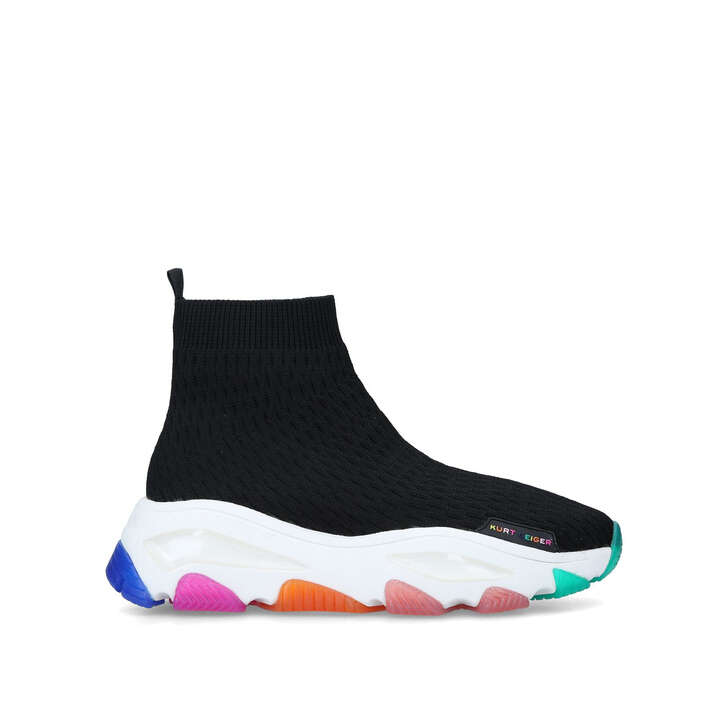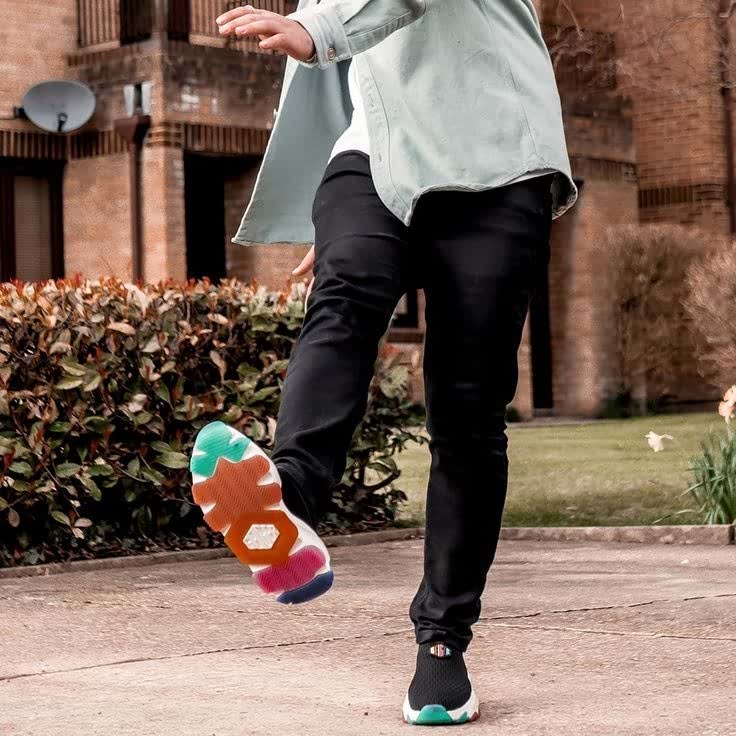 Recommended for: Chunky soles and a rainbow color vibe make this a youthful, contemporary sneaker
SHOP FROM HARRODS
Modern rainbow tones represent unity in the modern fashion world, so these give off a lovely, eco-conscious, inclusive vibe.
The chunky soles have multi-colored inserts, which highlight the unifying values Kurt Geiger of London represents.
This knitted footwear confers an off-duty style blended in with luxury-sporty appeal, adding cutting-edge variety to your footwear wardrobe.
This is a fashion-forward sock-sneaker with a trendy, chunky silhouette and a fresh style. With a black-sock upper and fun branding you'll love wearing the Lettie Sock-sneaker.
6. Rick Owens X Veja Sock Runner Sneakers in Black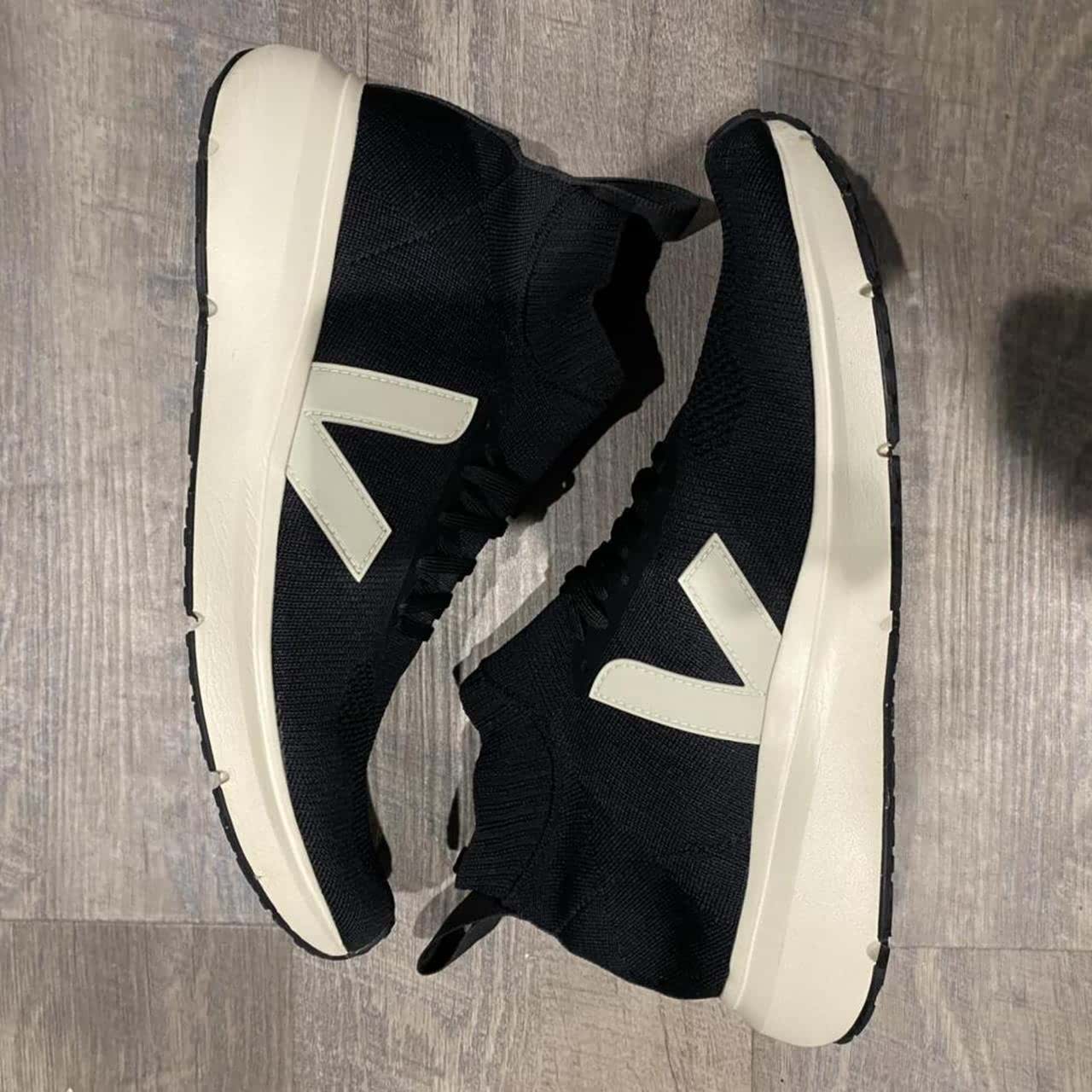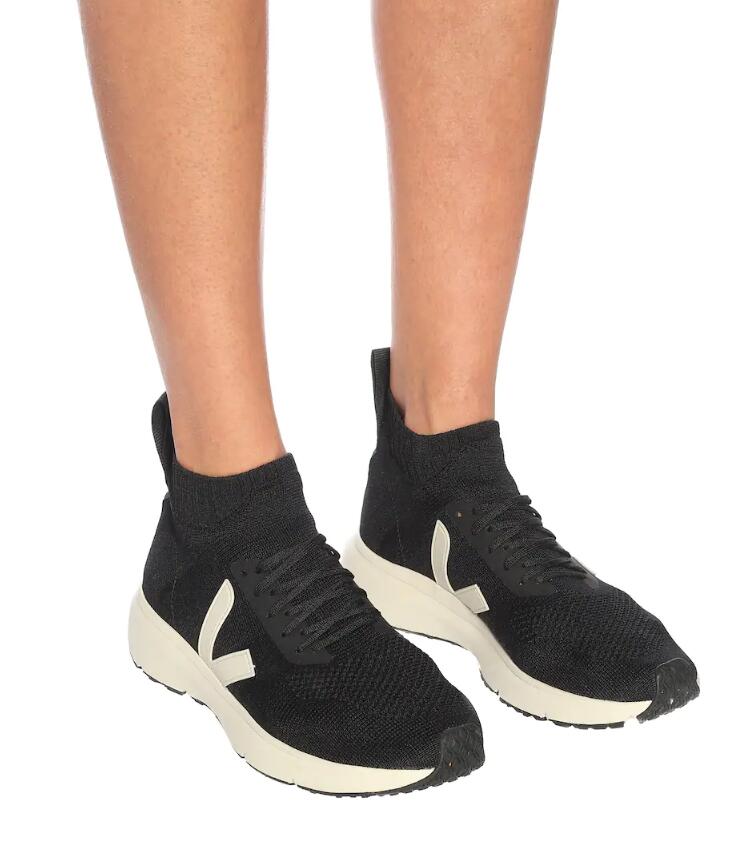 Recommended for: Running in comfort and trendy style
SHOP FROM LN-CC
Designed for comfort whilst running, the mesh paneling and supportive, sock-style ankles will keep your feet happy and dry on the road or running machine.
As a low-top, sock-sneaker for running, these sneakers are made from synthetic, mesh-knit woven material with open-mesh detailing, laces and a flexible, rubber sole.
And as you run, you'll love showing off the attractive Rick Owens' style in eco-friendly, Veja sneakers!
7. Reebok DMX Trail Hydrex Marathon Running Sock Sneakers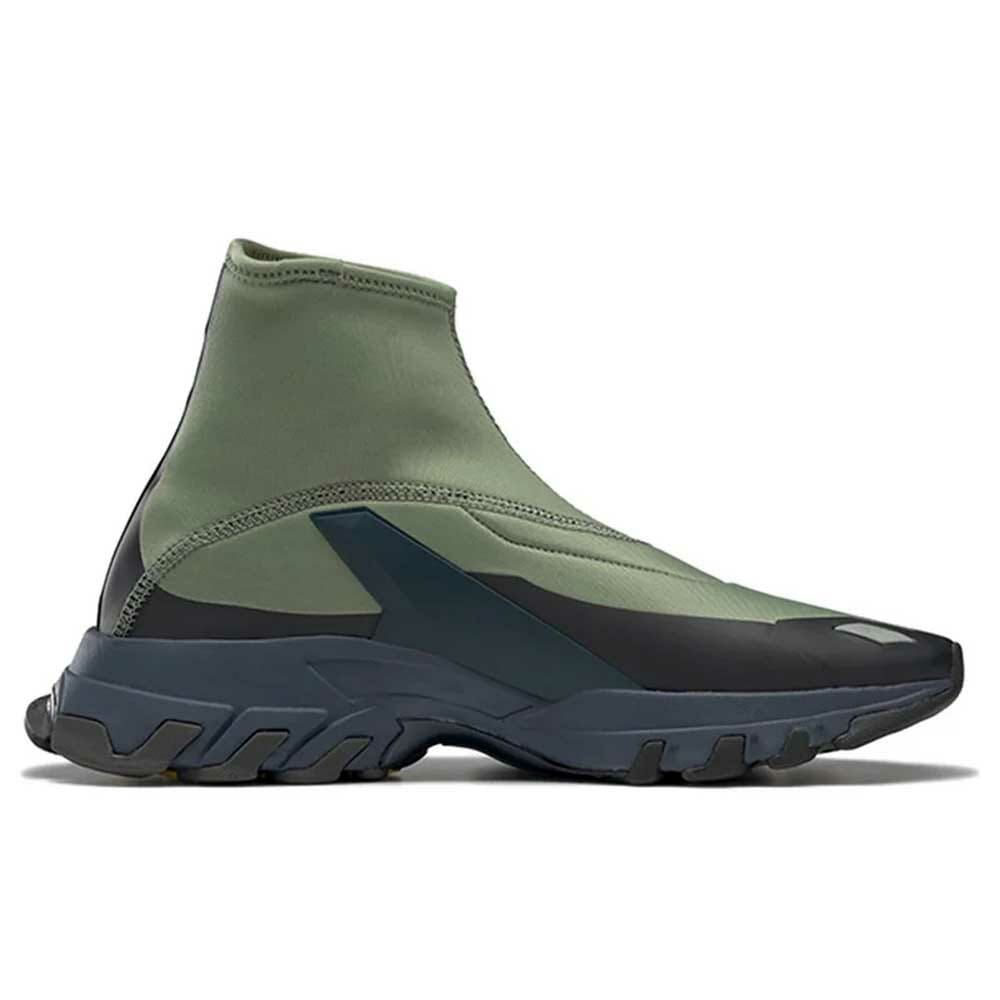 Recommended for: Specially designed for marathon running with safety, comfort and lots of Reebok sports' style
SHOP FROM KICKSCREW
The Reebok DMX Trail Hydrex Marathon sock-sneakers look and feel great with their exposed-seam detail, slip-on style, supportive ankles, chunky rubber soles and EVA midsole.
Looking a little like scuba-suit fabric, the uppers are made from green neoprene and have rubberized black overlay similar to a minimalist version of the Reebok Vector logo.
The sneaker is finished with a leather top-cap, mud-guard and reinforced heel, rounded off with pale-yellow outsole lugs.
This is a hybrid sneaker, that blends scuba-boot and trail-running features with trendy sock-sneaker look!
8. Adidas X White Mountaineering NMD City Sock Sneakers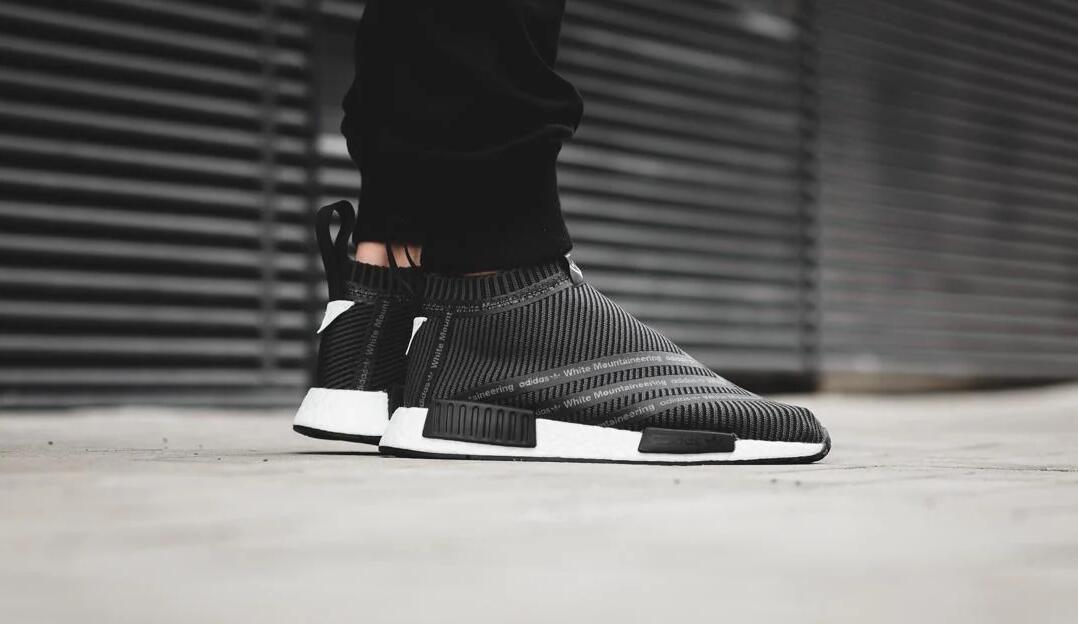 Recommended for: High-quality design with low-rise upper above a Boost sole for a sleek, streamlined futuristic look
SHOP FROM FARFETCH
The White Mountaineering X Adidas NMD City Sock-sneaker has a simple, but innovative design with a bootee-style shape and attractive tongue and heel-tape details.
And this three-stripes branding announcing the brand name is a new look on NMD's City Sock styles, that looks sharp and trendy on the black upper made from Primeknit fabric.
9. Adidas Originals NMD C1 Sneakers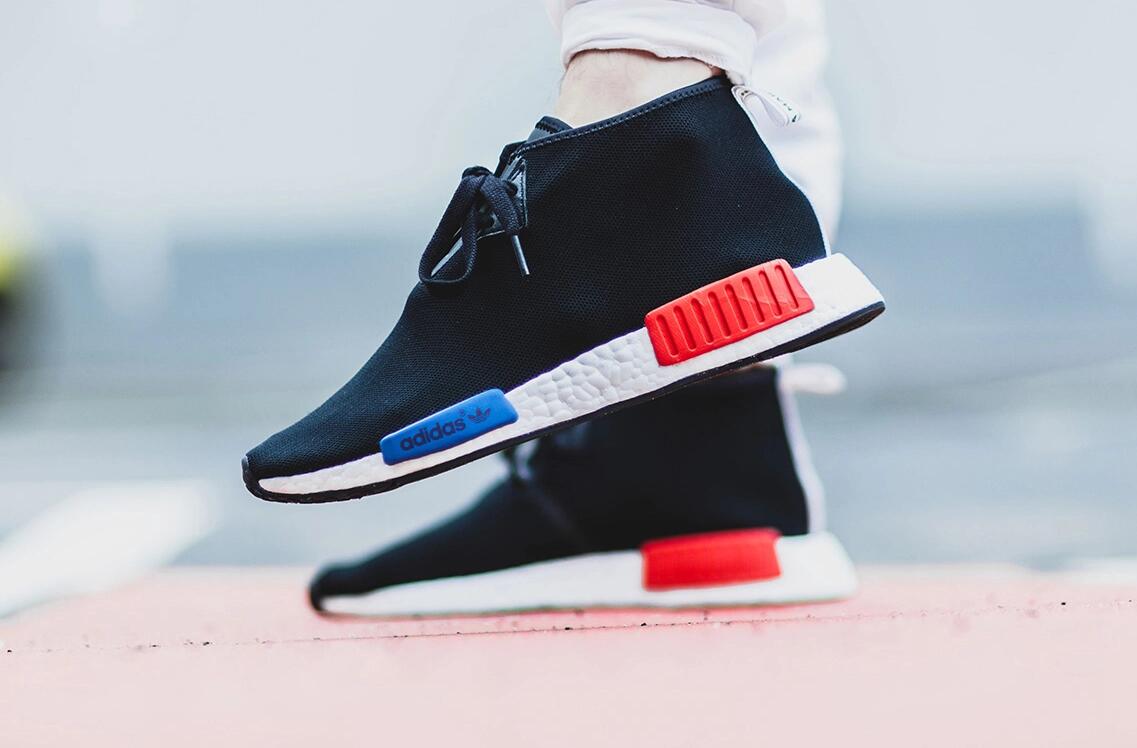 Recommended for: These are a really fashionable sneaker with a classic, eye-catching look
SHOP FROM FARFETCH
The NMD branding is an abbreviation for the word, 'Nomad' and refers to being a highly international, desert-boot look.
This sneaker featured in the 'Adidas Originals' Collection from 2020 and is incredibly popular as a casual chukka-type shape with laces, eyelets and typical red and blue details.
The C1 NMD sneaker blends older design ideas with tech materials like Boost cushioning and Primeknit uppers, for a comfy, trendy look.
10. Reebok Sock Run R Print Sneakers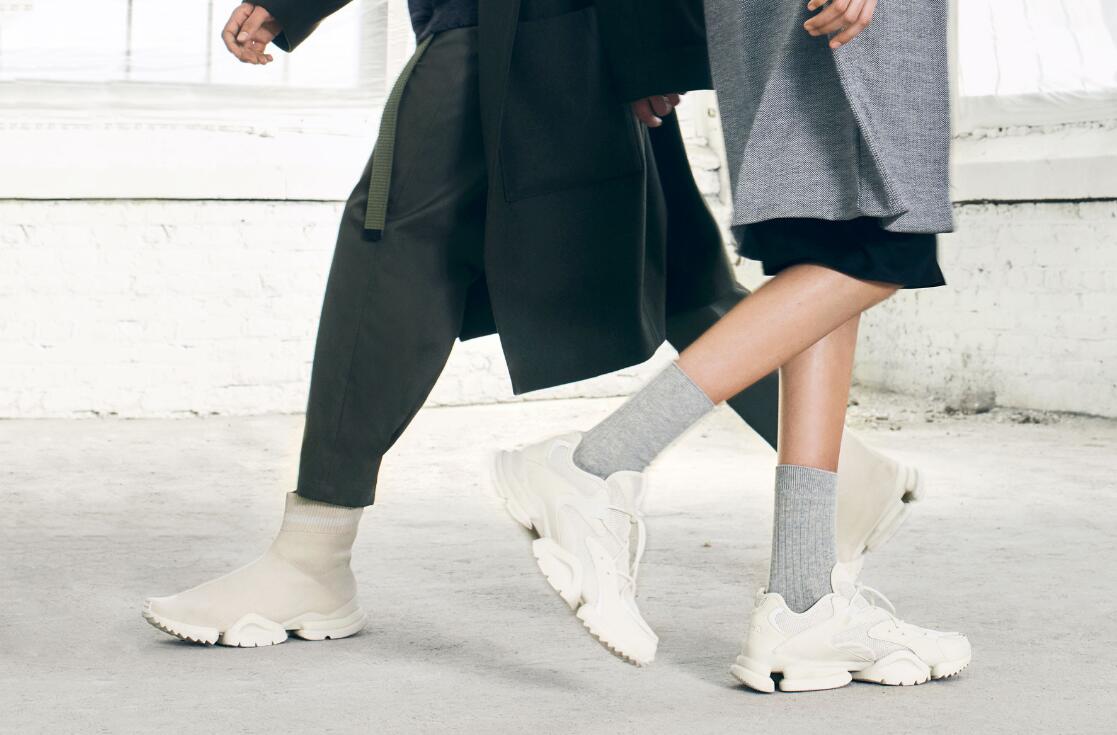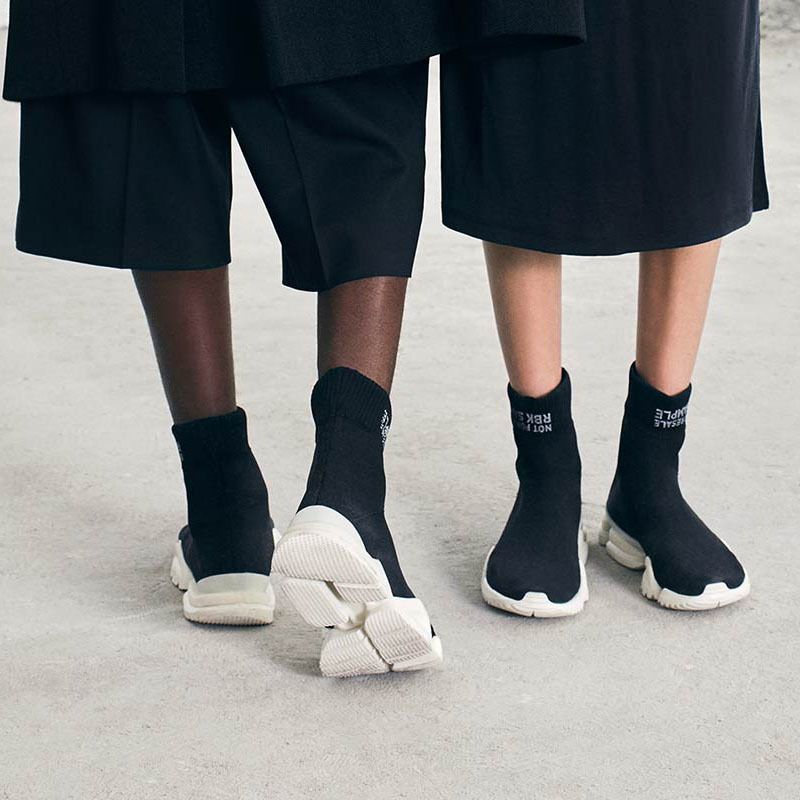 Recommended for: Practical, fashionable and extremely comfortable black sock-sneaker that goes with everything
SHOP FROM FARFETCH
Reebok has had enormous success with this rare, Sock Run R version of the latest sneaker style.
The knitted upper, which has fabulous texture and hugs the ankle, sits atop a triple-segmented rubber sole for incredible flexibility.
This footwear offers a sleek, futuristic fashion style that won't overshadow patterned clothing and is in the medium price-range.
11. Joshua Sanders Sock-sneakers in Blue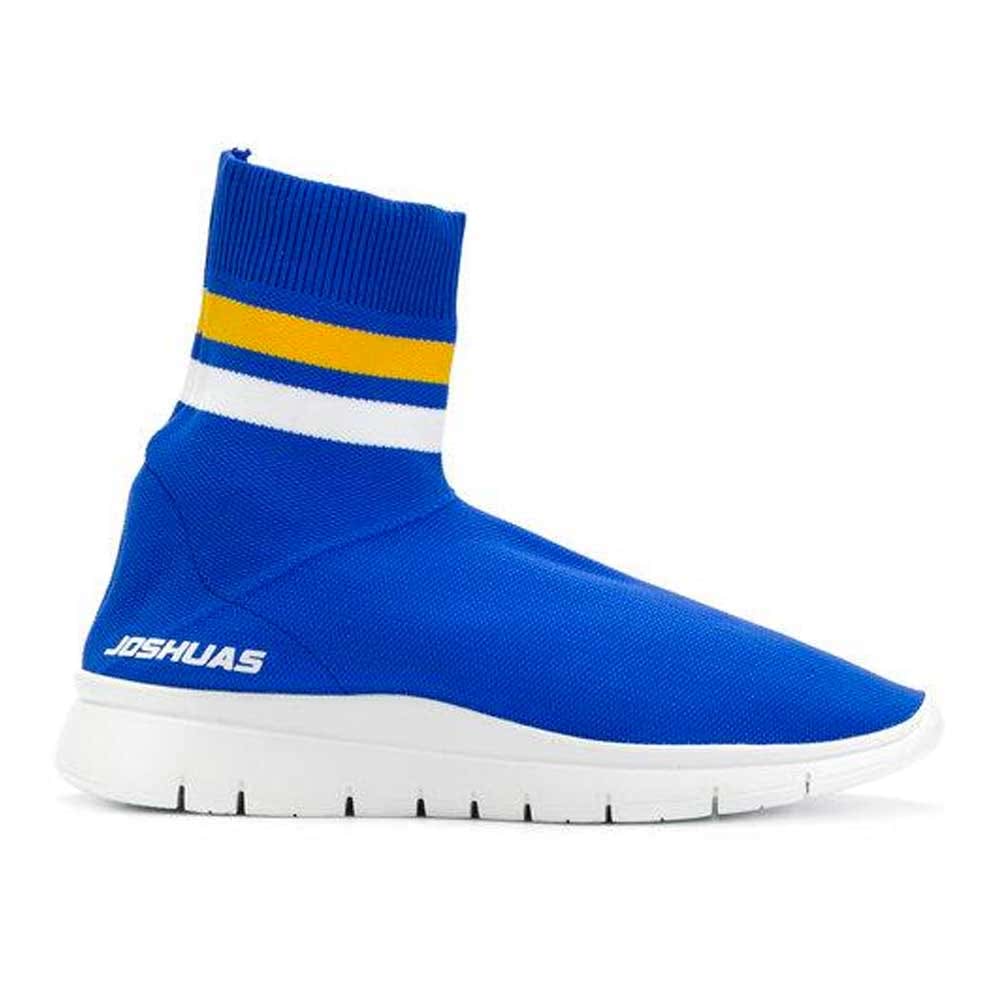 Recommended for: Bright-blue color marks these sneakers out as footwear loved by creative types who like attention
SHOP FROM MODESENS
Great for extroverts, this blue sock-sneaker has loads of personality and verve!
Not surprisingly, it's a New York City streetwear style, created with Italian craftsmanship for a gorgeous, luxury sneaker.
The JB label offers a range of unique sneakers with imaginative modifications that include exciting textures, weird iridescent colors and daring graphic prints.
Chunky soles give you a height-lift on this excellent version of the sock-sneaker, enhanced by luxury style and quality.
12. Zara Sock-style High-Top Sneakers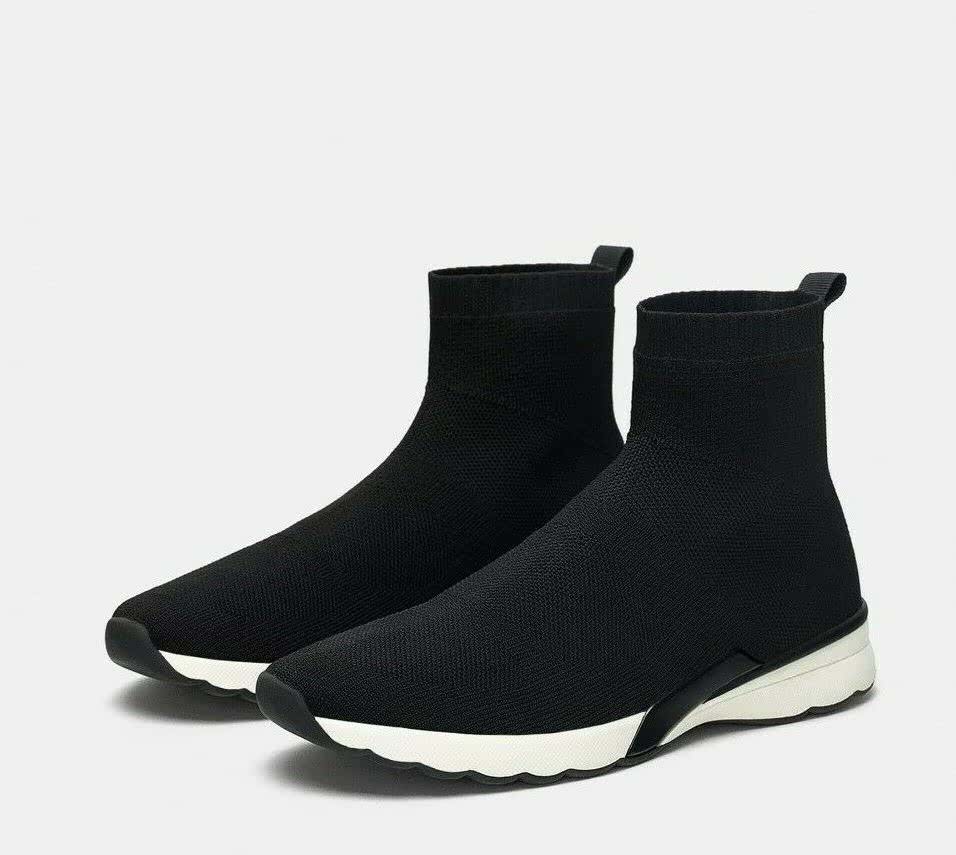 Recommended for: Extremely low priced in Zara sales and a great looking, fashion shoe available in several trendy colors
SHOP FROM ZARA
Everyone can afford these high-fashion sock-sneakers that are as comfy as thick socks with the look of bootees.
The plain color and fabulous variety of textures in the knit makes these sneakers look very chic!
The insoles are made from flexible, technical, Starfit PU foam for extra comfort in wear, so if you wear sneakers for long periods of time, these are a great choice.
The upper is elasticated for a true, sock feel and there's a useful back, pull-on aid tab. I have a couple of pairs of these shoes because I love the price, the look, the color choice and the comfort!
13. Valentino Red (V) Sock-Style High-Top Sneakers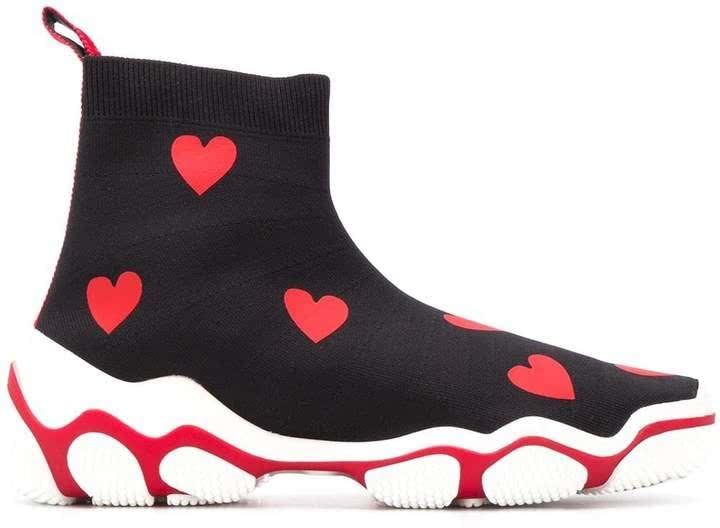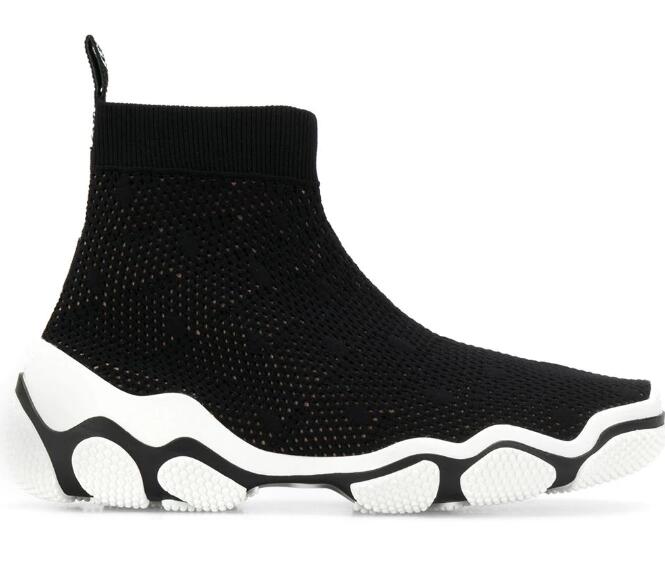 Recommended for: Chunky rubber soles, a unique look and original cut
SHOP FROM FARFETCH
These understated, beautifully contoured high-top sneakers are true luxury wear.
They have black-mesh uppers with trendy, mesh slip-on panels and a simple, black and white design.
In addition, there's a rounded toe, a cute pull-tab at the back and super-thick, chunky soles in rubber.
14. Adidas Originals NMD_CS2 Primeknit Sneakers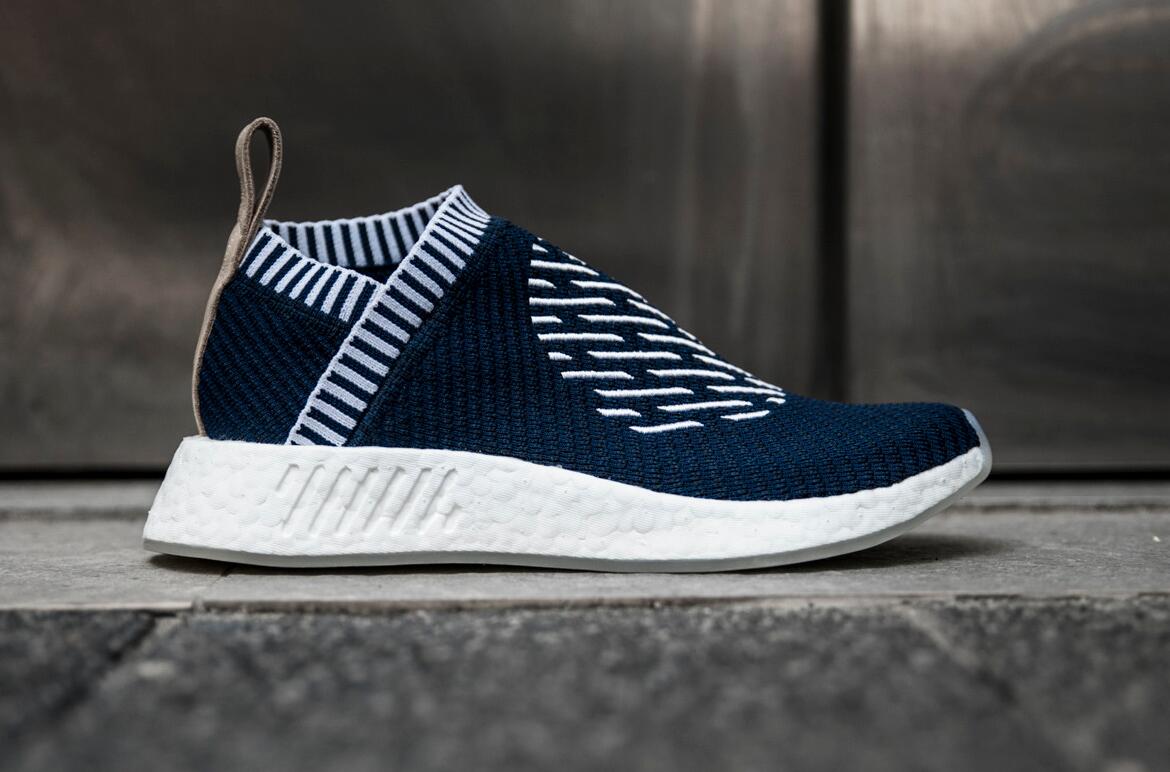 Recommended for: Fabulously chic navy and white knitted-sneakers that look great with matching blue jeans
SHOP FROM FARFETCH
Stunningly attractive sock-sneakers with unique style in the rounded toe, rubber sole and labeled insole.
These sneakers are from the popular, Three Stripes NMD Collection from Adidas and they offer style, performance and superior comfort.
They are lighter than some sneakers, for long-wear comfort. Not cheap, but with a wider-fit for those who need it, this sneaker is available in several different colors.
15. Nike Sock Dart SE Premium Sneakers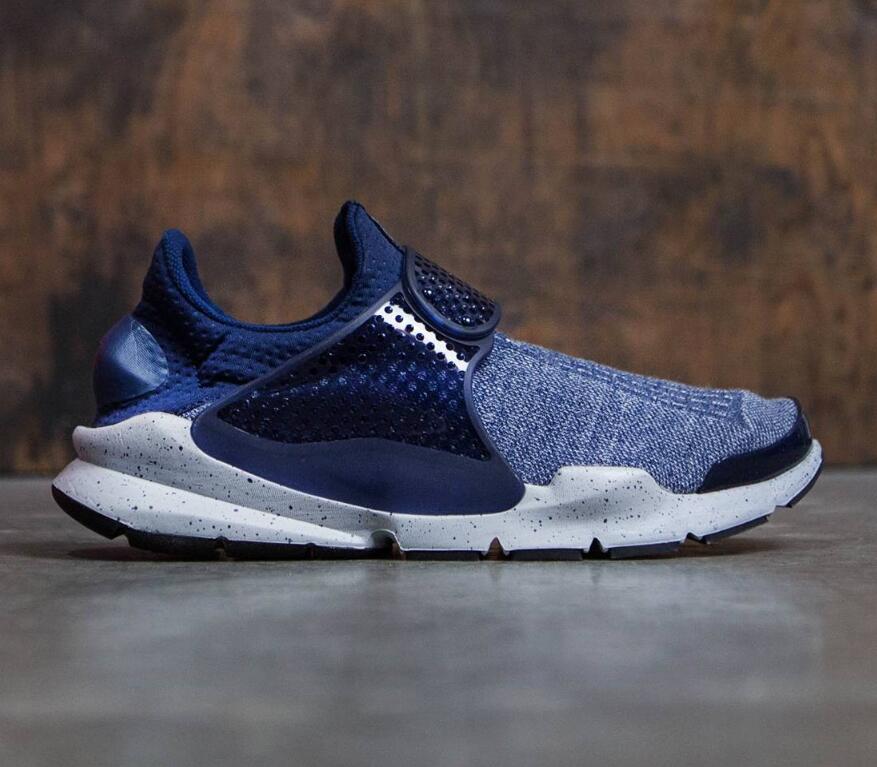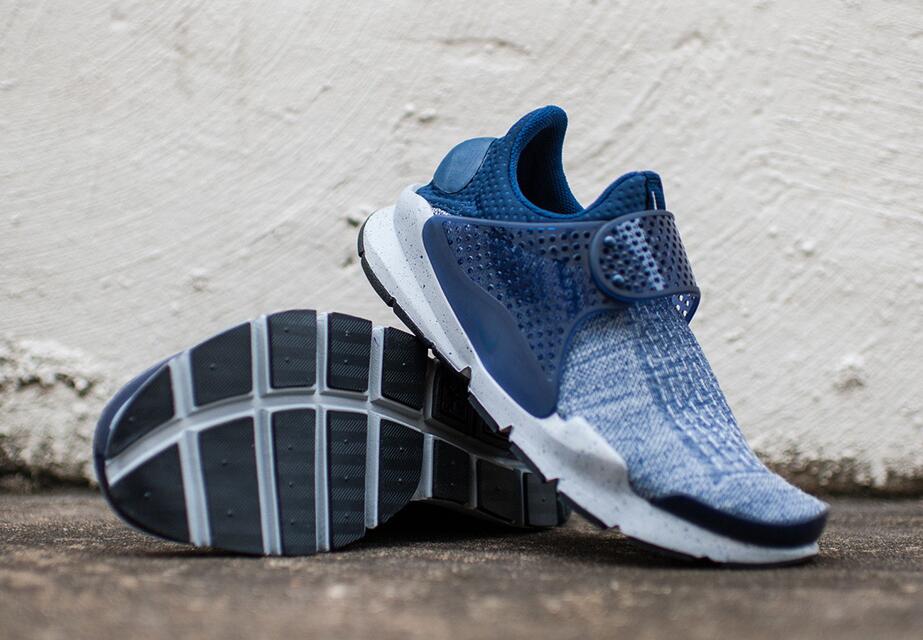 Recommended for: Affordable FlyKnit sneakers that stabilize feet and offer comfort during hard physical activities
SHOP FROM AMAZON
Originally released as the Nike Sock Dart sock-sneaker as far back as 2004, this was offered as lightweight gym footwear.
It was one of the first knitted upper sock-sneakers and took a while to catch on as a radical, fashion-future style.
By 2015, the Sock Dart sneaker surged back into fashion and has remained one of Nike's best-selling sneakers up to the present day.
With highest-quality, sock-style textile uppers that are breathable for efficient sweat-wicking, these are light and comfortable foam-cushioned shoes.
It's a low-top sneaker, with trendy translucent straps over the mid-section and personalized NikeID technology and very popular by dedicated sneaker-wearers!
16. Moschino Logo Knit Sock-sneakers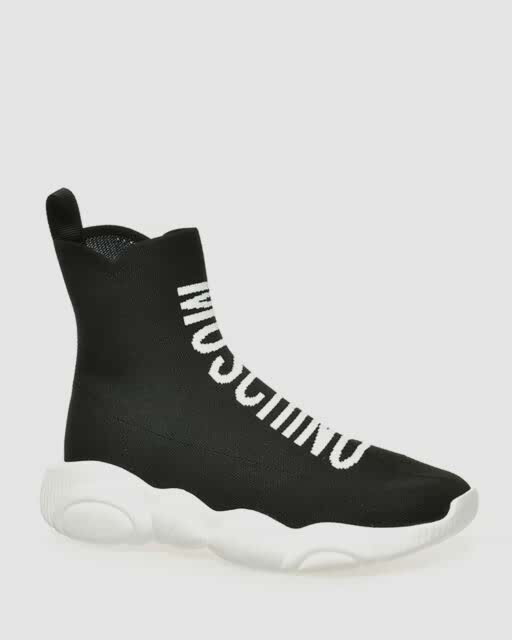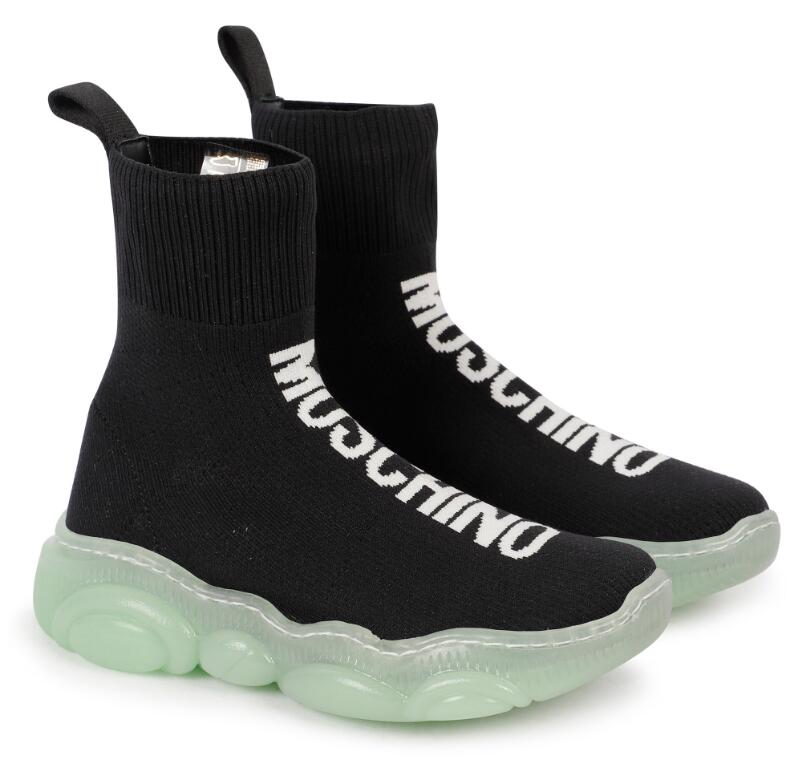 Recommended for: A highly contemporary minimalist fashion style in full black with a bold, white Moschino Logo announcing the brand
SHOP FROM SAKS
These black-and-white Moschino sock-sneakers come from a well-established Italian fashion brand well-known for its luxury clothing and accessories.
They feature knitted uppers, a warm and supportive, high-top shape and a curvy, 'teddy-bear' sole.
This style offers luxury, style and fun, as the name was changed to, 'Teddy Shoes High Sock-sneakers' after wearers expressed their preference for this type of sole!
Made in Italy, these knitted sock sneakers from Moschino feature a high-top silhouette, logo on front, and bear-shaped sole.
The bear-shaped sole made the Italian company change the sneaker name to 'Teddy Shoes High Sock Sneakers' after initially launching it as 'Moschino Logo Knit Sock Sneakers.'
17. Vêtements X Reebok Classic Sock Runner Sneakers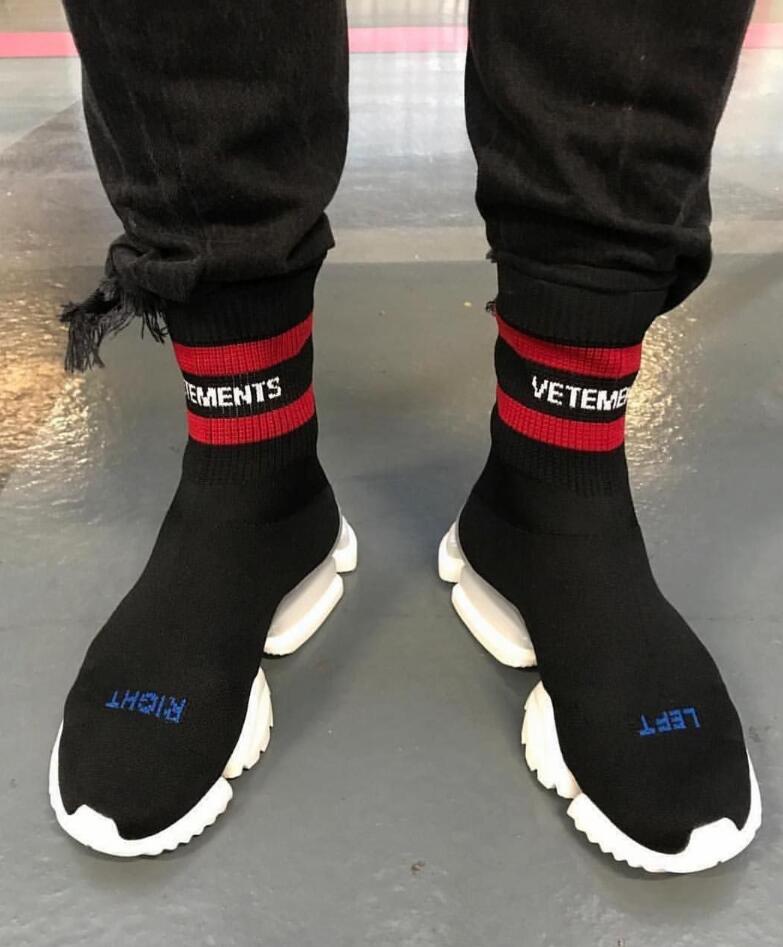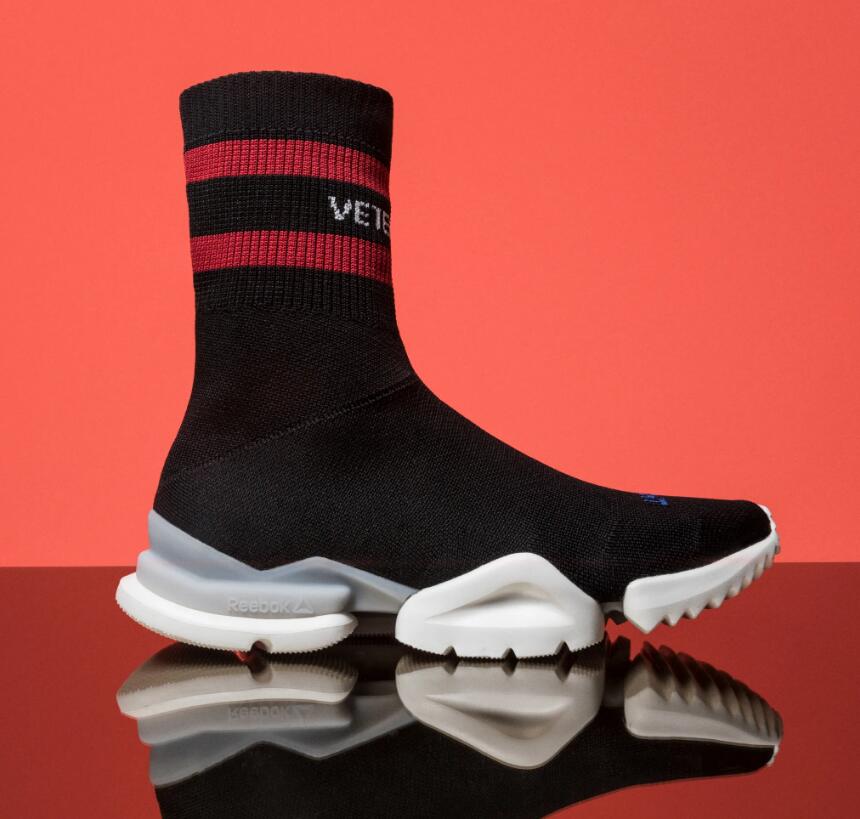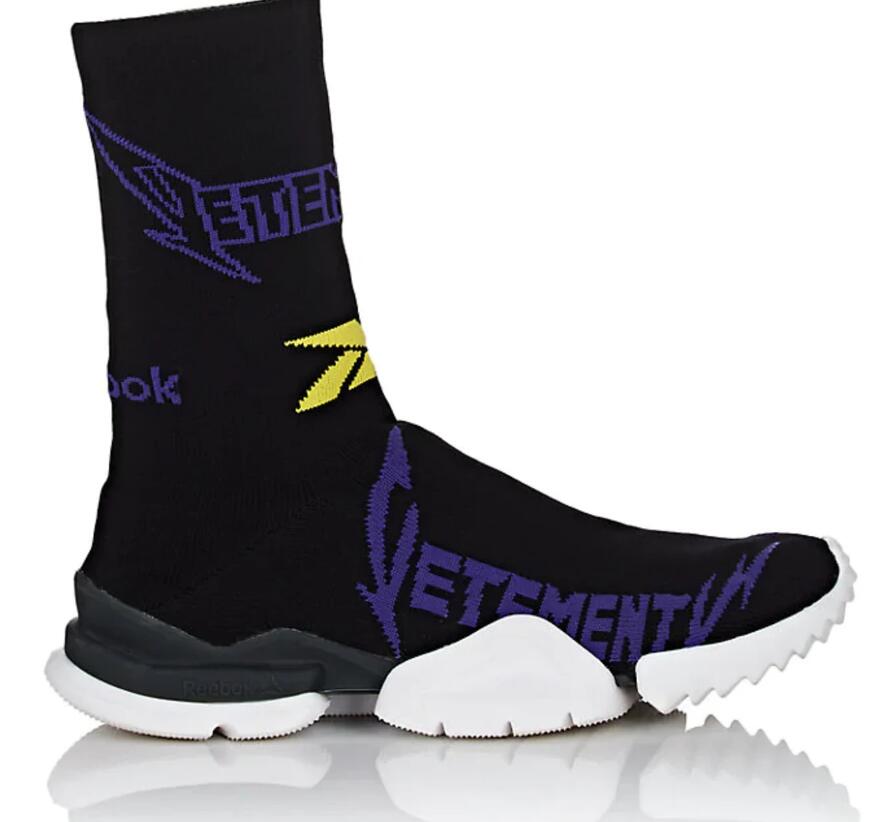 Recommended for: Stylish, comfortable running sneakers with fabulous form and function
SHOP FROM 'MY THERESA'
This excellent sock-sneaker for running emerged from a dream collaboration between Vêtements and Reebok and it's an excellent running shoe!
The uppers are stretchy, comfortable knitted fabric placed above rubber soles that feature the Reebok logo and the words, 'LEFT' and 'RIGHT'.
Available in two color designs, the black sneakers have two bright, red stripes on the ankle along with the Vêtements brand in white.
This is a sport-luxe sock-style, running sneaker with loads of class and fashion cred!
18. Stella McCartney Loop Sock-sneakers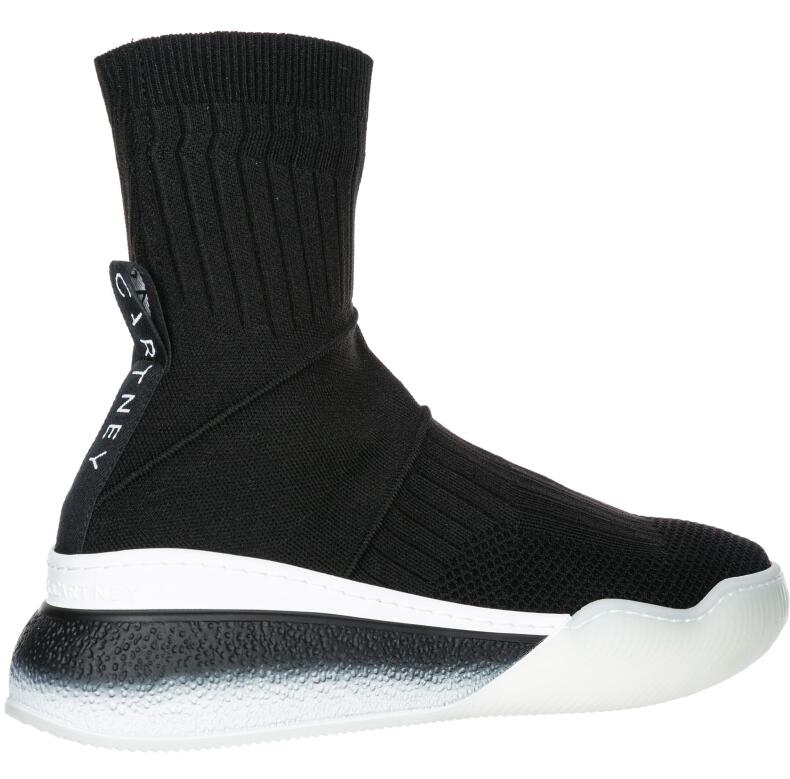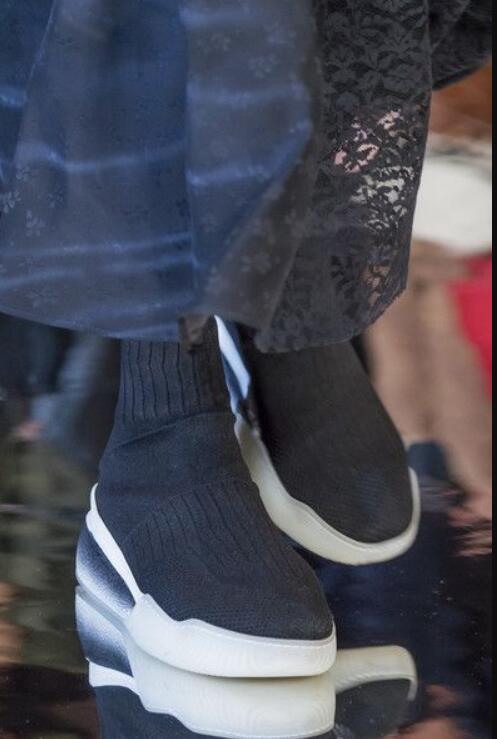 Recommended for: Chunky but feminine sock-sneakers with a bold look from award-winning designer label
SHOP FROM SAKS
Stella McCartney has been a strong presence in the fashion industry for many years and this label is known for rigorous ethics, and eco-friendly materials.
In particular, the Stella McCartney brand has made sustainable fashion-wear appealing and trendy.
This luxury sock-sneaker has lovely texture in the rib-knit finish around each toe, a handy pull-on tab at the back, and a ridged, white rubber sole.
These stylish Stella McCartney sock sneakers with rib-knit finish feature a round toe, a pull tab at the rear, a slip-on style, and a ridged white rubber sole.
And the Loop Sock-sneaker is a high-end design for lovers of luxury sneakers!
19. Salvatore Ferragamo Raquel Sock Sneakers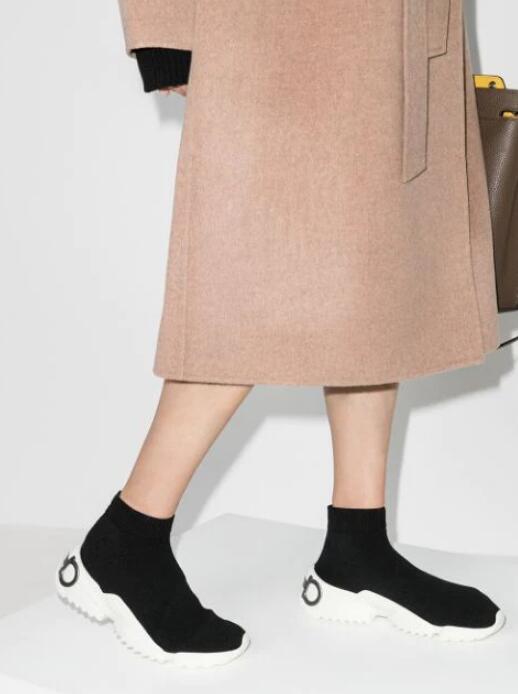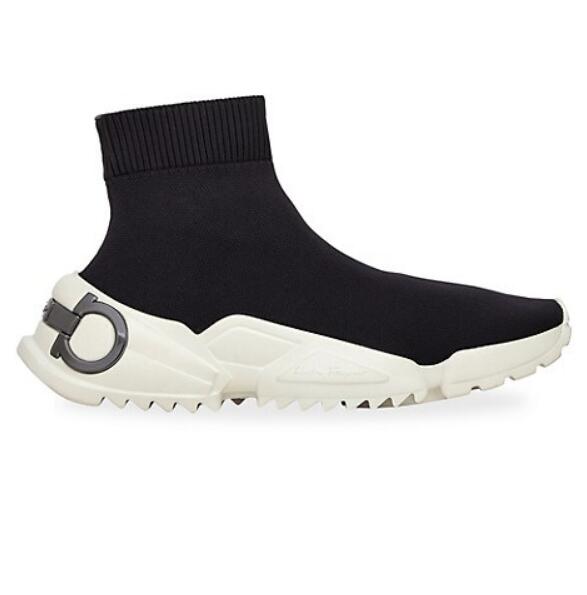 Recommended for: High-tech, eye-catching sneakers with futuristic style and excellent fashion and function credentials
SHOP FROM FARFETCH
The Salvatore Ferragamo sock-sneakers are luxurious and extremely comfortable to wear. And who would expect anything less from a high-end, Italian fashion label that began as a shoe business?
This version of the sock-sneaker features Gancini hardwear for a streamlined vibe, which harmonizes beautifully with gunmetal hardware on trendy, vegan bags!
20. Maison Margiela MM Logo Sock Sneakers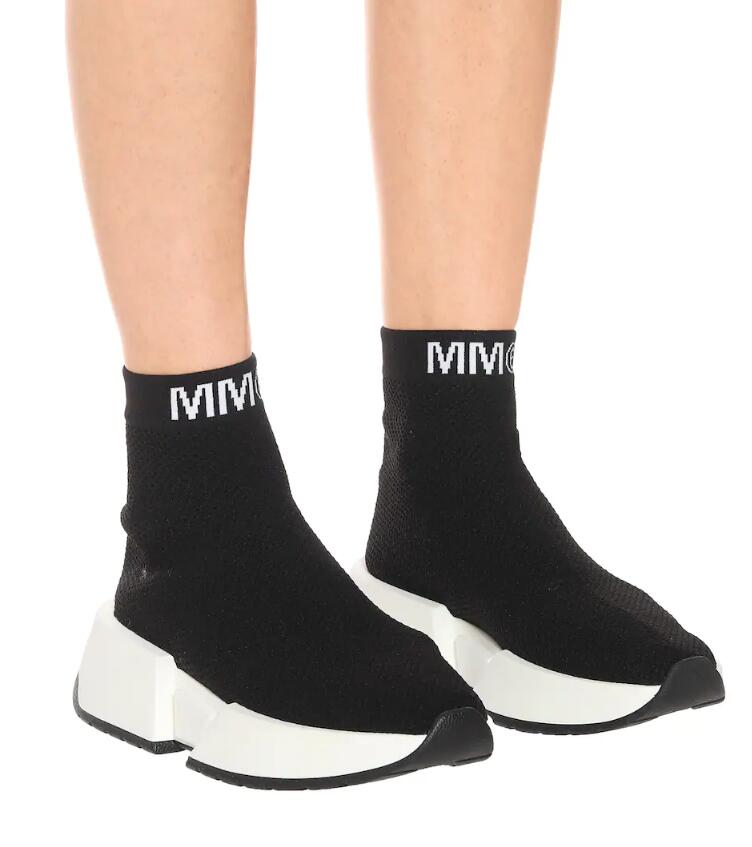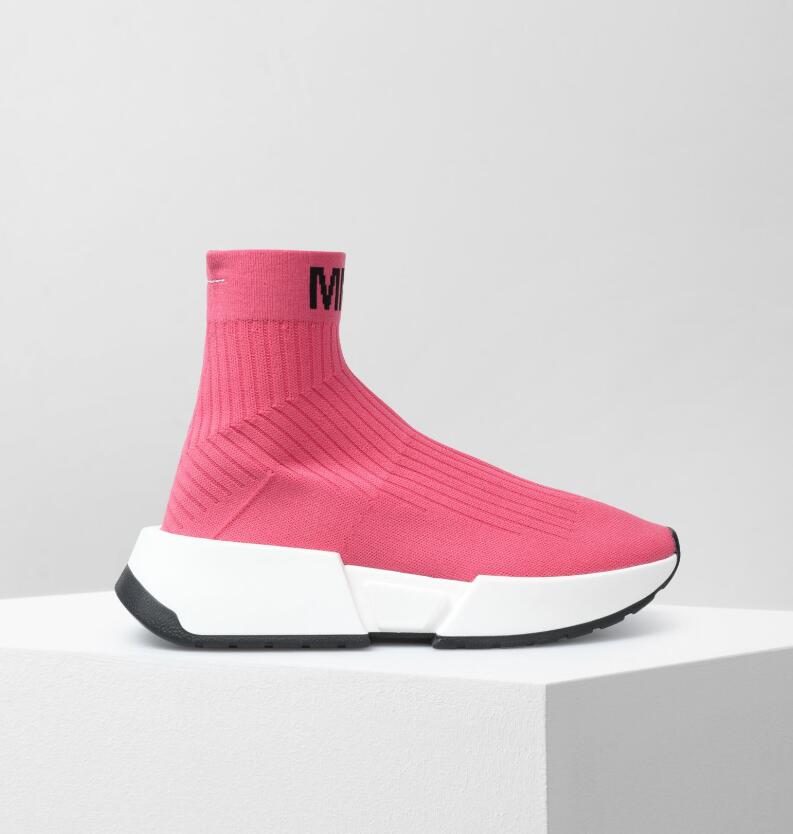 Recommended for: Authentic street-style that will be the envy of your office colleagues and make you a cool fashion idol
SHOP FROM MAISON MARGIELA
As the sixth iteration of the MM ankle-hugging, sock-sneaker, the MM6 comes from a very successful footwear collection.
This sneaker is available in practical and smart black material, with the brand logo featured on the right shoe only for a 'cool' twist.
These are breathable, comfy sneakers with an attractive almond toe above a chunky, solid rubber sole!
21. Joshua Sanders' Turquoise Knot Sock-sneakers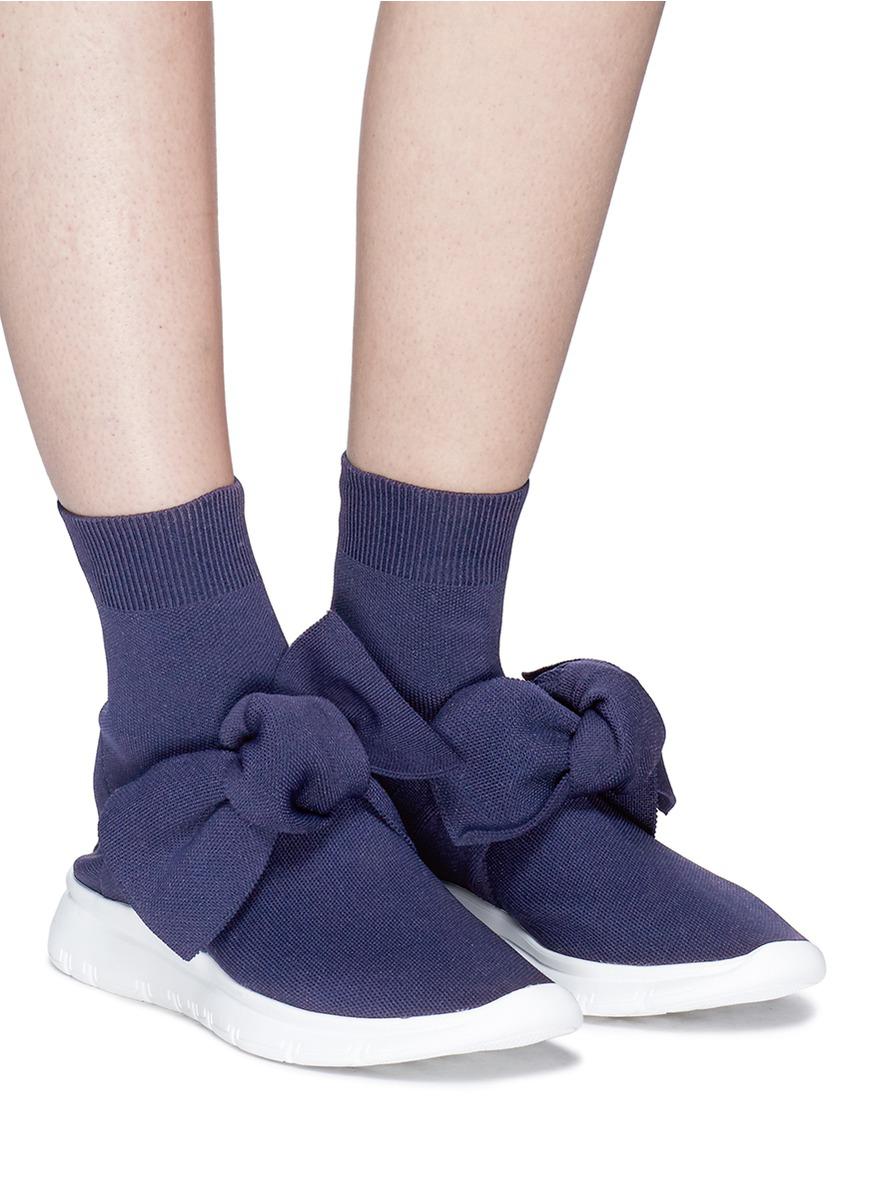 Recommended for: Mid-price, ultra-comfy sock-sneakers with a fabulously feminine style
SHOP FROM BROWN
I absolutely adore the vintage, 50's vibe of these turquoise knot sock-sneakers! You can wear this sock-sneaker as day-to-day footwear, a ballet shoe or even in place of ankle-covering trainers.
The incredibly up-to-the-minute sock-sneaker style blended with pretty vintage bow decoration is inspired!
Made from stretch Spandex and foam-rubber soles, these sneakers are easy to pull-on, comfortable and utterly unique for anyone who enjoys being super-trendy and 'different'!
Wear these Joshua Sanders Bow Detail Sock-sneakers with vintage outfits, like a dress, skirt or a hoodie under a vegan-leather jacket for a totally off-beat twist!
22. Giuseppe Zanotti Light-Jump Sock-sneakers
Recommended for: Best sculpted, designer sock-sneakers from a highly fashionable, luxury brand
SHOP FROM FARFETCH
The Giuseppe Zanotti label offers you fantastic sock-sneakers that are the product of expert Italian footwear crafting and cutting-edge, urban design.
Shown here in trendy, bright-white, the Light-Jump sock-sneaker has a fabulous silhouette decorated with the GP logo at the front of the shoe.
And the detail on these beautifully constructed sock-sneakers is superb, with perfect stitching and amazing quality! Here are tips on how to style white sneakers.
23. Prada XY Knitted Sock Trainers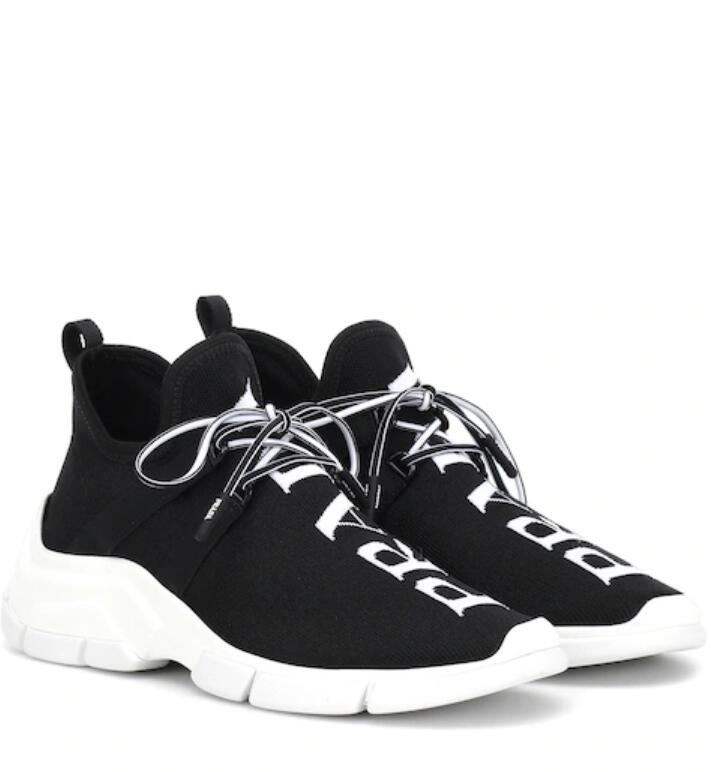 Recommended for: Luxury quality and comfort that can't be beaten
SHOP FROM FLANNELS
Prada's knitted sock-trainers are bound to lift your whole fashion style and your mood, as you take on the day with ultra-comfy sock-sneakers.
This black, slip-on sock-sneaker has close-fitting, ribbed uppers over a flexible, rubber sole. And the medium-high, top can be eased on swiftly using the back pull-tab.
The sole is ridged for good flexibility and the upper has a lace-up detail, and contrasting branding.
Finally, this Prada design is an excellent investment sneaker which experts say will gain in value in the future!
24. Balenciaga Chunky Lace-Up Sock Trainers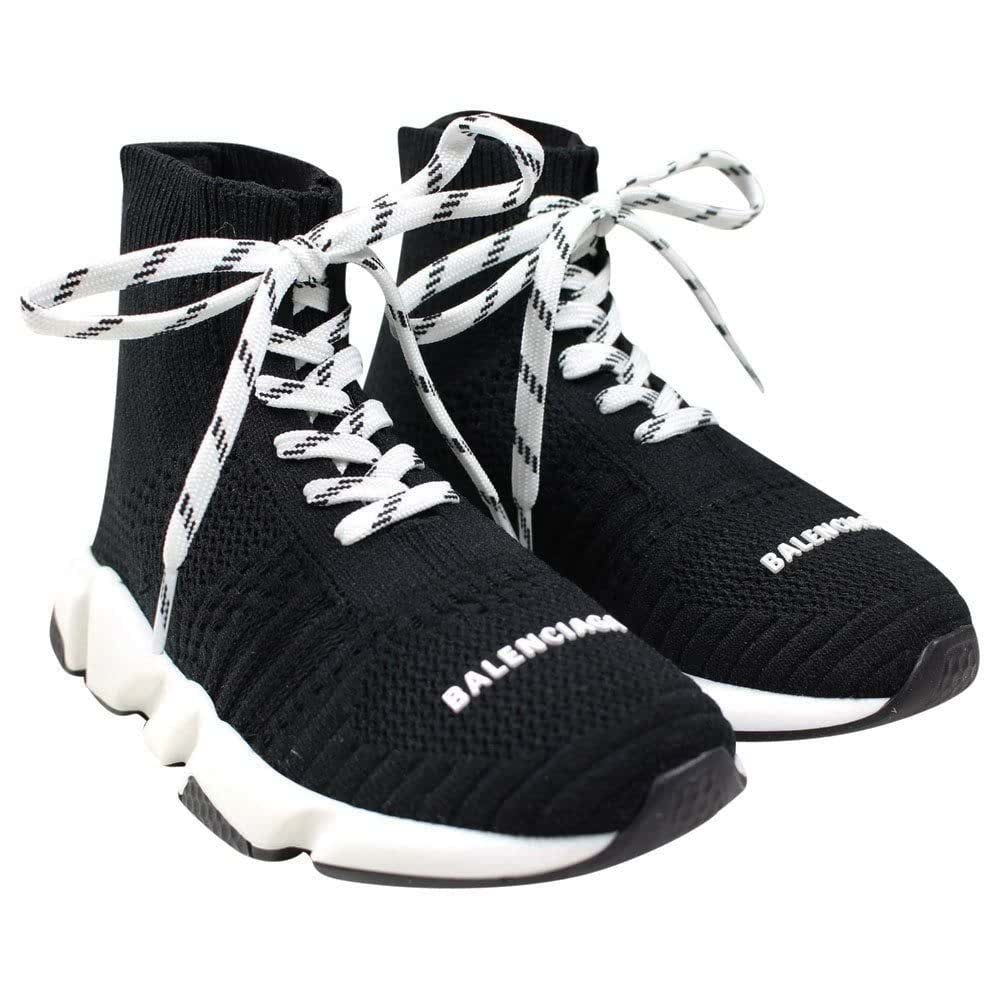 Recommended for: Super-attractive design, luxury quality and a thick sole that will lift you up in more ways than one
SHOP FROM FARFETCH
Offered in a soft shade of black, these unique Balenciaga Chunky Lace-up sock-trainers are everything you could desire from a high-end fashion brand.
Instantly recognizable to other sock-sneaker connoisseurs you'll be walking on air on the exaggerated, geometrical rubber soles and soft-fabric insoles.
If you need long-wear comfort, as well as unimpeachable class, this is a great investment style from Balenciaga!
25. Stella McCartney High-Rise Loop Sock-sneaker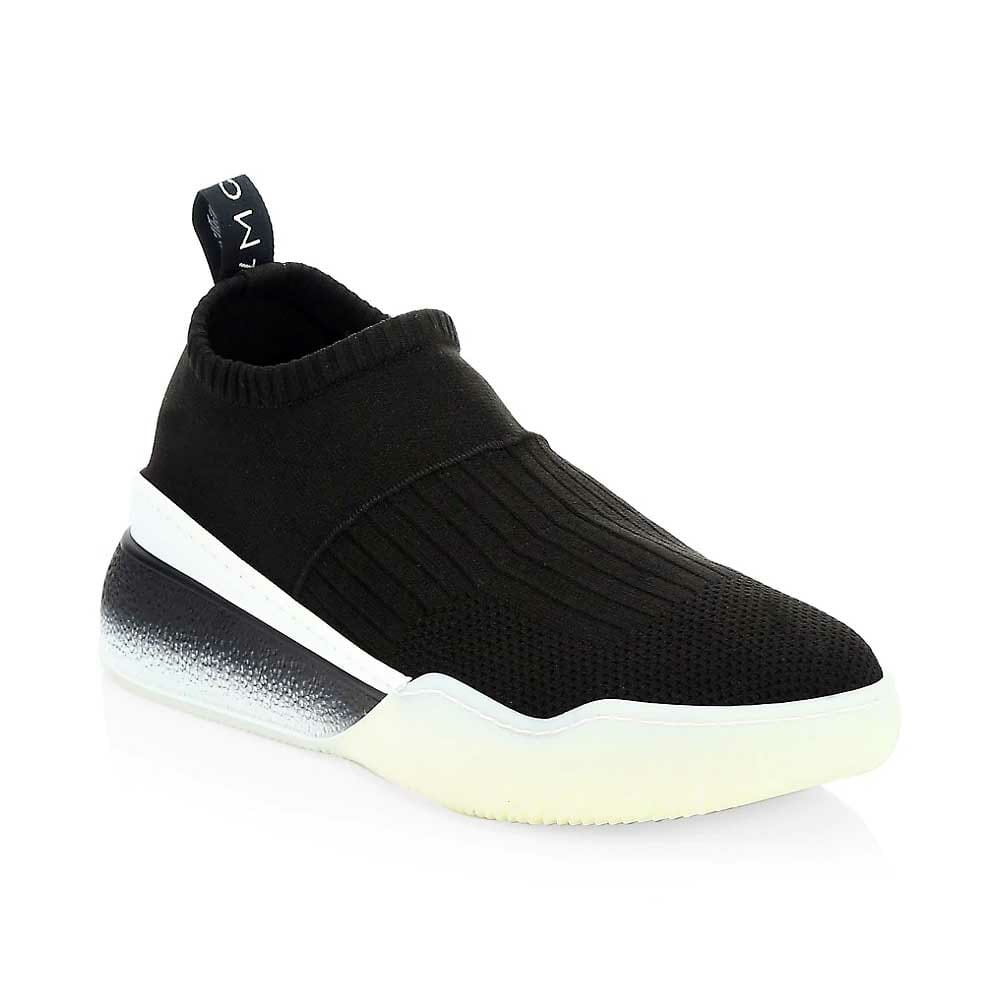 Recommended for: Always in a class of their own, Stella McCartney Loop sock-sneakers have outstanding design features and style originality
SHOP FROM CETTIRE
As is often the case in the fashion industry, an innovative new style like the 2016 Balenciaga sock-sneaker will be copied ad infinitum.
And this can, 'water-down' the edginess of a new product, making it universal and a little boring within just a few years.
However, you can always rely on Stella McCartney design team to continue developing and evolving new items to keep them in the forefront of future-fashion!
With the exciting, bulky, oversized shape inspired by original running-sneakers, this loop sneaker shows you're a trend-setter at first glance.
And I love the unexpected color pairing between the sneaker and loop fabric, which creates a fabulous detail and incorporates the envy-inspiring Stella McCartney name!
26. Fendi Fabric Sock-sneakers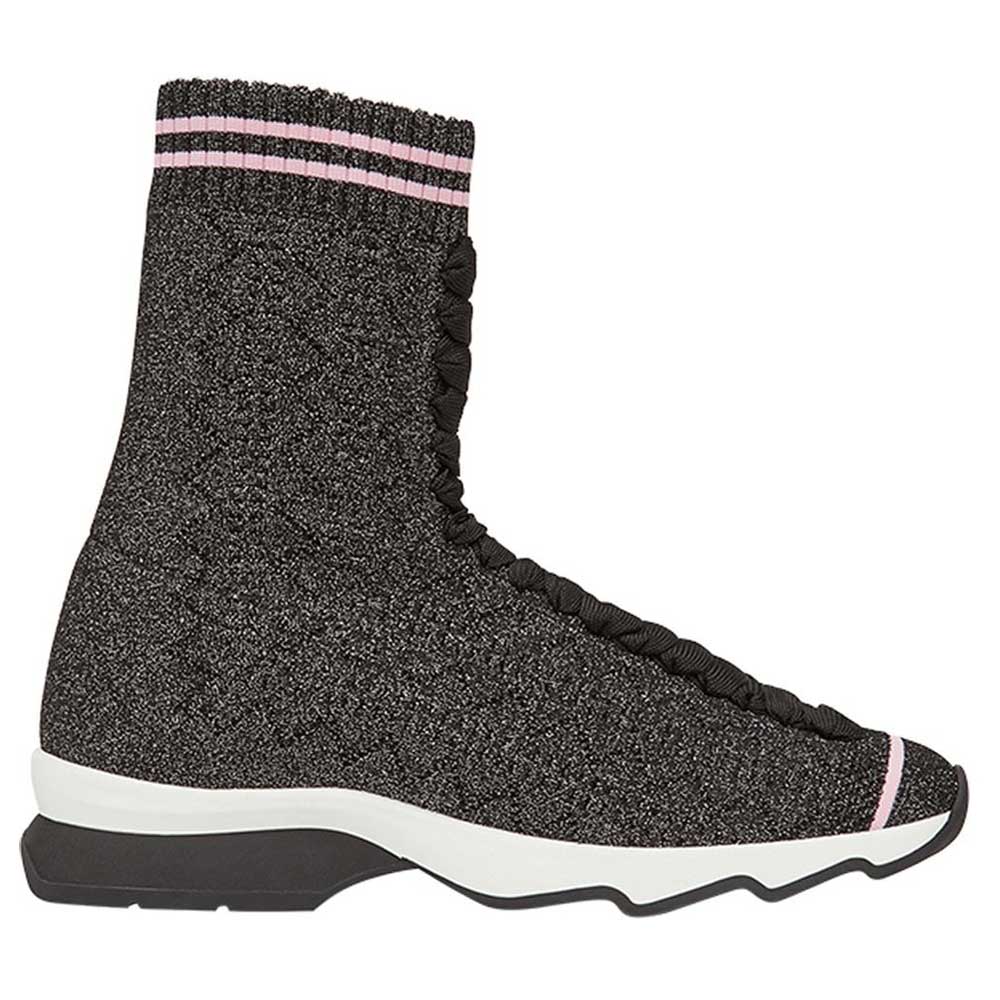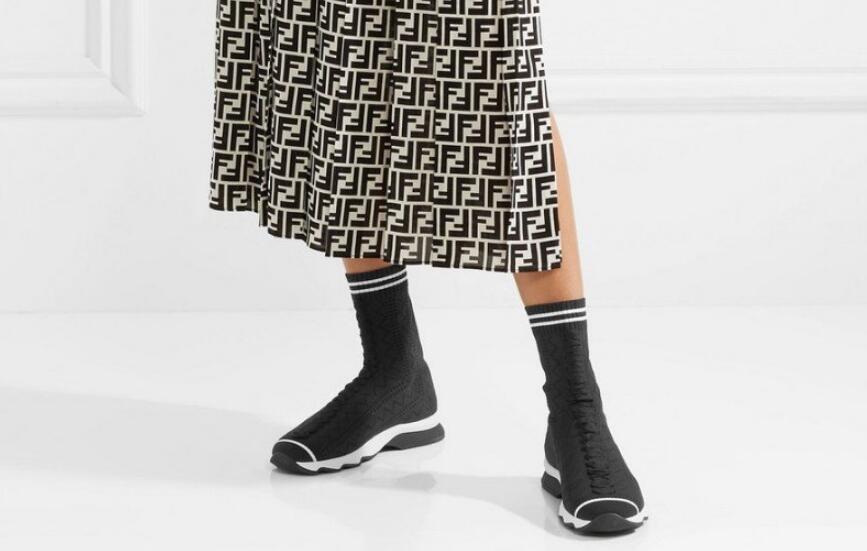 Recommended for: First-rate design on best sport-luxe footwear for trendsetters
SHOP FROM FARFETCH
As soon as I set eyes on this imaginative, new sock-sneaker style, I knew it was inspired by the short, button-up/lace-up boots worn by women in the Victorian age.
And merging this vintage silhouette with contemporary metallic yarn and black stretch fabric was a fabulous innovation!
This unusual sock-sneaker is from Fendi's Spring & Summer Collection for 2018.
And its beautiful cut, ribbed edging and horizontal stripes have kept it right at the top of the league of sock-sneaker best-sellers around the globe!
—————————————————–
With the footwear industry producing excellent, innovative fabrics like Adidas Primeknit and Nike Flyknit, the designer's imagination can soar to fabulous new, sneaker shapes.
And your outdoor footwear can be comfier than you ever imagined possible. The range of fashion styles included in the sock-sneaker market is enormous and there's a great style to match with any aesthetic trend.
Last year's favorite was embroidered ankle-sock sneakers, but this year will see the rise of the abstract-print sock-sneaker!
Your Comments
If you're bursting with excitement at these radical new footwear ideas, let us know! We love to hear your opinions and comments.
Do you have one or more favorite styles of sock-sneaker? Tell us more!
Will you be wearing sock-sneakers to school/work this year? Which ones?
Which are your favorite styles for originality?
Do you like getting extra height from stable, chunky soles, without having to balance on high heels?
Do you enjoy wearing this hybrid, knitted-fabric style that separates younger generations from everything that's gone before in outdoor footwear?
Share your take on sock-sneakers with the rest of the HerStyleCode community now!