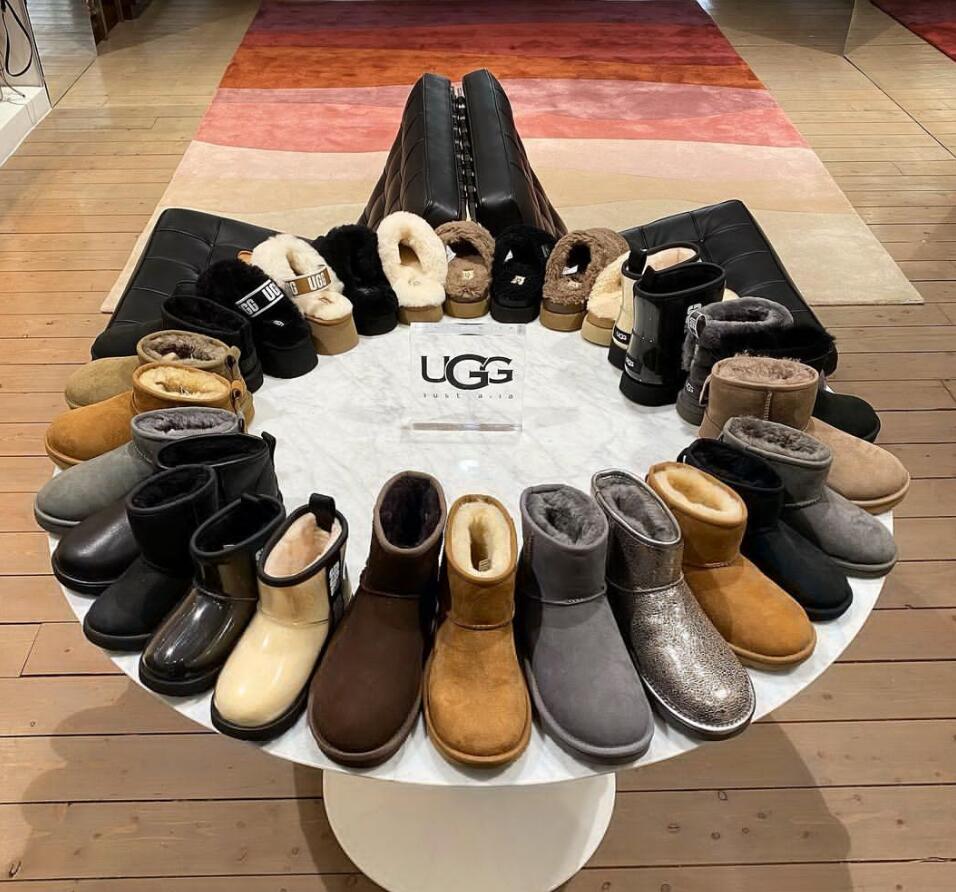 What to wear with Ugg boots – outfit ideas with Uggs
Ugg boots have had a radical makeover and are back with a bang for this year! No longer are they heavy, chunky boots with no structure and a bad fashion rep. They have bounced back from the early 2000's with shorter, cuter designs in a variety of colors and very wearable style! Ugg boots are the perfect fashion shoe to wear at home and around your local area. And any bootee that merits a photo-shoot in Vogue is bound to do well in the fashion stakes!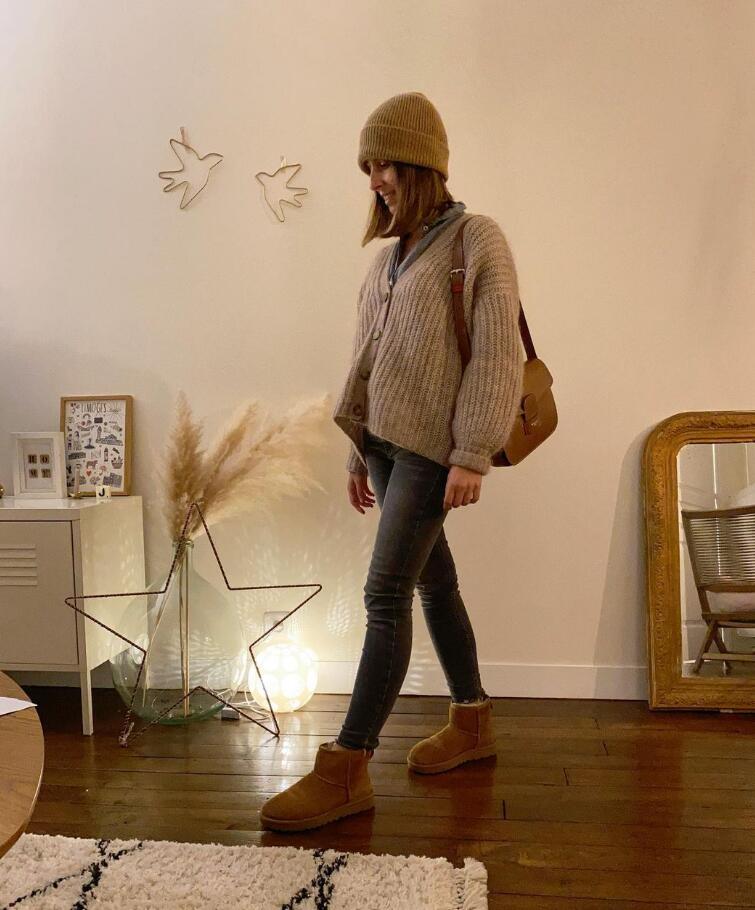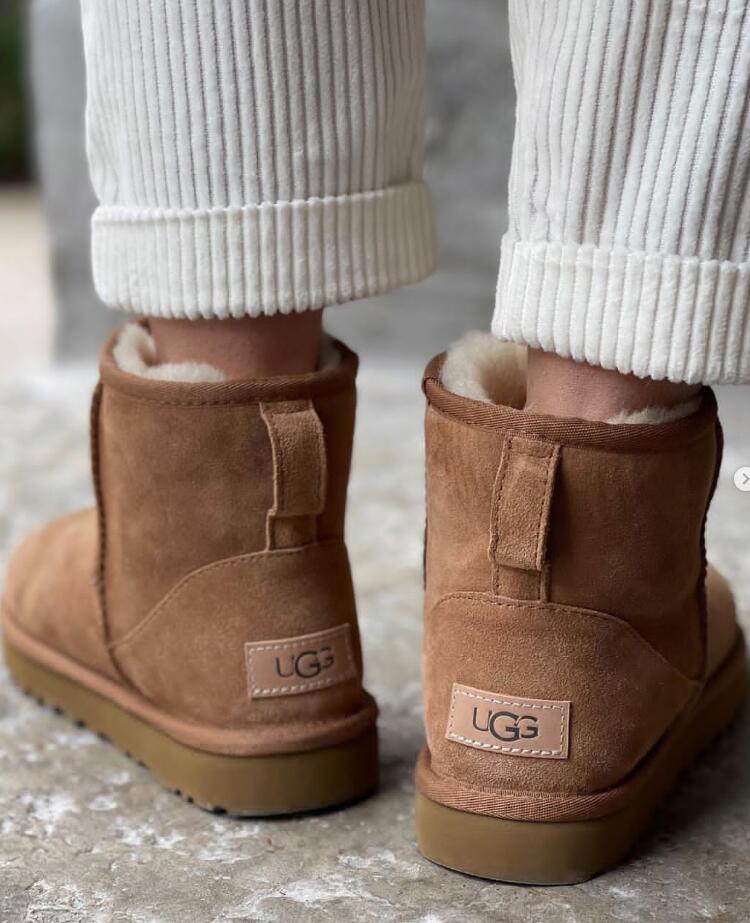 So if you're interested in being comfortable and trendy this year, here's our guide on how to wear Ugg boots right now!
1. How not to wear Ugg boots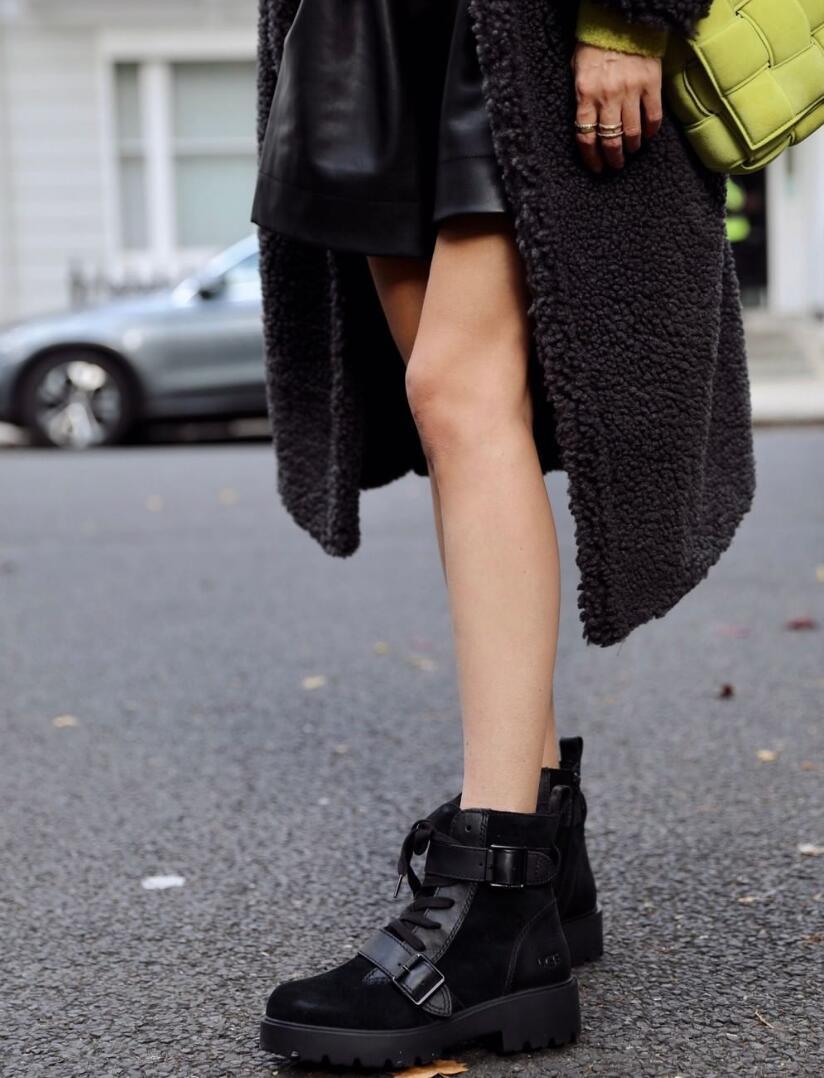 The new generation of Uggs cover all our needs from extra-casual slippers to trendy, daily-wear, short boots. They have no connection with the unstructured, high Ugg boots of the past, so be careful not to wear new Ugg boots with a mini-skirt. They are intended to be worn with modern fashions, especially lounge-wear, sweat-suits, narrow/straight-leg jeans and trousers and long, flowing skirts.
2. Ugg boots & fashion colors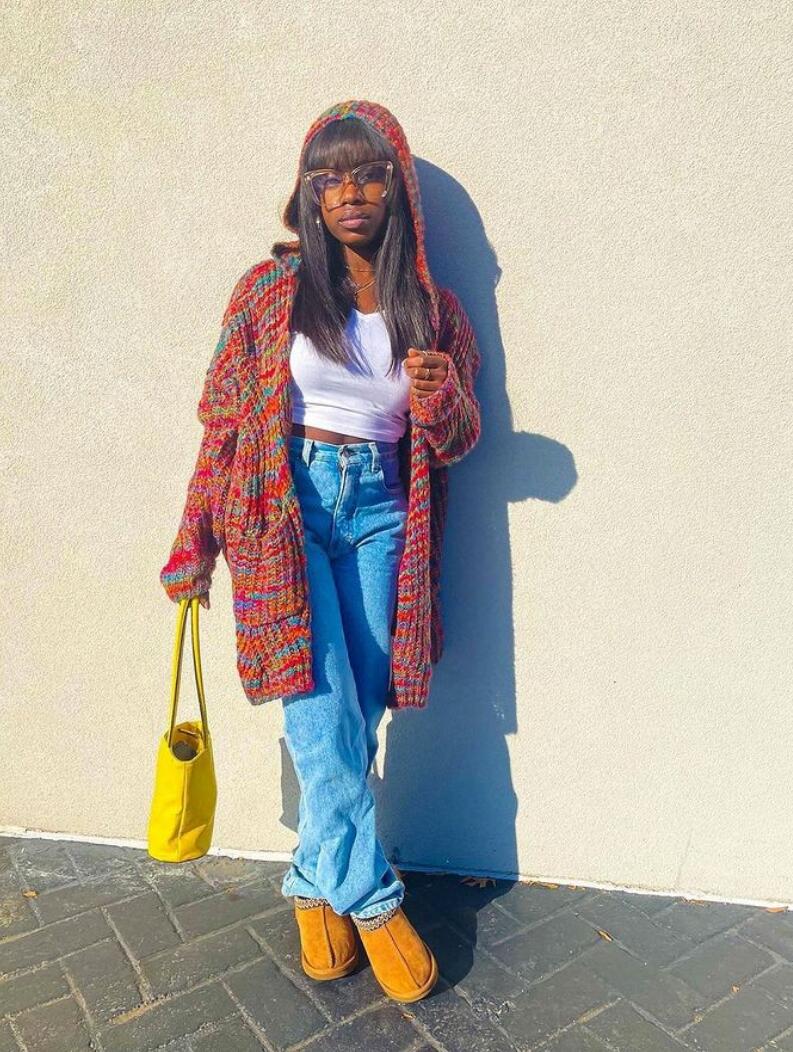 Ugg footwear is totally contemporary and tuned in perfectly to all the fashion colors for this year – winter and summer. So if you're not sure what they are, here's a quick rundown. The winter colors are gem colors like deep purple, forest-green, rich turquoise, deep-pink, burgundy-red, navy-blue, warm-brown, mustard-yellow, graphite-gray, black and all shades of khaki and light-brown, beige, tan, camel and cream.
And the summer colors are soft pastels, including baby-blue, shell pink, light yellow, peach, hot pink, moss-green, light gray, khaki, beige, camel and cream – plus white, of course. And not only are the colors bright, dark and fashion-focussed, the patterns are fabulous, too. You can even get super-fashionable, modern tie-dye Ugg footwear, which is amazing!
3. Ugg Coquette Slippers for indoors & outdoor wear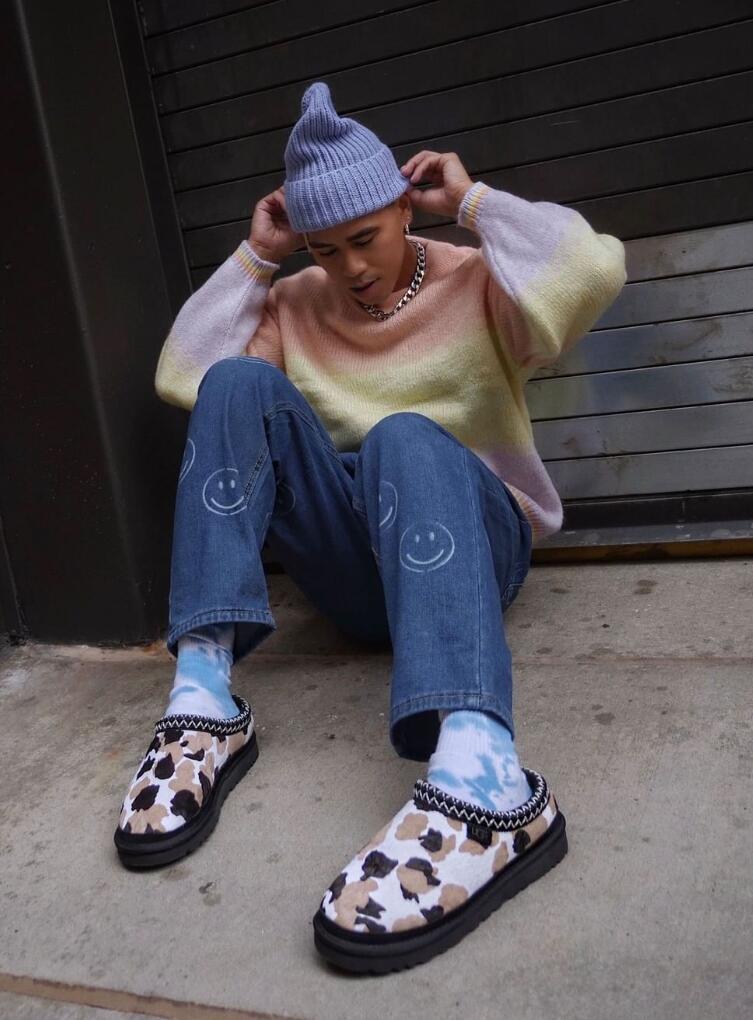 Pamper yourself with these versatile slippers made in real sheepskin. The light-weight sole can be worn outdoors with no problems. And this slipper/shoe looks great with your athleisure sweat-suits, midi-skirts and tank-tops for casual, daily wear. This model is available in three fashion colors, graphite, mustard and black, to match your whole wardrobe.
And if you want to create a special outfit for your flirty, Coquette shoes, try wearing a V-neck tee, with white shorts and zebra-print ankle socks and dark-gray Coquettes. Cover up with an open-front cardigan-coat in light-gray, mustard or a brighter color and you're ready to get out there and set the local trends!
4. Classic II Ugg boots & Boho chic
The Classic II short boot is another versatile wardrobe staple with a long-lasting, light-weight sole. You can wear them with lots of different jeans and trousers, and velvet tops match well with the velvety, suede texture.
For a spiffy, Boho look wear tan, short Ugg boots with a short, romantic cream dress, with long, baggy sleeves in a natural fabric. And finish off your look with a lovely, cream Fedora, broad-brimmed hat. Or wear beige or khaki pants, with a cable-knit, V-neck sweater vest and dainty, gold dangling earrings!
5. Ugg boots & athleisure style
The Ugg girl look has been totally refreshed and you can join the trend with the right accessories and a pair of short Ugg boots. Wear them with cropped yoga pants, slim sweatpants and a pretty sweater. Blush pink Uggs look super-cute with a pink, cherry print fine-knit sweater and white pants.
And add a shiny, crocodile-look shoulder-bag in warm brown and white ankle socks. So when you've emptied the fridge and need to go foraging for food, you'll be all ready to venture outside looking your best!
6. Canvas Ugg boots for dressing up & summer casual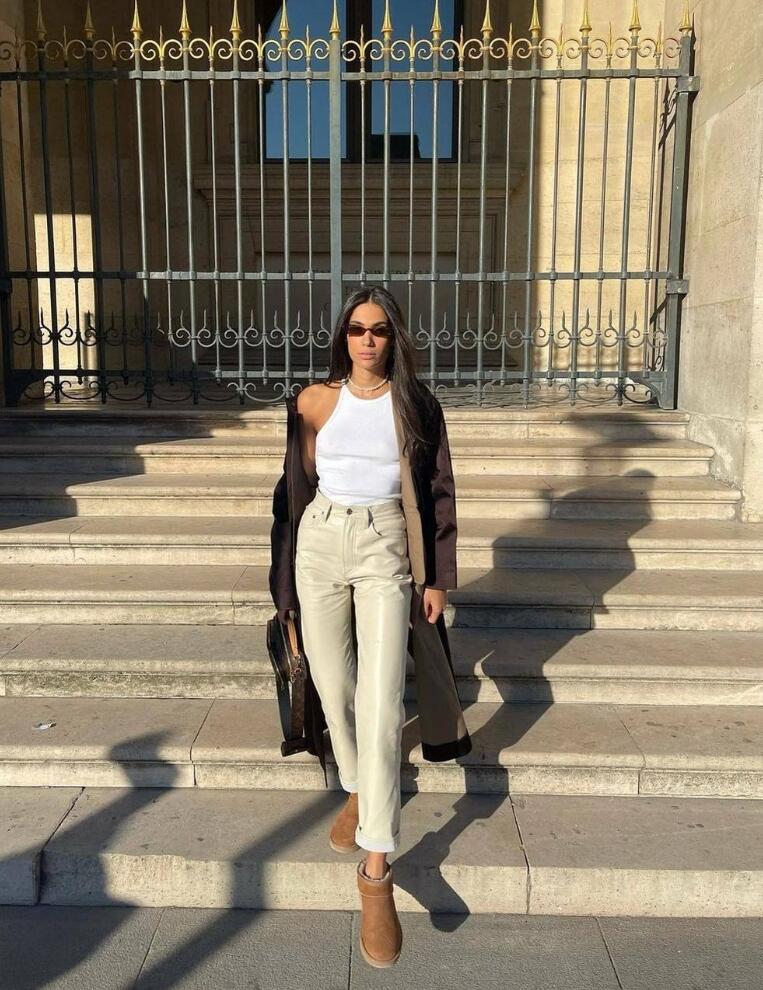 Mix up casual and dressy fashion items for a fabulous new look. Try wearing Ugg short black boots with a black, leather oversized blazer over a black bandeau or cropped top and ripped mid-blue jeans, for a super-cool image! Or team a summery aqua hoodie with light-gray narrow- or wide-leg jeans for a totally fresh color combination.
Give your outfit a smart casual finish with Neumel short, lace-up boots in canvas material. Neumel Uggs are perfect for summer wear and come in 5 fashion colors that are easy to match with your new or old wardrobe items. And short canvas Uggs look fabulous with fitted, cream faux-leather shorts and a plain beige, or graphic tee.
7. Ugg indoor/outdoor slip-ons & slim-cut sweatpants
You want to be super-comfy at home, but you need to go out for a walk to get some exercise, so Ugg slippers will take you out-of-doors without you having to lace-up your trainers. For a put-together look wear white slim-leg sweatpants, with a white, ribbed long sweater, a white, ribbed Beanie hat and Ugg slipper in your favorite shade.
And if it's a cool day, throw on your teddy-coat for extra coziness. I like to wear the gray, fur-trimmed slippers with white or lavender and they match blue denim really well, of course.
8. Ugg Classic Ultra Mini with cropped leggings
If you're more of a hot-pink type, than a gray lady, Ugg have got you covered with their bright pink Classic Ultra Mini slipper. Wear with a cropped black tee-shirt and black leggings, with a teddy-jacket over the top. And lighten the black with a statement, silver necklace and an ankle bracelet.
Then let the hot pink mini slipper-boots brighten everyone's day! The Ultra Mini is a low-cut Ugg slipper, which suits cropped leggings well. This casual street style is super-trendy and sooo cozy!
9. Ugg Classic Mini II with white jeans & shirt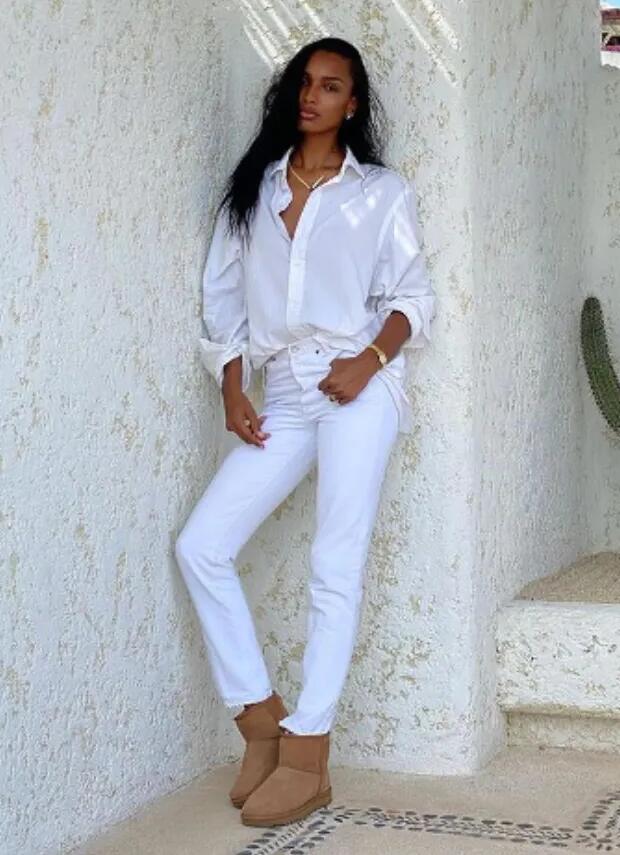 Ugg Classic Mini II's are a little higher than the Ultra Mini, and are more of a short boot for outdoor wear. These sophisticated but casual, suede boots in tan (and other colors) look super-cool with slim or straight-cut white or blue jeans. But don't buy this Ugg design to wear with boot-cut or flared jeans/trousers, because they don't go together at all.
Just make sure your trousers don't go down below the ankle, and tuck the cropped hems into your fashionable boots. Finish off with a plain, white button-up shirt and perhaps a gold necklace and bracelet. This is a very chic look, so well done Ugg for re-designing your footwear to keep up with current outfits!
10. Ugg Fluff Yeah Sling-back Sandals & bright loungewear
If you're a fan of the young TikTokers, you'll probably have seen these slippers before. They are so modern looking and a type of house-slipper style we haven't seen before. The two bars of fluffy, but sturdy, slipper fabric go across the top of your foot. And there's a handy strap that loops around the back of your foot, to make these slip-ons a good fit that won't keep slipping off.
Wear your Fluff Yeah slippers with trendy sweater rompers or a hot-pink short-sleeve sweatshirt and jogging bottoms to match. Or you can wear a long, lounging hoodie along with bright socks and be all cozy and relaxed at home!
11. Ugg Tasman & sweat-suits
Tasman Ugg shoe/slipper in lavender looks fabulous with a smart-casual co-ordinated sweat-suit in blue-gray. These comfy Uggs have extra details, which make them look and feel wonderful. For instance, there's contrast trim, front-seam detailing and a low back, so you can slip them on easily, but they don't slip off.
You can also wear these full-cover slipper/shoes for your daily exercise in a cropped top and leggings in a matching color, for a trendy street-style outfit. The designers have obviously worked hard to bring the Ugg brand back into the forefront of comfortable and contemporary fashion. And that's what we want right now!
12. Ugg Classic Weather Hikers with pleated skirt & chunky jumper
Of course, Ugg was always famous for its water-proof, snow-boots that kept your feet warm and dry, in icy and slushy weather conditions. So the Weather Hikers are a new twist on the outdoor, hiking look. And reviewers love the fact that they're more solid that OG Uggs, and have bright, trendy, orange laces. Not forgetting that they have excellent traction to keep you safe on slippery pavements!
Tan suede is the perfect color and material for short boots this season, and they fit in perfectly with the trendy, light-brown, khaki, tan, beige and cream fashions we're currently being offered. Lined with genuine lamb-fleece, the look is a companionable blend of quaint, cabin-style, with a super-cool, contemporary look. Wear with a cream, flared, pleated long skirt and a tan chunky, cable-knit with a polo-neck. And cover with an ankle-length, pinky-beige trench-coat plus a tan shoulder bag!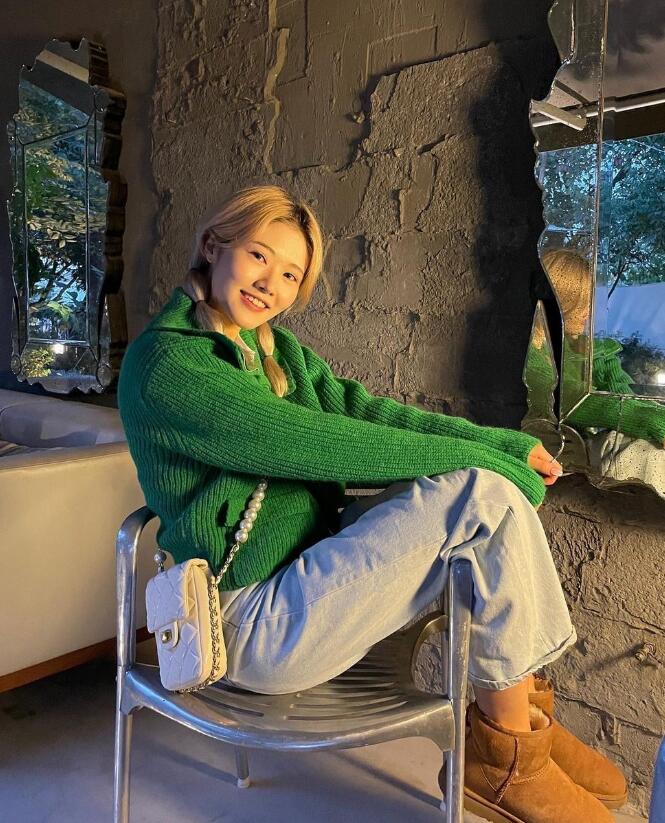 If you never thought you'd be wearing Ugg boots again in your life, this new generation of super-cool bootees and slippers will probably have caught you by surprise. Don't feel bad, they've caught the whole fashion industry by surprise – but it's a fabulously good surprise! Subscribe to get more fashion tips on herstylecode.com