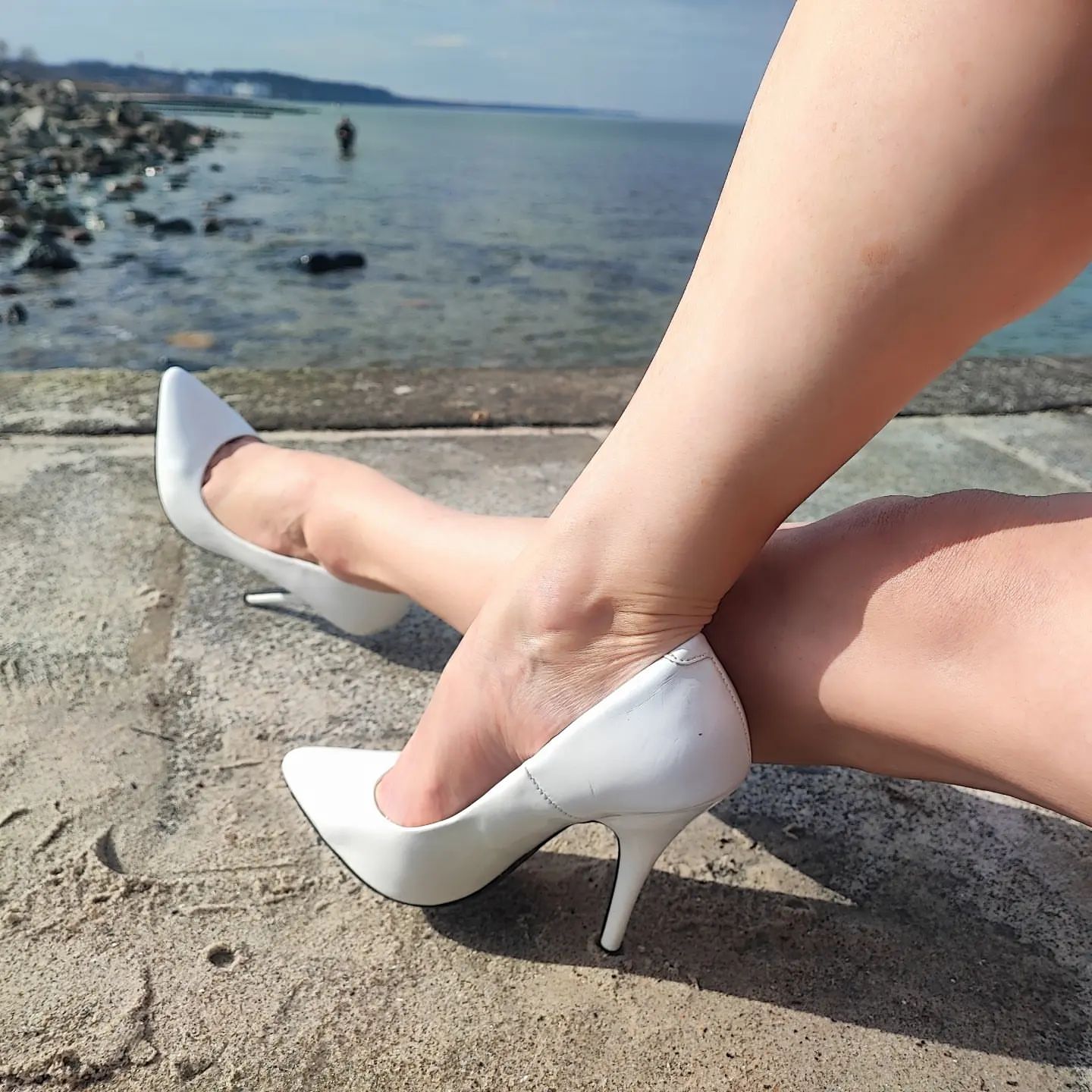 If lovers of high heels can agree on anything, it is that heels always come with a love-hate relationship. Slipping your feet into your favorite pair can unleash a new level of confidence unlike any other item in your wardrobe, but at what cost? High heels are notoriously bad for people's feet and ankles, especially those over three inches. To give you the feeling of wearing a high heel without the un-comfort, we have set up this guide of some great footwear choices that won't have you compromising in any other way.
Just because you have paid lots for your shoes doesn't mean that they are going to be the best for your feet. Sometimes, the more expensive option can actually be much worse. Here are the best high-heel shoe options covering a range of styles, foot shapes, and concerns. The next time you're looking for the best heels on sale, refer back to this guide to ensure you're looking great and feeling comfortable.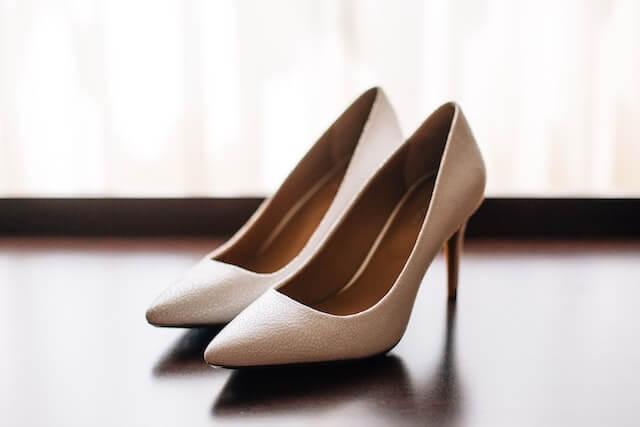 Kitten Heel
The plantar fascia is the stretch of tissue found at the bottom of your foot. In some cases, plantar fasciitis can occur when this area of your foot becomes inflamed. It is recommended by podiatrists that if this occurs, you should wear a supportive flat that will help with the foot pain, but if you're looking to add an extra something to your outfit, a lower heel is a great option.
It is suggested that wearing shoes that provide extra cushion and support in the midsole/arch of your heel is a great way to protect yourself from the plantar fascia becoming strained over long durations of wear. Certain brand trends on the market have been specifically designed with the help of podiatrists to ensure that your heel is always being treated in the best possible way. 
A kitten heel is a perfect option for days in the office and nights on the town. With a contoured design and deep heel cups, your fascia is completely supported. Some of these options are a little narrower compared to other styled shoes, something to bear in mind if you are someone with wider feet.
Best for Flat Feet 
Flat insoles are suggested to be avoided by many podiatrists for the majority of foot types, but for those people with flat feet, it is even more vital. Flat feet require shoes and soles that offer a proper arch to give some well-needed support and balance. A lightweight cork heel is great if you do have flat feet, as many options have built-in arch support, along with a memory foam footbed that hugs your feet. The heel height may be above the recommended three inches. Still, the addition of a toe platform offsets the height helping to distribute the weight evenly across your foot and supporting the positioning of your arch.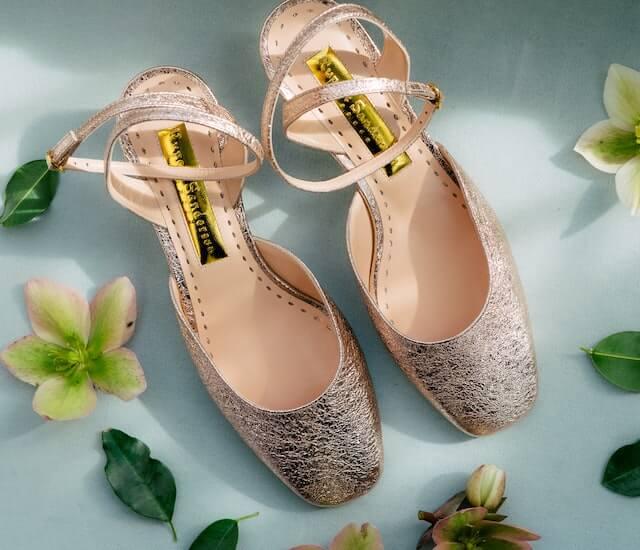 Sandals
Anyone with wider feet will know how difficult it can be to find a stylish shoe that doesn't completely suffocate or squash your feet. The key aspect of comfort comes in being aware of the shape of the toe box, ensuring that your feet have ample room to lay flat. A round toe is going to be the best, or even something a little more block-shaped. Avoid pointy shoes; they are not going to provide anything in the form of comfort over long durations of wear. 
A wedge sandal with an open-toe box is the perfect option for anyone with wider feet. Your comfort levels will be at an all-time high with your feet sitting and sliding in the shoe easily. Even options that sit at the higher level of acceptance when it comes to the three-inch height rule, these styles are still approved by podiatrists. Many of these are also budget-friendly, giving them even more reasons to purchase. Look good and feel great.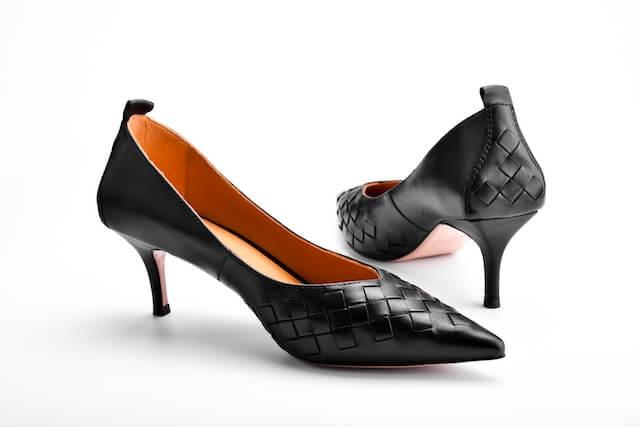 Block Heel 
There isn't a timeless look like the classic black heel. They tick all the boxes when it comes to comfort and a look that will never go out of style. Paired with a block heel only an inch or so off the ground for modesty and stability, a shoe like this should never go beyond three inches in height to reduce added stress your feet could be exposed to. A classic design of the go-to heel is the almond toe which will keep your feet from getting squashed.
If you can find a version that has a rubber outsole, you will be given much more cushioning each time your feet land on the ground, ultimately giving your joints and ankles a well-deserved break. These shoes are generally designed in a medium-width which won't always be suited for those with wider feet.
Chunky Toe 
If you are someone who suffers from bunions, then you should try to pay extra attention to the toe box on your shoes. No matter if they are rounded or square, toe boxes are much better, as pointed heels will add much more pressure to this area. Serious pain can be caused by nearly all shoes that apply pressure to the deformity of the foot joint.
There are certain heels on the market that offer rounded toes that actively avoid the worsening of bunions featuring a knitted upper area that adds a forgiving stretch to the shoe. Find a type that is a little shorter in size, perhaps under two inches, so that any pressure on your foot is eased. An anti-slip rubber sole is also another good way to help you stay exactly where you need to be. If you suffer from bunions and have wider feet, a good thing to try is selecting a shoe one size up for added comfort.