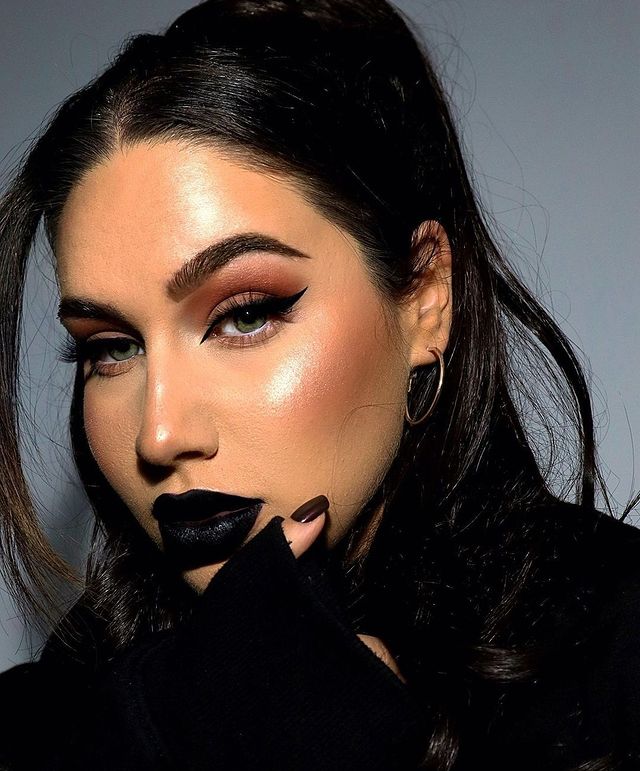 How To Rock Dark Lipstick Without Looking Like A Goth
There are a lot of misconceptions about wearing black lipstick. Some women think it's too dark for their skin tone, while others are worried about drawing too much attention to themselves or making their makeup look silly or overdone.
Black lipstick actually has roots thousands of years ago in ancient societies where women wore black lipstick to enhance their facial features and symbolize their social status. Black lipstick also helped women's lips stand out better in black-and-white pictures and films in the early 20th century—so black lipstick was commonly used among actresses during this time throughout the 1920s and 1930s.
In modern times, black lipstick popularized in high fashion in the 1960s and became more readily available as a standard makeup staple in the 1970s and 1980s. It remains a timeless trend to this today. Although it is associated primarily with dark, dramatic makeup looks and gothic fashion, black lipstick is actually much more versatile than it might seem.
You don't have to partake in gothic fashion in order to wear black lipstick. Keep reading for 10 ways you can make black lipstick work for you, regardless of your own personal style preferences.
1. Add as an Accent
If you want to wear black lipstick without drawing too much attention to yourself, try coating just one section of your lips in black lipstick and apply a less dramatic color all over the rest of your lips. Start by applying lipstick in the color of your choice in an even layer all over your lips.
Then, apply black lipstick to the bottom half of your bottom lip like in the picture above—or to the top half of your top lip, depending on which part of your lips you want to highlight. Use a small makeup sponge or brush to blend the black lipstick into the lipstick above it to create the perfect two-toned look that is accented with black lipstick.
2. Go Metallic
Metallic lipstick and black lipstick are both current top trends in the world of beauty and fashion. It just so happens that these two trends can be easily combined to create an eye-catching metallic black lipstick look.
To create a metallic black lipstick look, you can either find a metallic shade of black lipstick or you can create your own by layering clear metallic lip gloss over your classic black lipstick to achieve a metallic finish. When wearing metallic black lipstick, keep the rest of your makeup look very simple to avoid creating a look that is too overwhelming.
3. Layer with Lip Gloss
Add some shine to your black-lipstick makeup look by layering clear lip gloss over your black lipstick. Apply your black lipstick, wait a minute or two for it to fully set on your lips, and then add a layer of clear lip gloss over your lipstick.
Applying a layer of clear lip gloss over your black lipstick gives your whole makeup look a more carefree finish. It also keeps your lips looking healthy and moisturized and helps you avoid a dry-lipped look. Glossy black lipstick stands out very well on its own. You can pair it with natural or colorful makeup depending on your own personal preferences.
4. Line Your Lips
An alternative option to wearing black lipstick is wearing black lip liner instead. Dark lip liner with either no product or very natural-looking product on your lips is a trend from the 1990s that has recently resurfaced.
Black lip liner is not very commonly used, so it can be difficult to find on the mainstream makeup market. However, it is possible to find black lip liner from certain makeup brands. Trace the outer edges of your lips with black lip liner and leave the rest of your makeup natural to allow your lip liner to act as the focal point of your makeup look.
Make sure to trace just around the outer edges of your lips. It is easy to position your lip liner too far outside of your lips—which can look very clown-like—or inside the lines of your lips, which is unflattering and makes your lips look smaller than they really are. To prevent your lip liner from bleeding out onto the rest of your skin, use an angled brush to apply concealer around the outside of your lips once you are done lining your lips.
5. Add Color Elsewhere
Black lipstick should definitely be the main focal point of any makeup look that includes it. Black lipstick is ultra-bold and makes a statement all on its own.
However, wearing colorful eye makeup like the orange eyeshadow in the picture above to add a pop of color to your makeup look that features black lipstick helps blunt the gothic effect of black lipstick and gives your entire makeup look a more carefree and playful finish.
If you have paler skin, stick with warm-toned colors for your eye makeup to add warmth to your skin and help you avoid looking washed-out. If your skin is darker, you have a wider range of options. Women with darker skin tones can pull off both warm- and cool-toned eye makeup with black lipstick.
6. Go Geometric
Thick black winged eyeliner and black lipstick go together like peanut butter and jelly. Many makeup looks that include black lipstick also feature dark winged eyeliner that matches the bold finish of the black lipstick.
When in doubt, you can always pair your black lipstick with classic winged eyeliner for a bold and glamorous finish. However, if you want to get even more creative with your makeup, try pairing geometric eyeliner with your black lipstick. The possibilities for geometric eyeliner are endless, and geometric liner doesn't have to be much more difficult to apply than classic winged eyeliner. Geometric eyeliner can be as simple as adding an extra line or two above your winged liner.
Liquid eyeliner with a thin brush works best for applying geometric eyeliner to pair with your black lipstick. Make sure to apply eye makeup primer to your eyelids before applying any liquid eyeliner to your skin in order to keep your liner in place all day long.
7. Keep it Natural
Black lipstick is extremely versatile. You can pair it with dark makeup, colorful makeup, or very natural-looking makeup. Dark and colorful makeup looks that feature black lipstick tend to come off as gothic or—at the very least—very eye-catching.
If your style is not generally dark or gothic, however, you can pull off black lipstick with ease without disrupting your own personal style preferences by keeping the rest of your makeup look natural. Black lipstick paired with no makeup can look unnatural, but pairing black lipstick with simple, natural-looking skin and eye makeup creates a unique and versatile look that complements a wide variety of styles.
8. Wear Bold Brows
Bold brows pair perfectly with black lipstick—especially for women with naturally paler skin tones that are prone to looking washed out by black lipstick. Dark and bold eyebrows serve as a very complementary focal point for black lipstick makeup looks.
If you want to keep the rest of your makeup look somewhat natural-looking but feel washed out with an all-natural look that includes black lipstick, pair your black lipstick with bold, dark eyebrows. Bold brows and black lipstick together create a frame of sorts that enhances your facial features and prevents your skin from looking washed out.
9. Go Not-Quite-Black
If you are intrigued by black lipstick but feel self-conscious or worried about wearing it yourself, try out very dark purple or very dark red lipstick. You'll probably feel more comfortable than if you were wearing all-black lipstick, but the effect will be virtually the same as if you were wearing lipstick in a shade of true black.
Not-quite-black lipstick can also be easier to pair with eye makeup than all-black lipstick. Choose colors in the same family as the color of your dark lipstick—such as the purple eye makeup and deep purple lipstick in the picture above to create a bold yet seamless makeup look. (herstylecode.com)
10. Make Your Skin Glow
If you have naturally light skin, giving your makeup look a glowing finish can help prevent black lipstick from washing out your skin and making you look pale and ghostly—which is a common fear among women with paler skin tones when it comes to wearing black lipstick.
Apply a warm-toned highlighter to the tops of your cheekbones, under the arches of your eyebrows, at the tip of your nose, and around the cupid's bow at the top of your lips to give your skin a natural-looking, glowing finish. Add more warmth to your skin with bronzer and contour. Just make sure not to overdo your skin makeup too much; your black lipstick should still be the star of the show.