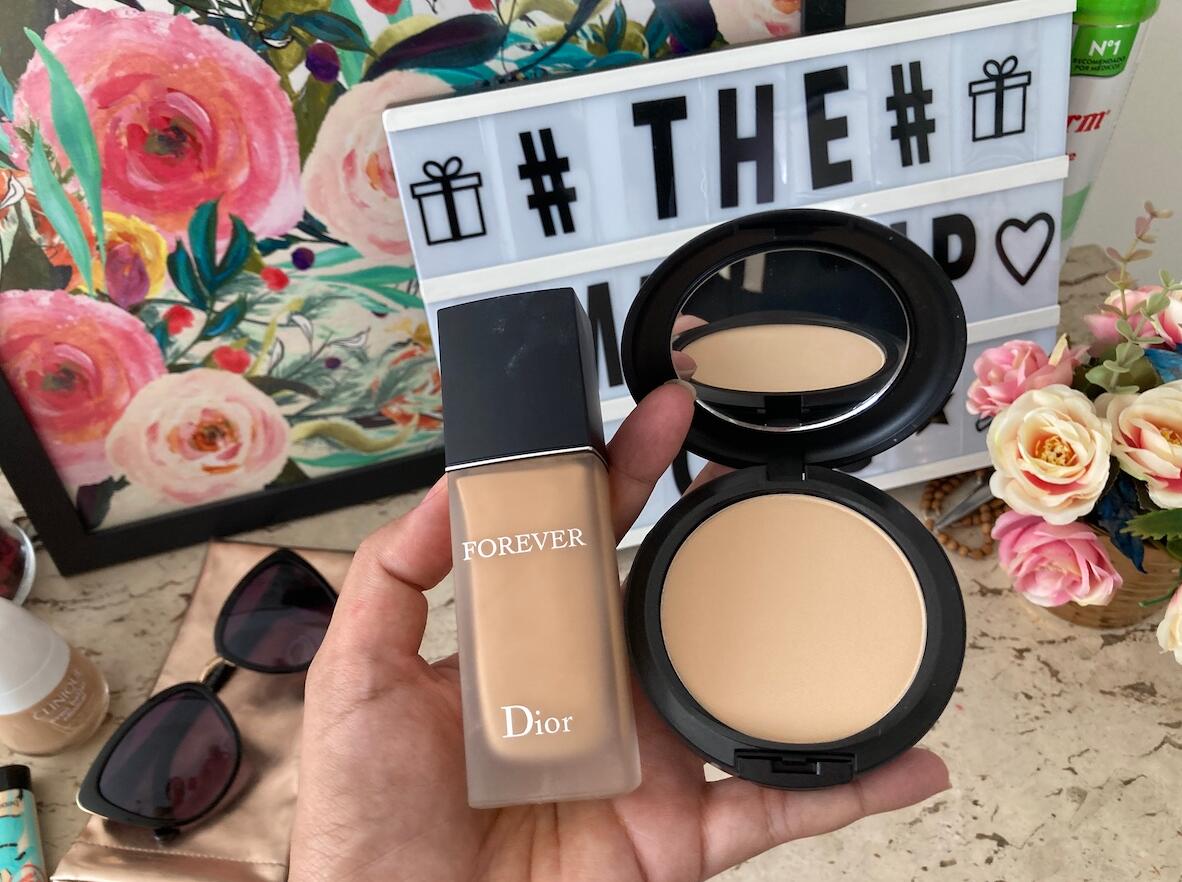 There are many innovative forms of face makeup nowadays, from tinted moisturizers to BB and CC creams. But the two classic types of base makeup remain to be powder and liquid foundation. These are both the OGs of face makeup but work in completely different ways.
Each type has its ups and downs, depending on your skin type and how you use it. Choosing which type of foundation to use largely depends on preference, but a big part of it is strategic, too. You need to choose the correct one to get the most longevity, the best coverage, and safety for your skin's sensitivities.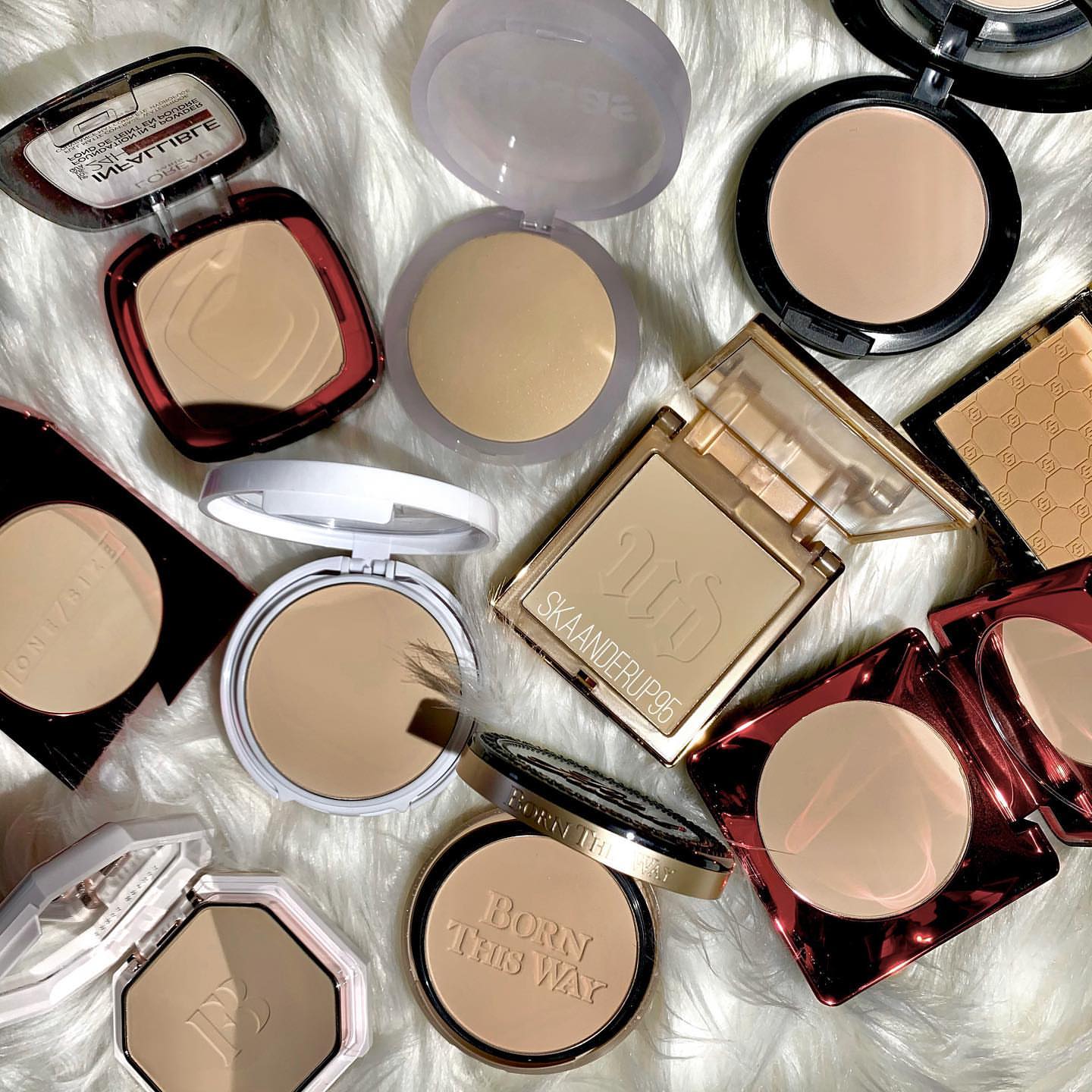 Curious about the difference between powder and liquid foundation, and which one your skin will enjoy more? Read on to see which is likely more suitable for you. Plus, stick around for some recommendations for our fave powder and liquid foundation in case you need help picking ones out.
What's the difference between Powder Foundation and Liquid Foundation?
The main difference between powder and liquid foundation is obviously what format the makeup comes in. Liquid foundations are runny and creamy, while powders are compact and are packed on with a sponge or brush.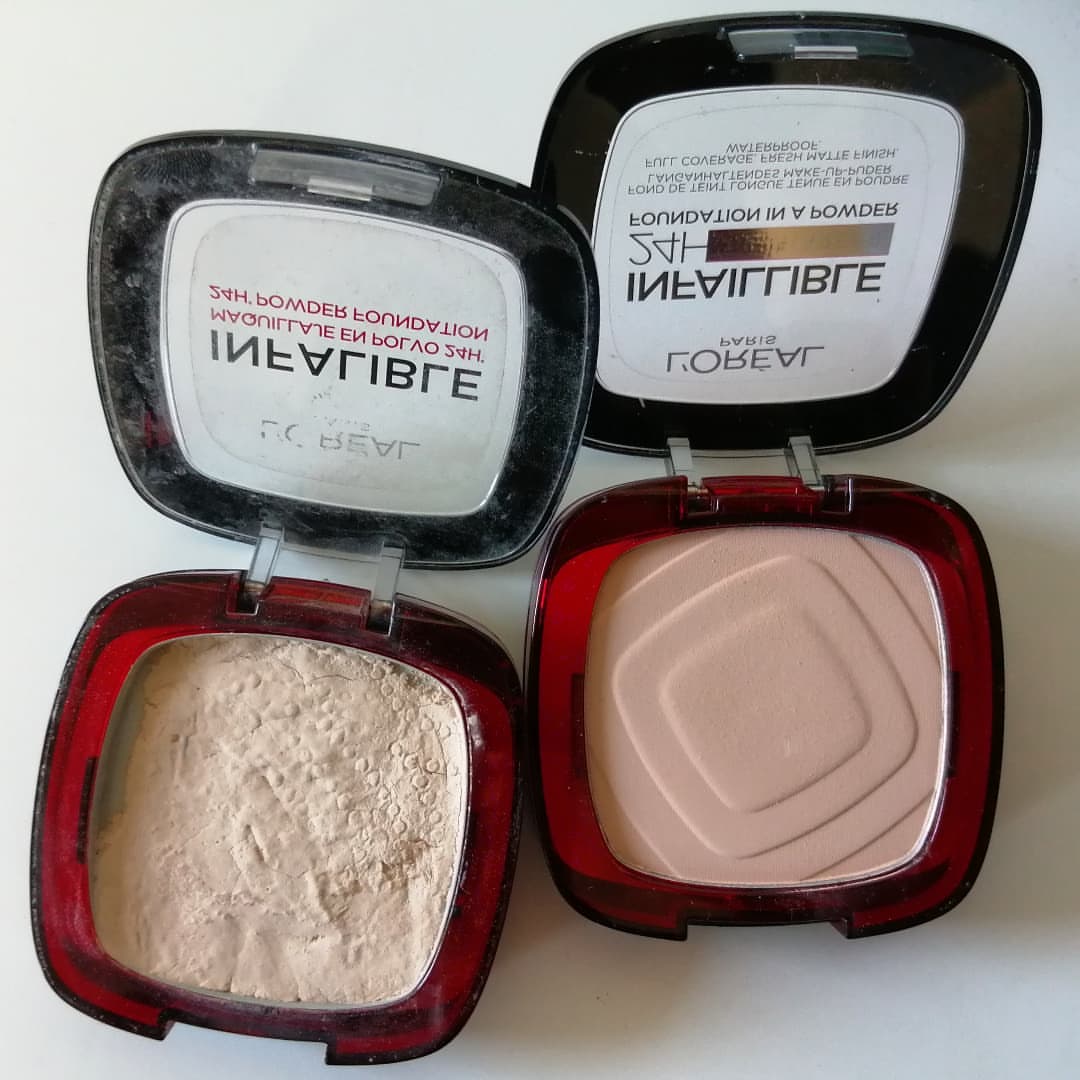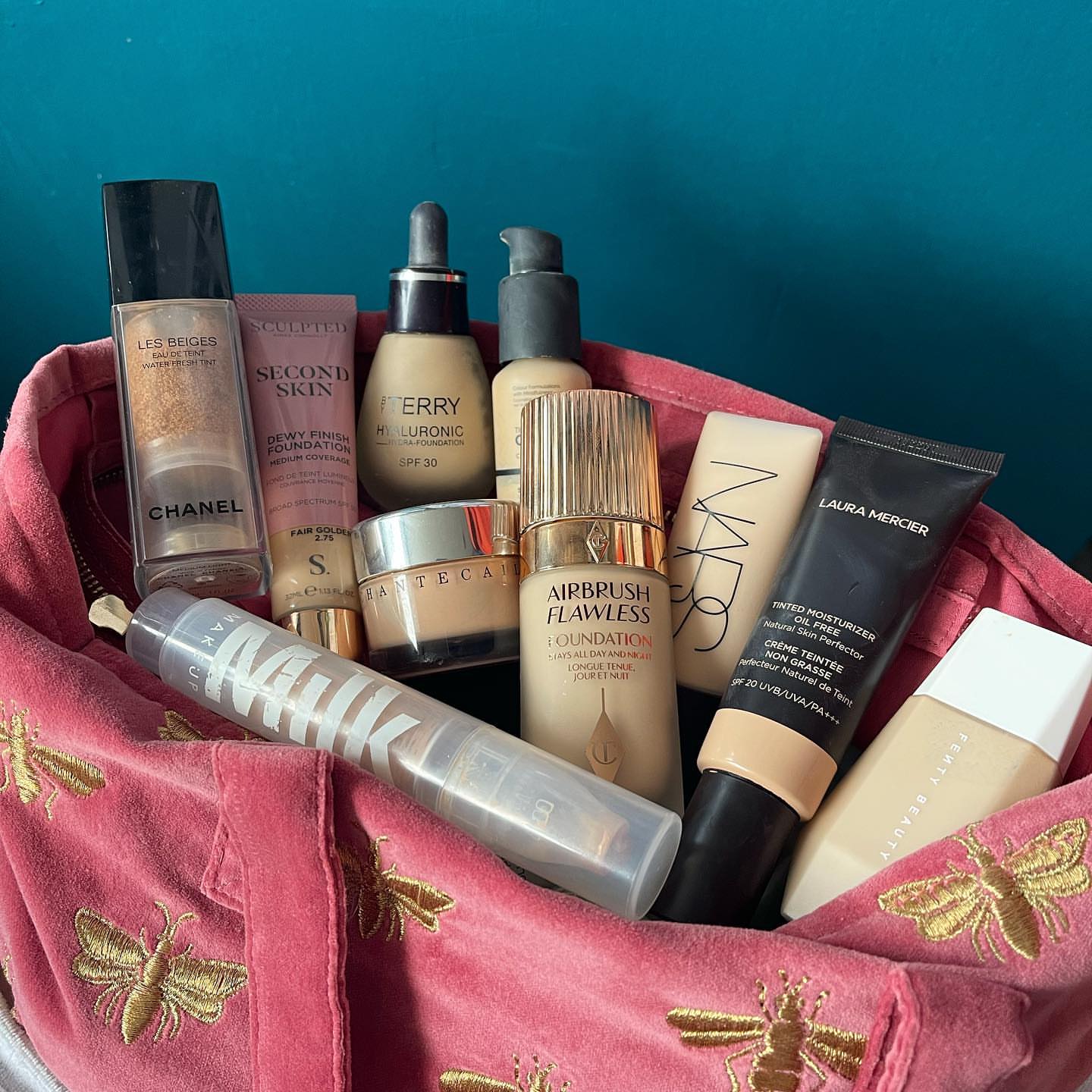 First up, we have liquid foundation, which is usually used for events, photoshoots, and important dates. Liquid foundation is infused with pigments and silicones to allow the makeup to stick to your skin all day long. Since they glide onto the skin effortlessly, liquid foundations are a dream to blend.
They're also thicker than powders, so they have a higher chance of giving you more coverage. The biggest issue with liquid foundation is that you run the risk of dealing with a heavy, cakey base on your face.
On the other end of the spectrum, we have powder foundation. This is a dry type of foundation that is made of pigments and oil-absorbing minerals. While liquid foundations can either be oil-controlling or hydrating, powder foundations are always matte.
Most powders fall into two categories: pressed or loose powder. Pressed powder foundations often give better coverage, while loose powders allow a fine layer of tint on your skin. Either way, powders are awesome for everyday natural glam, since they offer light to medium coverage.
Powders are lightweight and breathable, so they never feel heavy on the skin. This is awesome if you're sick of the heavy, sticky feeling you get while wearing liquid makeup everyday.
Which one is more suitable for me?
Before you pick out which foundation type is better for you, you need to have a clear understanding of your skin. Assess what kind of skin type you have. Is it dry or oily? Sensitive and acne-prone or clear and resilient? Your choice of foundation type will depend highly on your answers to these questions.
If you have oily skin, you might enjoy using powder foundations more. These powders absorb oil throughout the day, keeping you looking fresh and tidy. They also control shine, so you don't end up looking greasy throughout the day. You'll also love this if you sweat easily.
This is a far cry from liquid foundations, which often melt off under the hot sun. Because of this, liquid foundation is better in the colder months when your skin needs extra hydration. It's also perfect for those who have dry skin, since it's easier to get moisture from dewy liquid foundations than powders.
Now, let's talk about coverage. Liquid foundations are better at attaining full coverage, so they're excellent for covering up blemishes and discolorations. Because of this, those with hyperpigmentation and scarring issues will love liquid foundations more.
Meanwhile, since powders are more lightweight, they'll do well for you if you'd rather have a sheer, barely-there foundation look for every day. They're also less comedogenic because of how light they are. That means they won't clog your pores. This means they're more suitable for acne-prone skin.
If you have a unique skin tone or undertone and find that you need to mix certain colors together to get the foundation shade you want, you're better off with liquid foundation. They're easier to mix and blend together than powders.
Things to look for in a good powder foundation
A high-quality powder foundation always feels light and weightless, even if it provides adequate coverage. Make sure your powder foundation sits on your skin comfortably and never feels incredibly thick on your complexion, like it's suffocating it.
You should also choose between compact or loose powders for your foundation. Compact ones are pressed, which means you can pack on more pigment with them. If you need extra coverage, compact powders are a lot better.
Loose powders, on the other hand, are merely brushed onto the skin for a light tint. If you're more into natural looks with sheer coverage, this is what you should go for. Loose powders sometimes have hypoallergenic minerals, which is great for sensitive and allergy-prone skin.
Try looking for a powder foundation with buildable coverage, so you can go from light to full coverage depending on your need. This makes your foundation more versatile and usable for many occasions.
That said, a good powder foundation should never look cakey, even when you put on multiple layers of it. Go for one that can make your skin look as natural as possible—like actual skin.
One excellent powder foundation that everyone and their momma loves is the Maybelline Super Stay Full Coverage Powder Foundation. Buy it here!
It offers full coverage for up to 16 hours, so it's perfect for events during the summertime when you need something lightweight but makes your skin look airbrushed and flawless. The great thing about this powder foundation is that it never feels heavy and cakey on the skin.
Things to look for in a good liquid foundation
The first thing you should look for when shopping for a liquid foundation is what kind of finish it gives your skin. If you have dry skin, you want to go for something glowy and dewy, while matte and poreless foundations are better for those with sensitive, acne-prone skin.
Either way, always look for a liquid foundation with buildable coverage. That way, you can switch between everyday glam and bolder looks whenever you please.
If you're going for a full-coverage foundation, make sure it covers up all your discolorations, scars, and other blemishes. The main point of getting a full-coverage liquid foundation is to get an airbrushed, seamless, clear complexion, so don't settle for anything less.
You might also want a liquid foundation infused with skincare ingredients, like SPF to protect you from the sun or vitamin C to brighten the skin in the long run. You should also keep an eye out for hydrating ingredients, like argan oil or hyaluronic acid for a healthy glow.
One such foundation is the Rare Beauty Liquid Touch Weightless Foundation, designed by none other than Selena Gomez. Buy it here!
It's silky and light as feathers, but gives you subtle hydration and relief because it's infused with botanical skincare ingredients. These include extracts from gardenia flowers, water lilies, and lotus flower. Together, these botanicals soothe and nourish your skin simultaneously, making it perfect for parched and sensitive skin types.
Conclusion
The rules are pretty easy to remember. Powder foundation is great for oily skin and light coverage, while liquid foundation is king when it comes to thick, opaque coverage and hydration.
However, always remember that the choice is no one but yours. As long as you pick the right formulas for your skin type, those with oily, acne-prone skin can still enjoy some liquid foundations. In the same way, those who need more coverage can work with compact powder foundations, too.
You just have to be wise with the formula you go with. After all, there are no rules and hard limits with having fun with makeup anyway. Choose one of the recommendations we gave above or look for your own favorite foundation formula, be it powder or liquid.
Can I wear liquid foundation and powder foundation together?
Yes, you can wear liquid foundation and powder foundation together. In fact, layering these two types of foundation can help to create a more flawless and long-lasting finish.
Here's how you can do it:
Start with a clean and moisturized face. Apply your liquid foundation all over your face using a brush, sponge, or your fingertips. Blend it out evenly, making sure to cover any imperfections.
Once you have applied your liquid foundation, allow it to dry for a few minutes. Then, take a powder brush and apply your powder foundation on top of your liquid foundation. Use a light hand and make sure to blend it out well.
If you want more coverage or a more matte finish, you can apply another layer of powder foundation on top. Alternatively, you can use a translucent setting powder to set your foundation and make it last longer.
Wearing liquid foundation and powder foundation together can help to create a more polished and flawless look that lasts all day. Just make sure to choose the right shades and formulas that work well together for your skin type and tone.