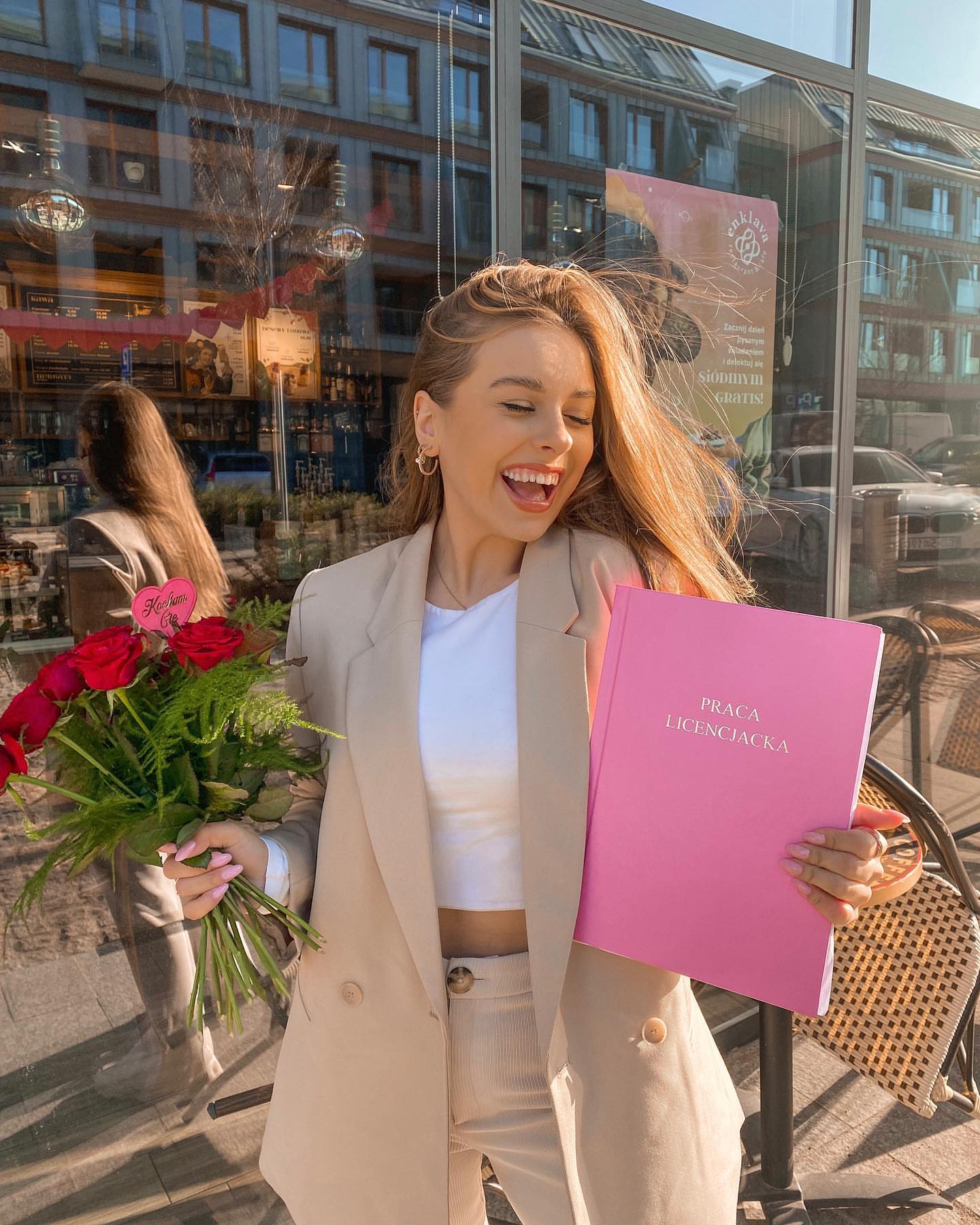 Without any definite information about how to dress better, many women struggle to choose clothes that flatter their particular, female body shape.
Yet so much of our personal self-confidence and job success relies on making the right impression through dressing well.
If you were lucky, you're mom probably tried to guide you during your adolescent years.
But fashions can be so different between the generations, that maybe you just had lots of rows with your mom over what suited you! LOL!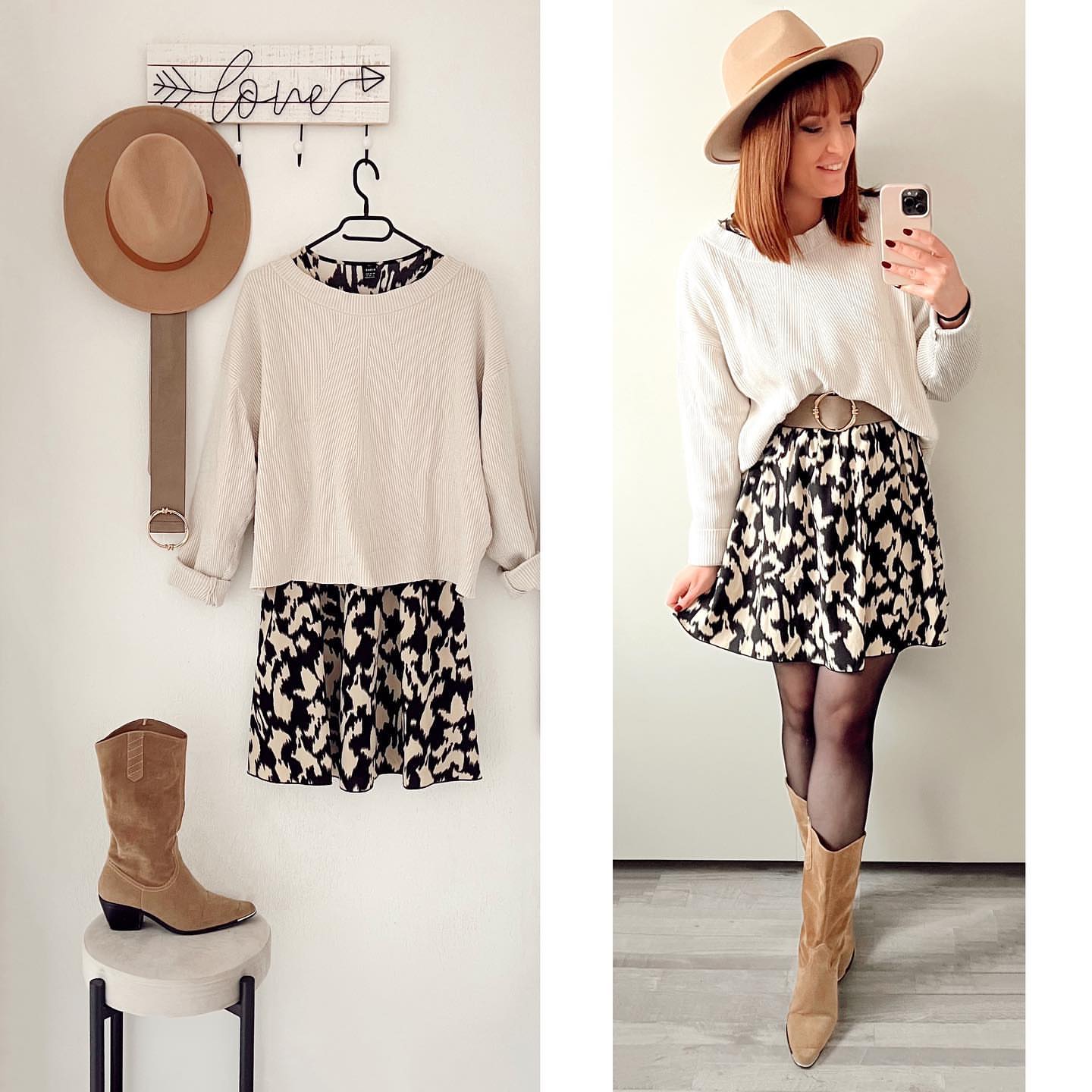 Most of us pick up ideas about fashion from looking at models in magazines, newspaper photos and celebrities.
But this isn't going to work if your favorite celebrity isn't exactly the same height, weight and shape as you.
And it can lead you totally astray and wearing a wardrobe of clothing that isn't doing its job – which is highlighting your good points!
What's the point of fashion clothing?
The point about fashion clothing is that it should add something extra to your overall style.
And unless you know what your body shape is and what styles flatter it best, you'll never achieve that polished look you admire in celebrities.
And that would be a shame, because we all deserve the information we need to ensure we look great and feel confident every day of the year.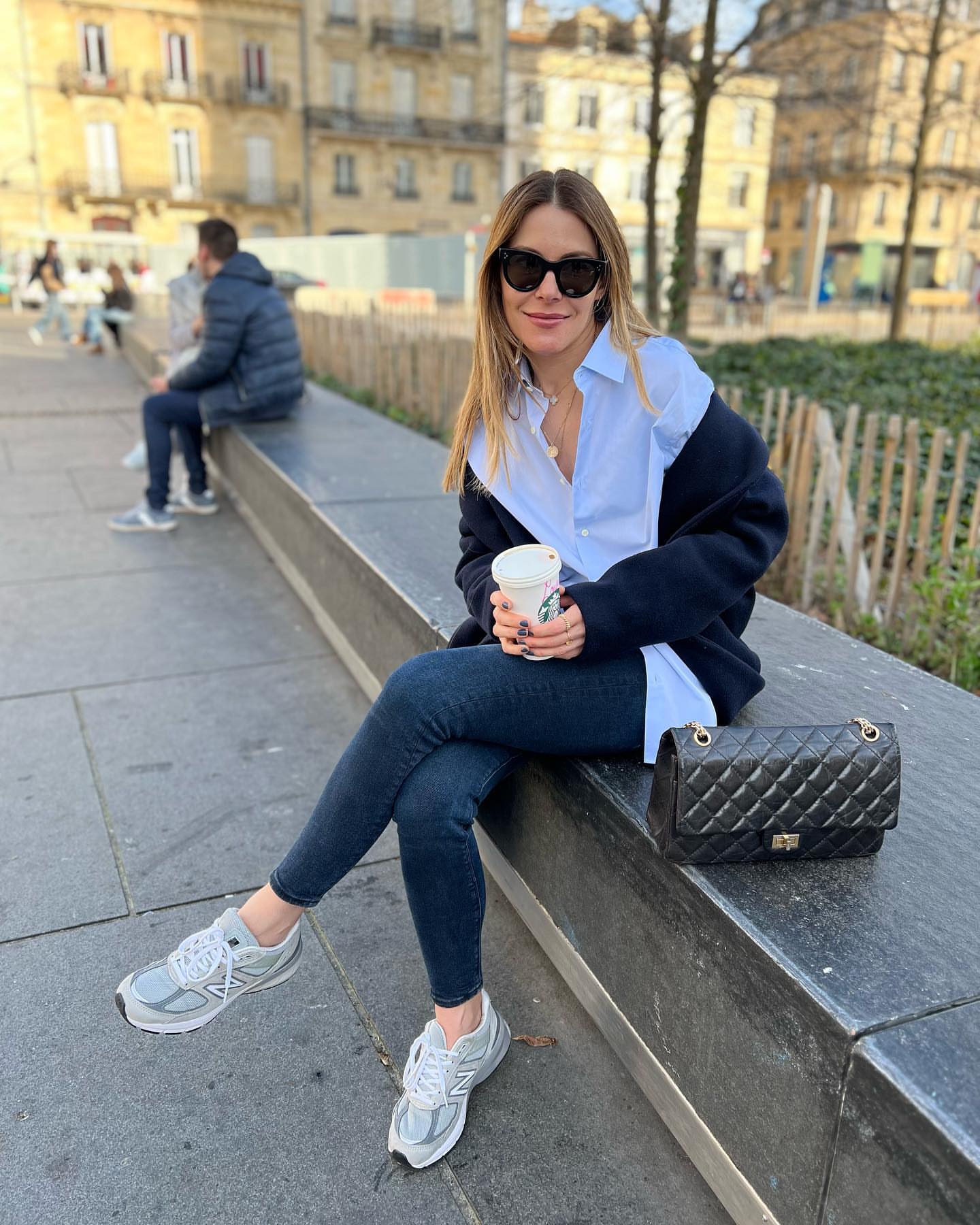 So today I'm dealing with the most common body shapes, and how to dress successfully in outfits that suit your proportions beautifully.
First of all, we should acknowledge that every body type is equal because each one is unique and a true wonder of Nature!
There's no need to change your body to look great every day, you just need to know how to dress better by choosing clothes designed to flatter your female body shape.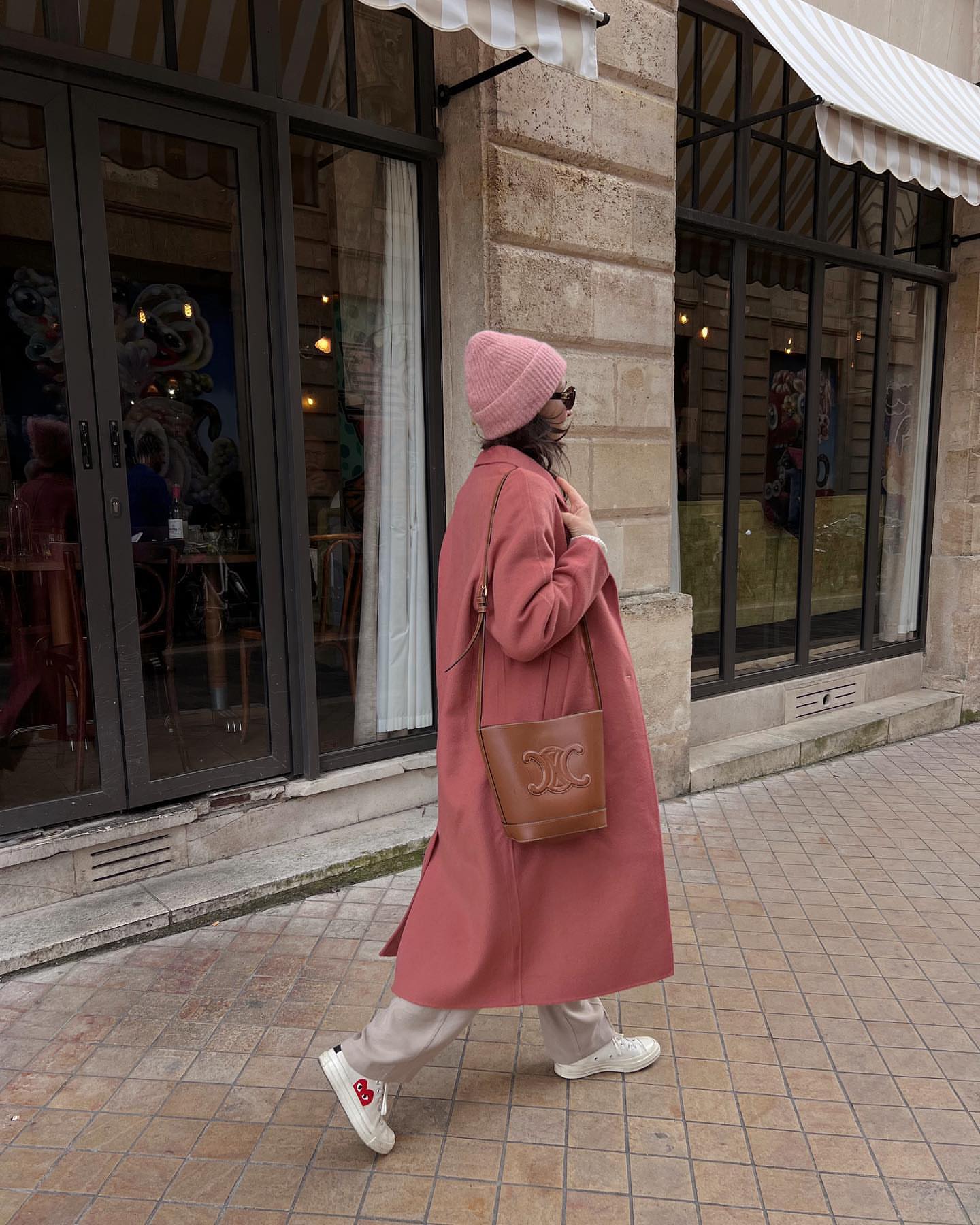 Just as there is no 'one size' that fits all, there is also no 'one style' that flatters all women.
And the reason there are so many garment styles on offer is that we all require different looks to bring out our best features!
Work with your body shape to dress better
It's as simple as that!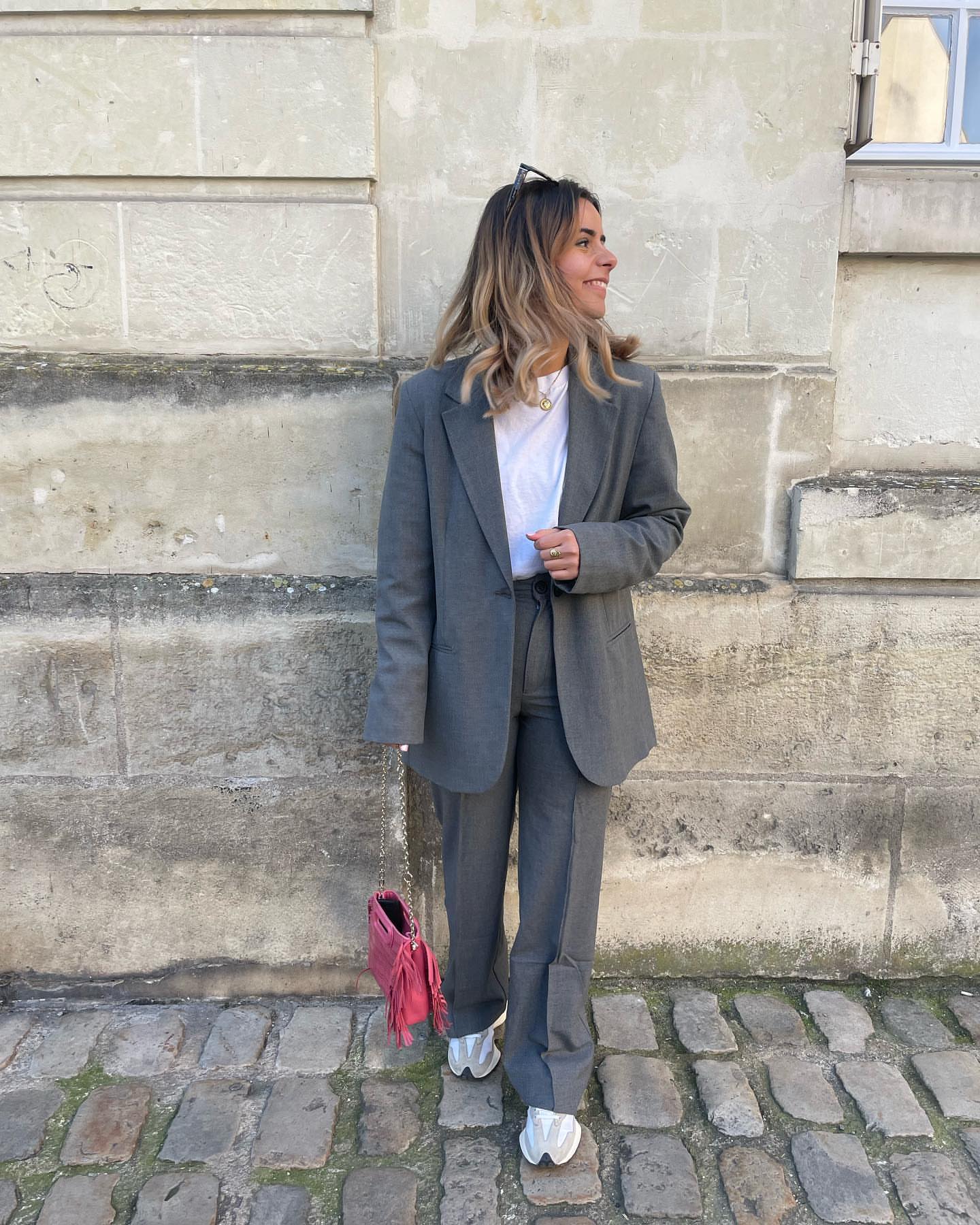 Your overall silhouette is governed by your genes and the skeletal structure you are born with.
And genetics is a big factor is determining how your body stores fat and distributes muscle tissue.
So although you may be able to refine and tone your shape with exercise, you can't change its basic shape.
This means that the intelligent approach to how to dress better is to get to know your individual shape and then dress to enhance it.
And once you concentrate on that, you'll go from strength to strength!
How can I identify which female body shape description fits me best?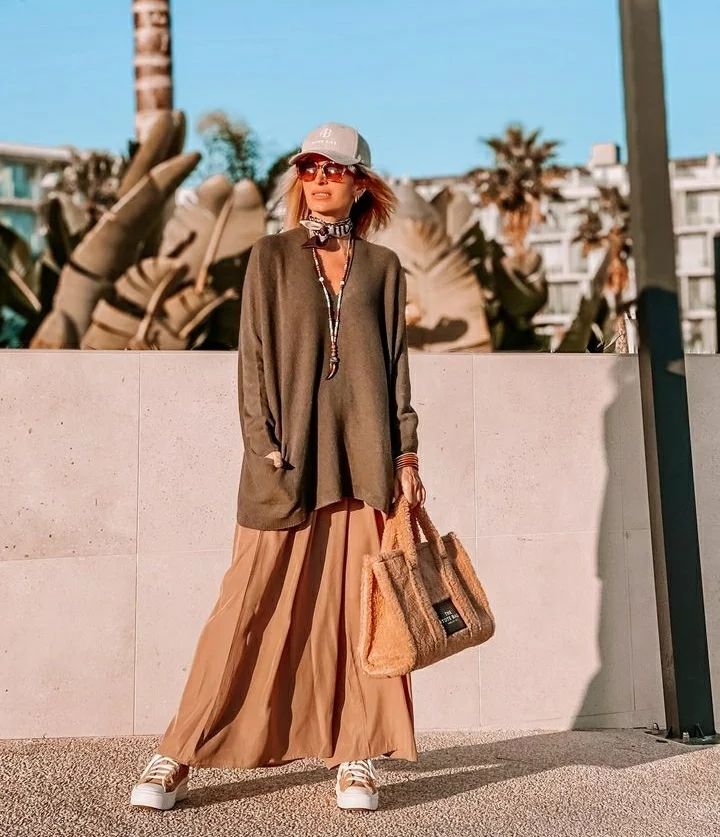 It isn't difficult and can take just a matter of minutes, so you read on and discover how to dress better today and every day! The tips are not only for outfits but also work for choosing lingeries.
5 Common Female Body Shapes:
What are the main female body types?
Female bodies can mostly be categorized into one of 5 general shapes.
1. Hourglass
2. Inverted triangle
3. Rectangle
4. Regular triangle or pear-shape
5. Round or apple-shape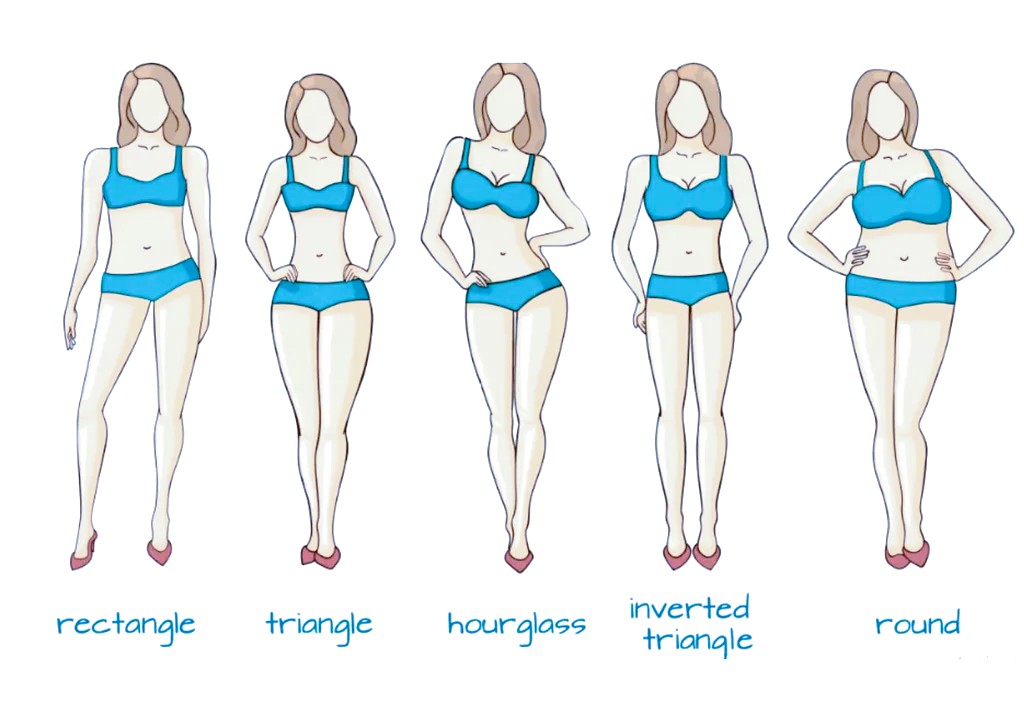 1. Hourglass Female Body Shape

The hourglass shape has perfectly-balanced hips and shoulders width, with a well-defined waist in between.
For those who aren't familiar with what an 'hourglass' looks like, it's sometimes also called a 'Figure 8' shape.
The best-known hourglass shaped celebrity is Marilyn Monroe, and in more recent times Scarlett Johansson, Jennifer Lopez, Beyoncé and Nikki Minaj all display this body shape.
Hourglass shapes often come with a generous bust-line, so if you want a modest, balanced look you should choose scoop necks or boat-neck necklines.
Try to accentuate that smaller waist and highlight what is the slenderest part of your body – whatever size you are.
The Hourglass body type can look great in mini-skirts that show off your legs, or a flirtatious little dress, worn with sneakers to keep the look casual.
Moreover, you'll always look gorgeous in peplum-waist styles, tops or jackets and the 'Empire-waist', or high-waisted dress style, which highlight your waist and bust.
Jeans and trousers will flatter your waist and hips if they have angled pockets, rather than 'inseam' pockets that often pull across the hips and create deep fabric wrinkles.
And formal or casual trousers without pockets are best of all as they just show off your shape, without any distracting lines of seams.
Avoid
High-necks such as the currently fashionable turtleneck, which will just emphasize your chest even more
Baggy or shapeless clothing, as it can totally swamp your frame and look highly unflattering and bulky
Heavy or stiff fabrics that don't mold to your curves
2. Inverted Triangle Female Body Shape

You can tell if you have this body shape, because you will be larger on the top than on the bottom.
Inverted triangle body types have shoulders that are wider than the hips and don't have much difference between waistline and hip measurement.
Choose garments that accentuate your lower half, such as wide-leg trousers and A-line skirts.
And your most flattering jeans' shape is the 'boyfriend' jean.
Avoid
Bardot or boat-neck tops
Big shoulder straps
Halter-necks
Large shawl collars
Large prints on your top
Inverted Triangle Celebrities include: Naomi Campbell, Michelle Rodriguez, Elizabeth Hurley, Emily Van Camp and Angelina Jolie.
3. Rectangular Female Body Shape

Rectangles can be square or oblong, but generally speaking, the rectangular body shape has the same size for bust and hips, with a waistline that needs help to appear more defined.
Often called an 'athletic body', you'll find that belts, belted jackets and medium-waist jeans help add more shape around the waist.
So try to wear softer fabrics which help create the look of a waist – because they drape well under a belt, unlike thick or stiff textiles.
Rectangular body shapes look fabulous in most styles of trouser, including close-fitting or loose styles. And some styles of body-con, stretchy pants could accentuate your waist and hips.
Look out for medium-rise jeans, which tend to highlight the waist.
And adding a belt to your jeans is another great way to emphasize your waist.
Avoid
Vertical silhouettes e.g. straight trousers under a straight, boxy jacket
Rectangular Body Shape Celebrities include: Gigi Hadid, Cara Delevingne, Cameron Diaz, Hilary Duff and Gwyneth Paltrow.
4. 'Pear' or Triangular Body Shape

Pear-shaped bodies have wider hips and thighs, and a narrower top, so you'll benefit from clothing that draws attention to your top section.
For example, wear printed fabric shirts/blouses and brighter colors.
You'll also find that boat-necks and sweetheart necklines add balancing width to your shoulder area.
Another little trick to add width to your upper half is to layer your tops and wear a padded or push-up bra to add a balancing curve.
Ensure your shirts/tops stop exactly at the widest point of your hips, so the part that's visible is always going to be tapered inwards.
This minimizes the difference between your bust-line and hip-line in a very flattering way!
Dark colors on your bottom section are also a great way to achieve a better balance.
Avoid
Extra-long shirts
Short-cropped shirts
'Pear' shaped Celebrities include: Rihanna, Christina Aguilera, Eva Longoria and Paris Hilton
5. 'Apple' or Round Body Shape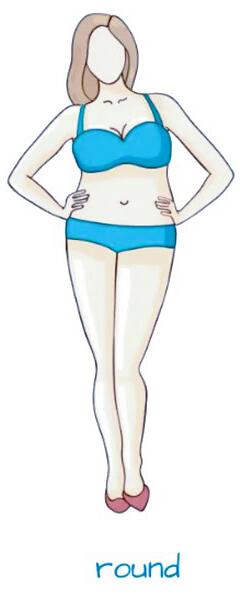 Round body shapes have a larger top than bottom half, and their waistline is often not very well defined.
Often your main features are a larger than average bust, a flat bottom and slim, well-shaped legs.
This is a tricky shape, as I know from my own experience, as you need to buy clothes that are large enough for your top, but small enough for narrow hips.
So buying dresses can be difficult, I have found that bias-cuts, high-waisted Empire lines, wrap-around dresses and stretchy dresses give me the best fit.
Slim dress shapes that finish at knee-length are great and pencil skirts look fabulous with a loosely fitting top, tucked in at the waist.
Tucking loose tops in at the waist creates the visual illusion of a more defined waist, as long as your skirt or pants aren't too tight across your abdomen.
You look good in separates, and 'proportional' dressing is definitely an excellent method to show you how to dress better.
Choose streamlined garments for your top half in simple styles without any fancy decoration or shoulder details.
And well-fitting, tailored jackets and tops help give you a well-balanced appearance, as long as they aren't overly tight.
Your best jeans are 'straight-leg' styles, which will show off your well-shaped legs and help define your waist.
And to get a flattering casual ensemble, add a loose sweater that ends between your waist and hips.
Avoid
A tight top with a tight skirt or pants as you'll look top-heavy and unbalanced
This also helps you find better Lingeries.
How to dress better – 'Fashion . . . is a matter of proportions' – Coco Chanel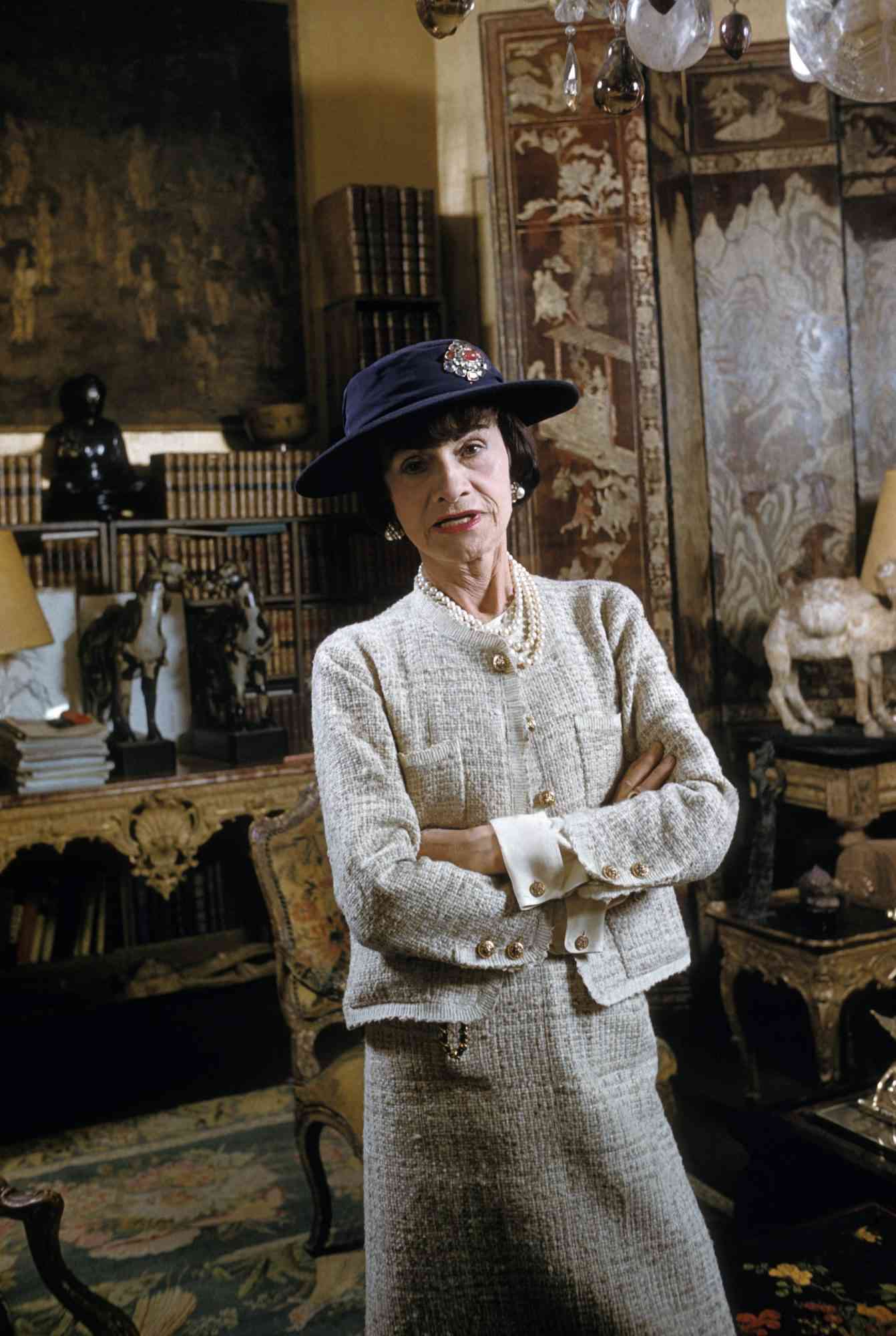 Coco Chanel, who knew a thing or two about dressing well – said that the Golden Ratio as used in Architecture can also be applied to creating great outfits that flatter your body!
And she was sooo right!
So instead of thinking of yourself as a block to be shared 50/50 in top and bottoms, it's better to view yourself in thirds.
And many fashion-styling businesses use 'Golden Proportion dressing' as their whole approach to flattering different body shapes.
Here's an image showing an outfit that 'cuts' the body into two equal sections – Shoulder to Hips and then Hips to Ankles. And that is a 1:1 ratio.
And next to it there's an image showing the same body divided into 3 sections.
Take a quick glance at both pictures and decide which body seems slimmer and younger.
Most people choose the body wearing a shorter T-shirt, which ends between the waist and hips.
And one of the reasons it's more flattering is that you get a tapered line moving inwards to the waist from the widest point of the hips.
And this creates the illusion of a smaller waist and longer legs.
This is an example of covering one-third with a top and showing two-thirds in jeans, instead of wearing a longer top that covers half of the body, with jeans covering the lower half.
In the 1:1 or half and half ratio, the T-shirt ends at the widest point of the torso, the hips, which highlights your widest section, and makes your legs appear shorter.:(
No matter what your body shape, your overall proportions are the most important feature to bear in mind for better dressing.
So here's a visual explanation of the most flattering proportions and how to use 'Thirds' to create your own stylish and attractive outfits!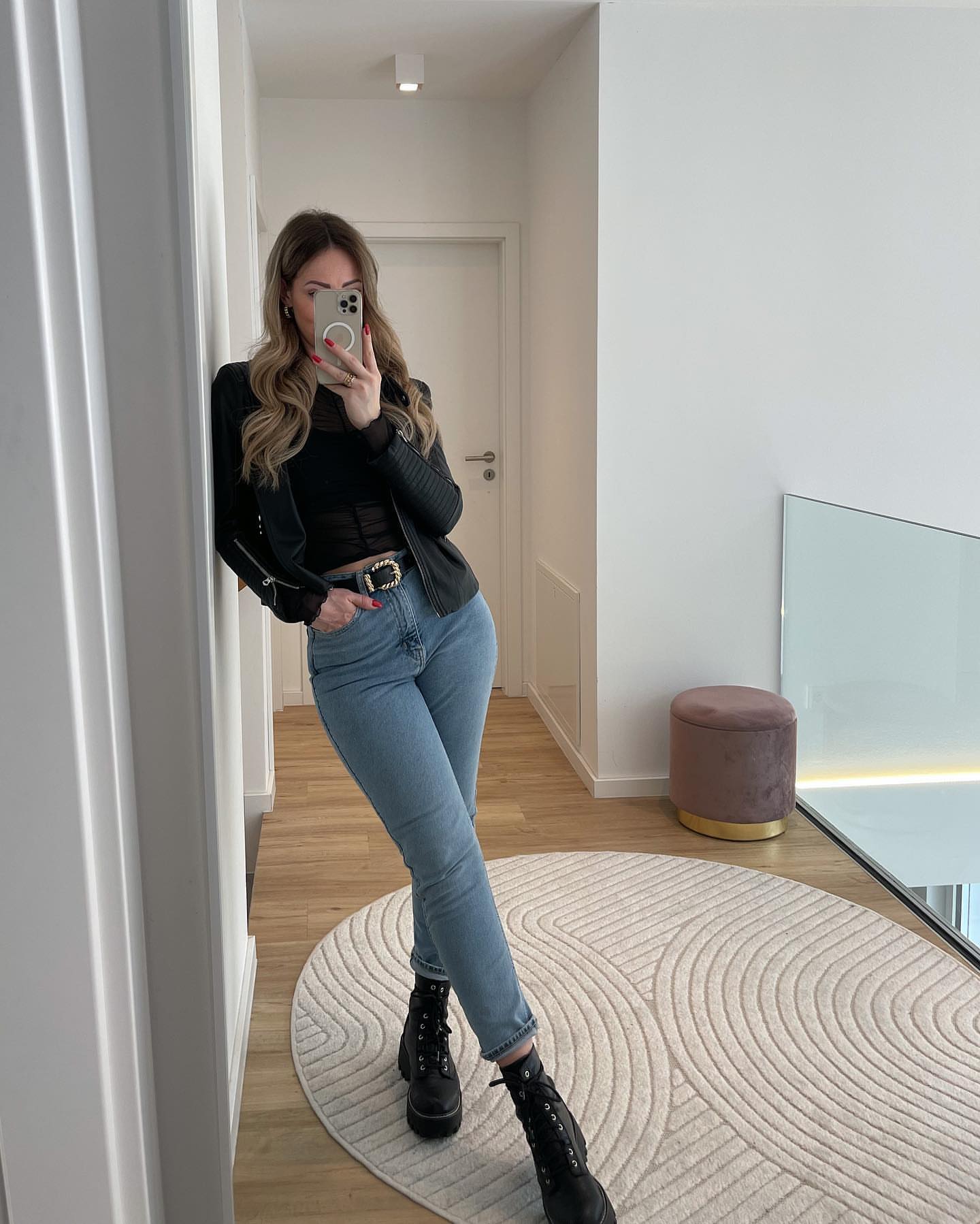 How to divide your female body shape into 'thirds' for better dressing
How to dress better using the golden ratio, body sketch front and back with lines defining each 1/3 section (at waist and at knee)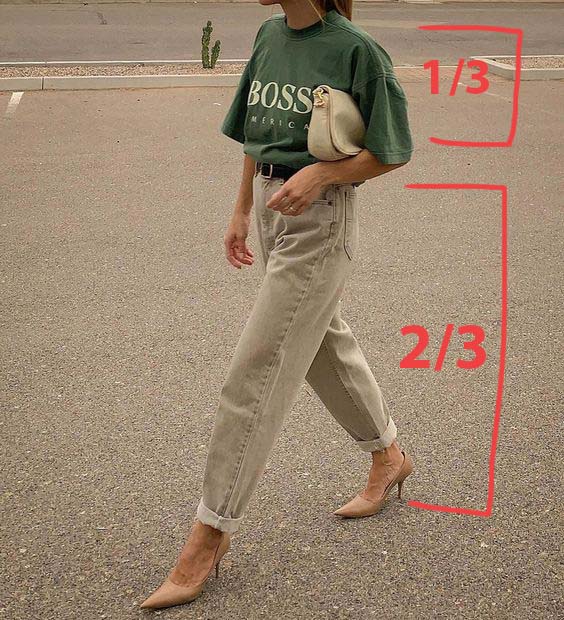 Okay – so there is more than one way to apply the Golden Ratio Rule of Thirds to your outfits.
For example, you can have one-third on top and two-thirds on the bottom, which always creates a more stylish look.
And you can alsowear two-thirds on top, like a tunic-top, long sweater or casual long shirt, with one-third on the bottom.
Or try a dress with a hemline just above the knee, which covers two-thirds of your body, leaving your bare or stockinged legs as the final third.
Dress using the golden ratio, woman in dress that ends just above her knee covering 2/3 of her body, legs below 1/3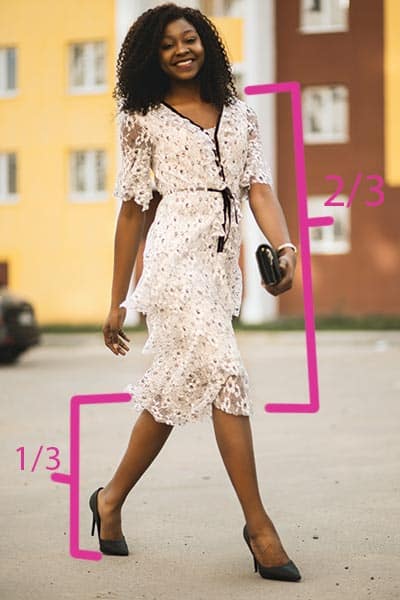 Another great idea is to wear a turtle-necked top tucked lightly into a long skirt and wear a blazer over the top.
Creating outfits with the Golden Ratio – 2/3rds on top and 1/3 on the bottom with nice waist definition. Model wearing a blazer over a turtleneck tucked into long skirt.
As you come to see how much this changes your appearance, you'll be able to break the rule a little to favor your own body shape.
But if you start with the Golden Ratio rules it will make it much easier to create flattering ensembles quickly by yourself!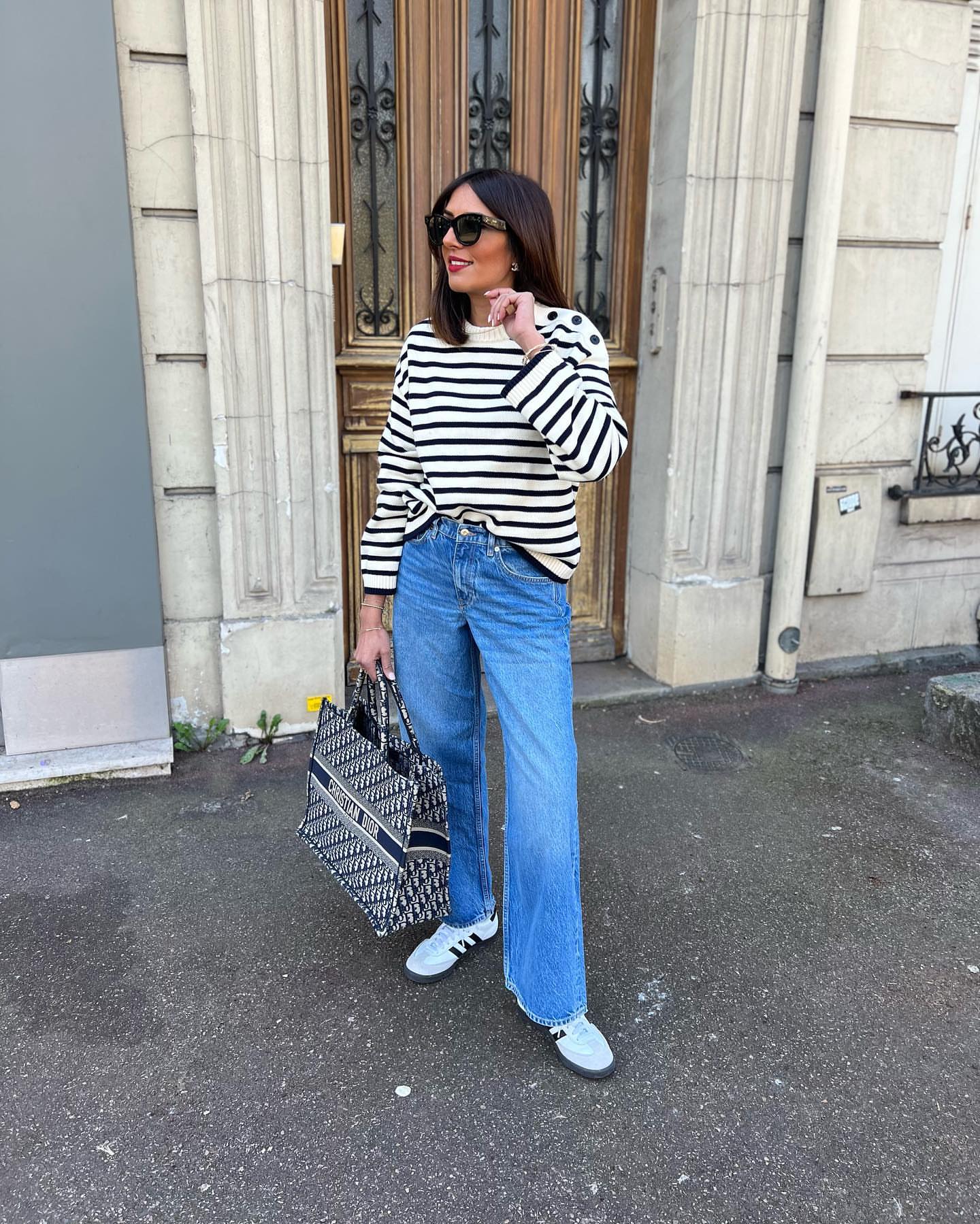 Avoid
The main thing to avoid is cutting your body up in a 50% top and 50% bottom shape, because creating a line that cuts your body in half doesn't look good on any female body shape.
Where can I find modern style tips on how to dress better?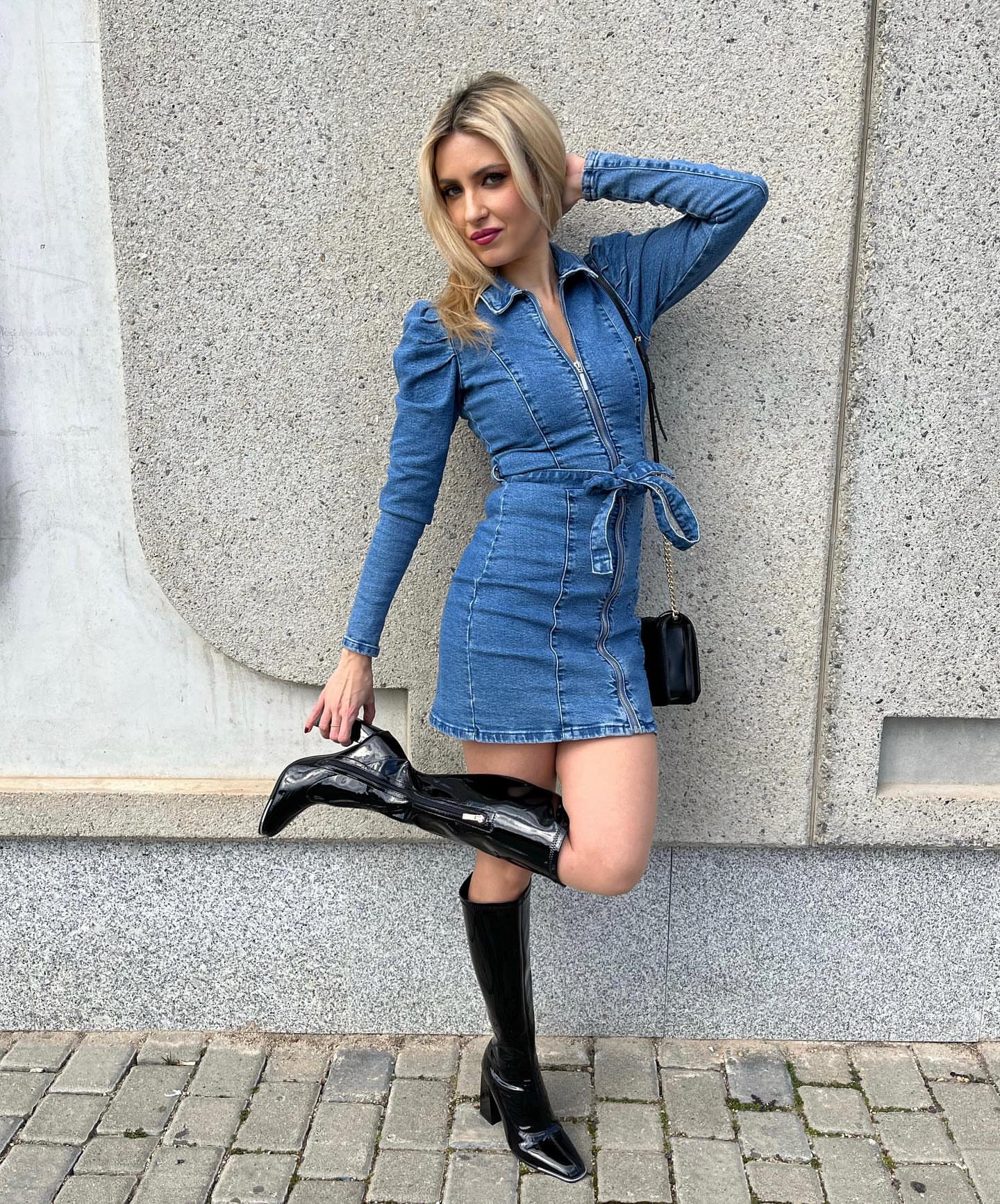 Right here!
Do not buy anything that doesn't fit – ever – this is one of the main ways we waste our clothing budget
Don't buy clothes when you haven't got time to try the garment on – wait for another day
Don't buy things just because they are a great 'bargain' in a sale – make sure it's a garment that you actually need for your wardrobe
My wardrobe used to be full of great bargains, which I never got to wear – like a gorgeous, red Lurex halter-neck, mini-dress – long after my night-club days were behind me! LOL!
An impulse buy can mean you have several items you can't wear, instead of paying more for one better garment you will wear often
Don't go on big shopping trips just because you feel bored or upset – extreme moods interfere with our judgement when buying clothing
Don't try to copy complete outfits you've seen on Insta etc. as this can lead to you buying clothes that suit someone else, but not you
Do:-
You can still be experimental and trendy, but having a basic set of jackets, shoes, bags, tops, skirts dresses and pants means you'll always be able to balance your contemporary style perfectly
Aim for your own style suited to your body shape and personality – you are unique in the universe and don't need to change yourself
Do dress to please yourself – fashion can be lots of fun and you do not need to follow trends if you have different style ideas
Remember that what you may see a body 'flaws', other people have most likely never noticed, and wouldn't consider 'flaws' anyway!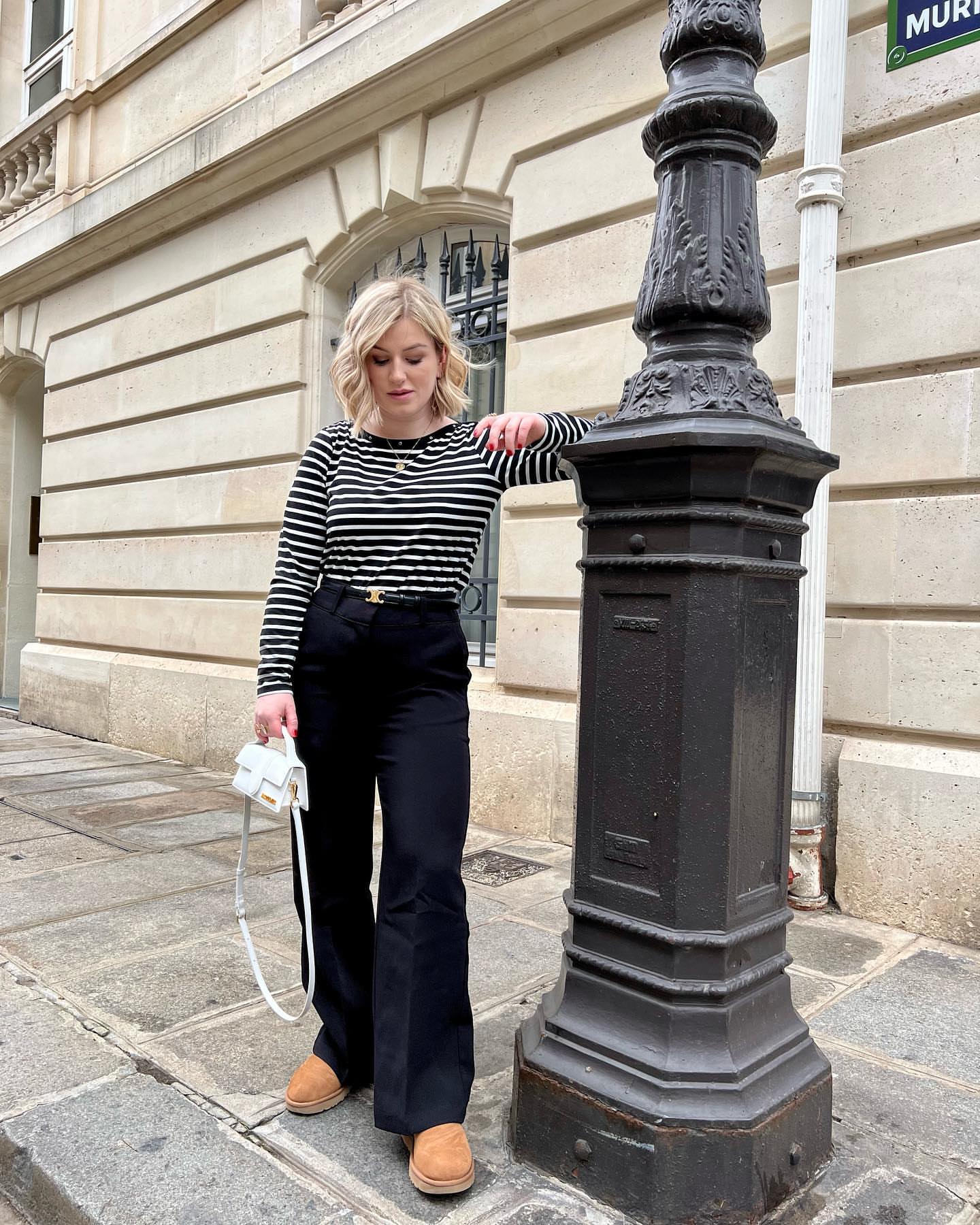 As you get more comfortable and stylish using this body shape advice and Golden Ratio dressing, you should feel far less self-conscious and far more relaxed in general.
Style is important, but it is only a superficial part of you – it's your personality that people really want to see and get to know better!
Q & A How to Dress Better – Female Body Shape Tips & Tricks:
How can I use fashion to look thinner?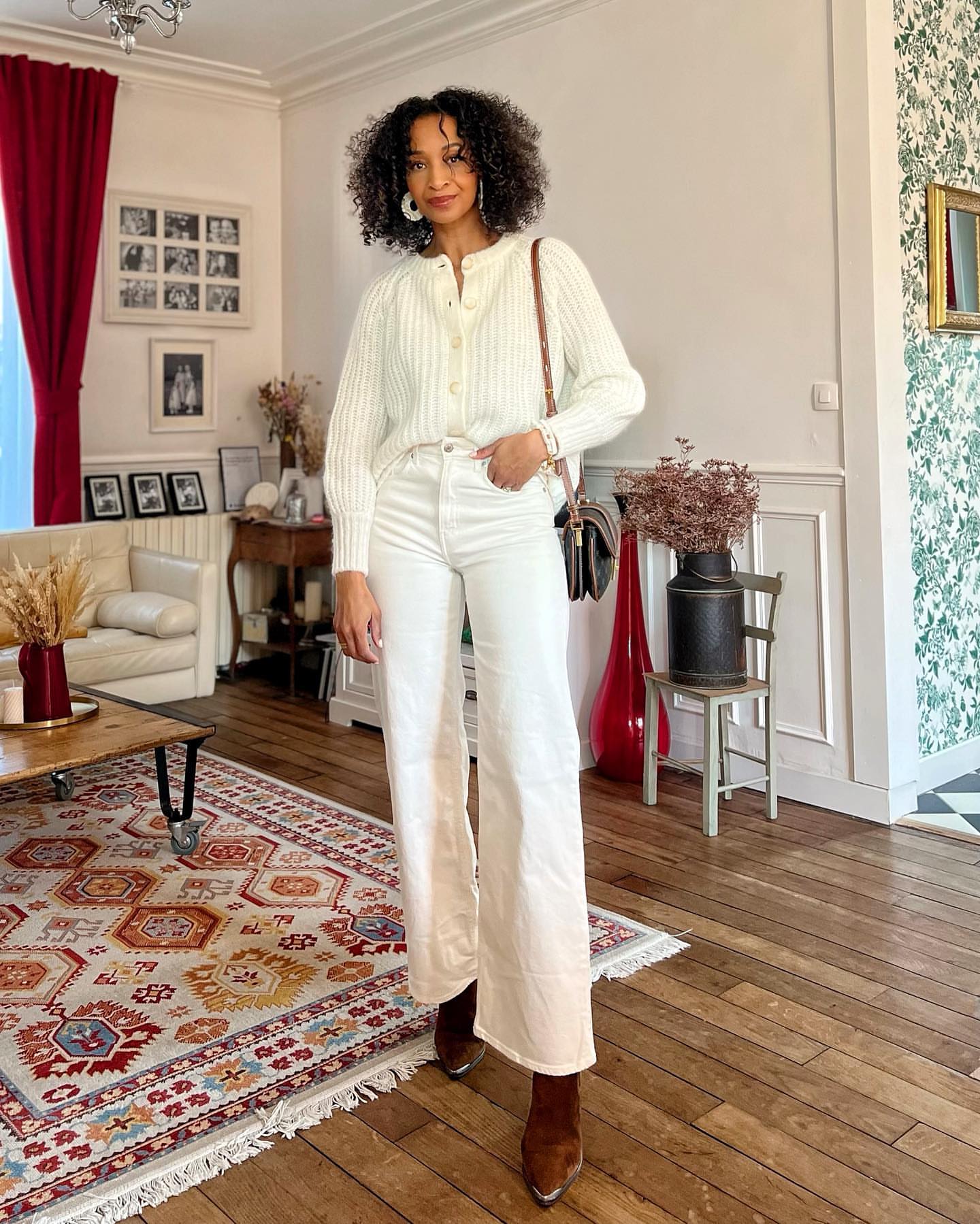 1. First of all, use visual tricks to make your vertical line look taller and thinner. Elongate your look by wearing an all-black outfit or darker, rich colors with heels.
2. Don't wear clothes that are too tight and pull across your body: this is a classic way that average-weight people unintentionally make themselves look heavier.
3. Use Shapewear! It's a wise investment if you want to look slimmer immediately, and a lot of famous celebs rely on Spanx and Skims every day, because these foundation garments really work.
Shapewear smooths out lumps and bulges, helps define your waistline, and gives you better general proportions.
4. Wear shoes with a low-cut top, which helps elongate your legs and makes them seem slimmer.
But avoid shoes that show the lines separating your toes, as a) they don't give enough cover to support your foot as you flex it and b) I think they look unattractive
Avoid blocky, chunky footwear and choose medium styles between delicate and strappy and heavy boots.
And try wearing skin-colored shoes when you wear a skirt or dress, this helps add length to your legs and creates a slimmer impression of your body.
5. Vertical stripes help create a long visual line that makes you appear taller and, therefore, slimmer.
Don't avoid horizontal stripes altogether. They suit some people very well, and it all depends on your body shape.
The best way to check this is to take photos of yourself in a dress/top with horizontal stripes and then do an objective assessment later on in the day.
Your aim is to highlight your proportions, so it may be that a particular dress just needs a belt to define your waist a little more.
6. As I am only 5 feet tall, I have known for a long time that high-waist jeans and trousers can help you appear taller and slimmer by lengthening your bottom half.
Check out straight styles that have the waist just above your navel to get the best proportions.
Make sure they fit closely, but never tight which will only emphasize the curve of your abdomen.
So you should be able to fasten your high-rise jeans without pulling in your stomach.
7. Make sure you are always aware of your posture, as standing with a straight back makes a world of difference to how slim or heavy you appear to others.
A straight backed posture automatically pulls in your stomach, ensures your clothes drape correctly and generally makes you look slimmer.
How can I make my thighs appear slimmer?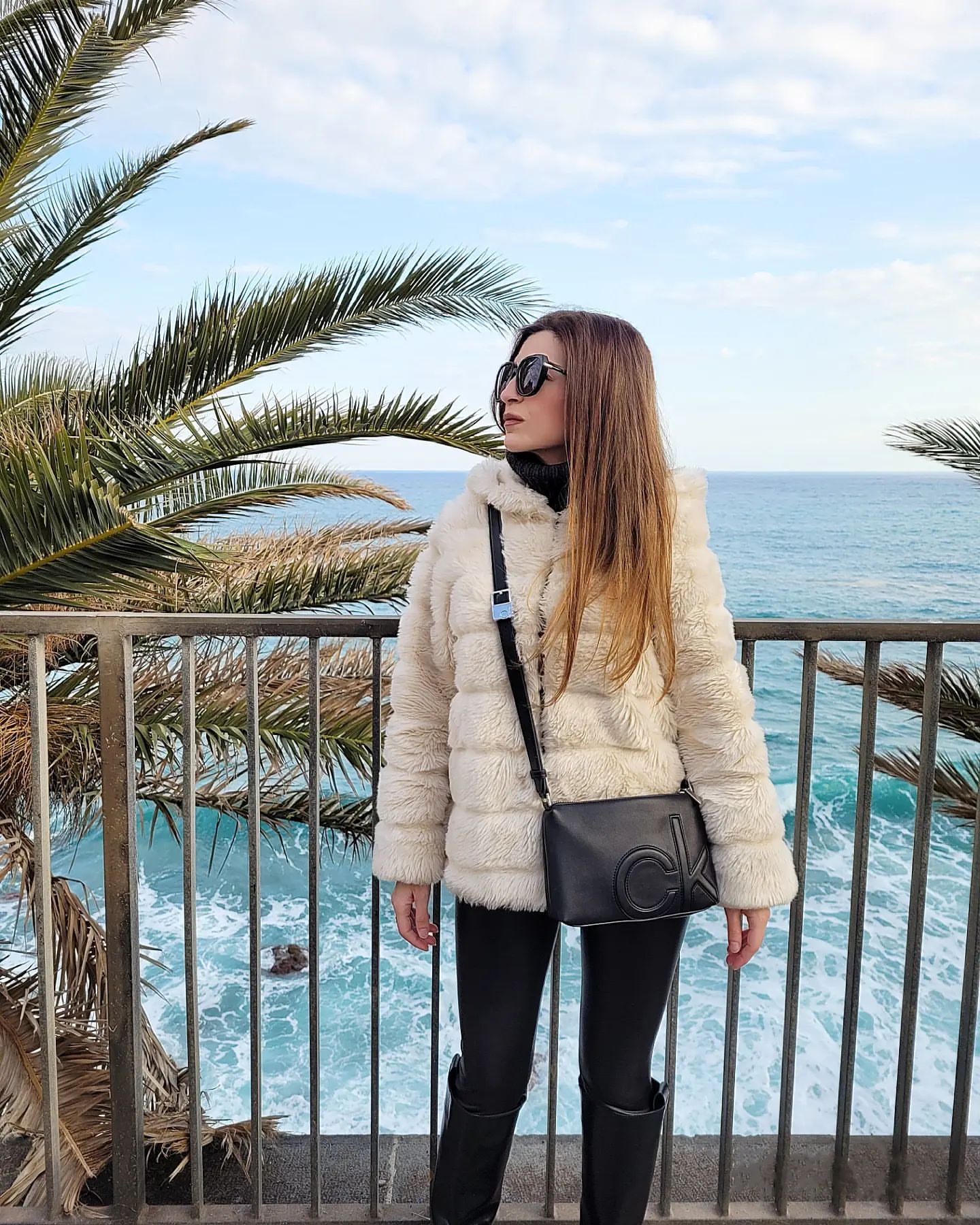 1. Try wearing full-cut skirts and wide-leg trouser styles, to avoid anything clinging to your flared- out thigh shape.
2. In cooler weather, wear thick, black tights, which really help to make legs appear slimmer.
3. Wear higher, pointed heels as they always elongate and slim legs. But never wear shoes with ankle straps which 'cut-off' legs and make them seem shorter and wider.
4. Emphasize your top section, and avoid any colorful or highly patterned fabric below your hip level.
How can I reduce the look of my broad shoulders?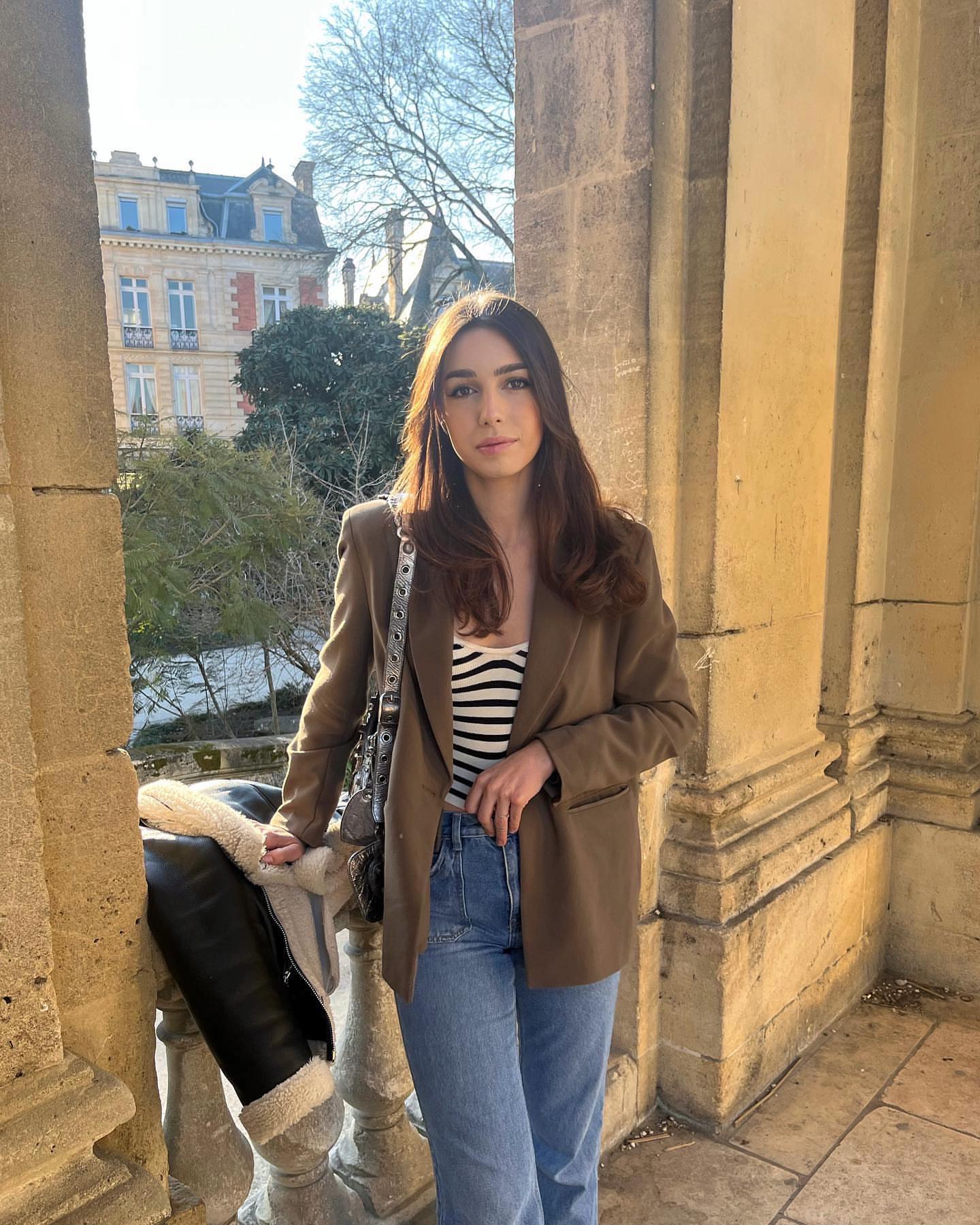 1. Wear scooped and V-neck necklines as they are a great way to minimize shoulder width.
2.  Wear with a long necklace that will move the eye down and away from your shoulders.
3. Look out for tops that have slouchy, Dolman sleeves or for Kimono-jackets. Both of these styles have a shape and shoulder seam that minimizes shoulder size very well.
4. Tank tops with a halter-neck or thick straps are more flattering than tops with delicate, spaghetti straps, which highlight broader shoulders.
5. Wear outfits that give your waistline more emphasis, because this creates a slight outward flare around the hips that balances out shoulder width.
6. Avoid any clothing that has shoulder definition, epaulettes, padding or fancy seams that draw attention to that area.
7. Strapless and off-the-shoulder dresses and Brigit Bardot tops are not a good choice for anyone aiming to reduce the look of wide shoulders.
8. Choose a darker top and a lighter pair of trousers or skirt, to make your top section appear slimmer overall.
Help! I can't seem to 'get on' with fashion at all – where am I going wrong?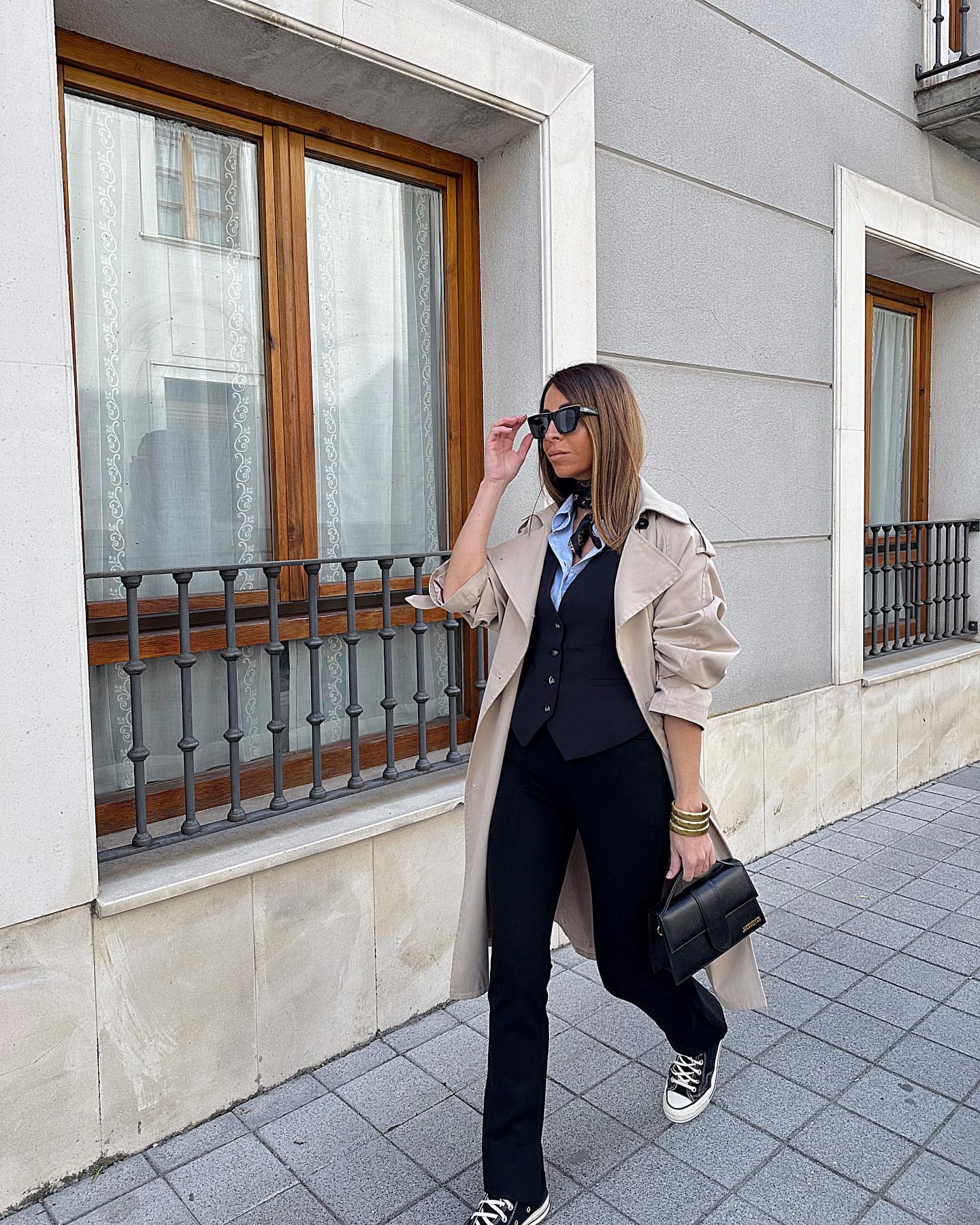 Fashion, like 'fire', is a good servant but a bad master!
 It should be used to enhance your natural appearance, not to make you seem like a whole different person.
Dress for the life you want, because the way you dress has a lot to do with attracting the type of people you'll want to be your friends for life!
But also, make sure you show your own personality through your clothes and don't be sucked into the Instagram copying crowd.
Some people are slaves to fashion and that means that when the fashion designers make mistakes, and they do make mistakes, lots of women go about wearing styles that are not flattering at all.
So choose your clothes by your body shape and occasion, rather than by what your favorite celebrity happens to be wearing this week.
Celebrities advertise fashion clothes for money – not for fun!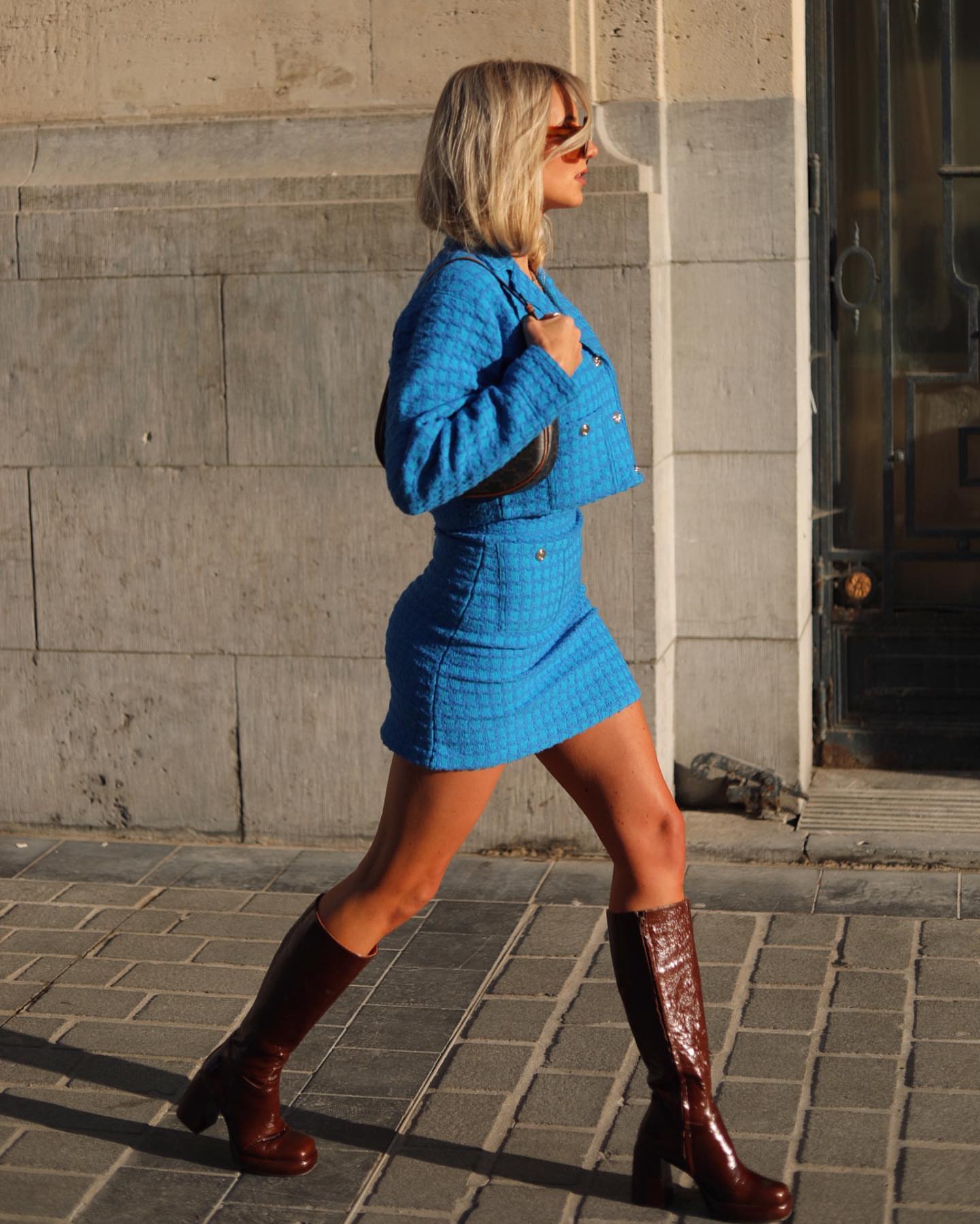 I think it's important to remember that famous people are paid a tremendous amount of money to advertise different designers clothing ranges by wearing them on public occasions.
It doesn't necessarily follow that the celeb in question actually likes the clothes they wear for a chat show, and they could quite possibly hate them!
I can remember when photos of unlovely, chunky, plastic Crocs were being plastered over every magazine and newspaper on the feet of celebrities, who were apparently just going about their casual, 'off duty' lives.
And lots of people rushed out to buy these incredibly overpriced and unflattering sandals, thinking they were becoming part of the 'In Crowd'.
But it eventually became known that a) Crocs really were quite unattractive and b) the designers had paid a lot of celebs to wear them, so ordinary folks would think they were trendy and 'cool'.
And I still wonder how many pairs of quickly discarded Crocs have ended up in plastic, rubbish-mountains dotted around the world.
So try not to be lured into wearing styles that wouldn't normally appeal to you – just because someone famous is wearing them.
Fashion can be lots of fun and experimental, if you know how to dress your particular body shape.
And if you choose not to follow fashion at all, that's fine!
Dressing to your body type will still show you how to dress better and feel proud of your flattering and comfortable outfits.
You just need to be focused on yourself and what looks best on you, rather than concentrating too much on the rich and famous.
Why you should learn how to dress better – female body shapes are great!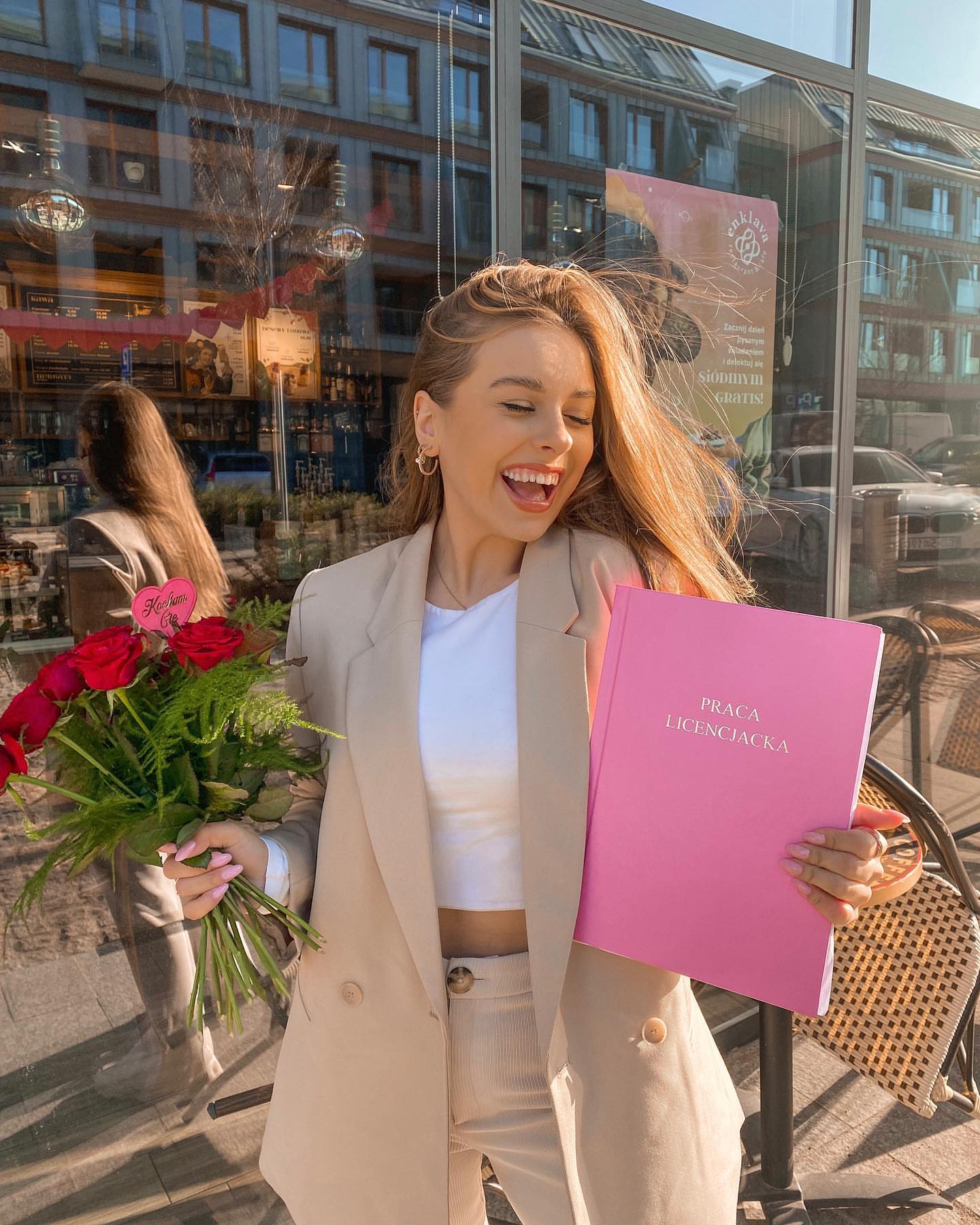 I am a believer in always trying to look your best and feeling comfortable in what you wear, even if you don't have much interest in fashion trends.
It never does you any harm to look stylish with put-together outfits that other people admire.
And it doesn't take a fortune to achieve this, either – it just takes knowledge of your shape.
In fact, it's starting to seem as if the richer/more famous you are, the worse your evening gown is going to look as you attend various Awards events!
Try to learn as much as you can about your own body shape, and you'll find that you're buying fewer clothes, because you love the clothes you have and enjoy wearing them!
Style can't be bought with money, but how to dress better and love your own female body shape can be learned – free and gratis!
Let your well-thought-out clothing style send the message that you know who you are and what's right for you.
Because the main thing that people notice about you, before you actually meet them, is how you are dressed.
So use it to show your self-confidence, your understanding of suitable work-wear, your fun side, your casual side, your love of comfort and your sophisticated, chic sense of style!
Your Comments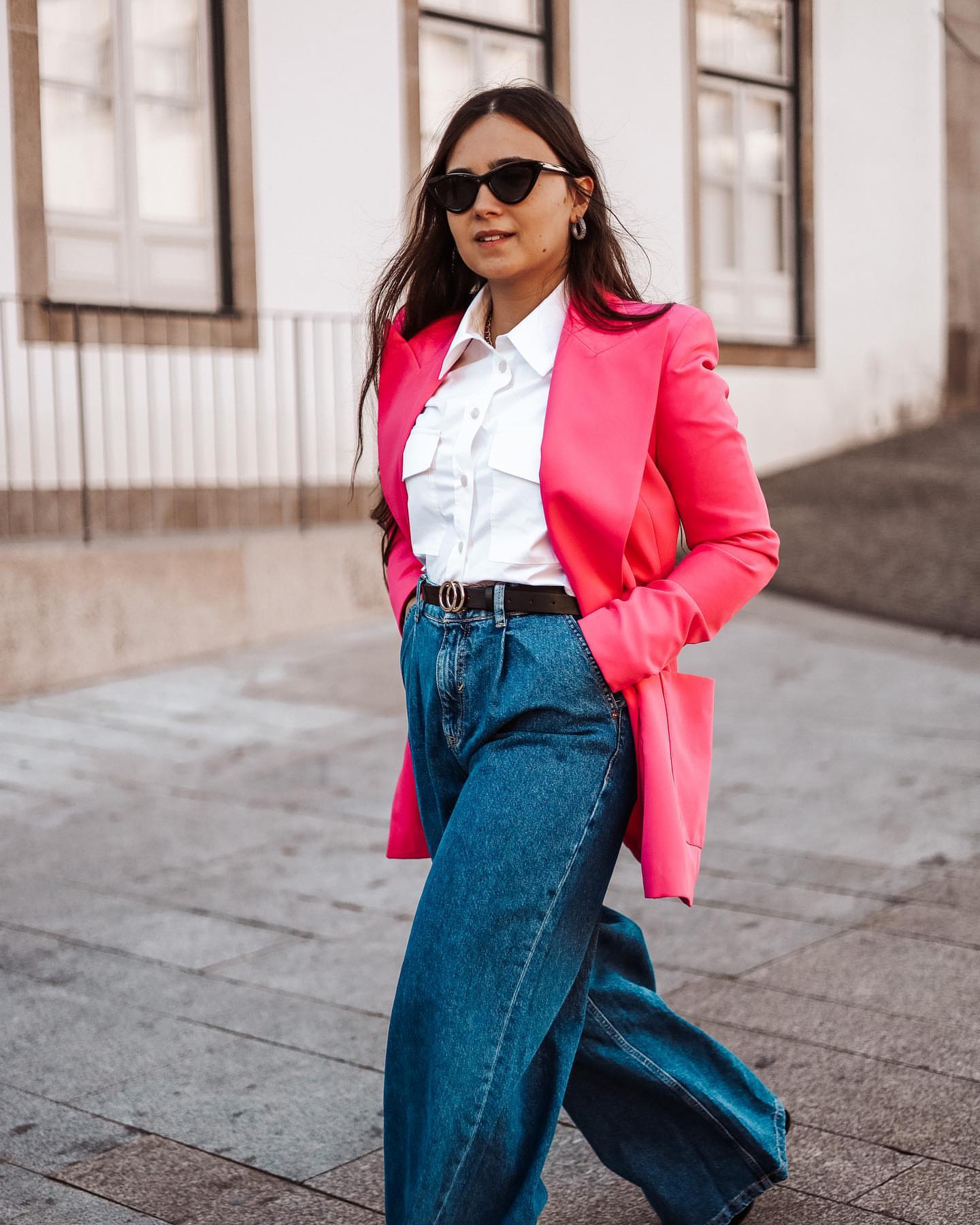 I hope my guide on How to Dress Better – Female Body Shape will help you learn to focus on yourself in your fashion style, and make it easier for you to highlight your own, good features with flattering outfits!
Tell us what you think – we love to hear your feedback:
Has this article helped you find a new 'take' on your fashion anxiety?
Have you started putting together more flattering outfits?
Have you stopped wearing styles that don't flatter you?
Has it made shopping trips easier and stopped your impulse buying?
Have you gained in self-confidence?
Thanks for sharing your thoughts with the international HerStyleCode community!