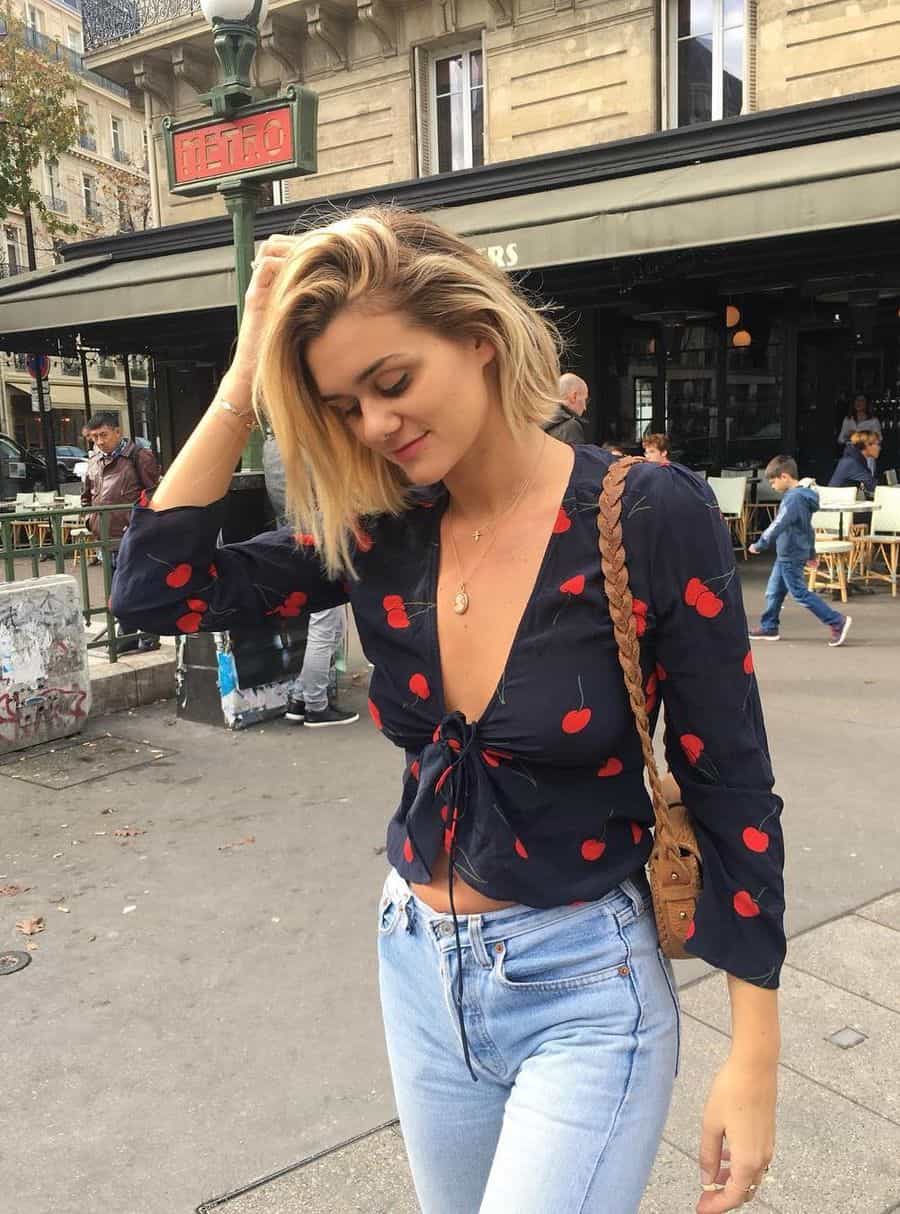 Build a Wardrobe That Flatters Your Figure Beautifully!
If you've recently discovered you're an inverted triangle body shape, this article will show you how to build a wardrobe that fits and flatters your shape!
Fashion shops are full of different styles, and trends keep changing, making it difficult to choose the best garments for your body shape. And how many of us have wasted money on clothing that looks great on the hanger, but not so good when you try it on at home?
If you've ever thought, 'I've got a wardrobe full of clothes, but nothing to wear!' this is the information that will identify and solve your problems – once and for all!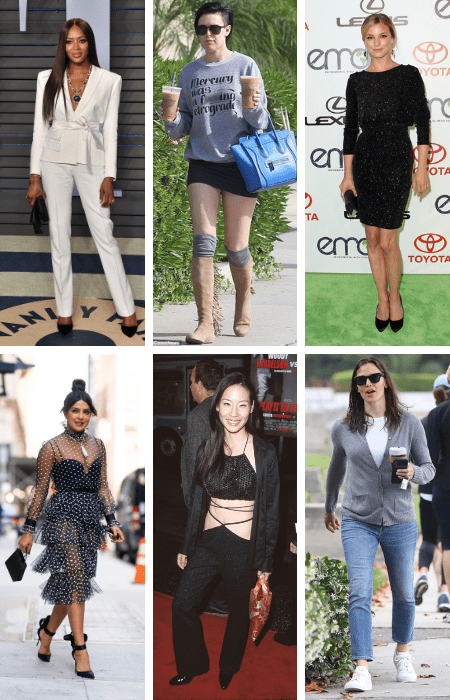 This article explains everything you need to know to build a stylish and comfortable wardrobe of 'favorite outfits'.
And whatever your preferred fashion style, I will show you how to adapt new trends to look great on your individual figure!
1. What is the Inverted Triangle body shape?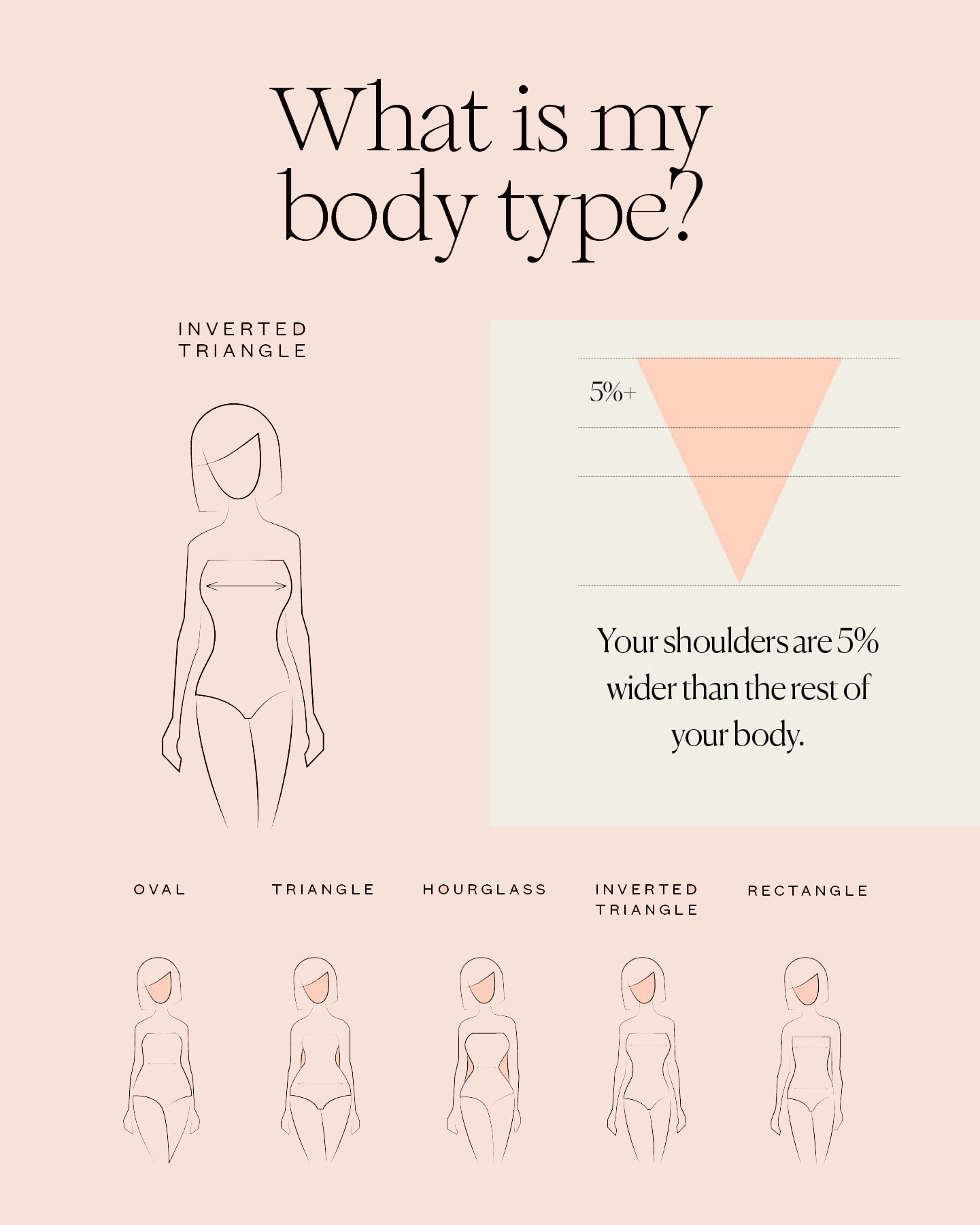 The most noticeable features of the inverted triangle are shoulders which are broader than your hips, and only a lightly defined waistline.
This means your style aim will be to create balance between your shoulders and hips, by emphasizing your lower half and minimizing your strong shoulder-line.
Women with this body type usually have slim legs and hips, with most of their weight concentrated in the bust and midsection. They often have a larger bust and a less defined waist, with shoulders being the widest part of the body.
And by defining your bust and waist-line in every outfit, you'll soon get your silhouette beautifully balanced!
2. How to check all Inverted Triangle body shape characteristics?
Broad shoulders and back compared to your hip measurement
Your shoulders may also be noticeably square-shaped
Your bust-line can be of any size
Not much waist definition
Hips appear narrower than shoulders
Athletic silhouette
Small or flat bottom
Shapely and often well-toned legs
This is a body shape which has a top-heavy outline and no particular curves around the midriff and waist.
You may well have well-toned, muscular arms and legs that bring you compliments.
And your waist may be quite wide – or straight and narrow.
This is one of the neutral body types able to carry extra weight – or lose a lot of weight – without it showing too much.
So when you gain extra pounds, your top-section tends to look more out-of-proportion – as you don't often show weight gain on your hips.
3. What are the best Inverted triangle body shape 'dressing-well' tips?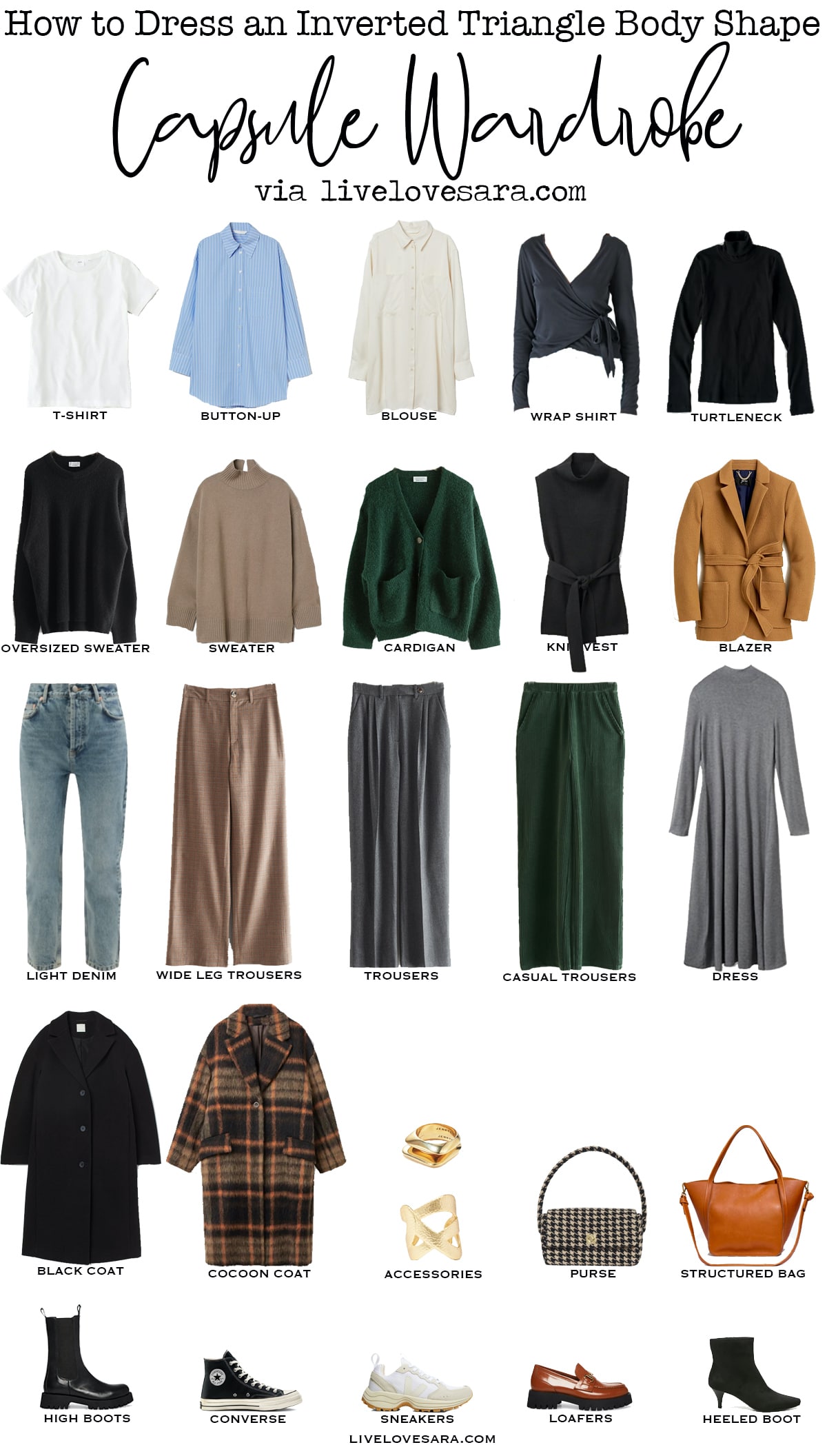 Your body type always looks better in clothing that creates a well-defined bust-line and the appearance of curviness around your hips.
This makes your waistline more obvious and balances your top and bottom sections.
So if you follow these fashion stylist 'rules' you'll easily achieve that:-
1. Choose fabrics and garments that are relaxed, flowing and drape well – particularly at the shoulders – to soften this strong line.
2. Always take color balance into account – and aim to wear darker tops with lighter-colored, brightly colored or patterned skirts or trousers.
3. Clothing with any interesting details around the midriff is a good way to create the appearance of a more obvious waistline.
4. If you wear brightly colored, highly patterned or embellished items, be sure the section above your waist stays simple – with the focus firmly on your hips and lower half.
5. In general, bottom halves that have extra volume around the hips and thighs will do a good job of balancing your shoulders.
6. Always concentrate on plain top half and a visually striking bottom section that shows your shapely legs and distracts attention from your shoulders.
Avoid
Straight up-and-down shaped garments
Tight fitting items
White or light colored tops with darker bottoms as this will emphasize your triangular shape
Wide necklines will make your shoulder line look wider
Skinny jeans or leggings will minimize your hips and maximize your shoulder-line
4. How can I build a better wardrobe for my Inverted Triangle body?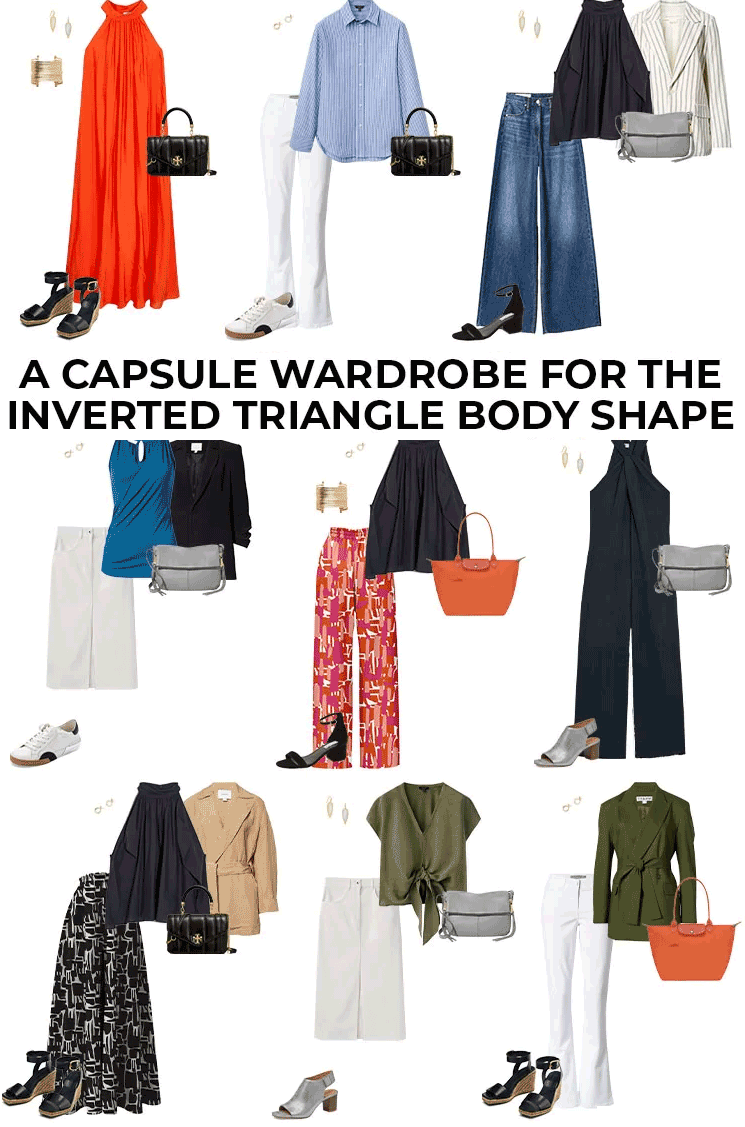 The four basic aims for your figure-balancing wardrobe are these:
Minimize your shoulder-line
Define your bust to create some curve into the waist section
Emphasize your hips with added volume
Show your well-shaped legs
So draw attention to your below-the-waist section with extra volume in skirt shapes, fancy decorated tights and attractive pockets or hip details on trousers.
And reduce the look of a wide, shoulder line by not wearing any:
Tailored tops or structured jackets
Fancy decoration around the bust and shoulders – never wear epaulets
Top-heavy outfit silhouettes
5. What are the best necklines for the Inverted Triangle body shape?
Every detail is important when you are dressing to flatter your natural shape, so let's begin with the best necklines for you!
V-necked – both gentle and sharp are highly recommended
U-shape/gentle scooped – highly recommended
Asymmetrical necklines – suit your body type by drawing the eye towards an eye-catching, diagonal line and away from your wider, symmetrical shoulders
Halter – especially if you are a petite size
Turtle-necked: Some IT body types look good in a fitted turtle-necked top that doesn't add volume around your shoulders. But it should be in a dark color.
Avoid
All necklines that are very wide or very low, as these extend your horizontal line.
Bateau
Boat
Cowl
Off-the-shoulder
Sabrina
Square
Strapless
Tube tops
6. What are the most flattering sleeves for Inverted Triangle body shapes?
a) In order to minimize the appearance of wide shoulders, the IT looks best with shorter, slim sleeves that don't draw attention and allow the hips to be the focus.
So try to ensure you never wear puffed sleeves or shoulder details.
b) Long sleeves that don't taper into the wrist give more width to your hips, when your arms are by your sides, which is great.
And you can wear long sleeves as long as they are 'open volume', by which I mean loose and lightly voluminous sleeves that don't contrast with, or emphasize, your shoulders.
c) Many women think that very thin straps or strapless tops/gowns will make their shoulders appear narrower – but they are mistaken.
Thin, spaghetti straps just emphasize the broader shoulder line.
I've seen so many women make this mistake with a strapless, evening or wedding, gown that doesn't flatter them at all.
d) Inverted triangles look best in thick, heavy straps because they are in proportion with wide shoulders and don't make a glaring contrast.
Best fabrics for sleeves on Inverted Triangle garments
Choosing the correct fabric is also very important for IT body types. So remember that a softly flowing fabric will downplay your shoulder line beautifully.
And avoid structured styles or thick or stiff fabrics that create a tailored look and bring shoulders into sharp focus.
Here's a list of what to wear and what to avoid:
Fitted, short sleeves
Open – not tapered – long sleeves
Raglan sleeves have a slanted seam which narrows the appearance of all shoulders
Trumpet sleeves
Butterfly sleeves
Cape sleeves
Long kimono sleeves are great, but short kimono sleeves are not a good idea
Dolman – this soft shoulder line reduces the appearance of a sharp shoulder-line, but if you have a prominent bust avoid it as it will create a top-heavy look.
Avoid
Epaulets
Padded shoulders
Puffed sleeves
Juliet sleeves
Tulip sleeves
Sleeves that are gathered at the shoulder line
Long sleeves that are tapered into the wrist or are close-fitting
Note: Set-in sleeves can look fine on you, as long as they don't have a lot of volume at the seam.
7. Best shirts, knitwear & tops for Inverted Triangle body shape
Length
a) The first thing to consider with all 'tops' is the length, which should always finish at the broadest part of your hips.
This helps create the illusion of fuller hips and helps balance your shoulders and bust.
So look for garments with a hem that's slightly past the end of your hip-bone.
b) Avoid cropped tops and don't wear anything shorter than the end of your hip-bone, as it would make your hips look narrower and your overall silhouette top-heavy.
Volume
c) Then consider where the main focus, or most volume, appears on your 'top'. Look out for shirts that add volume at hip level, or lower and make your waist appear smaller.
d) Next, you want to pay attention to where the volume or emphasis lies. Shirts that add hip volume, waist definition, or fullness from your waist down are great options.
e) You won't be able to wear fancy or ultra-trendy tops, I'm afraid, but the wide range of skirts, trousers, shorts and jeans you can wear makes up for that!
So remember plain tops, but fancy bottoms, is the way to always look your best!
Knitwear
Thick or heavy knitwear is not a good option for Inverted Triangles.
And neither are heavily patterned jumpers with neck, shoulder or bust details – as they create a top-heavy 'shape'.
Your knitwear should always be fine-gauge and fitted, but not tight, with any pattern or detail kept at hip-level helping to balance your shape.
Avoid cable-knitwear with thick patterns in the knit, as these are just too bulky for your top half.
Shirts
By all means wear buttoned shirts, but always leave the top 3 buttons unfastened.
This lets you show a little upper chest skin, which breaks up the 'block of fabric' look above your waist.
Avoid wearing shirts buttoned up to the neck, as this adds the appearance of width to your upper half.
List of best shirt, blouse and top styles:
Cut-out shoulder tops
Fitted Shirt/Blouse – softer fabrics are best to reduce square-looking shoulders
Fitted T-shirt
Halter Blouses
Peplum
Trapeze blouses or tops
Wrap top
Fine-gauge knitwear especially with hemline pattern
Avoid
Boxy cuts
Chunky knitwear
Cropped shirts and tops
Decoration on necklines and shoulders
Garments made from stiff fabrics
Padded shoulders
8. Stylish jackets for Inverted Triangle body shape
Jackets often have structured or stiff shoulder lines, so be careful to avoid any styles with epaulets, shoulder decoration or pockets on the bust.
The best styles for you should accentuate your waistline and add volume below your waist.
In addition, wear longer jackets or ones with a wider lapel to balance your wide shoulders and make your waist appear narrower.
Straight-cut jackets are fine for you, if they are long enough to finish just below the hip bone.
And any jackets with hip-level pockets, or decoration, look great on your shape.
Here's a list of the best jacket styles:
Blazers with belts
Cut-away jackets that flare-out around the hips
Jackets with hip decoration/pockets
Wide lapel to create a good ratio with your shoulders
Long cardigans – with a belt or the waterfall style
Longer-length straight-cut blazers
Jackets with a peplum
Avoid
Bomber jackets are too voluminous and look top-heavy
Jackets with fancy shoulders, or sleeve/bust decoration
Jackets with narrow lapels
Moto jackets with lots of upper-section details
9. Top coat styles for Inverted Triangle body shape
Inverted triangle body shapes sometimes have an 'athletic' appearance, and this can clash with the many coat styles that have decorative collars and shoulder detailing.
You'll look your best in an unpatterned, darker-colored coat, which will give you a more streamlined silhouette and make your shape appear slimmer.
And you can wear a brighter color or print on the skirt or trousers you wear under your coat.
To balance your proportions choose a coat with a small collar, or a longer coat style.
A coat that has a defined waist and then flares out to add width around your hips is the perfect style!
Here's a list of the best coat styles for Inverted Triangle body types:
Cape coat
Car coat
Cocoon-style in soft fabric with soft shoulders
Princess coat
Single-breasted coat
Trapeze coat
Trench coats almost no upper details and no epaulets
Avoid
Coats with a short cape on the top
Double-breasted styles
Epaulets
Extra-large buttons
Frock coats with big collars
Large or fur collars
Upper section patterns or detail
Wrap coats
10. Most flattering dress styles for Inverted Triangle body shape
Your style aim in dresses is to avoid appearing top-heavy with a broad back, and you can easily achieve that if you choose the best dress shapes!
Keep in mind that you should be defining your waistline and trying to maximize your hips with styles that flare out.
In particular, look out for sheath dresses as they have waist emphasis and plenty of shape around your hips.
And don't forget to take into account the Inverted Triangle guide to flattering sleeves and necklines above.
Here's a list of dress styles that will build into a great wardrobe for your Inverted Triangle body type:
A-line
Apron/pinafore
Fit & flare
Maxi-dress
Asymmetrical one-bare-shoulder
Peplum
Pleated-skirt
Sheath
Wrap
You can also try out the tent dress, if you have a long vertical line and aren't noticeably muscular, as the fitted shoulders and swing-out style suits some IT's very well!
Avoid
Clinging body-con dresses
Dresses with details around the neck, shoulders or bust
Fitted dresses
Slip dresses
Spaghetti-strapped dresses
11. Super skirts for the Inverted Triangle body shape
Your best skirt styles have volume and a flared shaped.
And the styles that won't flatter you are straight, close-fitting and short.
Look for skirts that draw the eye toward your lower section – with panels, gathers, pleats, pockets and any hip decoration.
You aim should be to avoid any styles that skim and accentuate your small hip size.
So keep the length at knee-level or longer, as minis will just make your lower half look slender and accentuate your top-heavy shape.
Here's a list of the best skirt styles for building your Inverted Triangle wardrobe:
A-line skirts
Layered or ruffled 'gypsy' skirts
Lined circle skirts
Pleated skirts including box pleats
Skirts with panels
Tulip skirts
Avoid
Drop-waist skirts
Fitted mini-skirts
Pencil skirts
Stretchy skirts
12. Trousers/Jeans for Inverted Triangle body shape
The lower half of your wardrobe items is the place to add volume to your hips, attract the eye and create a curvy shape.
So you have many, attractive options available in skirts, trousers and jeans!
a) Best Jeans for Inverted Triangle body shape
Concentrate on adding hip volume, so look out for pockets and hip details that are eye-catching.
Wear brightly colored, patterned and light-colored jeans as they draw attention away from your shoulders and onto your lower section.
And maybe stay away from darker colored bottoms which will make your body appear longer and slimmer – but accentuate a broad top-half too much.
So avoid leggings, slim-fits and skin-tight denims as they make small hips appear narrower.
Look out for jean outlines that add relaxed volume around your hips and those with a wider leg silhouette.
This is a list of flattering jean shapes which are trendy right now, so you won't have any trouble finding them:-
Balloon legs
'Boyfriend' style
Cropped wide-leg
Straight-legs
Wide-legs
Avoid
Skinny or slim-cut jeans
Jeans without pockets – they slim your hip and bottom section too much
b) Best trousers for Inverted Triangle body shape
Once again, the need to add hip volume means you have lots of different styles to choose from!
And more or less all trouser styles with volume will look good on your figure.
If you are shorter than average, or like slim trousers, switching to the straight-leg cut is the best substitute for skinny styles.
Look out for trousers with gathers, pleats and volume below the waist.
Here's a list of the trouser styles that will give you the most pleasing proportions:
Flares
Harem pants
Palazzo pants
Peg-top trousers
Sailor Pants
Straight-legs
Wide-legs
Wide-leg culottes
Avoid
Trousers with foot stirrups
Skin-tight styles
'Cigarette' trousers
13. Attractive jumpsuits for Inverted Triangle body shape
The jumpsuit shape is great for IT body types!
And you can use them to create attractive all-in-one looks that are simple to put together and super-chic.
Look out for jumpsuits/rompers that have a slim waistline to accentuate your waist and flow out below to add volume at your hips.
Tie-belts and hip decoration will assist in creating a lovely, balanced ensemble.
Wider legs are best for balancing your proportions well.
Avoid jumpsuits that just skim over your shape, tapered legs and rompers with a close-fitting bottom.
Here's a list to help you build your best Inverted Triangle wardrobe:
Boiler-suit – if it has wide legs above the ankles
Culottes jumpsuit
Flared-leg jumpsuit
Non-fitted playsuit
Overalls jumpsuit
Wide-leg romper suit
Avoid
Jumpsuits with shoulder details/epaulets
Off-the-shoulder jumpsuits
Ruffles above the waist or puffy volume in the upper sleeves
Tapered jumpsuits
14. Shorts for Inverted Triangle body shape
The best shorts' styles for your IT figure will have volume and a flared out shape.
Add visual 'weight' below the waist with pockets, panels, gathers, pleats and hip decoration.
Don't wear 'Daisy Duke' shorts, or any style that is straight or fitted.
Here's a list of shorts' styles for a figure-flattering, well-planned Inverted Triangle wardrobe:
A-line shorts
Flared shorts
Pleated shorts
Prints and patterned shorts
Cargo shorts with those extra details below the waist
Sailor-front shorts with two lines of decorative buttons
'Boxing-ring' shorts – long and loose-fitting, professional boxer style
Avoid
Pedal-pushers
Slim, tight shorts
Short Daisy Duke's
Stretchy bike shorts
15. What shoes are best for Inverted Triangle body shape?
You may have to tone down your choice of big earrings and necklaces, but you can really show-off with your shoes and boots!
As many IT's have long, well-shaped legs you should draw attention to them as much as possible with:
Brightly colored shoes
Fancy shoes with interesting details
High heels
Block heels
Boots are always super for adding volume below the waist
16. Best accessories for the Inverted Triangle body shape
To avoid drawing the eye up towards your shoulders, beware of big necklaces, statement earrings and scarves around your neck, shoulders of hair.
The best way to wear jewelry is with long necklaces that lead the eye down to your waist, with rings and bracelets that can add visual 'weight' to your hips.
Another great accessory to have in your wardrobe is the belt bag or a cross-body bag, as they draw attention to your hips and balance your upper half well!
17. Celebrities with Inverted Triangle body shape
If you've ever felt critical of yourself, I think it helps a lot to know which famous and highly desirable women share your body type.
Angelina Jolie
Catherine Zeta-Jones
Charlize Theron
Demi Moore
Naomi Watts
Renee Zellweger
When you see what lovely outfits their fashion stylists have put together, you'll realize that you have a good shape!
So here are some body-balancing outfits you can use as inspiration:
18. Outfit examples for Inverted Triangle body shapes
Image IT body in lightweight waterfall collar jacket that minimizes the shoulder line
Many of the fashion rules we grew up with have now been changed and the idea these days is to choose clothing that suits your individual shape and your personality.
So don't feel hide-bound by other people's rules as you put together a wardrobe that you'll enjoy wearing.
a) Wide boat neckline
This model is wearing a wide neckline, which isn't recommended for Inverted Triangles.
However, in this case the model is quite slender and her choice of jacket looks lovely.
A jacket made from a lightweight material, with soft shoulders and a waterfall collar can play down your imbalance and improve your visual proportions perfectly!
b) Relaxed coat with wide lapel
Some women with an inverted triangle shape skip over coats with a wide lapel, as they mistakenly believe this style maximizes the shoulders.
However, the fact is that narrow lapels just create a noticeable difference between your shoulder width and the slim lapel.
In this example, a relaxed coat with gentle shoulders and wide lapels help to balance the shoulders very well.
And although brightly colored coats aren't usually recommended for the IT shape, you should feel free to choose a color that suits your Detailed Seasonal Color Analysis best!
c) Circle skirt adding volume to bottom section
Image inverted triangle outfit showing model in dress with circle skirt to add volume to lower body
A diagonal neckline matched with a full circle skirt creates a great balancing outfit for IT shapes.
The horizontal shoulder line is broken up by the diagonal cut and there's extra volume around the hips.
d) Balance a hat with flared trousers and cut-away blazer
Image inverted triangle outfit – dark flares and cut-away blazer balance shoulders
When building your dream Inverted Triangle wardrobe, you are always encouraged to factor in your own personal style preferences.
The guidelines are just there to show what flatters you most, but you can always tweak outfits to make them balanced.
For example, this model is wearing a wide, black hat which isn't usually recommended for IT's.
However, with a monochrome outfit that uses a cut-away jacket and flared bottoms, the ensemble has the right emphasis to avoid looking top heavy!
e) Dolman sleeved dress
Image NYFW woman wearing blue dress with Dolman sleeves to balance IT shoulders
This dress has soft shoulders but they still add unwanted volume, but the Dolman sleeve adds volume lower down plus a nicely accentuated waistline.
Add in some attractive details on the skirt and finish with a pair of eye-catching shoes to successfully tweak the proportions for a balanced outfit overall!
f) Wrap-dress plus open volume sleeves & thin belt
Wrap dresses are always a good choice for the IT figure and this is a lovely, casual outfit to copy.
The dress has a tie-waist detail to define the waist and sleeves with volume that draw attention away from the shoulders!
g) Plunging V-neckline dress & loose skirt
When building your IT wardrobe you'll find that dresses will play a big part in your staples.
They are versatile and you can use accessories to make them formal or informal.
This dress shape with a deep V-neck, loose skirt and waist emphasis is one of the perfect styles to have ready in your closet!
h) Camisole top with wide-leg trousers
Although camisole tops with thin straps are not recommended for Inverted Triangle figures, you can sometimes manage to pull it off if you achieve the right balance.
So if you have trousers/jeans that add plenty of hip volume, you can experiment with camisoles.
And a pretty camisole under a soft-shouldered jacket or casual cardigan is a very wearable look!
i) Wide trousers with a broad belt under long blazer
Looking polished and balanced is great, but you should also be able to have fun with your new styles!
For example, wearing a brightly-colored suit in soft fabric, with a good IT shape, which is also trendy.
Just look how well this plaid suit in a soft fabric balances the model's Inverted Triangle shape.
The straight, long jacket over a broad belt and wide trousers that add hip volume works really well to give a highly fashionable outfit.
When you have practiced which styles are best for you and have a lovely, balanced IT wardrobe, it will be difficult for anyone to know your actual body type.
When experimenting with new outfits, don't let yourself get tied up in knots about following every, single guideline.
Your body shape is totally individual and the best way to wear trends you love, that don't fit every rule, is to tweak them with clever choice of styles, color and accessories!
Dressing well is an art you can easily learn by building up a figure-flattering wardrobe for your Inverted Triangle shape!
19. How to get started building an Inverted Triangle body shape wardrobe?
Building up an attractive Inverted Triangle wardrobe isn't about rushing out and buying lots of new clothes all at once.
Put aside a few hours to get stuck into your current wardrobe and start refining it.
Your wardrobe should be a place that boosts your self-confidence and not a reminder of your lack of style in the past.
First of all, you should try to clear out the clothes you already have that are the opposite of the IT wardrobe guidelines.
You can go through your wardrobe and pick out four main sections:
Clothes that minimize your shoulders and have a defined bust-line
Clothes that help define your waist and emphasize your hips
Clothes you can tweak to be more figure-flattering
Clothes that you never wear because they don't suit your proportions at all
The idea is to remove clothes that aren't making you look your best and give them to friends, family or donate them.
Then you should spend time trying out new ideas on how to get the best out of what you already have.
For instance, some clothes can be made more flattering by adding a belt to create a more defined waist.
And you can mix and match some of your separates more carefully, to get better proportions in accord with the IT guidelines.
When you've fully identified which Inverted Triangle styles you need to fill in the gaps in your wardrobe, you can plan future shopping trips to build-up a set of well-balanced outfits.
Now you know how to balance your body shape, it will easy to see where you may have gone wrong in the past, and make sure you get it right in the future!
20. Celebrities with an Inverted Triangle Body Shape
When styling for an inverted triangle shape, the goal is to balance the broader upper body by accentuating the lower body, creating an illusion of an hourglass figure. V-neck tops, wrap styles, wide-leg pants, and brightly colored skirts are all great choices for this body type.
A few celebrities with an Inverted Triangle body shape include:
Renee Zellweger: The Academy Award-winning actress is known for her roles in films like "Jerry Maguire" and "Bridget Jones's Diary". Her wider shoulders and narrower hips are typical of an inverted triangle body shape.
Angelina Jolie: The actress and filmmaker is known for her wide shoulders and narrower hips, giving her the inverted triangle shape. She often balances her figure with fitted dresses that flare at the waist.
Naomi Campbell: This iconic supermodel also has an inverted triangle body shape. Campbell often emphasizes her slim legs with high-waisted skirts and dresses that cinch at the waist.
Demi Moore: The actress, best known for her roles in films like "Ghost" and "G.I. Jane", has broader shoulders and a narrow waist and hips.
Catherine Zeta-Jones: The award-winning actress has an inverted triangle shape, often choosing outfits that balance her wider upper body with flared skirts and dresses.
Your Comments
I hope this article has helped you feel a lot more positive about your Inverted Triangle body type and how to dress well!
Inverted triangle shapes have a wide range of fashionable clothing styles to choose from and when you know what garments flatter you, it makes shopping far less stressful.
You really do feel more empowered when you can skip over the styles you know aren't right for you and zoom-in on those that will be worth trying-on and buying.
It feels marvelous to avoid impulse-buying stuff you later regret!
And the money you save can be used to buy longer-lasting, quality fabrics that give solid, long-term value.
And that's the best way to build up a wardrobe of clothes that combine easily into a wide variety of outfits you'll love wearing!
Tell us what you think in the space below – your feedback is important to us:
Has this article helped reduce your 'fashion anxiety'?
Have you started putting together more flattering outfits?
Have you stopped wearing outfits that don't flatter you?
Has it made your shopping trips more targeted and helped control impulse buying?
Have you gained in self-confidence?
Thanks for sharing your thoughts with the international HerStyleCode community!