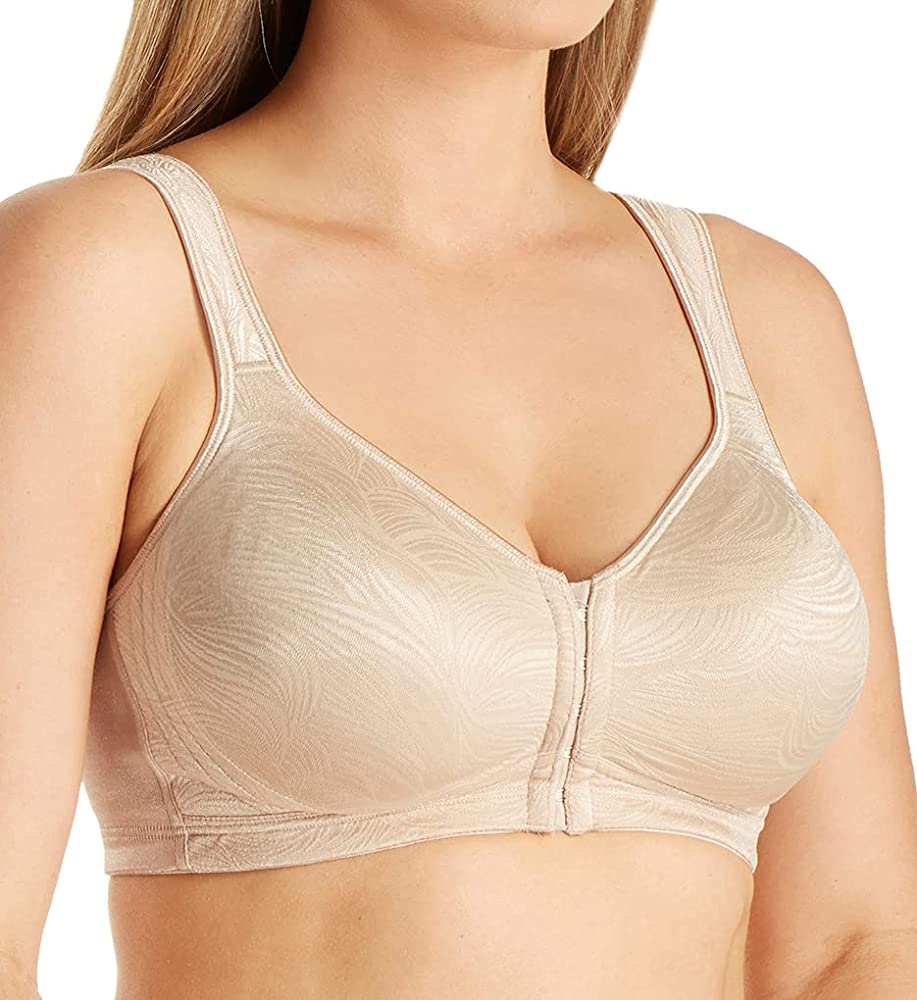 The best front-closure bras for seniors are hard to find. And that's because no bra brand wants to put a label on their products recommending them for elderly women. But senior women play such an important part in our society, they deserve the best. And just when we've reached an age when we don't want to spend hours shopping for a soft and comfortable, front-closing bra, we need a simple guide to make bra shopping easier.
Bra problems for elderly women
Older women have specific issues with finding the best bra, which include sagging breasts, lack of breast tissue and sometimes obesity. So some women need a bra that has padding at the bottom of the cup to create the best shape for a drooping bust. Others need a padded bra that compensates for the loss of breast tissue. And larger ladies benefit from sturdy, but never tight, support. So when you add in sensitive skin and medical conditions that restrict movement, it's obvious that front-closure bras are one of the best bra choices for this age-group. But where can you find the best front- closure bras for elderly women?
HerStyleCode bra guide for seniors
Fortunately, you can rely on Her Style Code to help you whittle down the many styles on offer to the 7 best performing bras. We are constantly involved in bra testing and reviewing for the benefit of our readers. And we use teams of ordinary women to wear a range of bras for at least two days, before reporting back very honestly on their pros and cons. This includes comfort, performance, quality, support, fit, durability and appearance.
So in this guide you'll find the softest, highest-quality and best performing front-closure bras for seniors. And whatever problems you may have – there's a great bra here to fix it!
1. Best Front-Closure Bras for Seniors – High-Cut Cups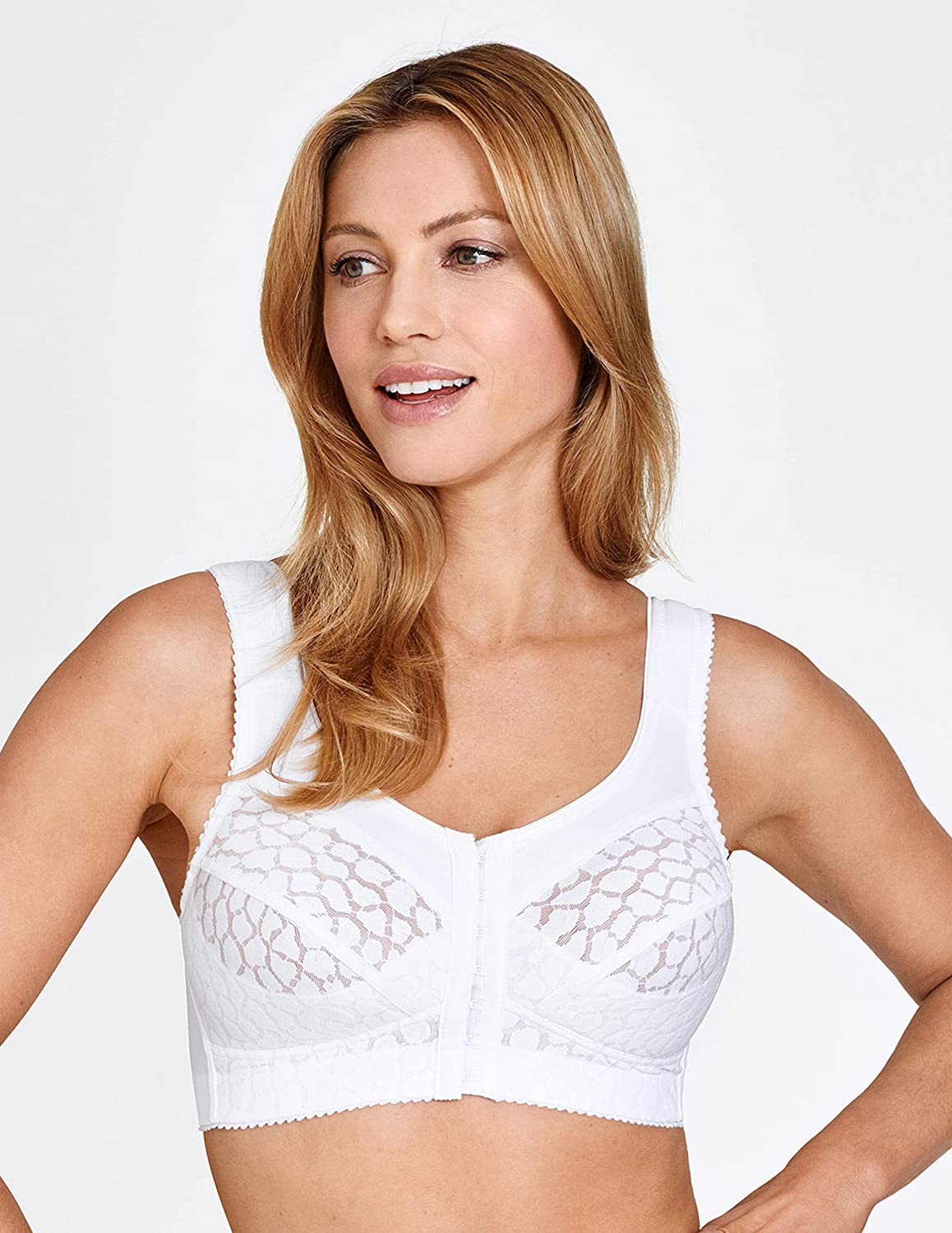 This is a well-crafted, high-quality bra with extra high-cut cups for full support. It has padding along the bottom part of the cup, which creates great lift and support, especially for a sagging bust. The front closes with several hook and eye fasteners. And padded shoulder straps protect your shoulder from digging or chafing.
Our Testers loved the attractive fabric of this bra and found it highly comfortable for wearing all day. They liked the degree of uplift and support it gives. And all commented on the high-quality materials. This bra runs a little small, but when you get the correct size the fit is excellent.
2. Best Front-Closure Bras for Seniors with Sagging Breasts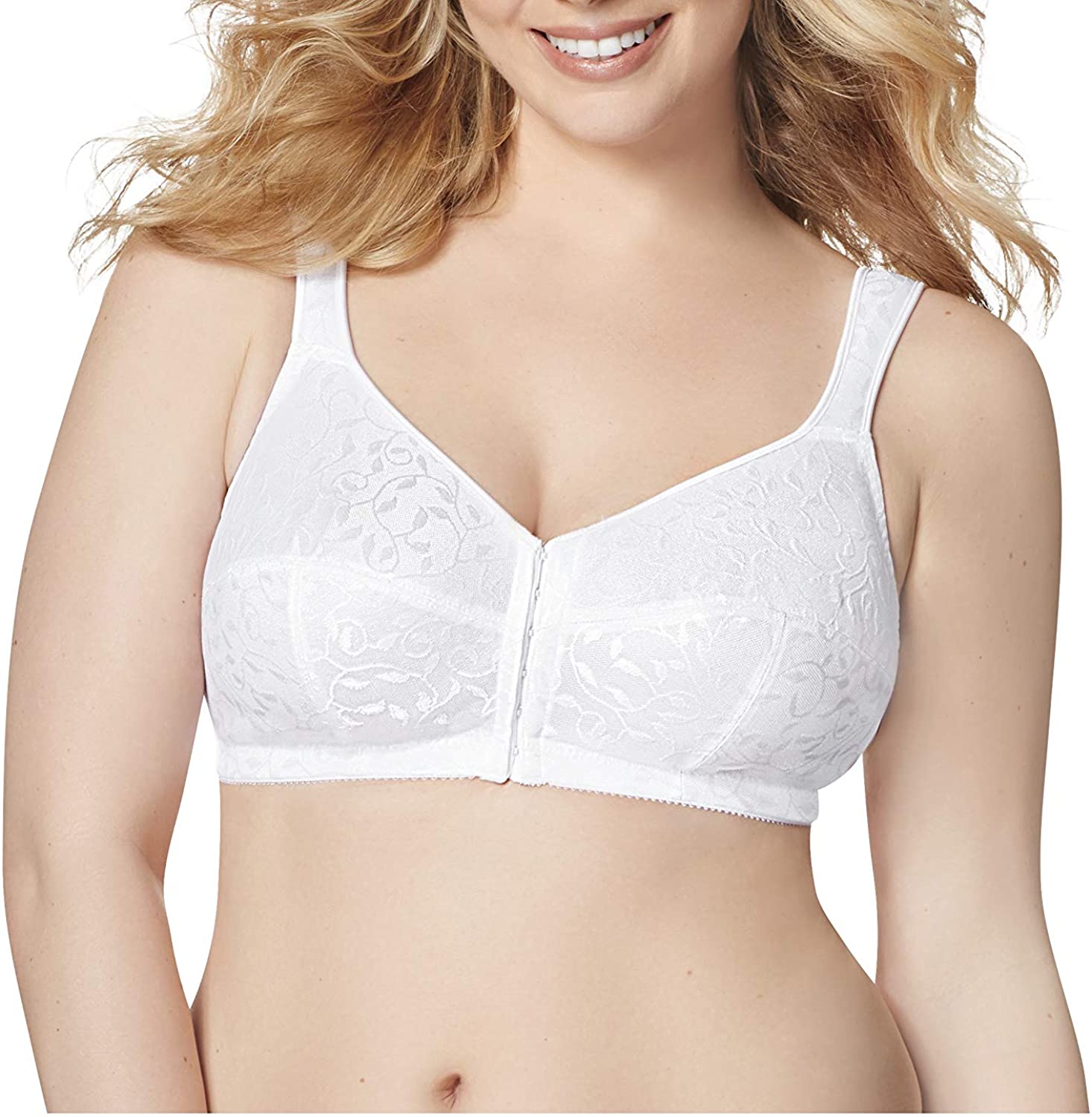 This is also a supportive bra, but it has a lower, V-shaped neckline. And the softly-lined cups have 3- sections, which give stronger support and better shaping. The front closes with several hook and eyes. And extra-wide, padded straps prevent any shoulder pain. The back section is stretchy satin fabric.
Our Testers said they loved how much comfortable support this bra gives, without any painful underwires. They said it really improved the uplift and contour of sagging breasts. So their shirts fit better and looked smooth and better shaped. The fit is great and the bra is high-quality!
3. Best Value for Money Front-Closure Bras for Seniors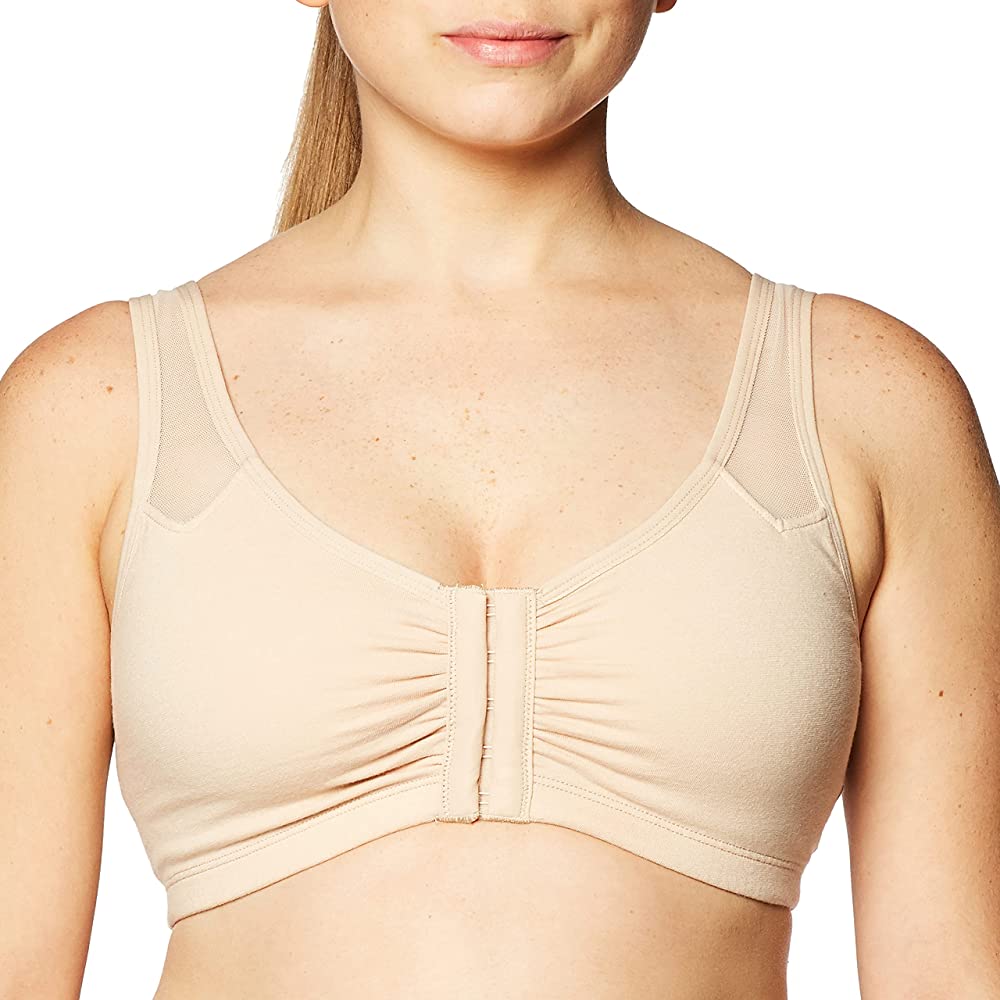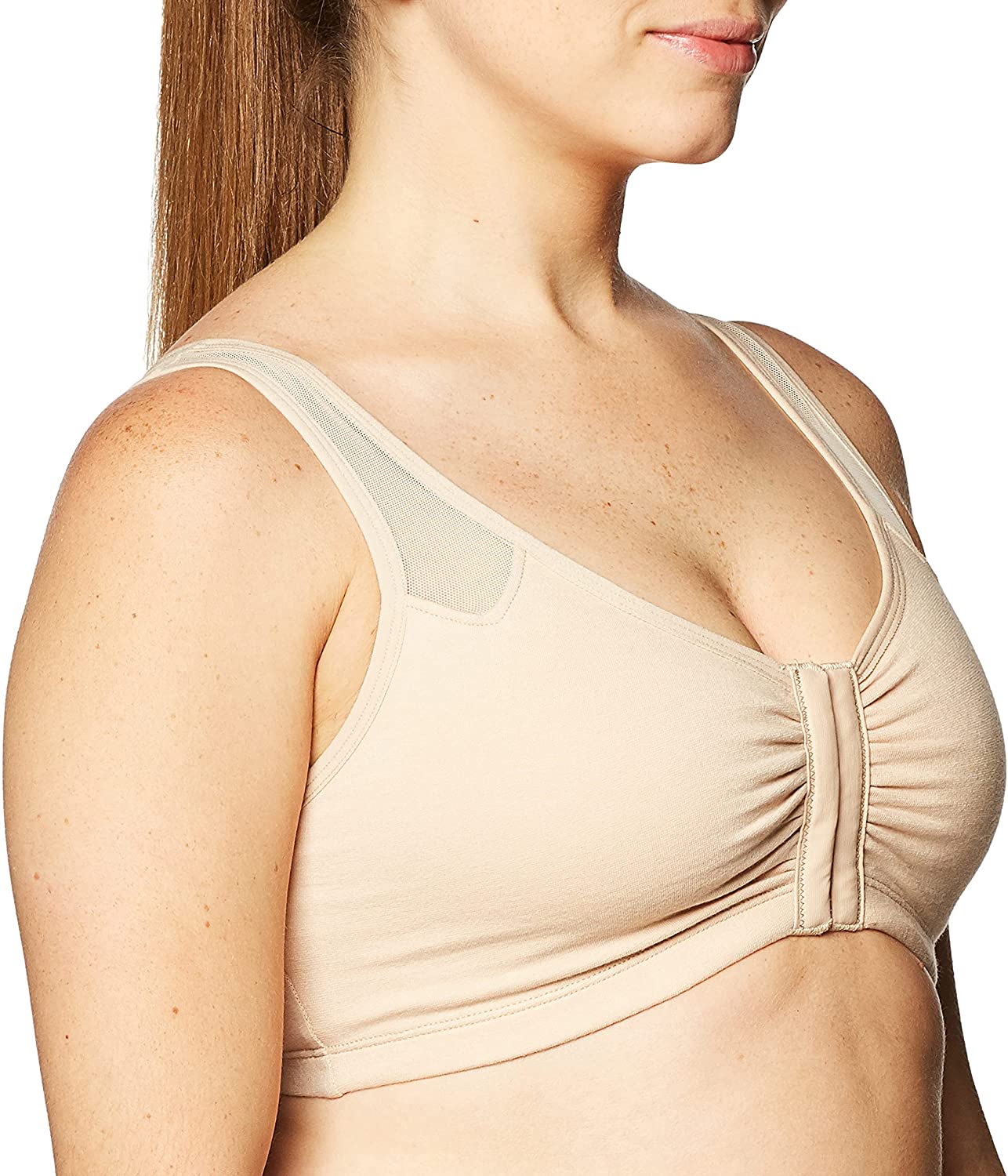 This affordable, best-selling bra provides comfort and support for sports, leisure and post-operative wear. The fabric is 95% cotton with breathable nylon mesh and a little Spandex. Thick shoulder straps are supportive and pain-free. The soft, unlined and wire-free bra cups are separated by front ruching.
Our Testers loved the style and the mesh straps, and said it was perfect for wearing during cancer treatment and post-op. But they also said they would continue wearing it after their treatment as a super-comfy, everyday bra for the older woman. It may run a little small, so for the most comfy fit you can size up!
4. Best 'No Bulge' Front-Closure Bras for Seniors with Large Breasts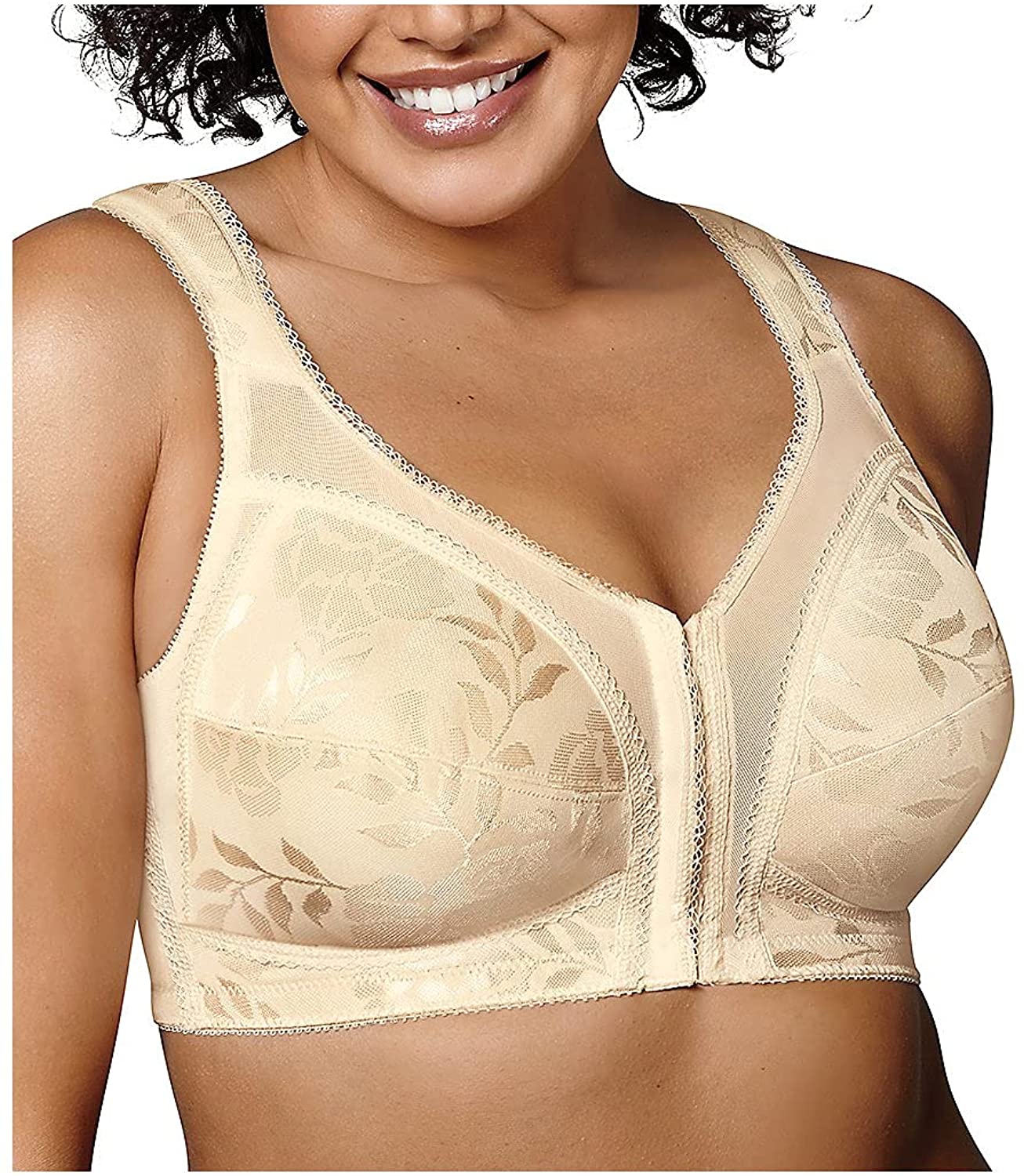 This bra has excellent 4-way support and protects sensitive skin. The sides and back are higher to smooth out your contours. And fuller cups combine with wider, comfier straps to give comfortable wear all day. The criss-cross, elastic back gives great fit and stops the straps from slipping off.
Our Testers loved the way the cups hold in the sides/back and give an uplifted, supported profile. Large breasts stay in place and you don't need to adjust this lightweight bra during wear.  They also said this comfy bra smooths out all 'bulges' and full-cover cups avoid over-spillage. The back construction is great for women with back pain from heavy breasts.
5. Best Lace V-Neck Front-Closure Bras for Seniors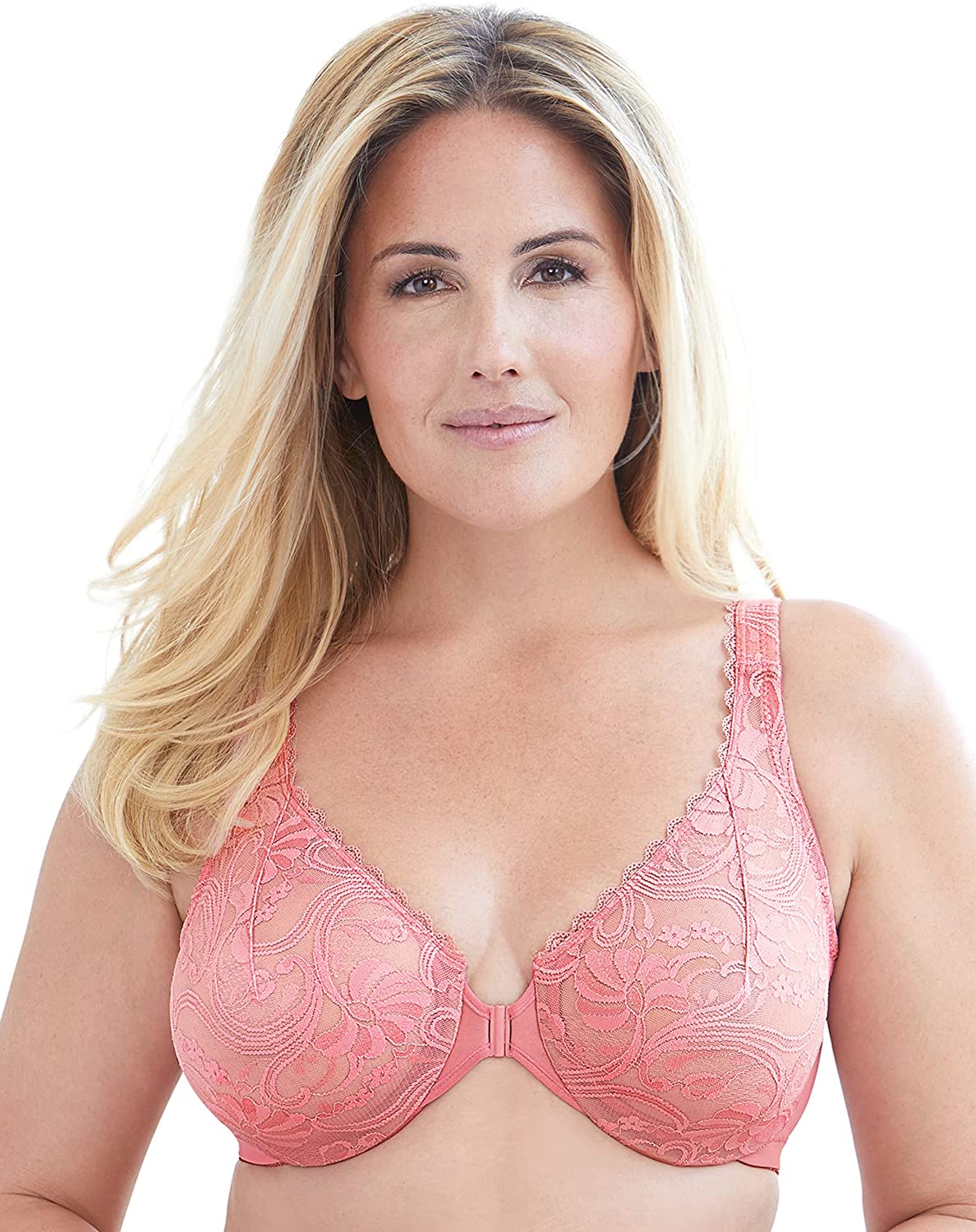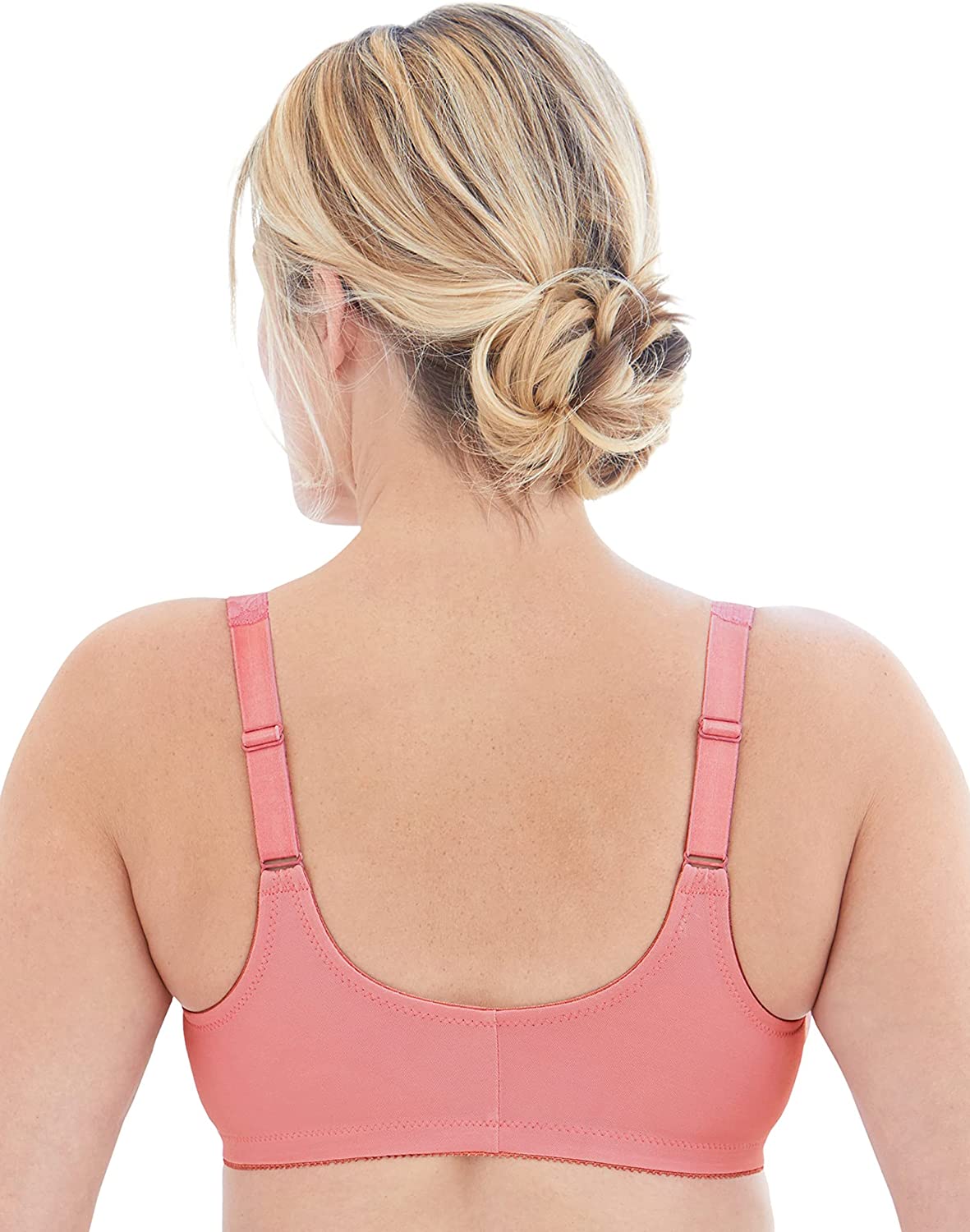 This pretty and supportive lace bra has an underwire that features a cushioned band for comfort and to avoid the wire poking out. The cups are made of attractive, soft, stretch lace and the front closes with a slot-in, hook and bar fastener. The materials are all high-quality and durable.
Our Testers said they loved the sexy look of this bra, which gives great support and is comfortable. The front fastener is easier to use than hooks and eyes and is very secure. The cups stretch to fit your breast size perfectly. And the cushioned underwires are comfortable to wear. It's also suitable for wearing with a prosthetic breast.
6. Best Posture Support Front-Closure Bras for Seniors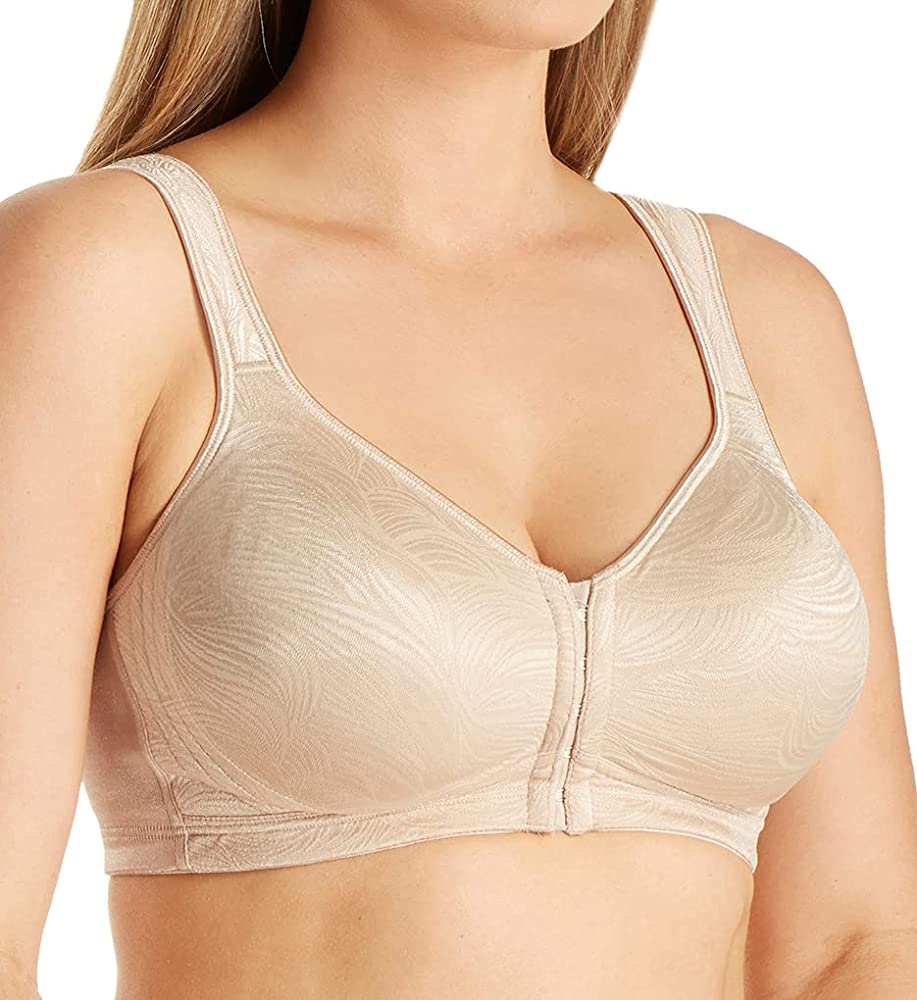 This bra has a specially designed, high back section which gives strong support to the back and improves your posture. This helps senior women who suffer from curvature of the spine. The front neckline is V-shaped and the cups are designed to provide superior lift and support.
Our Testers were very happy with this bra that provides lift, extra smoothing and comfort. The high sides and special back-support work well to improve your posture and reduce back pain. The fuller cups help you get a great fit and the wider straps avoid shoulder pain.
7. Best Post-Surgery Front-Closure Bras for Seniors
This is a soft mastectomy bra with a hook and eye fastener at the front. It is 90% cotton with 10% Spandex, for a soft and stretchy texture against sensitive skin. The cups have pockets for a breast prosthesis or padded shaper. It's also great for every-day, leisure or sleep-wear.
Our Testers said this is a very comfortable bra that stays in place and doesn't roll-up. And it was popular as a surgery, sleep and every-day bra with our test group. The fabric is lightweight and very soft, so it doesn't chafe!
So this selection of bras covers light, medium and strong support for elderly women who want excellent quality, comfort and fit. And there are also several post-surgery and back-support bras that our senior Testers rated very highly!
As a mature woman, what are the most frequent problems you notice with your current bras? Would you take a moment to let us know your thoughts and opinions on bra styles for seniors? We love to hear from you!