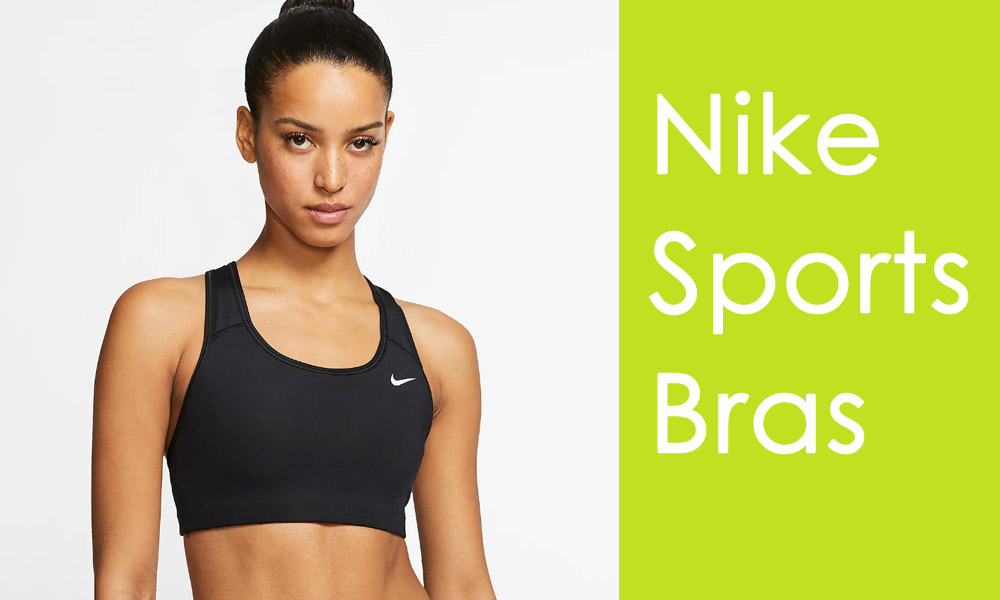 Your sports bra is an essential piece of equipment, so it makes sense to choose from a highly-respected brand like Nike Sports Bras. And within a specialist brand you can find suitable bras for all breast sizes and activity levels. There are three categories of support available in all sports bra ranges:-
Low impact – Light support bras
Medium impact – Medium support bras
High impact – High support bras
This isn't a hard and fast rule as some smaller-chested athletes can do medium impact activities in light support bras. And there's a degree of cross-over for larger busts which may always need extra-firm support. However, it's a good rule to guide you when trying on bras in stores, or ordering online.
And to help you choose your best set of sports bras, HerStyleCode does regular test projects on the latest bras to help you wade through the mass of different bras on offer. We recruit teams of ordinary women who wear a sports bra for at least 2 days and then report back on all aspects of performance.
And so here are our Testing Team's choice of the 8 Best Nike Sports Bras without underwires, to get you enjoying exercise and sports more than ever before!
1. Best Large Bust Nike Sports Bra Nike – Pro Sports Bra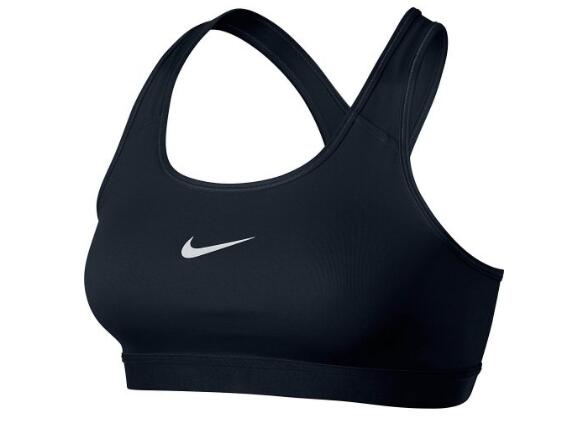 This is one of the first designs offered by Nike and it has proved to be popular over a long period of years. So popular, in fact, that there are a number of 'cheap copies' on the internet, so always buy through a well-respected seller online. It has flat seams and a racer-back style for comfortable shoulder movement.
Our testing team commented that this runs a bit smaller than their normal size, but gives great support. Testers in sizes up to D cup said if offers good support for larger breasts. When they had chosen the correct size, our reviewers said they got a good fit. And all like the simple, soft design that's comfortable and non-irritating.
2. Best Trendy Lightweight Nike Sports Bra – Indy JDI Training Sports Bra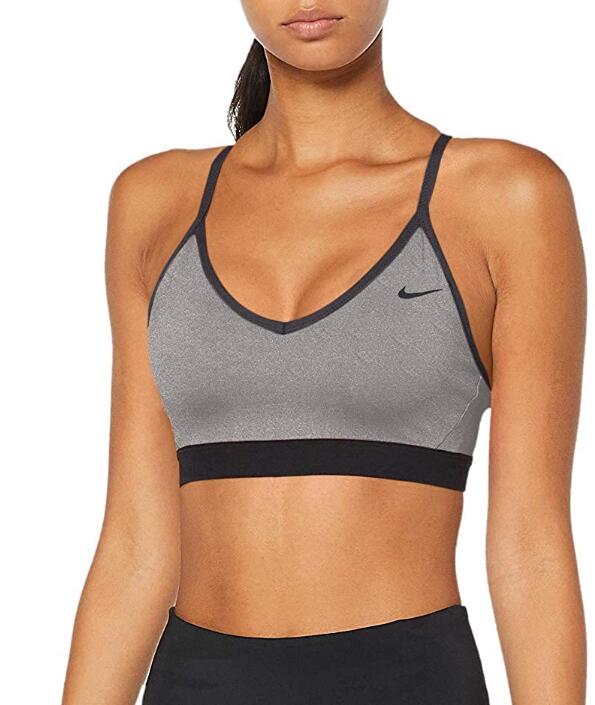 The Indy JDI Sports Bra is stylish with a lower cut neckline than some sports bras, and a trendy strap over the cleavage. There's a fashion detail in the, 'Just Do It' slogan printed on the strap. It's a lightweight top that's suitable for yoga and Pilates, with removable pads that give you bust shaping and minimalist look.
Our testers loved the front strap and slogan detail, which they said looks 'cool' and gives them extra motivation. The thin straps hold your bust in place and give a daintier look than broad strapped bras. The removable pads were rated as giving an attractive bust shape. And testers praised the Dri-fit fabric as always for its comfortable texture and moisture-removing capacity.
3. Best Lightweight V-back Nike Sports Bra – Nike – Pro Classic Swoosh Sports Bra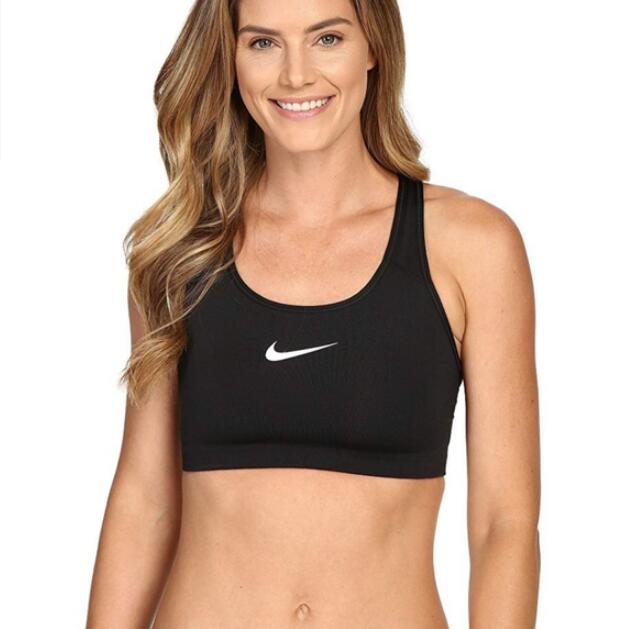 This sports bra is not designed for large busts. But it gives excellent support and minimal bounce for sizes up to a C cup. It doesn't have any padding and is broadly designed to give medium support. It keeps you cool with good moisture wicking and the seams are all flat and comfortable.
Our testers who wear A and B cups said it had good support for them during high impact exercise and running. They liked the stretchy feel of the fabric and said it kept them cool. The compression fit was soft and comfy. No-on had any skin irritation and you can machine wash this bra. Good value for money.
4. Best Minimalist Nike Sports Bra: Pro Indy Sports Bra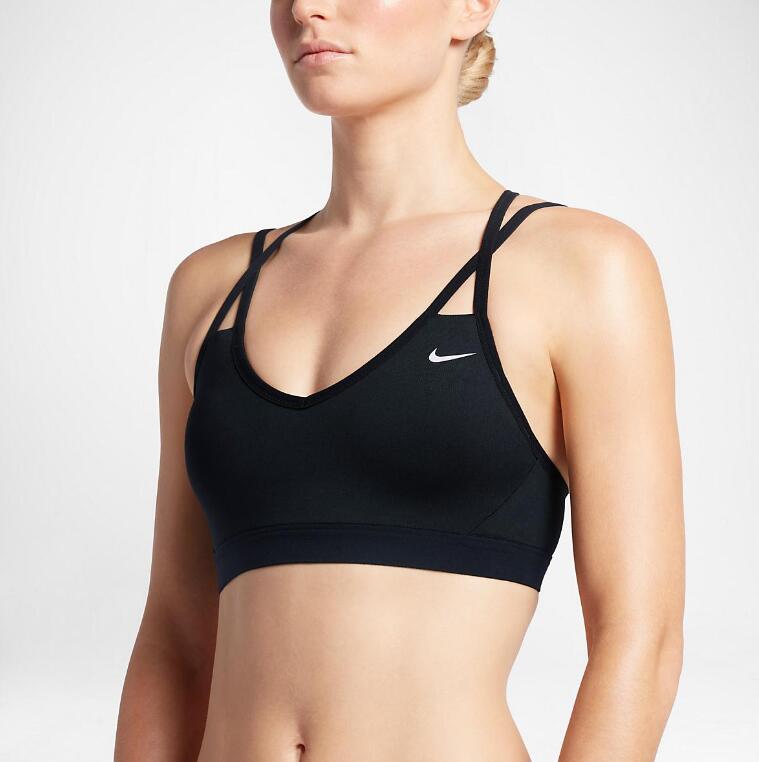 This design is intended for smaller-busts and is a one-piece elastic bra that goes on over your head. It's rated as a low-impact sport bra and has removable cups for easy washing and drying. The cups give a natural shape and light support. It has two, crossed straps for added style.
Our reviewers who wear small sizes said this bra runs a little small, so they had to switch to one size bigger. But they got a great fit from soft, non-irritating fabric. Testers stayed dry during exercise and rated this as a comfortable bra. All testers liked the stylish straps and the chest flattering V-neck which helps you stay cool.
5. Best High Impact Nike Sports Bra: Motion Adapt Sports Bra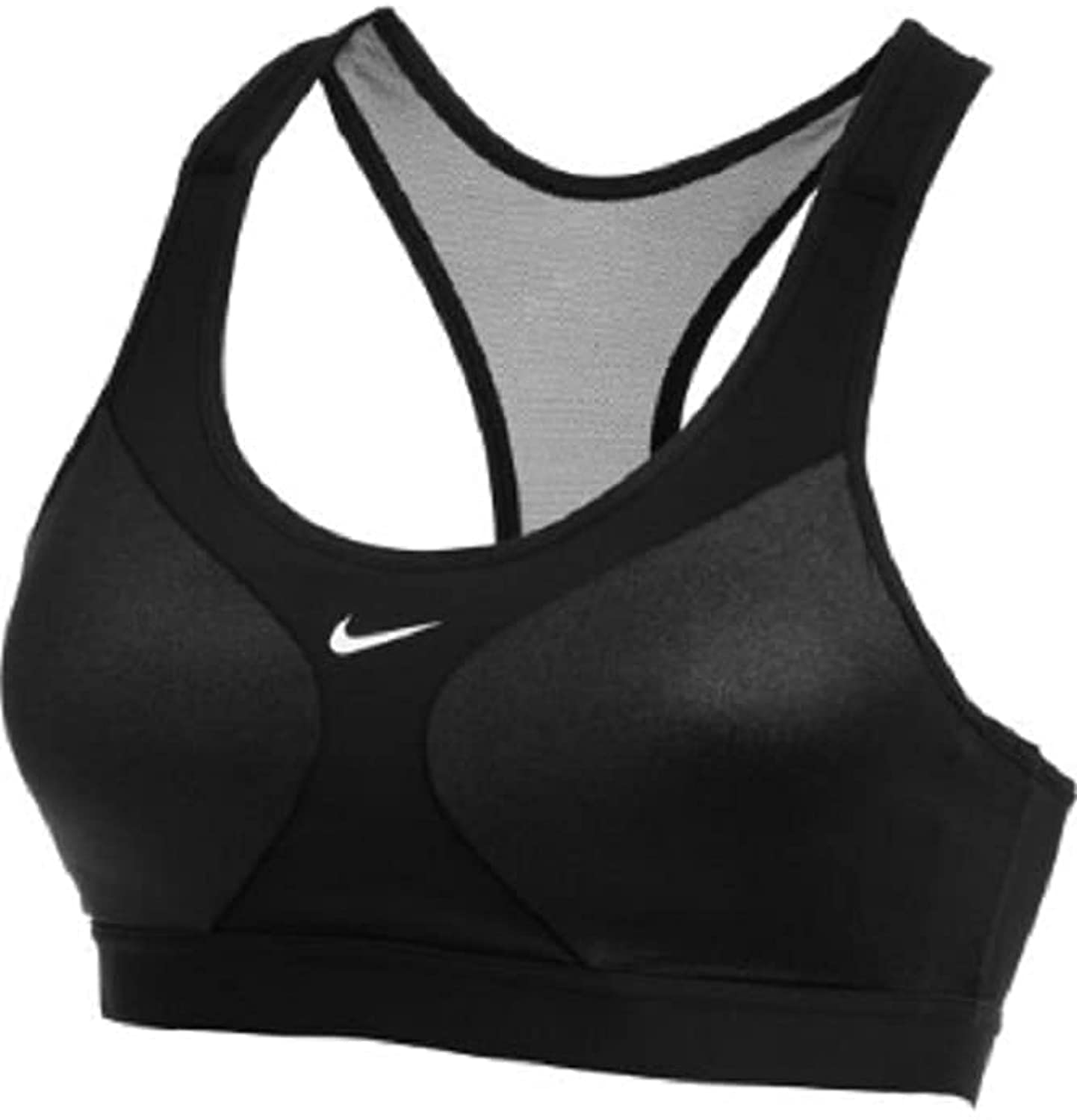 The Motion Adapt Sports Bra is designed for highly active HIIT and CrossFit workouts. It is a compressive bra, which doesn't constrict movement at all. And it has useful, mesh panels in perspiration spots to aid moisture evaporation and keep you cool.
For the extra support needed in high impact sports, the testers found the elastic band over the chest a great feature. All testers said this bra gave them a high level of support and the perforated section at the front made a big difference to their dryness and comfort during workouts. It is aimed at serious athletes.
6. Best Cute Nike Sports Bra: Pro Indy Strappy Sports Bra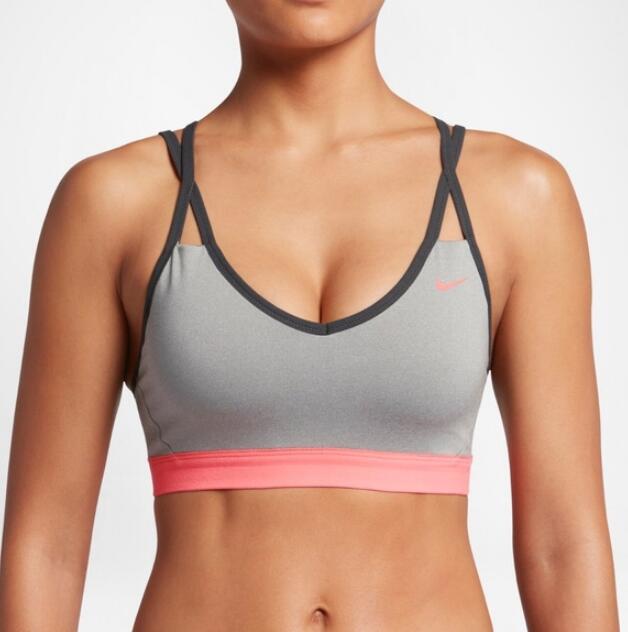 This is a light support sports bra for low-impact workouts. But it's also a compression fit that gives full support for small to medium chests for aerobic activities. The cute, criss-crossed thin straps are adjustable. And the fabric is soft, Dri-fit that's double-layered with flat, bonded seams.
Our testers said they liked the low-cut design and the criss-cross straps that add a feminine detail to the bra. All reviewers said they preferred to have adjustable straps, which meant they could achieve an excellent fit. The compression fit is a close-fit, but with comfort and maximum support.
7. Best Low-Light Reflective Nike Sports Bra: Pro Classic Padded Reflective Sports Bra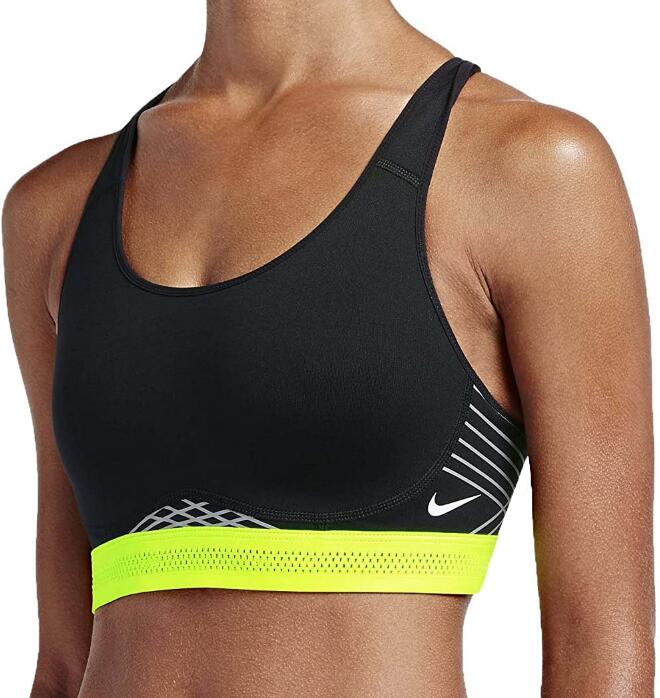 Reflective details make this an excellent choice for safe running out of doors in low light conditions. The Dri-FIT fabric removes moisture from you skin. Removable pads mean you can easily wash and dry the pads quickly. The racer-back design is stylish and helps muscle extension. It is supportive and stops too much bouncing but doesn't weigh you down.
Testers liked the strap stabilizers that reduced breast movement and back strain. The flat seams didn't cause skin irritation during exercise. The reflective feature was deemed to be very useful for safer running out-of-doors and in poor light. Testers said it offer very good support and padding. And all of our testers loved the bright color and trendy style.
8. Best Overall Nike Sports Bra: Nike – Victory Compression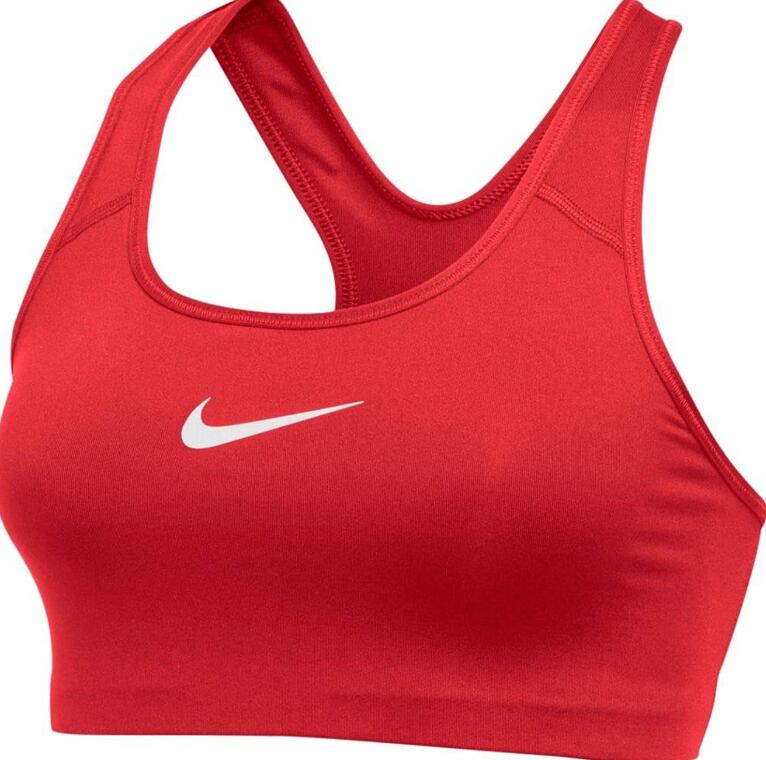 This was voted the most popular overall Nike Sports Bra. It's made from high quality fabric and gives a close fit, without being constrictive. It wicks away perspiration very efficiently and is highly supportive. The fabric doesn't hold odors in and the bra lasts well after washing and wearing.
This was voted to be a great, medium impact sports bra by our testing team. And reviewers said it only had a small amount of compression, which was useful and never uncomfortable. The 'breathable' Dri-fit fabric kept wearers cool during long gym sessions. And the bra stayed fresh-smelling and kept its elasticity and shape well.
As you can see all of Nike's Sports Bras are made from high-quality fabric that keeps you dry and cool, as well as offering a soft and comfortable texture. And within their range you get to choose from various levels of support to suit your shape and exercise regime. There are basic design sports bras that offer excellent functionality and great value.
And if you like a bit of fashion flair, you can pay more for a trendy style that will also work efficiently to contain your bust. The most important point is that you find a bra you love, for every type of exercise, so you can enjoy lots of healthy activities!
What's you favorite sport? And have you managed to find a great Nike bra that's perfect for your activity? We love to hear your stories and comments! Leave a message and join the HerStyleCode Community today!