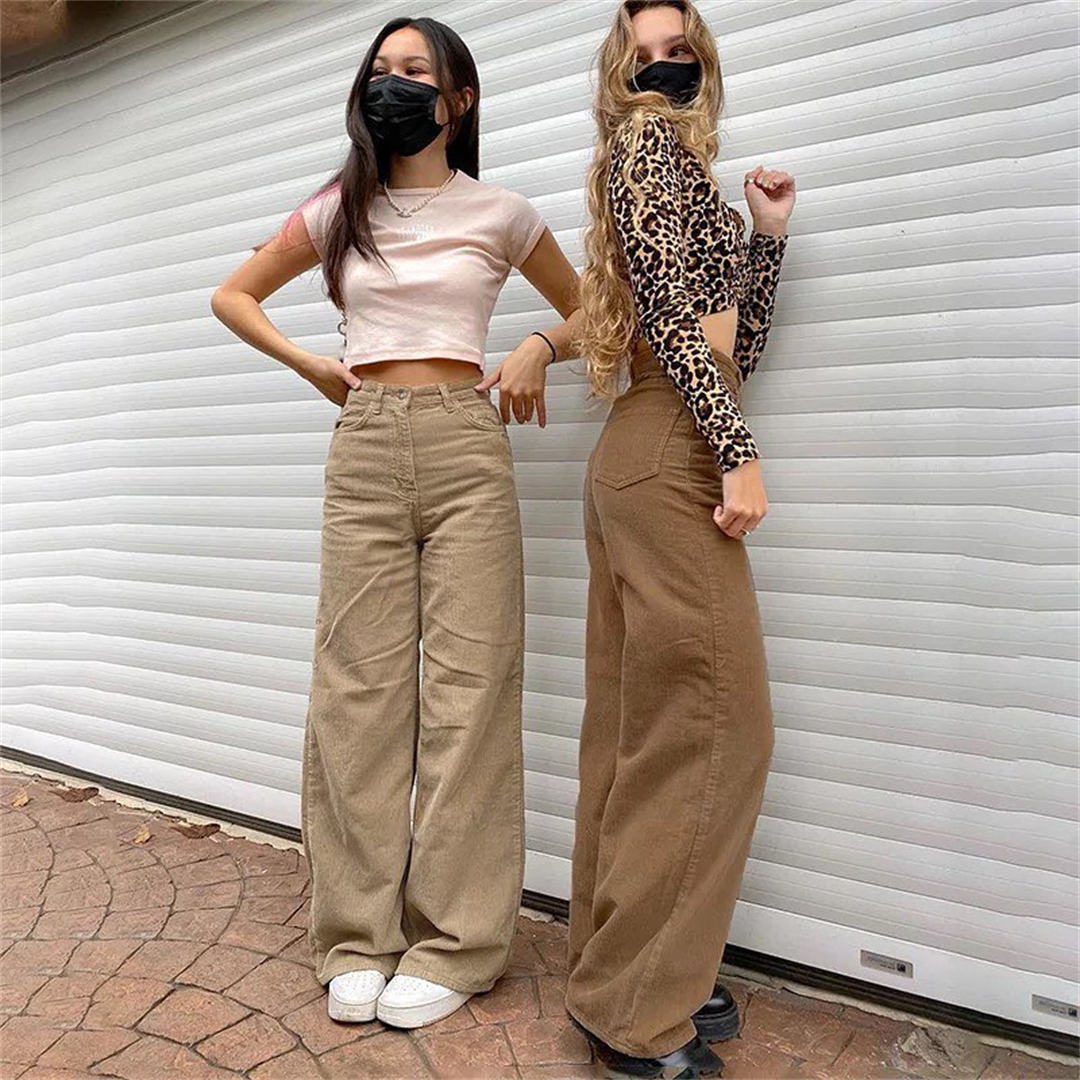 With its soft, almost velvety texture and retro vibe, corduroy has always been a popular fabric for pants, skirts, and jackets. It's an autumn and winter favorite, but if you haven't worn it before you may be struggling to put together your first corduroy outfits.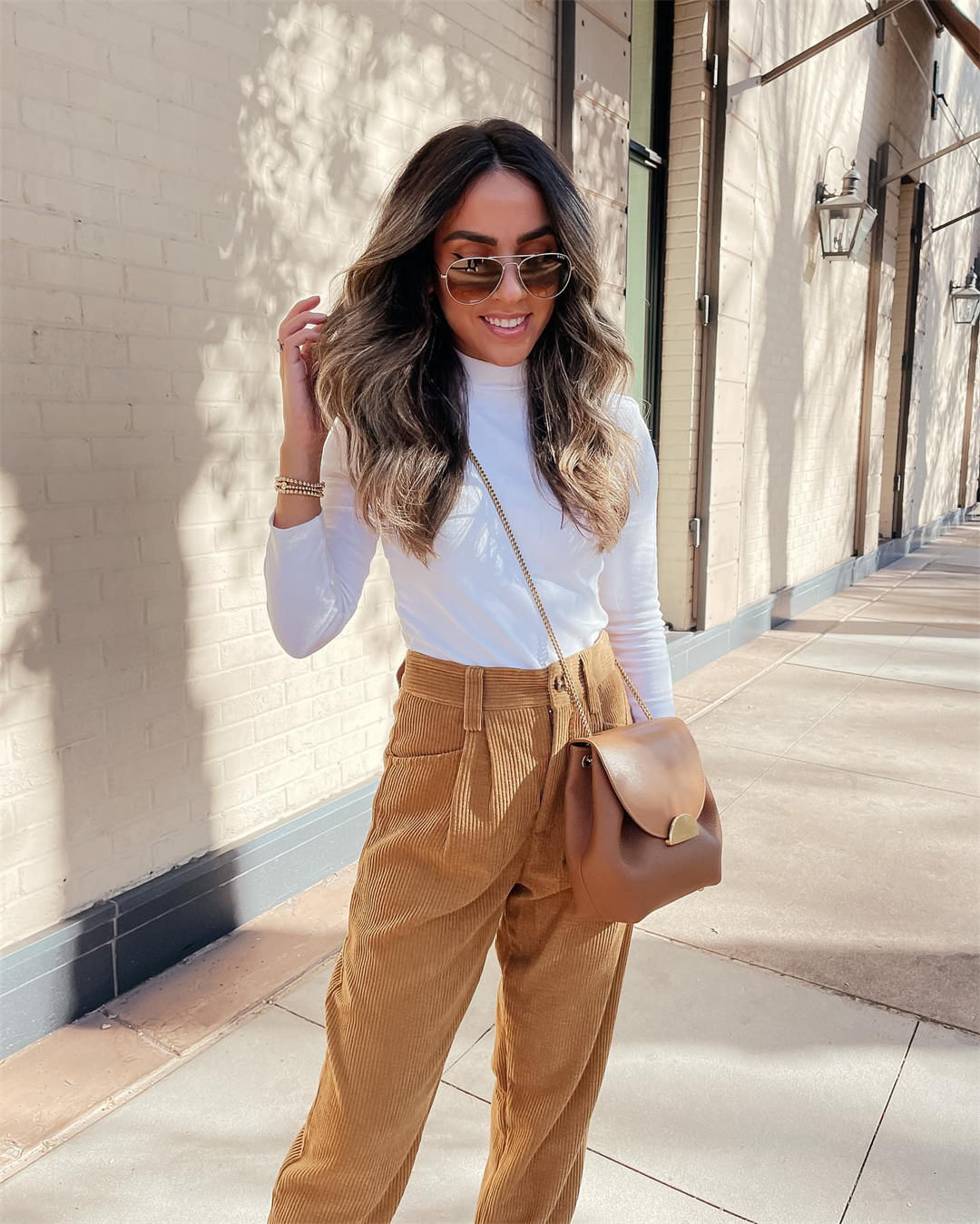 So this is a complete guide to every aspect of styling your corduroy pants to look fashionable and flattering. Corduroy comes in several fabric weights and these range from narrow, needle-cord, through regular to jumbo-cord threads. This year's corduroy pants are mostly regular corduroy, but if the trend continues to catch our interest, we may be wearing needle-cord by summer and jumbo-cords by next autumn/winter season!
What Are Corduroy Pants?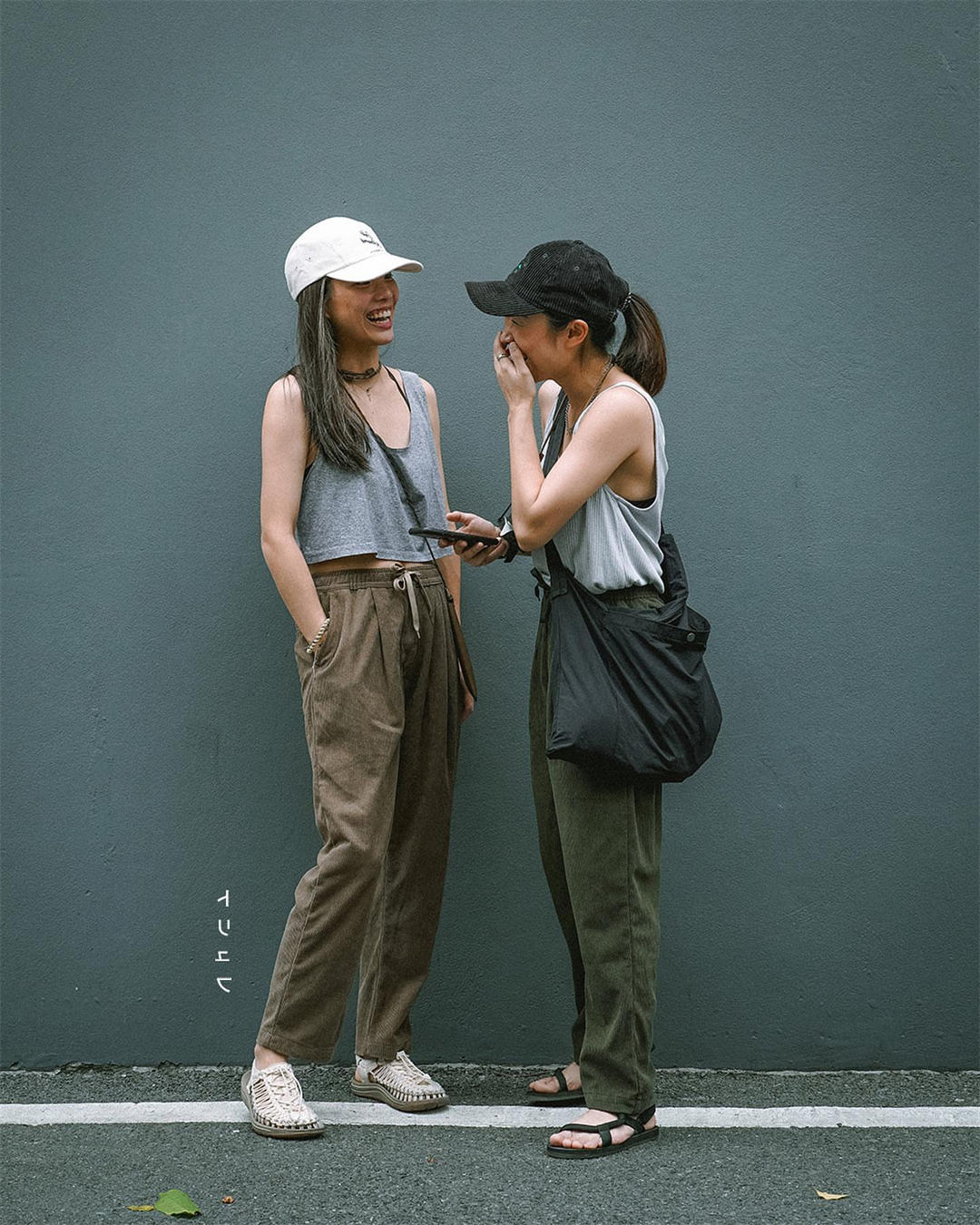 Corduroy pants are a type of casual pants made from corduroy fabric. The fabric is composed of thick cotton or a cotton blend fibers that are woven together in a unique pattern, giving the material a distinctive ridged texture, also known as "wales." These ridges are created by cutting the fabric in a manner that leaves some of the vertical fibers intact and uncut, forming columns or "wales".
Corduroy pants are often favored for their durability, comfort, and warmth. The texture of corduroy provides a soft feel that is both warm and comfortable to wear, making it a popular choice for cold weather clothing. The fabric is also highly durable, making corduroy pants a good choice for outdoor activities and workwear.
How to style corduroy pants?
Corduroy pants are available in a variety of colors and styles, ranging from solid colors to bold patterns. They are typically cut in a casual, relaxed fit and can be found in both straight leg and bootcut styles. Some corduroy pants also feature special features such as reinforced knees, cargo pockets, and adjustable waistbands for added comfort and versatility, read the following post to get corduroy pants outfit ideas.
How to pick the best corduroy pants for your figure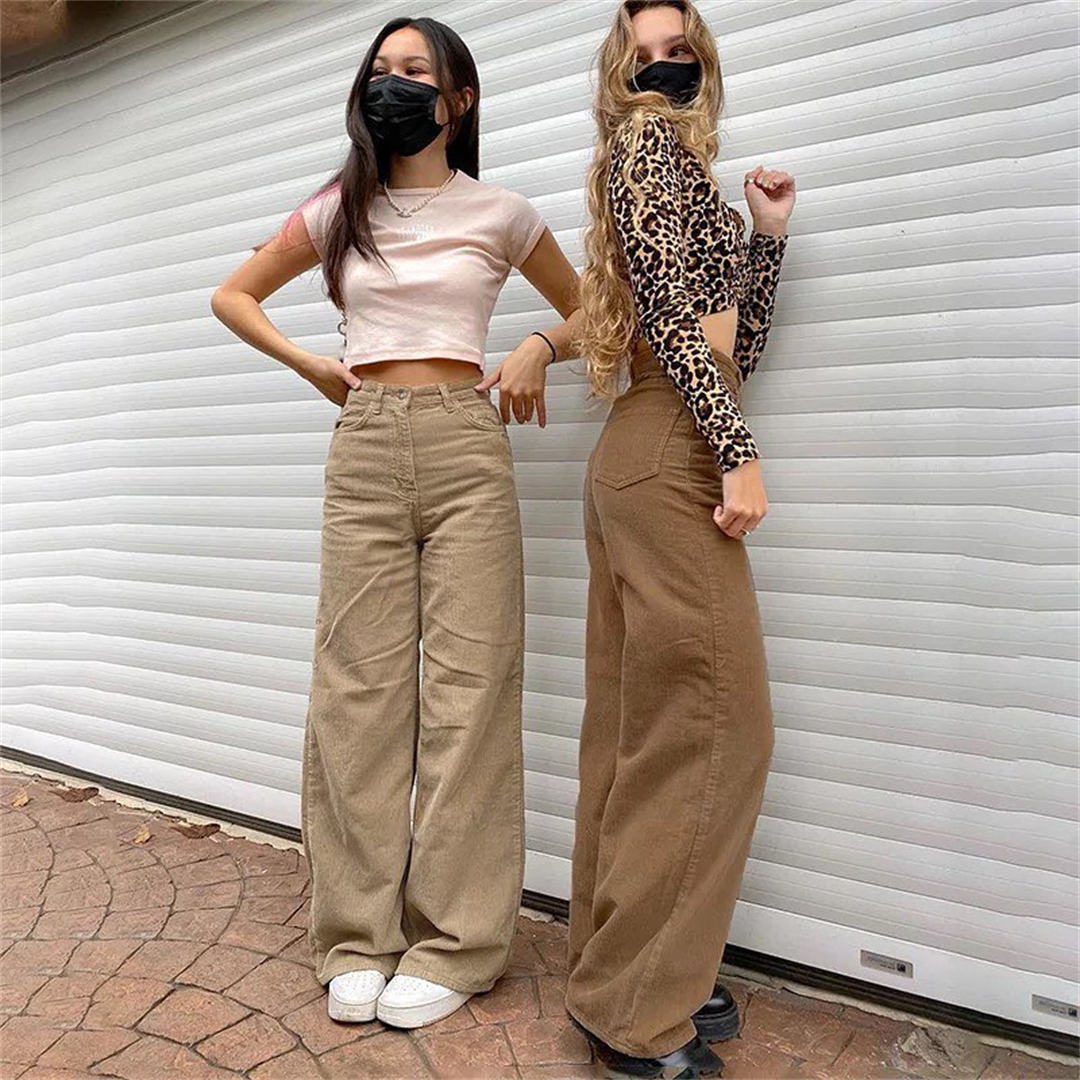 This is definitely the most important thing you need to know this year, as there are so many different leg widths, that younger women may never have even seen before. So a boot-cut leg and a flared leg will balance out the curves of an hourglass figure, and there are plenty of plus-sized pants in the stores to fill this demand.
If you have a pear-shaped body, choose straight-leg cords, which will minimize your hip area and give a taller and slimmer silhouette. If you have a slim boyish shape, tapered skinny corduroy pants can look marvelous and even make you appear curvier! And if you're petite, like me, stick with a skinny shape and wear heels or straight-cuts with platforms.
Shirts & tops for corduroy pants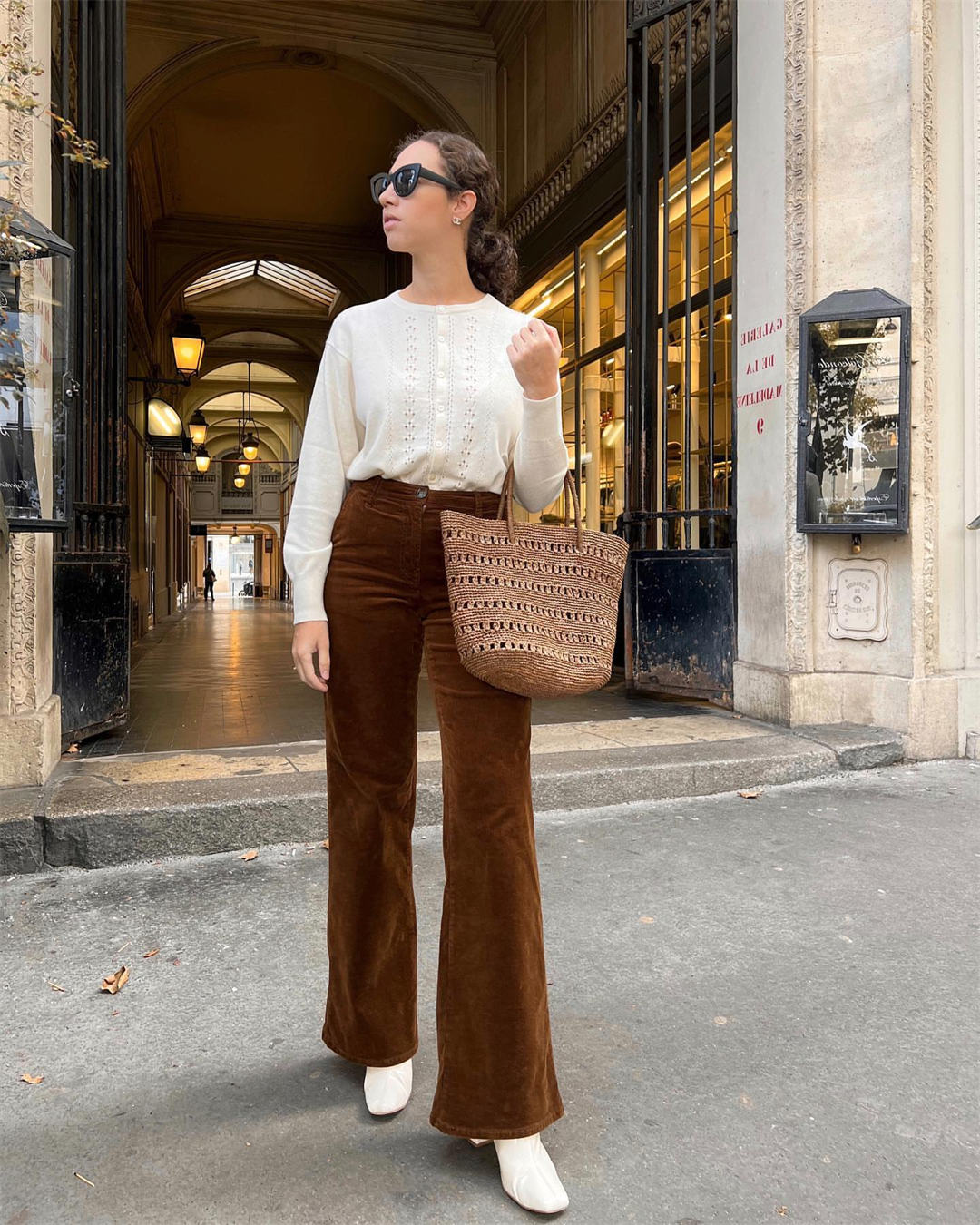 You need to match your tops carefully with corduroy trousers, as it's a richly textured fabric and it needs understated colors and tops to get the balance rights. As cords often come in bright, gem colors, match them with this year's plain beige, cream, khaki and sand shirt and blouse colors for a smart look. They also look fabulous with the shirts/blouses/sweaters and short cardigans in soft pastel colors that are a lighter version of the pants' color.
Avoid busy patterns, and brightly-colored plaids or polka dots, which just aren't attractive at all with cords. But as graphic tees are such a hugely popular trend this year, you can wear a graphic tee in a dullish color that blends well with dark-colored cords and it will look great. But no Mickey Mouse or Tom & Jerry tee-shirts look good with cords, except on children!
Gray plaid blazers over winter colors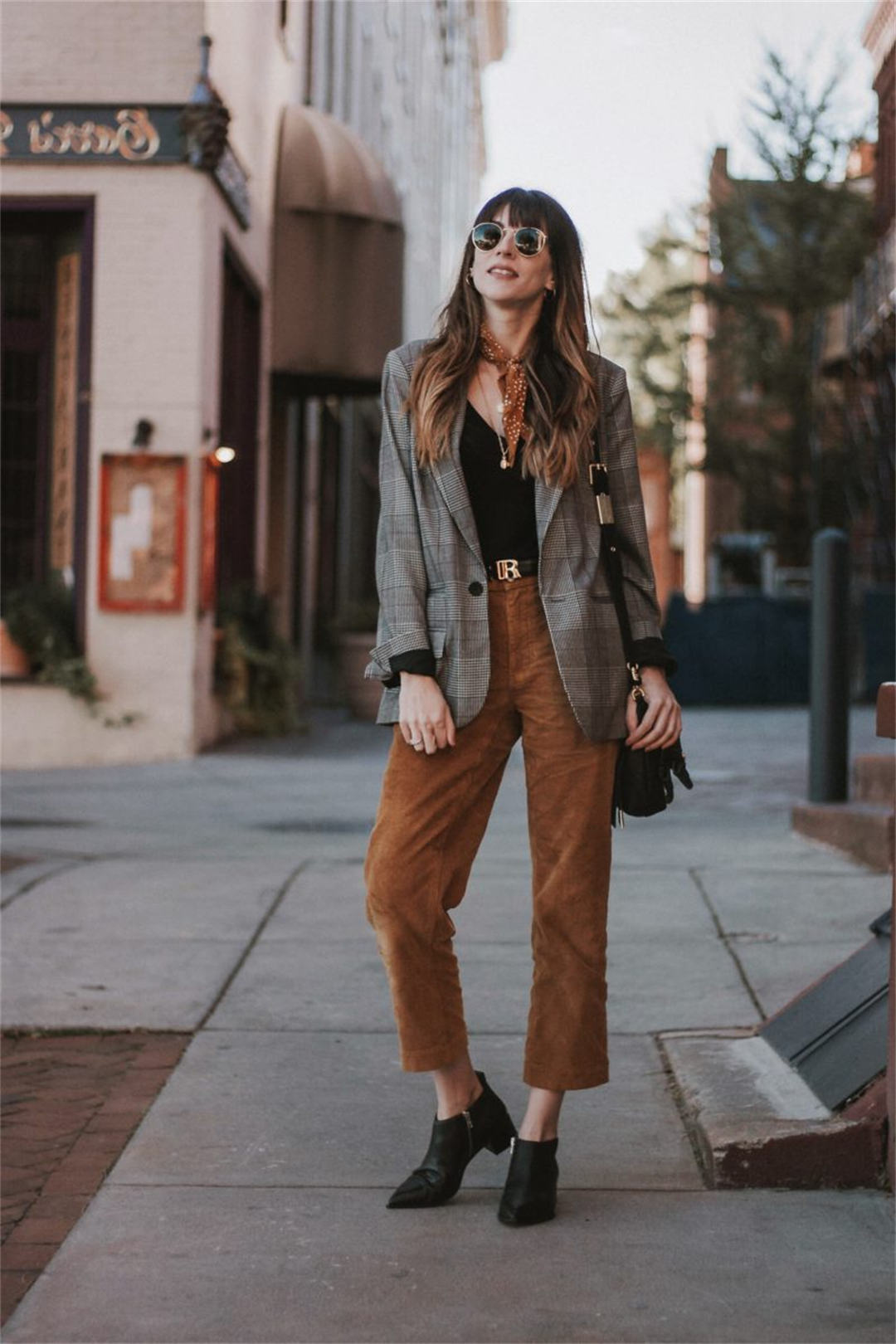 However, if you have a subtle, gray or brown plaid blazer, that would be a perfect jacket to wear with your new cords for a super-chic look. And if you want to wear a patterned shirt, try to wear it with dark-colored cords that match the dominant color of the pattern, to get a nice color balance. This year's dark autumn/winter colors include purple, gray, dark-blue, sea-green, burgundy, deep green and of course, brown pants, which are everywhere this year taking over from black!
Soft & neutral coats to wear with corduroy pants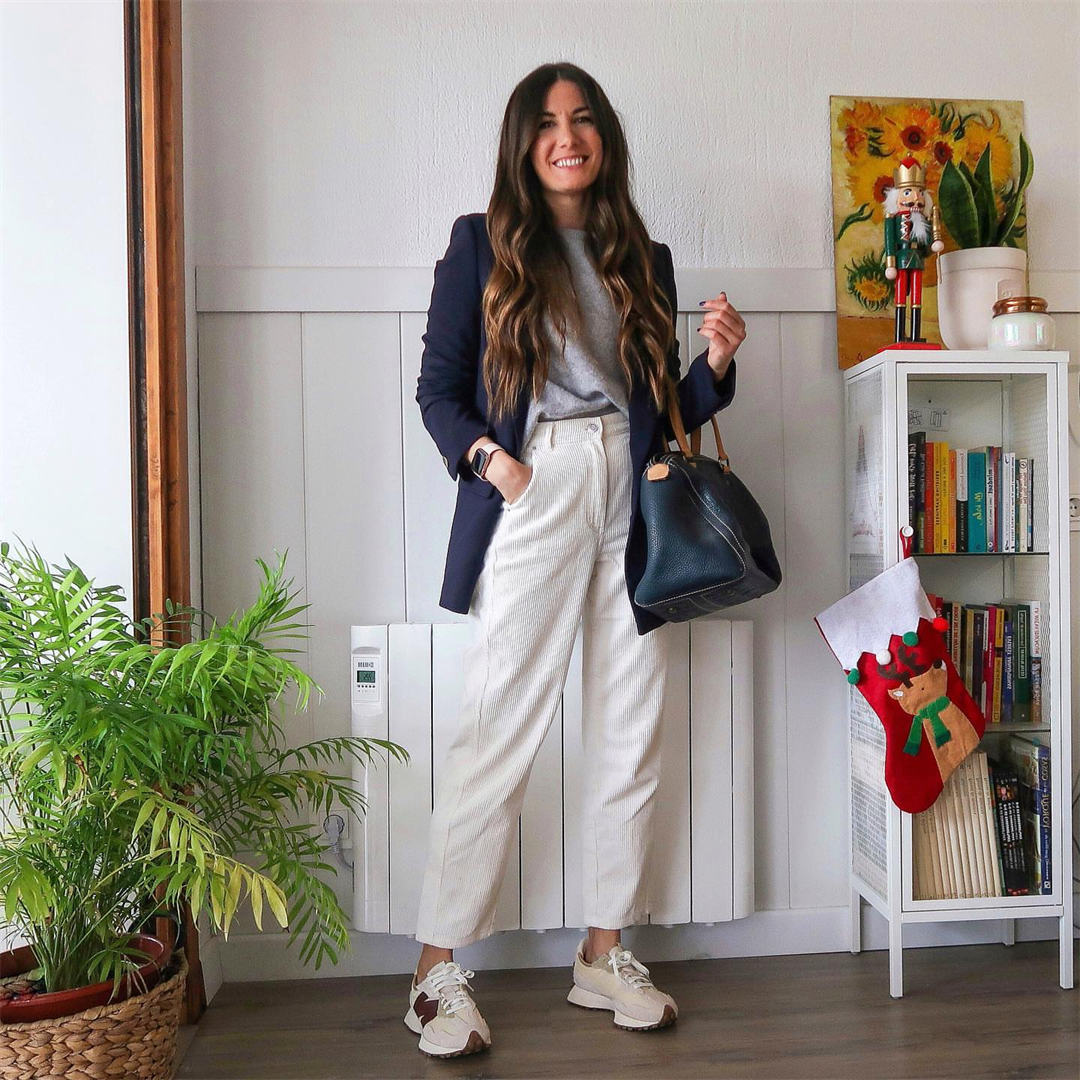 Trench coats in unusual new colors, like olive-green are a great look worn open to show off your corduroy pants. And a soft-beige plaid long coat looks wonderfully chic with this year's favorite brown cord pants or deep purple. If you see a long, camel coat buy it, as it will match everything that's trendy this year and for the future! Experiment with colors and get some new and exciting looks matching deep purple with soft, green. I've never worn these two colors together before, but I absolutely love the chic look they bring to several of my fashion outfits!
Silky blouses & corduroy pants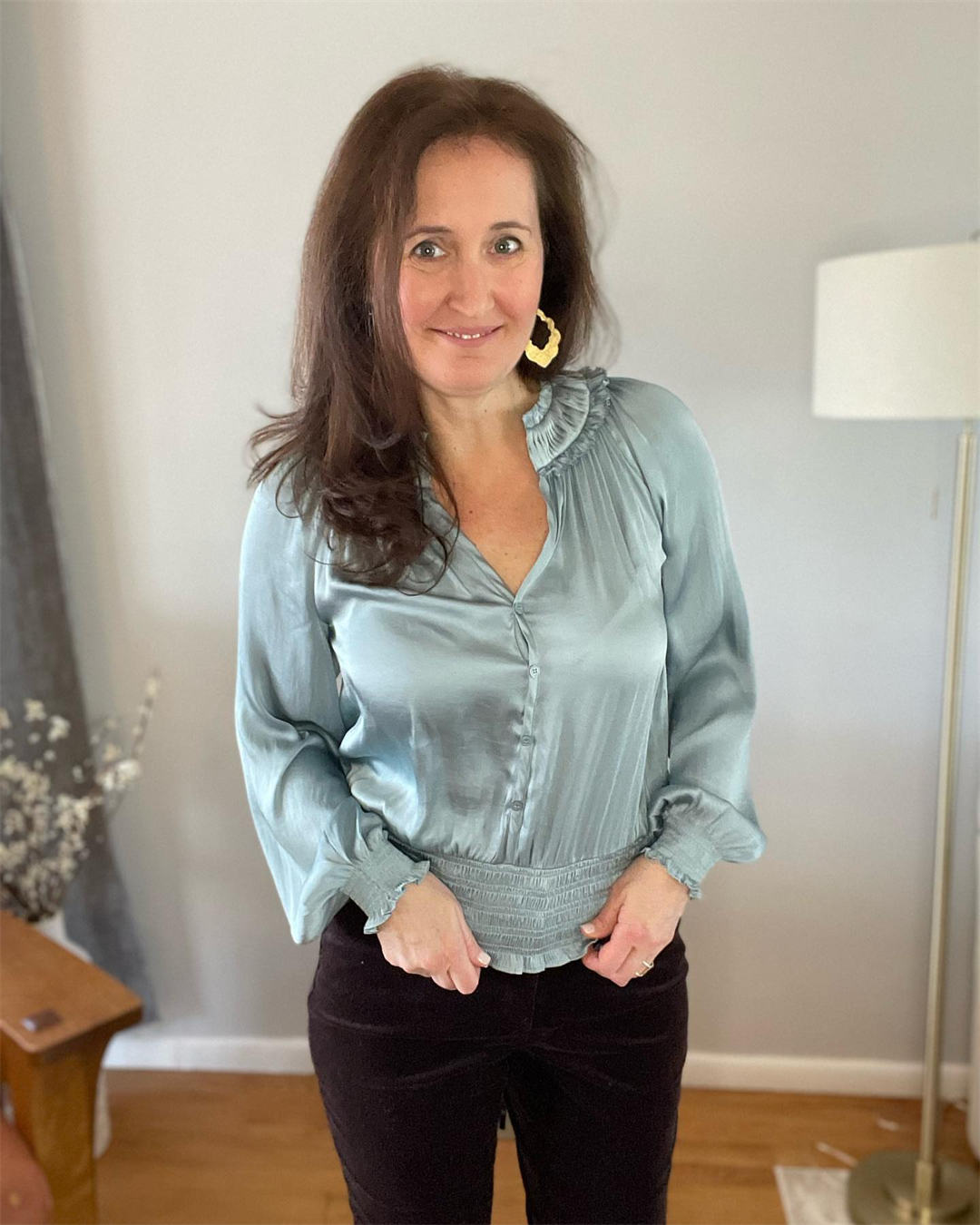 Corduroy definitely looks at its best when worn with natural fabrics and it's the opposite of the sporty, athletic look. So if you've missed those silky-smooth feminine blouses these last couple of years, you can get them out again to wear with your new cords. The combination of two plain, textured fabrics like flowing silk and rich corduroy creates a sophisticated look.
And this works especially well in the new colors, like tan/burgundy/purple/brown/gray/black pants with a cream or sand blouse. Or any pastel colors that harmonize with your cords will look extremely smart and great for a professional work look or a date with friends. Add high-heeled boots and you'll be chic and ready to dine at a new fancy restaurant!
Styling summer cords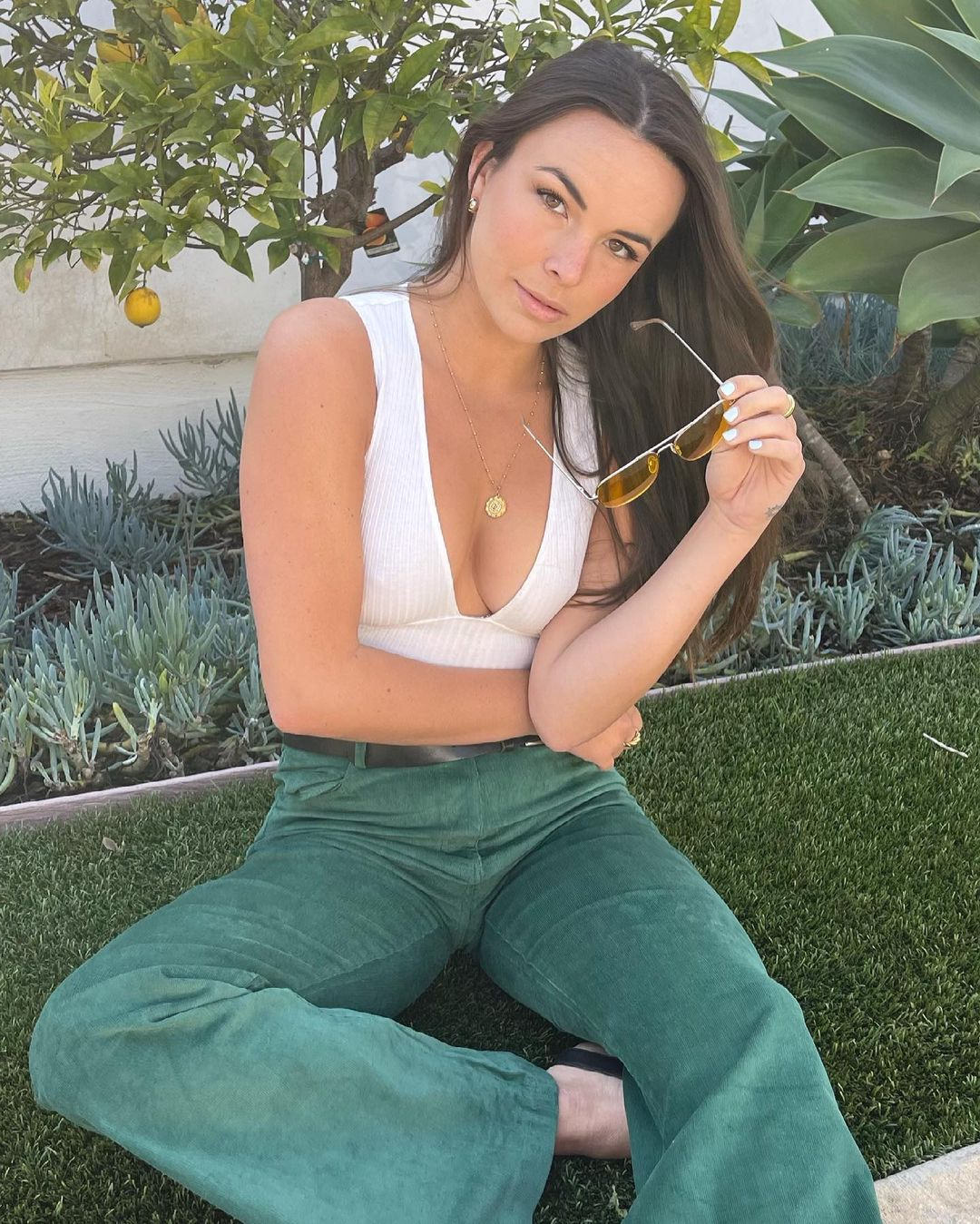 Not everyone lives in a climate where that summer is always hot and lots of women will be wearing corduroy pants on cooler days. But you can still enjoy wearing the gorgeous range of summer colors with your cords. Most of the summer colors are rainbow shades mixed with white to make baby-soft, pastel shades that are very feminine and pretty.
And whatever natural or fantasy color hair you happen to be wearing, you'll be able to match it with a cute shade of aqua, lavender, baby-blue or pink, peach and soft orange, beige, camel and fabulous soft shades of green, which we haven't seen for ages! However, as the fashion-forward hair colorists have been pairing purple and green tones for a few years now, it was time the garment fashions caught up with this super-attractive new color pairing!
Cute cropped cardigans and sweaters
And these are the colors of the huge range of cute short cardigans waiting for you to buy in the stores right now. The corduroy look has always had a dressier image than denim, and with cropped sweater and embellished cardigans just reaching to your waist, you'll notice how this style accentuates your waistline for a shapely figure.
Look out for cardigans with large, lace collars, pearl and shiny gem buttons that make your cords into romantic and alluring outfits for summer wear! And if you have long legs, wear cropped pants with mules, flats and sandals. If you are not so tall, add safe, chunky heels and platforms to lengthen your legs in straight-cut or wide leg corduroy pants.
Can you wear denim with corduroy pants?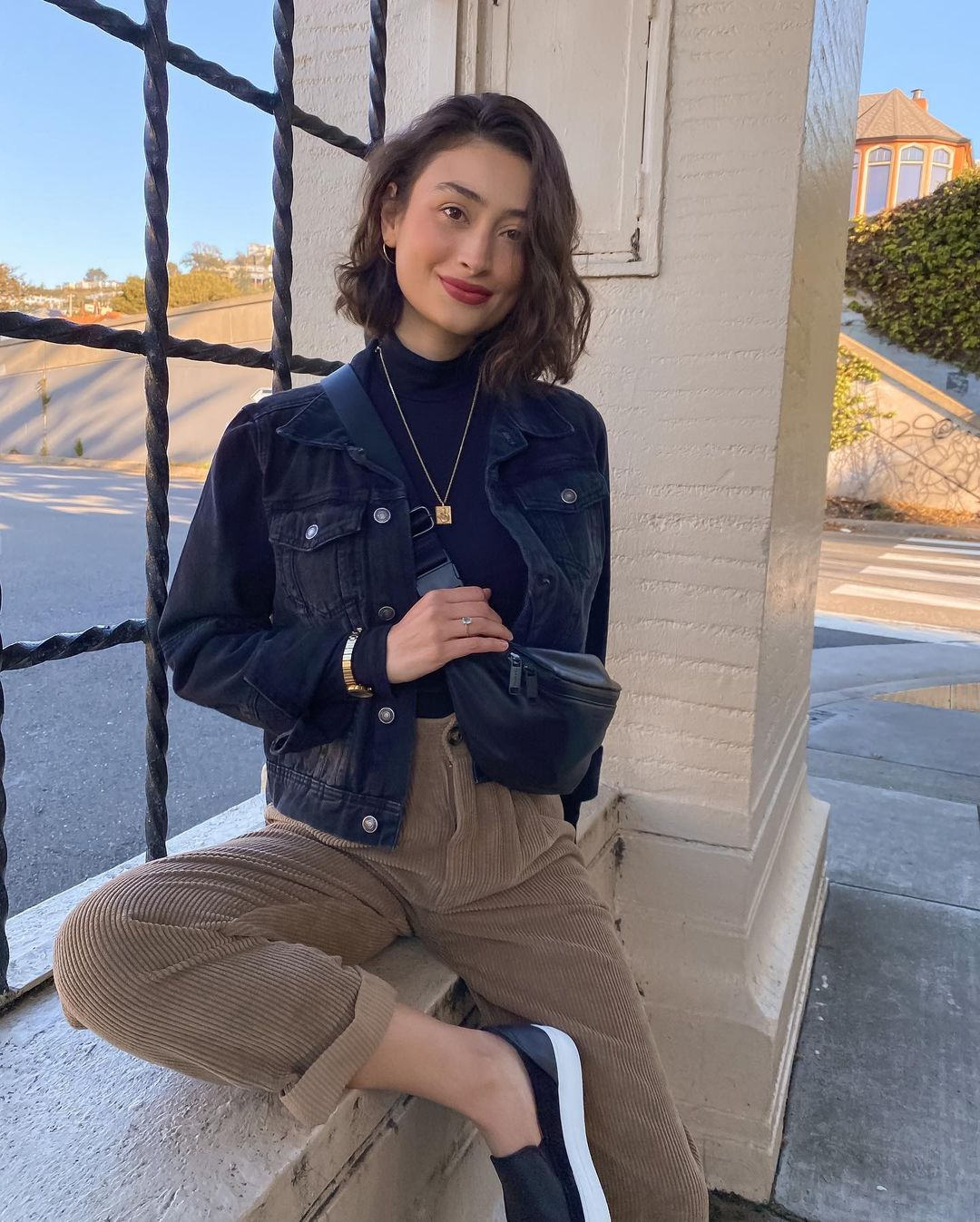 A denim shirt or a finely-woven Chambray top is a great complement for corduroy. Chambray is like, 'summer denim' as it looks a lot like denim, but it's a finer and softer fabric that suitable for making pretty tops. The contrasting colors and textures of two plain garments create a super-cool outfit. And you can also wear a plain, white tee under your top and white sneakers.
Tuck in your denim shirt, add a tan or suitable leather belt and roll up your sleeves for a super-casual vibe. And this year's denim jackets are being worn oversized, like a lot of tops. However, we all like to have a variety of different looks in our wardrobe, so wear whatever fit of blouse you prefer! If you're a plus-sized beauty, try wearing a peplum blouse or a longer tunic blouse with you cords and use a narrow belt to accentuate your hourglass figure!
Retro corduroy pants outfits
Teachers in the 60's and 70's often used to wear corduroy pants and jackets, so there's a sort of 'distant memory' of this vintage favorite in the air! And this year's fashion colors are perfect for re-creating a full retro-look that's fun and cool! The old, favorite colors like rust and goldenrod-flower, have been slightly adjusted and re-named tan and mustard, so you can easily get the authentic retro-look!
And if you fancy a Boho look, choose wide-leg cords, high leather boots and a popular turtleneck fine-knit top to get touch of the 'Annie Hall' look. I also think it won't be too long before women's pants suits become more popular again, so try out the look with a matching corduroy blazer. But if you prefer a more casual look, team your new cords with a worn denim jacket with a tangled-up, lambs-wool collar.
Best footwear for corduroy pants
Just like any other garment, the cut of the cords indicates which type of shoe or boot is going to give you the most flattering look. First of all, ensure you don't wear a contrasting color of footwear, as this will look badly matched and make your legs appear shorter. Skinny cords look cute with flat ballet shoes or flat ankle boots that are plain without fancy buckles and studs decorating them.
Flares look great over heeled ankle boots, like the original plain style of Chelsea boot, from the 70's. And straight leg cords can be worn with most types of shoe or boot. Wide-leg cords need an engineer boot to balance them out well or high platform shoes or boots. Most of all, avoid any fancy shoes or boots, and stick to colors that blend in well with the color of your trendy corduroy pants!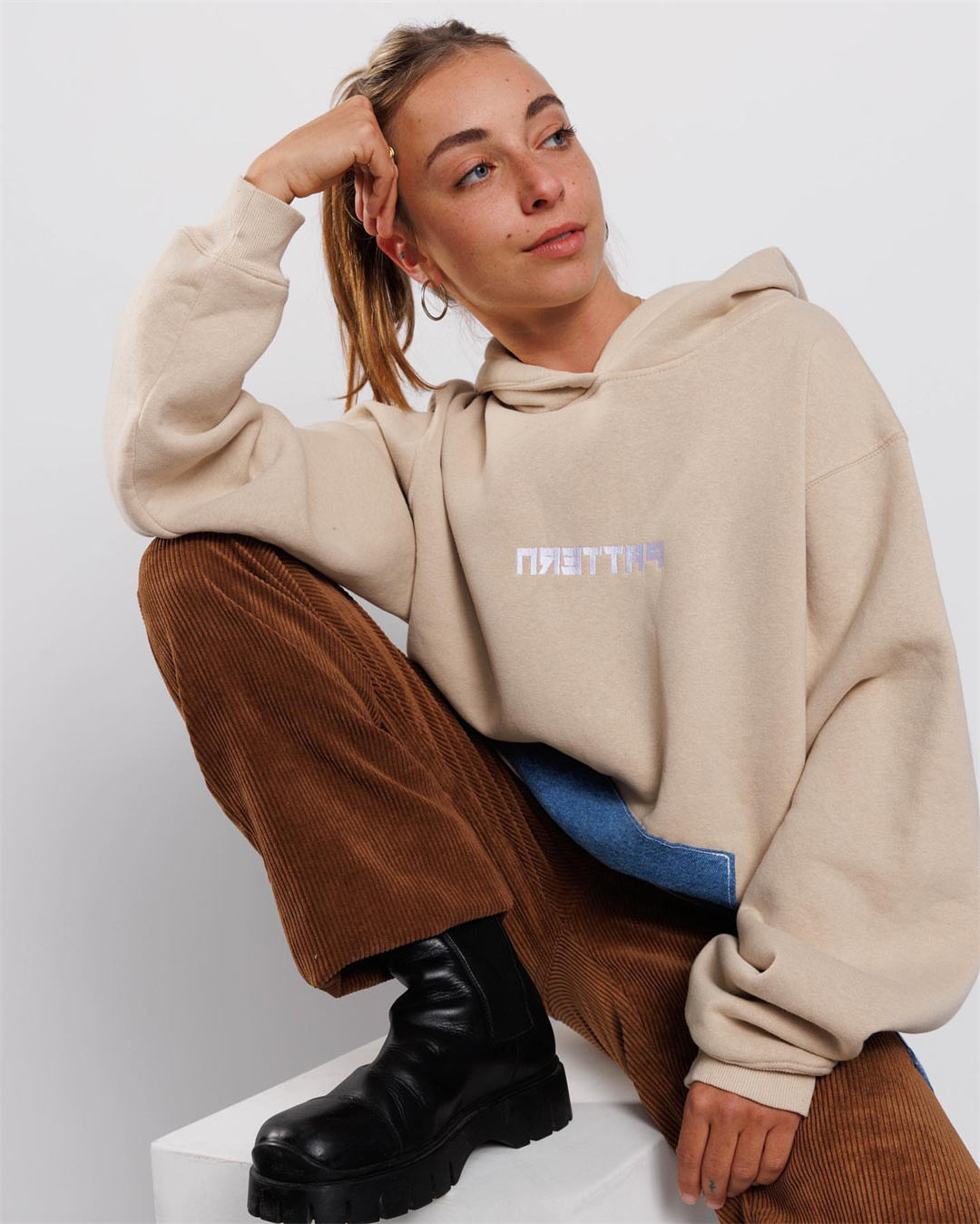 So with such a huge change in every area of fashion for this year, it's highly unlikely that anyone who's been shopping all day is going to come home and say, 'I didn't see anything I liked (disappointed sigh)'! It's like we are all going to have a massive fashion makeover this year and what a lot of fun that will be!
Subscribe to get more fashion outfit ideas on herstylecode.com.