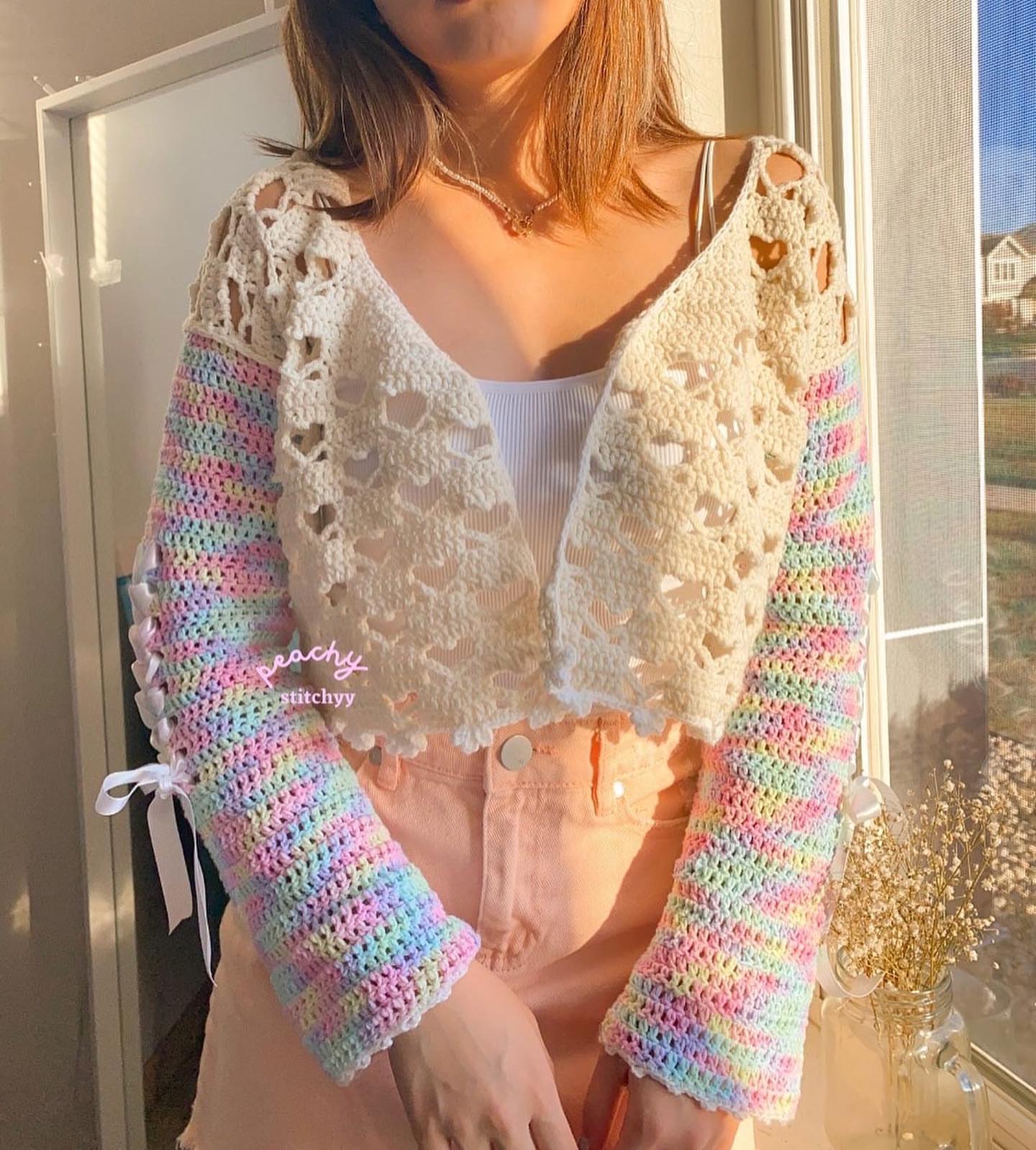 Crocheted tops are a great fabric for warm weather because they give out a chilled, summer casual vibe.
They have been incredibly popular in recent decades, coming in and out of fashion regularly since their high-fashion debut in the hippy looks of the 1970's.
However, the new crochet styles cover a wider range of designs and patterns, so they are available not only in vivid and bohemian looks, but also contemporary neutral and sophisticated garments.
And the latest designer crocheted clothing includes tank tops, sundresses and tote bags that allow you to add a pretty new item to your day-to-day outfits.
So take a moment to browse these fabulous new twists on the popular crochet top that will bring your jeans and trousers right up-to-date with comfortable and trendy tops!
1. Trendy New Crochet Floral Design in Blue

Let's kick-off with this fabulous, new crochet design of flowers in different shades of blue.
It's an interesting and appealing move away from the popular traditional designs and would suit anyone who likes to set the new crochet trends!
The halter-neck style – which is one of the big crochet top style trends – looks great worn with light-wash blue jeans for casual, summer-time general wear.
And this top includes all three of the latest shades of blue that have been specially created for this fashion-year, including a new shade of blue-gray!
2. Sunny Yellow Floral Twin-Set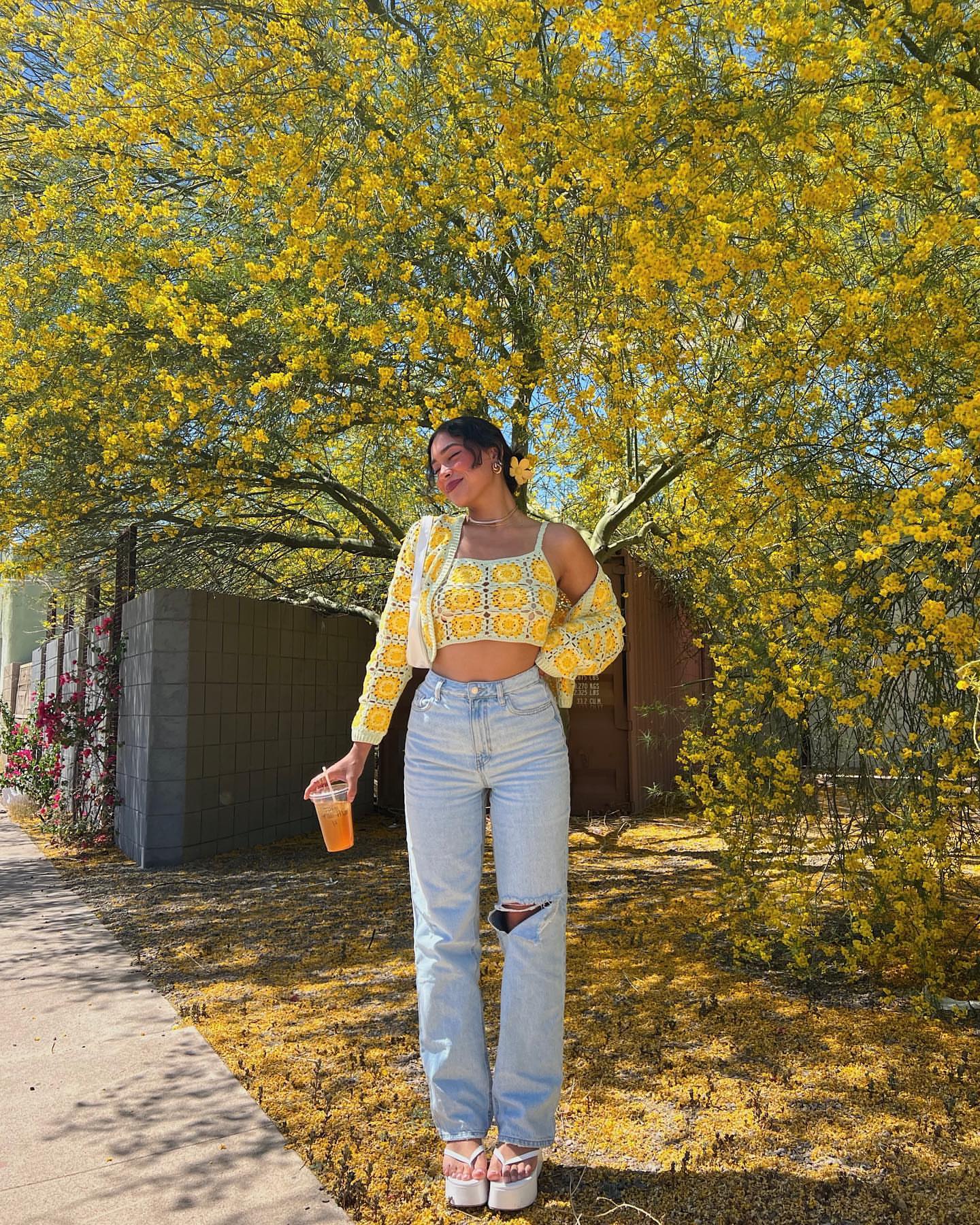 On the other hand, this is a special outfit to wear when you are meeting friends!
The bright yellow floral design is just filled with sunny optimism and will draw compliments wherever you go.
It's just one of the many examples of 'granny-square' traditional crochet pattern, but with an updated color-scheme and floral pattern.
And it's also another version of the 1950's 'twin-set' of top with matching cardigan, which has made a big come-back into fashion this year with lots of exciting, new twin-set styles for modern wear!
3. White Long-Sleeved Top with Skirt & White Boots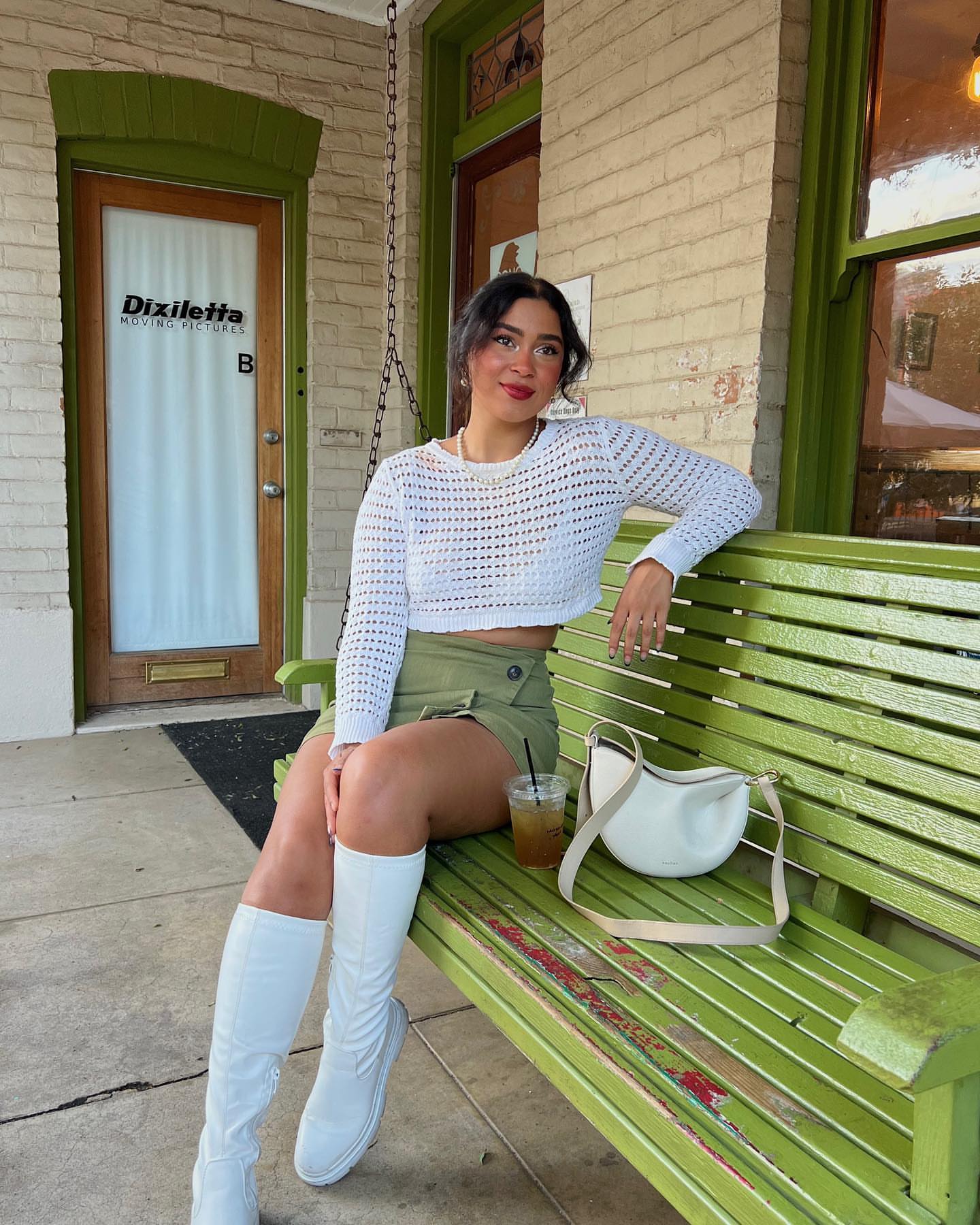 Dress-up your crocheted look with this cropped, white sweater outfit that really understands how to get a contemporary, 'smart-casual' look.
Crochet tops are associated with warm weather, so it's quirky and fashionable to match them with lightweight white boots, instead of casual sandals.
Wear with a green denim mini-skirt and white shoulder-bag for maximum trendiness!
4. Beige & Buttermilk Crochet Bra-Top with Flared Section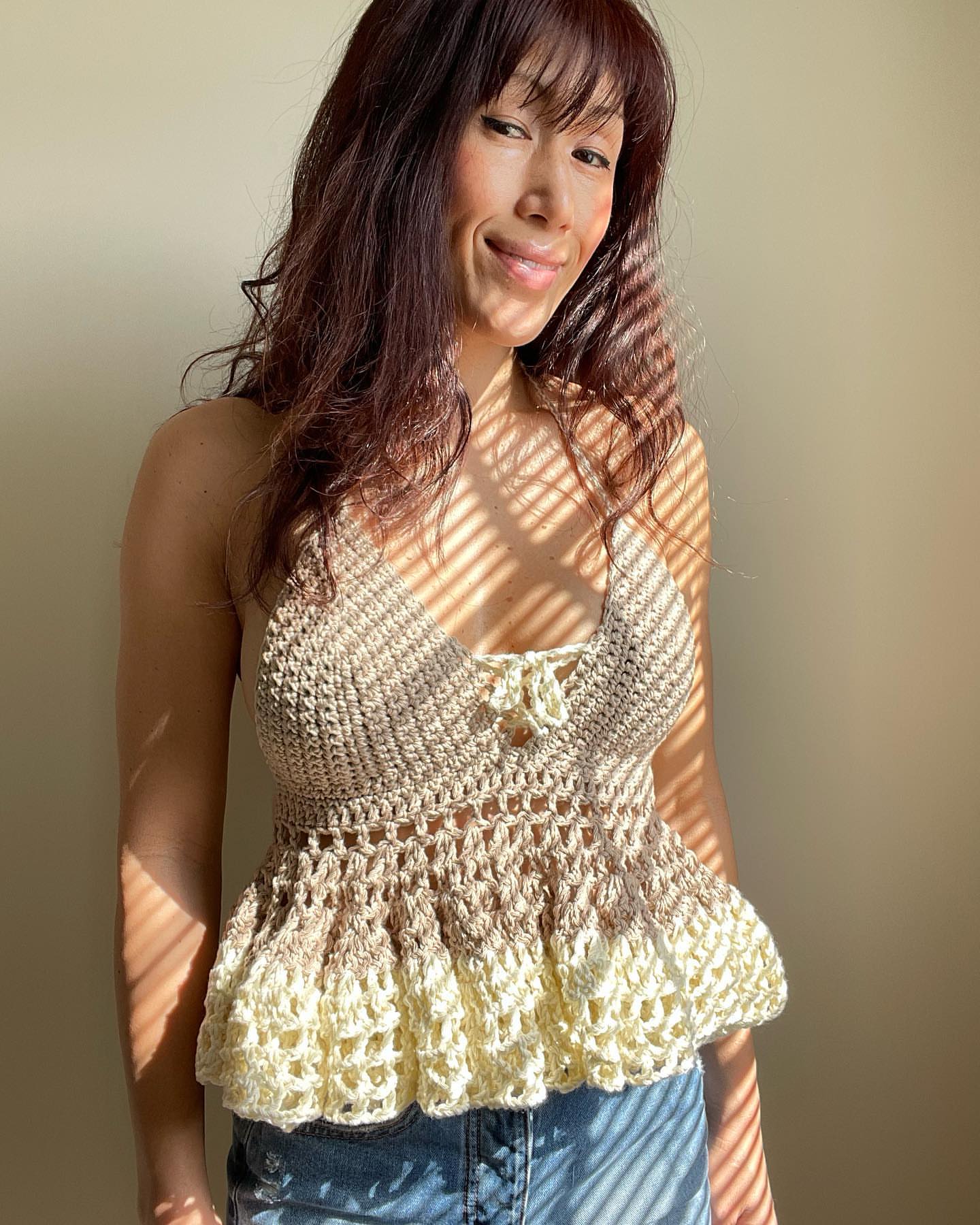 This is a well-designed bra-top crochet garment, with thicker crochet on the cups and a clever laced feature keeping the cups from moving out of position.
The top has fashionable spaghetti straps and a flattering color illusion, which helps define your waist.
The top and midriff are colored in beige to give you a nice waistline, with the lower section flaring out in gathers and a lighter, pale-yellow shade to emphasize the curve out towards the hips!
5. Quirky Cardi-Jacket in Two Different Color Patterns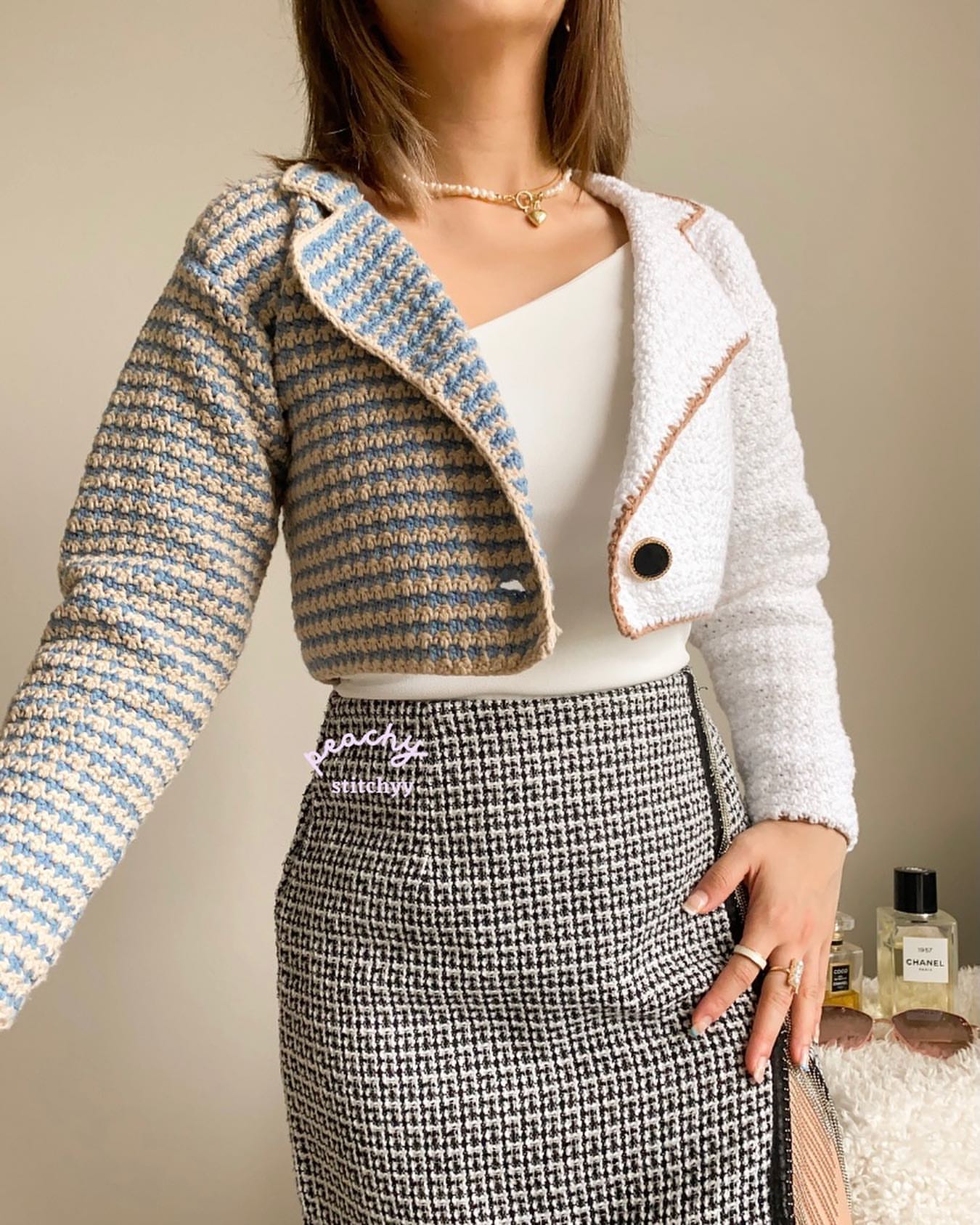 This crochet outfit is all about asymmetry, texture and being unconventional in a highly fashionable way!
The two halves of the jacket are made in different colors, with a trendy match of beige and blue stripes on one side and white with a beige border on the other!
The rich texture of the crochet top is matched by the tweedy texture of the beige, black and white checked skirt.
And worn over an asymmetric, white stretchy top you can enjoy having a fashionable new take on the short jacket and skirt for this year!
6. Girly Heart-Shaped Pattern & Rainbow Colored Sleeves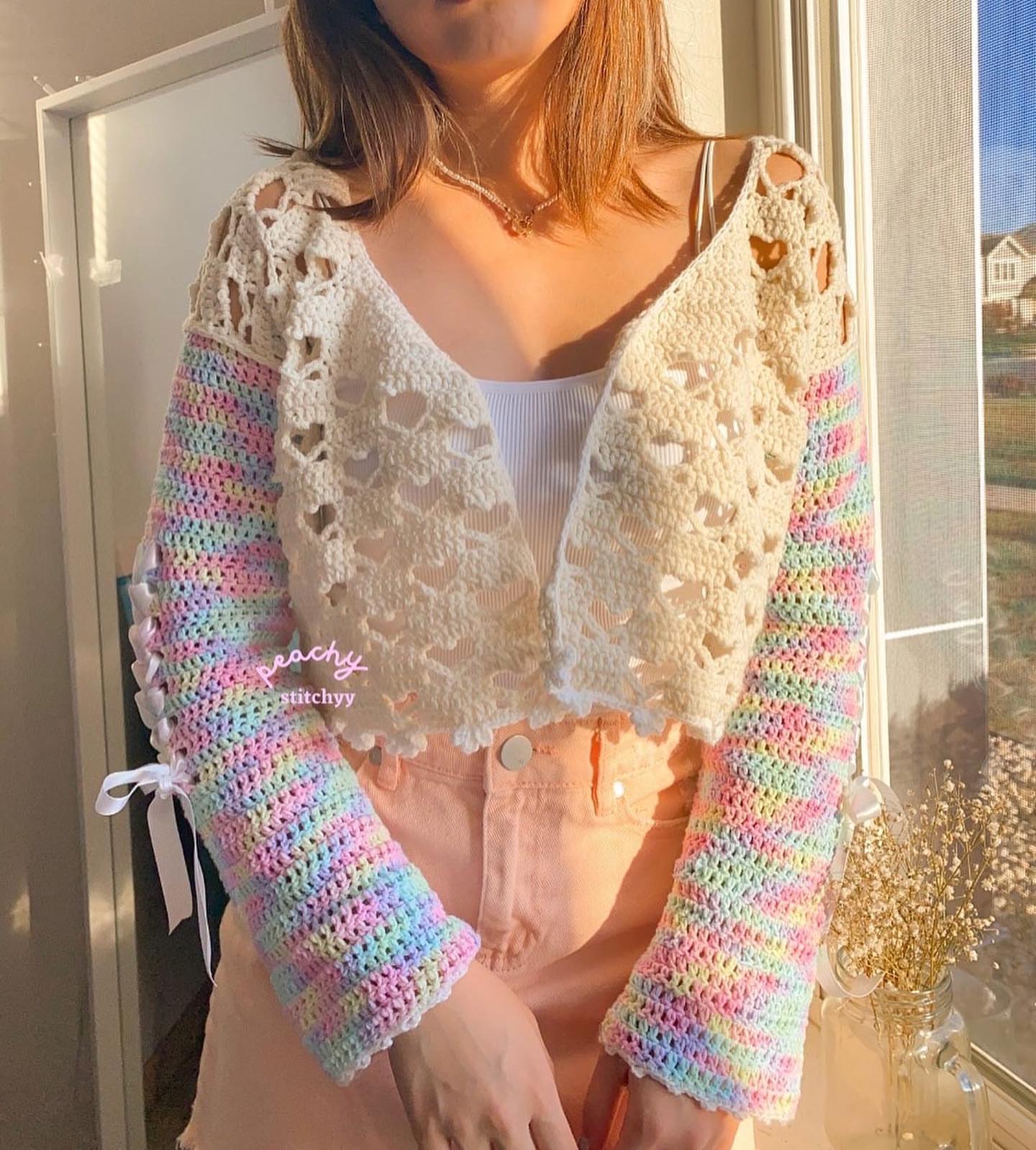 Here's a crocheted cropped cardi for girls who have a relative who crochets – or who love to crochet themselves!
The cream body section keeps it from going over-the-top with bright colors, but those flared, rainbow sleeves are totally fashionable!
With pretty ribbon embellishment around the elbows, and a heart-shaped crochet pattern, this is a summer party jacket if ever I saw one!
7. Trendy Earth Colors in Striped Crochet Top with Spaghetti Straps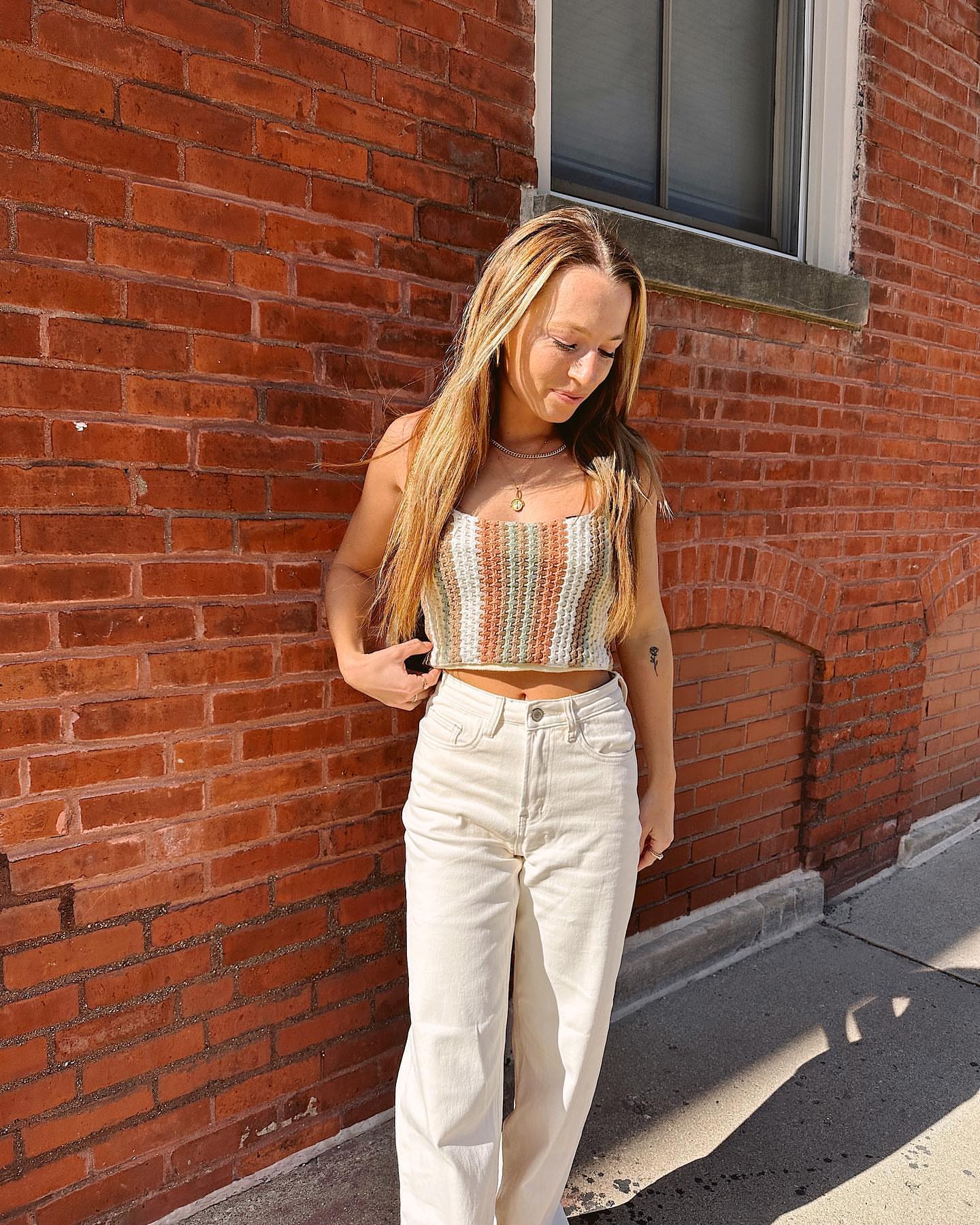 This is a lined crochet top with loads of high fashion features and a look you can dress up for a smarter style.
The gorgeous combination of colors includes all of the top earth color trends for this year in a subtle, striped look.
The top is cropped, but thick enough to lift it out of the summer casual category so it could be worn in more than one season.
And worn with cream, wide-leg jeans seals the deal for a modern crochet top outfit that's quite different!
8. Trendy 'Granny Square' Sun-Dress in Yellow & Mauve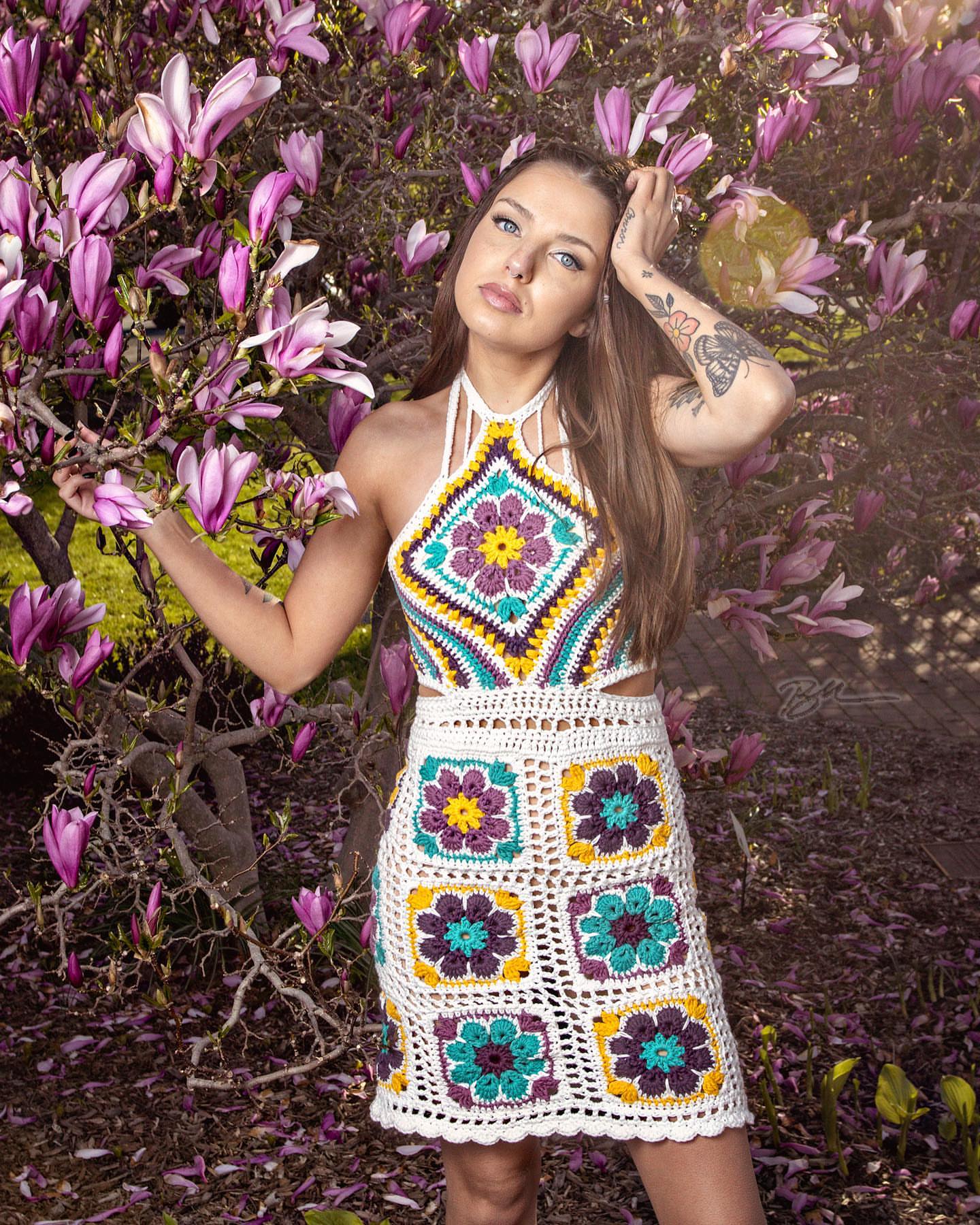 This is a great way to use traditional granny-square crochet fabric, instead of just making blankets.
The colors of yellow, turquoise and vivid yellow combine with white to create a totally summery dress, with a halter neck and modern cut-out sections around the waist.
This dress will make you the center of attention at everything from a large garden party to a beach BBQ this season!
9. Stunning Crochet Sundress in Black, Red, Lime & Gray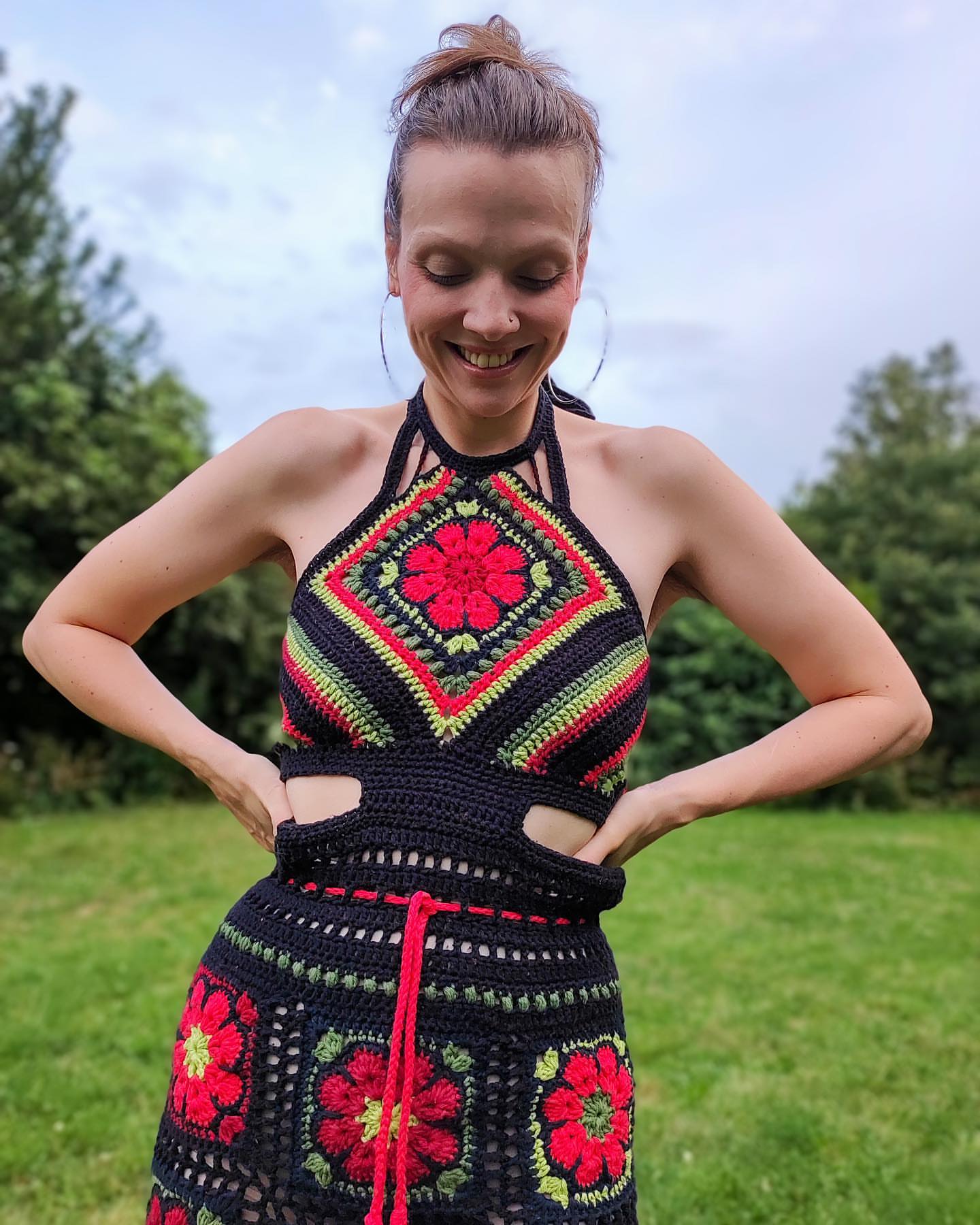 And for evening wear, you can wear crochet dresses in darker colors with brash color contrasts for an individual style that will attract lots of attention!
Crochet dresses are just the thing to wear during vacations and provide a totally different look from what we usually wear.
The tradition of using vivid and unusual color combinations makes crochet dresses a little out of the ordinary and definitely modern boho!
10. Urban Pattern on Modern Crochet Top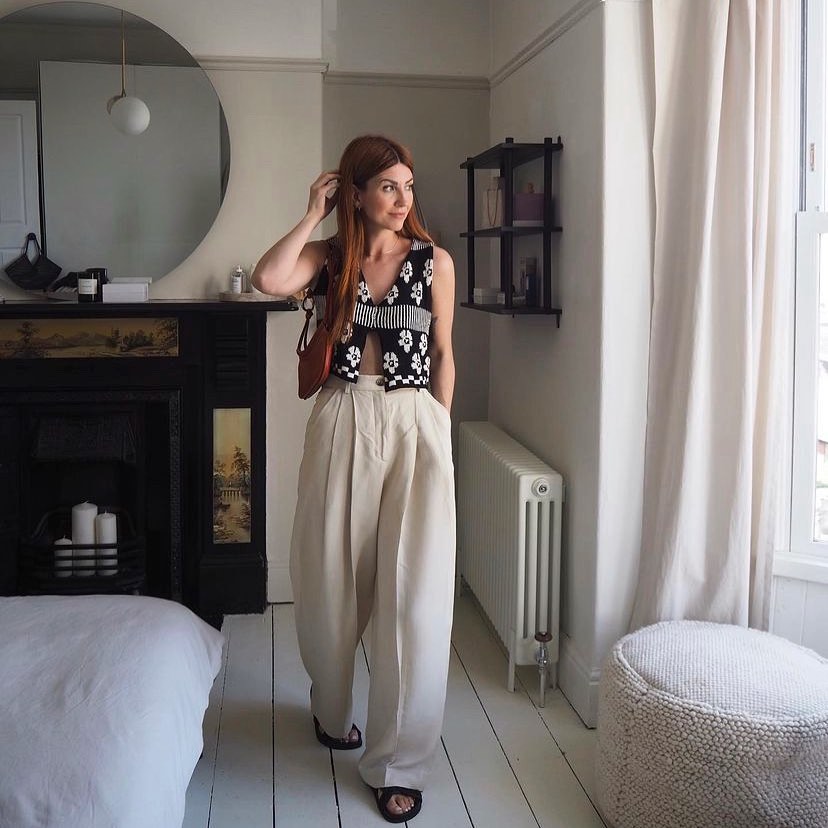 As a traditional craft, crochet has stuck pretty closely with the old, traditional patterns – until now!
I am delighted to see that someone is designing new tops with patterns that break out of the multi-color country-girl and granny blanket look.
This brown and white top has a more elegant pattern, which is still floral, but has smart geometric lines and neutral colors.
The result is more sophisticated and suitable for casual, urban outfits with the latest wide-leg trousers!
11. Pretty Red Band Top with Short Flounced Sleeves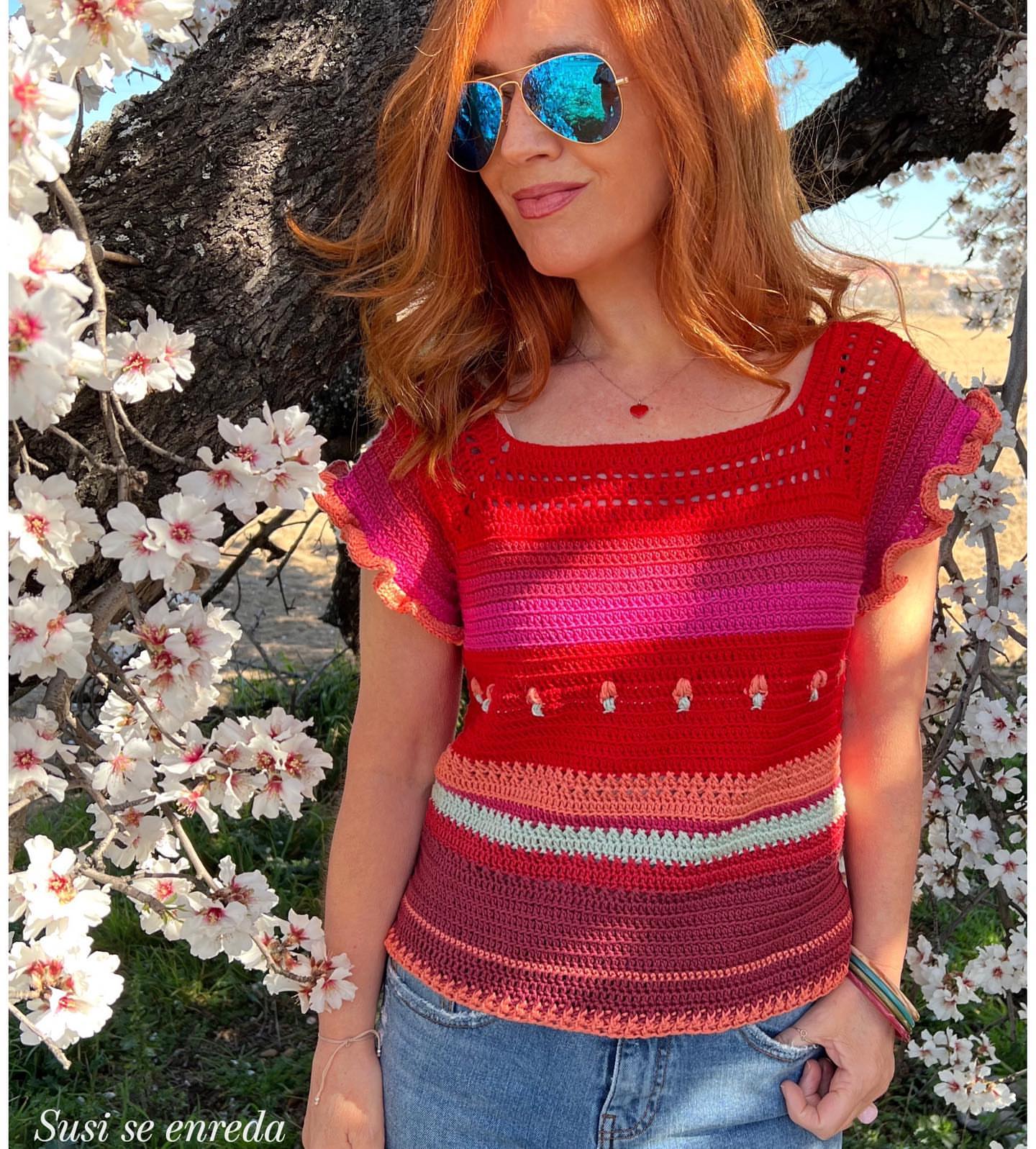 Bright shades of red, gray and coral all come together to create this fabulously textured crochet top.
It's a cute version with a flattering, and trendy, square neck plus flouncy edges to the short sleeves.
Wear with jeans for a casual outfit or dress up with black trousers or a skirt plus heels for work or evening wear.
Crochet is quite a versatile fabric and looks great worn over a plain white blouse in cooler weather.
12. Trendy Square-Neck & Drop Sleeves in Stone, Green & Orange Crochet Top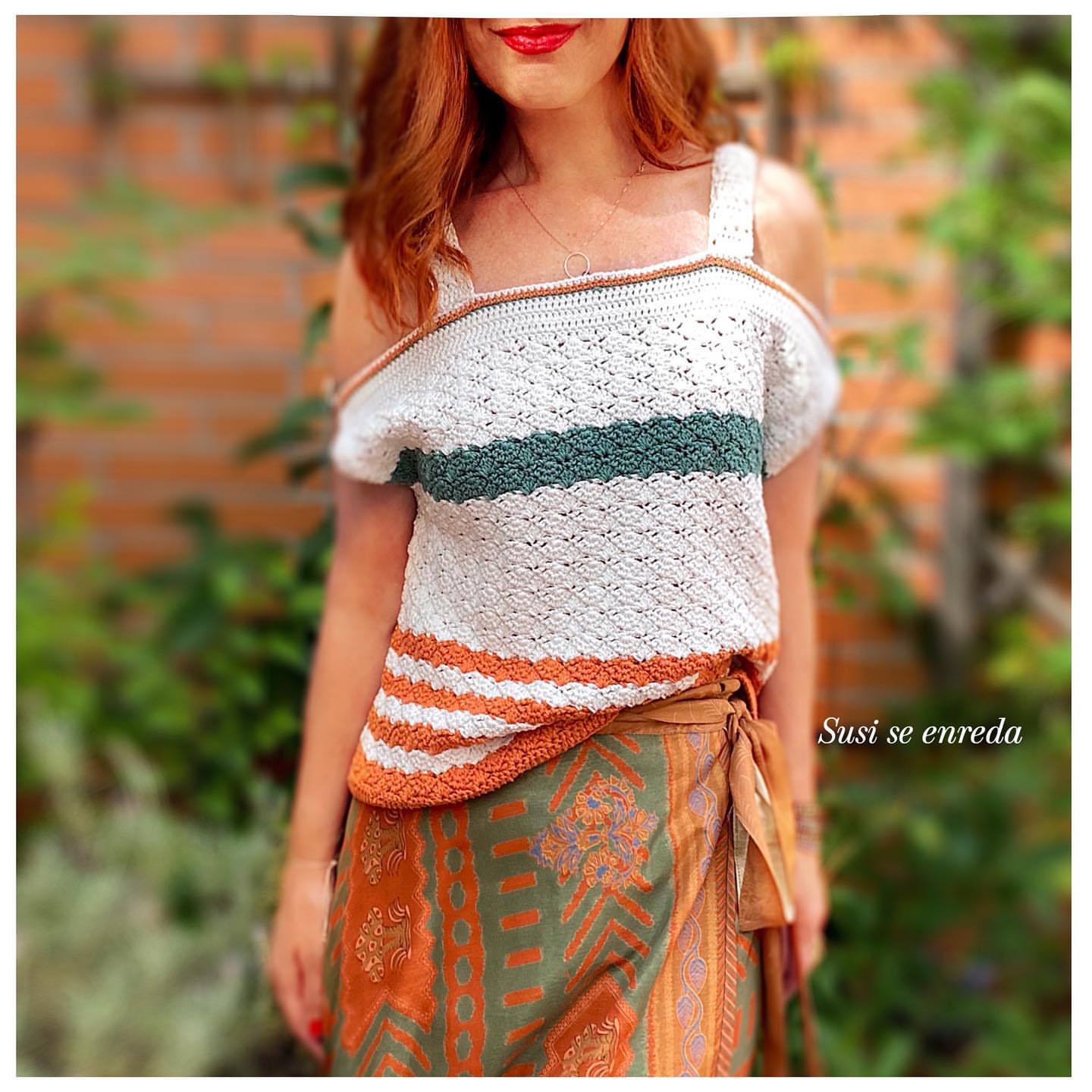 Crochet tops in these trendy colors allows them to be worn with lots more garment styles, like this ethnic patterned long skirt.
This is a highly contemporary design for crochet tops and features attractive dropped sleeves and a trendy square neck.
The colors of this item are super-fashionable, with an off-white background featuring attractive decoration from dull-green and orange colored bands.
And if you can match your crochet top colors to the pattern in a long skirt, you'll have a lovely new outfit with lots of modern edge!
13. Soft Rust-Red V-Necked Crochet Top with Short Sleeves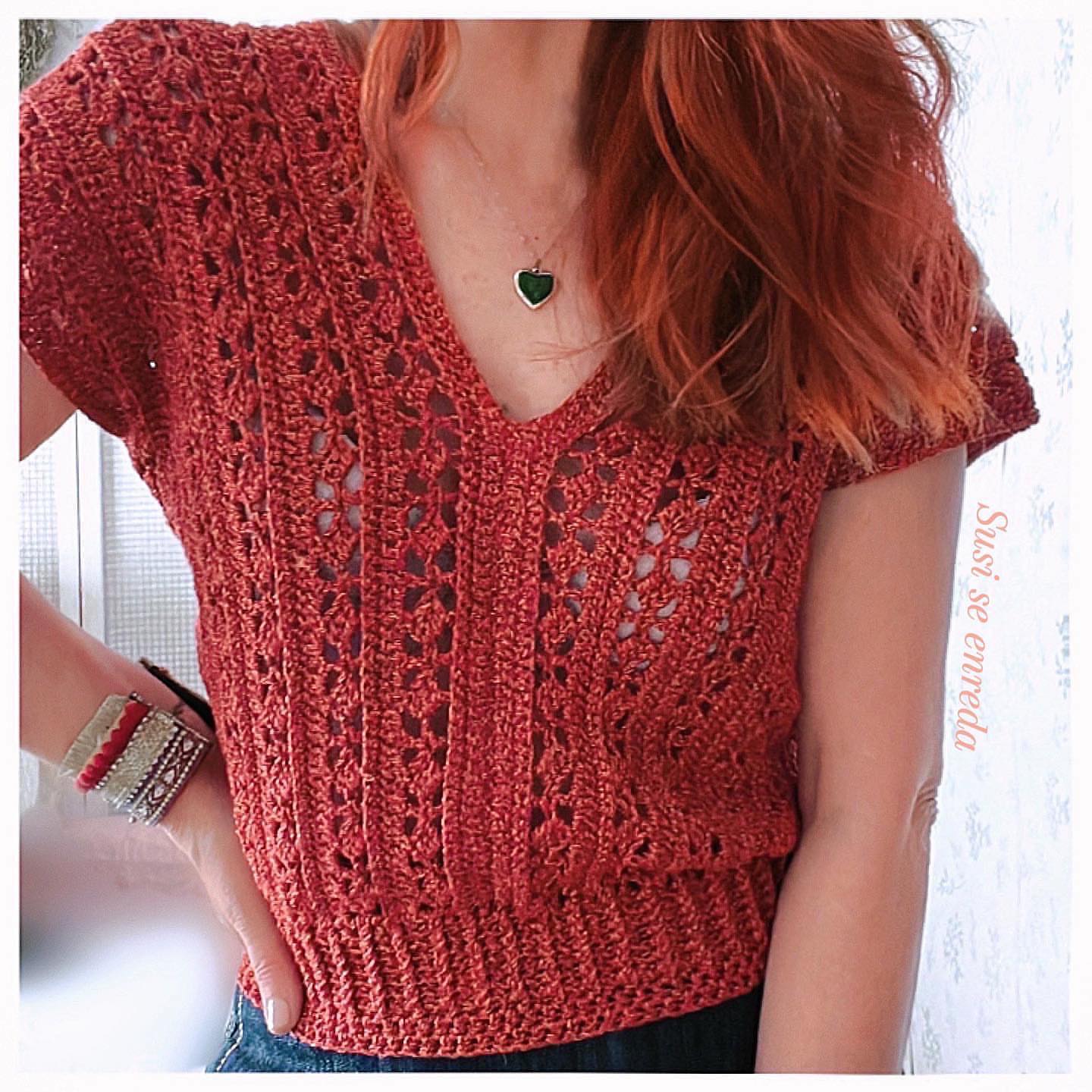 This is a super design and beautifully rich rust-red color to wear with high-waist jeans, pants and skirts.
It's a little longer than a cropped style, making it suitable for general wear – for example at work where showing your bare midriff might not be appreciated.
If you're wearing a transparent, open-weave top, always try to wear a color-matched bra if you can – or a nude color bra that matches your skin-tone.
It can also be worn with a skinny-rib vest or cami underneath to dress it up for wearing with semi-formal skirts or trousers.
14. Back to the 70's Striped Crochet Sweater with Long Flared Sleeves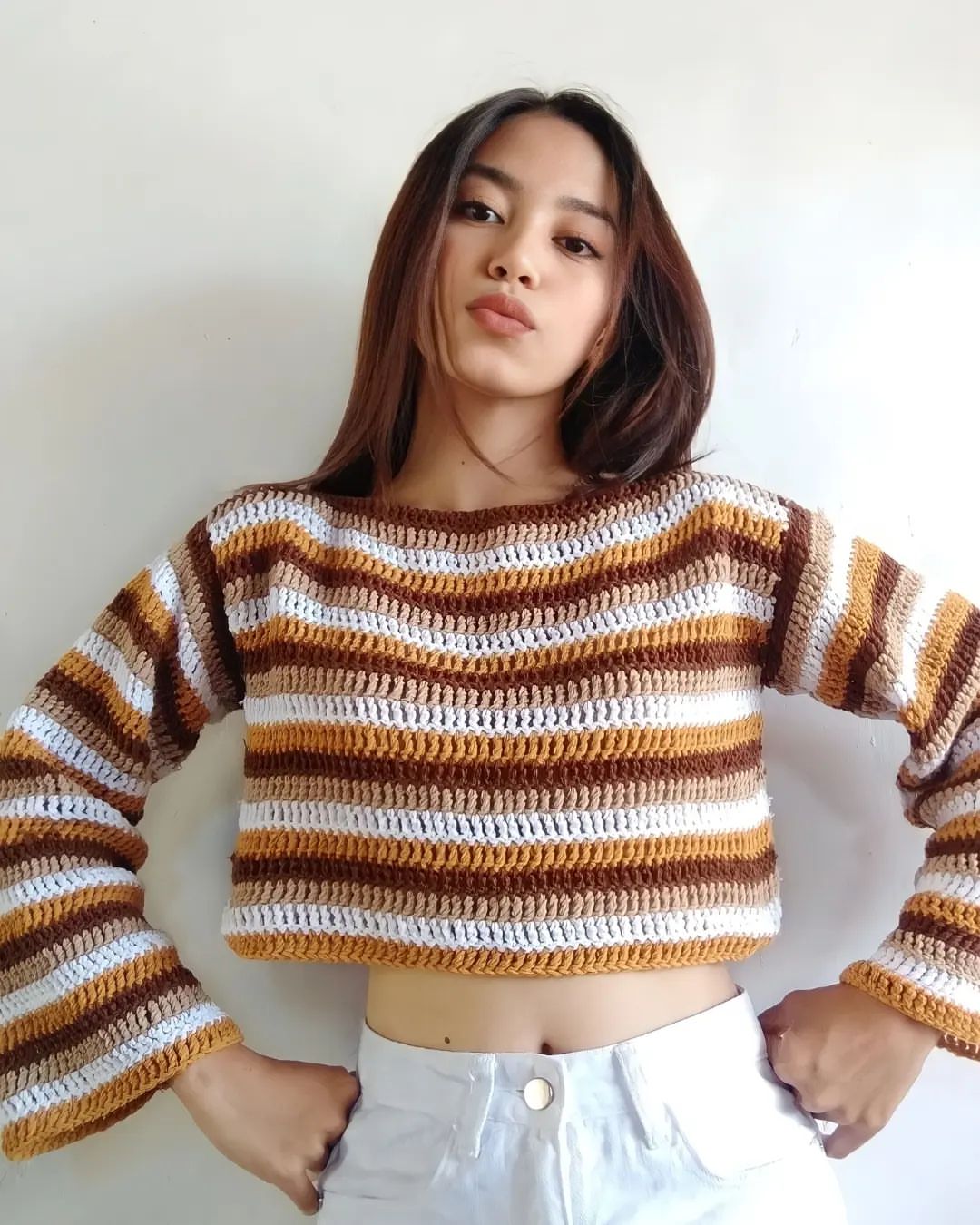 Multi-colored crochet was a feature of seventies fashion, and here's a modern take with a fabulous new crochet pattern!
These stripes in the latest neutral brown colors are totally in fashion for this year and match perfectly with the white jeans, and cropped flares, everyone will be wearing through summer and fall.
Flared sleeves are highly fashionable and the texture throughout this long-sleeved top is fabulous!
15. Daring Glamor Spider's Web Evening Crochet Top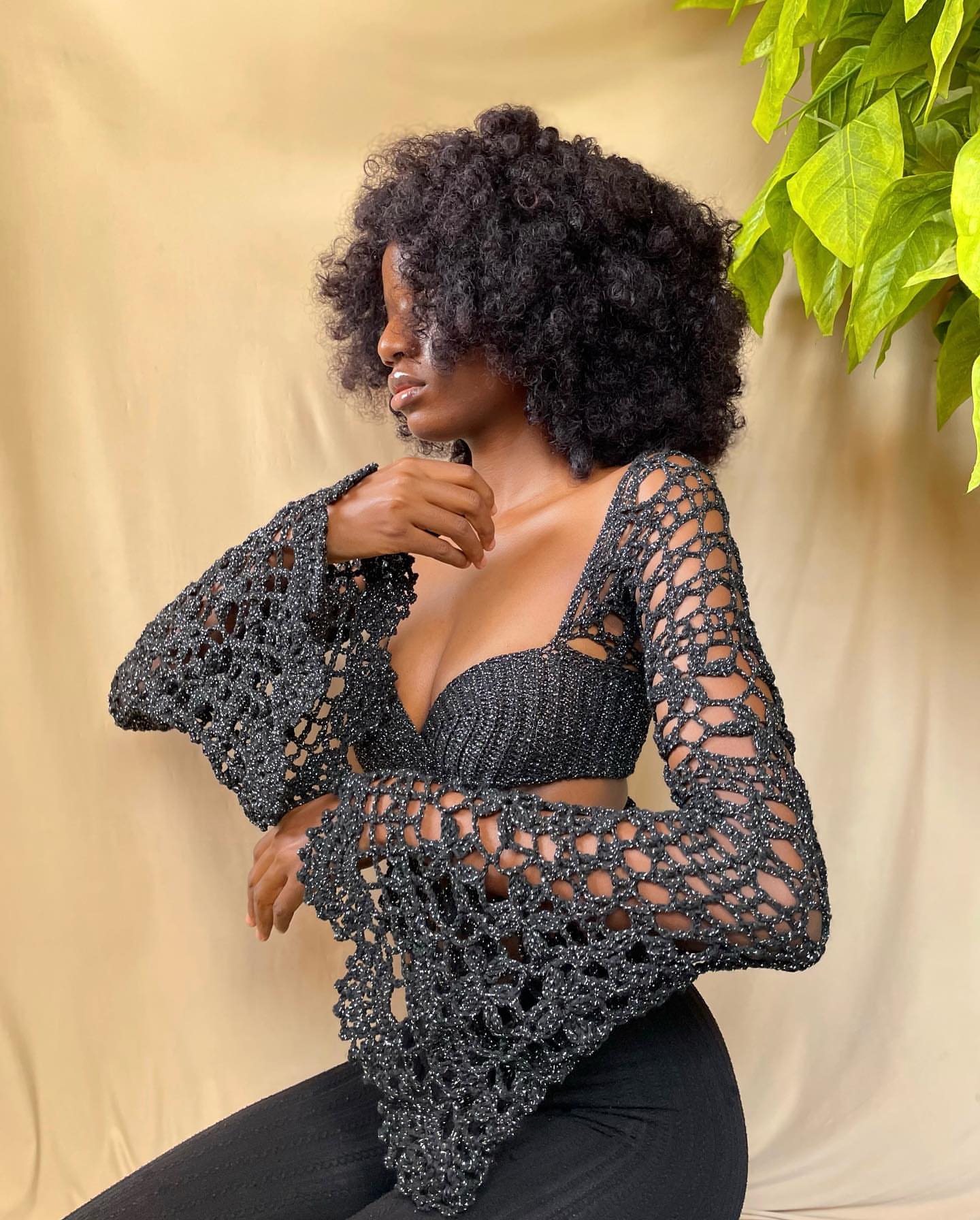 Love this 'bra top with fancy sleeves' idea, for an evening outfit that's a little different and definitely for club nights!
Dark-gray and silver thread has been crocheted into a fabulous, open material that incorporates your skin tone into the color-scheme.
And the bell-shaped sleeves with scalloped edges are totally hippy-chic from the 70's original outfits worn for festivals and dance clubbing.
16. Groovy-Green Crocheted Halter Bra-Top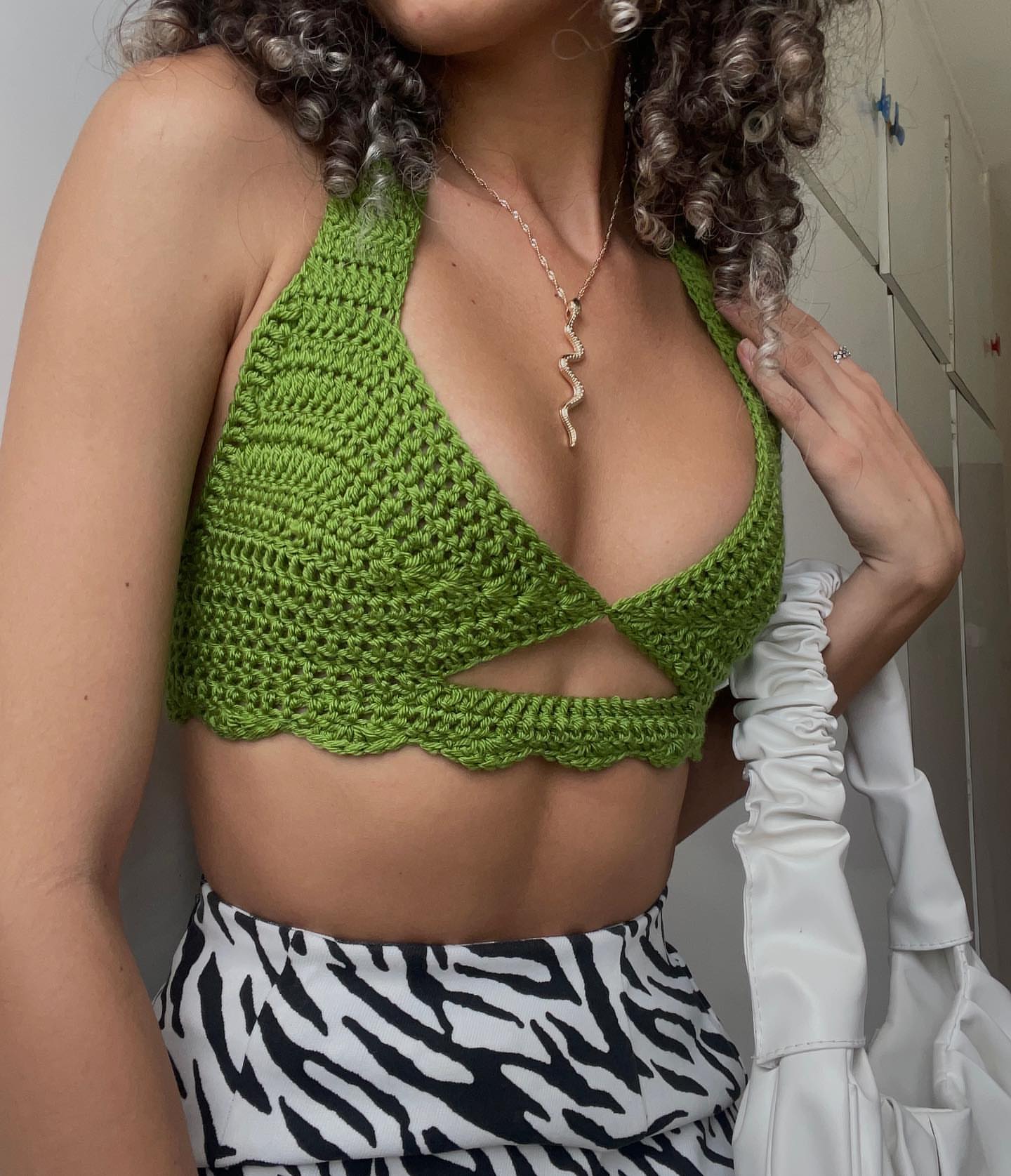 Green is extremely fashionable this year and you'll see it in various different shades in the latest fashion styles.
This lime green is one of my favorite colors as it's a strong color, that's neither too light nor too dark.
Lime green look great against cool skin-tones such as olive skin, but can drain the color out of warm fair skin, so always try clothes on to check you're buying a color that will flatter your coloring.
Wear with black-and-white animal print separates for an up-to-the-minute take on color mixing!
17. Sweet Aqua & Pink 'Rainbow' Crochet Jacket Top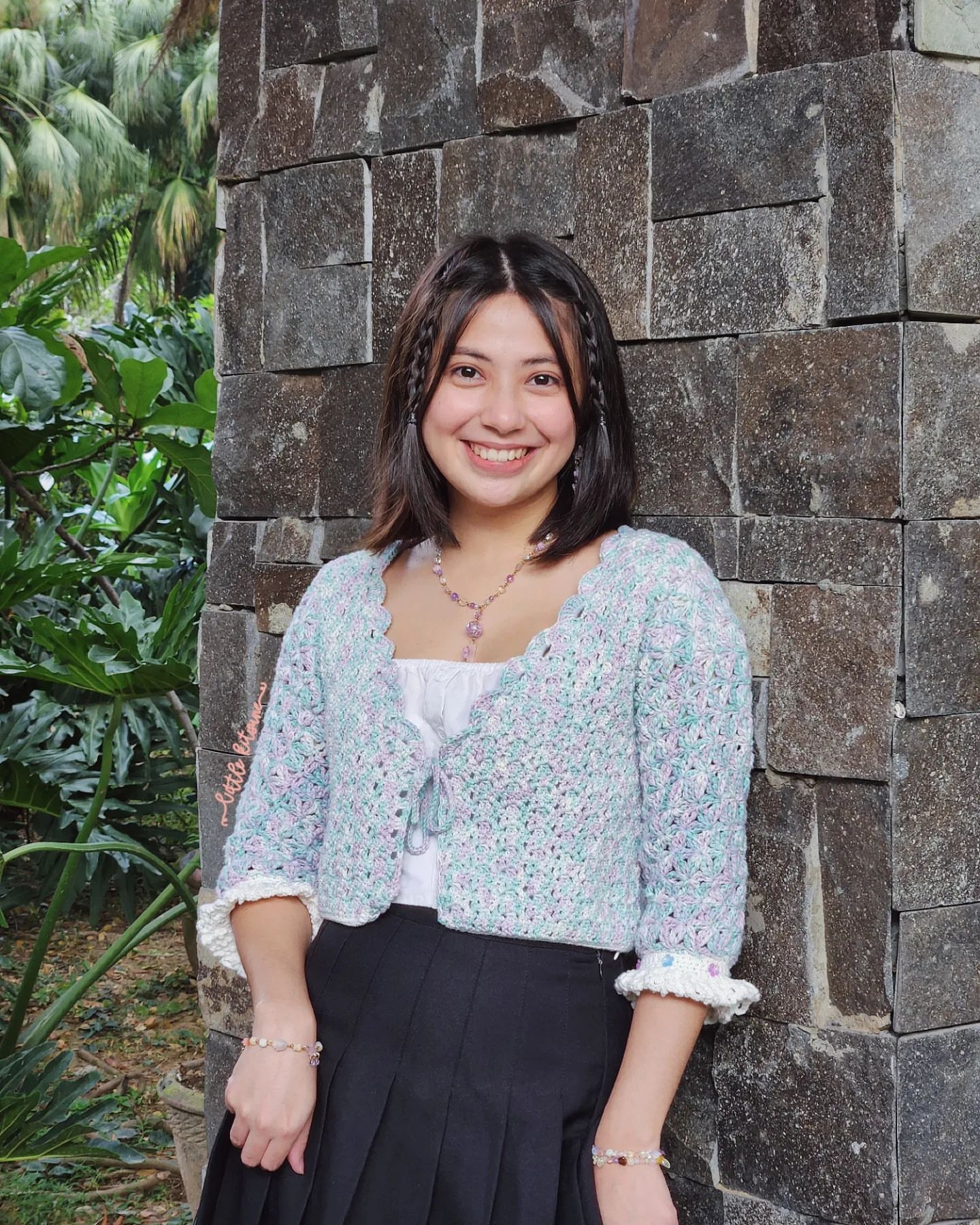 This pretty short cardigan style used to be a traditional 'bed-jacket', worn by ladies confined to bed, before bedrooms were heated! LOL!
But I'm so happy to see it has been revived and re-branded as a super-cute, cardi-jacket for modern fashion fans.
It's a new way of wearing a trendy, cropped cardi and this one has lots of lovely scalloped edges and extra sleeve flounces to make the look totally fresh and appealing!
In a softer version of the rainbow color, this top looks so pretty over a simple white top and black skirt!
18. Fabulous Forest-Green & Lilac Crocheted Halter Top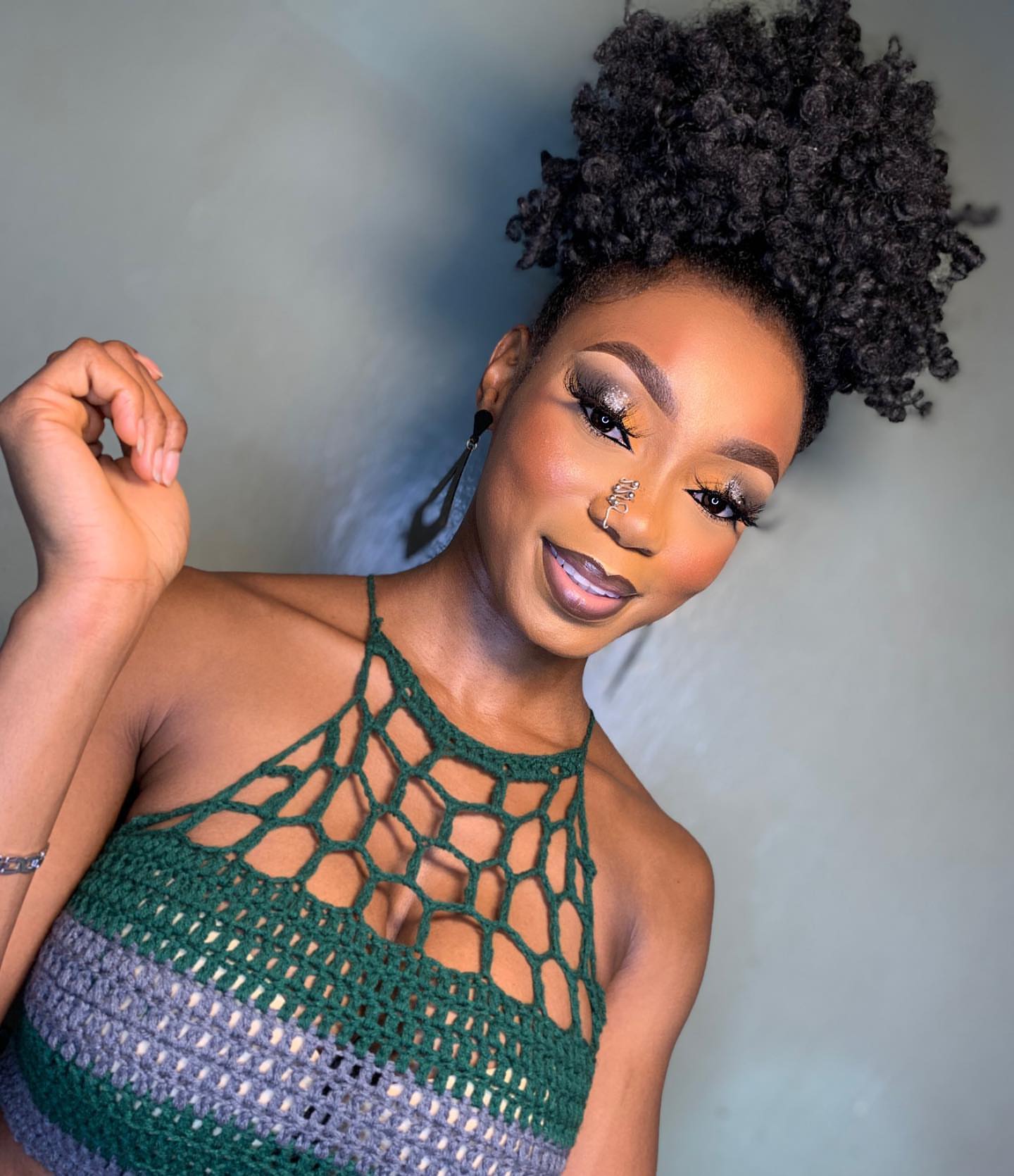 I absolutely adore this rich color match of forest green with lavender!
It's a great look for evening wear, whether you're having a drink with friends, going clubbing or enjoying a restaurant date.
The halter-neck is completely on-trend this year, and this one has lovely spider's web texture above the bust.
It's cropped to a hem just below the bust and can be worn with lots of different skirts, trousers or jackets for a super-trendy, leisure outfit!
19. Beautifully Textured Light-Camel Crochet Halter Top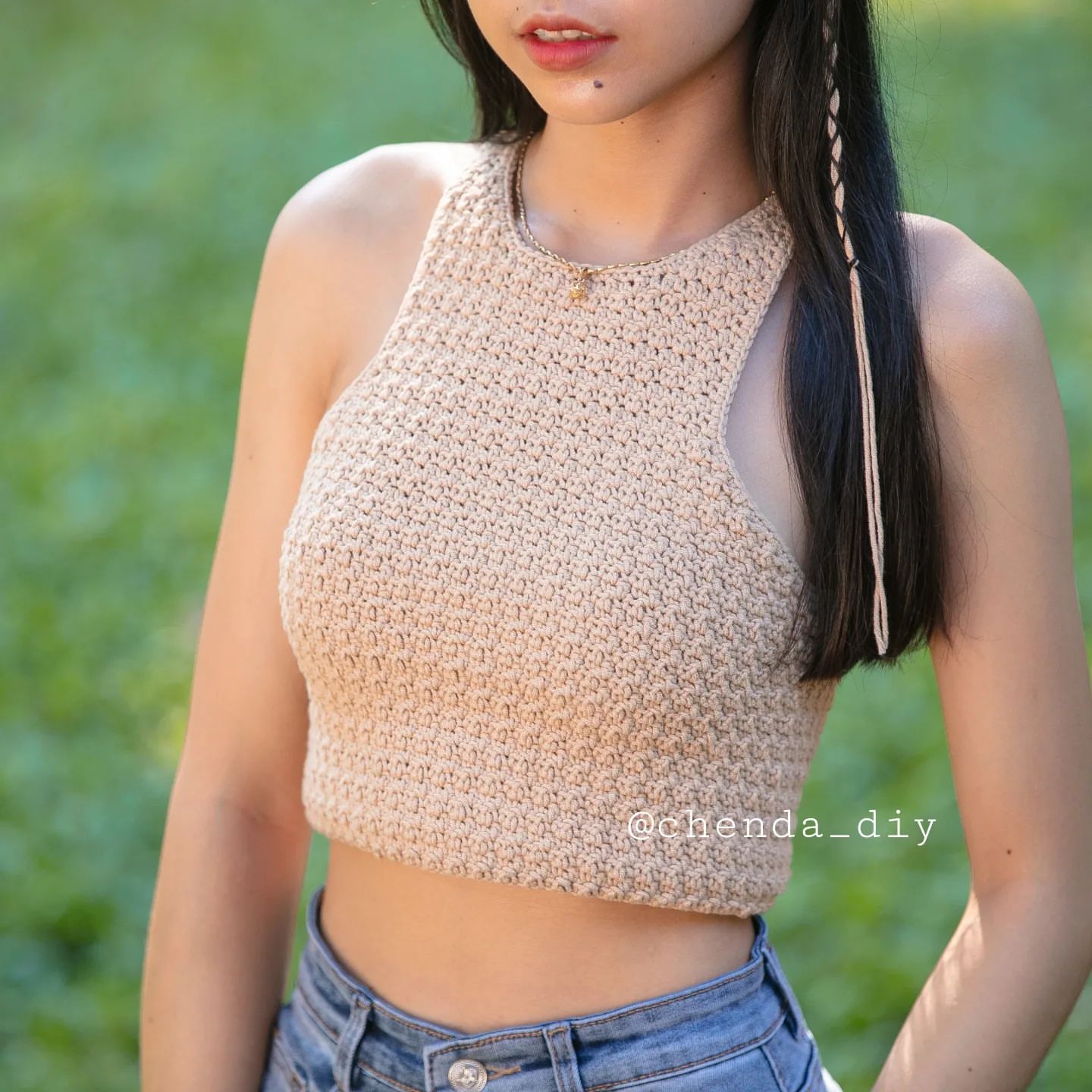 This is a very appealing color and a soft neutral shade of camel that looks attractive against all skin-tones.
But one of the major features of this top is the fabulous texture of the crochet pattern and the clean lines of the design – especially around the arms and neckline.
It's a deceptively simple look, because as well as being handy for casual wear with jeans, this versatile top will also help you create chic outfits dressed up with trendy separates and accessories!
20. Fancy & Flouncy Red & White Crochet Top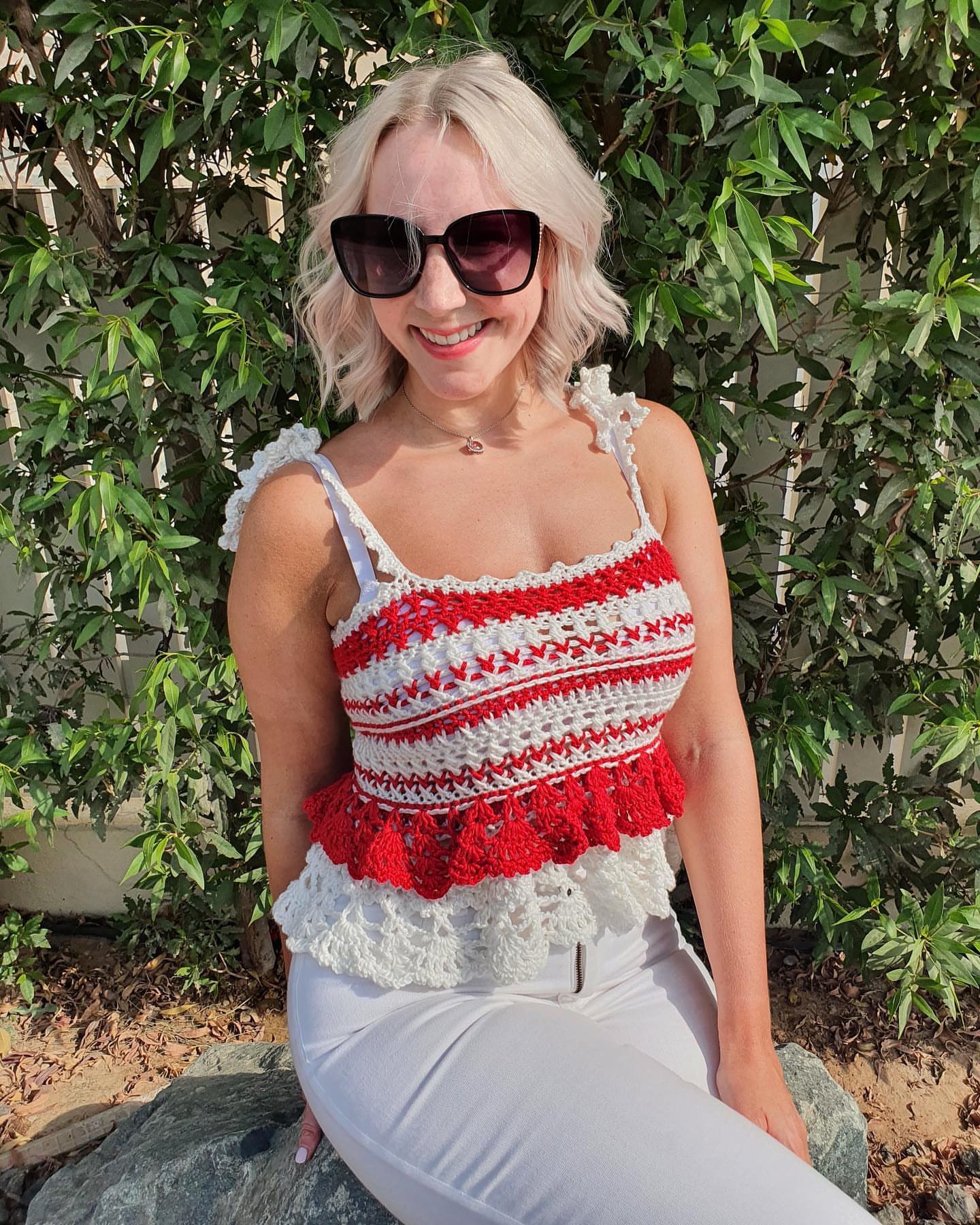 What do you often feel like wearing at the start of a sunny day – yes, bright colors!
The sunshine brings out our extrovert side and fills us with optimism – and you can demonstrate that joyous feeling with this red and white crochet top.
The texture is fabulous and there are even little, red tassel-like decorations as the first of two layers of flounces at the waist.
The look is feminine and flirty with lace-like patterns and a top that will match perfectly with your white jeans!
21. Super-Trendy Asymmetrical Long Sleeve Crochet Top in Modern Blue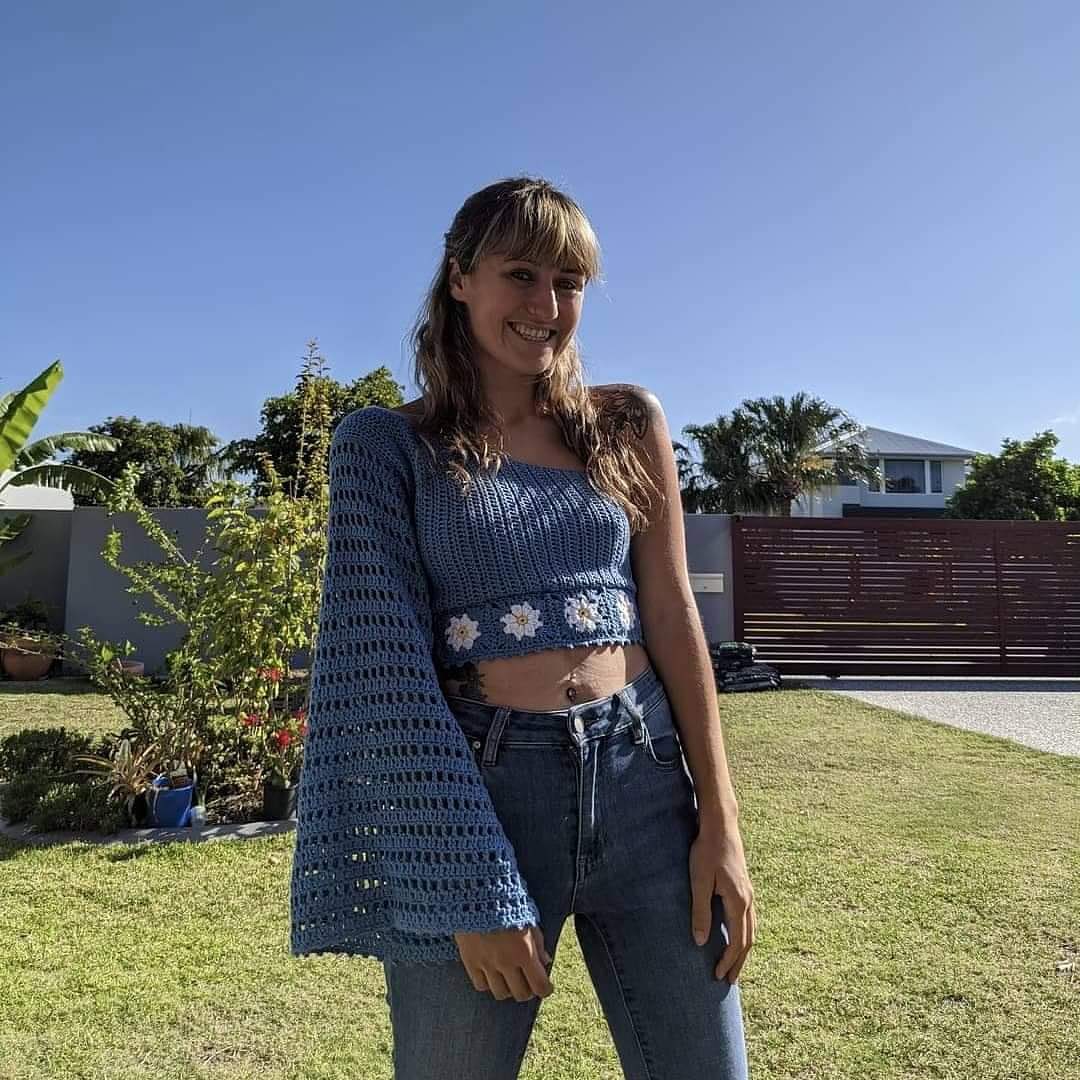 One of this year's new colors is gray-blue, based on a stormy summer sky and here's a great example of it in a groovy, 70's inspired asymmetric top.
Quirky looks were really popular in the 70's, so this one-long-sleeve top is authentically retro, especially with the row of daisies along the hemline!
And the gorgeous, bell-shape of the sleeve links it with bell-bottoms and flares that you'll probably be wearing this year, too.
22. Hi-Fashion Ochre V-Neck & Bell Sleeves Crochet Top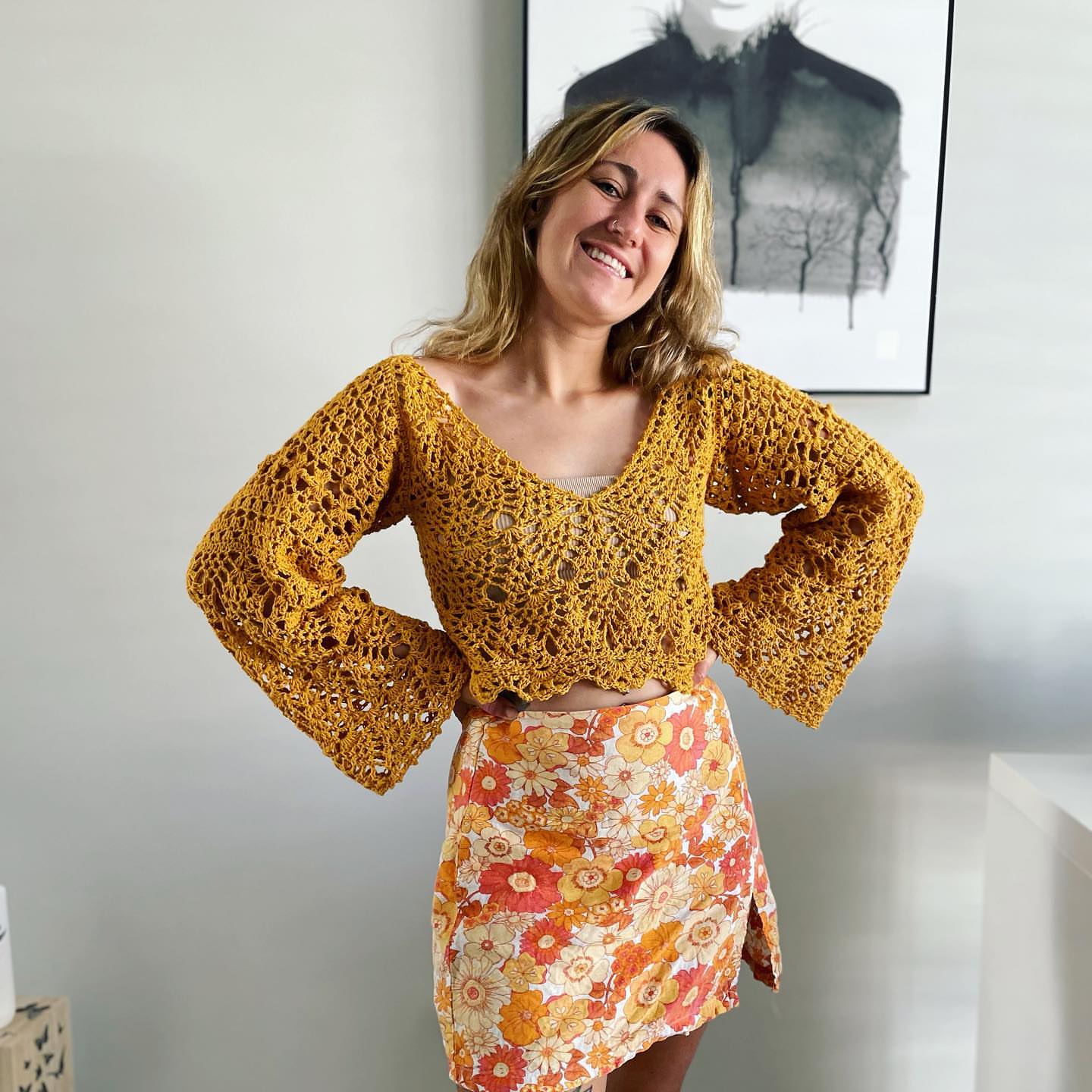 And today's final look is another authentic 70's look with a rich, ochre-yellow top matched with a hippy, floral mini-skirt, with a short slit on one side.
This crocheted top would definitely have been worn with a long 'peasant' skirt, braids and a sunhat for a music festival in the past, so matching it with a flowery mini is a super, contemporary twist.
The open crochet pattern is a traditional one, so the whole outfit is a blend of matching colors, but a mix of old and new fashion design!
——————————————————————————————————
There's a new interest in crocheted garments as they are so fantastically fun and retro, allowing us to play with the textures, styles and colors that made fashion history in the recent past.
The open fabric is cool, natural and comfortable and the range of colors, patterns and designs allows you to create lots of trendy, modern fashion outfits for summer wear, subscribe and get more new outfit ideas on herstylecode.com
So enjoy the variety and have a great summer vacation!