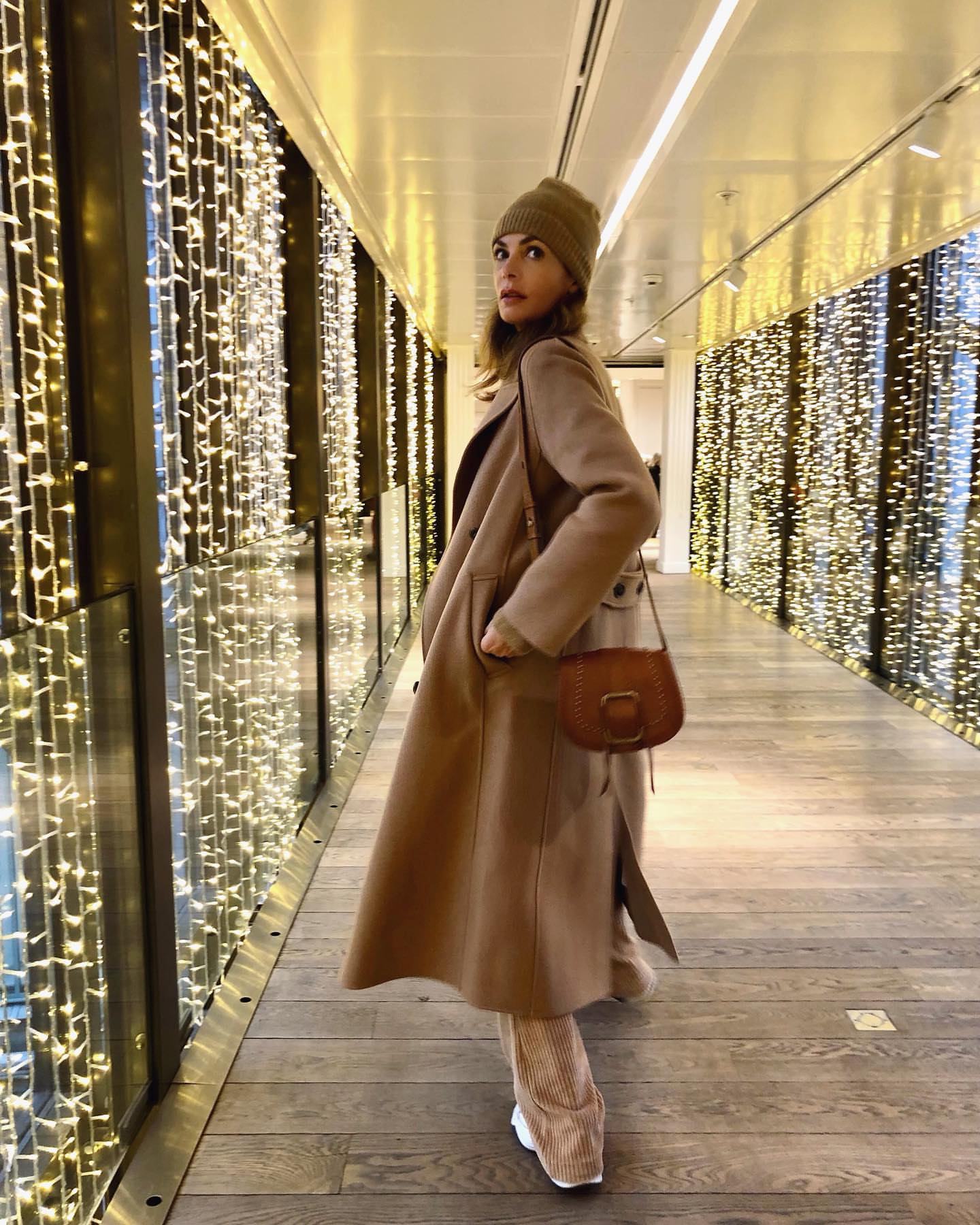 Stretchy velvet pants and corduroy trousers are a huge new trend you're going to love!
Velvet and corduroy are luxury fabrics that have expanded to include new versions with figured patterns, jewel-like colors for velvet and different cord widths in the corduroy range.
In the past velvet and corduroy (which literally translates as 'cord fabric of the king'), were only woven to make clothes for royal figures.
And it is thought that corduroy actually dates back to the Egyptian Pharoahs, so it's not surprising that we love the soft texture and durability of these two gorgeous textiles.
Both velvet and corduroy are made from cotton, although in recent years the addition of stretchy threads has meant women can get a perfect fit, no matter what their body shape happens to be!
So a luxury fabric, that's incredibly comfortable to wear and fits really well – no wonder you're keen to know what to wear with your new velvet or corduroy pants!
Read on and discover the latest velvety looks you're going to love wearing this year!
1. Turquoise Crushed-Velvet Bell-Bottom Pants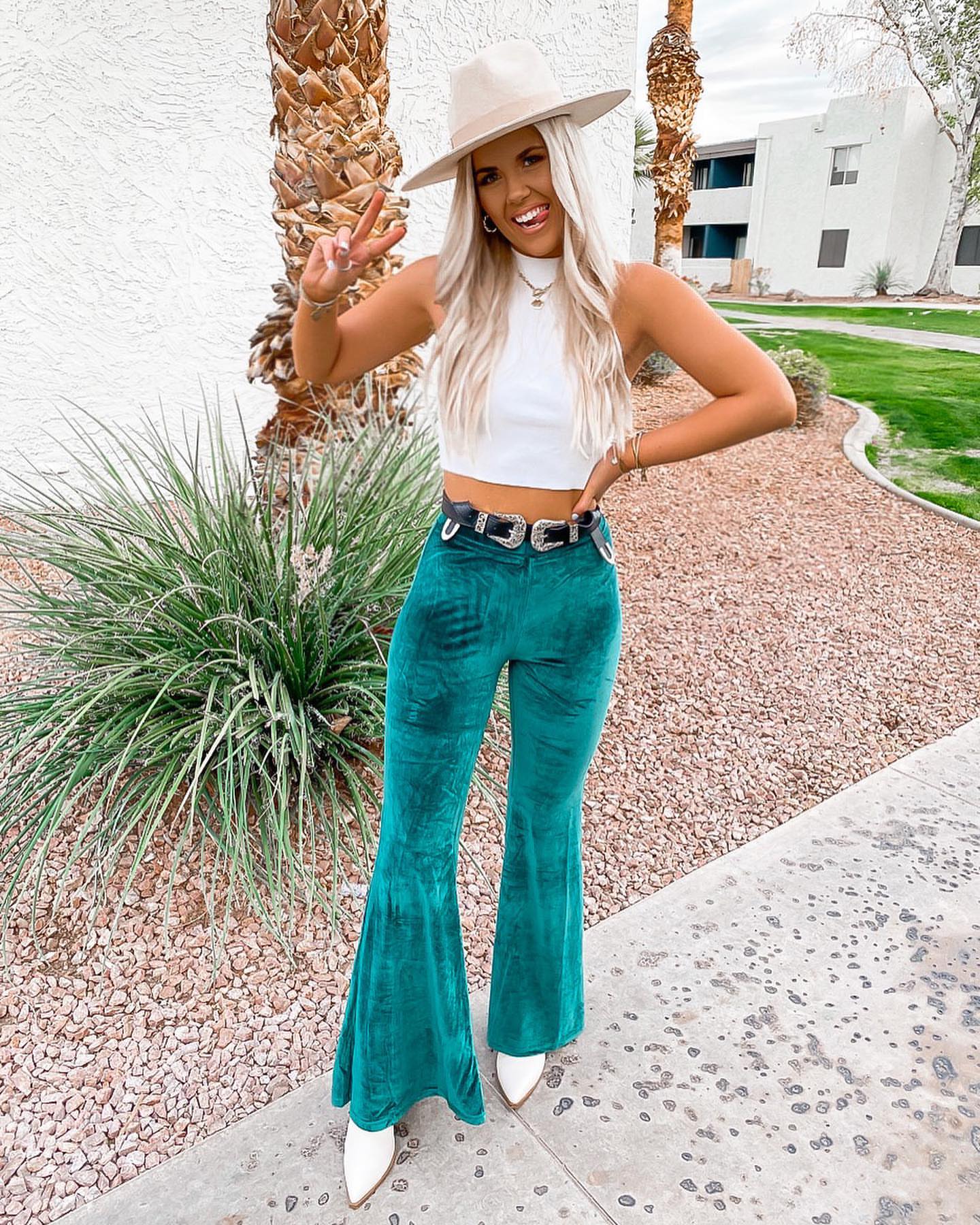 Bell-bottom pants came before flares and were the favorite style of the 60's hippies.
And they look fabulous in this stretchy velvet fabric that gives a close-fit around the hips and thighs, before flaring out in a beautifully draped shape.
This gorgeously rich turquoise color is perfectly complemented by a cropped, white halter top and pointed white boots.
Wear a belt with a decorative buckle to emphasize your waist and a hat to add even more personality to this relaxed, party look!
2. Chic Ribbed Velvet & Figured Velvet Bell-Bottom Pants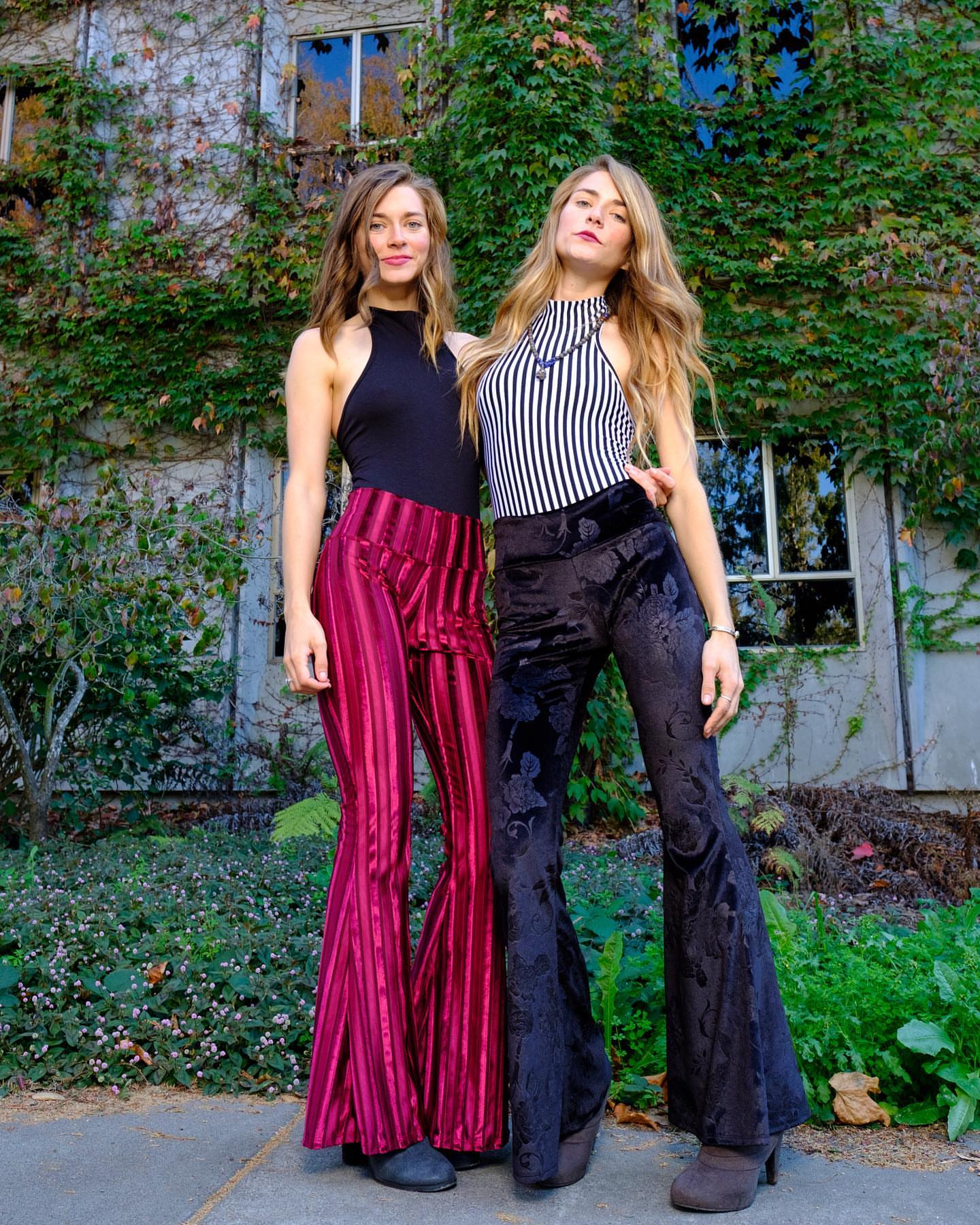 Velvet has always been love as a tactile, luxury fabric – but these two new types of velvet are even more adorable!
The deep, pinky-red stretch velvet pants have new, leg-lengthening vertical stripes and different textures that catch the light as the bell-bottoms swirl in the air.
And the black velvet bell-bots have an elegant floral pattern on the fabric that adds loads of class!
This image shows how to wear them with casual halter tops, but they are also suitable for evening wear with a gauzy top or shirt!
3. Smart Black Velvet Ankle-length Slim Pants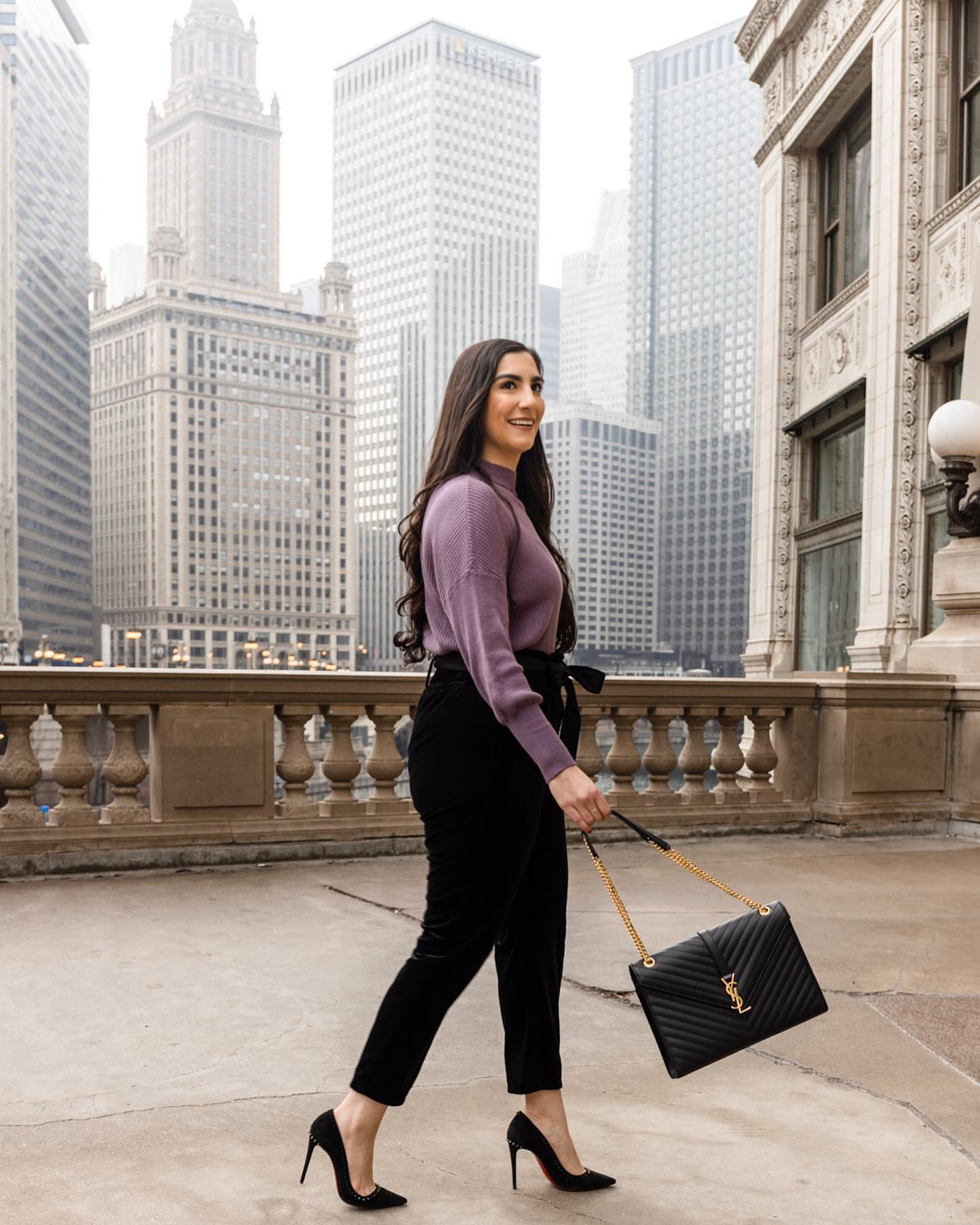 And it's great to see velvet pants return to fashion for daytime wear, like this office-wear outfit.
The jaunty, Capri length legs are slim-cut to show off your feminine shape and matched with a soft-mauve, turtle-neck sweater.
Remember to buy a size with enough space to tuck in your sweater, or wear waist-length knitwear.
Emphasize your waist with a tie-belt and a cute bow at the front.
Accessorize with heeled shoes and a quilted, black chain strap handbag and you've got a smart, daytime look with a lovely touch of class!
4. Casual Wide-Leg Velvet Trousers with Tan Leather Jacket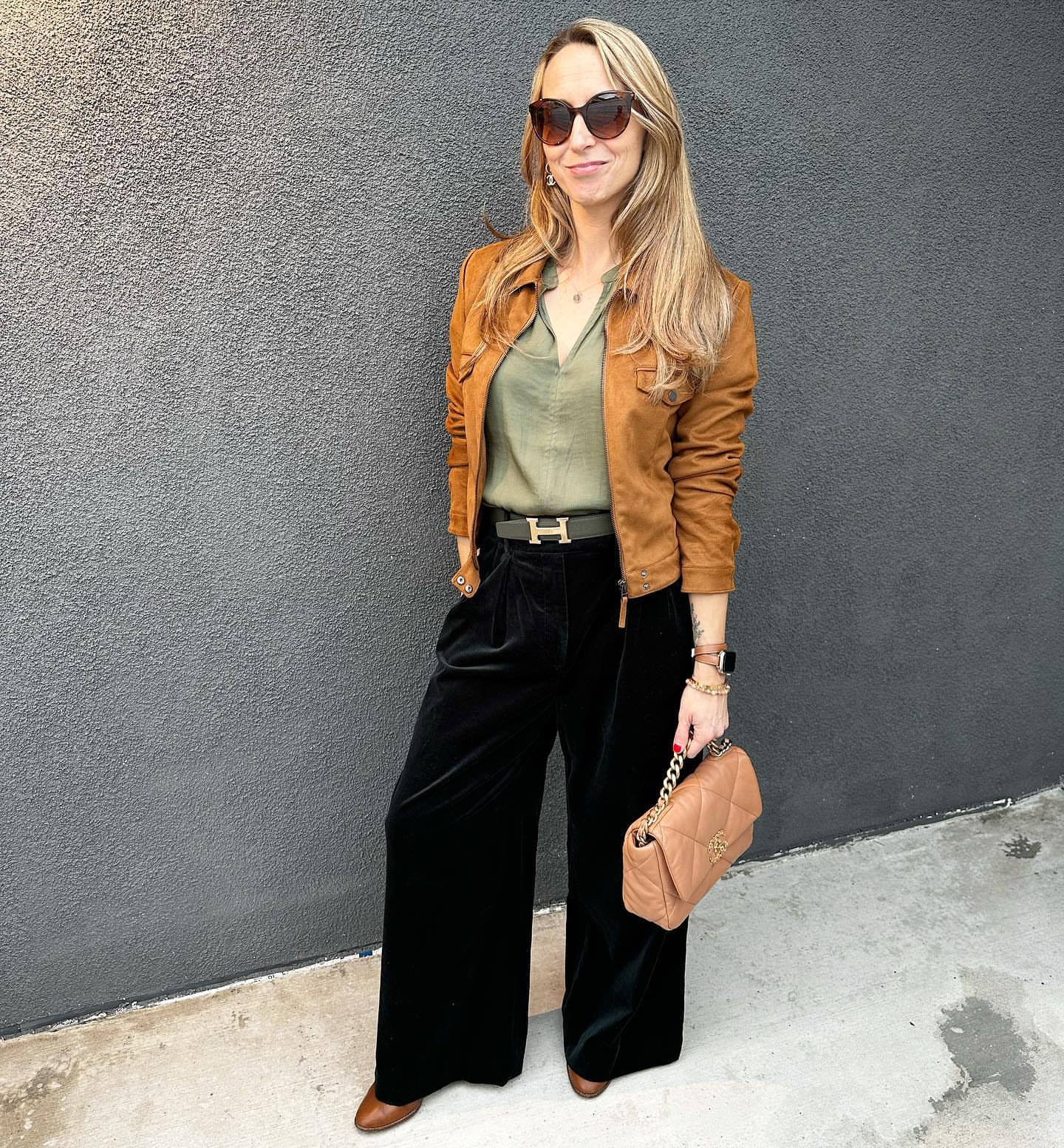 Black and tan are two classic color combinations that are definitely trendy for this year!
And you certainly get quite a different performance from soft, jersey-velvet in wide leg pants, rather than the stiffer fabric of denim jeans.
If you're not sure that wide jeans are for you, you might find that velvet wide-legs are more flattering as they move with your body and are much lighter to wear.
And worn with a short, leather jacket in trendy tan, gives you the balance that wide velvet pants need.
5. Stretchy Ribbed Velvet Beige Pants & White Tee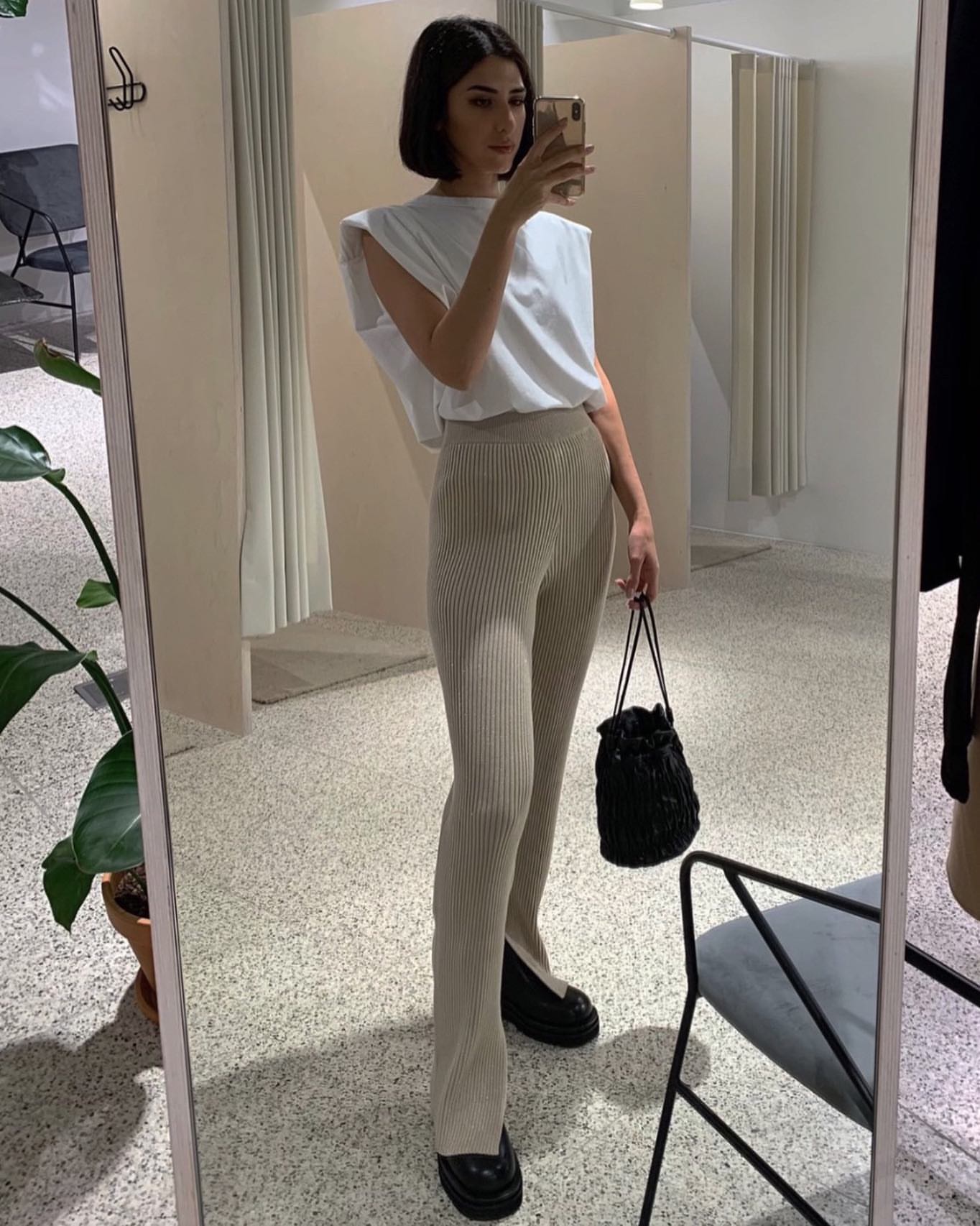 We love our comfortable, stretchy clothes!
But fashion has moved away from athleisure, to a smarter look now that we are going out more again.
So what better choice than these elegant, beige ribbed velvet pants for equal comfort, but superior style?
The tucked in white tee-shirt is also a very popular casual top this year, and if you choose a tee with a slightly different style feature, like these structured shoulders – so much the better!
The side-split shows these are fashion pants, not joggers and the fashionable heavy boots add extra edge to a simple, but highly attractive outfit!
6. Trend-setting Tan Balloon-leg Corduroy Pants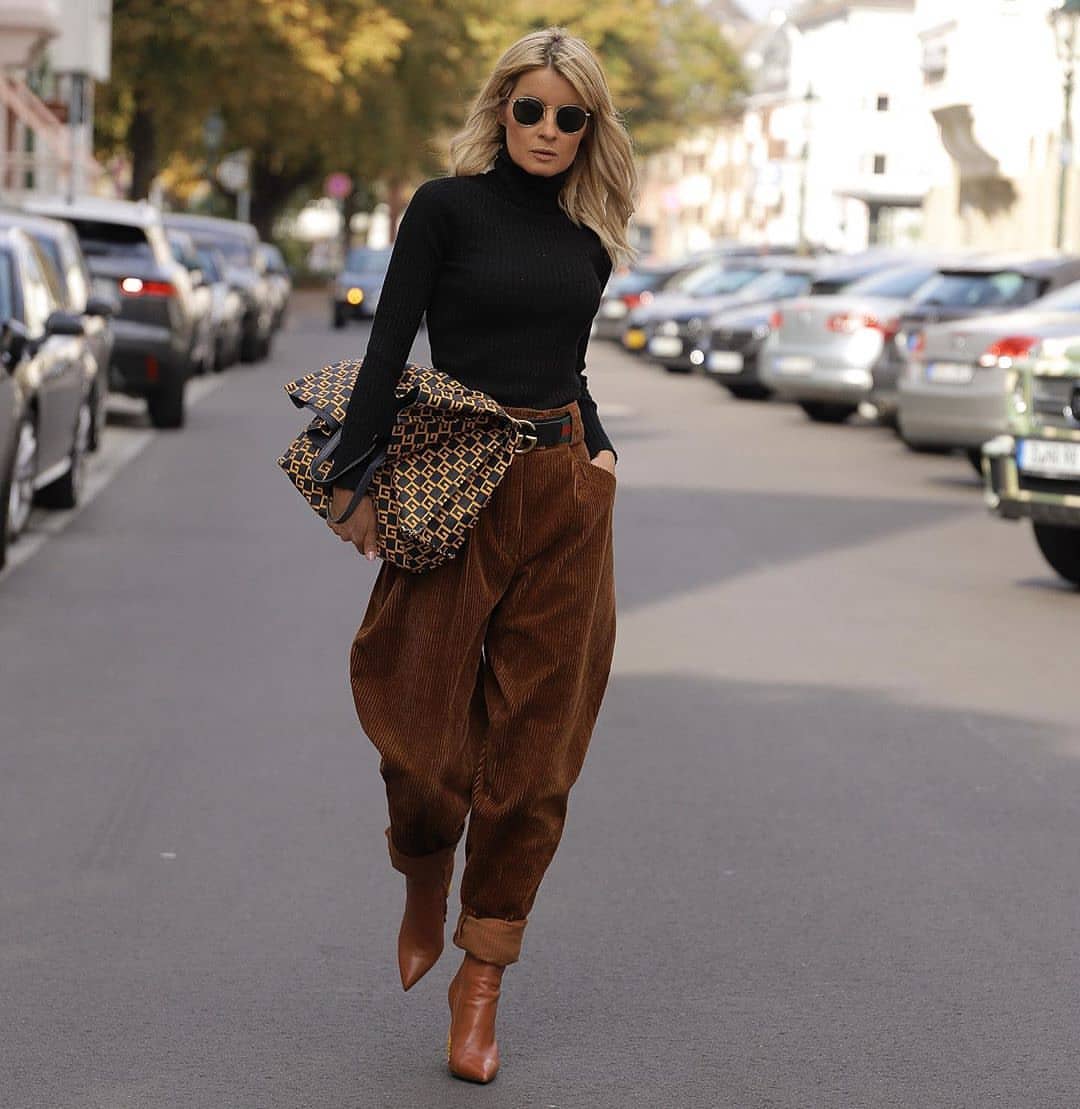 Although they look a lot like jodhpurs, these are actually balloon-leg trousers with a rounded silhouette that curves back in at ankle length.
They are ultra-comfy and won't pull around your hips and thighs, while keeping you warm in cool weather.
And like all wide-leg trousers, you need to wear a close-fit top to balance the wider shape below.
A black, skinny jumper with a high neck makes this a fashionable and practical outfit for spring.
Just add a decorative buckle and accessorize with tan boots and a tan/black bag for a classy daytime look!
7. Brown Velvet Pants with different clothing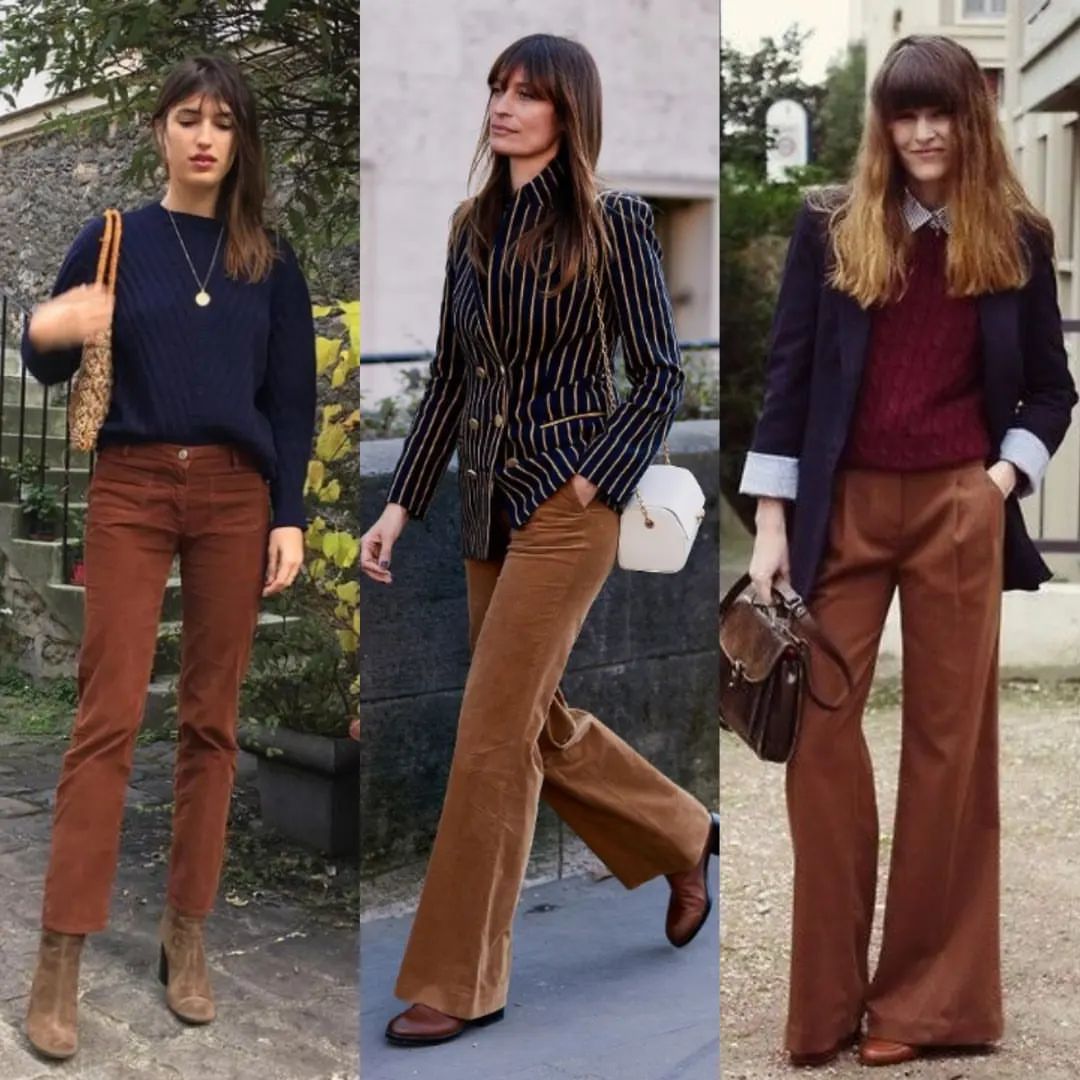 8. Ribbed Off-White Velvet Trousers with Front Crease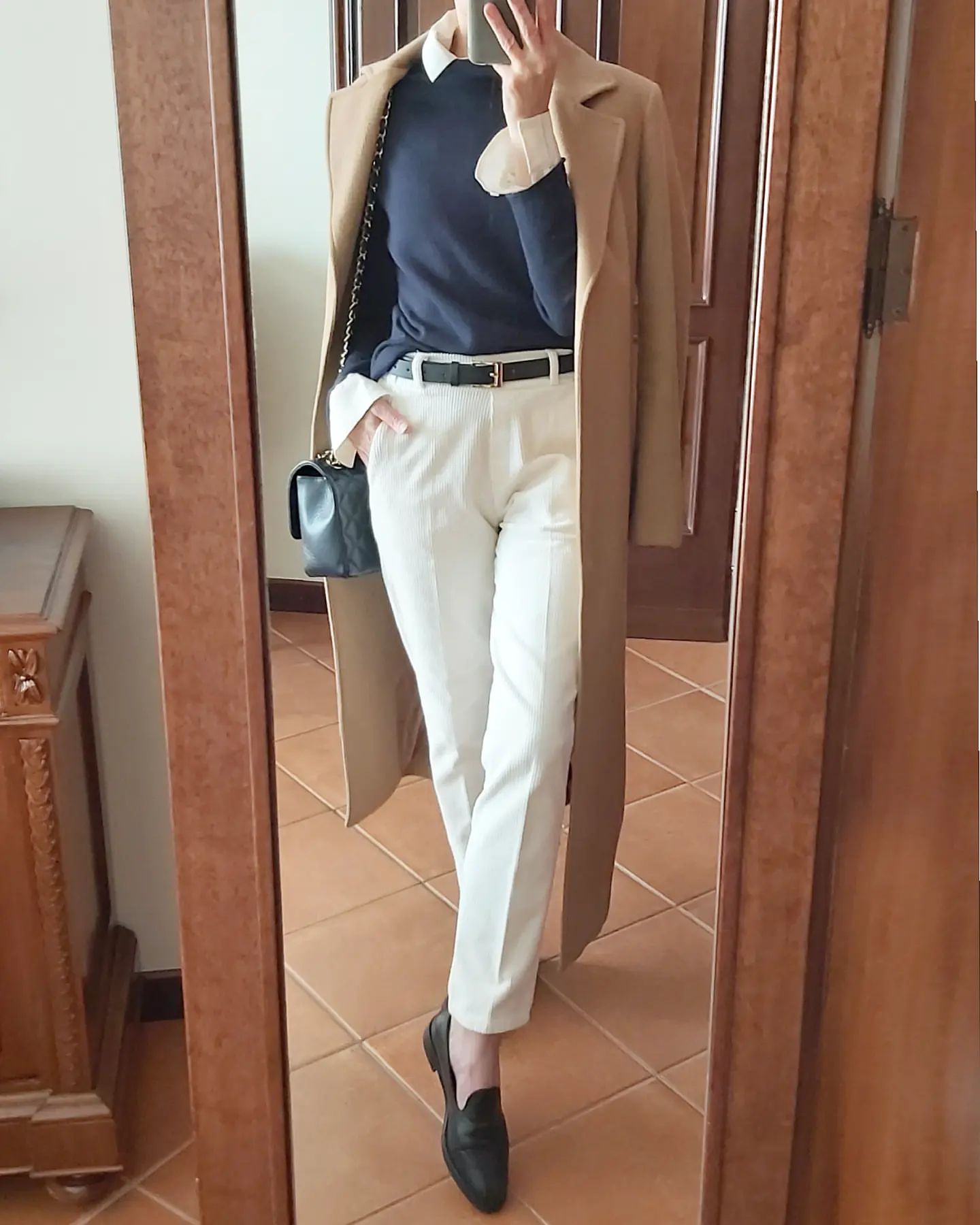 Here's an attractive, complete outfit showing how to combine neutral colors to make fashionable but also classic outfits!
The soft, ribbed velvet trousers are slim-cut, a style that flatters most women, and have the latest front-crease feature to give them added elegance.
The tucked-in top is made up of a cool-cream shirt and a navy-blue fine-gauge sweater.
And this type of layering is smarter than a thick-knit sweater or sweatshirt.
Add a matching navy belt and bag, and finish with loafers and your classic camel coat casually draped around your shoulders!
9. Quirky Tartan Velour Bell-Bottom Pants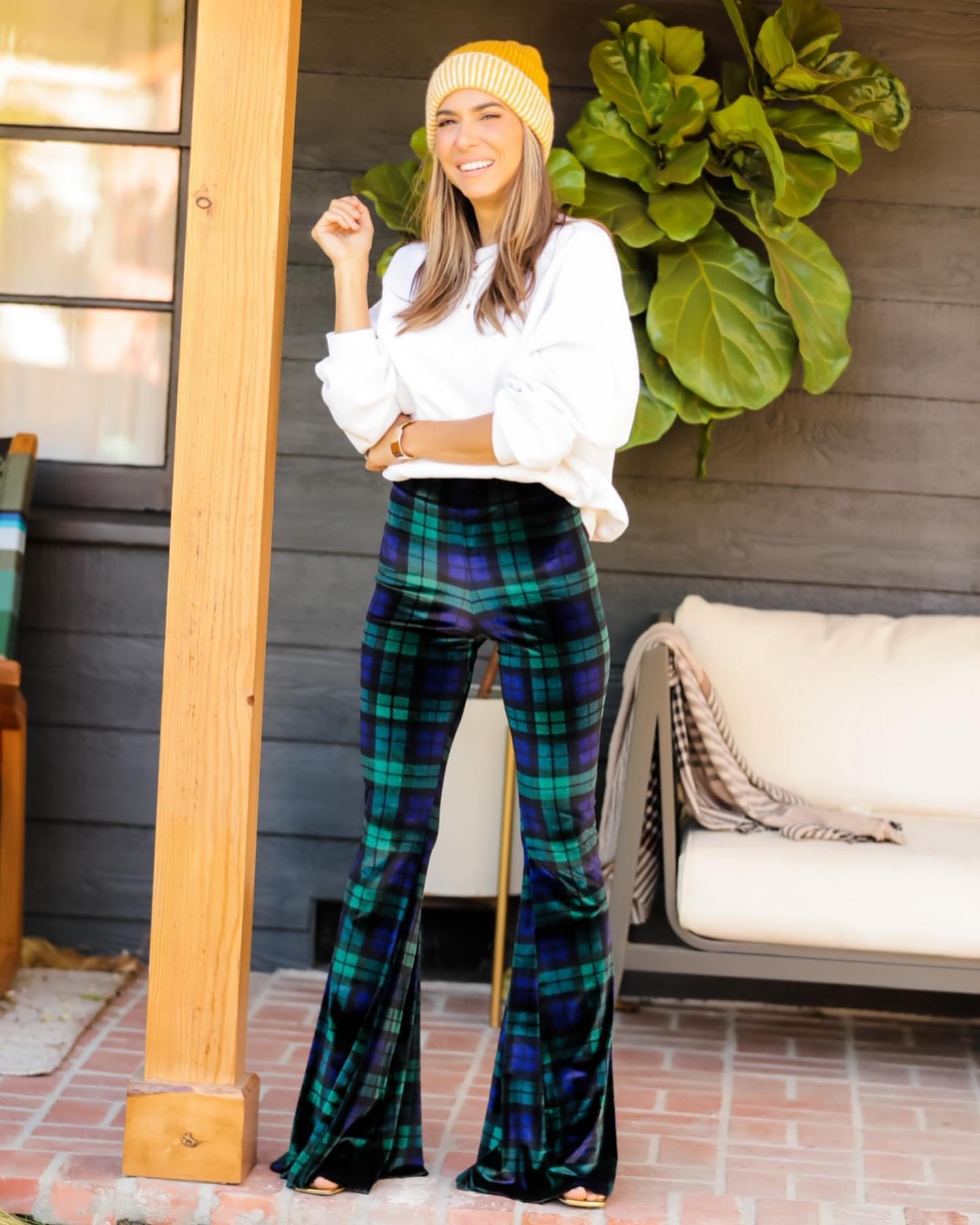 I could almost scream with excitement over the fabulous idea of tartan, velour-velvet, bell-bots!
What a fantastic new twist on the bell-bot style and a very new way to present beautiful green and blue tartan.
A white top is a good choice to wear with these velvety-soft pants, allowing the shape and the rich colors to take all the attention.
And as it's a casual look, your top can be a little bit baggy, as long as it's a fine-knit and not bulky.
10. Rich-Brown Velvet Bell-Bottom Trousers & Camel Coat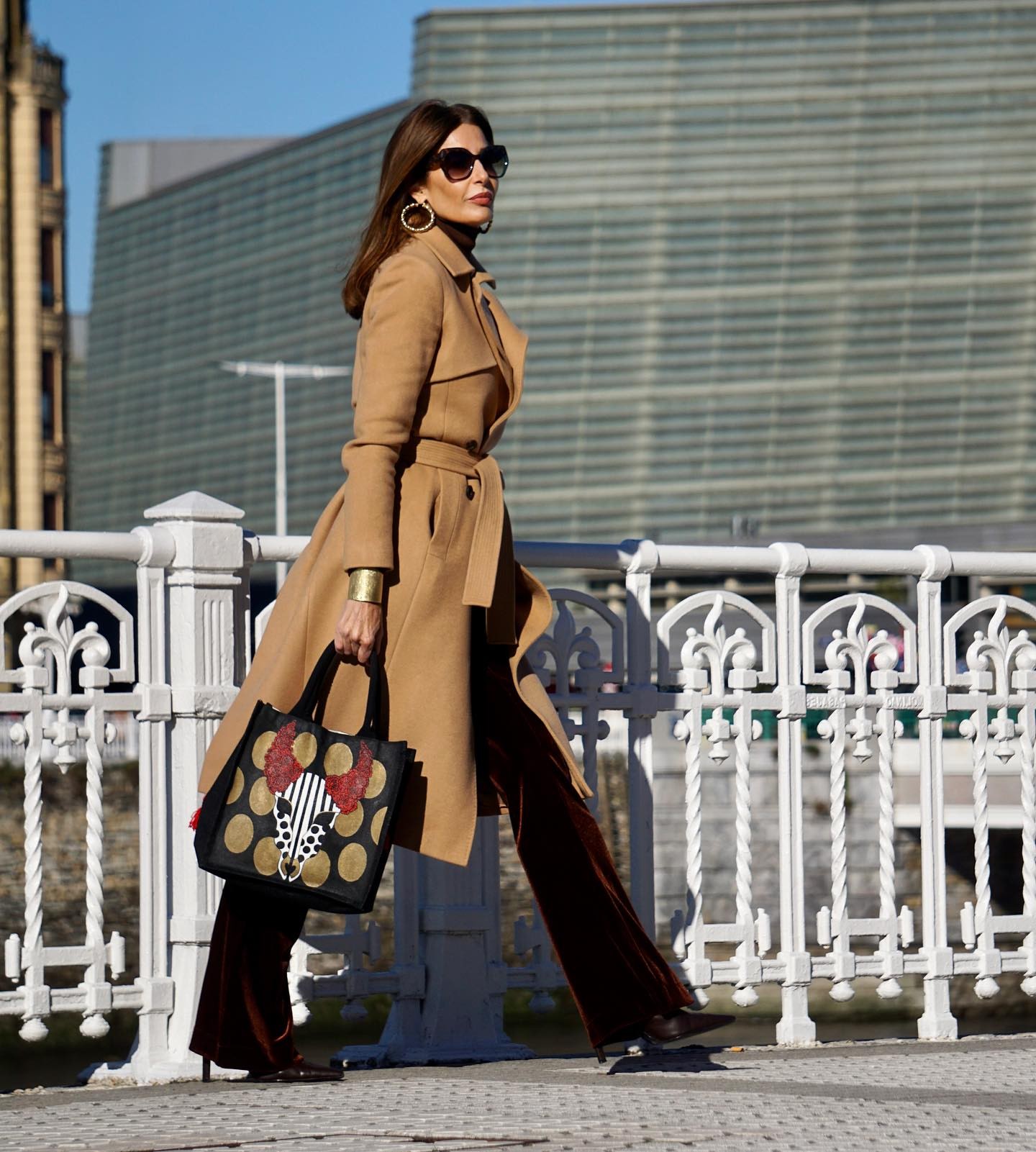 Rich brown velvet is one of my all-time favorite fabrics, it always projects a very classy image as you can see in the bell-bottoms shown above.
I love how the color changes from chestnut to darker brown as the velvet fabric creases and drapes.
So if you see these trousers buy them and enjoy the feeling of luxury you'll have wearing them under a camel trench-coat – and with many of your other fashion separates.
It's a timelessly classic look that will elevate your style and impress everyone you meet!
11. Black Velvet Slim Pants with White Lacey Top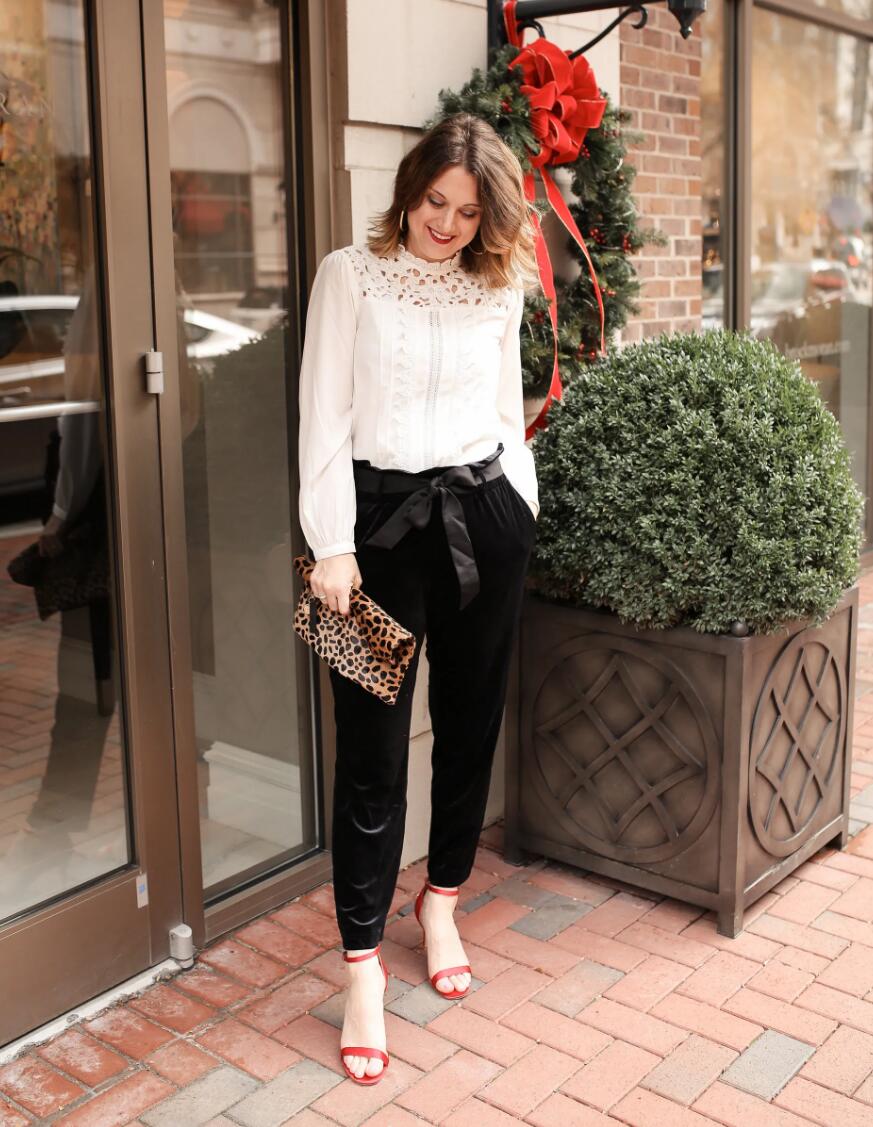 Black velvet pants have been an evening wear standard for many years and never truly go out of fashion.
The key is to get the right leg width and length for your figure, and these contemporary slim-cut pants that finish at ankle-length look good on most women.
There are clever gathers beneath the waistband to accommodate your stomach and hips in a flattering way.
Team with red shoes show you're a modern gal who doesn't feel the need to match everything.
And these velvet pants look perfect matched with a classic white blouse and a touch of animal-print luxury in the clutch-bag!
12. Black & White Velour Street Suit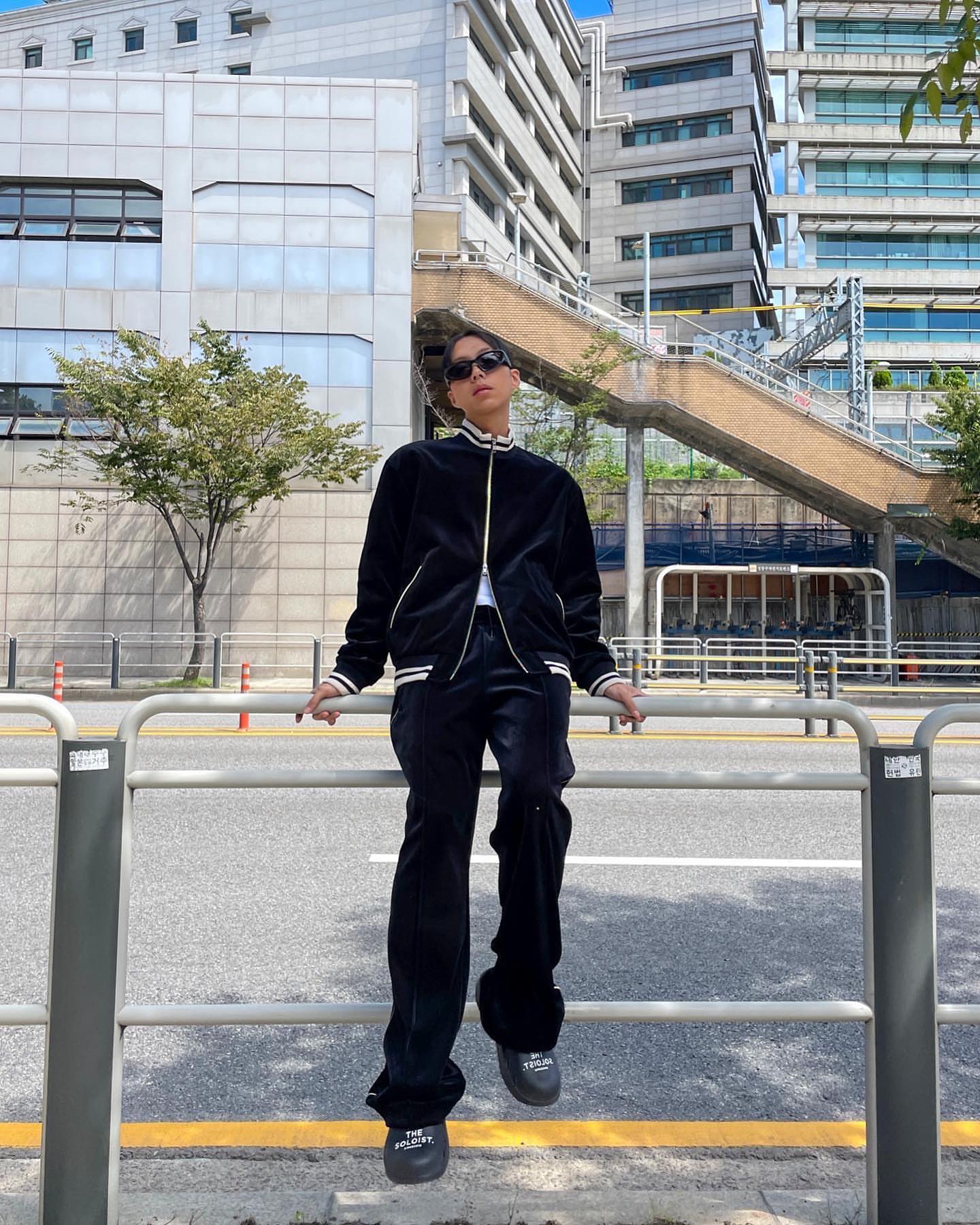 Velour and velvet trouser suits give the comfort of a track- or sweat-suit, but with a lot more 'dressed-up' vibe!
The jacket on this attractive outfit is a contemporary bomber jacket style, you could easily wear with other separates in your wardrobe.
And the trousers are wide-legged, which drapes really well in lightweight velvety fabrics, and extra-long for a casual look around your footwear.
13. Beige Wide-Ribbed Corduroy & Camel Coat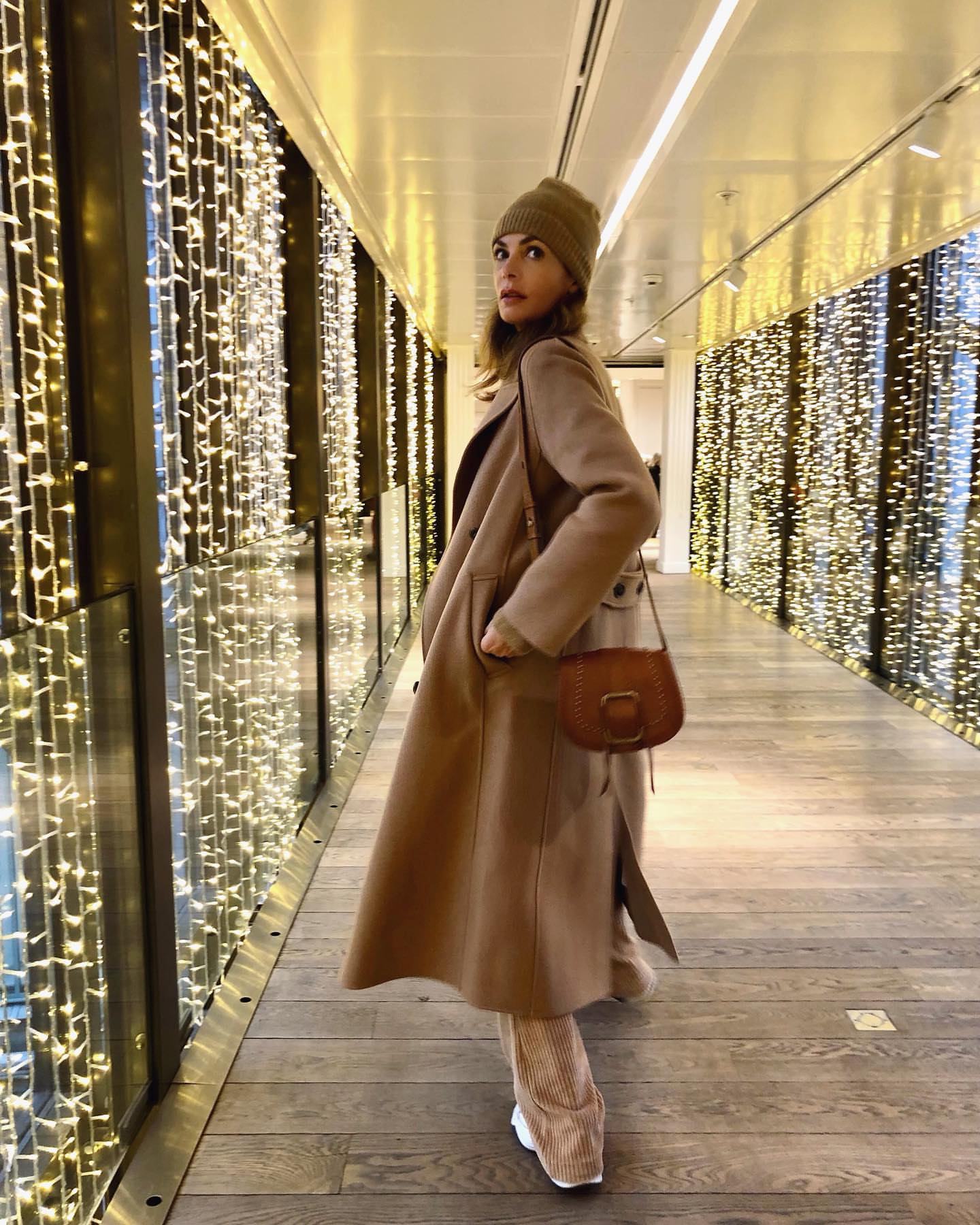 Chunky or wider-ribbed corduroy in soft, beige-brown is an attractive color you can wear in several different seasons.
Match with a tan bag, white sneakers, a brown beanie and a beautiful camel wool coat to show what a polished outfit you can make with the latest brown tones.
Winter wear doesn't have to be frumpy, bulky or boring when you can layer up in matching tones and contemporary bell-bottom pants!
14. Chestnut Corduroy Flares with Crease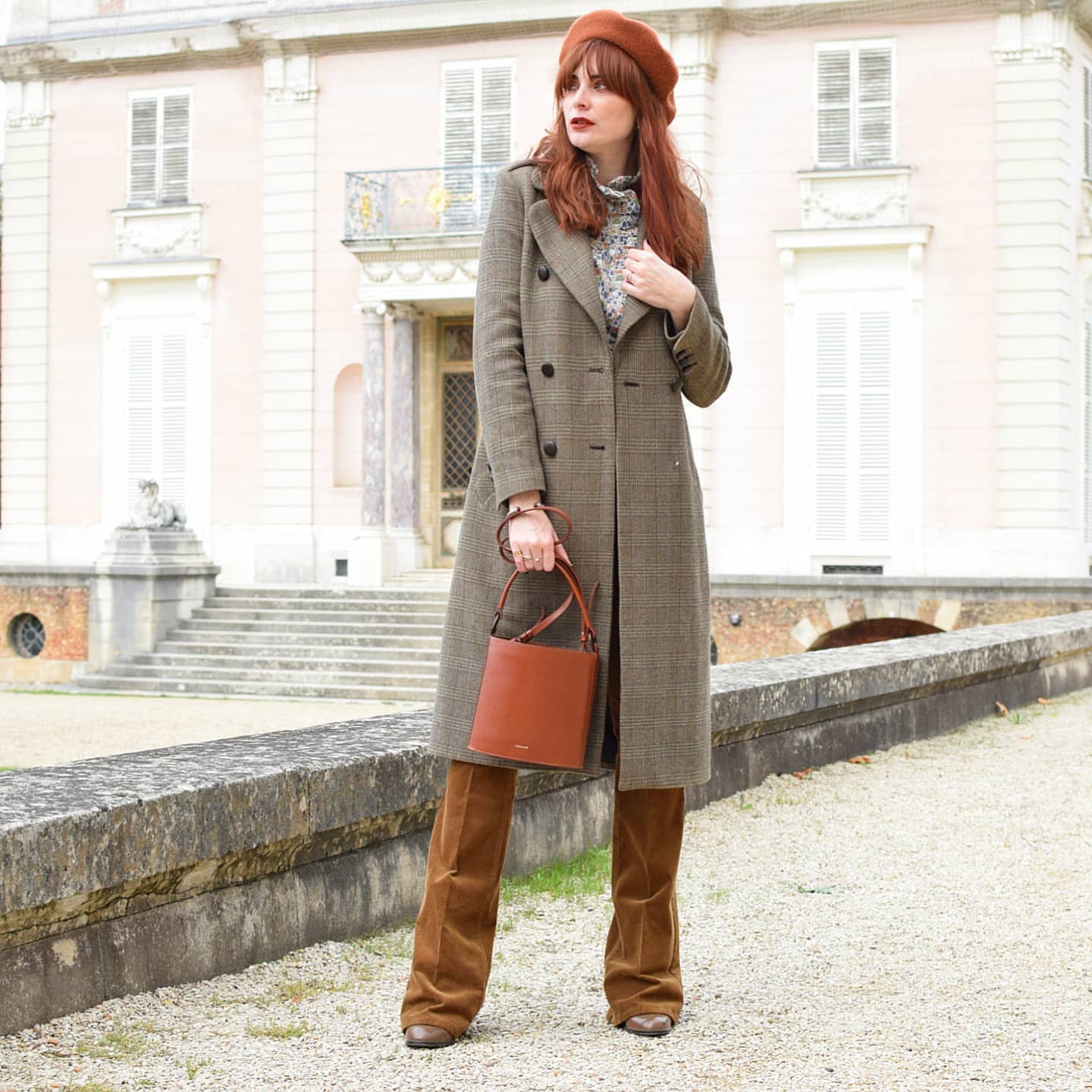 Warm chestnut is another rich color for fine corduroy fabric, which drapes well in these flared, long pants.
Match with a cute beret, a tan bag and a classy, double-breasted, checked wool coat in subtle neutral shades.
This really is how to make yourself a polished, 'top to toe' look, which matches and highlights your natural hair color with the latest fashion colors and styles!
15. Luxurious Sea-Green Velvet Pants & Stone Sweater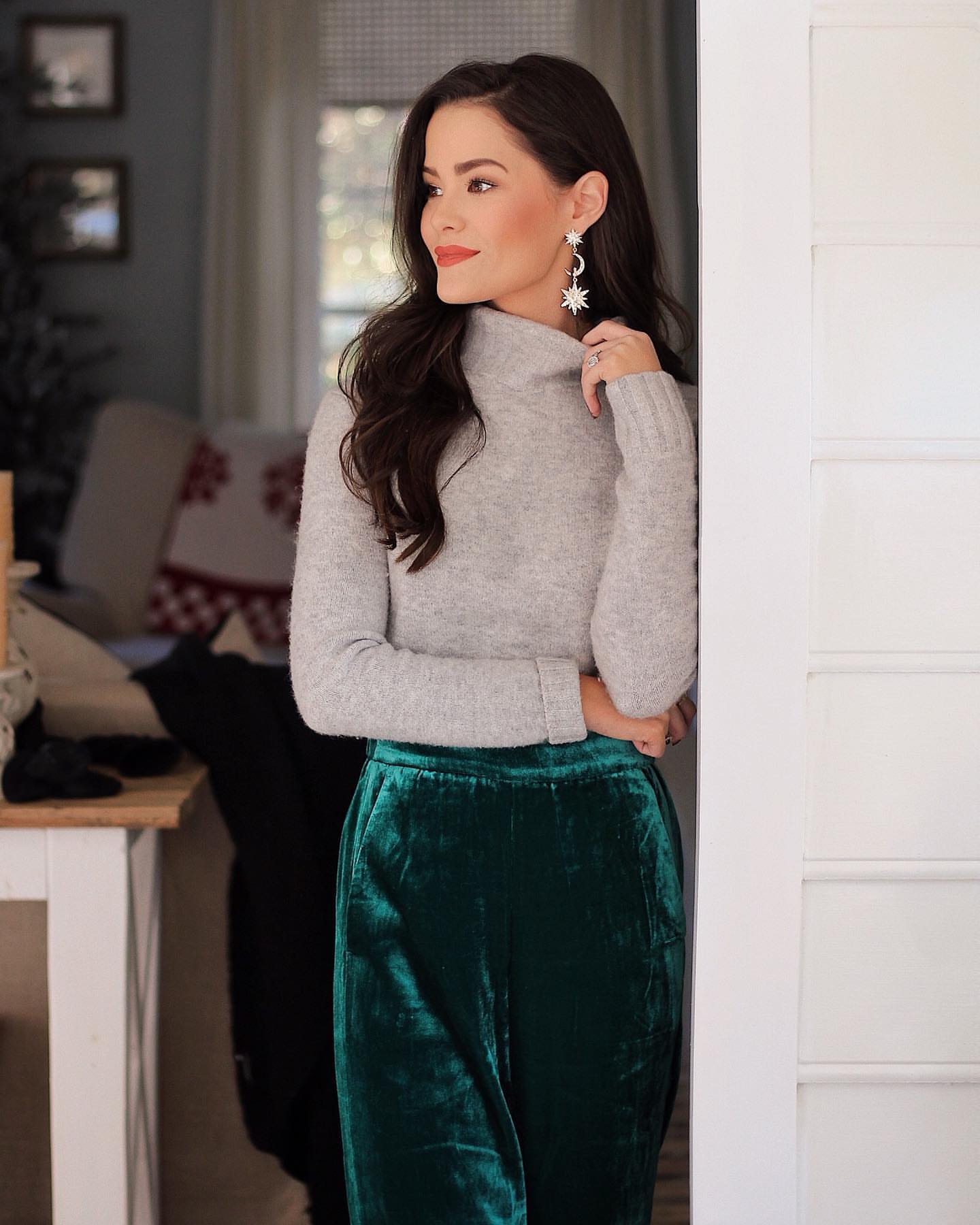 And for luxurious lounging clothes, you really can't beat these gorgeously vivid, sea-green velvet pants.
They are just what you need for an informal dinner or an evening relaxing at home with friends.
Wear with a light-gray, high-necked sweater and enjoy the comfort and style of straight-legs that mean your versatile gem-colored pants will be in fashion for a long time to come!
—————————————————
Velvet and velour were last in fashion in the 1980's, when leisure suits were very popular.
But this new trend is more retro – diving back to the late 60's when velvet bell-bottoms were a highly fashionable and gorgeously sensual look!
You may have decided that stiff, denim bell-bottoms aren't for you, but the same style in velvet is a different garment altogether, as the lightweight and flexible velvet fabric drapes like a dream.
Altogether, the various contemporary styles in velvet and corduroy offer something to flatter every woman, so my advice is to enjoy this chance to wear such gorgeous fabrics while they are on offer!