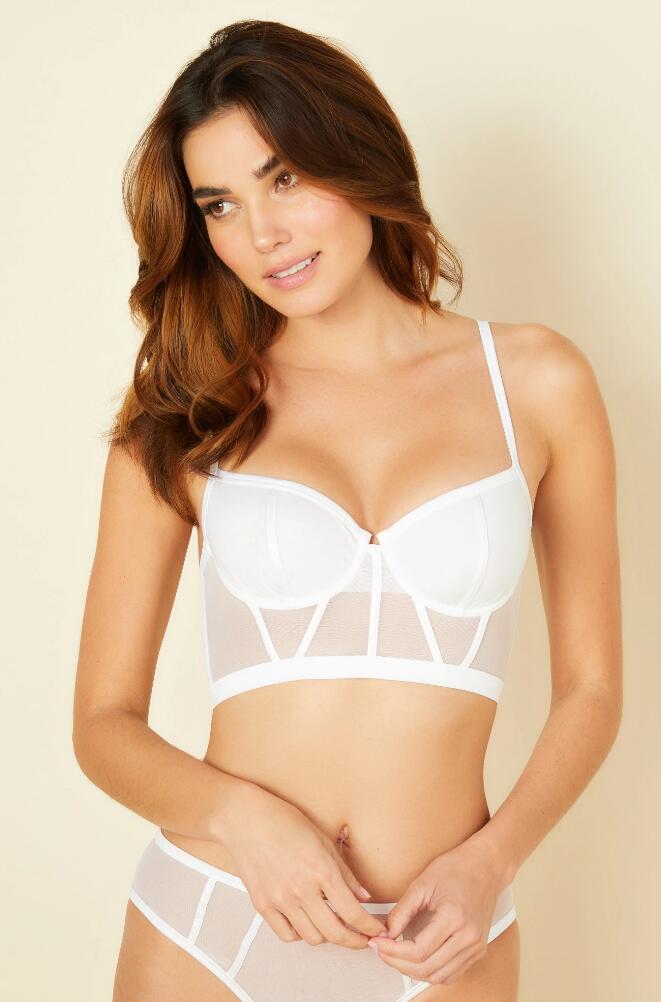 Longline bras offer extra support for women with a larger bust, owing to the longer construction which spreads the weight of a heavy bust. But many women aren't sure what the difference is between a bustier and a longline bra. So let's tackle that first!
What's the difference between a longline bra and a bustier?
Bustiers are more structured than a longline bra and include more boning and wiring in the cups and waist. They are intended to be highly body-shaping and can be used as outerwear, or highly decorative and sexy underwear.
On the other hand, longline bras are useful as every-day lingerie, and can be bought in many different styles e.g. longline sports, every-day and strapless bras that give sturdy support to a large bust.
What are the top benefits of longline bras?
High support leads to excellent comfort! And longline bras help women who get pain in their shoulders or back find comfort from their bra. Longline styles distribute the weight along the ribs, preventing pressure on the neck and shoulders and improving posture.
And if you've ever despaired of being able to wear fashionable strapless tops or dresses, because strapless bras slide down – try a longline strapless bra – they never slip!
Which longline bras are best?
The quickest way to scan a shortlist of the best longline sports- or everyday-bras is to read a HerStyleCode bra guide! We run regular bra-testing projects with groups of ordinary women who wear selected bras for a minimum of 2 days and then give us their honest opinions. This helps us cut out all the bras that have aren't up to scratch and concentrate on a short-list of items chosen by comfort, support, performance, fit, quality and appearance!
1. Best Padded Longline Sports Bra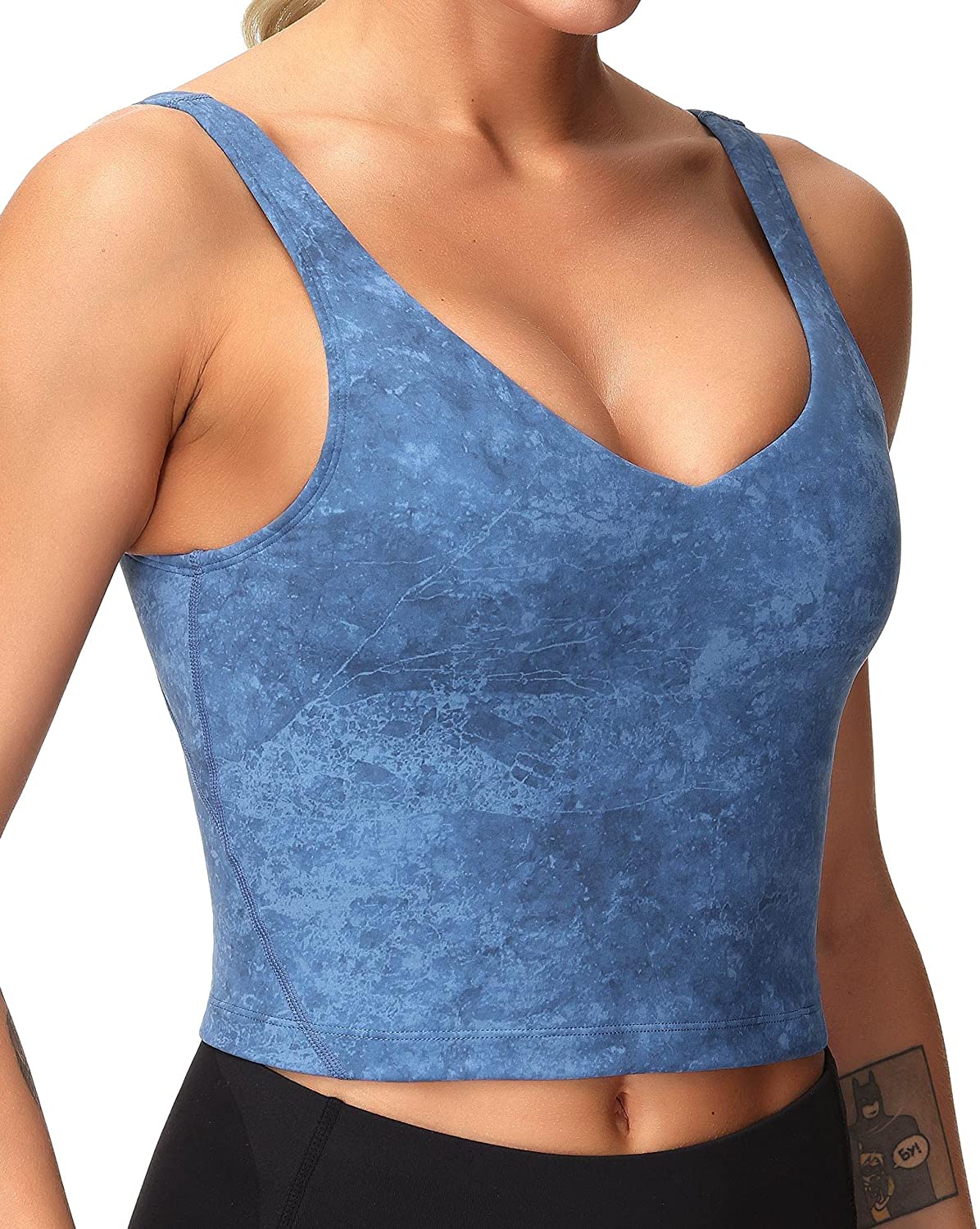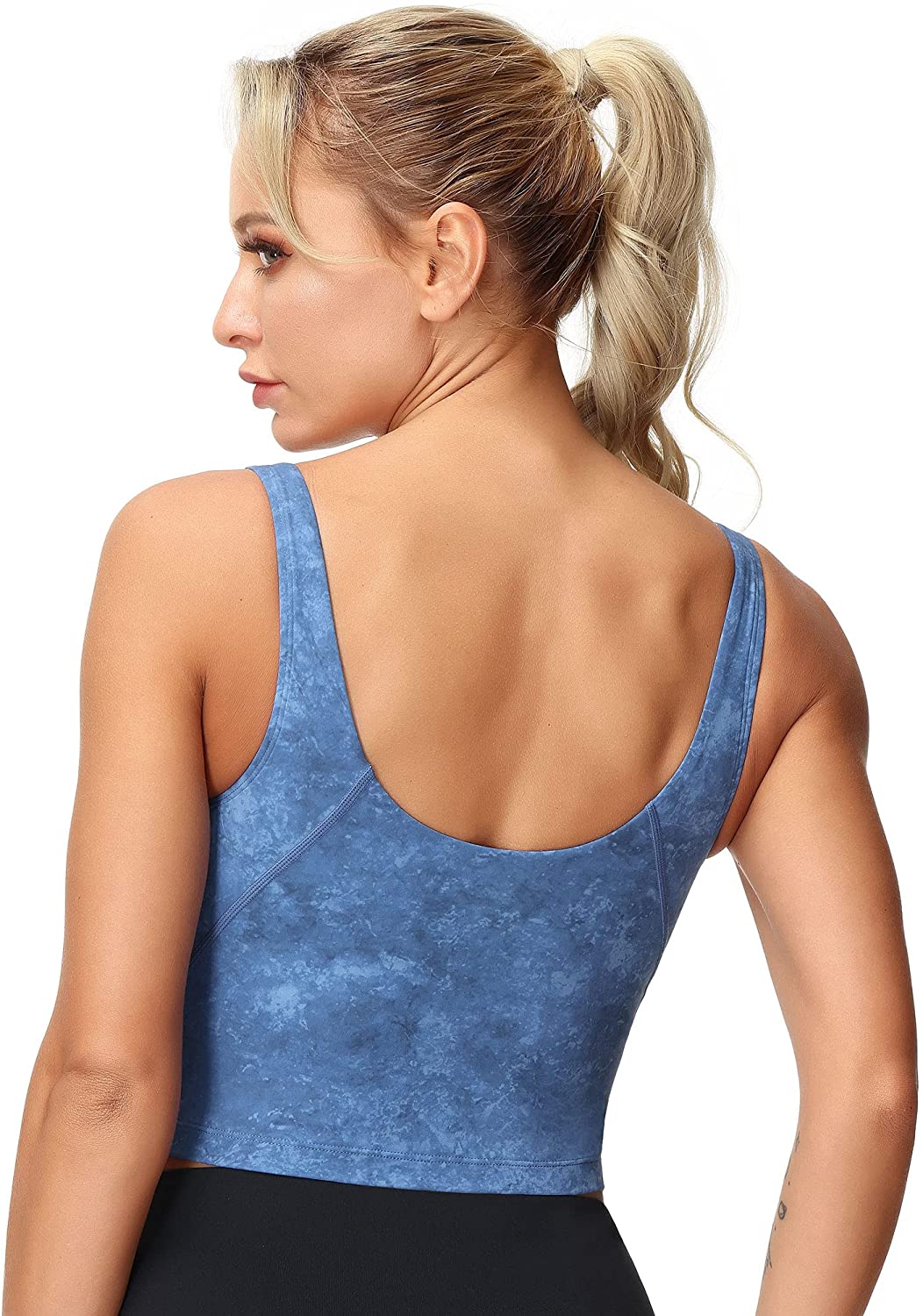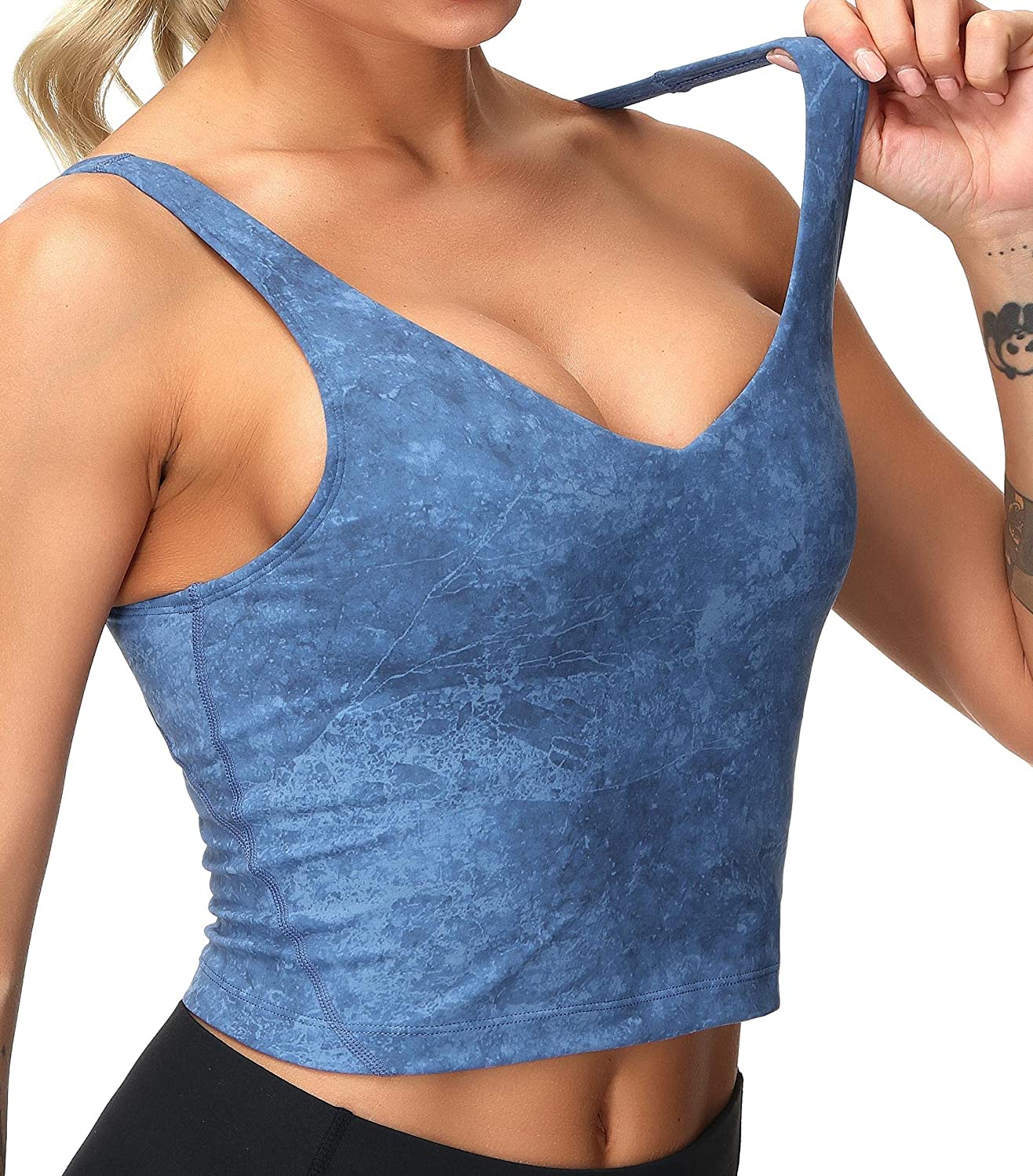 This is an easy to pull-on bra that gives medium-support for medium – to high impact activities. The front has high coverage to keep your bust in place during exercise. And the wide, U-back keeps you cool. The built-in bra gives support and ventilation panels let sweat evaporate easily.
Our Testers said this longline bra suits fuller figures and has useful racerback straps that keep the bra in place. It looks great under a tank-top or T-shirt and is comfortable all day. They loved wearing it as outerwear, too, with high-waist fashion clothes!
2. Best Longline Bra for Smaller Cup Sizes A – C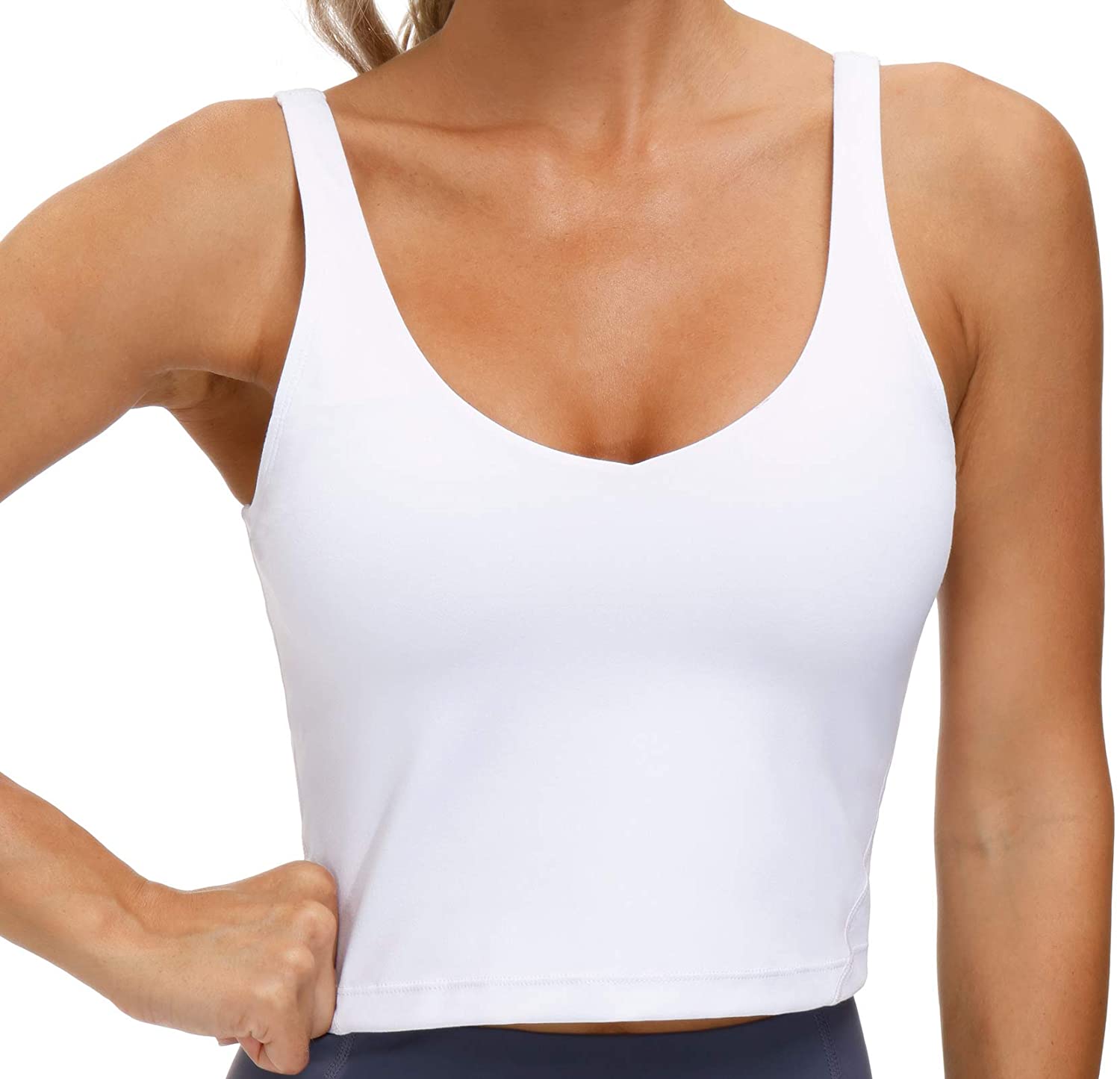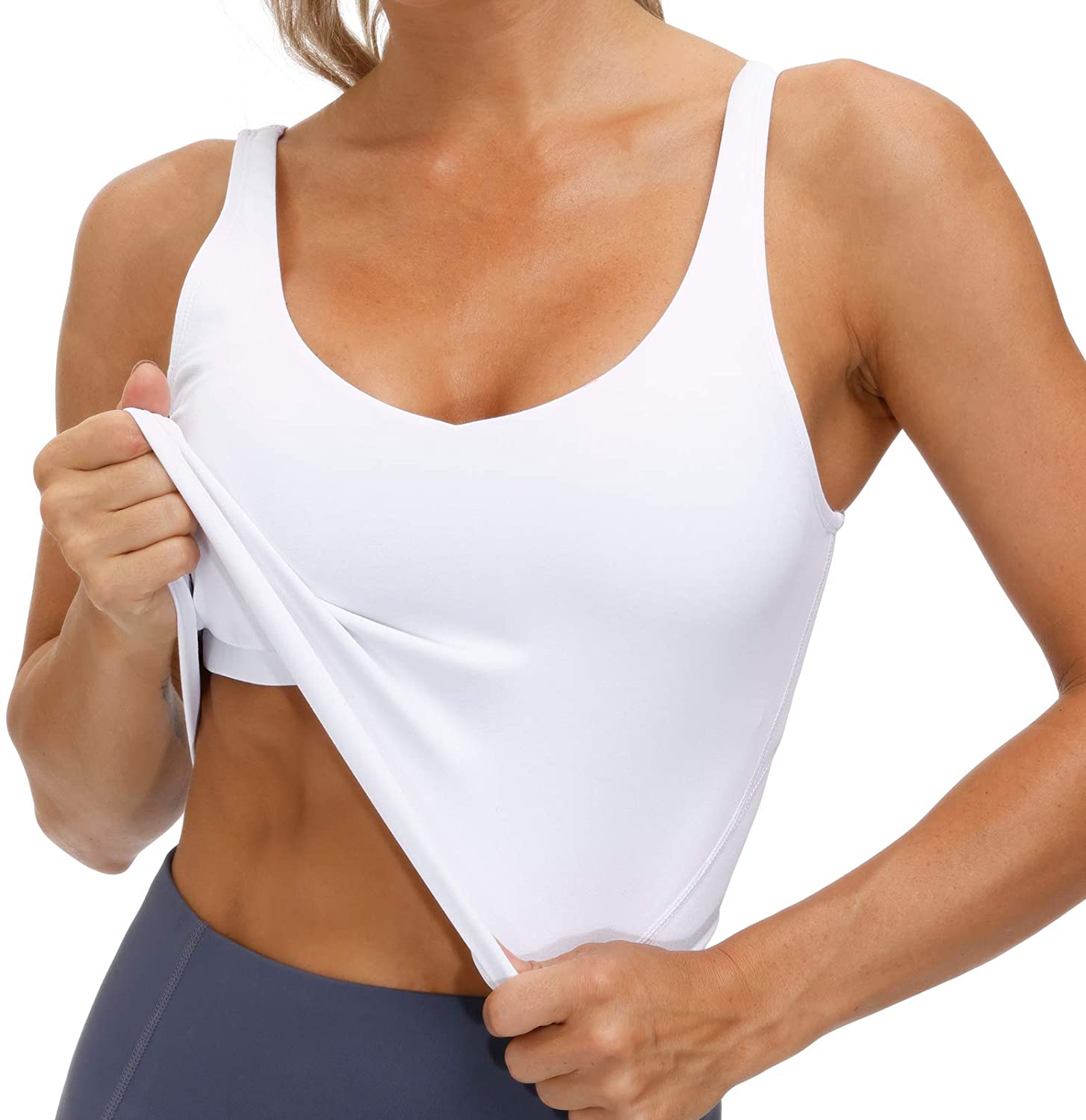 This is a great compressive sports' bra for A – C cups, which is an alternative to the Lululemon Align tank –top bra. It's soft and lightweight, with good sweat-removing fabric. And it's also padded and wire-free. The front has an elegant, low-cut neckline and it's suitable for low, medium and high impact activities.
Our Testers said they were impressed by the quality of the soft, stretchy fabric. The material is opaque and doesn't pill after wear. The flattering top has plenty of structure and gives medium support, without adjustable straps. The foam cups are great for smaller sizes, but probably not for larger breasts as side-bulge could occur.
3. Best Glamorous Longline/Bustier Bra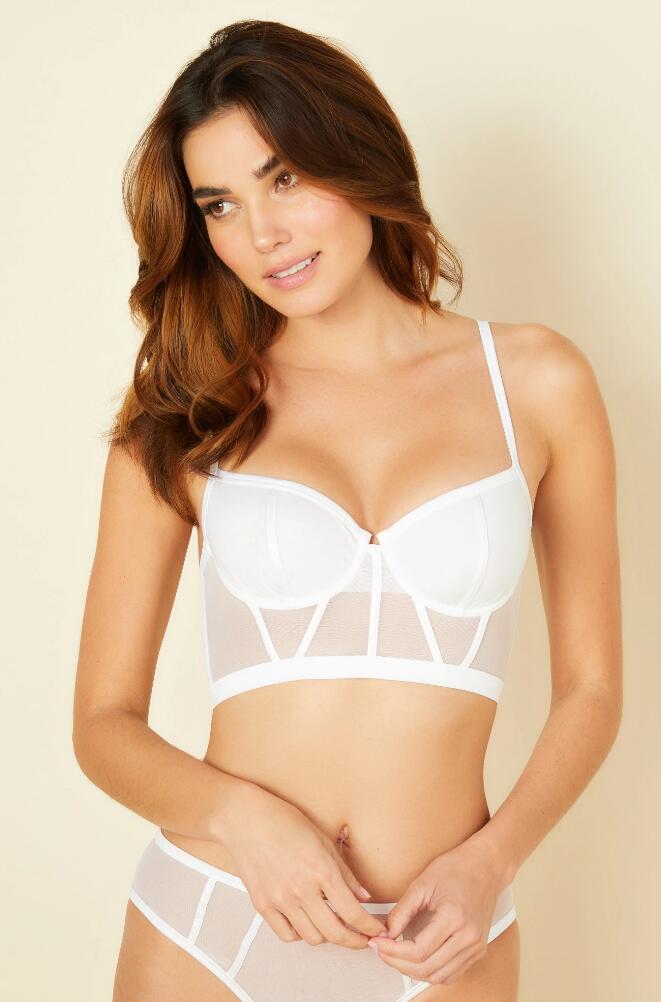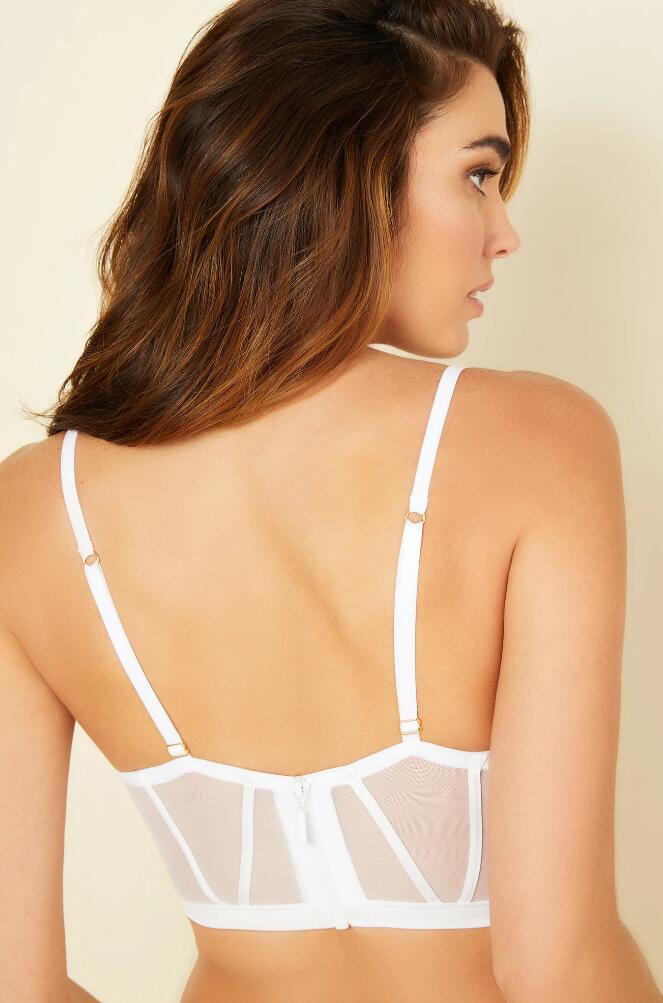 This attractive and elegant bra features an underwire and lined, non-padded cups. It has side-boning and a special zip-fastener at the back. The straps are adjustable and this is a great 'longline' bra for 32B – 36D sizes. It's full of the sophisticated style you would expect from an Italian-made bra!
Our Testers said they really loved everything about this glamor bra, especially the shiny, leather-look trim and sheer mesh fabric. The balconette style creates great uplift and the broad band and zip-up back help you get excellent fit and lasting comfort. It gives you a super shape and looks gorgeous!
4. Best Classic Lace Longline Bra for mature women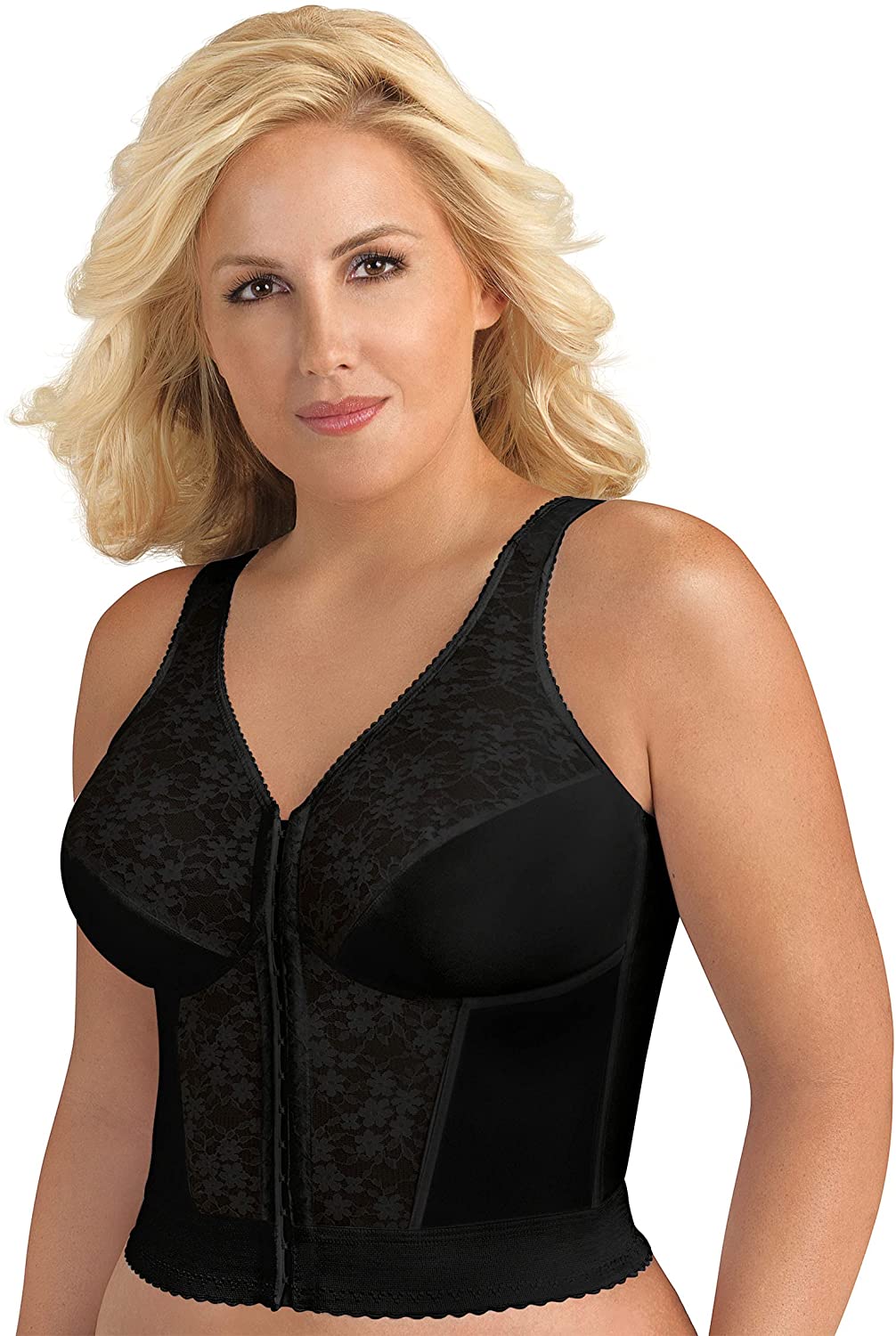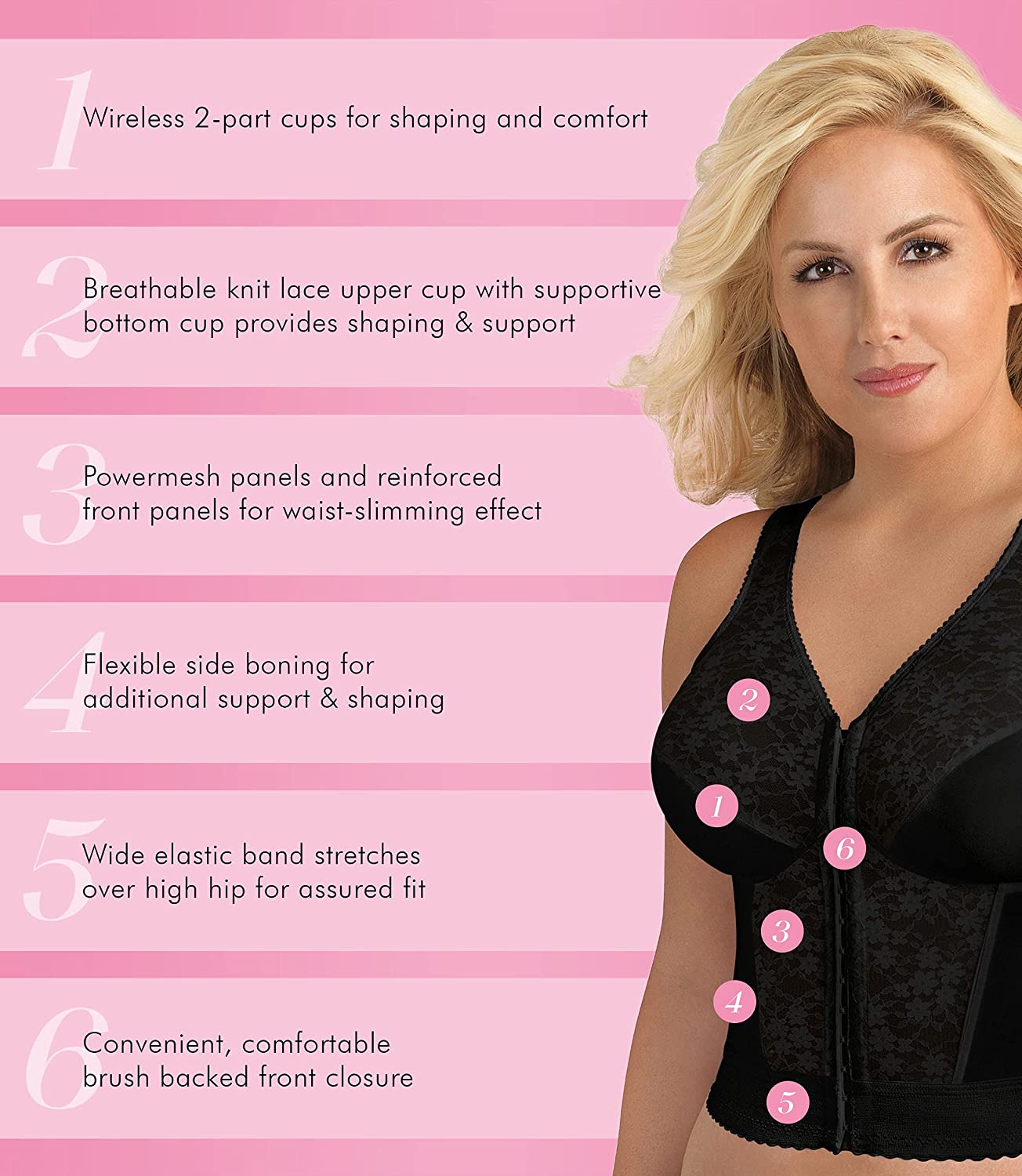 This is the classic, longline bra that has been a lingerie staple for larger women for many years. It continues down the body to the waist and produces an excellent smoothing and slimming effect. Wide, cushioned straps and the supportive body-shaper combine with a front-fastening hook and eye panel to give an excellent fit.
Our Testers said this was a great lacy bra for improving bad posture and pain in the back, shoulders and neck. It's wire-free and very comfortable. The fit is snug but not constricting. And the cup size runs a little small, so size up. It's extremely supportive, slimming and comfy!
5. Best Longline Bridal Bra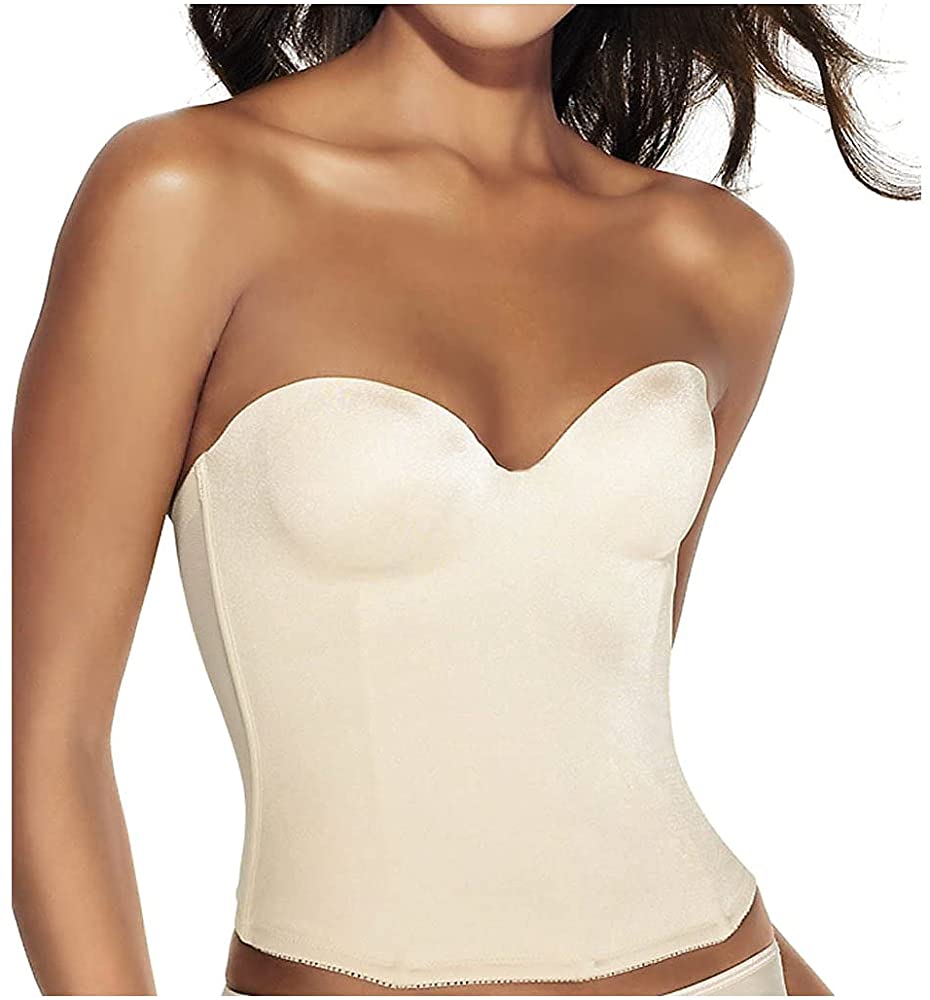 This is an elegant, strapless underwired longline bra to wear under a formal gown or wedding dress. The front measures approx.. 11" and the center back 6". It comes down to the waist or just below, depending on your body dimensions. The stretchy microfiber is soft and comfortable and wearing this improves posture. It comes with detachable straps.
Our Testers with larger breasts said this was an extremely comfy bra that stays in place for up to 12 hours. It makes your waist appear slimmer and encourages you to walk more upright, so your whole figure looks better. The fit is good and there are 3 adjustments in the hook-and-eye closures!
6. Best Tummy Control Longline Bra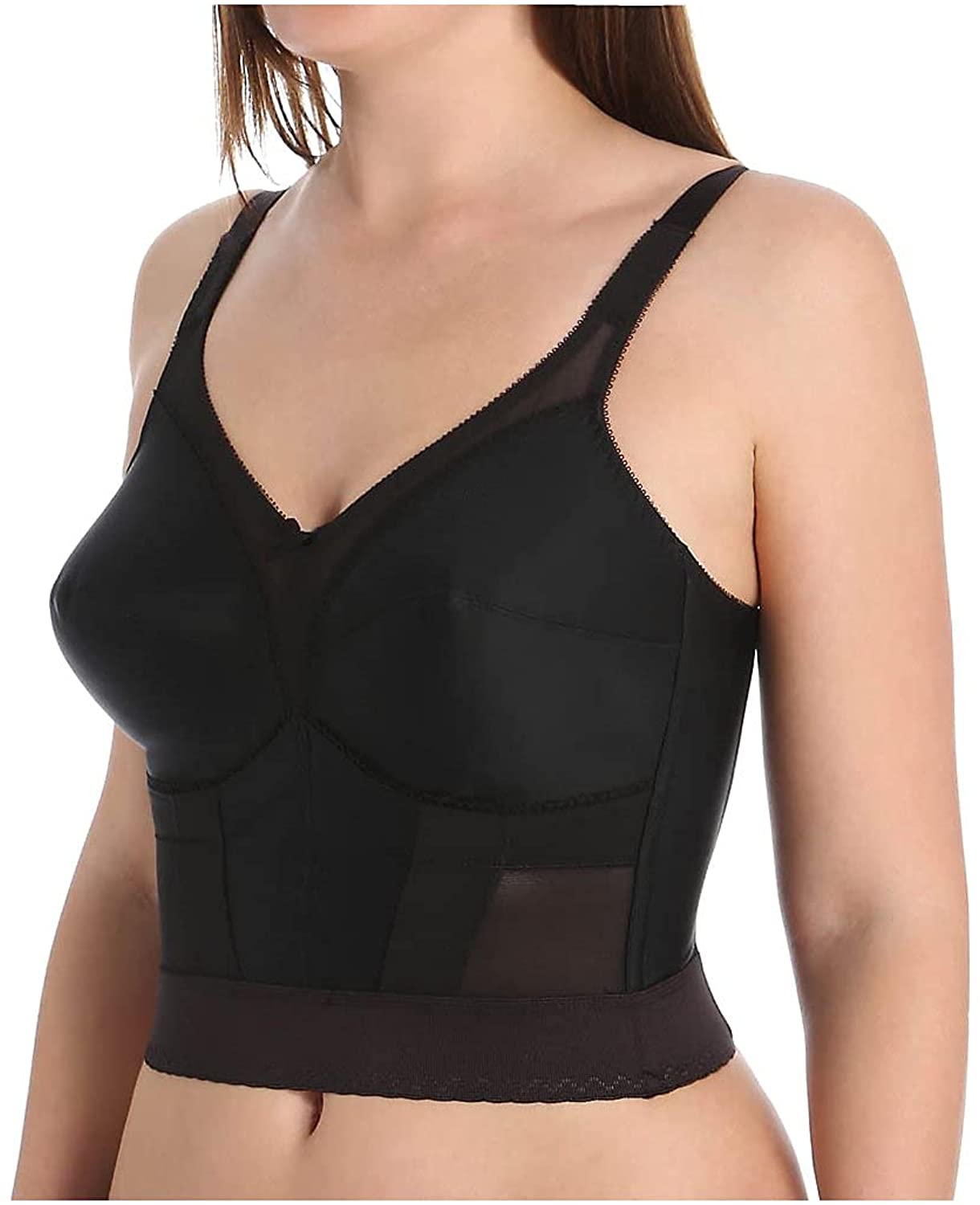 This classic longline bra has double-lined, unpadded cups and comfortable broader straps. It gives high support to heavier breasts from double-lined cups, and is streamlined under clothing. The front and side contain boning to cinch in your waist. And the 2" elastic waist band does not 'ride-up'.
Our Testers said that the cups fit well, although you may find them a little more pointed than modern cups. This very comfy bra gives great uplift to the bust and stays in place all day. The side boning helps you sit up straighter and avoid back pain. And it's popular for wearing with 50s/60s vintage-style fashions, too!
7. Best Zip-Front Longline Bra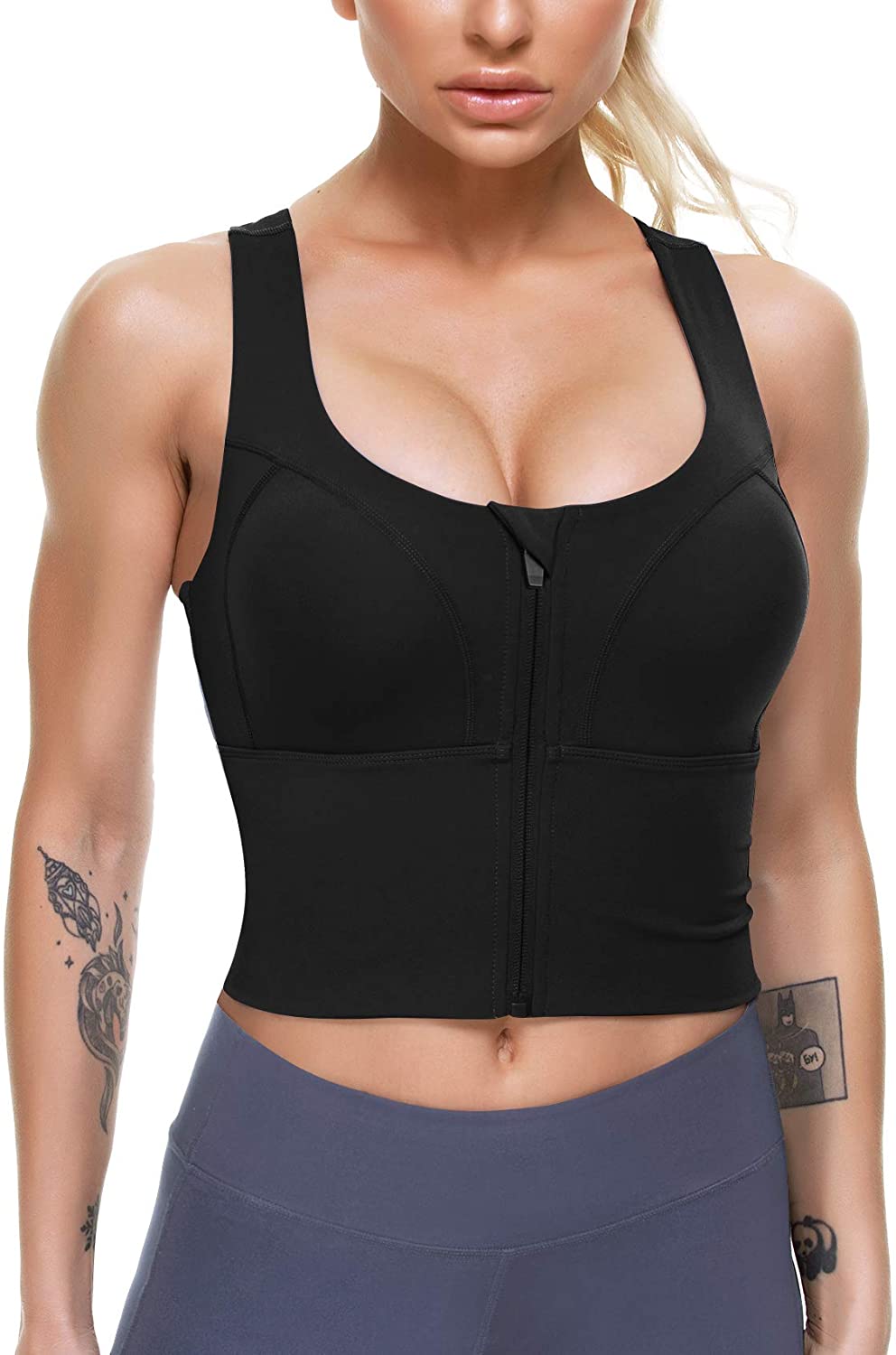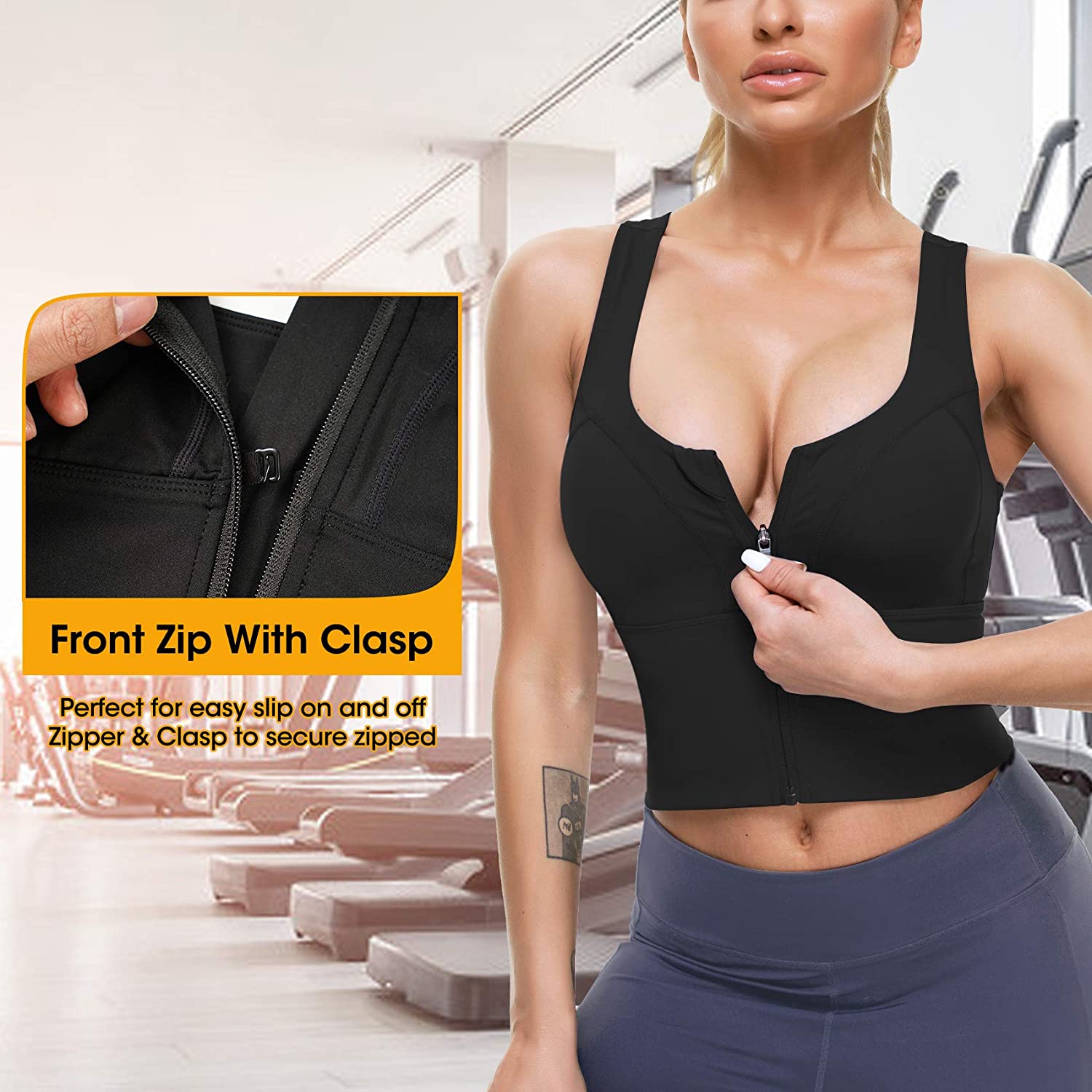 This front- zip closing longline bra is easy to slip on for anyone with restricted movement. The zip is secure and has an easy-to-use zip-tab . The straps are crossed at the back, so they can't slip off. And full molded cups, plus higher sides, give efficient bounce control and prevent bulges.
Our Testers said you get strong support from this for high impact exercise and running. They also said it is incredibly comfortable with very soft fabric. Keen runners said it keeps DD breasts in place and the fit is excellent. It can also be worn as a cropped top!
8. Best Front-Closure Longline Bra for Sagging Breasts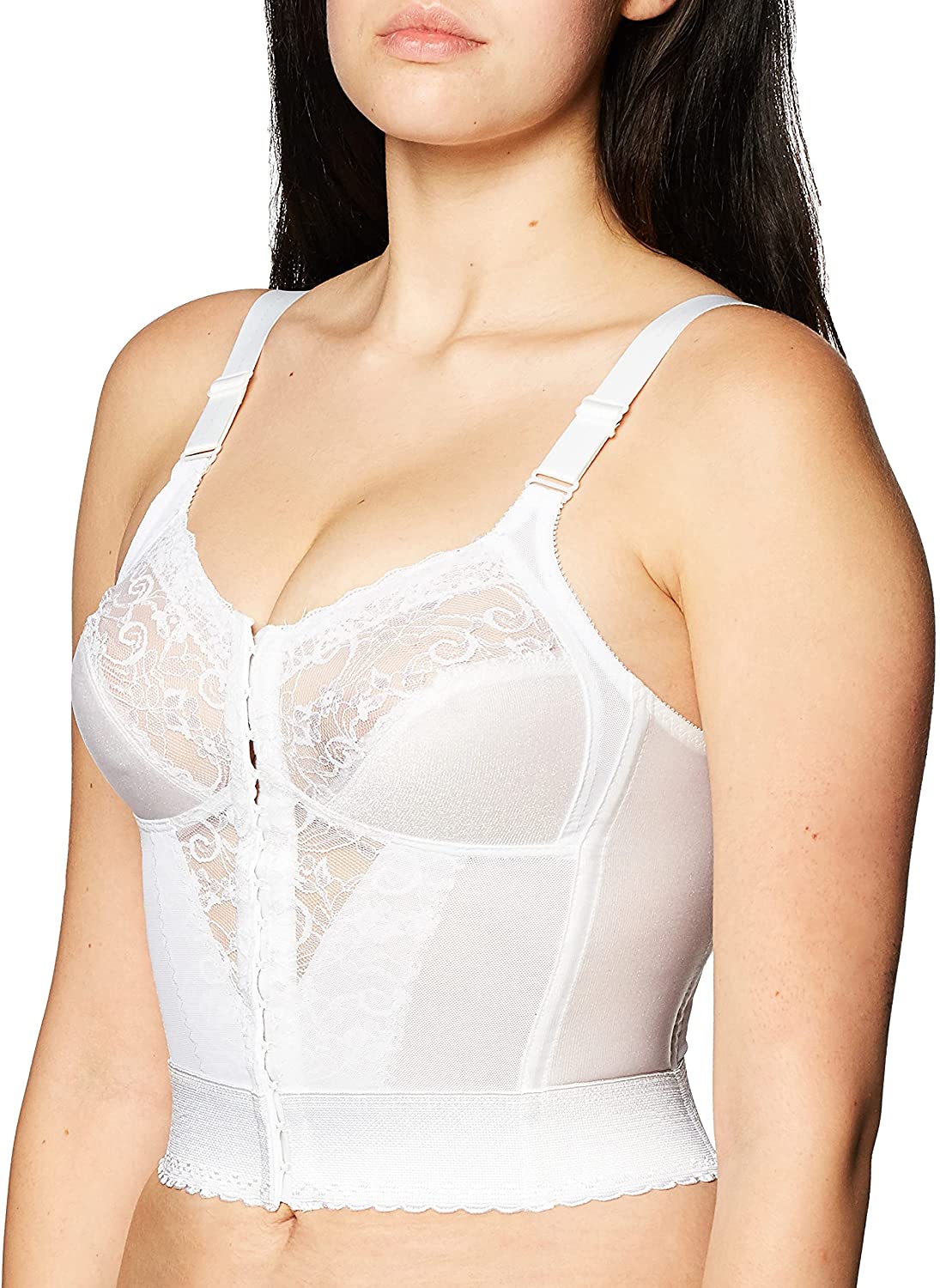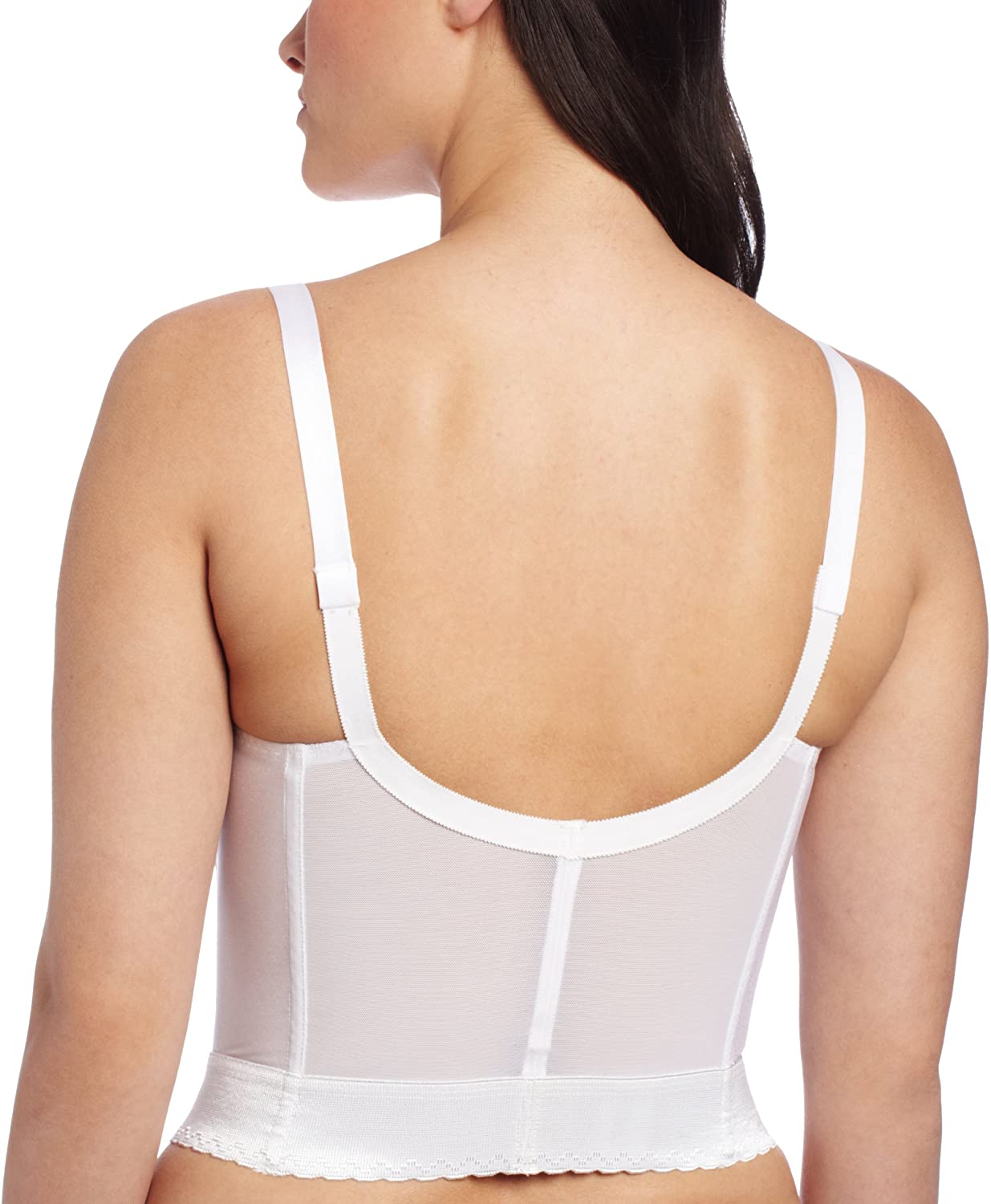 Our Testers said that this bra gives a vintage-bra bust shape, which means uplifted slightly pointed breasts. The straps are very adjustable from the front and are comfy, including for women with small shoulders. It's not suitable for wearing under thin fabrics, as the clips and cups show their outline. Great uplift for sagging breasts!
And for women who need strong support, front-fastening from a wire-free bra, this is a great option. The front closes with a line of hooks-and-eyes covered by cute, scalloped lace. The cups are double-lined, but not padded, for modest cover. And there's boning in the front and side which helps hold in your tummy.
So whether you want extra uplift, sturdy support, pain-relief, improved posture or a sexy, glam bra there's a comfortable longline bra waiting to hold your curves!
Have you worn a classic longline bra before? Or one of the trendy, cropped top sports bras? How did they perform and do you think there's a future for traditional, body-slimming longline bras! Let us know your thoughts about bras – we love to hear from you! 🙂