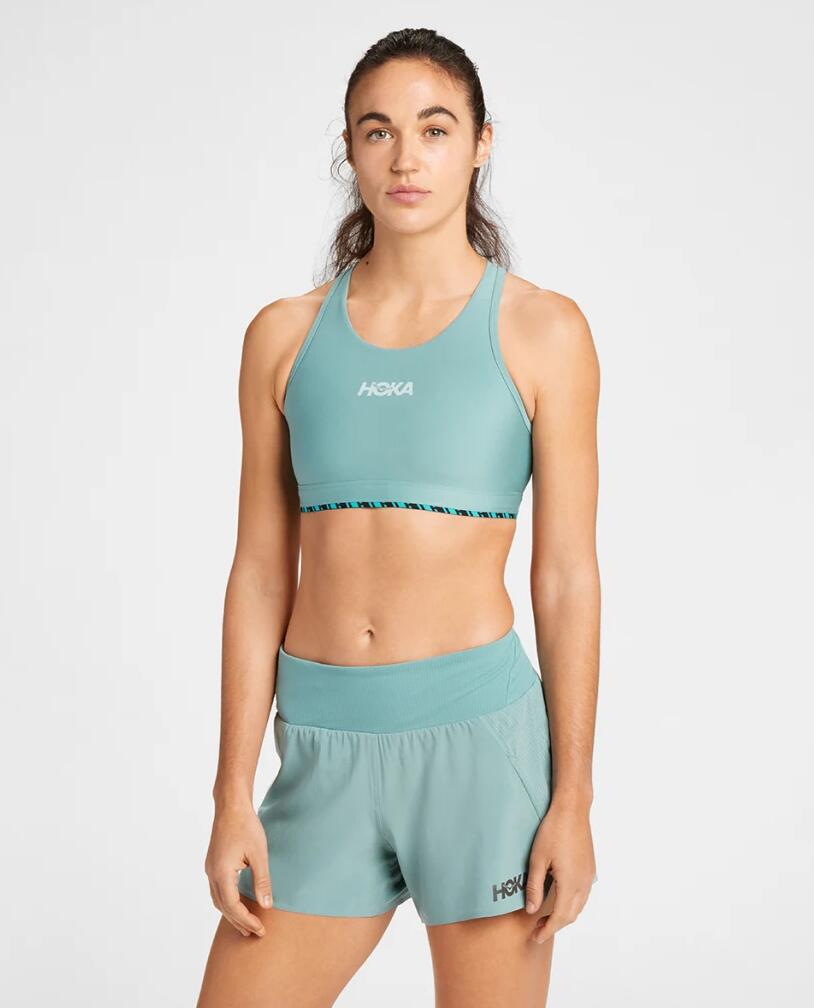 Let's start with the hardest challenge, how to choose sports bras for a large bust for high impact sports, like running. Whether you are just beginning to get interested in slow pace running or working your way up to a marathon, you know that you need the right bra or you'll be a non-starter!
Running involves high-impact, repetitive movement and that requires a bra that is extra-supportive and cuts down the 'bounce factor' to zero. Your sports bra must also be very comfortable, well-fitting to avoid chafing, and moisture wicking to keep you cool. And if you have a small chest, your breast tissue should also have good support during exercise.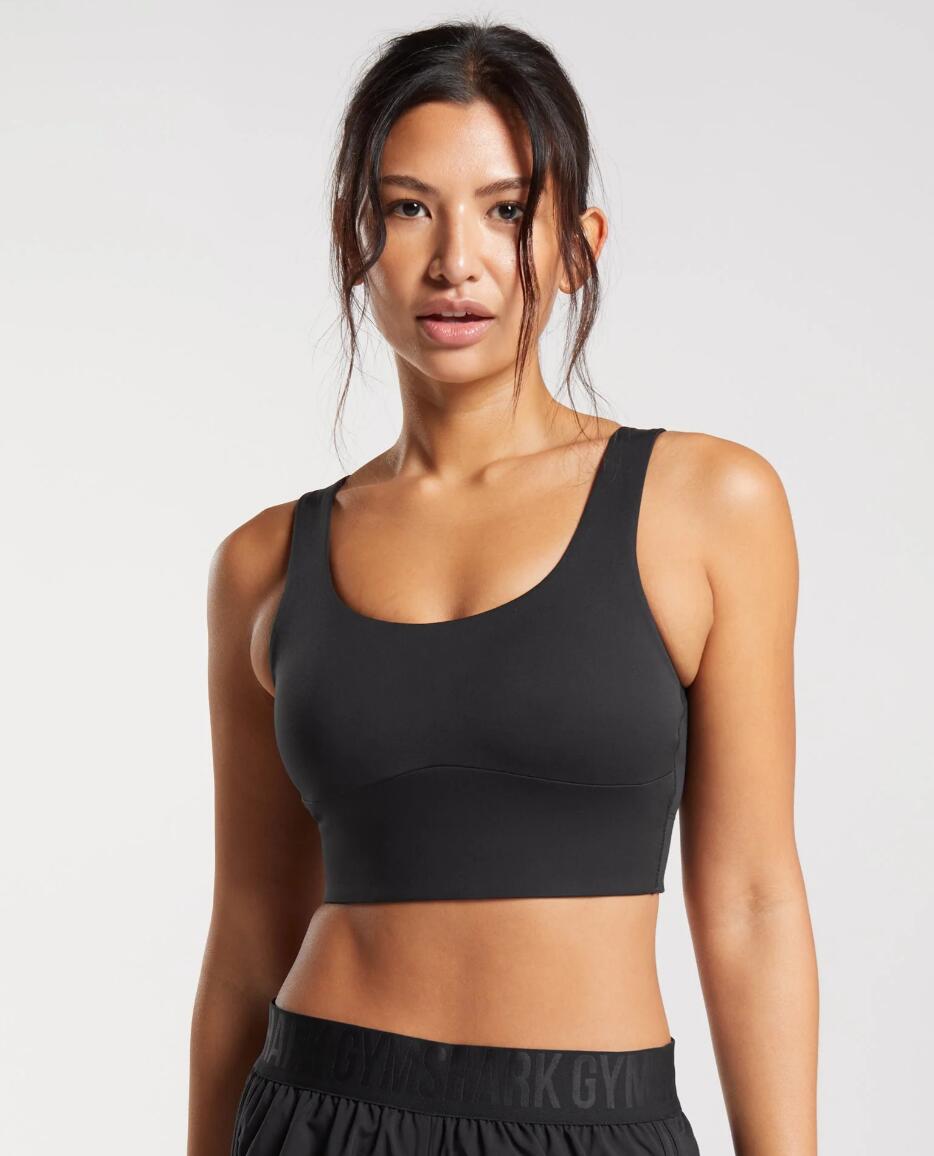 Sports bra styles for different bust sizes:-
1. Crop-top sports bras for A – C cups
The first thing to consider is the style that will give your chest the best support. There's quite a range these days, which does make it difficult to know what's best for your size and activity. However, it's true to say that compressive, crop-top styles are most useful to women with cup sizes ranging from A – C.
Crop top sports bras can be very stylish and suitable to be worn as outerwear. But they don't have a hook and eye clasp at the back, and have to be pulled on over your head. This is fine for smaller sizes, but anyone over a C cup really needs a hook-and-eye or zip fastening bra to get the close-fit to the body required to support the weight of your bust.
2. Encapsulated sports bras for larger breasts
Those who have larger breasts will be better served by an 'encapsulated bra', which has two separate cups like an everyday bra and offers more support.  Encapsulated bras with padded, broad straps are the most popular amongst sporty women with large breasts. And in addition to the supportive body-band, they usually have a traditional hook-and-eye fastener or a zip-up front, for the best fit.
3. Underwired or wire-free sports bras
Next you have to consider whether you prefer a supportive underwire style, or a wire-free design. Some women just can't tolerate an underwired bra owing to either a poorly-fitting bra or the fact that their body just isn't the best shape to accommodate underwired cups.  And there are a number of good sports bras to cater for wire-haters, with a small to medium bust.
4. Avoid the uni-boob effect
But for women with larger breasts, an underwired bra is the one that will give you the most support and comfort. You'll also get a more natural and flattering shape, with separate cups instead of a uni-boob effect. And then you need to decide between molded or padded cups.
Molded cups give a modest silhouette, especially for outdoor activities in cool weather. But you can also choose molded-cup, sports bras with removable padding to help you get your most flattering look.
And you can always remove the padding if you don't want or need it.  So you can get a natural contour that follows the line of your bust with a molded cup. But padded sports bras are fine for small-chests and give your overall figure a more balanced proportion.
5. Getting the best fit
The whole point of a high activity sports bra is to eliminate all movement of the breasts, whether up and down or side to side. And this is because apart from being painful and embarrassing, it can easily lead to damage to your breast tissue.
So make sure that the sports bra you choose is snug-fitting, without being so tight that it cuts into your skin, affects your breathing or causes friction.  The band must be close-fitting, as most of the weight of the breasts will be transferred from the body-band onto the ribs. And a good way to ensure you've picked the correct size is to see if you can slide just two fingers under the band.
Next, you should check the rest of the bra by raising your hands above your head to see if the band rides up. And if it does, this is not the bra for you. And finally, try jumping up and down to ensure your breasts aren't spilling out of the top of the cup. Try not to rush your sports bra shopping, as you need to spend more than a few seconds trying on each different bra.
What support level should I choose?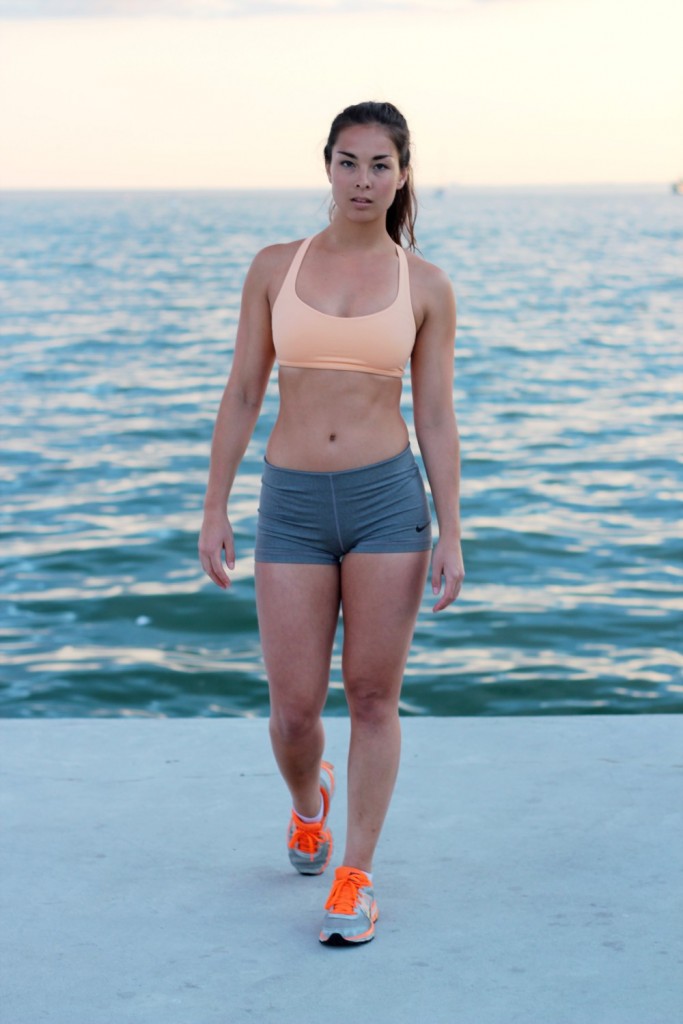 This goes by the type of activity you will be doing and your cup size. Sports bras are available in three separate support levels: low, medium and high-impact.
1. Low – Medium Impact Sports Bras
Low-impact activities include: walking, strength training, Pilates and yoga
Medium-impact activities include: hiking, dancing, cycling and ski-ing
Sports Bra design – Low to medium-impact sports bras usually consist of one wide breast cover which does not have normal bra cups. They use compression to press the breasts down onto the chest and this stops movement in a comfortable way.
2. High Impact Sports Bras
High impact activities include: aerobics, mountain-biking and running
Sports Bra design – High impact bras look more like your normal bras and have two separate cups. They use 'encapsulation' and 'compression' to prevent any movement of the breast tissue in a comfortable way. High-impact sports bras often have under-wiring, too.
Fitting-room checklist
Just as you have to kiss a lot of 'frogs' etc. – you may have to try on a number of different brands and sizes to get your perfect fit! So here's a quick reminder of what you need to look for:-
No wrinkles: Any wrinkles in the fabric of a bra cup are a sign that it doesn't fit you correctly and is too big. The cup fabric should always be smooth. And on the other hand, if your breasts are spilling over the top, the bra cup is too small.
Mind the gap: Correctly-fitting underwires lie flat to your ribs, underneath each breast. And they should never dig into your skin.
Adjust the straps: You should always adjust the straps of a bra before and during the trying on session, but sometimes we forget to do that. And when you get home it sometimes doesn't fit as well as you thought it would. So take the time to adjust the straps to your body and check if the straps are broad and cushioned enough for your cup size.
Check the body-band: Lift up your hands over your head and if the body-band moves up, then it's too large. You may just need to adjust the straps or tighten the back hook-and-eye fastener. Or you may need a larger band size.
Close-fitting but not tight: Sports bras need to be a slightly tighter fit than your normal bras, but they should not affect your breathing.
Move around: Before you buy a sports bra the final test is jumping up and down, swinging your arms and touching your toes. If your breasts move around or you feel discomfort, try another style or size.
How long does a sports bra last?
A good quality sports bra can last as much as 35 – 40 washes, although the elastane part of the garment may well loosen a little with each wash. As soon as your bra begins to chafe and irritate your skin, you should buy a new one.
What's the best way to care for a sports bra?
The best way to wash a sports bra is in cold water with a little detergent. Do not add fabric-softener or bleach to the water as this will speed-up the loosening of the elastane. And never put a sports bra in an electric-dryer as the heat will also damage the elasticity of the garment. Dry your sports bra flat on a clothes-airer.
Fortunately, there's been a lot of research and development into sports bras during the last few years, as more women realize how much our health depends on taking regular exercise. There's a good range of styles designed for every shape and size from extra-small to plus-sizes. And there are still plenty of affordable, good-quality bras, as well as the highly-priced famous brands, to keep you secure and comfortable as you work-out and stay healthy!