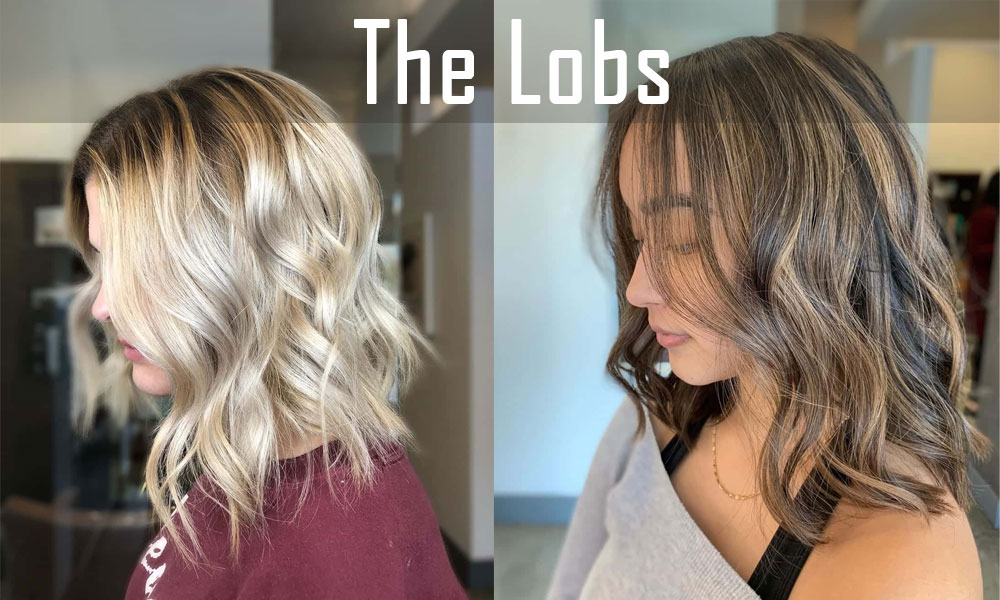 The lob–the long bob–is a flattering in-between haircut for hairstyles that aren't quite long but are slightly too long to be classified as a classic bob. Lobs are the perfect in-between haircuts for any woman who's growing out her hair. They're also a great compromise for long-haired women who wants to crop off some length without going too short.
Whether you're growing out your hair or just chopped it off, keep reading if you find yourself in the lob stage. Check out these lob ideas for in-between haircuts for inspiration if you need some ideas on how to cut and style your long bob.
1. Curly Brunette Lob
If you're looking for an easy hair look that keeps it natural, look no further than this curly brunette lob. This all-over brunette bob hairstyle is perfect for women with naturally wavy or curly hair types.
You can rock this lob while leaving your hair natural every day. However, you can also style this cut to be curly or pin-straight if you want to pull off a more sleek and styled look.
2. Blonde Lob with Shadow Root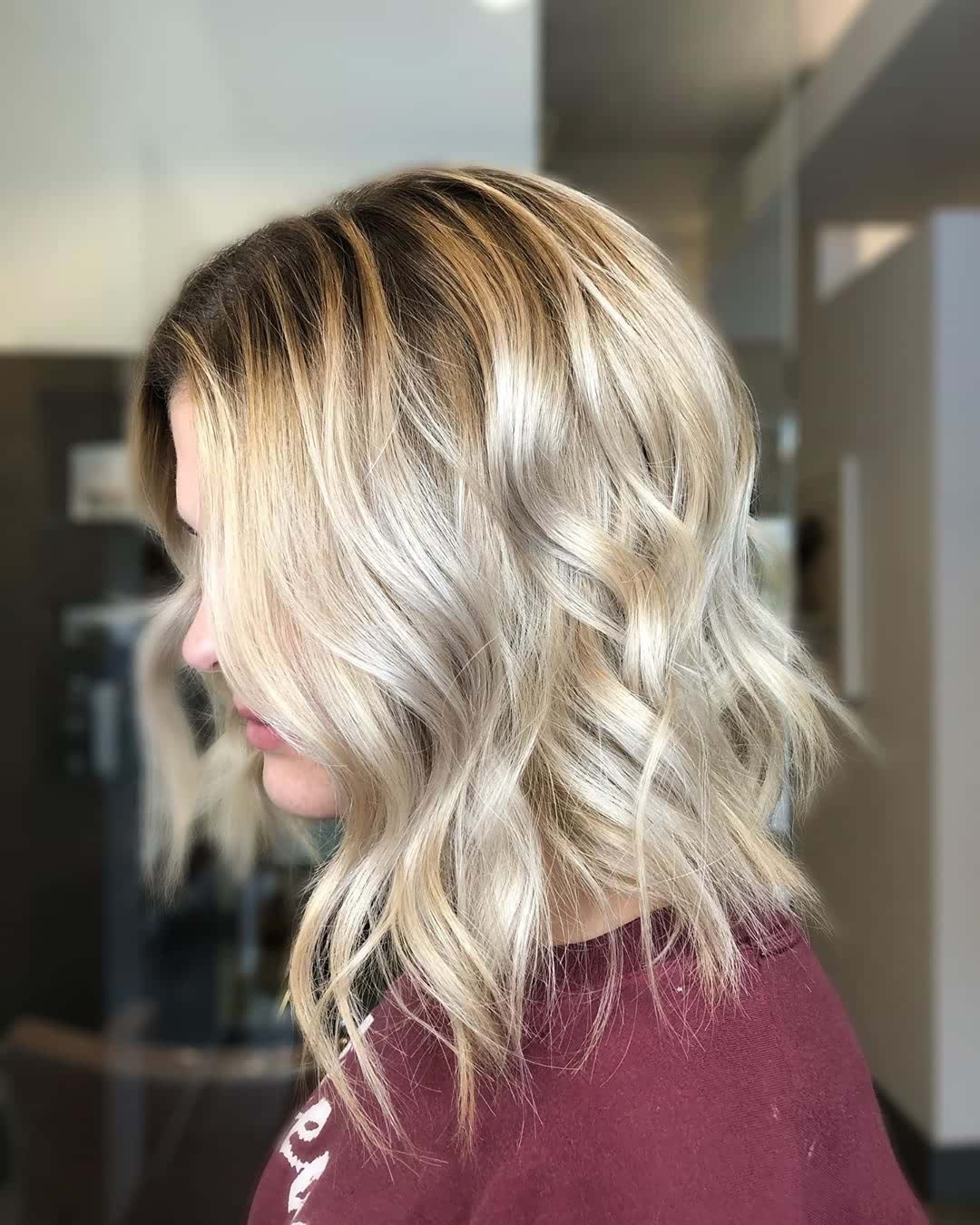 You can pull off blonde hair while keeping your roots natural, as this ultra-low-maintenance blonde lob proves perfectly.
This blonde lob features bright platinum ends and a shadow root that lends a natural finish to this hair look. Its deep brunette shadow root blends seamlessly into its bright blonde ends with seamless results. The dark brown shadow root of this blonde lob also extends the amount of time you can wait between salon visits for root touch-ups, which is always a plus.
3. Brunette Lob(long bob hairstyle) with Honey Blonde Highlights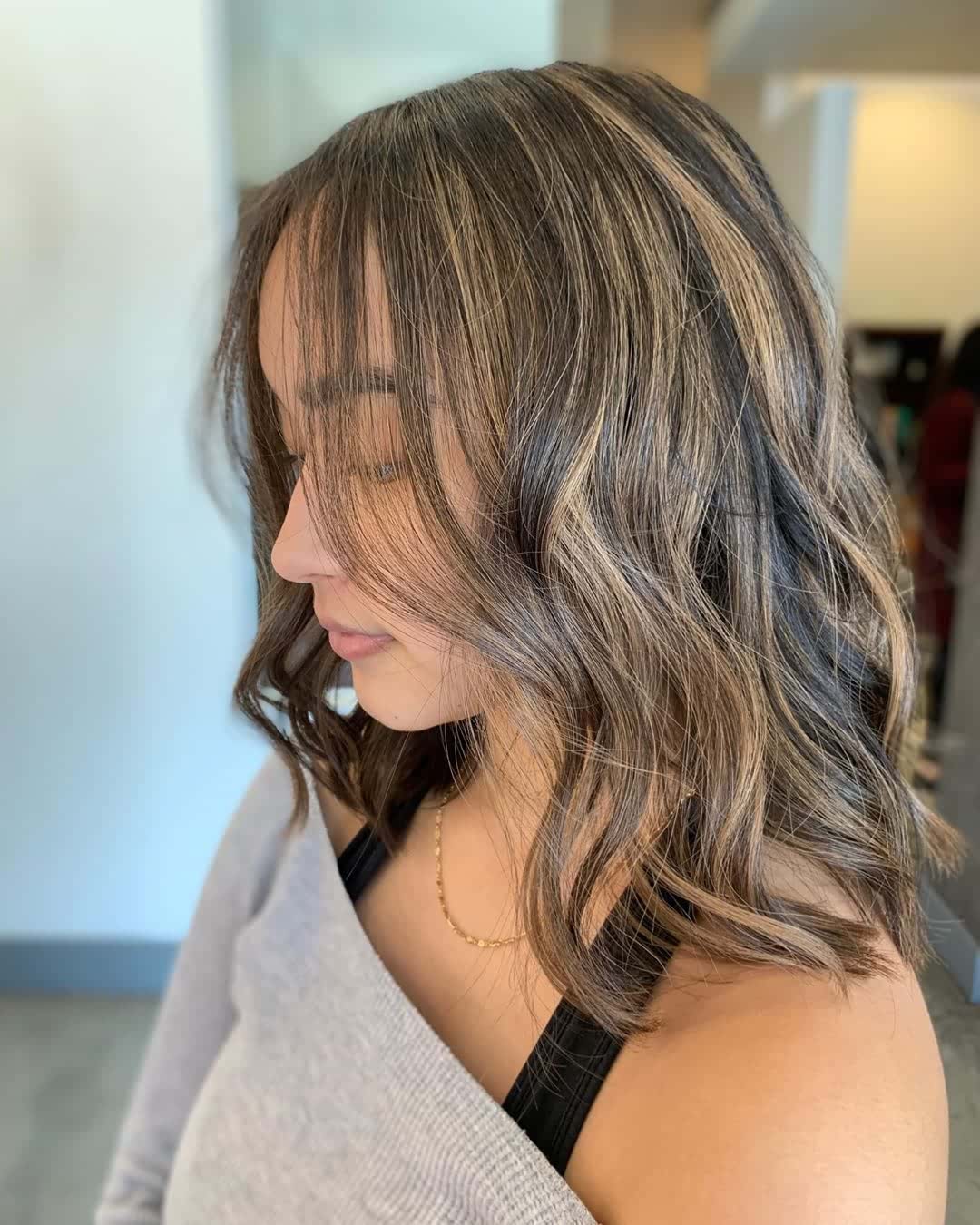 This lob falls slightly past your shoulders and is perfect for women with naturally wavy or curly hair types. It is a flattering cut for brunettes with a multi-dimensional finish that ties in some blonde without causing too much damage to your natural tresses.
The brunette base of this lob gives this hairstyle a natural-looking finish. Honey blonde highlights brighten up and add more dimension to this lob.
4. Strawberry Blonde Lob (long bob) with Balayage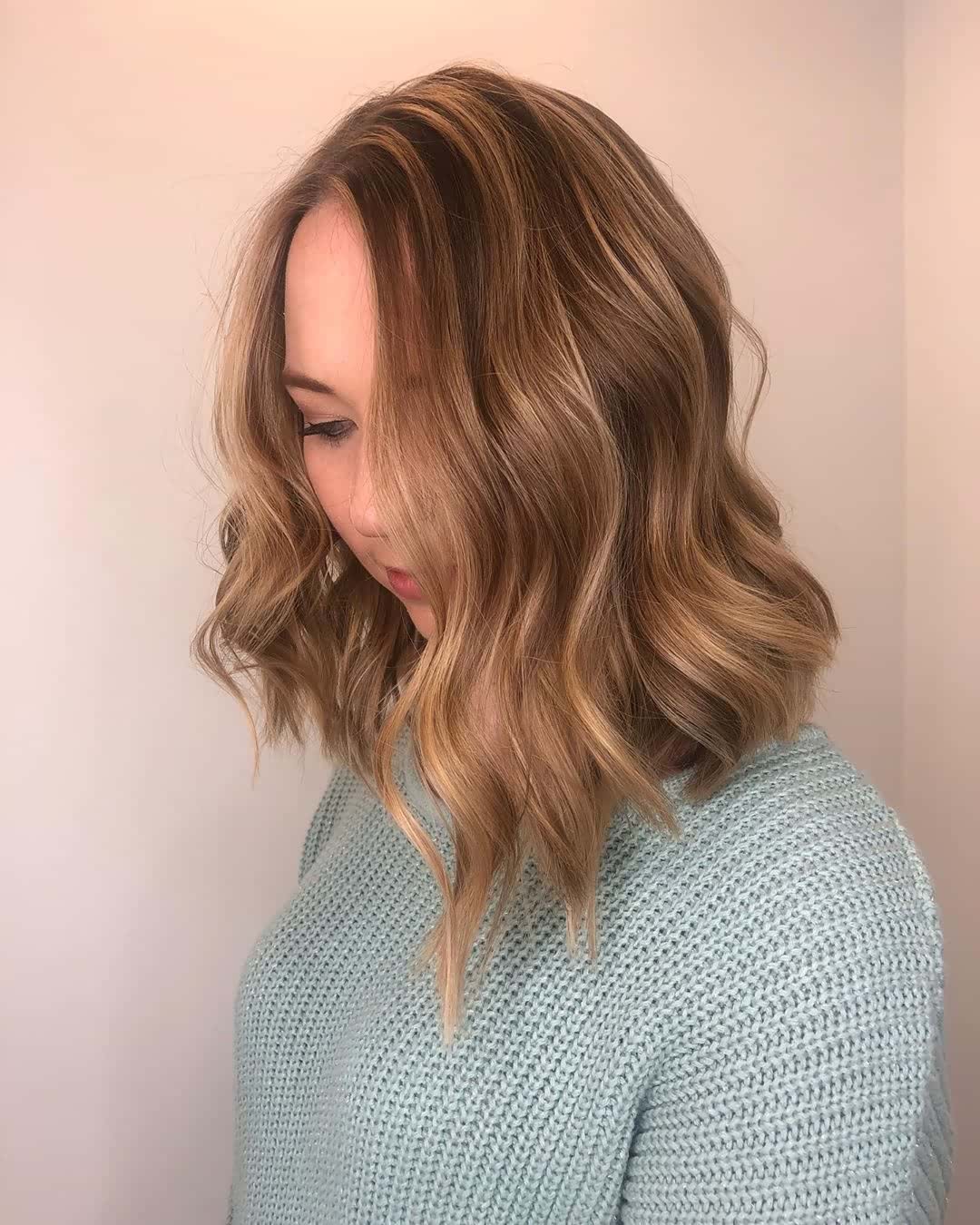 Strawberry blonde can be a tough color to pull off, but this gorgeous strawberry blonde lob with balayage shows how to rock it effortlessly.
This strawberry blonde lob features balayage that blends together warm strawberry and honey blonde tones with bright, seamless results. This bob haircut is especially flattering for women with skin that has natural warm undertones. The lobs are ideal hairstyles for shoulder length hair.
5. Platinum Blonde Lob with Balayage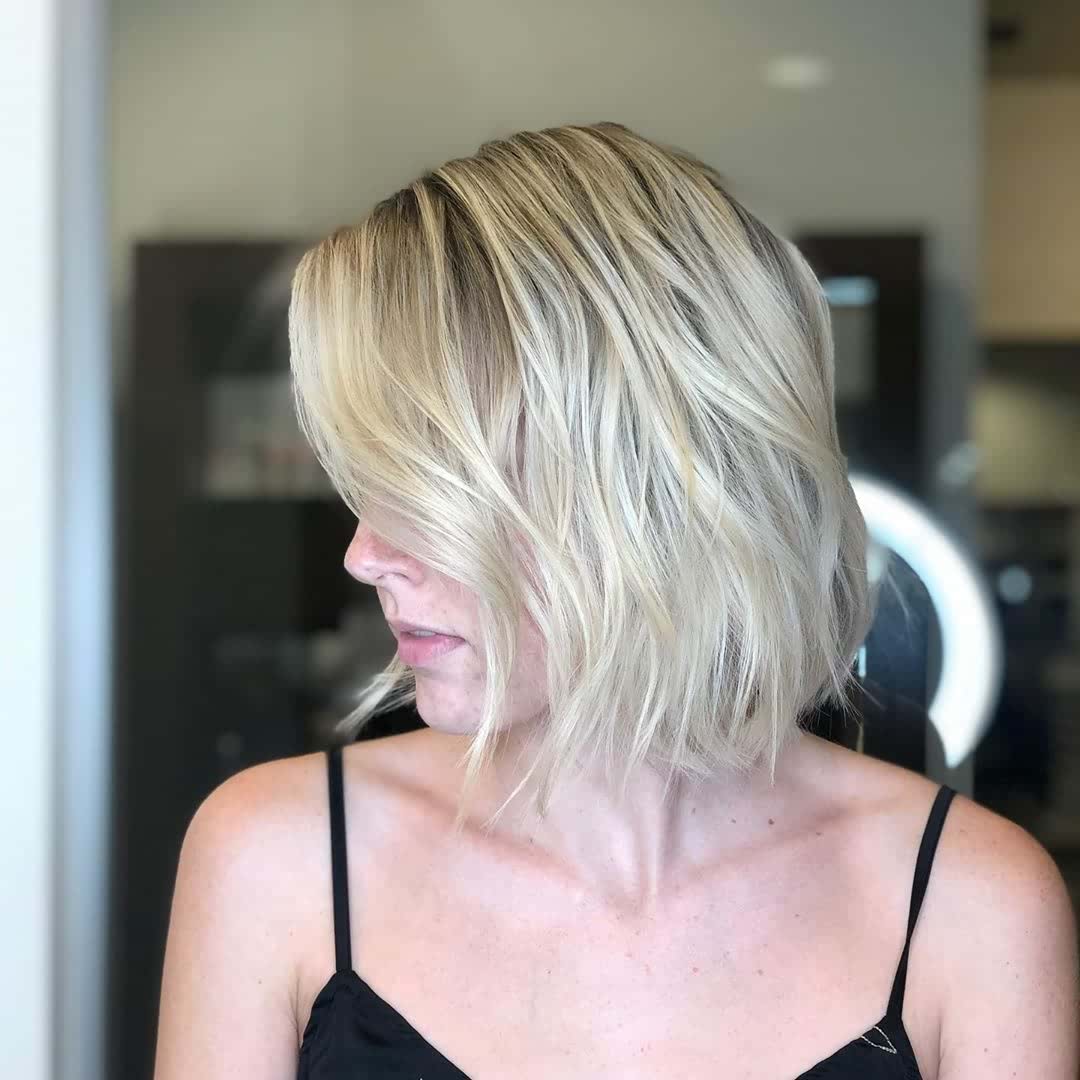 This flattering platinum blonde lob is perfect for women who want to go blonde but are worried about looking fake. It is light and bright, but it somehow doesn't look unnatural or stick out like a bottle blonde.
Instead, it manages to maintain a natural-looking finish that makes this bright blonde hair look like it grew right out of your head. Subtle balayage blends deeper brunette tones into this platinum blonde lob, which helps this hair look appear more natural.
6. A-Line Brunette Lob with Balayage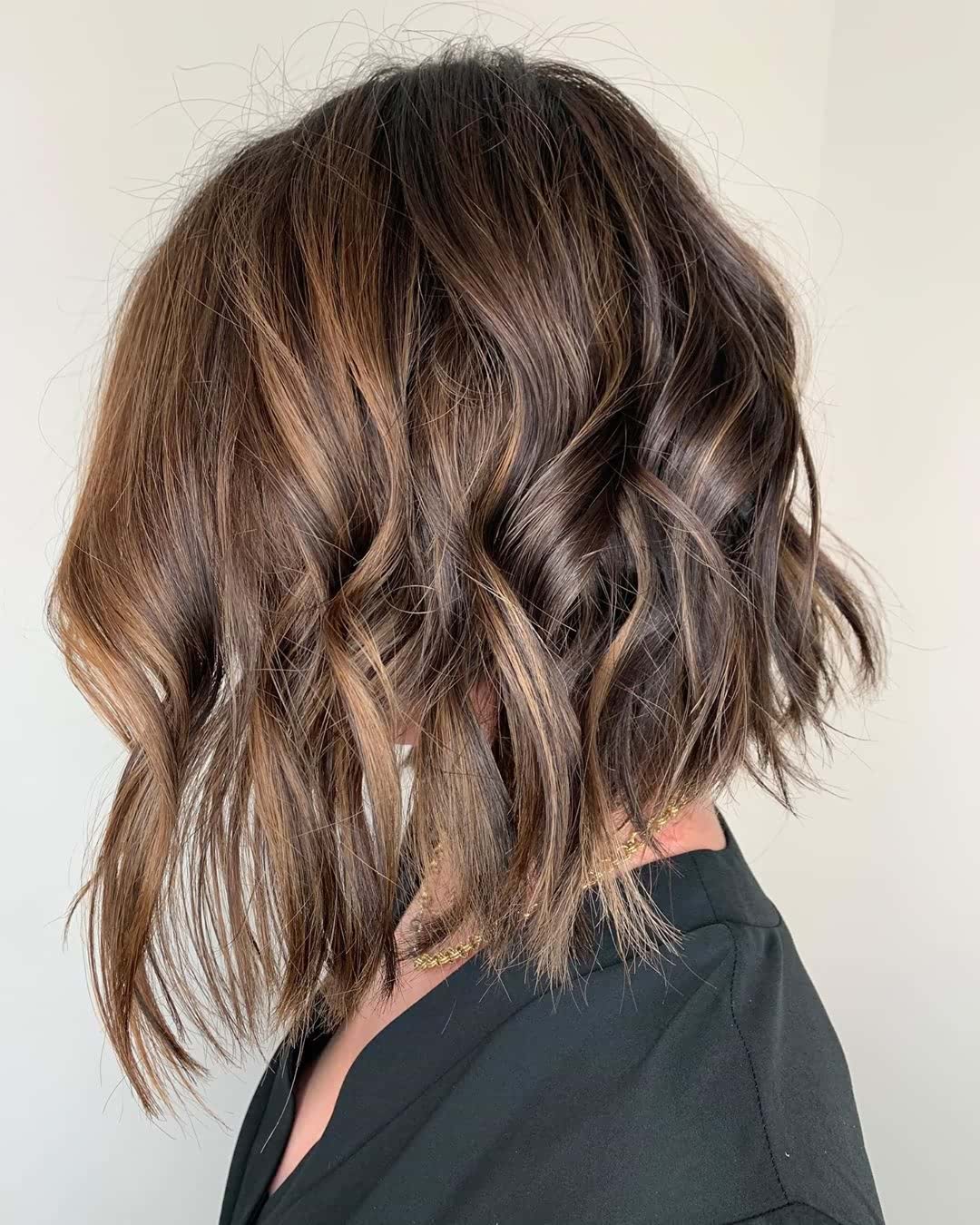 This brunette lob is a sharp A-line cut that follows your jawline to flatter your facial features. Its back layers barely brush your shoulders, but its layers in front fall an inch or two past your shoulders in angled layers.
This bold A-line brunette lob also features honey blonde balayage that brightens up this hair look and gives it more natural-looking dimension.
7. Cool Blonde and Brunette Blunt Lob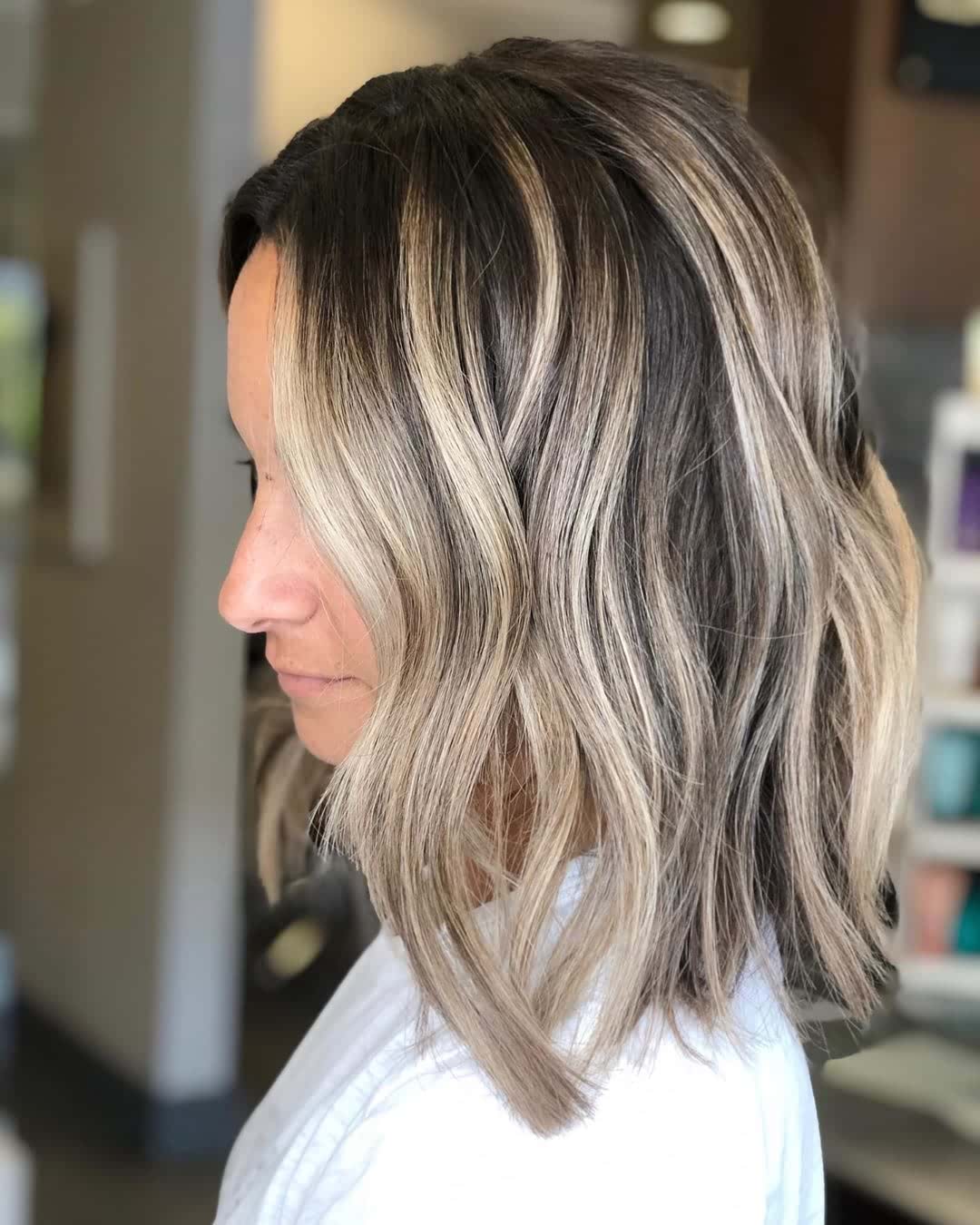 This blunt lob is a bold cut that blends together contrasting colors with the most amazing results.
It features multiple shades of cool blonde and ash brunette and blends these shades together seamlessly in this gorgeous balayage style. Balayage gives this hair look dimension and its blunt layers give it a bolder finishing touch.
8. Brunette Lob with Blonde Balayage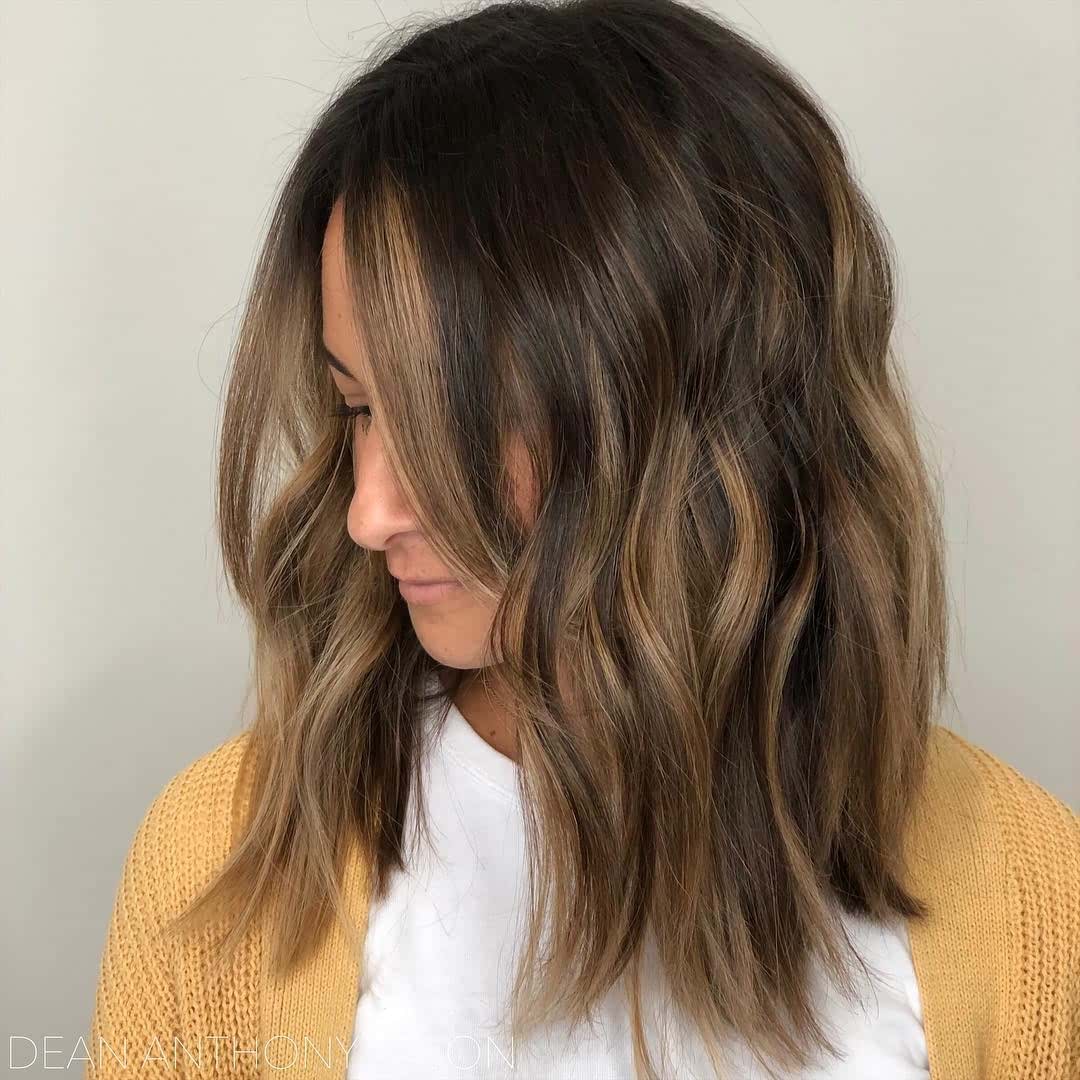 This long bob is still squarely within lob territory, but it's definitely creeping toward a classification of long hair. That makes this long lob perfect for women who want to try a shorter cut but aren't sure they want to chop off enough for a shoulder-length or even slightly-below-shoulder-length cut.
Featuring honey blonde balayage, this brunette lob is bright and fun while maintaining a natural-looking finish. Its warm tones are especially flattering for women with skin that has natural warm undertones. And here are more hair color ideas for bob cuts.
9. Subtle A-Line Brunette Lob with Highlights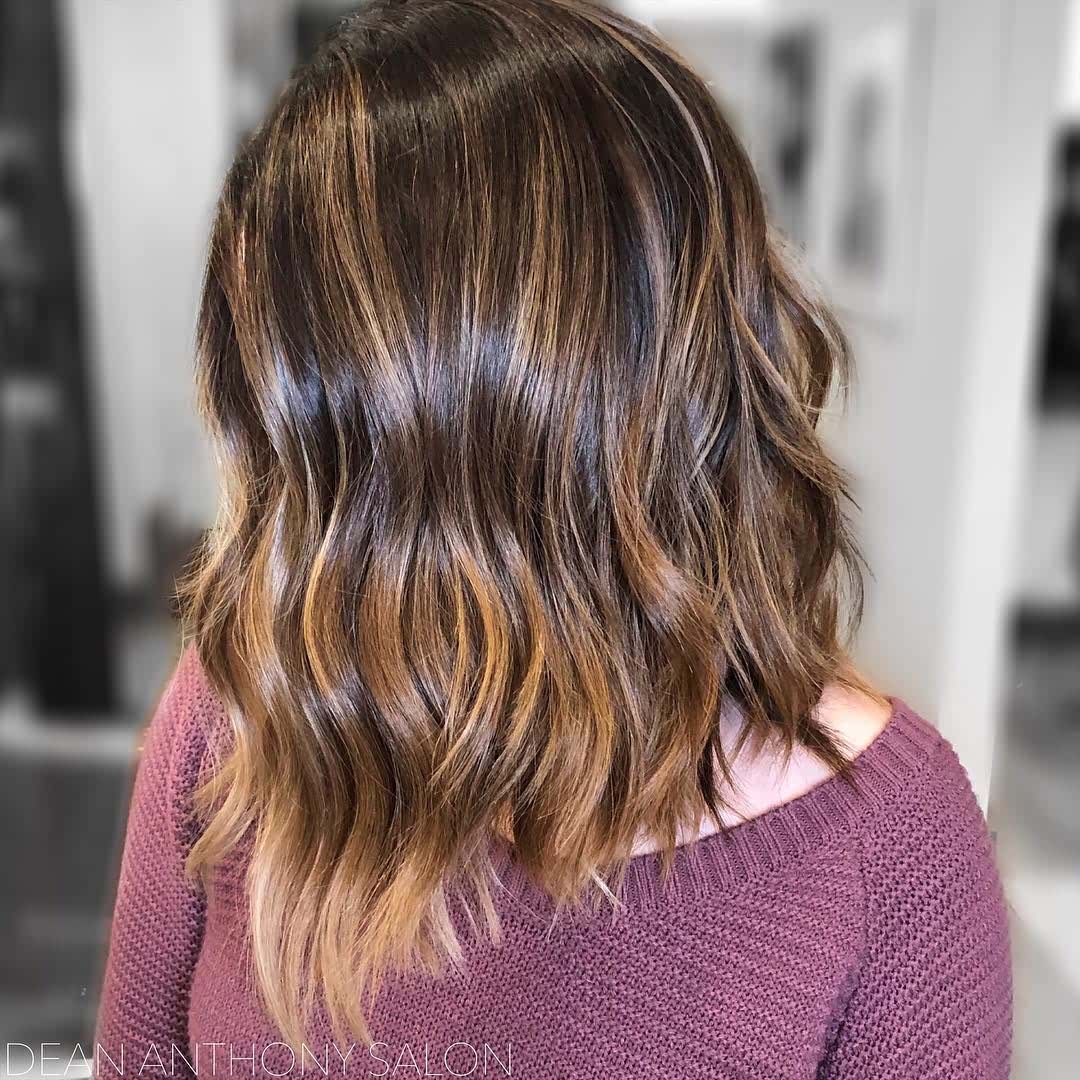 This elegant brunette lob is an A-line cut that features subtly angled layers. Its back layers reach down to your shoulders while its layers in front extend down another inch or two.
The base color of this brunette lob is a rich, deep brunette. However, this lob also features honey blonde highlights that give it a bright, luminous finishing touch. Plus, these highlights add flattering dimension to this subtle A-line brunette lob.
Don't like lob? Here are more classic and trendy bob hairstyles for you to choose from.
Styles: Dean Anthony Salon
Address: 5287 e. 2nd St. Long Beach, CA 90803
Phone: 562.434.3326