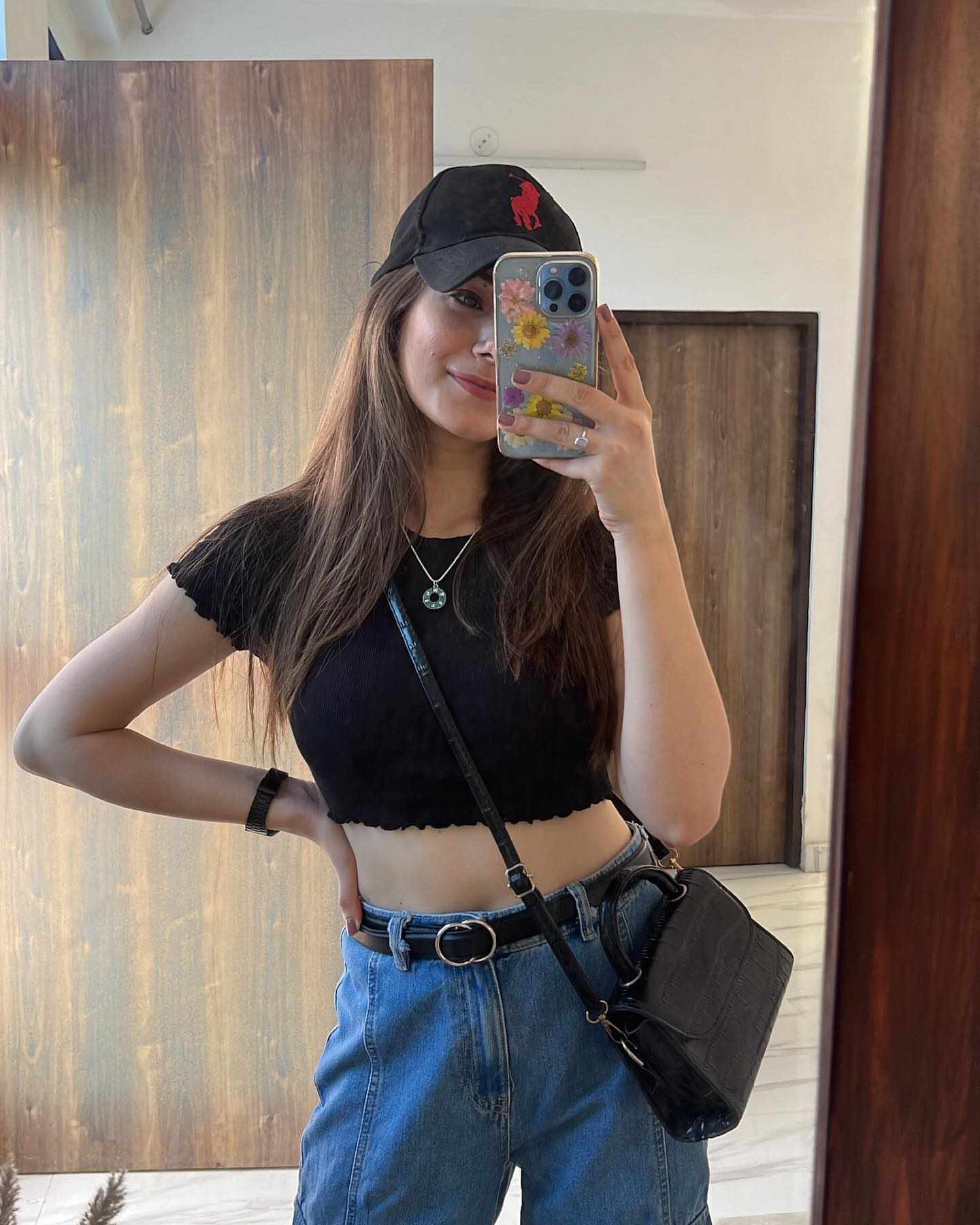 What to Wear on a College Campus
If you're moving on to college this year, you'll probably be preoccupied with choosing the best casual college outfits to wear in your crucial first year!
Wearing the right outfits can affect how quickly you make new friends and help you fit into groups that share the same interests as you.
Changing from high school to college is one of the biggest changes you'll experience in your life and signals your progress into adulthood.
And that can be rather daunting if you're not sure what to expect, or how to dress to create an image that will help you fit in with your new colleagues.
Lots of freshmen want to elevate their current style and reinvent their image to take advantage of having a totally new start in a fresh environment!
And that's a great idea.
But before you browse these fabulous Casual College Campus outfits, let's just run through what not to wear in college:
Don't wear heels to a college frat get-together
Don't wear leggings when you want to look professional – no matter how smart your top or jacket may be
And avoid the new school T-shirt and lanyard combo in your first week as it will mark you out as a newbie
Apart from that, the best casual college outfits are comfortable, as well as appealing, as you'll be doing a lot of walking across campus to get to your classes.
Starting a college campus capsule wardrobe
The best way to get started is to put together a capsule wardrobe that will cover all the different social settings you'll be involved in.
Lectures, parties, loungewear, formal events and interviews for internships all need to be considered.
And all fashion experts agree there's a new level of interest in attending social events wearing eye-catching, statement styles, following the years when we were all confined to home.
So that means you can be daring and take bold style risks, if that is your personal style or something you'd like to experiment with.
However, there's still a place for the right sneakers, the best-quality leggings and new ways to wear your comfy sweat-pants.
So you can re-style lots of your current wardrobe with my up-to-date gallery of this year's best casual college outfits ideas!
Now read on and learn how to be super-stylish and chilled throughout your first year and you'll never feel stressed about what to wear on your college campus!
1. Graphic T-shirt & Flirty Mini-Skirt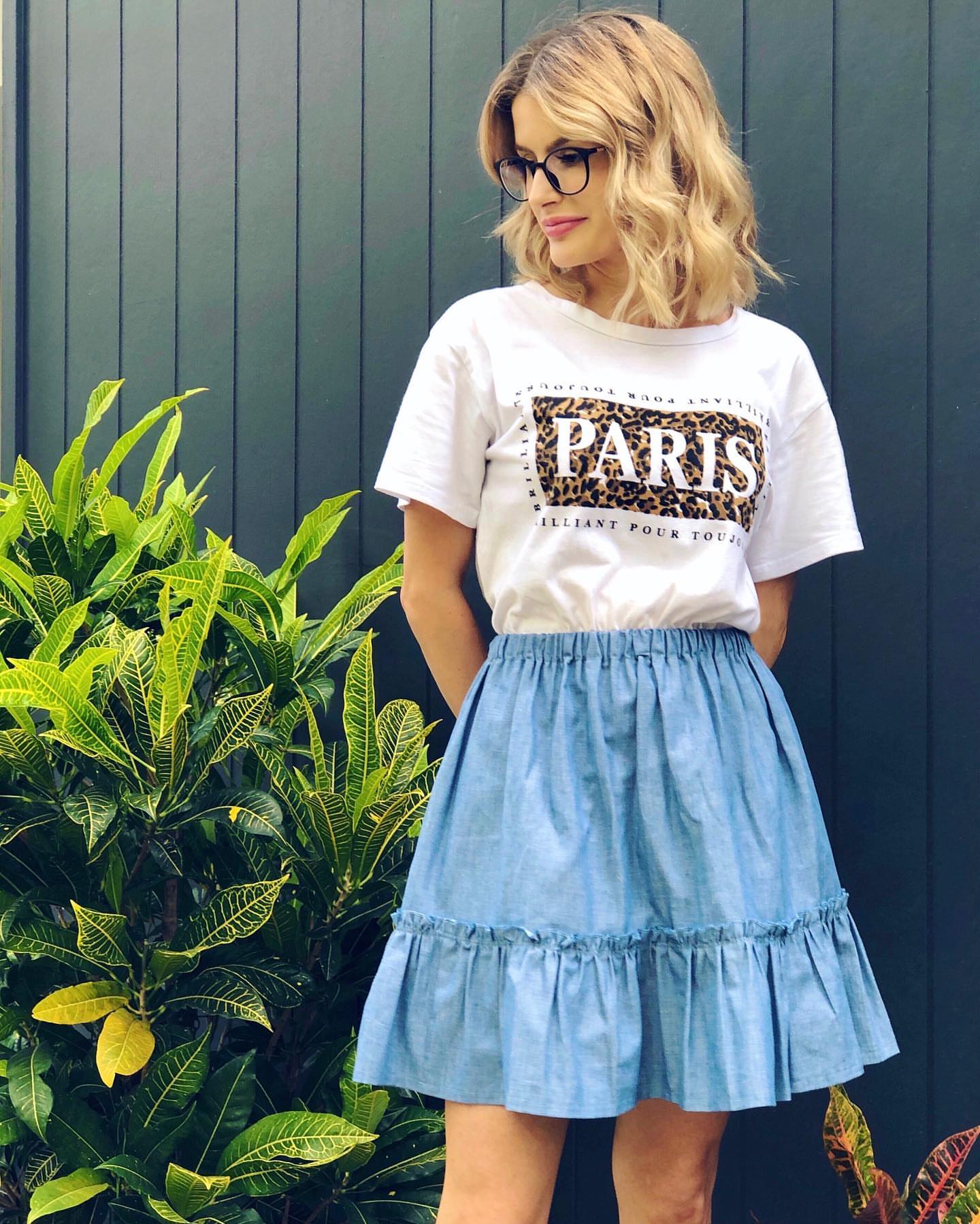 This is a typical outfit for this year as it mixes up a number of different trends in a harmonized way.
The graphic T-shirt adds a touch of French chic that matches with the studious look of the black spectacle frames.
But the fine-denim dirndl skirt is young and flirty, so you can project an image that says you have brains and sex-appeal!
Wear with white trainers and trendy socks to keep the look casual.
Style tip: Separates like these can be mixed and matched with lots of other garments, so buy the best quality you can afford and you'll get great value for money from them.
2. Stone-Colored Wide Trousers & High-Neck Sweater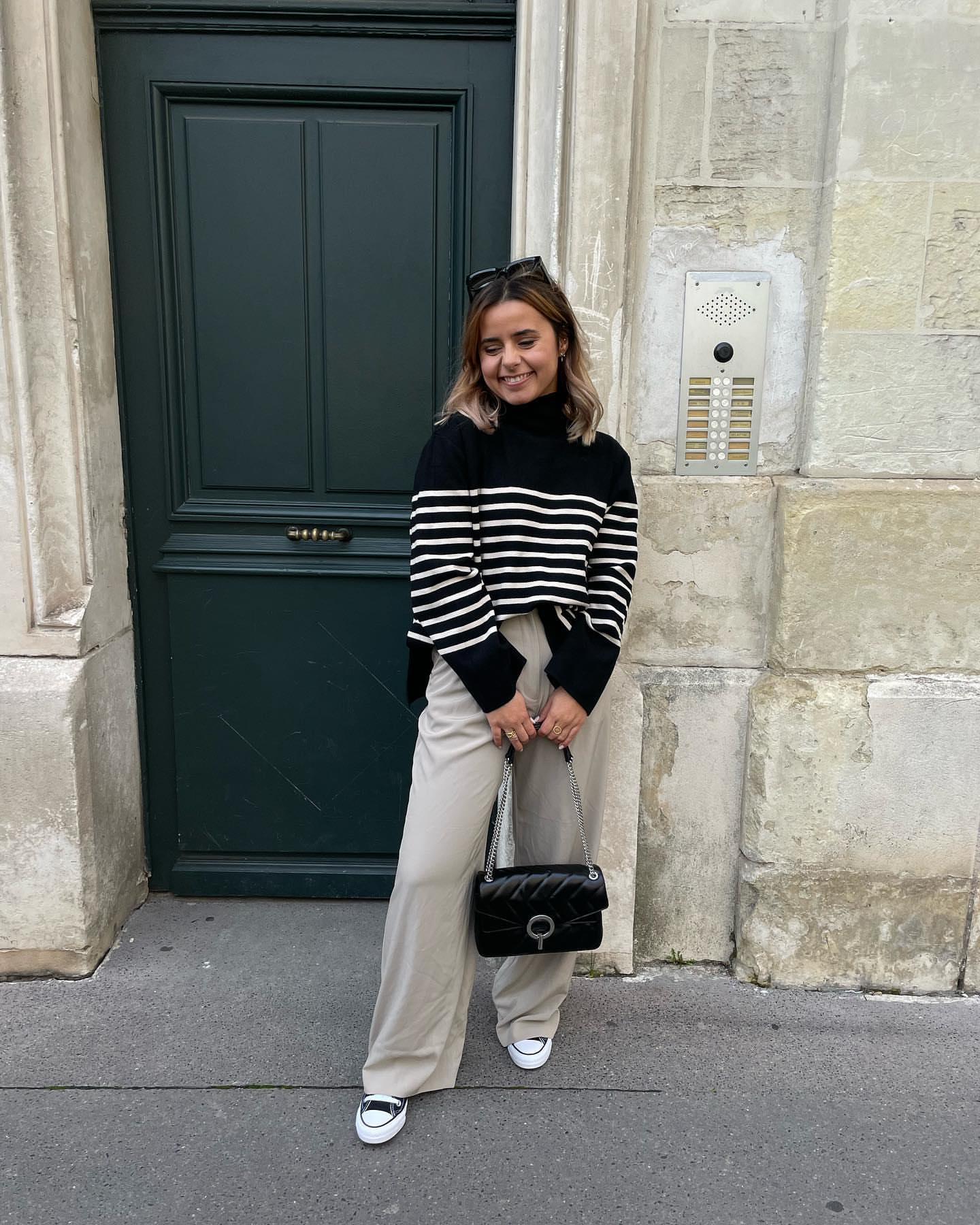 As college campuses are one of the main places to see new fashions, there'll be plenty of wide-leg trousers on show.
Elevate you look with an elegant black and white striped sweater, with a trendy high-neck to keep you warm and comfortable in cool weather.
A quilted handbag with a chain shoulder strap is the most popular bag for this year, and a neutral black version will match with everything.
Vintage basketball boots always look smart and are a durable and affordable choice of footwear on campus.
Style tip: Wide-leg trousers need a top that's tucked in all round, or just a French tuck at the front, otherwise they will make you appear shorter and wider.
3. Chic Leather Jacket with Jeggings & Socks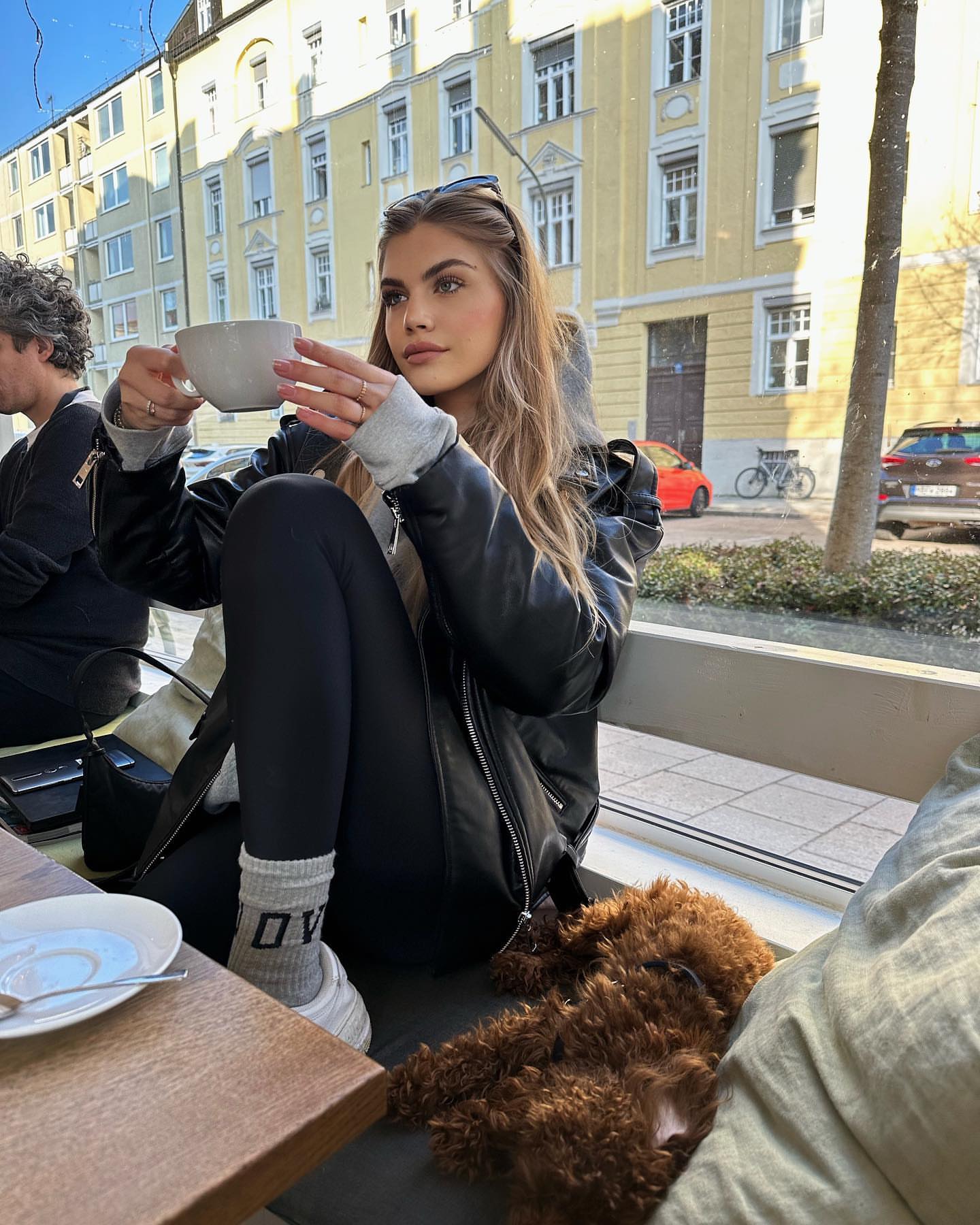 An oversized black leather jacket over a gray hoodie is always a trendy look on a college campus.
And matched with black leggings, socks and sneakers complete a cool, casual look that's always at home on campus.
Short socks have made a fashion comeback for this year, especially as tights as less popular.
They keep your feet warm and add a nice, quirky touch to lots of different outfits!
Style tip: Don't go overboard on the oversized trend if you are petite, as it will just completely swamp your figure. Look for a more fitted leather jacket style.
4. Trendy Ripped Wide Jeans with Pale Lime Jacket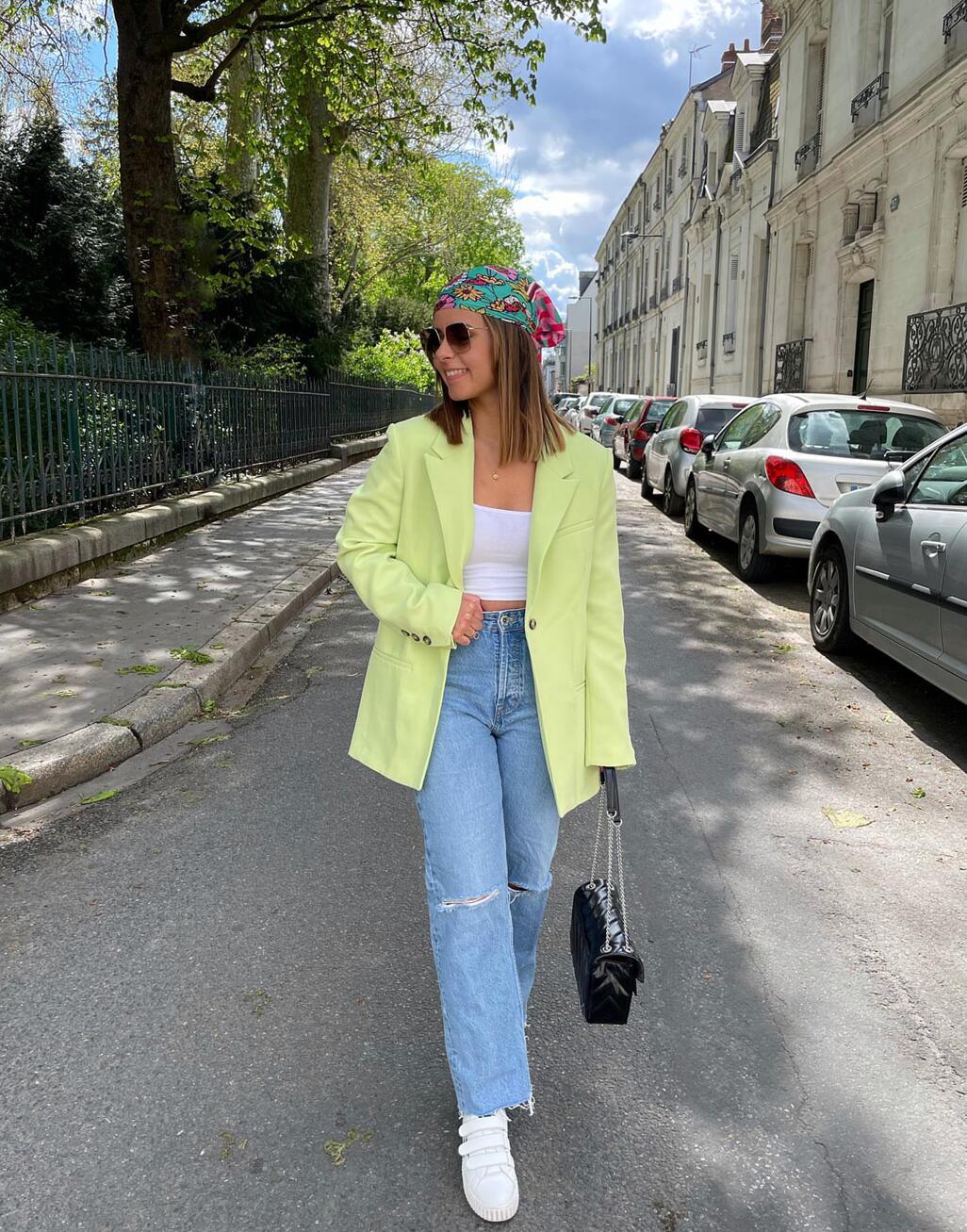 A light-colored blazer will always give jeans a big style lift and this outfit creates a very positive and optimistic vibe!
The slightly oversized blazer contrasts nicely with the small, cropped top
And high-waisted jeans create an attractive, defined waistline and limit the amount of midriff on show.
And that's a good thing if you're off to an important meeting with college officials or for an internship offer, because too much skin on show gives off the wrong vibe.
Straight-cut or slim-cut jeans the best-selling jeans this year, as they flatter most body shapes well.
Keep rips to the minimum if you're aiming for a polished jeans outfit, especially if the hems have fashionable frayed edges.
Style tip: Wearing a scarf or other perky accessory is a great way to display your individuality and ensure people remember you in a positive way.
5. White Jeans with Off-White Trench Coat & Vintage Footwear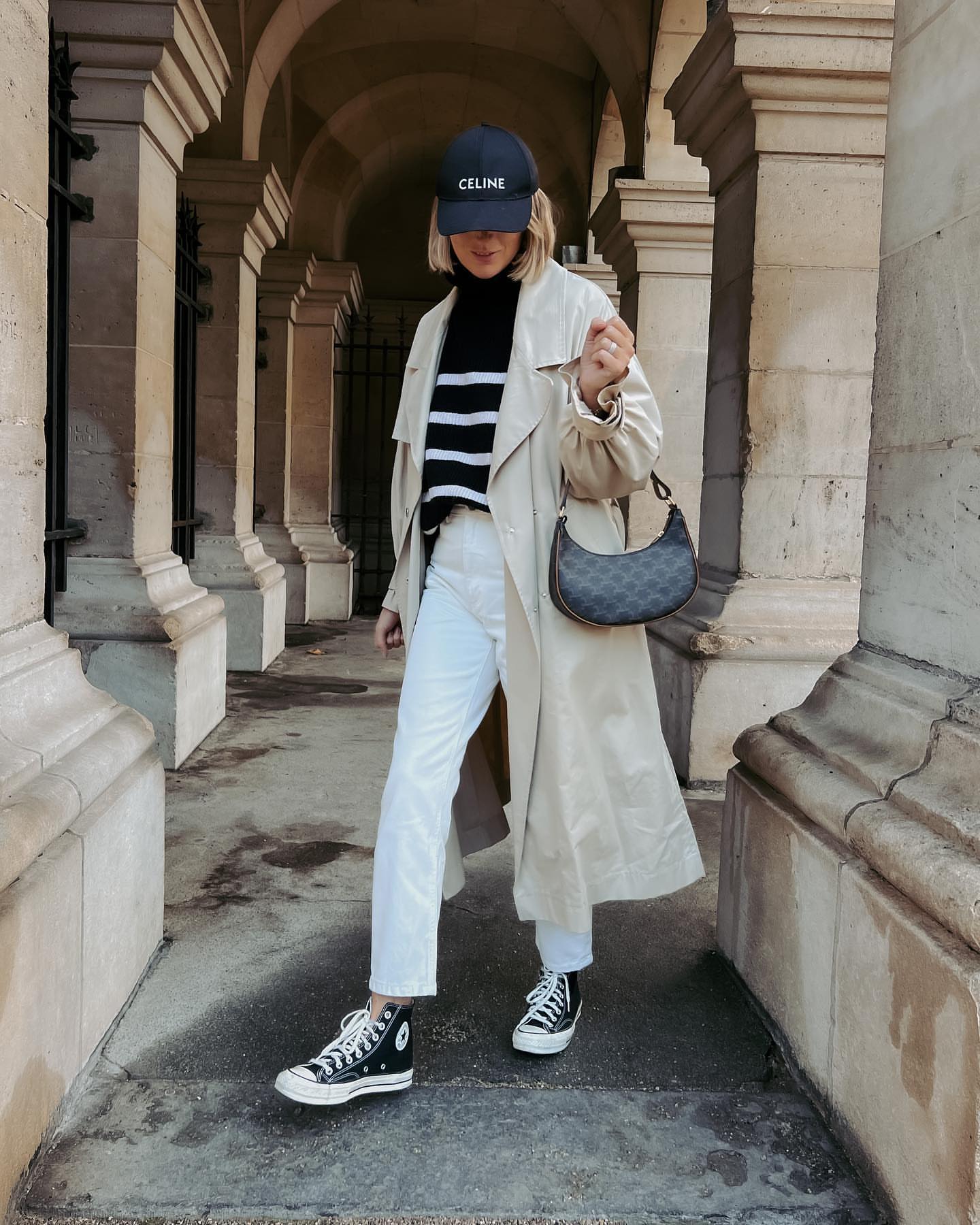 If you're putting together a capsule wardrobe for college, a neutral colored, long trench coat is a great investment!
This trench coat has an extra-fashionable, new design, without the usual epaulets and with puffed sleeves that give it an individual style.
It will smarten up your ensembles, protect you from rain showers and show you're totally contemporary fashionwise.
This year's white trend includes ankle-length, slim-cut white jeans – a classic look that always adds a polished look to any outfit.
Wearing white with off-white is trendy right now and adds extra interest to your look, so don't be afraid to put them together.
Style tip: Black basketball boots and a navy-blue cap keep the overall vibe smart-casual and individual. Please read the Kibbe body types before you choose new outfits.
6. High-Fashion Denim Jacket with Straight-Cut Jeans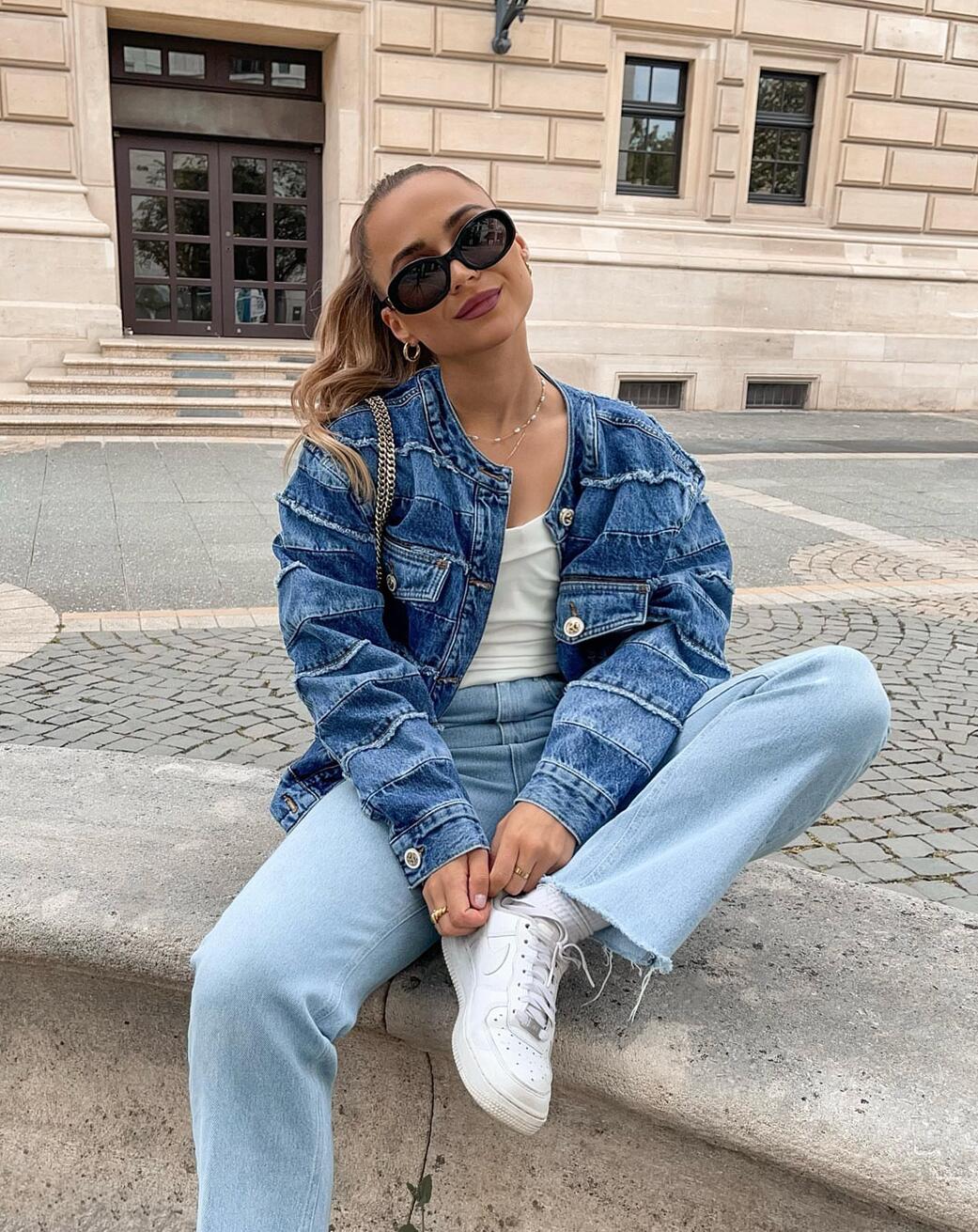 If you're ever fortunate enough to see an unusual denim jacket like this, buy it – it will be a great investment that lasts for years!
Denim jackets are useful and trendy, but a beautiful and original design like this one will add a ton of high-style to all of your outfits.
The scrappy sections are in slightly different colors, which creates fabulous texture and the lightly frayed edges are totally on-trend for this year!
It breaks away from the traditional denim jacket by having a chic, round, collarless neckline and decorative buttons.
This type of unusual denim jacket fits the campus look perfectly, which is, 'look cute and trendy – without looking as if you've made any effort'!
Style tip: Summery ice-blue jeans break up the double-denim look and bring out the rich blue of the jacket.
7.  Low-Waisted Long Slim Green Skirt & Cropped Top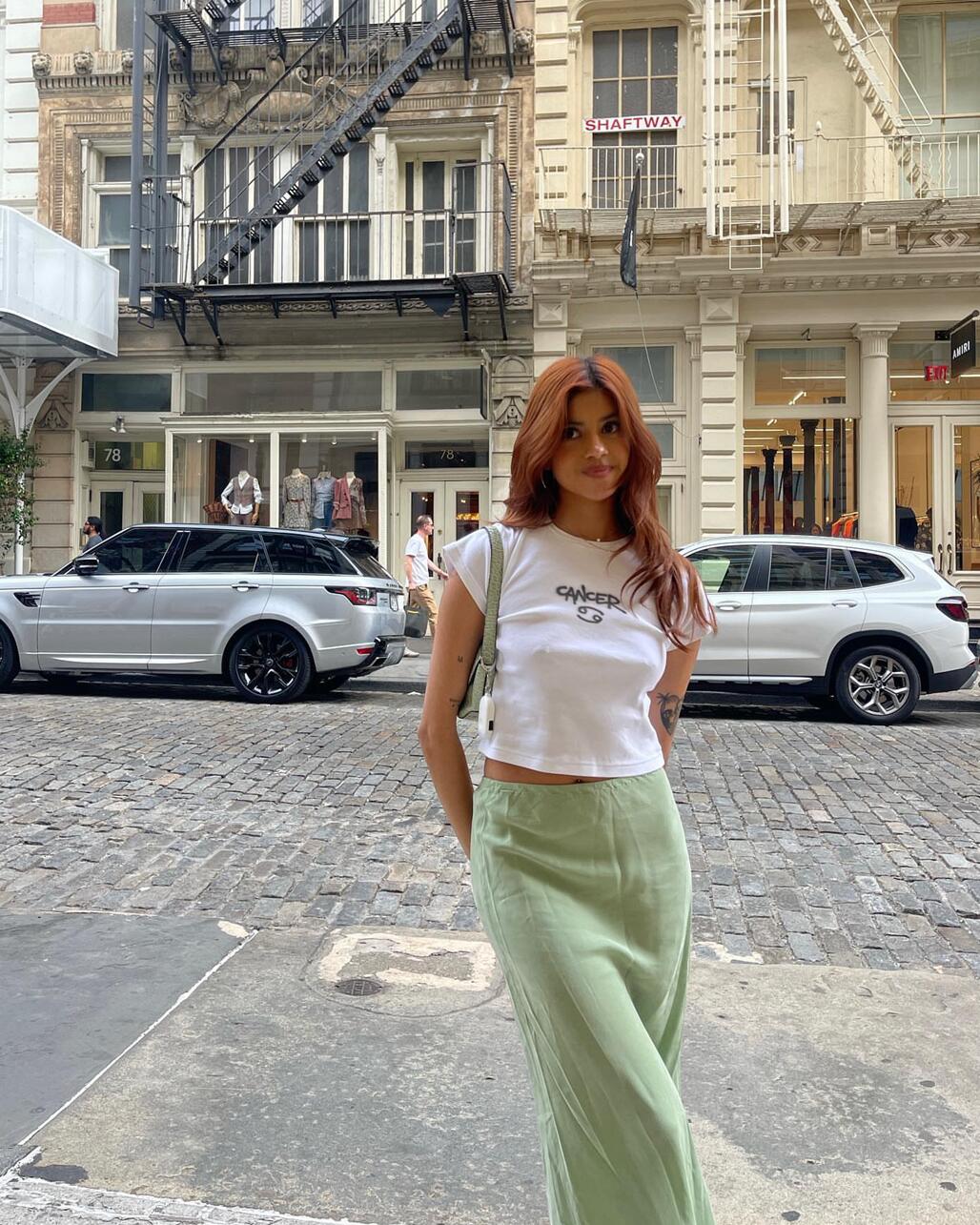 This lovely soft shade of green is really trendy this year and looks great with lots of different hair colors, too.
A long skirt gives you a sleek silhouette and looks sexy when it has a low waist and cropped top, showing a little midriff.
A graphic T-shirt with your astrological sign on the front is a good way to attract attention from fellow astrology fans and start conversations with new friends.
White T-shirts are definitely a part of many fashionable outfits right now, and wearing one with such cute capped sleeves, and a simple graphic, adds polish and personality to your style!
Style tip: Always test the fabric of garments you plan to purchase to see if it creases easily.
Even the best designs look cheap if they are made up in poor quality textiles.
It's always worth paying a little more for quality fabric that doesn't need to be ironed frequently!
8. Bold Statement Jacket with Crop-Top & Wide Jeans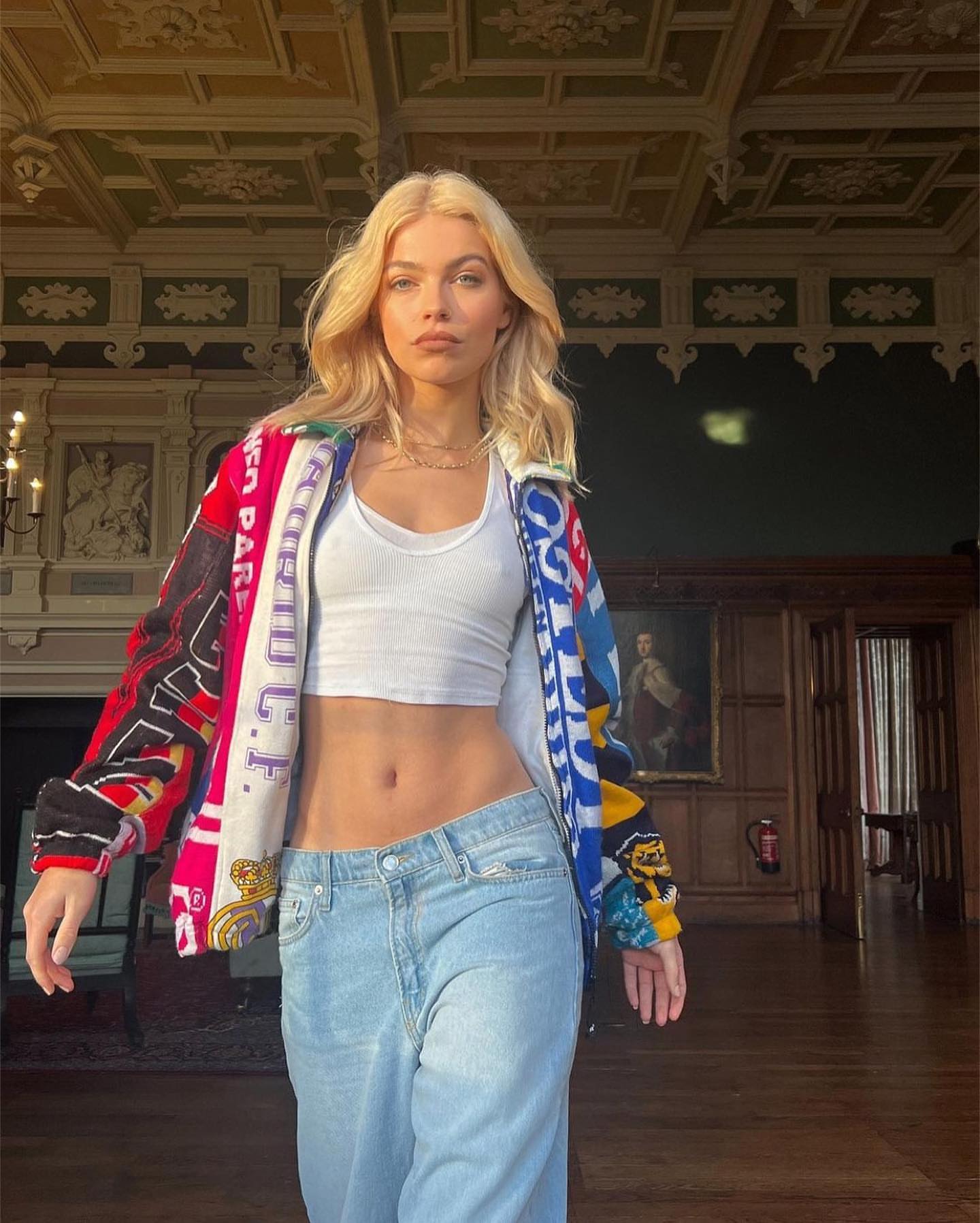 This statement jacket will ensure everyone knows who you are on campus!
So if you're a sociable type who sets the trends, this is the type of outfit you should be looking for.
There's a hint of nineties layering going on in the two cropped tops.
And low-slung, slouchy wide leg jeans remind me of 'boyfriend' style.
The oversized, bright and color clashing jacket is a high-fashion item that will draw lots of attention and help you make friends with fellow fashion-fans!
Wear with platform sneakers to get extra leg-length to balance out wide legs.
Style tip: This oversized jacket and jeans ensemble will look best if you are tall enough to carry off the extra fabric, without looking swamped.
9. Chic Black Sweater with White Bands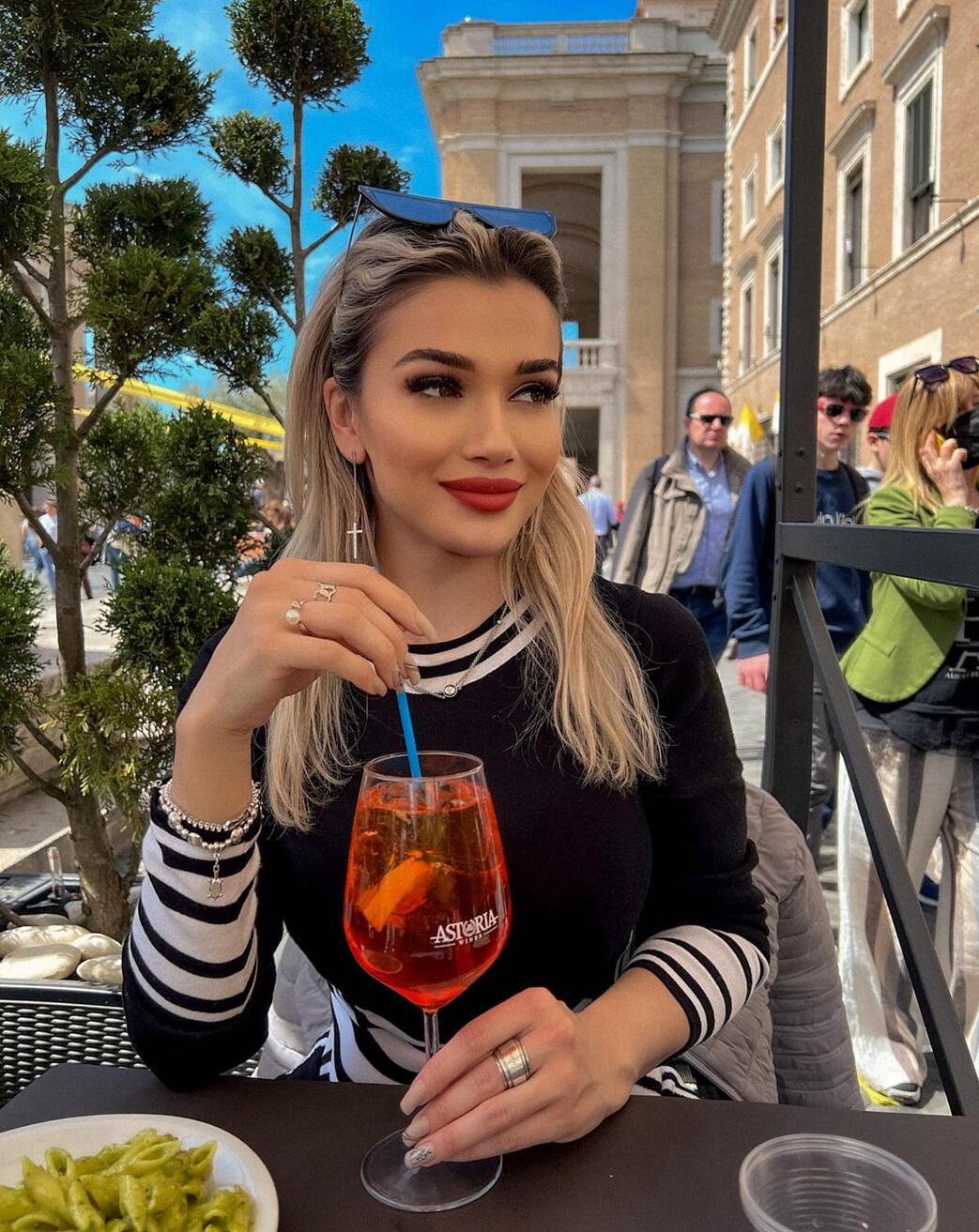 We've all moved away from sweat-shirts and hoodies lately, as a reaction against the years of being at home with no opportunities to dress up and go out!
Neutral colors are the main fashion this year and I've noticed a lot of smart-casual black and white striped sweater in fashion shoots.
So if you fall naturally into the chic fashion tribe, this is a great look that shows you're a little more sophisticated!
Dainty silver jewelry helps elevate the look even more and creates a highly appealing and mature sense of style.
This is a great look for more formal situations like applying for summer internships, and dealing with college officials.
Style tip: Try to wear cool silver jewelry with cool colors and warm gold jewelry with warm colors for extra polish.
10. Warm Brown Flying Jacket with Striped Shirt & Cropped Skinny Jeans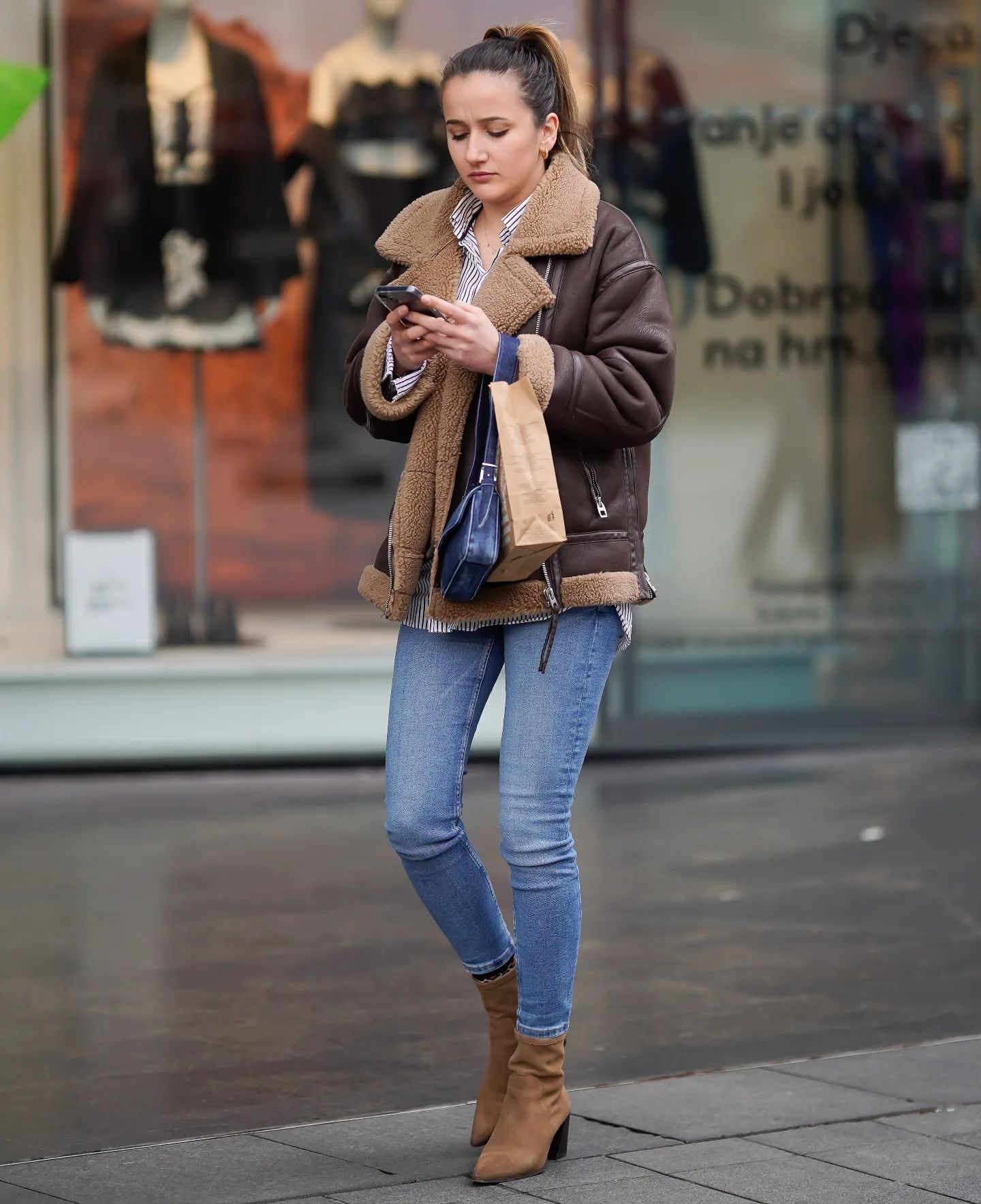 Here's a warm and stylish new flying jacket style to consider for your college capsule wardrobe.
Flying jackets are classic and always fashionable, they can be worn over any outfit and always add cool style to your image!
I love how the matte finish on the jacket has been matched with the matte finish of the suede boots, which adds a lot to the overall vibe.
There's a new boot style for this year, the above-ankle boot length and it matches perfectly with the above-ankle length skinny jean.
Style tip: The soft, brown fur of the jacket is echoed in the soft, brown suede of the boots and matching both the colors and the textures elevates the ensemble.
11. Sexy Ultra-Mini Skirt with White & Black Cardigan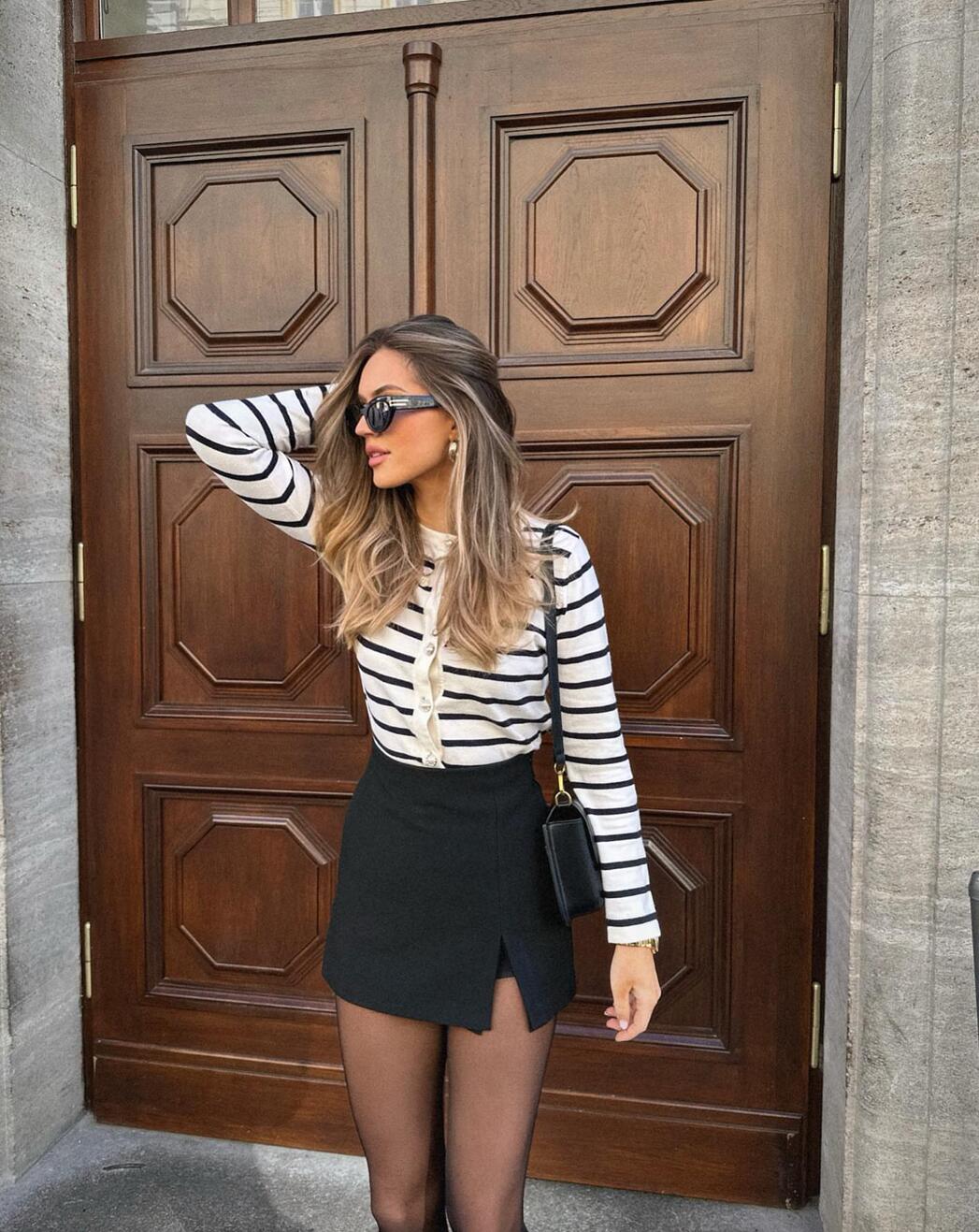 This is a great outfit for a night out on or off campus.
It's simple, just a cardigan and black skirt, but it packs a terrific style and glamor punch!
The mini-skirt may look dangerously short, but it has a pair of shorts sewn-in underneath to protect your modesty.
And the only thing you'll be showing is a pair of gorgeous, black-stockinged legs.
The chic, round-necked cardigan is buttoned up to look like a sweater and copies the popular French fisherman's black and white stripe for a smart match with the black skirt.
Style tip: Wear with simple jewelry, pointed heels and a smart black shoulder bag to complete the stylish look.
12. Cream sweat-suit with baggy pants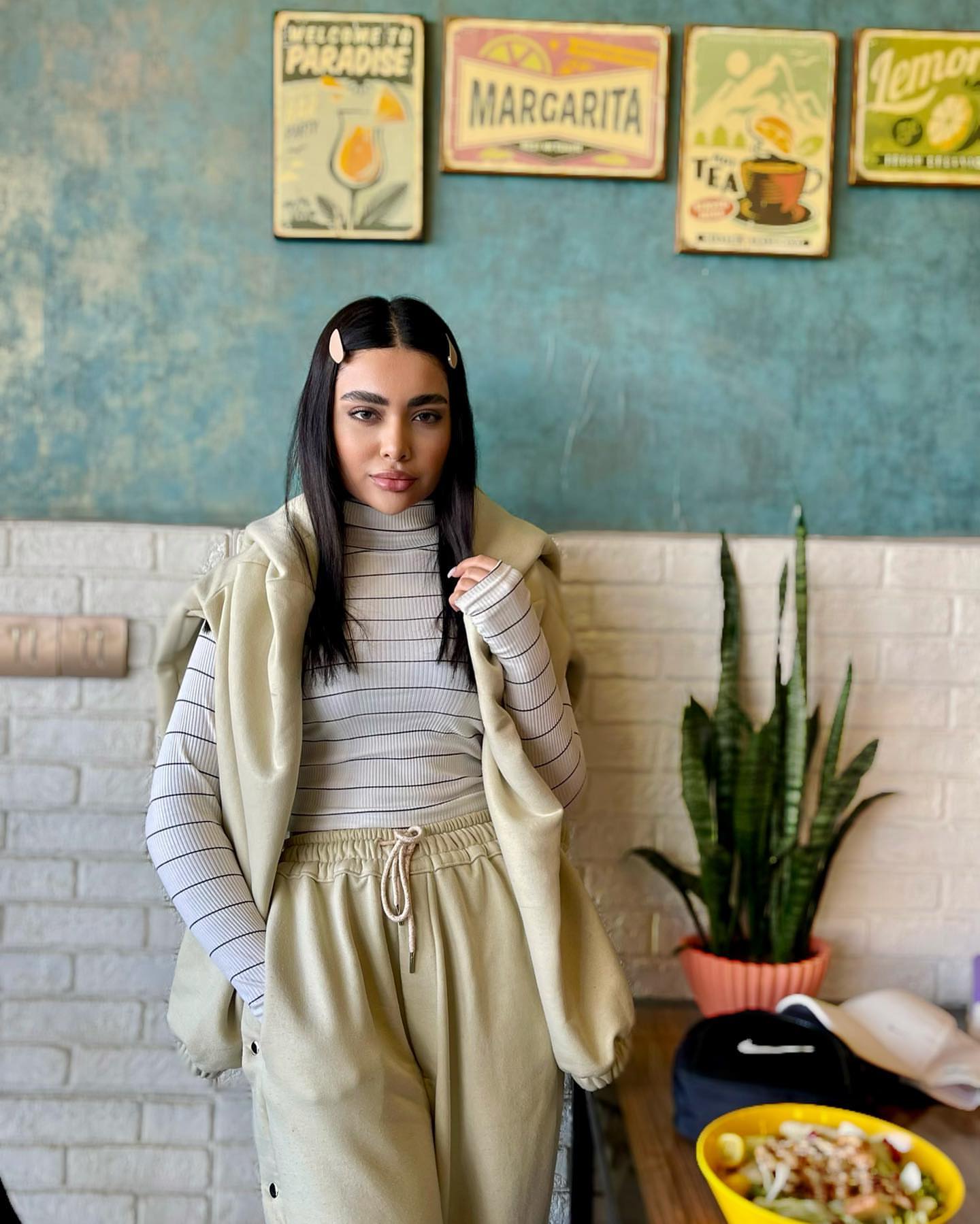 And you will undoubtedly be spending a lot of time in your room studying, so you'll need some ultra-comfortable lounging outfits.
And you'll also need easy-wear outfits to hang-out with friends whenever you get the time!
This track-suit looks soft, comfortable and warm to wear in cooler weather, but the light cream color prevents it from looking dark and wintery.
There is no law that says we must wear dark colors in cold weather and currently, white, cream, camel and beige and taking over from black, navy and other dark colors during winter.
I think this is a super idea and adds positivity and light, just when we need some relief from dark afternoons and evenings.
Worn over a ribbed, fine-knit striped white and black top, with a trendy high-neck, completes a smart-casual look for leisure activities.
Style tip: Always have a couple of sweat-suits in your capsule wardrobe as they are very easy to wash and wear and can be worn with other separates for variety.
13. White Crinkle-Cotton & Broderie Anglaise Blouses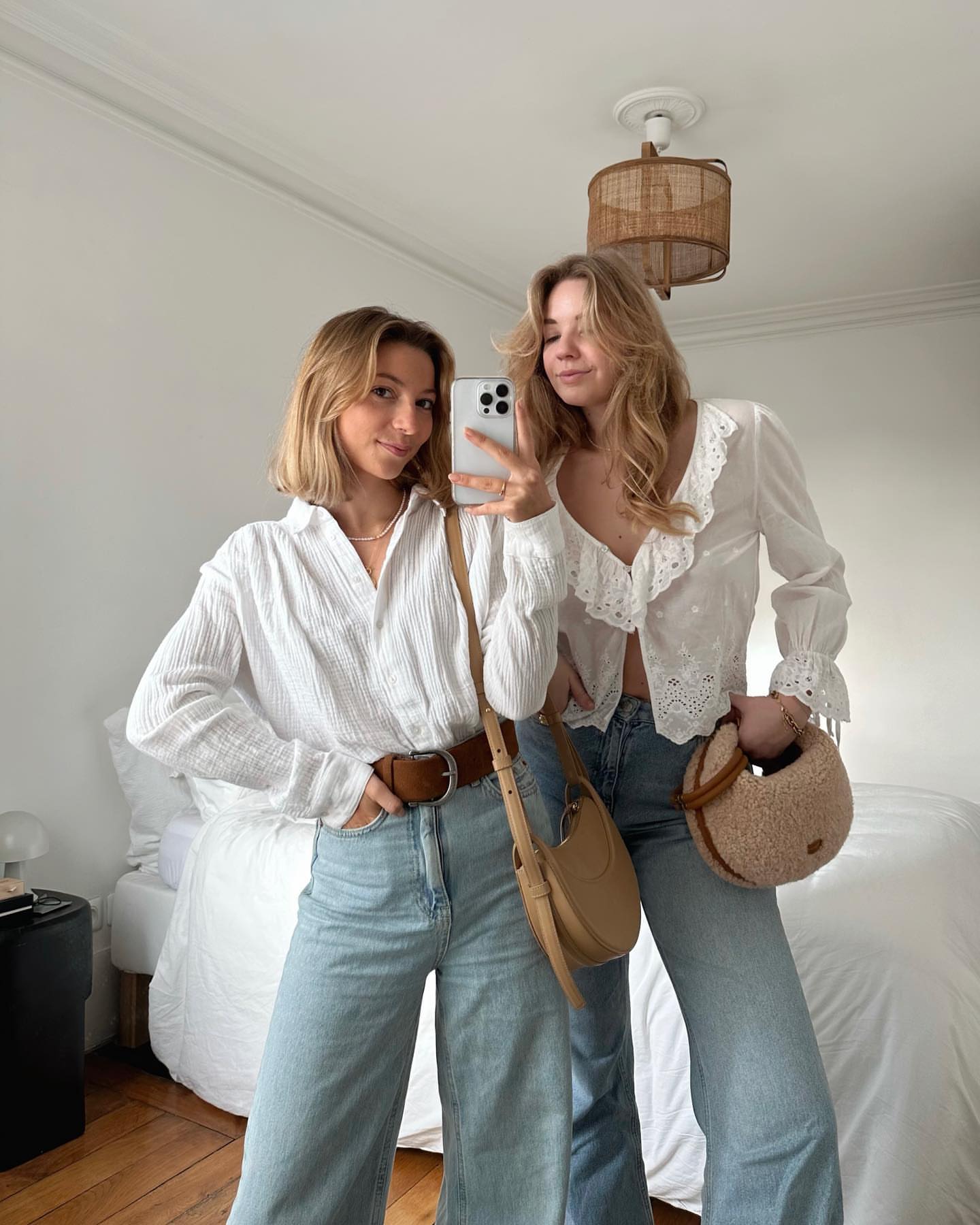 If you've been fashion shopping recently, you'll already know that broderie anglaise is very trendy this year.
It's a type of fabric that elevates every garment it's made into and adds dainty charm to any outfit.
This broderie anglaise blouse has a fabulous design, with a flattering V-neck and an open front showing the midriff above high-waisted jeans.
The gathered wrists with pretty lace cuffs are gorgeous, too, and this blouse will be extremely versatile, as it can be worn as part of a formal outfit or smart-casual with flared jeans.
And I am delighted to see that good-quality, crinkle-cotton is back in fashion again, as it always looks crisp and smart.
I love not having to iron my crinkle-cotton blouses and shirts and keep them for many years as favorite items.
And when you're under work and social pressure at college, the less ironing you have to do – the more time you have for more important activities!
Style tip: Adding a broad brown or tan belt to jeans outfits adds extra polish and often helps you get a better fit, with no problems of jeans that slide down your hips.
14. Simple White Graphic T with Pink Wide Leg Trousers
These cute, pink straight-leg trousers and the black scrunchie around the model's wrist bring back memories of Y2K and childhood favorites.
But they are fashionable again, so if you like pink, don't hold back from this pretty, feminine look!
Look out for trousers with the fashionable and figure flattering 'open' darts, which shape the garment in to a nicely emphasized waist – and then opening out to make more space for the stomach below.
The graphic T-shirt is trendy because the graphic is subtle, but cleverly suggests the wearer is 'adorable' and has dainty white beads for added texture.
Dropped sleeves add casual character to the T-shirt and ensure a good fit for lots of different shoulder widths.
And the lightly flared short sleeves are another sign of this year's fashion twists.
Style tip: Wear with trendy white sneakers for a simple, but appealingly feminine look.
15. Smart Beige Jacket with Gold Buttons & Slim-Cut Jeans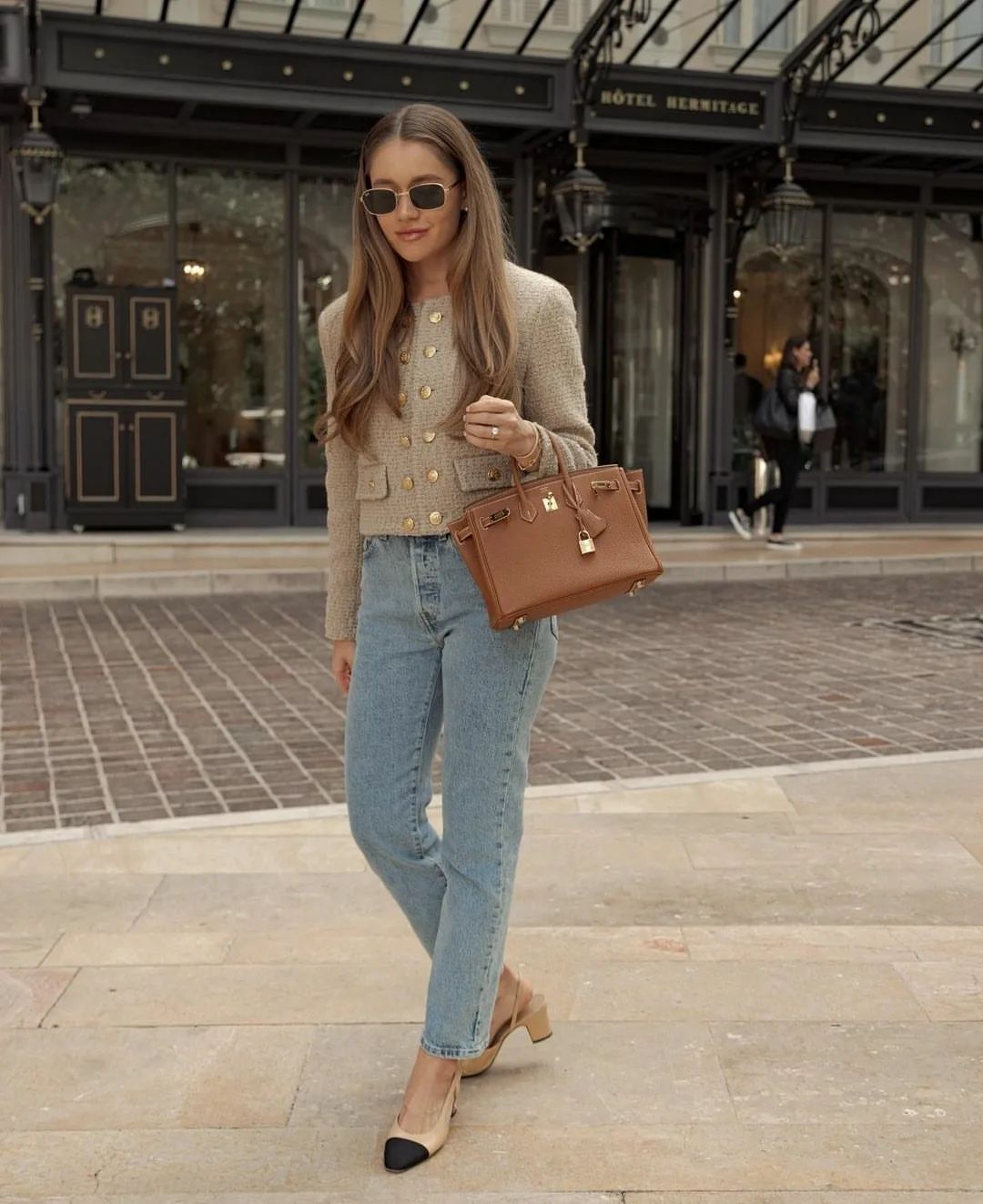 This is a great example of what type of look will impress future employers.
It's not too formal to make you look uptight and not too casual to make you appear uncaring.
It's a real Goldilocks look that hits the fashion note exactly at the right spot!
The cropped, thickly textured, beige jacket is given an ultra-chic finish with the set of gold buttons and buttoned decorative flaps.
It conveys a high-quality image that is further emphasized by the trendy, tan handbag and the retro 1960's black toed, light camel slingbacks!
This outfit is very contemporary when worn with well-fitting, slim-cut ankle-length jeans, but it's roots are totally retro.
They bring to mind the wonderful fashion style of Jackie Kennedy and add lots of class to the model's look!
Style tip: A well-fitting and stylish jacket plus a pair of matching shoes can do wonders to elevate the clothes you already have in your wardrobe.
16. Cozy Teddy Sweatshirt for Best Casual College Outfits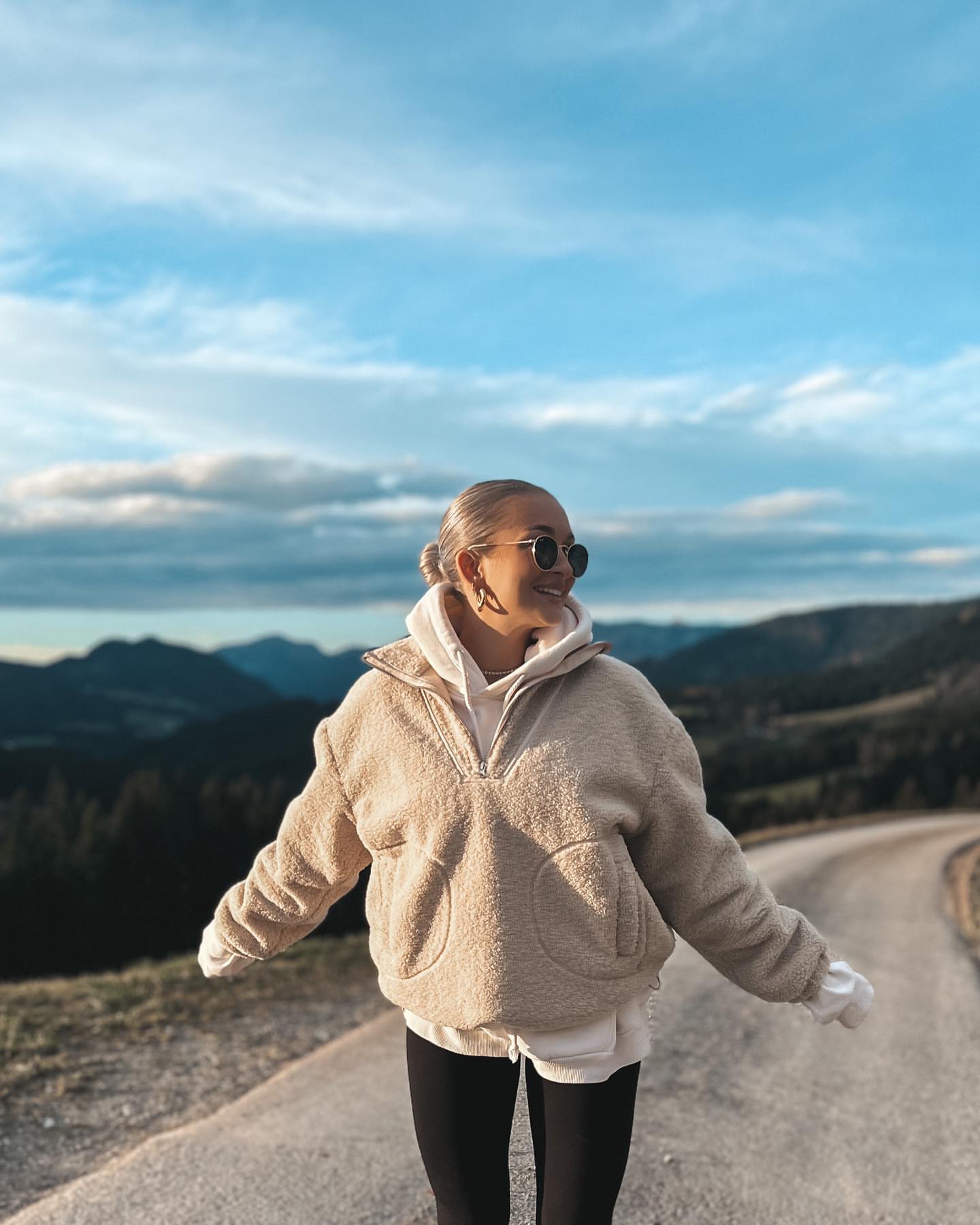 We love the soft and warm Teddy jacket, so it makes sense that manufacturers have now given us the Teddy sweatshirt.
And what could be more practical and adorable to wear for walking around a college campus in cold temperatures?
This oversized look allows you to wear a trendy hoody underneath or just chill out in comfort wherever you are.
The Henley zip-up neck is in fashion this year and I love the circular pockets that add a fresh twist to this popular Teddy trend.
Style tip: Ordinary leggings are too thin to wear in cold weather, but the new, fur-lined leggings are just what you need to complete this warm winter outfit.
17. Beige Ribbed Sweater with Leather Trousers & High Chunky Boots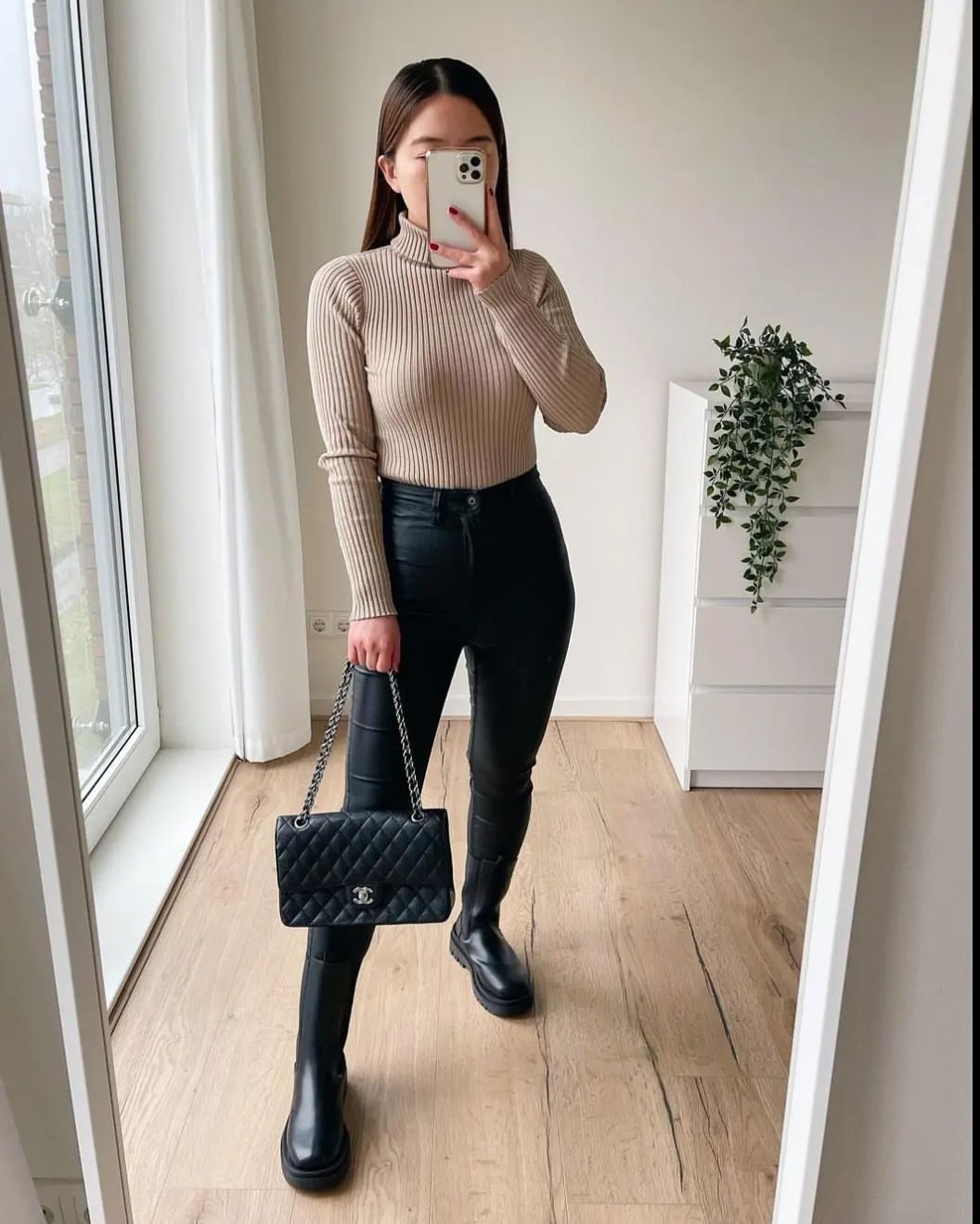 Warm beige matches really well with smart black and gives a softer look than stark white and black.
And this fabric gives you a cool look you can wear any time, without looking as 'dressed-up' as faux-leather pants.
I know, because I'm wearing exactly the same trousers right now and love my oil-cloth skinny pants!
High-necks and ribbed texture are totally trendy right now and they're just right for the new fashion for tucking everything in at the waist.
Skinny oil-cloth trousers can be dressed up with heeled shoes and a sexy top for parties, and kept practical with heavy boots in wet weather.
Style tip: Oil-cloth trousers are water-resistant which makes them the best fabric to wear in rainy weather to keep your legs dry as you walk around the college campus.
18. White Checked Shacket & Black Vinyl Trousers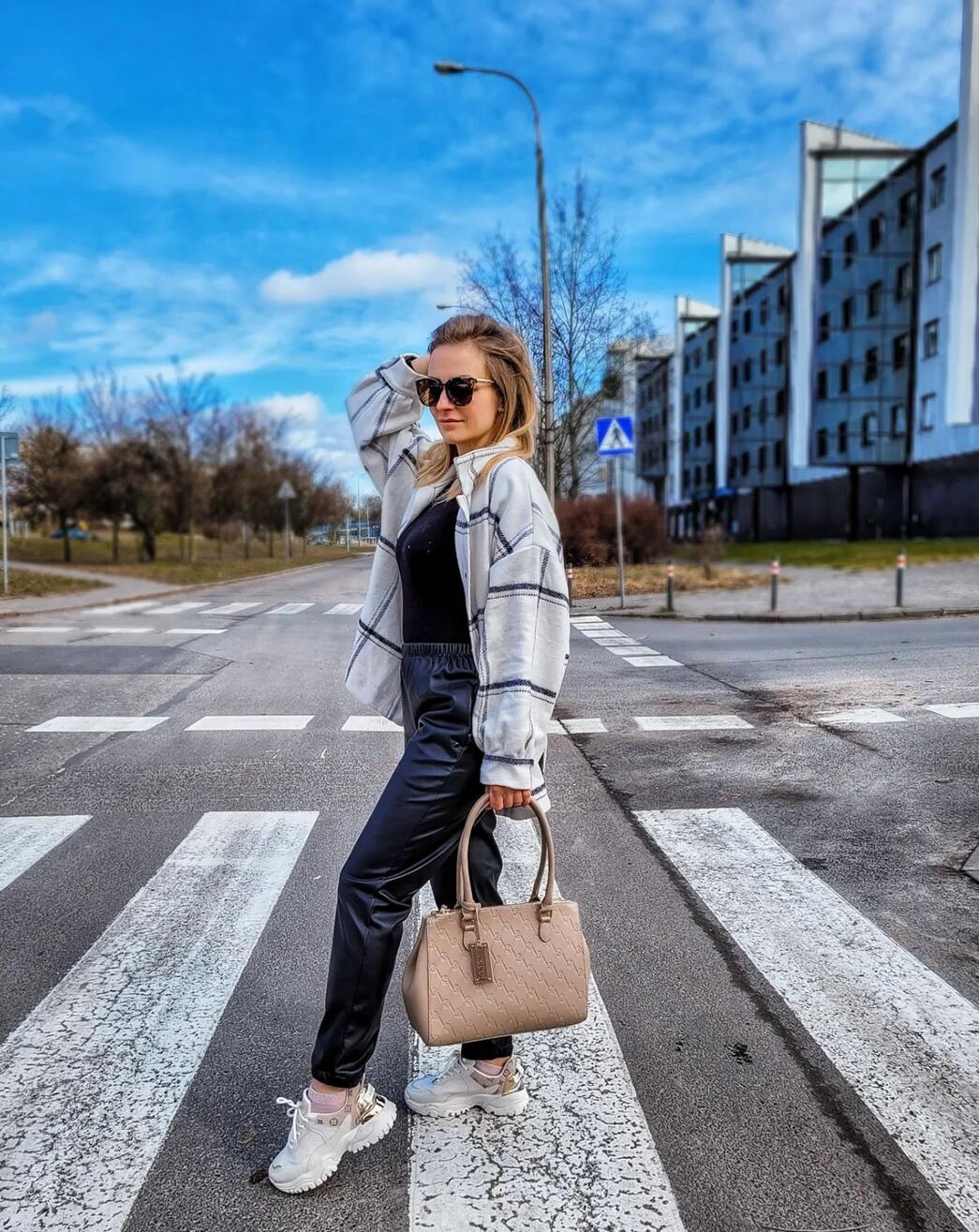 Vinyl trousers are taking over from faux-leather pants this year and give a more casual look, that's suitable for the best campus outfits.
These slim-cut pants have a new-look, elasticated waist and tapered hem that hugs your ankles.
Wear with a warm shacket in a light color to balance the black top and pants.
And those cute pink socks and gold flash on the trainers add a fun vibe to a smart-casual outfit you can wear to lots of different events!
Look out for shiny, black vinyl trousers that are definitely setting a trend for this year, too!
Style tip: A large, retro handbag will hold books in a fashionable way and complete a well put-together outfit.
19. Sophisticated Jacket & Jeans College Campus Outfit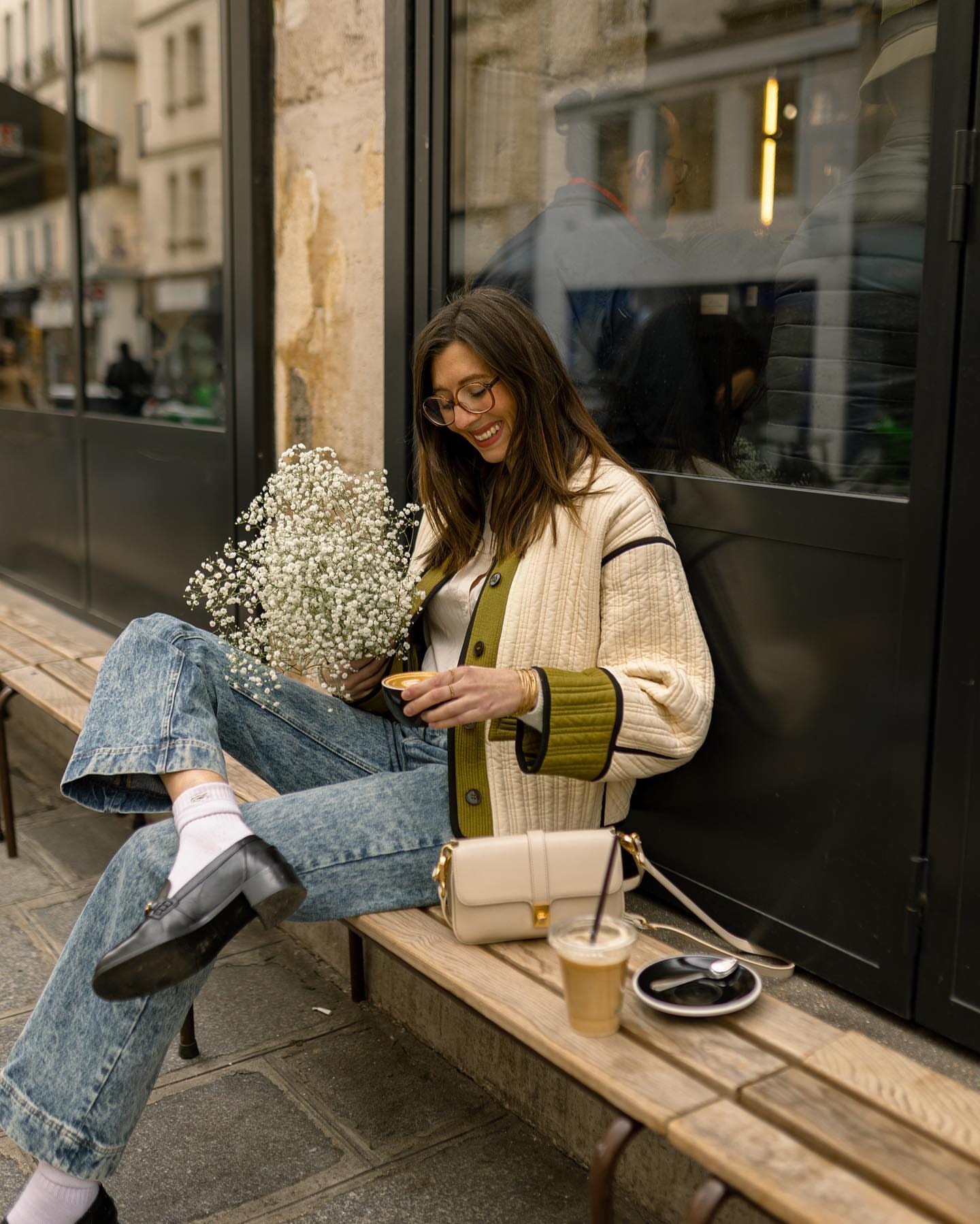 This lovely, vertically quilted jacket is perfect for adding to a capsule wardrobe.
It's classic and trendy at the same time, and in cream with green border will last for many years as a timeless garment.
And the wider-cut jeans with the new denim blue for this year, with a larger hem than we've ever seen on jeans, are just fabulous!
Wear with trendy white socks and low-heeled Oxford shoes to complete a highly fashionable, but individual look everyone will envy!
Style tip: Look out for similar quilted jackets to make your own version of this stylish look and keep warm and stylish without being bulky.
20. Fabulous Seamed Jeans with Black Crop-Top & Cap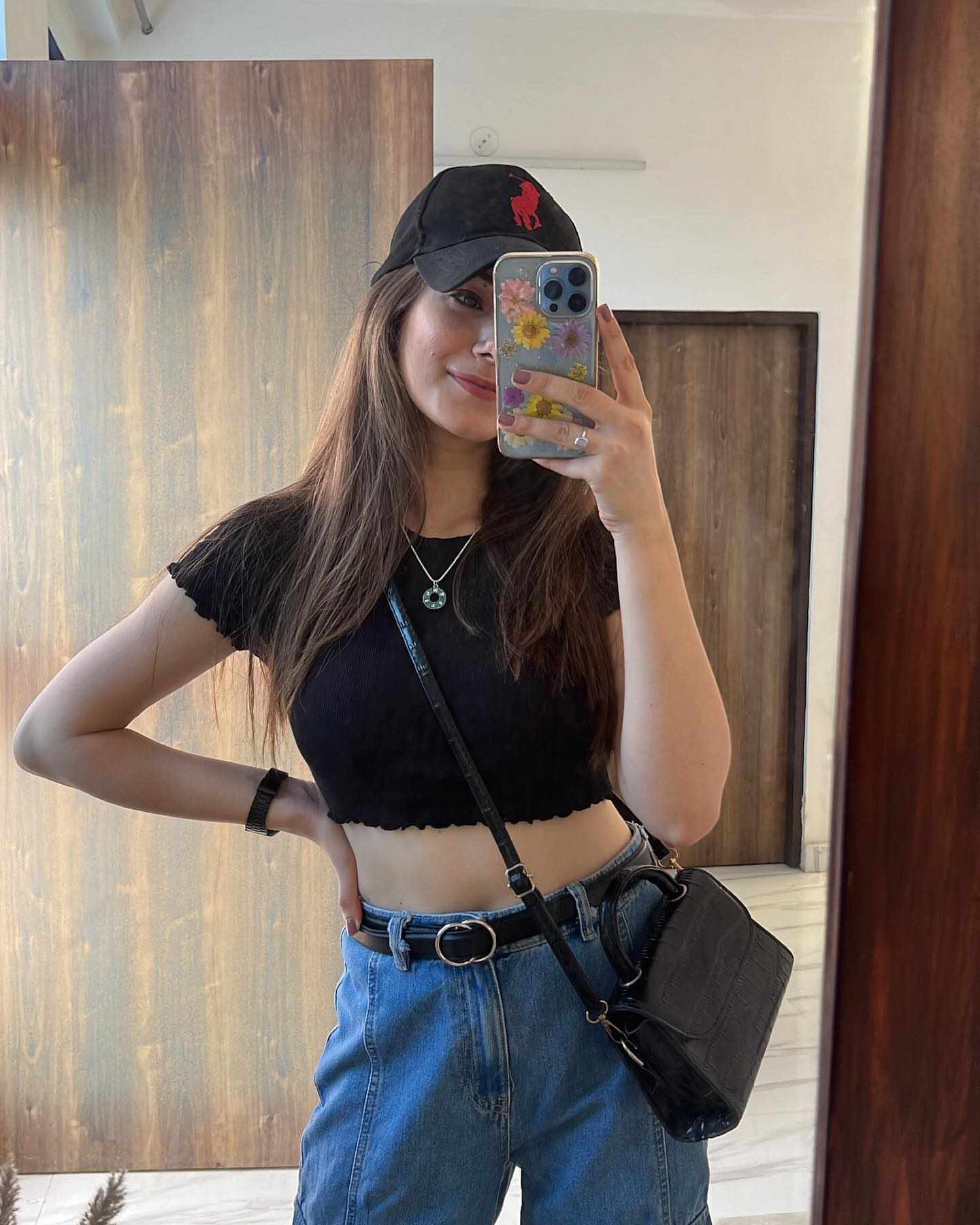 Going to a frat party? Well you need to look appealing without seeming to have tried too hard to look cute!
And this is the way to do it, with jeans that are both casual – as all jeans are – but ultra-stylish in a completely new way.
These jeans have vertical and horizontal seams that create texture and a cool, individual fashion style.
Wear with a cropped top with a high neckline, but show off a well-shaped waistline, to maintain your chic vibe.
Style tip: Matching the cap, top, belt and a crocodile-textured black bag elevates the look, but in a subtle way!
—————————————————————————
Q & A – Best Casual College Campus Outfits
a) How do I know which cuts and silhouettes will suit me best?
There are just two more pieces of advice you need to get your wardrobe full of clothes you can mix and match easily and always look your best.
The first one is to find out exactly what your personal body shape is and what styles suit your figure.
You can do this by consulting my article on the Kibbe Body Shapes Test & Guide for each different figure.
These articles take you through all of the body shapes and give detailed suggestions on the best necklines, dress/skirt shapes and trouser cuts for each one.
Or you can take a look at my articles on Fruit Body Shapes Guide, like apple, pear etc., which also gives detailed advice.
b) How can I find out which fashion colors look best on me?
And finally, you need to identify your individual fashion color palette, which is based on your skin undertones and natural hair and eye color.
You can identify the best colors for your natural coloring by taking my Seasonal Color Analysis Test, which will tell you which color tones you need to choose from the range of this year's fashion colors.
c) How can I get the best value for money from my new college campus clothes?
Take my Seasonal Color Analysis Test, and then shop for clothes in the color palette suggested for you.
This will make your shopping more targeted and stop you buying colors that take your fancy, but don't mix and match well with your other garments.
Buying from your personal color palette allows you to shop less, because you'll be able to wear the new clothes you buy more often.
You will be able to make lots of color harmonized outfits easily – and you'll avoid having color mistakes that don't match with your other clothes hanging unworn in the back of your closet!
So avoid impulse buys in sales and concentrate on only buying items that will match with at least three of your other garments.
This is how fashion experts buy and you'll save yourself from wasting money on random pieces that don't fit well, don't suit your skin undertones or don't flatter your individual body shape.
And armed with this advice and inspiration I know you'll be confident and comfortable in your first-year fashion choices!
Your Comments
Tell us what you think – your feedback is important to us:
Has this article helped reduce your stress around what to wear on the college campus?
Will you start planning your shopping around your personal shape and color palette?
Have you started putting together more stylish outfits you enjoy wearing?
Has it made your shopping trips more targeted and helped you avoid mistakes?
Have you gained self-confidence?
Thanks for sharing your thoughts with the international HerStyleCode community!
HerStyleCode is a popular fashion and beauty magazine for forward-thinking women of all ages in the US, UK, Australia, Canada & New Zealand – and, of course, lots of other fabulous English-speaking countries!