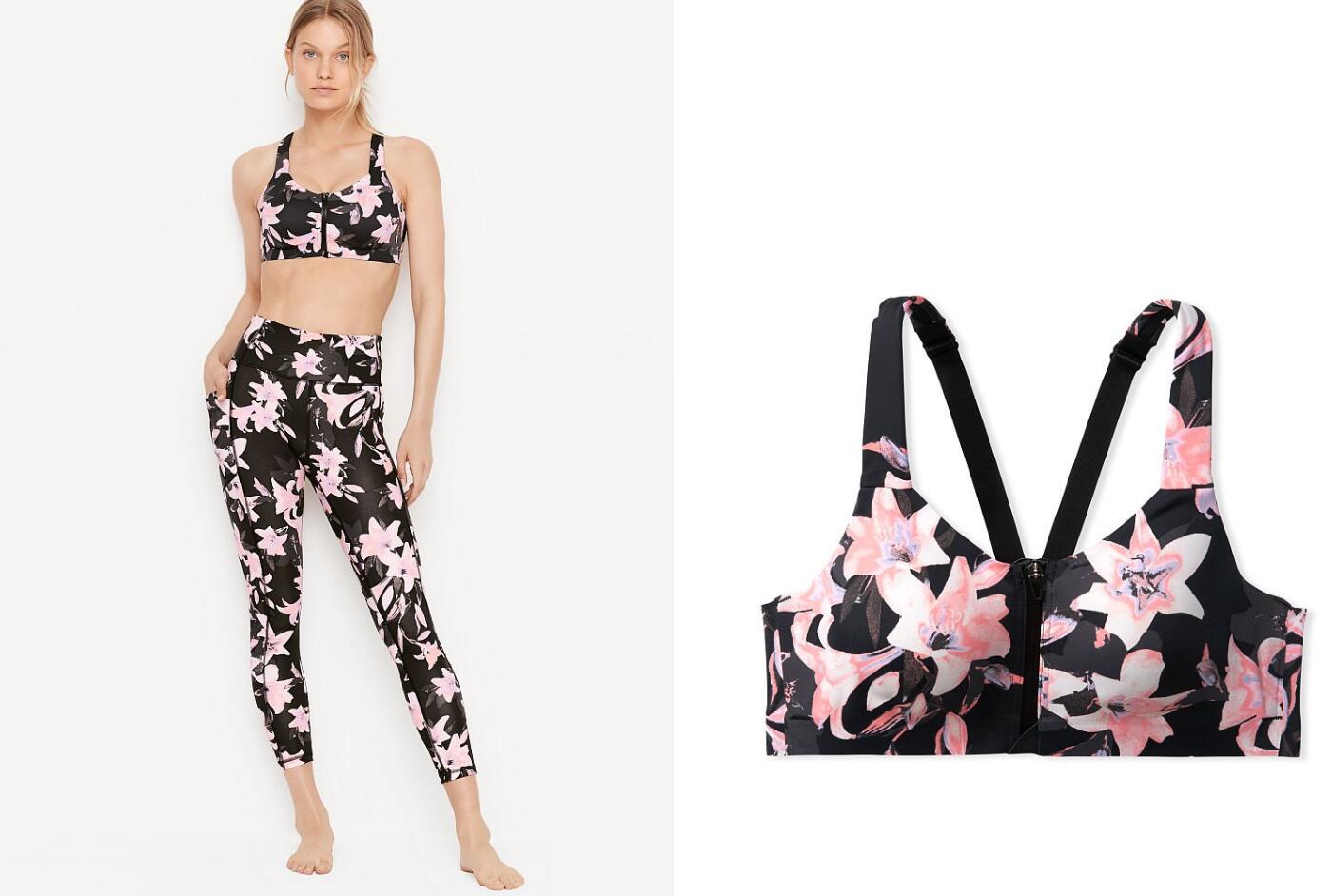 Now that the market for sports bras has become so large, you need a small selection of bras available to ensure you're perfectly dressed for each sporty activity. Of course, the first consideration should always be comfort and performance from your sports clothes. But athleisure wear has taken over from fashionwear as the biggest selling type of clothing right now.
So as well as having a purely practical function, athleisure clothes are an important way to project your individual style and image as we deal with a changing social life. And that has raised the popularity of cute sports bras to a new high! However, before you go online and order yourself a new set of cute sports bras, think about getting the best value for your money!
If you just buy from the cutest pictures, you could find you haven't purchased a bra that's suited to your cup-size, body shape or sport! So before you start working on your cute and sexy new look for the gym or running club, read our simple guide to the 5 Best Cute Sports Bras below.
We have included bras for the smallest sizes to plus size. And shown which bras not only look great, but give you the fit, support and comfort you need! Because no-one likes having to send bras back for a swap or a refund, do they?
So here are HerStyleCode's 5 Best Cute Sports Bras that also do a great job protecting your bust during exercise!
1. Best Front-Close Cute Sport Bra – Victoria's Secret – Knockout Max Support Front-Close Sport Bra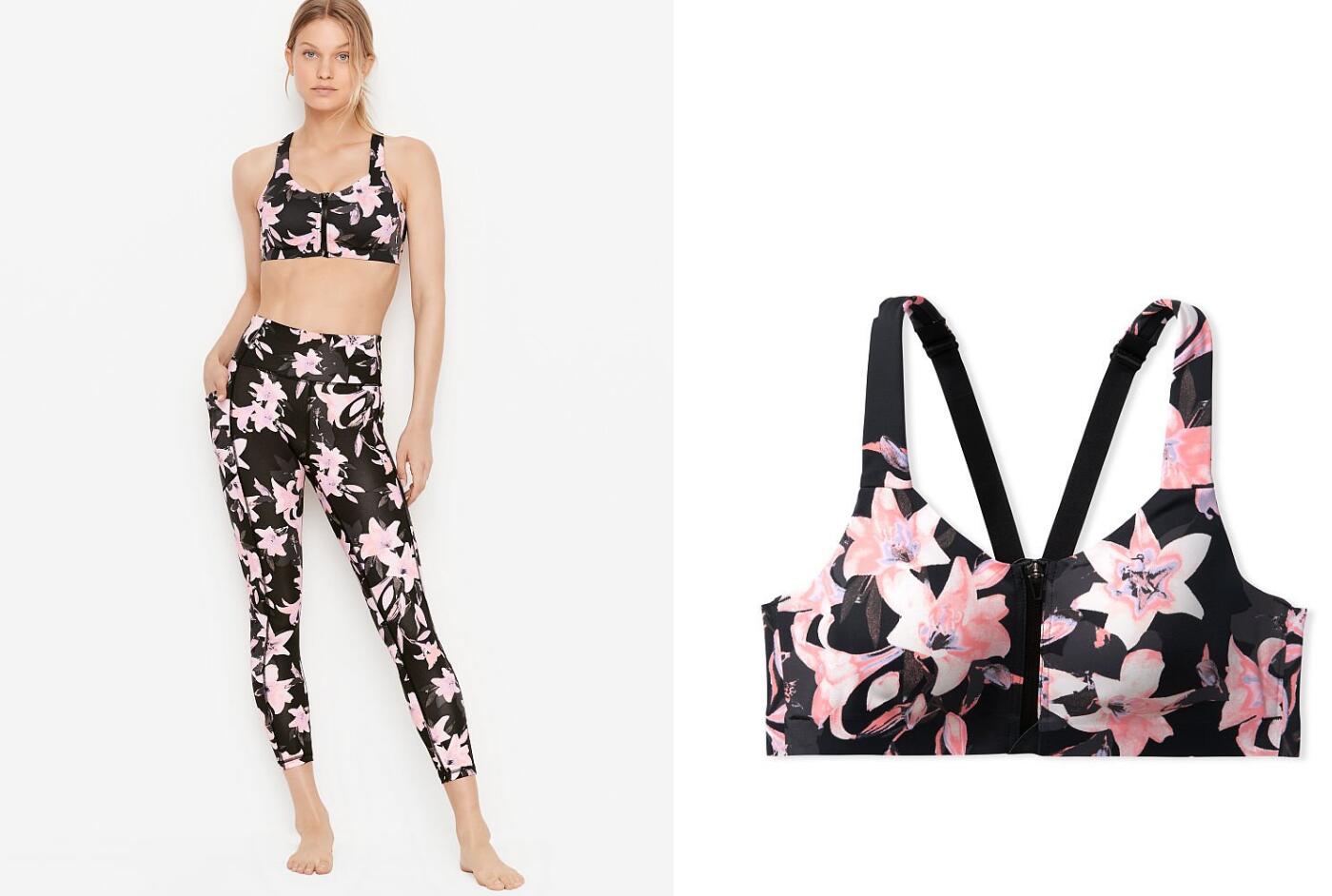 This is Victoria's Secret's most supportive sports bra, which uses a bra-within-a-bra system to give firm compression. The inner layer features foam cups and padded straps to provide comfort and stability. This keeps your bust still during exercise. And it's easy to put on using front clip and zip!
Our Testers' said: The printed flower designs are fabulous. The underwired cushioned cups give good support for large breasts. You can tell this bra has almost 50% elastane, as you feel comfortably held during running, cardio and boxing. It wicks moisture away well. But be aware that it runs very small in sizing, so size-up!
2. Best One-Shoulder Cute Sports Bra- RUNNING GIRL – One-Shoulder Sexy Sports Bra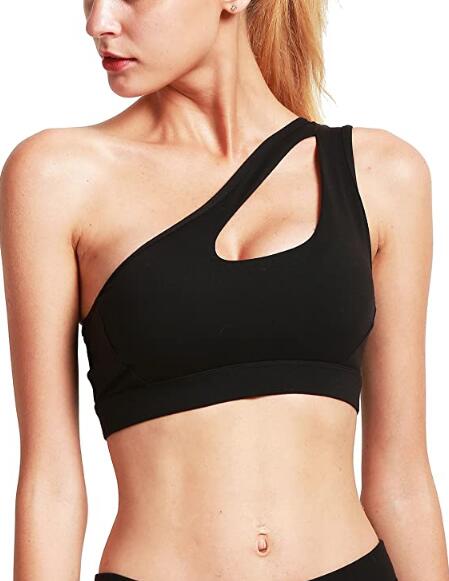 What could be cuter than a pastel-colored, one-shoulder sports bra? This style has removable pads and the maker recommends it for light to medium exercise and post-surgery wear. The fabric is 4-way stretch and shrink-proof. It retains its shape well and the back cut-out keeps you cool and dry.
Our Testers said: Great for pole fitness for a 32 D cup wearer and allows you to hang upside down without any spillage! It is extremely cute, stylish and comfortable, as well as supportive when jumping up and down. This bra fits true to size, and should be a close-fit, so do not be tempted to size up. Looks great for fashion wear, too!
3. Best Criss-cross Back Cute Sport Bra for Large Breasts- Yvette – Women's Plus-Size Criss-Cross Hi-Impact Sexy Sports Bra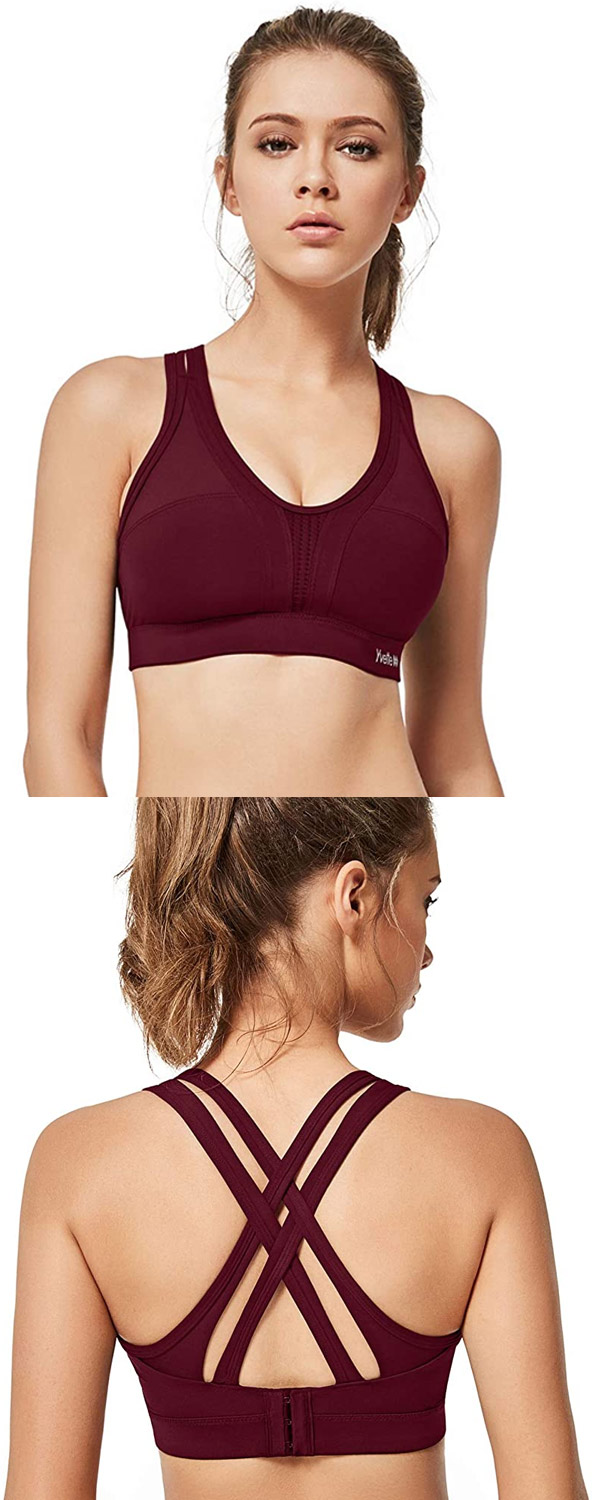 For the best fit you need an adjustable hook-and-eye closer at the back like this bra. This bra is designed to give full support through its high-quality fabric and design, rather than just crush yous bust to your chest.  And it's good for a wide range of sizes from Small up to 5XL.
Our Testers said: The 4-way stretch fabric is very comfortable and offers very strong support. This plus-size bra keeps your breasts in place and shows some sexy cleavage, too. It's flattering to your body shape and doesn't cause any back bulges.  The interleaved back straps give a trendy modern look!
4. Best Lace-Back Cute Sports Bras for Small Breasts- Alyce Ives Intimates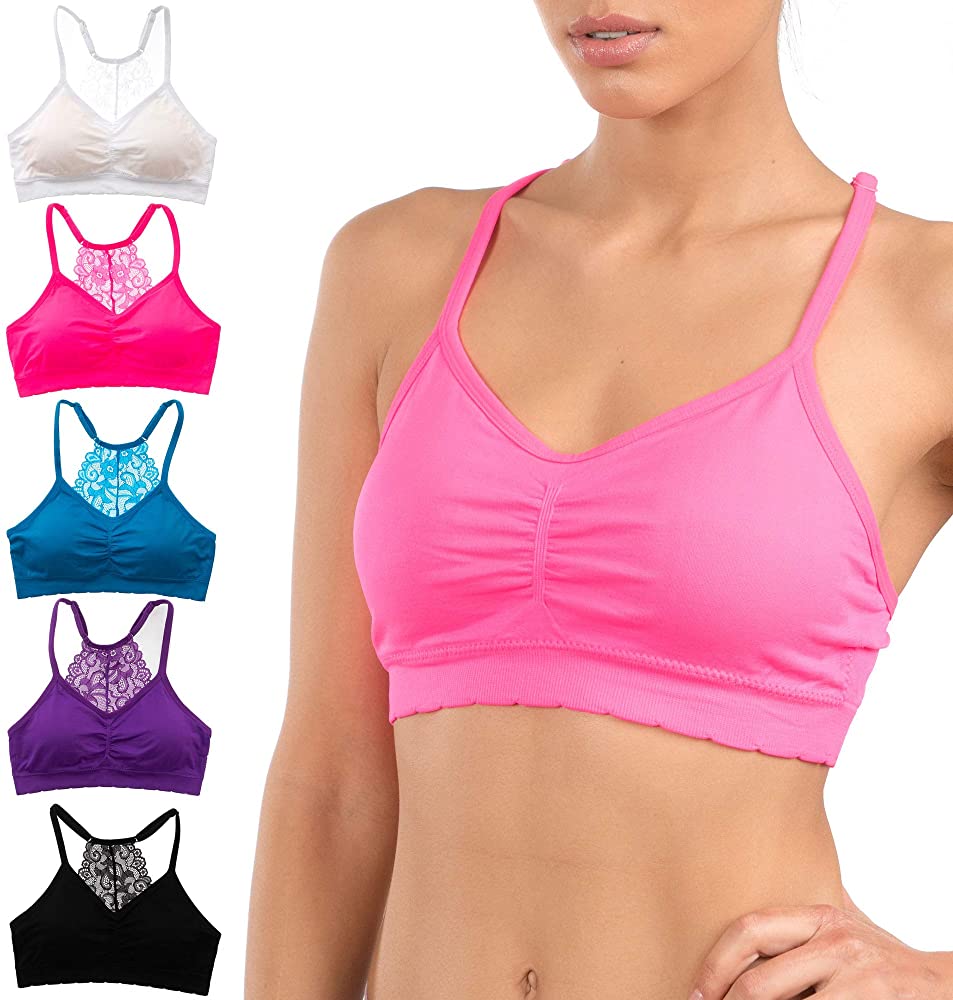 This lightweight sports bra is designed for women who wear an A or B cup. It is a pull-on bra, with a wide, body-band to help it stay in place all day. The bra is wire-free and has light foam padding in the removable cups for cover and shape. You get a smooth look under t-shirts.
Our Testers said: This bra is perfect for women with small breasts and the fine straps are quite strong enough for little or no weight. You get added size and shape from the pads, which are fairly thick. The fabric feels really soft on your skin and the band fits comfortably. And adjustable straps make it easy to get the right fit!
5. Best Cute Cami Sports Bra for Light Exercise – URATOT – Women's Lace Bralettes Lace Pads Cami Bra Sport Bra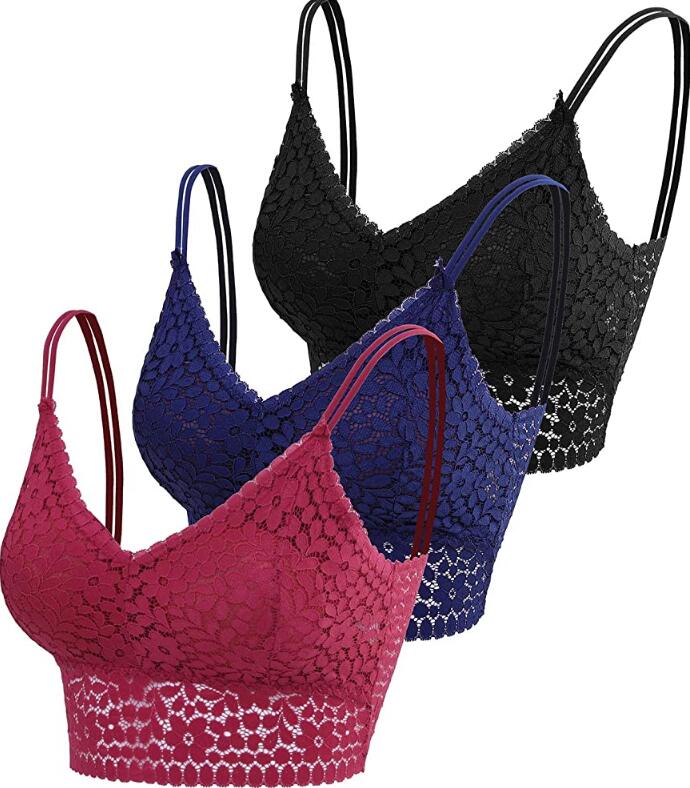 This is a pretty lace bralette with foam pads designed for light-impact sportswear and small bust sizes. They are also suitable to wear as fashion tops and under open shirts for going out. And you can also wear this as an all day, comfortable bralette.
Our Testers said: This bralette has made me swap from wearing a bra to wearing a bralette at home and for local errands. It's more flattering than other bralettes, as well as being very cute and comfortable. And the lace doesn't irritate your skin. It doesn't have adjustable straps, but the fit is excellent!
Whatever season it is where you live in Australia, the U.K. or the U.S., keep up your sporting activities and be the best version of yourself you can be! And that means dressing to impress in the latest sports bra styles and trendy athleisure outfits!
If you enjoyed this article, why not share it with your friends? It's a great way to keep in touch when you can't spend as much time together as you'd like and keeps you all on the same 'wavelength'!