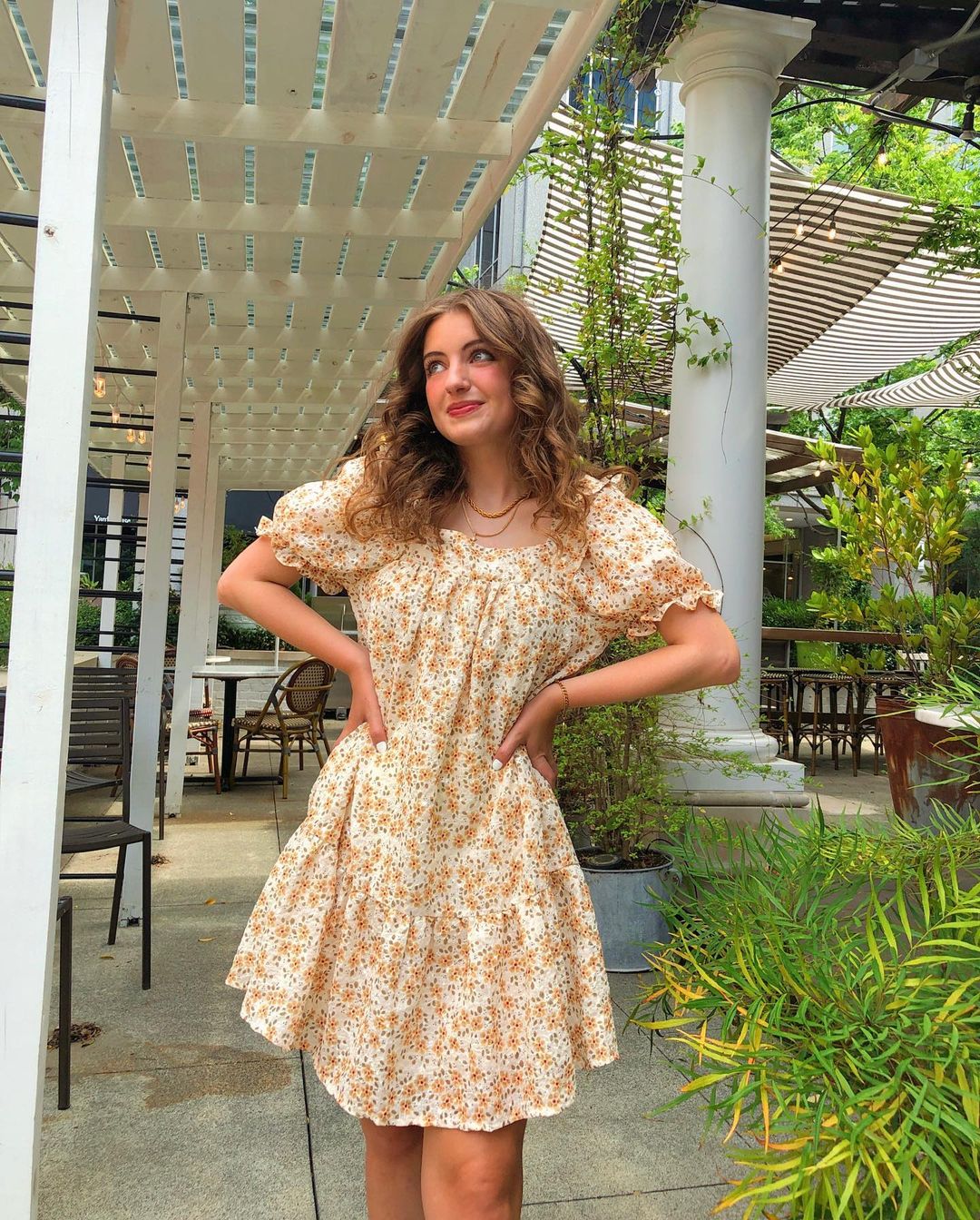 It was so bad it had to turn good.
We have had our fair share of liking and disliking the y2k era. With Gen Z going head over heels for ultra pink barbie heels and tracksuits, and millennials throwing up over it (metaphorically, of course), most fashion trends have had flip sides of a coin. No wonder the early 2000s were a true time of dilemma for the fashion industry.
Call it a relief or a dismay, a rather 'good enough to forget' fashion trend of the 00s has risen. The bubble dress, like the name suggests, is a dress with a bubble-shaped silhouette, and while it will suit people with a sense of humor and a bubbly personality, it is embracing almost every spectrum of the fashion industry. Thus, its comeback calls for a recap of this newfound trend cycle.
What is a Bubble Dress?
Characterized by a voluminous skirt, the hemline of the dress is folded back and stitched to create a poofy effect, thus the term. The most common pairing of a bubble hemline is with a bustier, so as to draw attention to the bubble part of the dress. Usually resting above the knees or mid-thigh, it is mostly draped as a mini dress.
Enough to pop your bubbles, bubble dresses have been a fashion term long before than it rose as a trend. Earliest versions of the bubble dresses were created in the mid 1950s by Pierre Cardin, an italian-french fashion designer. The silhouette then was heavily inspired by the basic shape of a circle, renditions of which are taken quite literally by students of Central Saint Martins and London College of Fashion.
A Classy Comeback of the Bubble Dress
On the high-fashion runway, Louis Vuitton and Milly Bobby Brown had quite a few bubble-inspired creations for the year. Nicholas Ghesquière especially kept it strictly to imitate a peplum hemline, not letting go of the 'bounce' factor in his ensembles.
Notable singer Celine Dion, who has probably seen the dress back in its acme, wore a fresh version of the bubble dress, deliberately highlighting herself for the paparazzi. So, if celebrities are promoting the bubble dress, it begs the question of why it sparks a debate within fashion communities time and again.
Why is the Bubble Dress Hated by Many?
Without beating around the bush, the basic reason netizens have collectively decided to hate on the bubble dress is simply because of how 'ugly' it looks.
Well, let me break it to you, THEY ARE WRONG!
We all had a time of hating a piece so much that led to a catapult in its popularity, and bubble dresses are no exception. At its zenith, it was popularized by being the ideal dress for an 'apple body type', and we know that such notions are done and dusted in today's fashion scene, it does not account to past trends being so too. Think hobble skirts, mini bowler hats or patterned tights of the 60s, anyone would die to put it in an editorial of today, bar none.
With bubble dresses, Apple Body Types have been told to cover up their stomach regions to essentially hide the unwanted fat, and because of the poofy silhouette of the bubble dress, it triumphed to make them look as per the beauty standards.
The current definition of a bubble dress has been shifted from just being the hemline, to being the complete ensemble. Back in '09, Gaga wore a fresh rendition of the bubble dress made by Hussein Chalayan, a British fashion designer.
Before you roll your eyes and just skip to the styling part, have a look at the newest versions of the bubble dress! More recently, Chirstopher Esber Resort 2023 had some looks that were inspired from the hemline of the bubble. Juxtaposing it with structural and pipe detailing, the flow with the standalone parts of each look was mesmerizing to behold.
The Vanilla Issue also featured an interpretation created out of party balloons, 'sewing' the dress on the model itself. Marc Jacobs Fall 2022 also had maxi dresses in pastels on the runway.
Styling Guides for the Bubble Dress
Bubble Dresses: A Style for Each Kind
Whether you are an apple shaped or pear shaped body, it's best to leave these fruit-objectifying methods to the past. Here are the best ways to flaunt the dress for what it is – a confidence boost! A bubble dress can be tricky to style, but if done right, you can be the star of the show.
Wide Belt Beauty
Piggybacking over the bustier pairing of a bubble dress, the corsets and wide belts of today can achieve the same look adding an oomph factor to it. Not only does this silhouette accentuates your bust area, it also adds a balance with a fuller bottom, all the while leaving room for necklaces and jewelry to emphasize your collar bones. All in one, am I right?
Boot-Love
When paired right, bubble dresses can look cute as hell! The dress worn by Soudersam brings in the perfect blend of the 1950s with the classic v-neckline and complimentary puff-sleeves. If you own a pair of such a silhouette, make it the statement by pairing it with ankle or knee-length boots to give a refined, edgy touch. Perfect for Disneyland or a daytime brunch!
Maxi Bubble Styles
Like any other maxi dress, a bubble maxi works best with a small clutch or a sling with a pair of pencil heels, wedges or block heels. If you really wish to invest in a bubble dress, take a pick which inclines towards the opulent side. Luxurious and ball-gown era must shine through your ensemble. Otherwise, it may end up looking like a halloween costume.
Maxi styles of bubble dresses are perfect for dinner 'n dance events, housewarming of a fairly wealthy network that you probably have, or simply, perfect for you if you're the wedding guest. Purple, mint and emerald greens work best with a fabric of velvet or satin in these dresses to add the luxe appeal.
Playful Prints
We cannot talk about the 1950s without the playful prints giving off the vacation and beach sensations. Surprisingly, today these playful prints work well with scrunchies, shell necklaces and the complete vsco girl aesthetic. Bonus if the prints show sandcastles and flamingo pool tubes.
Floral prints also work great for a day when you're just getting ready to have fun with your best friends! You cannot eliminate the fun factor of a bubble dress, and the best way to rock in it is to embrace it. If it is a bold print, go for simple jewelry and wedges. If the print is small, you have room to experiment with statement jewelry and heels.
Prime Pastels OR Bright Beauties?
Highlight these night-time party wears with dainty jewelry to touch up on your feminine side. Whether the fabric is bold in color or a pretty pastel, statement dresses are never going out of style. So, ditch the tried and tested LBD with a cool and experimental bounce of these bubbly ones.
A Part Poise: Accentuating the Bubbly Parts
We agree, dressing up a 'dress' is far easier than coming up with pairings of top and bottom wear. However, if you feel like you struggle with the voluminous parts of your pajamas and tops, thinking 'What in the baloney is this?', we got you covered. Here is how to style those balloon-wide pants, sleeves and skirts without looking like a clown:
Pumped for Work! The Bubble Top
Here's one for the #bossgirls. You will style a bubble top similar to how you would a peplum one. Go for a bubble top with a bustier upper half for your work day ensembles. Pair with a preferably cropped blazer to accentuate the bubble part, with the bottom being straight fit or flared pants and a heel of your choice.
Additional tip: Try to keep the color of your blazer and pants the same, you can try co-ords to work with your bubble top. In the summers, opt for a top that has an accentuated bubble part (like a puffed sleeve or shoulder stitch), which you can find how to style in the section below.
Bubble Sleeves
Call them the batwing, puffed, or balloon sleeves, these puffers come in various designs, thanks to the room for experimentation while garment construction of sleeves. Most bubble sleeves are meant to hold the stare and be the statement of your outfit.
No loose bracelets! If you wish to accessorize the sleeves which are bulky near to the wrist, it is best to go for wristwatches or sturdy bangles. The balance of sturdy and loose ensures that both the items compliment each other in this ensemble, highlighting each detail.
Frequently Asked Questions
Is puffball and bubble dress the same?
Yes, the name puffball came as an alternative to the bubble skirt when Yves Saint Laurent designed it under the apprenticeship of Christian Dior. The term puffball was also used by Balenciaga later on.
Can I style a peplum with a bubble hemline?
The two hemlines which flare out may not work the best. Opt for a balance between keeping it slim and showing a bit of flare. Think a peplum top with skinny jeans, or a bubble dress with tight boots. 
Should I wear a bubble dress if I am thin?
Absolutely! If you feel confident in a bubble dress, go for it. As per your body type too, you can style a bubble dress to essentially give yourself 'more volume', if that is the look you're going for.
Subscribe and get more fashion tips on herstylecode.com!