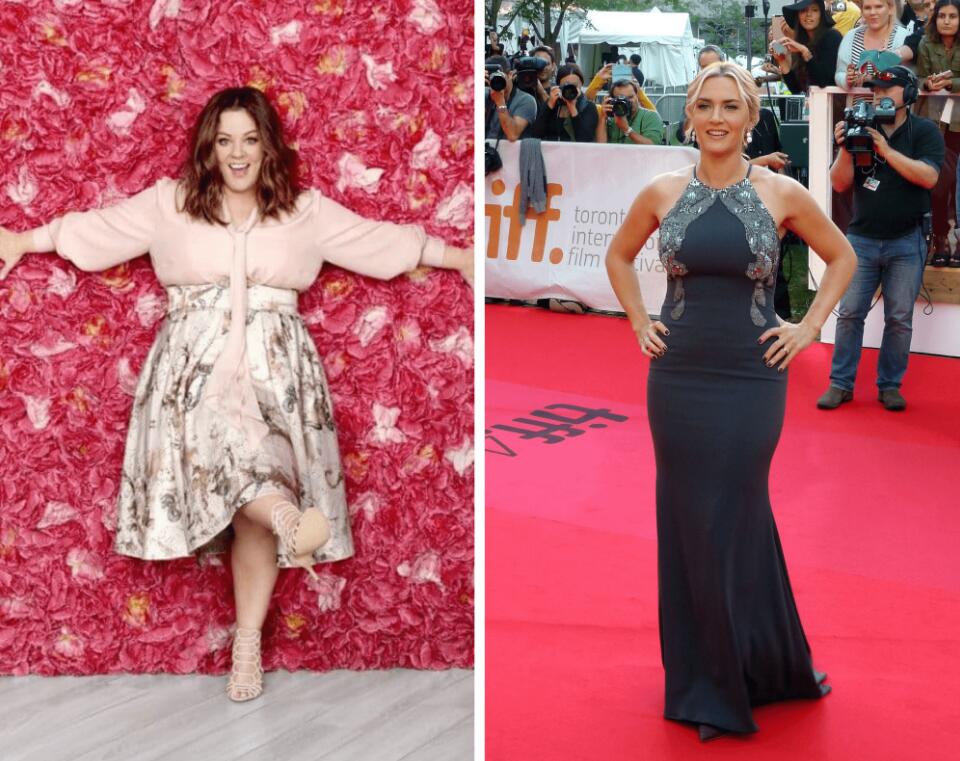 If you've taken the time to find your true Apple body shape, you'll be ready to start upgrading your wardrobe to show off your best features!
But you may be struggling to decide where to start.
You may feel that your previous approach to building a wardrobe of figure flattering clothes hasn't worked out too well and now you're ready to give up!
But please don't do that!
Like a lot of other things, building a wardrobe for the Apple body shape is easy – once you've learned how!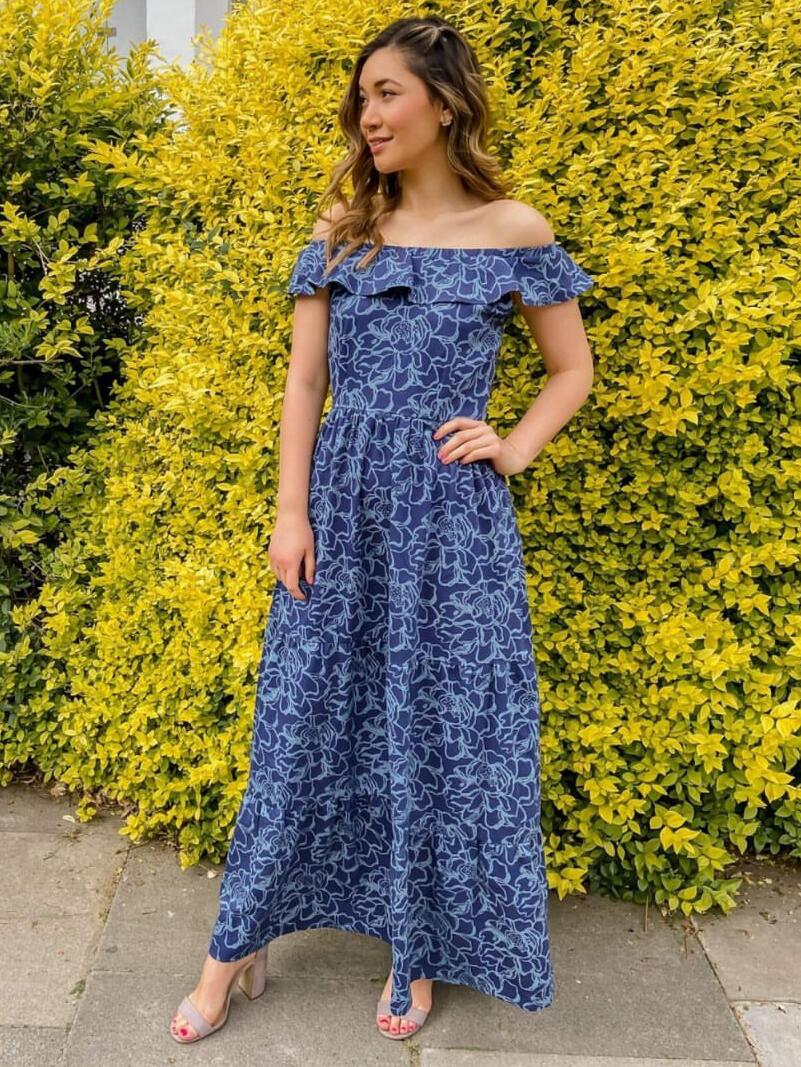 This article is your ultimate guide to building a wardrobe designed to show off your lovely body shape and make it easy to pair up your separates/accessories in varied and attractive outfits.
To achieve a stylish look, you need to give attention to every part of your outfit, so you create a well-curated ensemble.
However, you do need to find out your own Seasonal Color Type and use your color palette as the basis of your wardrobe staples.
If you need any help identifying your best color palette, why not use my Detailed Seasonal Color Analysis article here?
And before we go any further, let's just run over the characteristics of the Apple Body Shape.
What exactly is an Apple Body Type?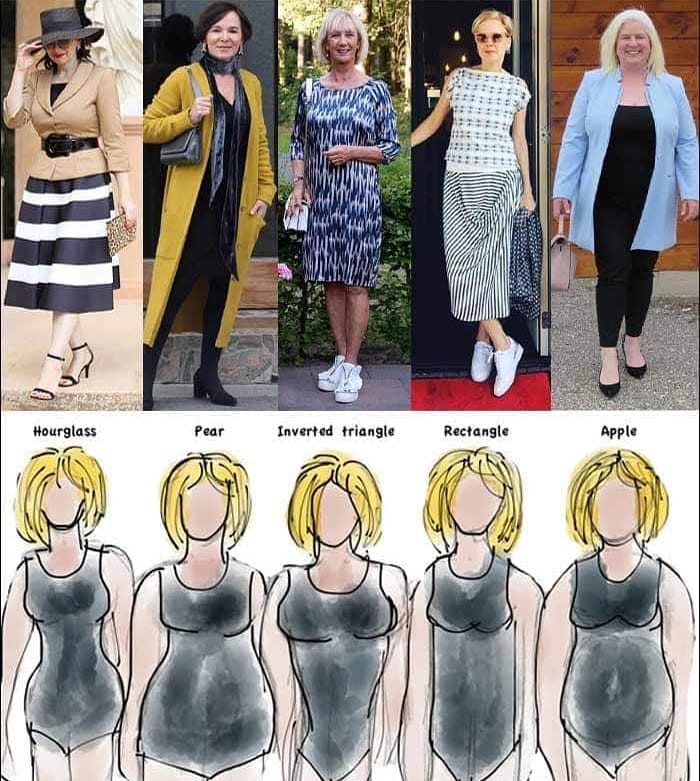 Apple body shapes are often confused with the inverted triangle body shape, because both have a top-heavy figure.
However, Apples have a fairly undefined waist, whereas the Inverted Triangle shape has a more defined waist.
Of course, there is a certain range of proportions within the Apple type, but you could have broad shoulders with a large bust and an undefined waist.
Or you could have balanced shoulder and hip measurements and a larger midriff.
And although people often think that all Apple body types are plus-size, there are Apple shapes in all sizes, including petites and slender women.
To settle the matter once and for all, you can confirm if you are this shape by taking your body measurements.
A detailed description of the Apple Body Shape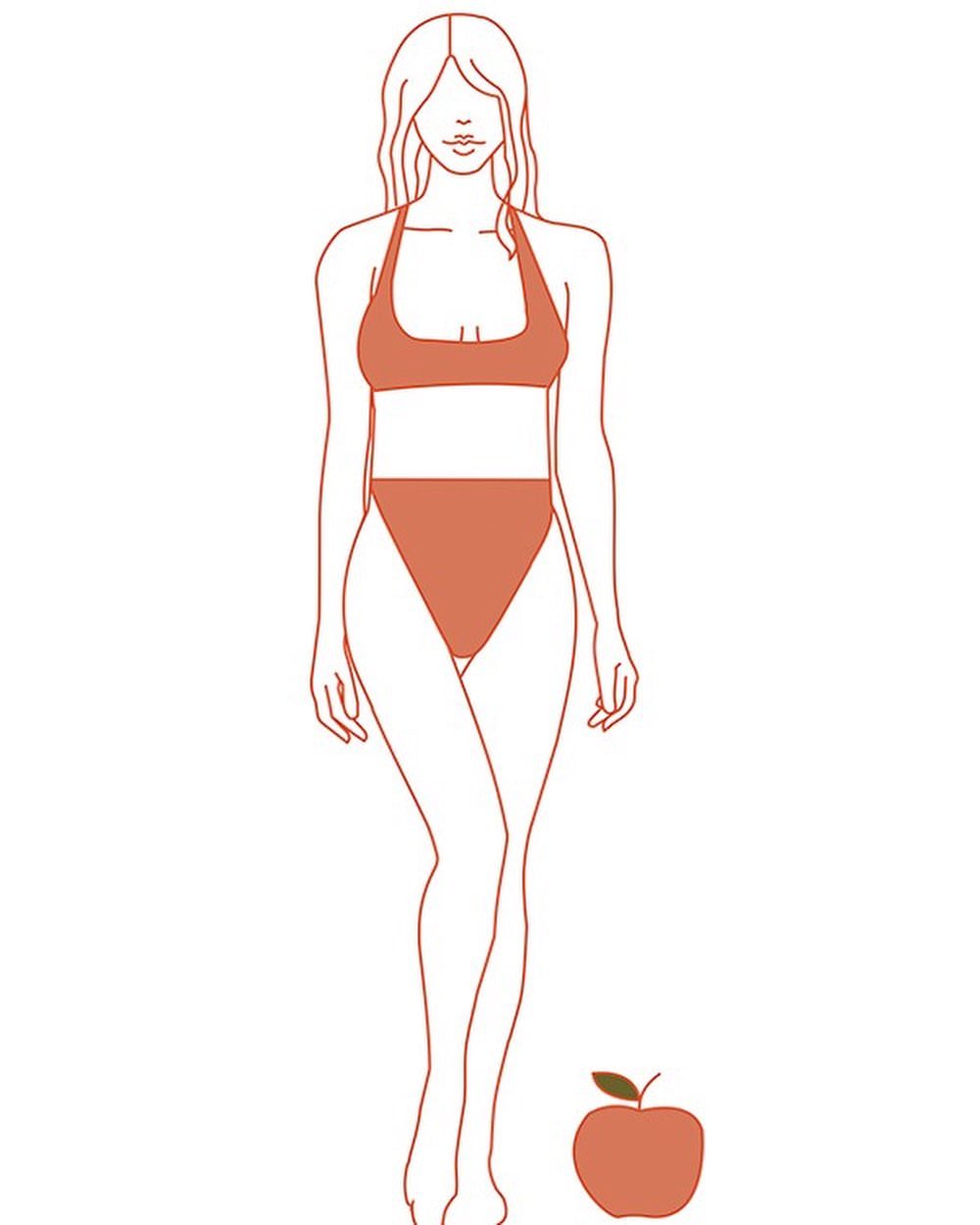 Apples always have a broader upper body, which may include an above-average bust size and a waist and abdomen that are the widest part of your shape.
And there are also 'oval-shaped' Apples, who may have a generous bust, with narrow shoulders and hips either side of their medium-sized waistline.
These are very likely combined with two of your other best attributes, which are shapely legs and slender arms.
The petite Apple shape may not be plus-sized, but they also have a noticeably flat bottom and a weight-gain pattern in which extra pounds always show up first on the stomach and bust.
So it's no surprise to find that large, medium and small, Apple-shaped women struggle to find outfits that fit the sheer variety of features included in their body type!
I am a slim apple shape and find it very difficult to get clothing small enough for narrow shoulders and hips, but big enough for a 32 G cup bust.
Do Apple body shapes change over time?
Some women find that when they gain weight, their body shape does change a little and one of the most frequent changes is to turn into an Apple owing to the ageing process.
So although your main body shape may be different, your secondary body shape could be Apple, as there is always a little overlapping between certain types.
So we are going to learn how to minimize the look of your waistline and balance out all of the features in your body!
What are the best style aims for an Apple Body Shape?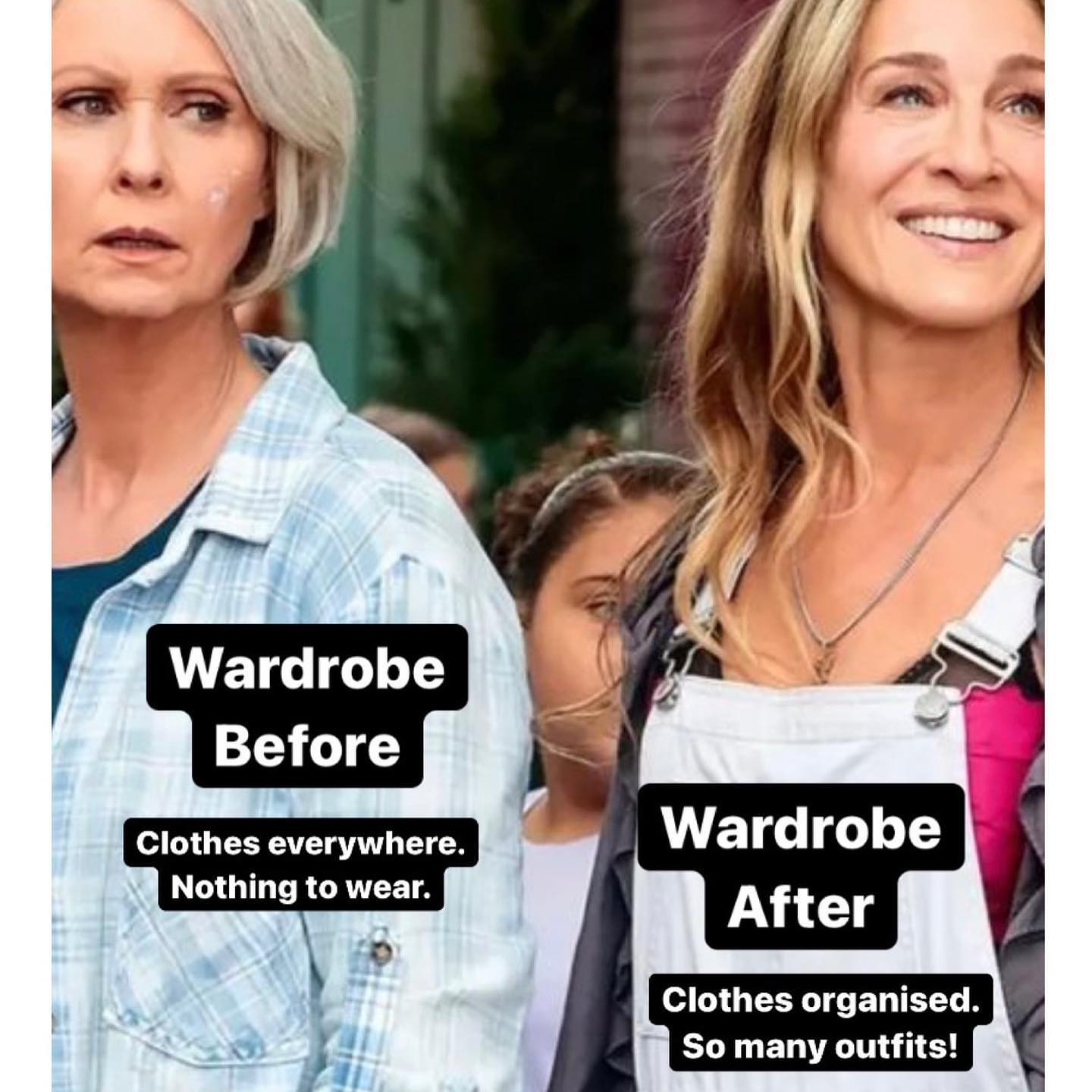 The main aim is to bring the appearance of your body as near to the well-balanced, hourglass, or figure of 8 shape, as possible.
And to do this successfully, Apples can wear garments that help to highlight their lovely bust, arms and legs.
This may be a slight shift of emphasis for you, as you may have spent a lot of time trying to hide your stomach and ignored your attractive features.
But we are going to change all of that with some savvy styling!
Which celebrities have an Apple Body Shape?

Although you shouldn't rely on copying celebrities to find your own best styles, because so much depends on your individual proportions, it's helpful to see how public figures dress.
Sometimes you get to see what looks flattering and elegant, and other times you'll pick up pointers on what really doesn't work!
Adele
Amy Schumer
Chloe Grace Moretz
Drew Barrymore
Kate Winslet
Melissa McCarthy
Mindy Kaling
Missy Elliot
Queen Latifah
Whoopi Goldberg
Body-positive styling for Apple Body Shapes
It's important that we move away from constantly criticizing our bodies and move on to body positivity.
However, that doesn't always happen overnight, so I suggest we compromise with body neutrality for the time being. 🙂
And to get the ball rolling, let's all take a moment to recognize which parts of our body we are going to highlight in the new outfits we are planning to put together.
This could be narrow shoulders in a Bardot or halter-neck top, a V-neck showing a little cleavage, trousers or a pencil skirt that show off your narrow hips and shapely legs.
Or if you have wider shoulders, you can emphasize the taper from your shoulders down and in to your waist.
Take a few minutes to consider this point as it will be the most important part of dressing your apple body shape better.
So allow yourself about five minutes in which to note down the areas you plan to highlight and which areas you plan to 'understate', as follows:-
1. 3 body areas you love and wish to emphasize
2. 3 body areas you view in a neutral way
3. 1 – 2 body areas you are going to 'play down'
You should find you are planning to highlight features such as your bust, legs and arms and play down your undefined waist.
But if you don't get a result like this, you may be in the wrong body shape guide and need to consult my other guides.
What fashion styles can Apple Body Shapes always rely on?
Image of apple body shape woman wearing an empire-waist dress
Remember that there are many different sizes and shapes included in the Apple body shape range.
So not all of the suggestions made here will be perfect for you.
You'll find that the trick is to try things on and check to see how it looks.
Ask yourself, 'Does it highlight your best points and play down your least favorites features'?
Try to avoid choosing a baggy outfit just to hide your stomach. It's not necessary and will hide all the good stuff you have going for you!
Some apple celebs wear styles that skim over the abdomen with defined, yet looser outlines that look great.
Another good idea is to create a couple of eye-catching points of interest in your ensemble, like accentuating cleavage or shapely legs.
Or you can use the art of, 'layering' your clothes to create a great outfit that also takes the emphasis away from the size of your waistline!
And when doing this, you should experiment with monochrome top to toe ensembles, also known as column dressing, as well as 'tonal' dressing, which is dressing in a narrow band of shades all from the same color.
For example, a sand-colored jacket, camel-colored jeans and a cream T-shirt, with accessories that harmonize.
As we Apple shapes tend to have a full bust, bra shopping is extremely important. So try to ensure your bust always has strong support, because without it, the clothing over it won't have a stable foundation.
Best bra types for Apple Body Shapes
You need a bra that's got strong, broad elastic, so you get full support and comfortable wear.
The biggest problem you can ever have with bras for full busts is that they aren't strong enough to anchor your breasts to your chest.
So you should look for bras with a strong, broad body band that can support the majority of the weight.
Underwired bras are essential if you want a well-shaped figure and comfort.
Any bra that digs in or pinches is not the right bra for you.
Try to prioritize getting yourself measured by a professional in a quality store's lingerie department.
This doesn't mean you have to buy a bra at the same time, they may not have the best bra for you in stock or they may just be too expensive.
But getting the correct bra size is vital for your future comfort and body shaping.
I have been wearing a Freya Sports Bra model in 32 G as my everyday bra for 20 years and have never had problems with lack of support or poor shaping.
It's gives great uplift and has the broad straps some of us absolutely need for all day comfort.
And I have definitely never had any pain or pinching with these sturdy bras.
They may not be lacy enough for special occasions, but otherwise I believe they are the best you can get for large busts.
For those who have a medium sized chest, or breasts sitting wide apart of your chest, a balconette can be a great option to flatter your shape.
But if you're a C cup or larger, the balconette may not provide sufficient support.
If you have deflated or sagging breasts, try the V-shape and plunging bra styles that are designed to bring your breasts together to form cleavage.
A ¾ cover bra is great if you wish to highlight your cleavage and you'll find that push-up bras also perform this welcome service for those who require it!
Avoid bras with padding if your chest is large enough without, as they can give an exaggerated proportion that makes you look top-heavy.
What not to wear on an Apple Body Shape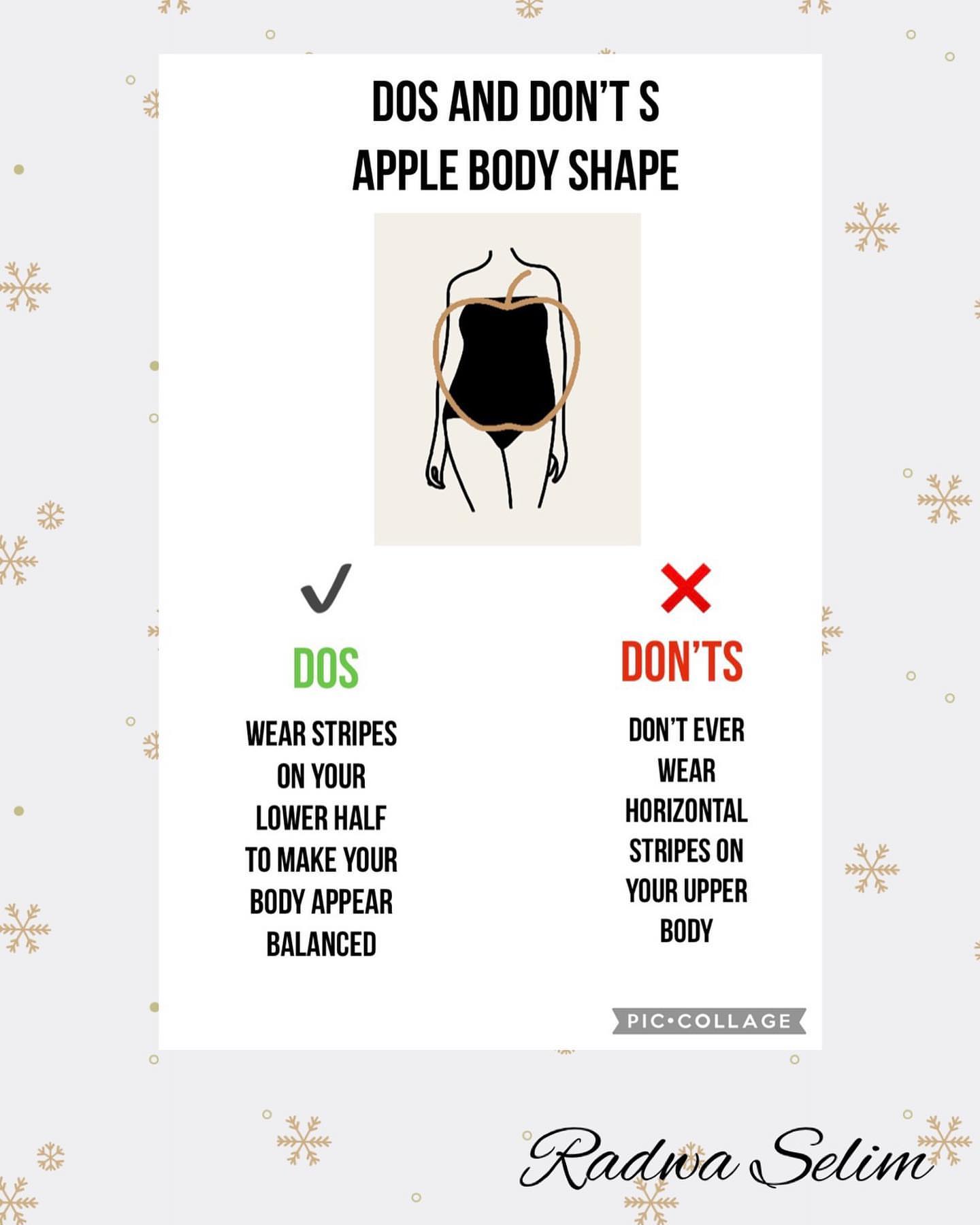 No oversized garments, which don't look 'street cool' on our body type, they just hide your feminine shape altogether and look baggy and possibly, lumpy!
In fact, try to avoid any baggy style clothes.
Avoid clothing that visually highlights your waistline or tailored styles that draw attention to it.
For example, if you wore a color contrast belt or a thick belt, this would draw attention to your mid-section and people would be more aware of your thicker waist!
By the same token, horizontal stripes can make your back, bust and waist look wider, so check whether or not they suit you before buying.
Corset-copying styles aren't always your best friend either, as they can make you look over-constrained around the waist and push your bust up far higher than decent – or natural-looking!
Overall, your clothing should skim gently over the high-points of your shape and have a gently flared movement away from the body.
Cut-out pieces are popular right now, but they break up your shape into smaller sections that's not always flattering.
And any garment that's too tight and pulls across your body is definitely not to be worn.
Similarly, crop tops draw the eye to your waist and stomach area, which the viewer expects to taper inwards.
If you haven't got a tapered-in waist and flat stomach, don't highlight that area with cropped garments.
Apple Body Shape Style Tips
Always start with a well-supported bust
Choose open and straight silhouettes
Get to know the 'art of layering' and use it to show your best points
Add balance to your lower half by wearing something visually eye-catching
Don't wear any clothes that swamp you
Don't wear tight clothing either
Choose items that flare out gently from your body
If you have beautiful legs – showcase them
Avoid high and narrow necklines – turtle necks/polo necks as they make the midriff and waist appear larger
Experiment and check how you look by taking photos to look at a while later. It's amazing what you can discover this way!
Apple Body Shapes: Ultimate Guide to Building a Wardrobe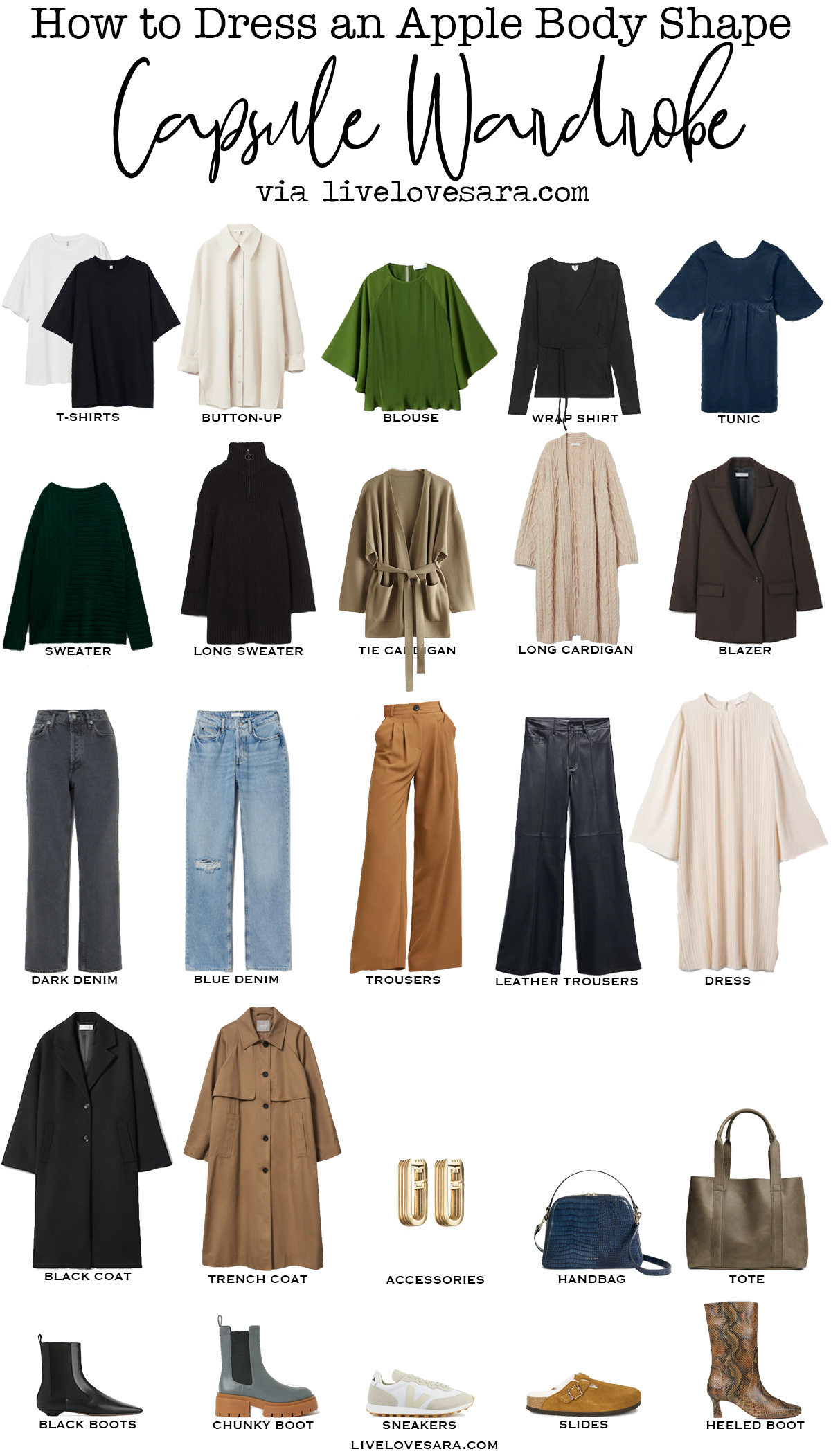 Now let's get down to the details of individual silhouettes and see what flatters your body type:-
1. Necklines to flatter the Apple Body Shape
Silhouettes will be a big theme throughout our discussion of the best styles for Apple body shapes.
And the main idea is to draw the eye outwards, which tends to make the body impression appear narrower.
For instance, a fitted neckline tends to emphasize the roundness of the shape below it.
They eye follows the garment line inwards to the neck and the brain acts to visually widen the middle section.
On the other hand, the wide, V-neckline draws out the uncovered area to seem wider, which in turn makes the waistline appear narrower.
If you kit yourself out with good quality, supportive bras with wider straps, sides and body band, you'll see that any and all necklines will enhance your apple shape perfectly.
If showing cleavage isn't suitable for you, choose higher necklines – like a higher-cut, scooped neckline. This neckline has an 'outward' shape, but won't reveal your underwear when you bend down.
Square
Off-the-shoulder
V-neck
Wide V-neck
Deep V or plunging neck
Scooped
Cowl
Sweetheart
U-shape
Strapless if your bust is well-supported
2. Best Sleeves for Apple Body Shapes
Apple body shapes usually have great arms, and you'll want to show them off. However, you don't want constricting sleeves, fitted, or overly tight sleeves.
Your arms are usually slender, so if you wear fitted sleeves it will tend to make your torso appear broader by comparison.
And for that reason sleeveless garments, or those with short cap sleeves, flatter your shape well.
This is because they don't place a horizontal line across your arm defining where it starts or finishes.
Another good trick is to wear sleeves that have a bit of volume, or a soft shape or flare out a little, as this gives your silhouette some nice outward, flowing movement.
Sleeves checklist
Butterfly
Draped
Flared
Fluttery
Gentle cuff on a fairly loose sleeve
Open cap that isn't tight
Split
Avoid: Tight sleeves that make your arms appear even more slender – as they make your body look wider.
3. Flattering Shirts, Tops & Knitwear for Apple Body Shapes
Of course, it's not always easy to find the perfect garment which has all of your style requirements together.
But the more body-flattering features you can get in one garment, the more wear you'll get out of it.
And it's always better to have fewer clothes, but ones that always make you look good, that loads of clothes that don't really enhance your body shape.
a) Avoid short crop-tops and long garments that go past the hip bone.
You'll look far better proportioned if you follow the Golden Rule of dressing by thirds, so your top will be one-third and your lower section two-thirds.
This means tops that end somewhere between your waist and your hip-bone.
b) Apple shapes also look good in flowy, relaxed and A-line shirts in which the cut is straight or flows out slightly.
Our Apple body has sufficient rounded shapes in it, so we don't want to emphasize this with hems that taper in or create any more circular shapes.
c) Always select your garments with careful attention to the fabric, because this affects how the item drapes around your body greatly.
Woven textiles hang well and the softer they are, the better they will drape loosely over your curvy areas.
Be careful to avoid stretchy textiles and tightly-fitting knitwear, even though they may at first seem like a good choice.
Stretchy fabrics can be too tight around your upper body and strongly emphasize the stomach.
Separates' style checklist
A-line shapes
Casual boyfriend jeans
Empire waist with a lightly flared out hem
Loose peplum tops with an elasticated waist in soft weave fabric
Loose-fit T-shirt with a suitable neckline
Open loose cardigan-coats
Softly-cut shirt with open cuffs
Swing/trapeze top
Tunic
Waterfall cardigan
Avoid: Tailored shirts, patterned knitwear, anything that looks like a corset, contrasting color belts, shirts with tapered-in hems, cropped tops and bodycon items.
4. Top Jackets for Apple Body Shapes
Jackets can really make your apple body shape look great, especially those with a visual neckline and V-shape lapel that will draw attention to your bust line.
This all adds to your verticality and makes you appear longer and slimmer.
Jackets with the button set below the bust are most flattering, and you can also look fabulous in a straight or 'open' jacket style.
If you find a nice peplum jacket make sure it has an elasticated or ruched waist, rather than just a single seam line.
The stretch will give you a shapely fit, but a single seam line can 'pull' and emphasize any extra weight beneath.
Jackets with open necklines are great for your body shape, and look for lengths around the hipbone or upper thighs.
Jackets checklist
A-line jackets
Fitted jacket with a flared hem
Open jackets
Peplum with soft, elastic or ruched waistline
Straight jacket
Avoid: Jackets with wide belts, cropped jackets and double-breasted jackets.
Double-breasted jackets, wide belts on jackets, and shorter or cropped hem lengths are not the best choices for the oval body shape.
5. Stylish skirts for Apple Body Shapes
There are lots of flattering skirt shapes for apple body types, especially those that give outward movement.
You can wear a high-waist mini or midi, depending on your preference.
Avoid voluminous skirts because too much fabric can make the frame appear shorter and wider.
You'll look great in lovely, sexy pencil skirts, as long as they go straight down from the hips and aren't a stretchy style that curves inwards at the hem.
Skirt styles' checklist
A-line
Asymmetrical hem
Bias-cut
Circle-skirts
Paneled
Straight pencil
Wrap-around
Avoid: Bodycon pencil skirts, ruffled styles and tiered 'gypsy' skirts that tend to emphasize your abdomen and waist
6. Best dresses for Apple Body Shapes
Here's a list of dress features that will enhance your body shape.
But you can also use this general description when you see a dress you like, but it isn't on the list i.e. a silhouette that flows out gently and doesn't over-accentuate your waistline.
Dress style checklist
Empire waist with a flared hem – not a tulip-skirt or cupcake-shape
Draped elements
Fit and flare styles – if they have a soft waist seam
Peplum
Ruched dress
Ruched-waist dress
Tunic-style dresses
Wrap-around dress in a soft fabric
Tip: If you need a closer-fit dress that adds a sexy vibe, choose a frock with draping or ruching below the bust.
This makes space for your stomach and avoids you having a bulge showing.
Avoid: Narrow, high or tight necklines, inwardly tapered hems, corset-type styles, close-fitting seams around the waist and stretchy bodycon dresses
7. Best jeans for Apple Body Shapes
Apple shapes may have completely different proportions, so there's no one type of pants for everyone.
These suggestions do cut down the decision to a smaller list, so you don't have to try on every single, new jeans cut!
Flat-front jean cuts are the most flattering to an oval body shape as they don't put extra emphasis on the hips or waist.
Silhouettes should be bootcut or straight and wide-legs or flares will work beautifully for some apple shapes, as they create a vertical line that moves away from the body.
Skinny jeans suit some apple shapes, but not all by any means. They will emphasize slender or long legs really well.
But depending on your personal mid-torso shape, they could make you look out of proportion, so it's an individual decision.
The waist-height is also a decision you should make dependent on your body proportions.
However, you can't go far wrong with a medium-rise jean, which prevents an unwanted gap between your top and your jeans that low-rise sometimes cause.
Here's an example of how to make small adjustments to your outfit to present an apple shape better.
The first picture shows an ensemble with the waist on show, between two different colored garments.
So the top looks shorter and the bottom also looks shorter – but the waist appears wider – so avoid this sharp color-contrast between top and bottom.
The second image shows how matching the colors and wearing higher rise jeans takes the eye away from focusing on the waist.
This is known as a 'column effect' and is a great tip for apple shapes wearing trousers.
Another good idea is to wear a shirt that flares out away from the body in a slightly longer style, because this elongates the line and balances the outline well.
Jeans checklist
Dark colors
Bootcuts
Flares
Skinny – if they harmonize with your proportions
Straight-legs
Wide-legs
8. Top trouser cuts for Apple Body Shapes
The trouser advice is more or less the same as for jeans. Keep the front free from decoration to avoid drawing the eye to the stomach area.
Cropped silhouettes are also not a good look for apple shapes as they cut the vertical line and make legs look bigger and shorter.
However, petite apple shapes do look great in cropped pants.
Trouser checklist
Bootcuts
Flares
Flowy styles
Straight-legs
Wide-legs
Avoid:
Trousers with a button-fly, or other decoration at the front, waist or hips.
Wide waistbands and integral wide belts
Sailor-pants with metal buttons on the front
Tapered-in legs
9. Stylish coats for Apple Body Shapes
A-lines, ponchos, open and straight coats all look great on apple body types.
Some apple types look super in a wrapped-coat, but you have to be careful where the tie-belt lies at your waist.
Therefore, a wrapped-coat in a soft fabric will give you the best silhouette, without being constricting around your body and bust.
Certain styles of trench-coat are also a great choice, if they are single-breasted, knee-length without a belt, or a fairly plain style.
Coat checklist
A-line
Cut-away coats with diagonal lines – as long as the closure is in the right place for your shape
Open styles
Ponchos
Straight silhouettes
Wrap-around coats
Avoid: Coats with decoration in the upper half, wide or fancy belts and double-breasted styles.
10. Flattering jumpsuits for Apple Body Shapes
Outflowing silhouettes rather than anything tapering inwards are the most flattering styles.
Follow the neckline advice and choose soft fabrics that drape well and you can look fabulous in a jumpsuit.
11. Attractive shorts for Apple Body Shapes
Oval body types look best in shorts that come down to the knee and have a straight silhouette.
Depending on your personal proportions, you may also find Bermuda shorts are suitable.
Be careful about wearing tight shorts, but if you do, ensure they are long in the leg, as short legs may make you appear top-heavy.
When wearing tailored shorts, match with a tunic or flowing top.
12. Accessories for Apple Body Shapes
Choose your accessories with care as they are a vital part of a smart fashion style.
Your main aim should be to attract attention to your head and neck area, so wear earrings, hair accessories and scarves to achieve this flattering goal.
Alternatively, you can create a strong, monochrome, vertical line down to your shoes.
So wearing a pair of especially attractive shoes or pumps/court shoes is always a great idea!
Belts
Belts aren't a big help in creating flattering outfits for apple shapes.
But if you do choose to wear belts, they should match your skirt or trousers or be a similar tone, so they don't draw attention to your waist.
Avoid contrasting belts which make the waist appear wider.
But if you do have to wear a belt that contrasts with your skirt or pants, ensure the fabric around it drapes over and away from it.
Always remember to look at the proportions of your whole outfit.
Look at the above image showing a great dress shape for an apple body, which is spoilt by knee-high boots that shorten the vertical line.
The outfit is being divided into three separate pieces, because of the small section of leg showing between high boots and the dress.
A good way to adjust this look would be to wear high-heeled, high-boots or colored tights to continue the vertical line.
Or you could wear shorter boots.
13. Fab outfit examples for the Apple Body Shape
And now, here are some examples of how to create different looks that I hope will inspire you to experiment with new and flattering looks!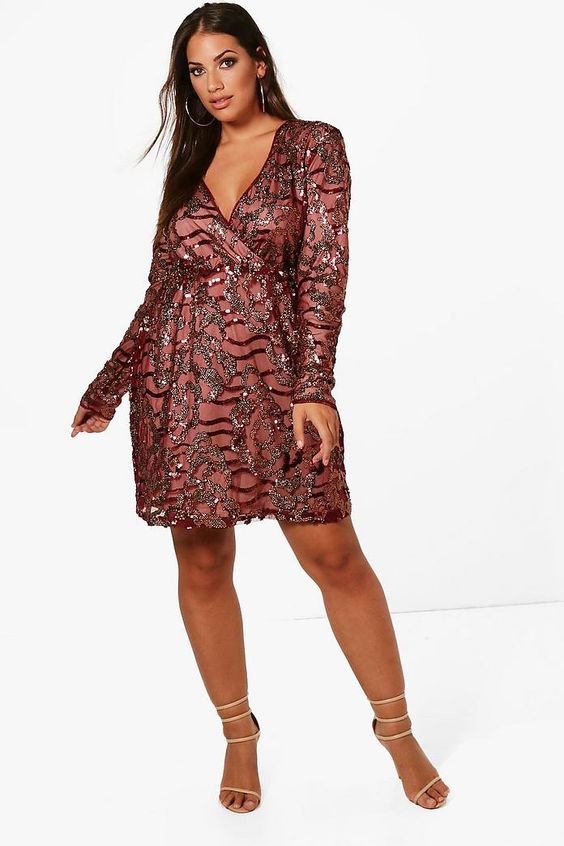 This is a fabulous dress shape for an apple body!
The neckline shows the model's attractive bust-line and the waist is lightly defined, with subtle gathers creating more space for your bottom section.
The skirt flares out in a way that balances out the lower half beautifully.
The color is perfect for the model and shows how much difference correct color-styling makes to your finished look.
So do take a look at my Detailed Seasonal Color Analysis and find out which season's color palette flatters you best.
Shoes
The only problem with this outfit is the shoes with straps cutting across the ankles, which you should definitely avoid, as it shortens the legs and ruins your vertical line.
This outfit would be more flattering to the legs with a pair of heeled pumps/court shoes that elongate the legs, in a harmonizing color.
This asymmetrical/open hemmed dress is flattering for some, not all, apples because it drapes well and doesn't cling to the stomach.
And a softly elasticated waist defines the waistline lightly, but without making it a focal feature.
However, the shoulder shape slopes in a little, which means it isn't the best choice for anyone with wide shoulders.
In this style suggestion, black wide-leg trousers lengthen her lines in an attractive 'column' look.
Matched with a neutral cardigan this creates a polished look.
Open cardigans, or medium-weight knitwear that doesn't swamp your body, are a good choice.
You could also add a hat that matches the top or trousers, to elongate the line even more.
Here's a lovely, casual outfit for you to consider!
The loose blouse has an open neck, and can be tucked lightly into a wrap-around skirt for a flattering look.
This outfit has enough space for your mid-section to be comfortable and not the focus of the look.
Peplum dresses should be made from a soft fabric with a hem that's straight and not tight, plus a waist seam that's soft or elasticated.
This dress shows the apple body without showing off the chest area, with the peplum balancing out the lower half.
Don't hesitate to highlight your lovely legs with a mini-skirt that ends just above the knee.
If you don't want to draw attention to your abdomen, wear a dark colored skirt as shown above.
Apple body shape petite dress with a high waist/Empire line style
Petite apple shapes and those who have a secondary, inverted triangle body look lovely in an empire line – high-waisted dress.
This style flatters anyone with a strong shoulder line and a full bust, as the dress accentuates the upper body and skims over the waistline producing a balanced lower section.
Your Comments
I hope this article has helped you fall in love with your body shape and realize that you have lots of attractive points to highlight!
Take your time in changing your wardrobe to be more flattering and plan what you need to buy carefully.
Try to avoid impulsive buys and stick to your personal style goals, and you'll get far more wear and value for money out of the clothes you choose.
And you'll feel so much more self-confident with a figure-flattering wardrobe of outfits you'll love wearing!
Tell us what you think – your feedback is important to us:
Has this article helped reduce your 'fashion anxiety'?
Have you started putting together more flattering outfits?
Have you stopped wearing styles that don't flatter you?
Has it made shopping trips easier and stopped your impulse buying?
Have you gained in self-confidence?