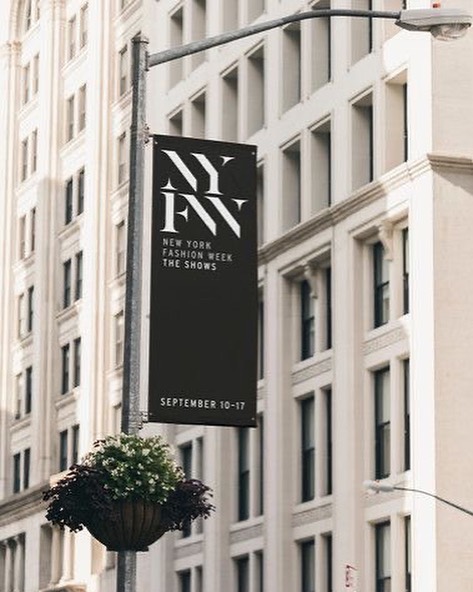 Heels strutting, reporters buzzing and crowds running, fashion show week is the most exhausting yet exhilarating experience for anyone who is in a fashion capital. From the stars reaching runway show venues to the students and newbies barging in for a seat, it is a sight for anyone who is new to the fashion scene.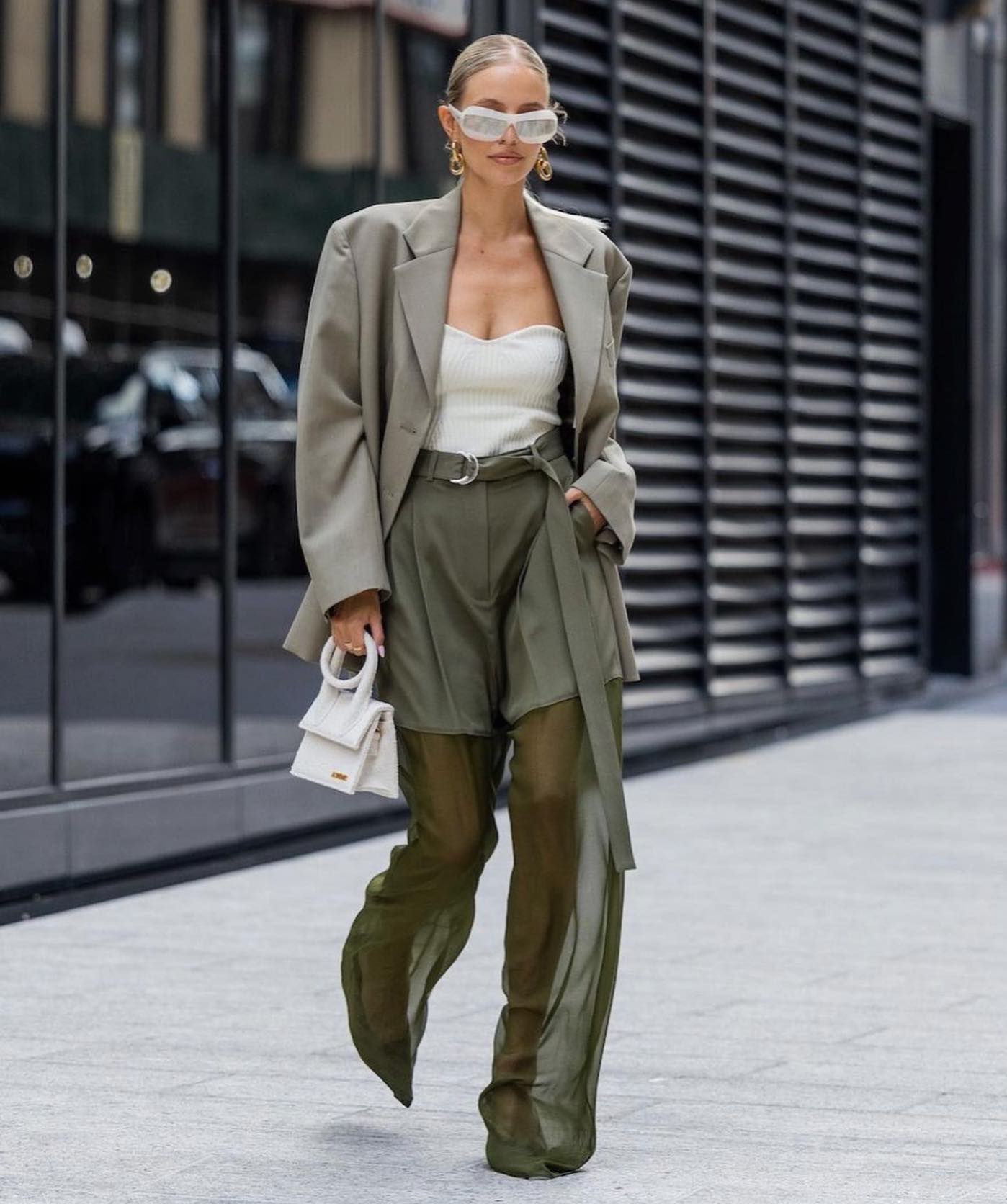 However, even if you couldn't go to that one Valentino show or grab a seat at Tom Ford, the style on the runway has a major competition on its way with the street style of the people going to the shows. While the collections get their due credit for the months (even years) worth of work involved in it, the street styles of individuals speak volumes more about their personality and their way with the world. Here are the cues to take from the NYFW street style to experiment with your own:
1. Mixed Patterns
A cue to the weirdcore aesthetic in a subtle manner, the streets were flooded with the mixed patterns which at first might make you reject the idea altogether, but may give a second thought later on. Think cow printed overcoats with pastel boxy pants and a green clutch. Gaudy in theory, but works flawlessly in practicality.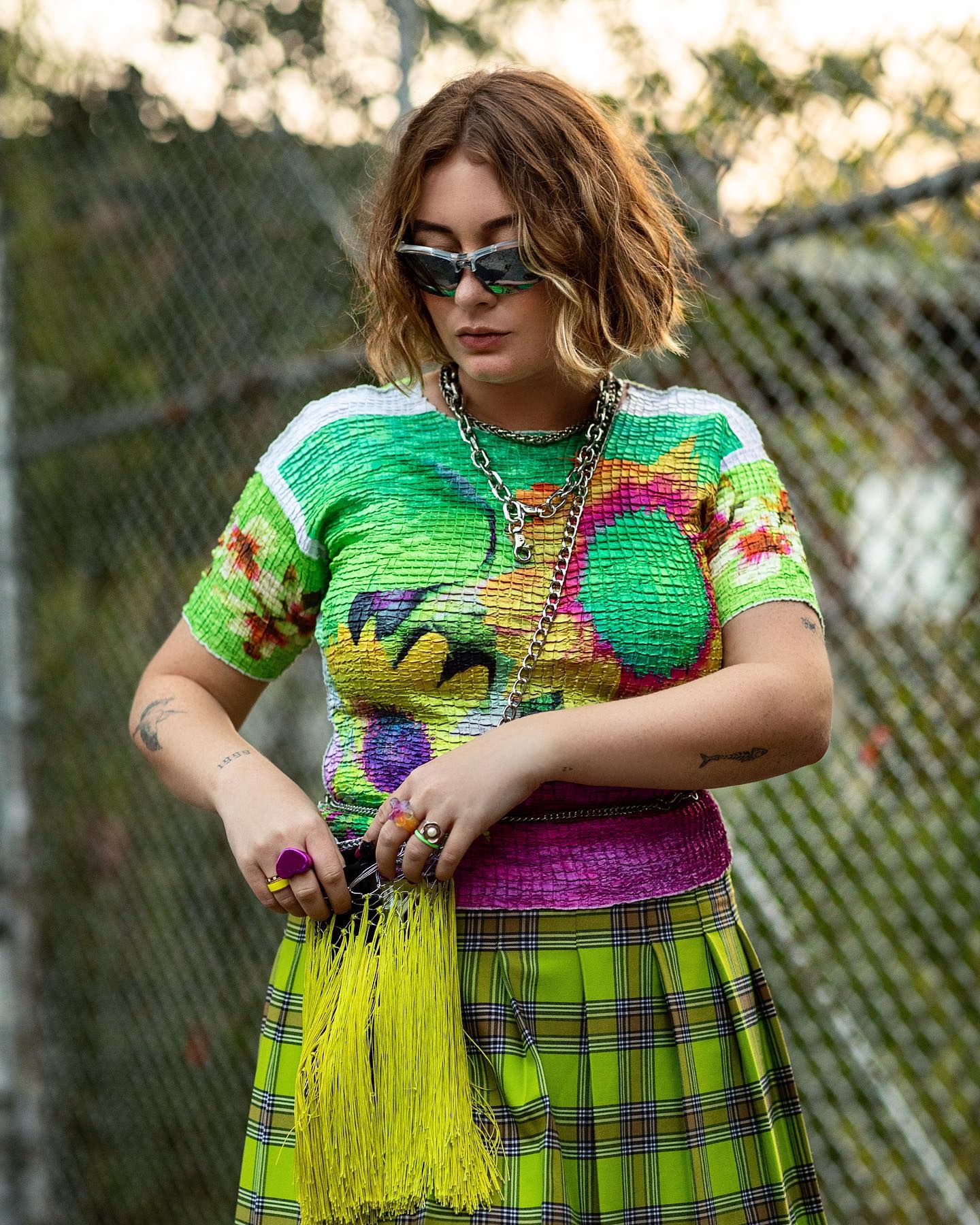 2. Matching Sets
On the contrary to mixing patterns, co-ords, the staple, were observed again in buttoned up, oversized shirts with loose dad pants in a matching color.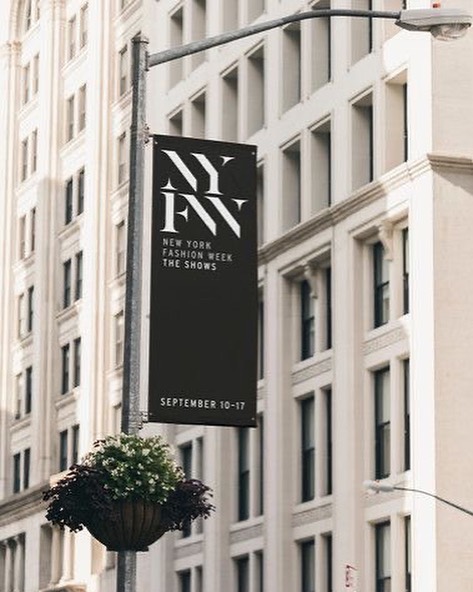 Denim on denim was also big this season, especially when it came to streetwear looks, and while denim may be something we might want to buy fitted, the street fashion lovers did not shy away from keeping it baggy with boots and oversized jeans rolling up the hems.
3. Feather Details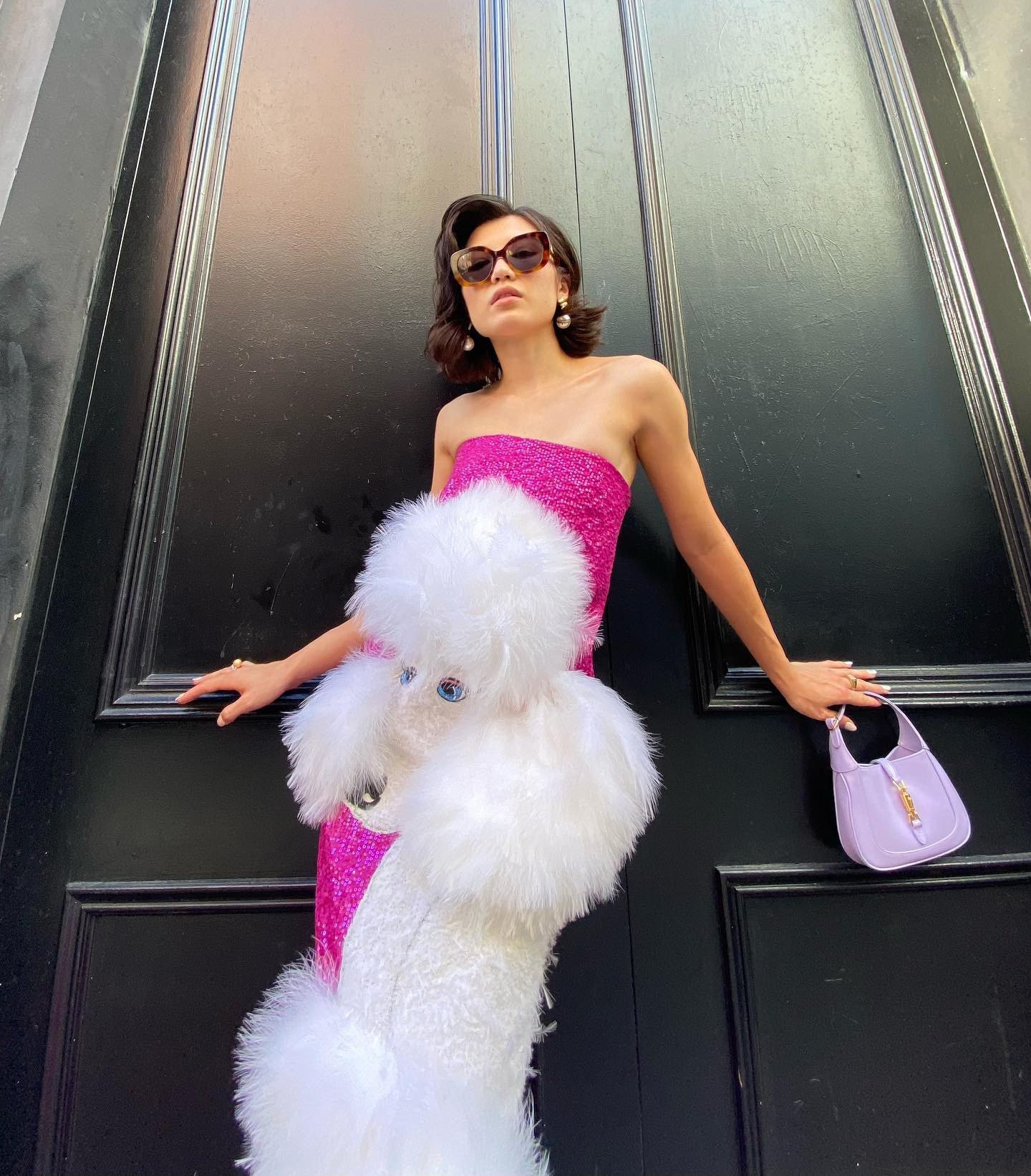 Yes, we all love a touch of flamingo risque. Along with being ultra feminine, feather details of any kind are big this season, whether it be on the sleeve of a wrap up top, a midi skirt or a complete dress made out of feather. Kind of hard to wash, I guess, but worth the slay game for the streets. Pair this easy-going trend with silver clutches, heels and all the bling you need, 'cause it is just that luxurious of an affair when feathers are at play.
4. Lime Green 'n Yellow Madness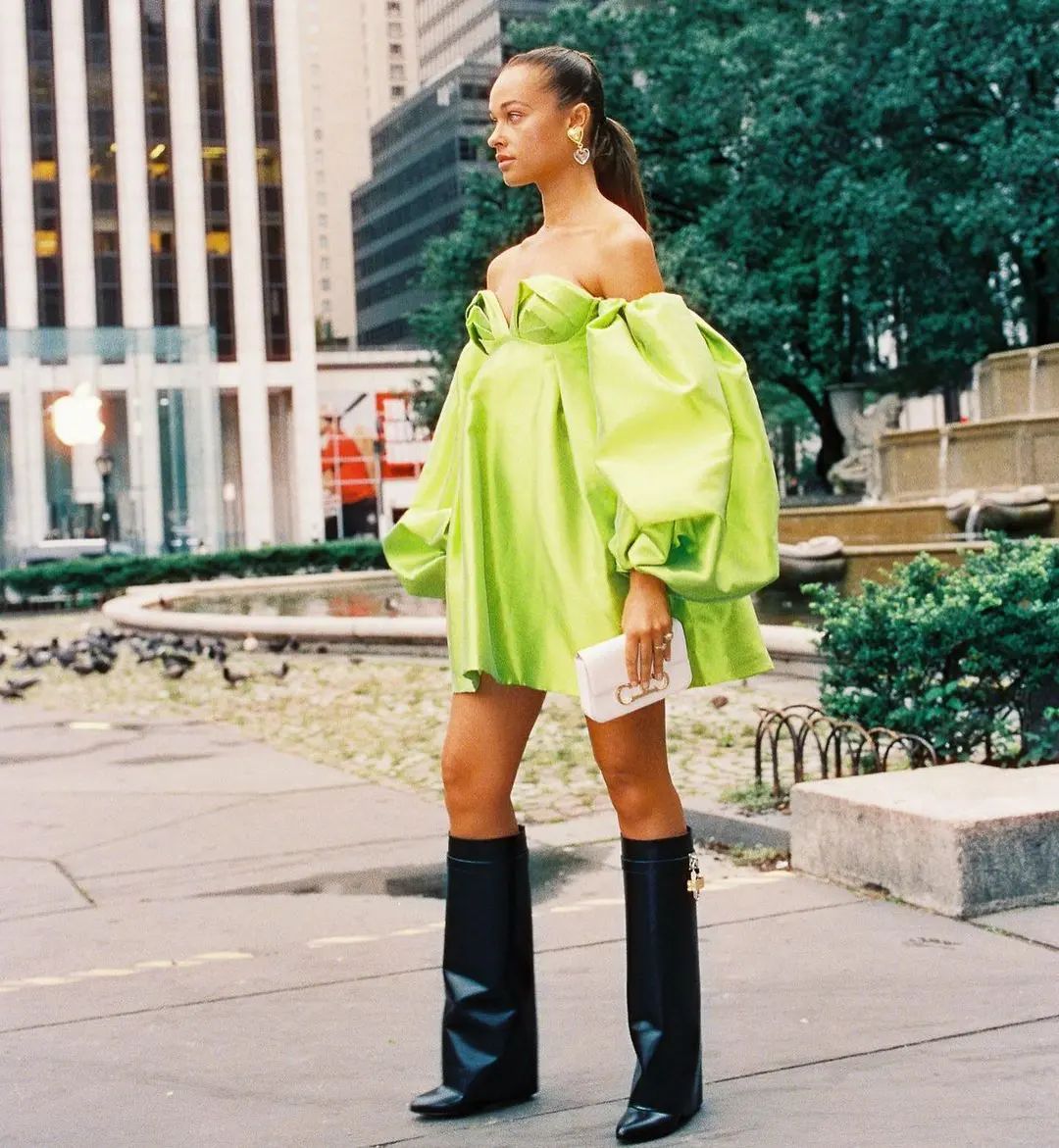 A true green you will definitely see in the stores of Zara, the pseudo neon pop of attention-loving green was perfectly paired with leather fabrics in the form of coats, pants and even biker jackets. Our tip? Go even bolder. Pair the green jacket you own with a new set of orange crocs. While it may sound silly at first, playing it safe with a bold color such as green is only going to make it the odd sheep of your outfit.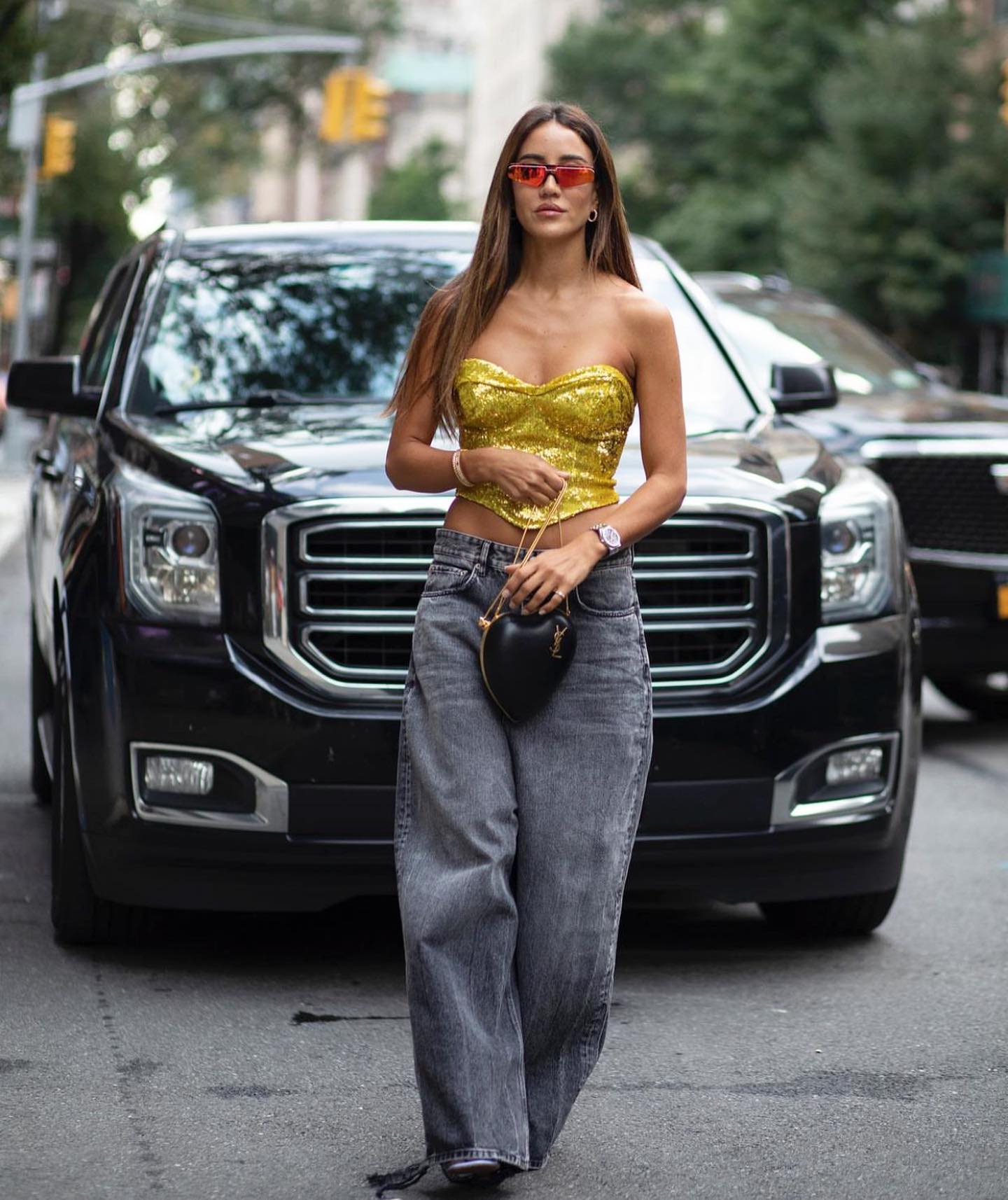 Another color which made it to the concrete asphalt was the striking pale yellow, often seen on sling bags and heels, with a background created of white tops and basic jeans. Pretty simple for an everyday look, and fabulous to stand out as the minimal one during fashion week.
5. All the Skirts!
Accordion skirts in a midi design? We did not think of that to be a statement! The true grandma look truly made strides during the New York Fashion Week. The pleated, stiff yet flowy fabrics were often seen in sheer and darker color tones, used as an addition to go over the top with the silhouette.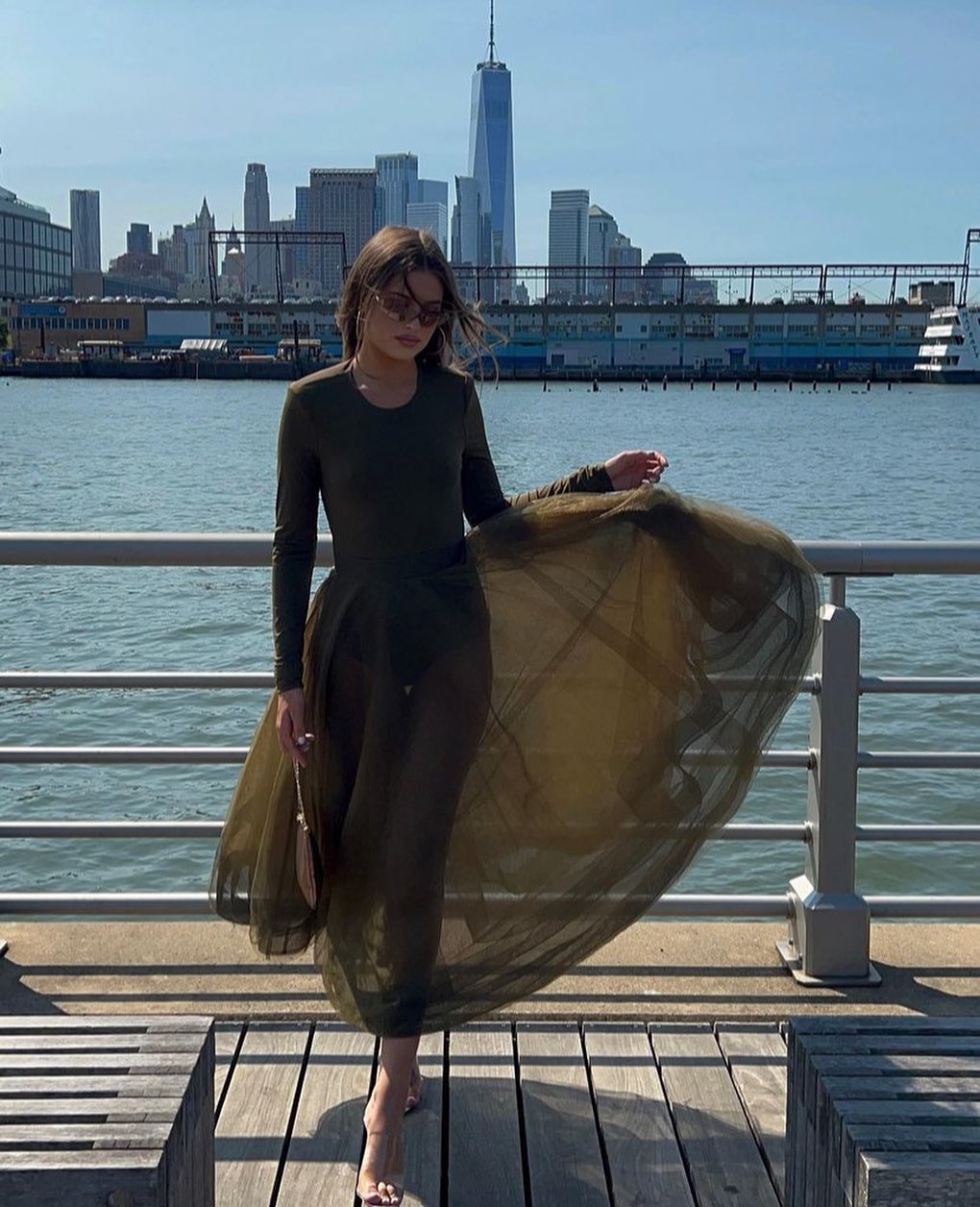 Invest in a long or a midi skirt if you are going with the accordion style though. A smaller length may give the schoolgirl appeal, if you are interested in it. We suggest pairing a long skirt with a well-fitted blazer (and if the blazer is cropped, even better). Shapely knee-high boots and sturdy handbags also work great in balancing out the flow and visually flimsy fabric.
Our Most-Loved Celebrities!
Karlie Kloss' Sparkling Trousers Moment
When it is a celebrity in question, it is the game of who can elevate a basic outfit to make it red carpet ready. American fashion model, Karlie Kloss, took the highlight with her basic blazer and trouser set, adding a sparkle to the bottoms, while going braless under her blazer to add the oomph factor to her otherwise minimal outfit. We loved how she worked with the concept of 'less is more' and enhanced it to the T. Wearing the ensemble for Tom Ford SS23, closing the fashion week with a blast.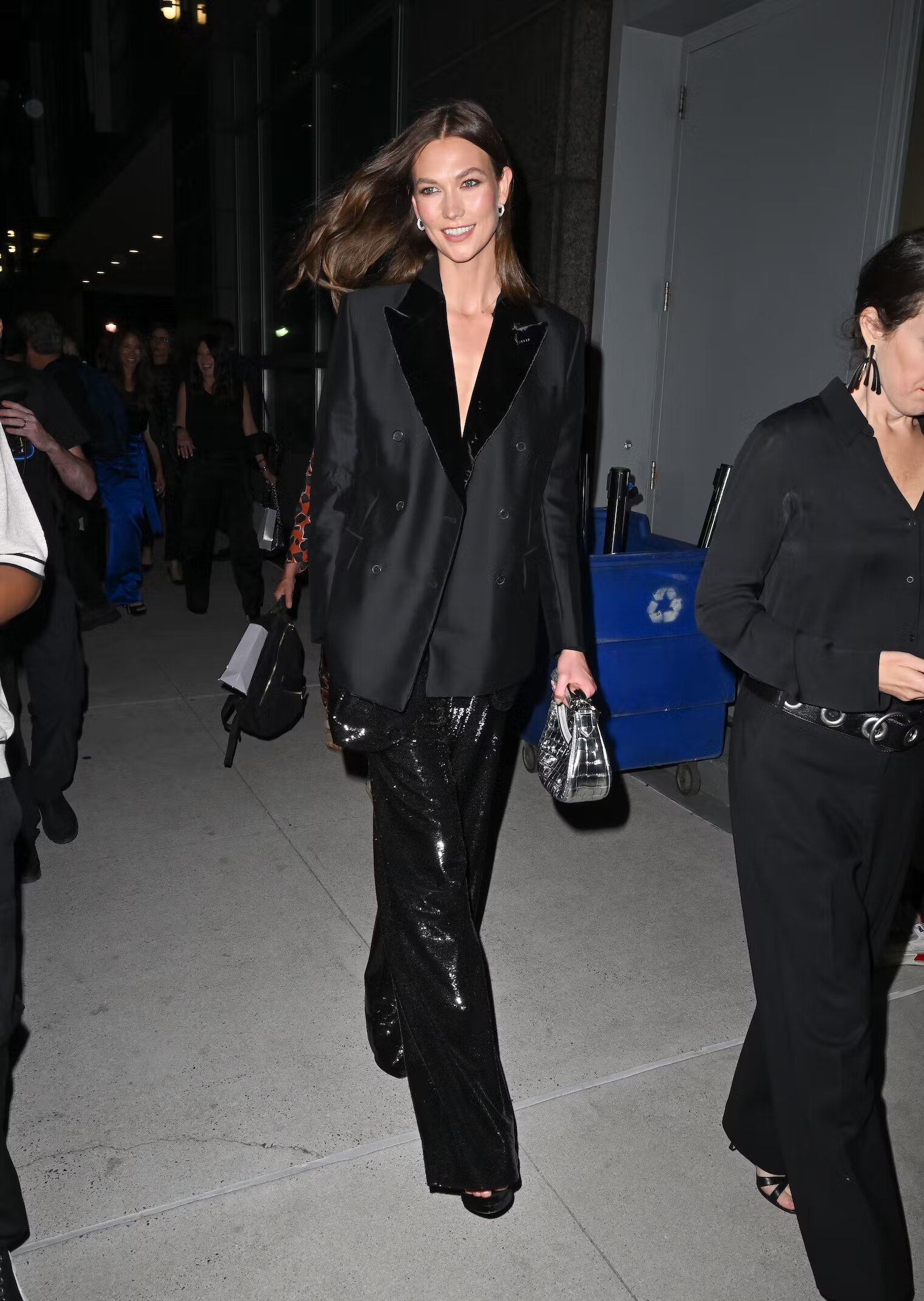 In another sighting, Kloss was also seen in Brandon Maxwell for her astute casual ensemble, pairing a basic set of slightly flared jeans with an ankle length slit shirt dress and a sparkly clutch (it was the clutch that enhanced the complete look, but you might have guessed that already).
Sydney Sweeney in it all for Tony Burch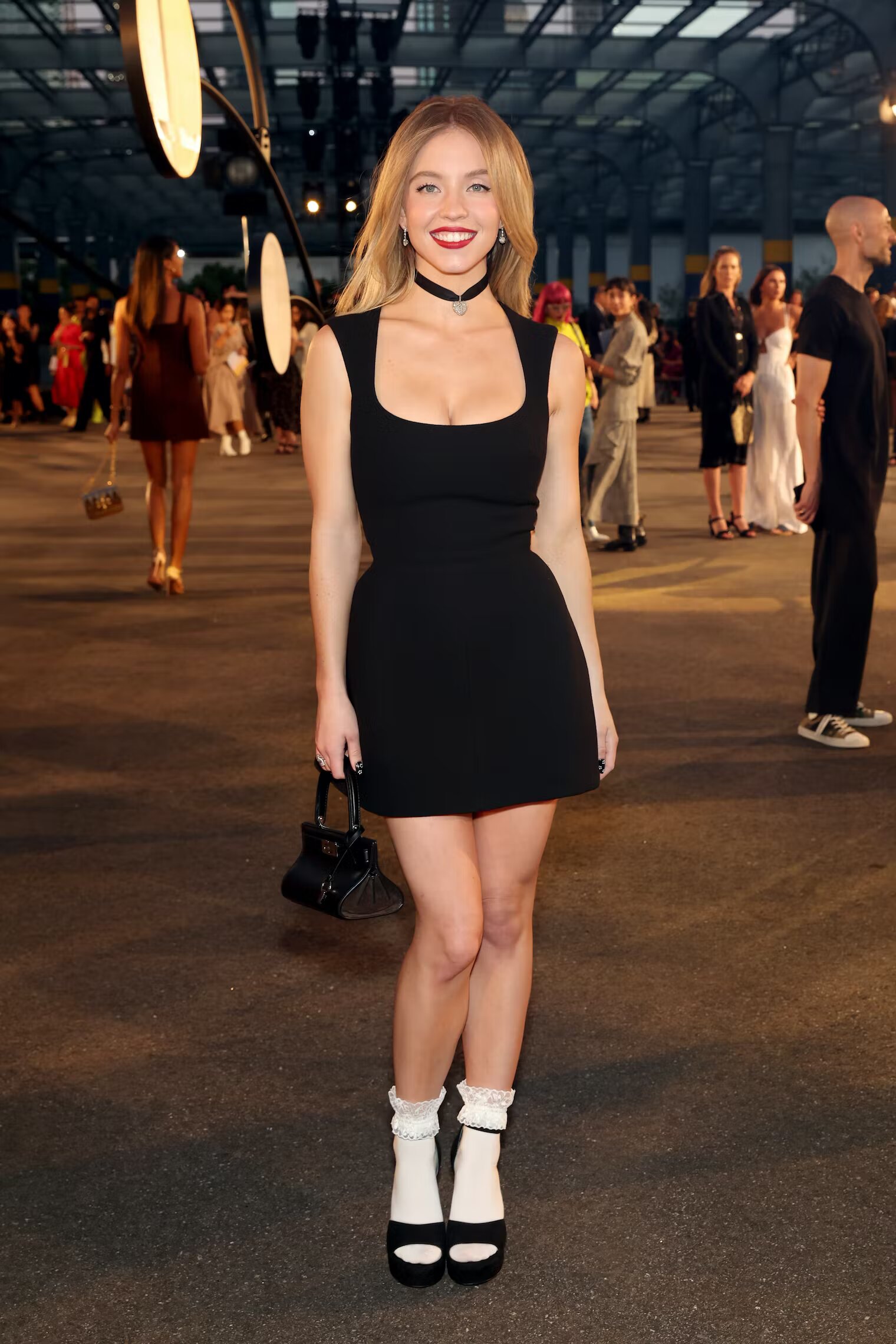 We saw our newest star crush, Sydney Sweeney, in a rather minimal ensemble with a black wool dress, paired with platform sandals with an accent of white frilly socks. I love this cute outfit so much! A strategic move, Sweeney swooned our focus on the Tony Burch handbag for its SS23 collection, to support the upcoming collection of the eponymous label.  This style will make your boobs look bigger!
Anne Hathaway's Andy Sachs Moment
While the stars are coming from the runways in the NYFW, it would be near to a sin to mention the subtle throwback Anne Hathaway gave to all the fashion enthusiasts. After two decades of the iconic film, the Devil Wears Prada protagonist channels her inner Andy Sachs with the help of stylist Erin Walsh. A strategic fashion play, we believe, and it won all our hearts.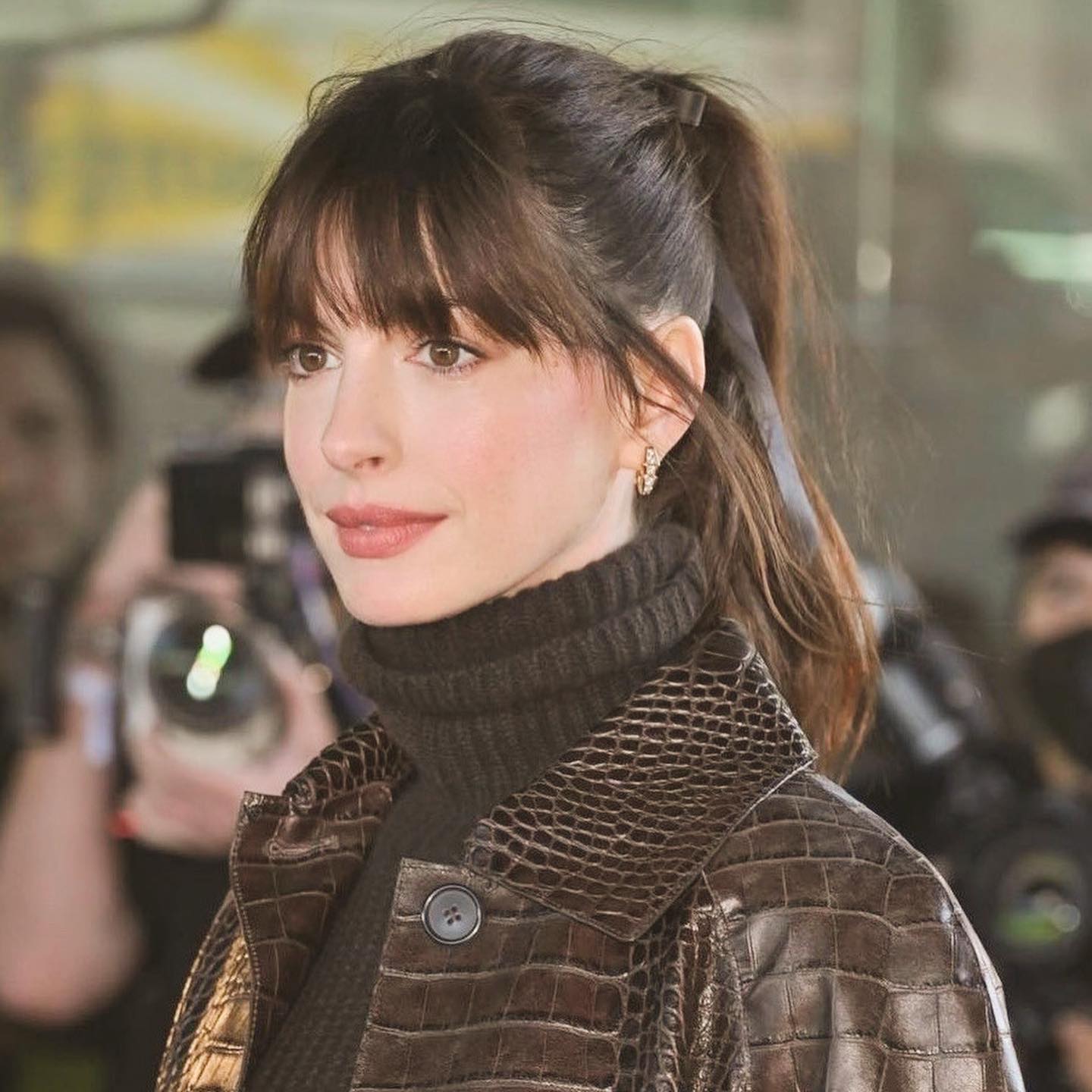 A great Andy Sachs moment, it also gave us the perfect Autumn vibes to segway into the next season. Her brown crocodile-embossed trench coat, made out of leather in a nostalgic chocolate color, paired over a black turtleneck dress completed with a black Louboutin pumps and a chocolate clutch suited perfectly for the Michael Kors SS 23 collection. Less is more, and Anne Hathway proved it right by bringing nostalgia as she sat beside none other than Miranda Priest- oops, Anna Wintour!
However, what resembled most from Devil Wears Prada for Anne Hathway's ensemble was the brown hair pulled up in a basic ponytail, bangs covering her face exactly like Andy. Her rosy cheeks and scarlet lips created a cohesive look for the highlight to be the trench coat. 
Frequently Asked Questions
Why is New York Fashion Week held?
Being one of the four major fashion capitals of the world (London, Milan, Paris being the other three), New York Fashion Week is held every year celebrating the newest collections of both upcoming and well established fashion designers. The complete city rejoices with the fashion week as a festival, and the shows are held as per each designer's interior liking in and around New York.
Can anyone attend NY fashion week?
Well, yes and no. Some fashion shows, especially the upcoming designers who heavily rely on press and media to promote their message, have seats which you can purchase online, while some designers keep it strictly to a curated guest list. Also, it goes without saying that if you are a journalist or reporter, it can be easier to be invited to a fashion week by going through the company you're working with.
How often is NY Fashion Week conducted?
Twice per year. The Spring-Summer and Fall-Winter collections are the major attractions in New York, while resort and pre-fall are often held in Milan, and couture collections in Paris.