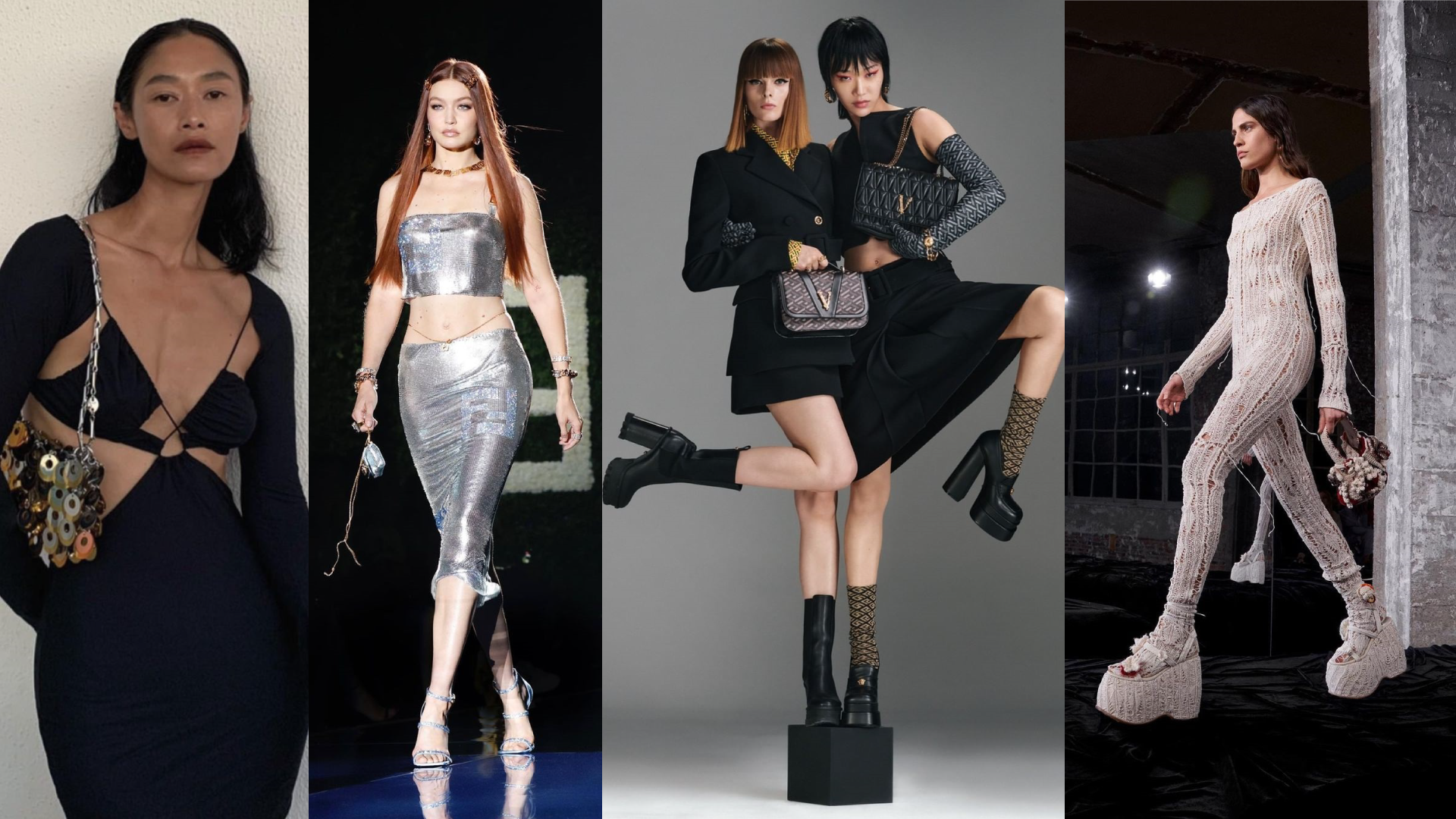 Stay ahead to welcome the new year with a bling.
One cannot begin explaining the 2022 trends without mentioning the evident trend cycle, which has brought back the styles of two decades ago. Whether it is the designers pushing the trend to its edge or the fashion enthusiasts wanting to be different, the 'it' trends of the coming seasons bring forth the narrative of maximalism and bold experimentation. Here are the key takeaways to dig into your closet for your next summer vacation:
Platform Heels
Platforms were a major fashion cult favorite during the 2010s, and a similar form of heels are making a comeback in the coming spring-summer season. Most of these heels do have the basic structure of a block heel, but somewhere diminish the line to instead be called platforms. 
Versace, Miu Miu and Fendi were some of the luxury brands who brought the platforms back to the spotlight. Although these heels were nowhere near ready-to-wear for the general public, the trend is bound to trickle down for wider usage in the coming summers. 
Styling the Platform
Prior to block heels, platforms were often paired with high-low skirts which claimed to create an illusion to increase your height. Leaving the assumptions behind, today's platforms are versatile and do not fit in a certain set of rules. Thus, wear them when you want to feel comfortable, but also want the confidence of a classic heel!
Strappy Tops and Pants
With the grace of year 2000 and its trends sweeping the generation z off its floor, designers have been experimenting with new tying processes in their collections. Straps, pieces of fabric and laces to tie, all are incorporated in tops and bottomwear.
The newfound independence in experimentation and adding a touch of your personal flair is also seen amongst street styles during high-end fashion shows. The most creative ones often took the DIY route to create tie-up crop tops and wrap skirts.
How to style straps?
The rule of thumb should be to keep the complimentary item as minimal as possible. Straps and tie-ups are mostly considered 'bols' and 'revealing' from a psychological standpoint. Thus, to balance it out, if you are wearing a strappy top, opt for wide leg jeans and sneakers to keep it in a contrasting look.
If the straps are laces which you can tie, think of ways it can be used to combine the two pieces. For example: A pair of jeans with two straps that go over your stomach can be extended to end somewhere under your crop top/shirt, creating a cutout effect more than a tie-up one. 
Low Waists
It came back in January, and is going to amplify ever since. Low waists were something near to a taboo a few years back, but shining your lower belly with some low rise bootcuts can be a great motivation to stay fit to look fabulous.
The 2022 Spring-Summer collections of Molly Goddard, Dolce & Gabbana and Missoni were reminiscent of all the Paris Hilton and Lindsay Lohan outfits. Low rise, especially in denim jeans can 'rise' to be a classic fame in the coming years.
How to style low waisted jeans?
The fit of the jeans is far more important than styling it. To be comfortable in your low waist pair, the best silhouette would be to have a bootcut design (or the pair which flares out near your calves and feet).
Crop tops are the go-to item with such jeans, however you can also experiment with corsets and jackets which cover your belly if you do not wish to show it. Being versatile these jeans work well with both heels and sneakers.
Fringes and Crochet
Before you celebrate the boho and hipster looks, fringes for the new decade encapsulates a variety of fabrics, cuts and silhouettes. From varying hemlines and opacity of the fabric, fringes include the classic tassels, the sheer nets, the flows of crochet strands and organza tulle used in skirts.
Unlike the tans mostly seen amongst boho looks, fringes here are mostly shown in white or black. Louis Vuitton, Zimmermann and Elvaquero have created designs solely by incorporating fringes into their garments.
Products to Invest in Fringes
Definitely the small details. The small fringes in a boot, or a purse covered with aligned tassels can add the boho chic look to your outfit, without it being the centerpiece of your ensemble. Think it through: a fringed t-shirt can be a big statement, but cannot be worn to every occasion. However, a fringed boot can be worn when you want a pair of shirt and jeans to have a casual boho look.
Sustainable, handmade, eco-friendly, ethical and the long line of similar buzzwords brought in the durability of crochet in garment construction. The process of typing knots and twists are at full display with crochet, receiving applause from customers wanting ethical fashion.
Acne Studios went over the top with the subtle handicraft by making a neck-to-toe figure-hugging bodysuit for their spring summer 2022 collection. The knitwear look with fringes and durable platform heels are the perfect example of summing up the upcoming down-to-earth trends in one picture.
Shrugs, sling bags or even halter tops in white are the popular choices for crochet designs. These can also be made by yourself by hand-knitting or learning the basics of crochet.
Silvers
Keeping maximalism in check, we cannot forget the glam in life. Silvers will not just be seen in jewellery, but also used in creating your cocktail dresses and bodycons. These statement pieces stay true for night parties and clubs, however, they will be a much bigger presence on the red carpet alike.
How to Style Silver Garments?
If you own a piece covered in glitter, the best is to pair it with pieces in just one other colour to keep the focus on the shimmery silver. For example: A silver dress can be paired with stockings, heels and a clutch, all in matte black. A shimmery top can be paired with leather pants too to add a variety of textures in your ensemble.
Cutouts
One cannot mention the 2000s without the cutouts, which are an extension of the strappy trend. Cutouts allow the creation of a dynamic dress, and you have the liberty to choose which skin to reveal and which to hide based on your confidence. Alexander McQueen displays a witty use of cutouts in his collection for SS22.
Frequently Asked Questions
What are some micro-trends to watch out for?
Miu Miu brought in mini skirts along with low waists. Sheer fabrics and an illusion play with see-through garments are also some avant-garde takes on the trend. Jacquemus recently donned their models with dresses over pants, which seemed ill-fitting at first but apt for workwear to come in the winters.
Other than crochet, what are some trends that can be a DIY project?
Classicism and feminine beauty is a major theme for the season, thus drapery and the dynamic silhouettes formed by it are seen in runways of Loewe. If you have extra fabric pieces, you can tie and drape these for just about any garment piece as per your convenience. Similar to the DIY scarf top, the maximalist drapery in this look makes it a part of the zeitgeist today.
How long will the SS22 trends last?
Considering the weather, these trends might come back as micro trends later in SS23. However, for fall and winter and resort collections, the pattern may vastly change. Some additional elements like fringes may be used in coats and jackets though.
Subscribe to get more fashion news and tips on herstylecode.com.