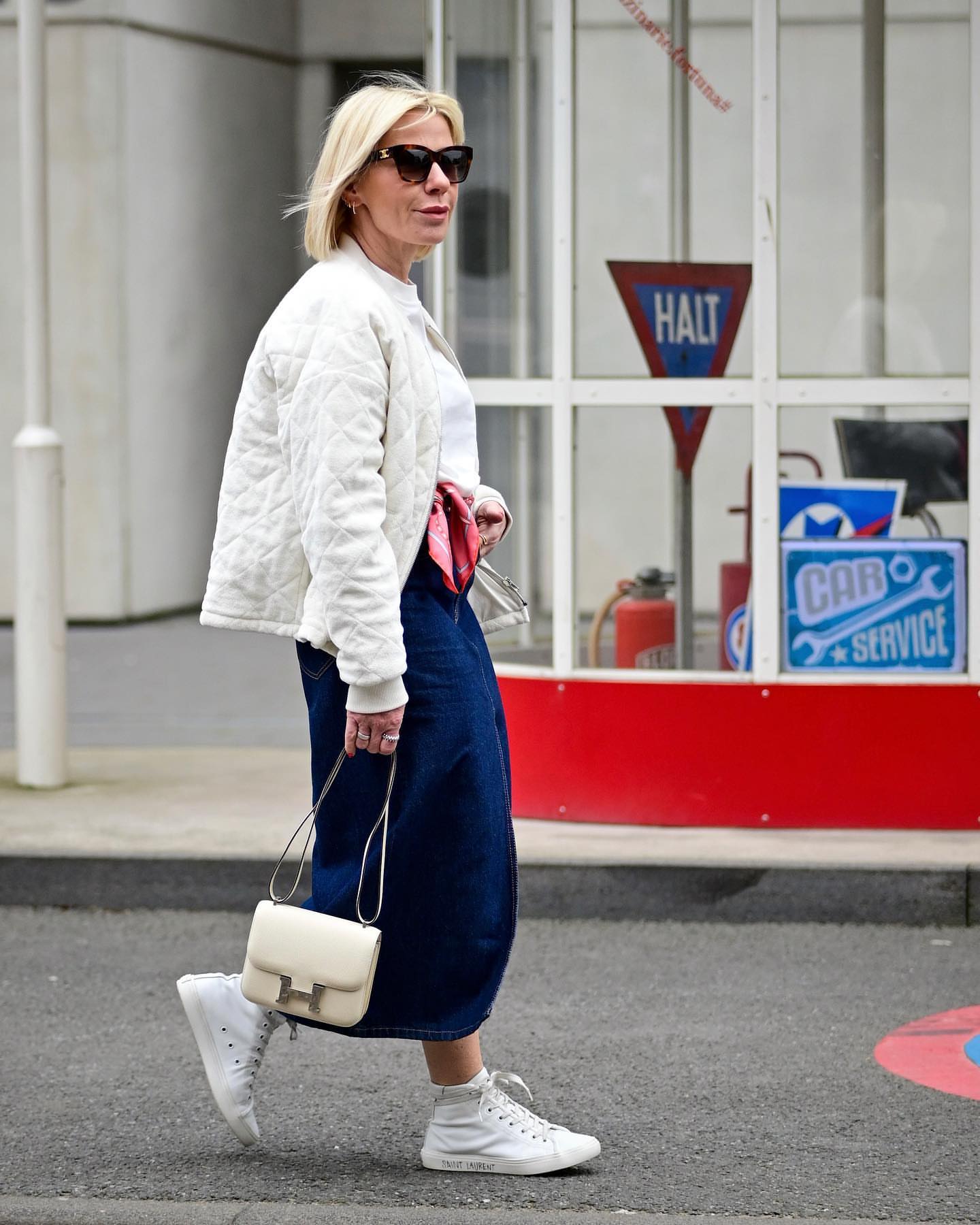 Experiment With New Styles & Tweak Your Classic Clothes!
Women over 50 are looking younger every year! And instead of being relegated to the back of the fashion runways, they're up-front and fabulous in the latest outfits that show you're still very much in the game!
Fashion is becoming more inclusive all the time and if you've been a fashion fan all your life, there's absolutely no reason to ever stop looking chic, edgy, sexy, classic and effortlessly eye-catching!
And athleisure makes sure you have plenty of comfortable, modern outfits to wear.
So whether you're looking for an update on the latest fashion rules – or inspiration on what to buy this season – today's gallery of gorgeous outfits for women over 50 will blow your mind!
The main rule is that none of the old rules apply and experimental fashion outfits are definitely 'in'!
And that also means you can take a fresh look at the garments you already have in your closet and start mixing them up in exciting new looks!
You'll find both up-to-date capsule garments and stunning one-off statement items here, which can all be used in a variety of different outfits to ensure you get plenty of value for money.
Stylish Outfit Ideas for Ladies
Whether you have a fashion budget ready to spend or just want to freshen up your capsule wardrobe, you'll love browsing these fresh and fashionable outfits for women over 50!
1. The New Mix & Match Aesthetic
And we're off and running! This fabulously crafted shirt combines a 1970's pattern on the right, with the other side in smart 1950's black/white check!
And the layering is superb, with a mustard-yellow, ethnic belt adding color and trendy texture in a modern, clashing way.
The soft dove-grey, quilted waistcoat has trendy lapels and darker grey, slim-fit trousers balance the colors and pattern beautifully – pulling the whole ensemble together.
Style tip: add a retro cravat if you prefer to cover your neck and wear your collar flipped-up to complete the appealing 1950's vibe.
2. Hi-Fashion Camel Casual Suit & Caramel Boots
This gorgeous spring/summer suit is really a deconstructed trench coat, reworked into a fashionable wrap-around skirt with a lovely front gap, that's not too high.
This shade of cool camel harmonizes beautifully with trendy, caramel, block-heeled boots and the dark-brown buttons and belt-buckle.
The casual, cut-off jacket with epaulettes finishes around the ultra-high waistline – and the ragged bottom edge is a popular statement feature this year!
Style tip: Add another matching color like these burnt-orange sunglasses to complement the trendy, brown color palette.
3. Deep Brown Quirky Pleated Skirt Suit & Yellow Shirt
Brown shades had been out of fashion for a while, but they're back with a bang now to dominate fashion clothing this year!
Brighten-up dark brown with this popular shade of yellow that suits warm and neutral complexions.
The sewn-down pleats give a nod to 1970's skirts, but as they only go half-way across we see a daring, contemporary tweak breaking the symmetry!
And the straight skirt with a novel pleated overlay really is something fresh and new!
Style tip: Bright yellow doesn't suit pale, cool skin tones and can make you look washed-out or sallow. However, it's a good color for warm/neutral skin tones!
This smart-casual, loose-fitting outfit is perfect for fashionable comfort!
It uses classic stripes with a modern tweak in the cream, instead of white, and sets a contemporary stamp on the look with a startling red, slouchy bag!
And mixing fun or quirky accessories, like broad-rimmed glasses, contrasting bag, and matching blue tights is another great way to upstyle your clothes.
Style tip: Color-matched thick tights, instead of black tights, add loads of extra contemporary style to your winter outfits.
5. Loose Zebra-print Cardi-Coat & Black Leather Cropped Flares
This off-white coat in zebra-print fabric is a totally trend-setting look this year!
And so are the black-leather, cropped flares worn along with it, making this a youthful and contemporary outfit that's great for women under, or over 50, to enjoy wearing!
The asymmetric top worn under a loose jacket or coat, adds even more 'edge' without showing too much skin.
Style tip: Cropped flares are one of the most flattering wider leg styles and the only one that looks good on everyone – including petite women – who otherwise should avoid wide-leg trousers.
6. Soft & Romantic Crocheted Skirt Suit in Ecru
What about this lovely pale-cream, crocheted top and skirt with loads of lovely texture and subtle pattern for a summer party?
The unstructured top and long pencil skirt are loose enough to be very comfortable, but flattering in silhouette.
And the fringed hem over caramel suede boots adds an attractive, U.S. Southwestern vibe.
Wear with a darker brown slouchy bag and belt to increase the color contrast!
Style tip: Avoid stark white if you have just a small contrast between your skin tone and hair color, like the model. Instead, wear this year's off-white shades like ecru, ivory, cream, beige and fawn for a softer look.
7. Casual Blue Denim Jacket with Camel Wide-Leg Pants
Blue, grey, camel, white and black colors are cleverly harmonized in this casual, fashionable ensemble.
The denim jacket ends just half-way down the hips, creating attractive proportions.
And the fine-gauge, grey sweater tied around the waist makes an interesting 'belt' feature.
A large, slouchy tote-bag suits this relaxed ensemble and navy-blue and white sneakers link up with the blue jacket top to add subtle 'polish'!
Style tip: Remember that wide-leg trousers need to fit you well around the hips to look good.
9. Soft Brown Oversized Jacket with Mink Sweater & White Jeans
These soft brown shades look very flattering with the model's natural-blonde hair color. And the casual, oversized blazer is still a fashion favorite for this year.
Mink is a soft shade of mid-brown that has a hint of pink in the mix and that makes it a great choice for a feminine look.
Worn with bright-white or cream-colored jeans, this makes a chic and fresh color palette for spring instead of the usual pastels.
Style tip: Oversized blazers suit taller, rather than smaller frames best, find the best styles for your body shape by reading the Kibbe Body Types Style Guide.
10. Sexy Fish-nets & Black Mini-dress Plus Stilettos
Want to make a special impression on a new friend or re-focus your partner's attention on you?
Go all out for a seductive look with fish-net tights and a mini-dress.
This dramatic outfit gains a touch of classic style from the oversized blazer with a beautifully sculpted shoulder line.
Wear a belt to add more definition to your waist and make your figure appear more curvy.
Style tip: Remember not to wear a low-neck with a mini-skirt and fish-nets, to avoid looking over-the-top. It's best to stick to highlighting one part of your figure at a time.
11. Quirky Orange Checks & Green Color Clashes
This joyful outfit is loose and relaxed in the fit, but cutting edge trendy in the contrasting colors and patterns.
The oversized orange hounds-tooth check jacket is probably the last garment you'd think of to match with green checked capri-pants – but it's an inspired combination!
This ensemble would definitely outclass any other in a typical ladies' lunch party and cement your place as a smart-dresser who's in tune with the latest fashion ideas.
Style tip: Camel shoes and an off-white handbag will earn their place in your long-term, capsule wardrobe.
12. Cream V-necked Cardigan & Scarf Belt with Jeans
This lovely weekend outfit is perfect for taking a walk or visiting a country show in summer. The V-neck is very flattering and tucked in at the front allows you to wear an attractive statement belt.
For example, a patterned scarf that matches the current cream/brown/rust color trend and defines your waistline in a fresh, new look.
Slim-fit blue jeans ending in ankle boots complete a figure-flattering, contemporary style that any woman over 50 can wear.
Style tip: Tying a scarf into a bow-belt is a splendid way to add some femininity and accent color to a simple outfit!
13. White Quilted Bomber Jacket with Long Denim Skirt
Women over 50 look great in streetwear like this simple blue and white ensemble you can wear for many different activities.
The palette is simple, but the lovely textures of the quilted casual jacket, denim fabric and laced sneakers all combine to create attractive patterns.
And instead of wearing a scarf around your neck, thread it through the loops of your skirt/wide jeans to add a lively accent color!
Style tip: Mix various tones of white and off-white to get a totally up-to-the-minute look!
14. Glam Lilac Satin Blouse Under Olive-Green Belted Coat
Lilac and olive-green are a fabulous color combo for anyone who loves to experiment with fresh fashion looks!
And the skirt made from a fringed shawl is a stunning statement piece when you need a glamorous look for a daytime event.
Add a pair of black/olive crocodile knee-boots and you'll definitely stand-out for your contemporary approach to fashion!
Style tip: Wearing a broad belt with a big buckle on a long, soft fabric coat helps define your waist and adds lots of bold style.
15. Classic Red, White & Black Checked Blazer over Black Skinny Jeans
If you love wearing black, but need to add some color this is a great example of an elevated black skinny jeans ensemble.
The classic checks look fantastic in red, white and black and this double-breasted blazer has an unexpected, modern tweak in the flounces around the front and bottom edge!
The large golden belt buckle breaks up the black between the top and jeans nicely drawing attention to the waist.
Style tip: The deep red bag links up well with the jacket and there's a quirky touch of leopard print in the bag's shoulder strap to add a fun touch to a dark outfit!
16. Burnt Orange Waistcoat with Light-Blue Wide Jeans

There's lots of interesting mix and matching going on here – from trendy wide-leg jeans to dainty blue satin evening slippers with stiletto heels and fancy decorative buckles.
And the orange bag and luxe burnt-orange waistcoat add even more texture and contemporary color!
A neutral white shirt open at the neck adds sex-appeal and color balance to a very trendy, casual but sophisticated daytime ensemble!
Style tip: A burnt-orange quilted waistcoat is perfect as part of your capsule wardrobe as it matches all of the current light-brown colors, plus the neutrals and denim!
17. Urban Chic Green Blazer with Green Sequined Skirt
Lots of ladies over 50 have built-up a set of sparkly clothes, but find they don't get so many opportunities to wear them as when they were younger.
But contemporary fashion experts say sequins don't have to be saved for occasional evening events and this well-matched skirt and top deserve to be worn as much as possible!
Take another look in your closet and see if you can put together a similarly gorgeous urban outfit that's perfect for lunch with friends and an afternoon spent browsing the fashion stores!
Sustainable fashion and getting lots of wear from your clothes is definitely more trendy these days than wearing a buy, wear and trash fashion uniform.
Style tip: Balance out cool bright shades with a neutral white top and accessories in stone, white or off-white.
18. Chic Textured White Top with Mink-Brown Jacket
Here's a jaunty look with a beautiful, casual chic jacket in warm mink that's complemented by a matching shoulder bag and high-heeled knee boots with a small platform.
The textured, white top adds interest and decorative buttons on the attractive jacket are classic and sophisticated.
Look in second-hand and charity stores for cute jackets as they often have a wide range on offer! Don't know your body type? Try the Kibbe body test and find suitable outfits for your body shape.
Style tip: A smart-casual jacket in a light-brown shade is a perfect garment for a capsule wardrobe as it can instantly elevate any outfit and add polish to your jeans' ensembles!
19. Muted Green Raincoat Over Patterned Blouse & Olive Trousers
Cool green shades add lots of freshness to this modern outfit that's perfect for any woman under or over 50!
Straight-cut trousers are one of the more flattering versions of wide pants and the patterned blouse breaks up the solid green beautifully.
Style tip: Add interesting texture from a fun-fur tote bag for a youthful vibe!
20. Smart Red & Cream Cropped Cardigan
Here's a sporty-smart look to give you a younger image in your leisure time, with the red stripe of the pants echoing the stripes in the top.
This outfit is also glammed up with plenty of costume jewelry in the mixture of pretty bangles and bracelets.
Style tip: Show your fun side with a cute handbag decoration like this retro poodle on a matching tiny red bag.
21. Match a Chic Beige Sweater with Your Beige-Blonde Balayage
This highly patterned knitting stitch looks elegant and attractive in a popular beige tone that brings out the beautiful balayage in Jaclyn Smith's hair.
And slightly puffed sleeves with long, ribbed cuffs also add lots of personality to this simple sweater and jeans outfit.
Style tip: Always try to wear colors that harmonize well with the color of your hair for a more polished finish.
This relaxed but elegant ensemble shows how to dress from top to toe in contemporary and classic items that create a wonderful style image.
These patchwork jeans are very nicely balanced for a fresh take on 'mismatched' legs, that's subtle and unexpected!
And the curved bag matches nicely with the oval stamp on the jeans and the eye-catching round, gold buttons.
Style tip: Match a brown leather bag with your belt and use gold platform sneakers to bring out the beauty of gold buttons!
23. Elegant Trouser Suit in Light Beige with Embroidery Lace
This three-piece suit is effortlessly elegant and casual when paired with multi-colored sneakers for a lunch date or a stroll along a coastal promenade.
The long cut of the top and blouse plus cropped wide legs mean it's always going to be comfortable to wear.
And the pretty embroidery-style, scalloped lace edges add just the right touch of femininity.
This versatile suit could be dressed up with heels and look perfect for a dinner date or other evening occasion.
Style tip: Stick to simple jewelry items whenever you are wearing lace.
24. Glorious Red Dress with White Spot Pattern
Enjoy a special lunch or dinner date in this gorgeously feminine red and white dress!
The high-neck, long sleeves and below the knee style all come together to balance the eye-catching fabric.
And it's also a lovely dress to wear for an evening of dancing, so don't be afraid to wear bright colors when you're over 50!
Style tip: Camel colored shoes are a good investment for your capsule wardrobe and can be worn with most fashion colors.
25. Lovely Lilac Gingham Fitted Shirt
Lilac is beautifully contrasted with light-green cuffs in this flattering, tailored shirt.
This summery look combines white jeans with an off-white shoulder bag that has a comfortable broad strap decorated with the designer's name.
Match shapes to pull an outfit together, like these round spectacle frames, a curved bag, a circular necklace pendant and circular bracelets.
Style tip: It's fine to have one designer name showing on your outfit, but more than one is a definite no if you want to present a classy image.
26. Camel Bat-Wing Blouse with Classy Animal Print Flowing Skirt
This is a great ensemble to wear for an evening walk in search of a coastal restaurant after a day at the beach.
The flowing skirt fluttering in the breeze creates a lovely, romantic image and the straw hat also adds an attractive, face framing accessory.
Apart from the lack of shoes, it's comfortable, contemporary and figure flattering with a well-defined waist.
Style tip: Not all animal prints look chic, so look out for versions that have deep, rich brown along with lovely warm, camel shades as they always appear more classy!
27. Soft Blue Shirt with White Cropped Jeans & Modern Accessories
The classic look of blue chambray shirt with white jeans is never out of fashion, but you can bring it bang up-to-date with a few contemporary touches.
For instance, trendy hoop earrings, tortoiseshell sun-glasses, a brown belt that matches the shoe color, and a ragged edge on the hem of the jeans.
The unexpected burnt-orange accent color is a very fashionable shade this year!
Style tip: Add color with a brightly patterned, silk scarf and match your handbag to one of the colors in the scarf.
28. Country Chic Brown Checked Jacket & High Boots
This classic ensemble of brown checked blazer and jeans is given a contemporary spin by putting white and off-white together in the blouse and fine sweater.
And the gold studs decorating the brown bag echo the glints of gold from the models glasses' frame, her modern hoop earrings, a simple gold necklace, and her wristwatch.
Fine-gauge sweaters are popular this year worn in layers, allowing your figure to look better proportioned, rather than heavy-knit sweaters that hide your shape, this outfit is perfect for the Kibbe soft dramatic body shape.
Style tip: Dark-brown suede cowboy boots add a contemporary touch, without being flashy, and match with the bag, jacket and the model's brunette hair color.
29. Diamanté Belt Buckle Adds Glamor to Simple White Shirt/Black Jeans
Wear your favorite 'hacking jacket' with black jeans and a crisp white shirt for a classic look that never goes out of fashion.
But add a touch of extra glamor when you're going into town, with gold earrings, a gold clasp on your bag, and a few black and gold beads.
And make the focus of the look your waist by adding a lovely diamanté buckle to your belt, which looks great against the black denim jeans.
If you pay attention to small details, even the simplest outfit can look high-class and expertly put together!
Style Tip: Draw an outfit together with shape, as well as color, like the square shoulders, checked pattern, rectangular bag and oblong diamanté belt-buckle.
30. Bold Blue & White Striped Blouse with Scarlet Cropped Pants
This flattering classic blue-striped blouse is tailored to show off the figure and has been given a highly contemporary twist for this year!
So, if you want to make an 'entrance', break the rules by combining two complementary colors that make a strong fashion statement.
And these electric-blue, pointed heels may be too narrow for your feet, but you can buy a pair of wider pumps and dye them whatever color you fancy quite easily!
Style tip: Blue and scarlet-red, (which has plenty of orange in the mix), are on opposite sides of the color-wheel making them a great high contrast pair for a stunning effect.
31. Gorgeous Pink Flouncy Shirt & Pants Suit
This fantastic suit is the perfect statement outfit for a fancy wedding or a special evening event, especially if you want a contemporary substitute for a revealing dress.
It's best suited to someone tall enough to take such strong flounces at the front and twisted around the sleeves.
But on a taller woman, this is a magnificent look with simple cigarette-cut trousers to balance the flouncy blouse.
Style tip: Don't be afraid of brighter colors – they make you seem younger – but make sure they suit your natural coloring. This deeply saturated shade of pink is suitable for cool or neutral skin undertones.
32. Sophisticated Urban White Trench Coat & Quirky Ecru Heel-less Boots
Color-blocked ensembles are a strong fashion statement for this year.
And to show your understanding of current trends, wear various shades of white and off-white!
Because that creates different textures and a more interesting palette.
A white, wool trench-coat is a fabulous winter/spring look that's incredibly sophisticated and can be worn with a variety of skirts and trousers.
Style tip: Look out for quirky boots like this pair which don't have normal heels at all, and are balanced on metal rods! They look futuristic and youthful.
33. Eye-catching Caramel Leather Flares, Orange blouse & Yellow Jacket
If you love sunshine colors, try creating an outfit from this contemporary inspiration!
Cropped flares are one of the most popular styles of wide leg trousers this year and caramel faux-leather is great for a polished look.
This color palette needs to be carefully matched with your personal skin undertones, but you can choose different shades of yellow or orange according to whether you have cool, warm or neutral natural coloring.
Style tip: Matching animal-print shoes with your belt, is one of the classiest ways to use a leopard print in a bright outfit.
34. Super-Smart 'Country Life' Look with Fedora
This is a souped-up country look elevated by the fancy, pie-crust collar of a frilled white shirt and the stunning fedora.
Notice how this outfit harmonizes perfectly with the model's warm-natural-blonde hair color.
And you'll keep warm, without being all bundled up in a heavy-knit sweater, by using layers including the warm brown scarf draped over the coat.
Experiment with layers from your own wardrobe to get modern-looking new ways to create outfits, and you can find more stylish clothes for ladies here.
Style tip: The matching dark-brown bag and high-boots create an attractive contrast to several lighter brown shades in this outfit.
35. White High-Neck Top & Wide-Leg White Denim with Beige Raincoat
Stay dry and chic on showery days in a comfortable beige raincoat and platform boots.
Black spectacle frames match the black lining of the coat and the warm tan bag, gloves and soft, suede boots all add subtle warmth to the white top and jeans.
A simple gold chain focuses the eye below the neck and breaks up the plain, white fabric.
Style tip: A white high-necked sweater can help cover a less than perfect throat, without looking heavy and wintery.
36. Comfy Forest-Green Sweats
Forest-green cotton top and wide-leg pants make a comfortable, but trendy, outfit beneath a practical raincoat.
And this ensemble is one you can wear to lounge around at home or pop a coat on top and head straight out to run errands.
Wearing a long necklace helps draw the eye down to make your vertical line longer and your horizontal line slimmer.
And that neutral, stone-colored handbag comes straight out of an up-to-date, capsule wardrobe.
Style tip: Tuck the front of your pants into ankle- and/or mid-length boots for a totally new twist!
37. Camel Poplin Dress & Coat Suit with Red Detail
I love this statement look dress and coat suit, which has haute couture stamped all over it!
The borders range through orange, red and pink shades for a quirky vibe and the stamped metal rings in the hem are new and attractive details.
And pink pointed heels are a fun, youthful look anyone can copy.
Style tip: Add a broad belt to an unstructured dress to accentuate your waist and add flattering shape definition.
38. Stunning Purple Pants Suit
Color blocking is tremendously trendy – especially in a contemporary color like this saturated purple shade!
Slim-cut trousers with a crease or hem down the front will lengthen your vertical line and create a slimmer silhouette.
These trousers are extra-long and cover the tops of the model's footwear, making them appear more formal than the ankle-length jeans which are popular casual wear this year.
Style Tip: Wearing a slightly oversized blazer jacket is a great idea for anyone who isn't as tall as this long-legged model, but loves the relaxed, oversized look!
39. Elegant Embroidered Denim Wrap-Jacket & Long Denim Skirt
This is another great fashion inspiration image you can interpret to suit your own size and shape, and use similar items you may already have in your closet!
The patterned denim jacket is cinched in at the waist with a trendy, brown belt that matches the model's spectacle frames.
And the different textures and shades of blue come together to create a great street style for women over 50!
Full length skirts are great for keeping legs warm in a feminine way when you want a change from trousers!
Style tip: Tie your belt into a trendy knot for a fashionable, contemporary twist.

40. Girly Raspberry Pink Patterned Pants & White Duster Coat
This long, white 'duster' coat, is copied from the days when people rode horses in dry landscapes and needed to protect their clothing from getting covered in dust.
So it's a retro style that's just as attractive now as it was useful in the past.
It adds a balancing neutral white to dilute a strong color worn underneath, like this raspberry pink top and pants outfit.
The geometrical pattern on the pants is echoed in the rectangular cross-body bag, and round beads add another type of texture to this bright, young look!
Style Tip: Roll up the hems of your trousers and casual pants to give them a modern, ankle-length style!
41. Youthful Candy Stripes & Cropped White Jeans
Candy stripes in blue or pink with ankle length white jeans are such a classic, youthful look for warm days.
These fun, casual outfits are perfect for doing a few errands on a balmy summer's day and automatically knock years off the age of any woman over 50 who wears something similar!
Accessorize with a retro woven shopping- or beach-bag made from sustainable materials and cut out some more plastic from your life.
Style tip: This image shows two fashionable footwear styles to wear with your slim-cut, white jeans – tab-fastening sneakers for walks or elegant, high-heeled sandals for evening cocktails!
And that's the end of today's inspiration gallery, which I hope has filled you with exciting new ideas about what you should be wearing this year.
Women over 50 used to be expected to wear darker colors and longer skirts, but today's fashion designers say 'No' to that antiquated point of view!
Whatever age you are you should continue to take pride in your appearance and enjoy wearing bright colors and contemporary outfits that range from classic elegance to quirky fun!
Dressing well is one of the best ways to increase your confidence and enjoy looking your most attractive self, whatever age you happen to be!